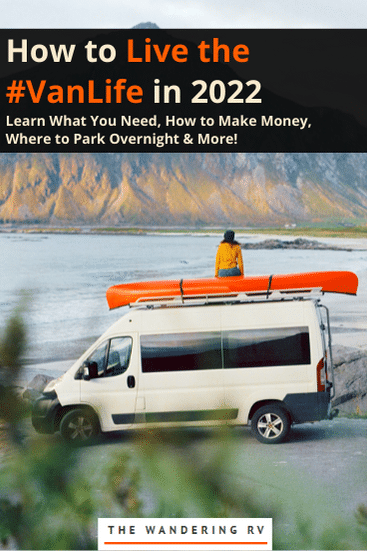 You've seen the #vanlife social media hype. The beautiful Instagram photos, the cool TikToks, the badass YouTube day-in-the-life videos. You've got the itch – you want to live in a van.
But how does one go about starting the van life? How much does it cost? How do you cook? Where do you shower? Will you ever poop in a private bathroom again?!
Don't worry! I have personally lived in an RV for over a year, been overlanding across the country in a rooftop tent in my Tacoma, and converted a van to travel the country.
I've distilled everything I learned in my years of travel into this easy-to-follow article. Below, you'll learn everything you need to know to start van life.
I'll help you avoid the common setbacks that come from living in a campervan and decide if this lifestyle is even right for you.
Without further ado, here's our ultimate guide to living the van life!
Table of Contents
Test the Vanlife Before You Commit!
Click the button below to brose campervan rentals near you and get $50 off your first rental with code "thewanderingrv".
Why Would Anyone Want to Live in a Van?
Living in a camper van sounds absolutely insane to some, and like a dream come true to others.
You'll often see camper van life glamorized on social media; the beautiful shots of couples and their dogs laying on the bed with the back doors open, looking over cascading views of mountains or beautiful beaches.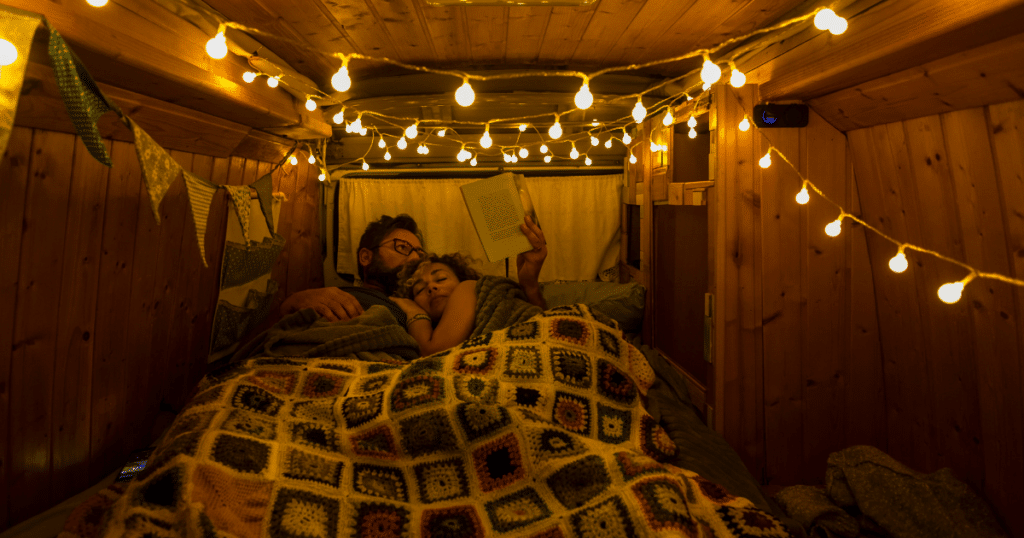 Glamorized or not, this is a part of the reality of van life. Van life adventures can show you the world in a way that no other lifestyle can. You get to travel on your own time, see the best sights the world has to offer, and break free from the rat race.
Plus, you get to save money while doing it. Living in a camper van can be cheaper than buying or renting a house, while offering some unique ways to explore the Earth we all call home. It is a nomadic lifestyle that offers location independence, which is pretty awesome!
Pros & Cons of Living in a Camper Van
Despite what you see on social media, #vanlife isn't just traveling to the most beautiful places on the planet and living in pure freedom. Like anything else, it has its pros and cons.
Van Life Pros
Save money compared to buying a home or renting: Van life can be much more affordable than traditional "sticks and bricks" house living. More on costs later.
Limitless travel, at your own pace: With your home and all your belongings on wheels, you get to go where you want when you want – as long as you can drive there, of course!
Free up your time for hobbies: Many van lifers choose this lifestyle so they can spend more time hunting, skiing/snowboarding, rock climbing, mountain biking, or whatever they love doing while they're still young and healthy enough to do it.
Learn about yourself: Van life has the unique ability to give you deep insights into who you are and what you care about. Spending time off-the-grid and disconnected, combined with the confidence you gain from solving problems, teaches you more than almost any other life situation you may be in.
Van Life Cons
Wifi issues, and lots of them: One of the first things you will learn on the road is how precious good wifi is. From being out of cell service to only having access to shitty wifi in town, staying connected can be a real struggle. A pro and a con, I suppose.
Almost everything is harder: You don't realize how much convenience you have in your life until you have to find a hot shower on the road, or empty your own poop, or run out of electricity. Nearly everything about daily life is less convenient in a camper van. It's going to take you out of your comfort zone!
Stressful situations WILL happen: You'll break down in the middle of nowhere, your sink will leak, your dog will need to go to the vet. On the road, you need to expect the unexpected and learn to cope with high-stress situations.
Limited space means getting creative and minimalistic: If you have to cram everything you own into what's probably less than 60 square feet, could you do it? If not, you'll need to downsize and/or put things into storage. This may mean getting creative with your storage space.
Mentally Preparing for Van Life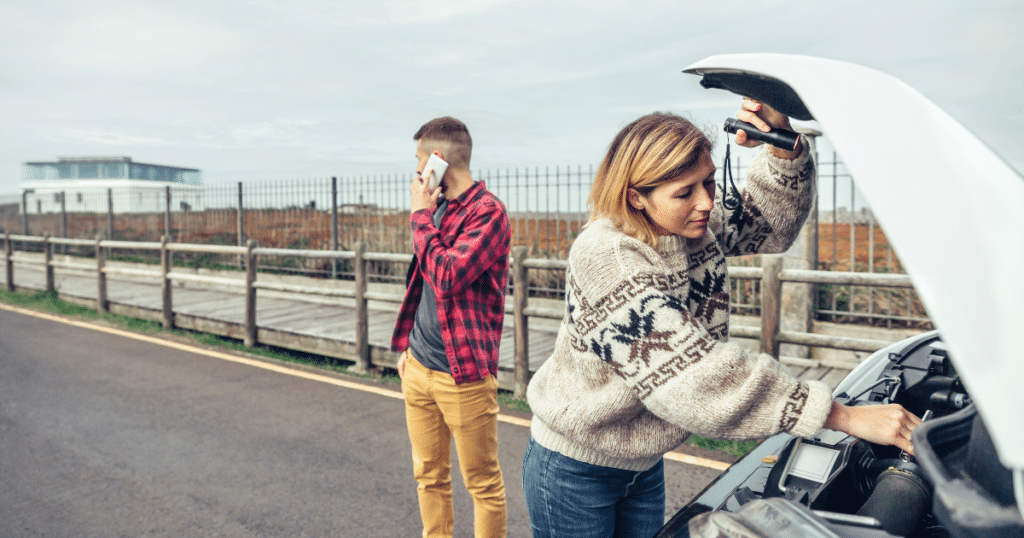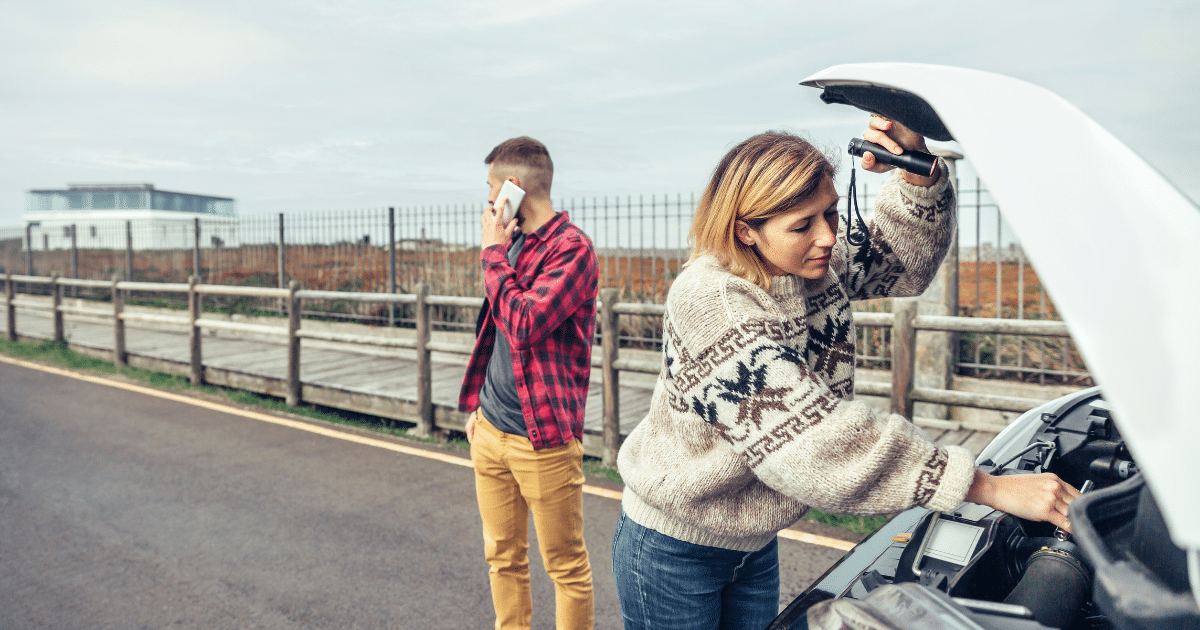 Don't let those cons scare you. While van life adventures certainly aren't for everyone, for those looking to slow life down and enjoy our human existence more deeply, this lifestyle can be the best thing you've ever done. As long as you're prepared, you can and will enjoy it.
In short: realize that stressful situations will arise. You will need to improvise. You might get lost or run out of gas 100 miles from a gas station or suddenly come down with an illness.
If you accept ahead of time that these situations can and will happen, and you take the necessary precautions to make these situations easier (which is what you're doing by reading this guide!), van life can be the dream life you've always fantasized about.
Addressing Common #VanLife Questions & Issues
Before I talk about how to get started living the camper van life, here are the most frequently asked questions and concerns people often have about living in camper vans.
How Much Does Van Life Cost?
How much van life costs depends on a lot of factors. Do you need a luxury camper van, or will you build out your own old 1990's van? Maybe something in the middle?
There are other things to consider, like how often and how far you travel (fuel & maintenance costs), whether you boondock or stay in paid campgrounds, if you eat out, etc.
To give you a ballpark, you can live the van life for as little as $350 per month up to as much as several thousand. Your own frugality is the determining factor here.
How Do You Make Money While Traveling?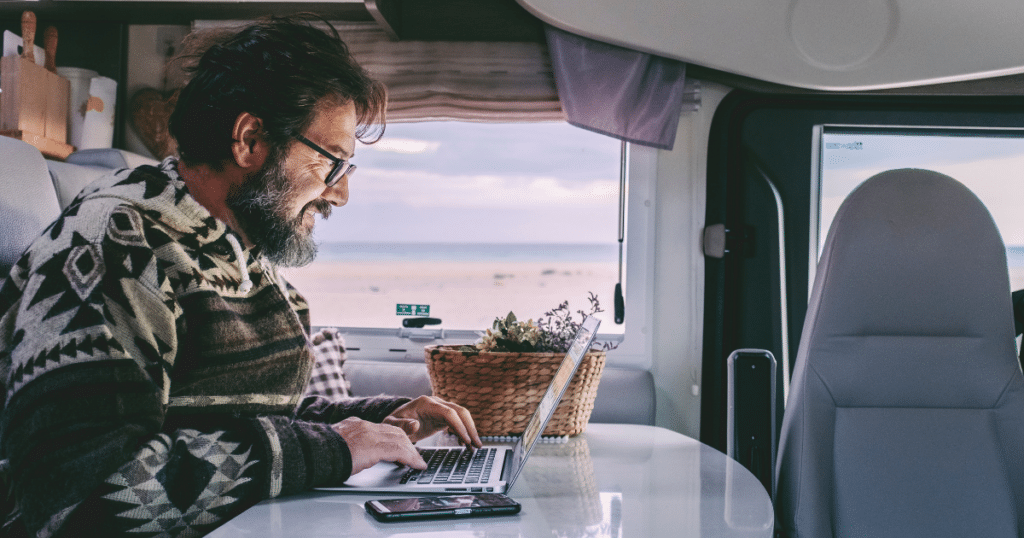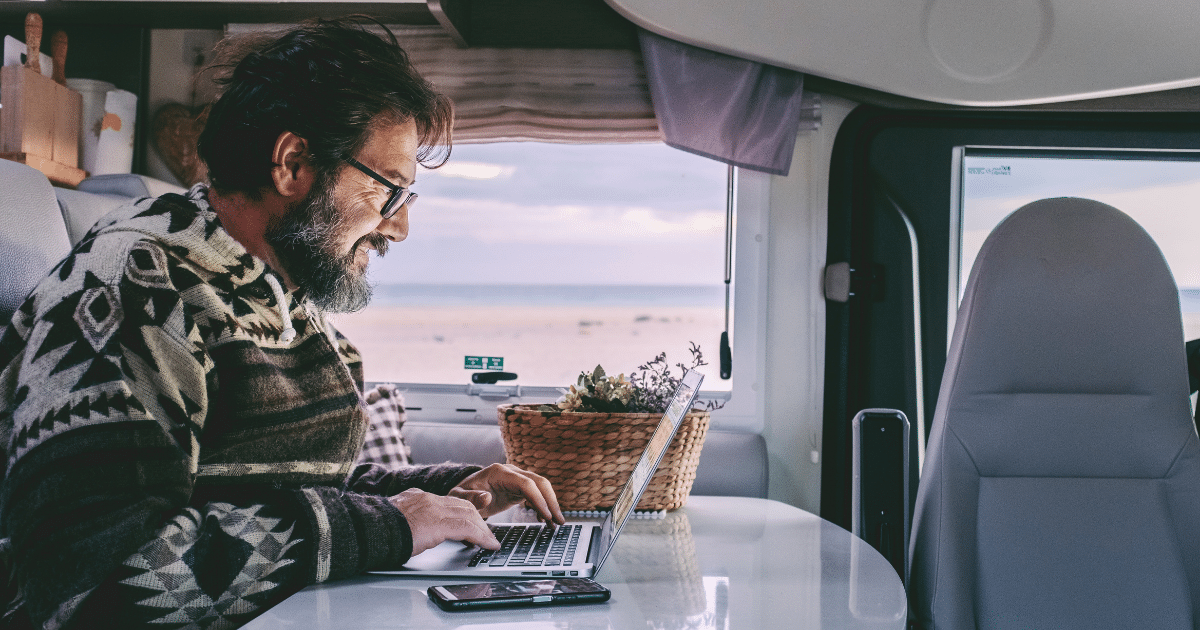 One of the first questions people ask me when they find out I live in an RV is how I make money from the road. Personally, I have a series of travel blogs (like this one!) as well as freelance work I do for clients.
But in addition to starting your own digital business, you have other options for making money. You can do freelancing online, traveling photography, workamping, or working remotely for a job. Seasonal work is also a common way van lifers make this lifestyle work.
Here are some resources for figuring out ways to make money while traveling:
Where Do You Poop & Shower?
The second most common question I'm asked is how I go to the bathroom and shower. Personally, I mostly use public restrooms and gym memberships. Or, if I'm out in nature, I have a Thunderbox portable toilet and a shovel or waste bag. I also have an outdoor shower and a curtain for privacy.
That said, you could opt to get a camper van with a bathroom already built-in, or you can get something like a composting toilet. But they can be expensive and kind of a hassle.
It just depends on what you feel comfortable with. Some people prefer absolute minimalism and keep a simple portable toilet on hand for emergencies, while others need a full bathroom in their camper van. You could even make a toilet out of a bucket, if you're so inclined!
How Do You Cook in a Van?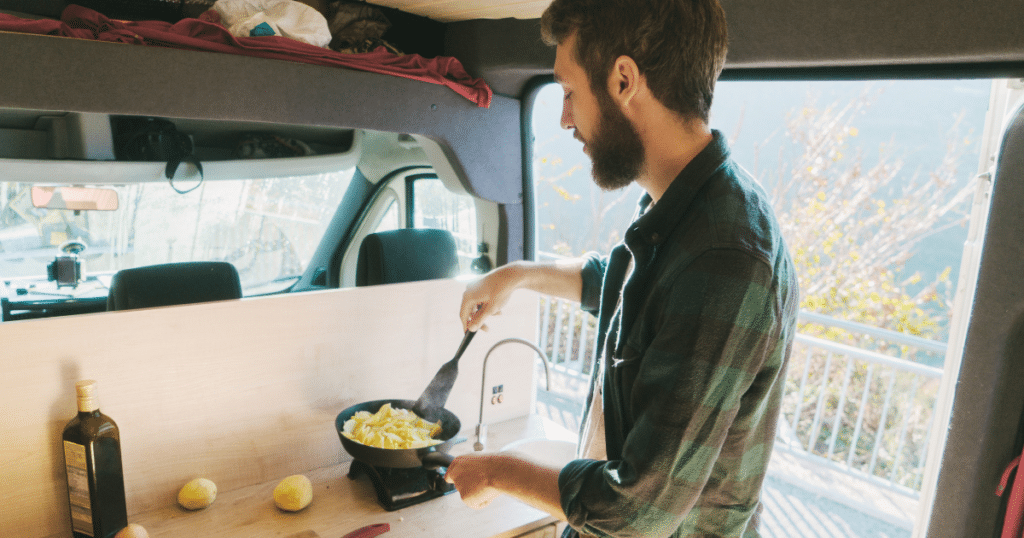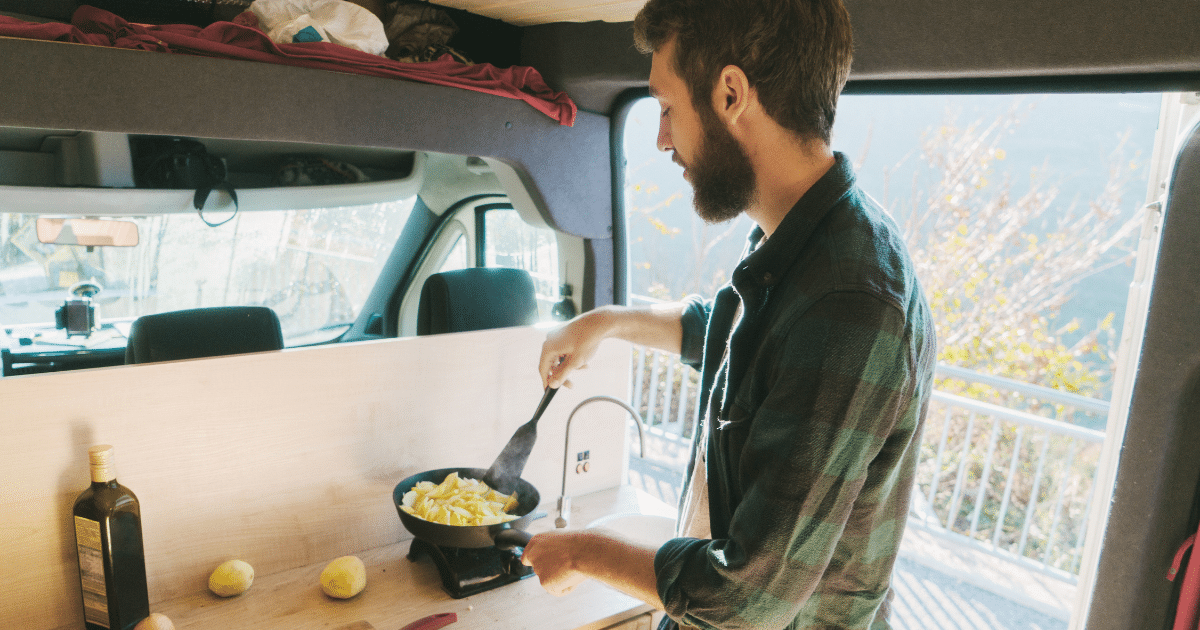 When it comes to cooking in a camper van, you have a few options:
Jetboil or electric tea kettle and hot-water based meals
Built-in propane stovetop
Portable propane grill (like the Coleman grills)
No-cook meals only (think: sandwiches)
Again, it's up to you what you feel comfortable with. Click here to read our guide on RV stoves, ovens & alternative ways of cooking while on the road!
How to Find Water Fill-Ups, Dump Stations, Showers & Laundry
These are all crucial things for you to live your life, so it's important to know how to find them. Many of these amenities can be found with the All Stays Camp and RV app for $9.99, but there are also free apps and resources that I'll share below.
Potable Water
Finding clean, drinkable water is very important for van life. Without water, you won't last very long, and constantly buying water bottles is both expensive and harmful to the environment.
Places you can find good potable water include:
Campgrounds
Most Travel Centers
Most Rest Stops
Most City, County, and State Parks
Cabela's
Wherever you fill up, make sure it is potable water! This means it's safe to drink and bathe with. I would also recommend always using a water filter (either an on-board water filter or a portable one like a backpacking or RV water filter, or better yet, both!).
If you have a small portable water container, you can also bring it inside Walmart and many grocery stores to pay to fill it up at one of their water stations. It's not free like the other sources, but it's still really cheap!
Dump Stations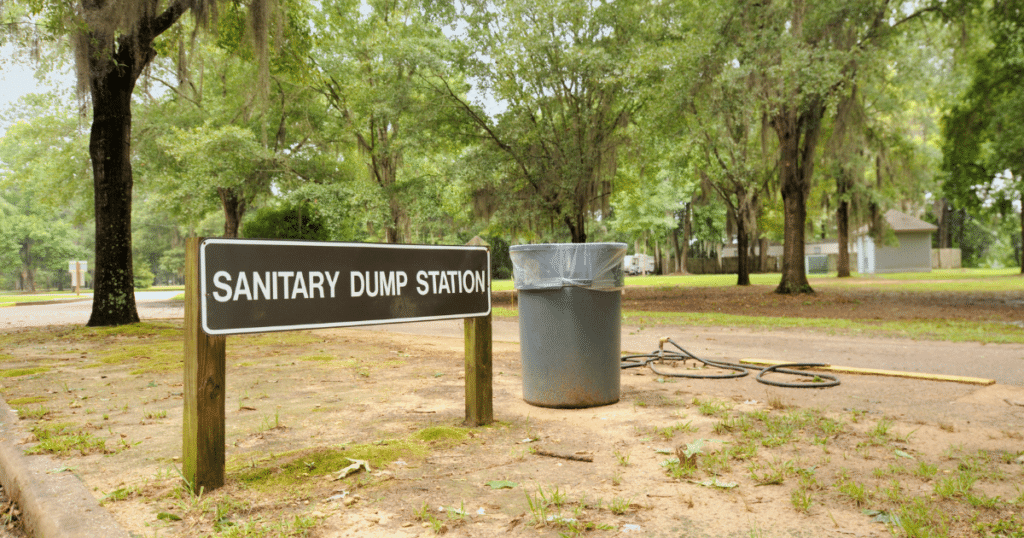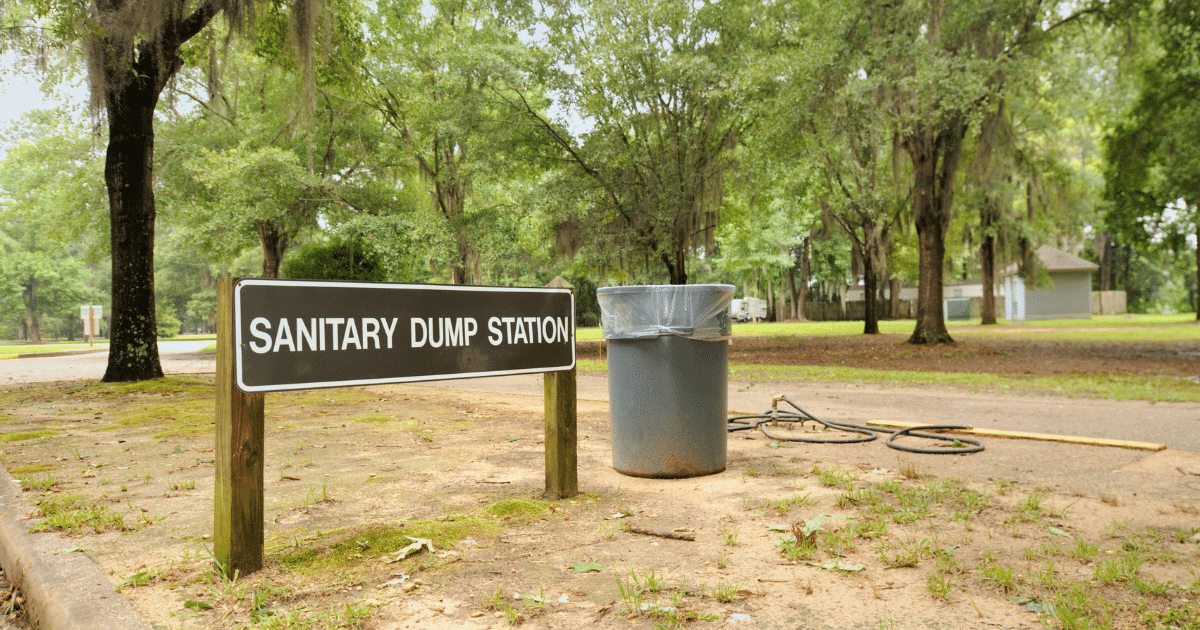 Dump stations are places where you can dump your grey water tanks and black water tanks or portable toilets, if you have them. If not, no need to worry about it!
Dump stations are typically located at all the same places you can find potable water that I listed above. You can also use apps like iOverlander and RV Dump Sites to find dump stations.
Showering & Hygiene
Let's be clear: If you're the kind of person who NEEDS a good hot shower every day, van life might not be for you. Even if you have an on-board bathroom with a shower (which is more of a luxury than a necessity), there may be times where you won't be able to heat the water or access enough water for a long shower.
In general, those living the van life probably average 3-4 showers per week. Although you can absolutely shower daily if you're so inclined, daily showers aren't even necessary to stay clean and smelling fresh.
That said, here are the places you can find showers:
Gyms (like Planet Fitness)
Recreation centers (like public pools)
Public spaces (like beaches and public parks)
Campgrounds
Truck stops
Hot springs buildings
Speaking of showering, here are some tips when using public showers:
Always wear sandals! You don't want nasty germs on your feet.
Consider wearing a bathing suit. This just makes it easier so you don't have to worry about clothes getting wet.
Invest in a shower bag that you can hang. Shower bags (like this one) are great to bring your shampoo, conditioner, and soap and have a place to put it when there isn't a shelf (which happens a lot!).
In between showers, you can still stay clean with a sponge, some soap and your sink or a bucket. You can also use body wipes (I love these ____).
Laundry
Keeping your clothes clean on the road is, honestly, a bit of a pain. Public laundromats aren't always the cleanest places ever and they can be expensive. But it's manageable.
Google Maps is your friend to find laundromats. But I recommend only using them as a backup, and just keeping your clothes clean with a bucket, some Dr. Bronners soap, and some clothing lines for drying. It's easier than you think, and a lot cheaper than a laundromat!
If you're really in a pinch and need a break from the difficulties of van life, another option is to rent an Airbnb with a washer and dryer! We all need a break once in a while.
Where to Park & Camp for Free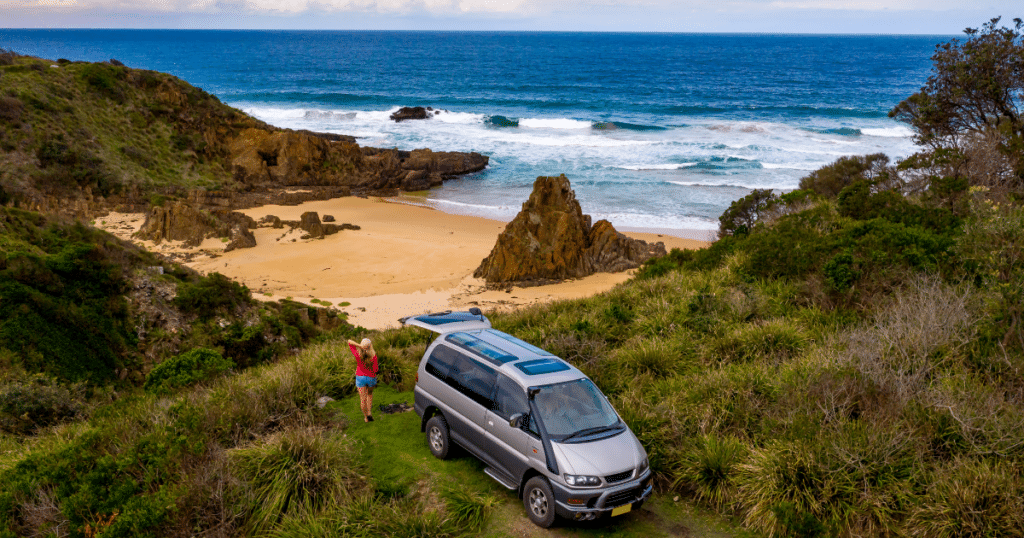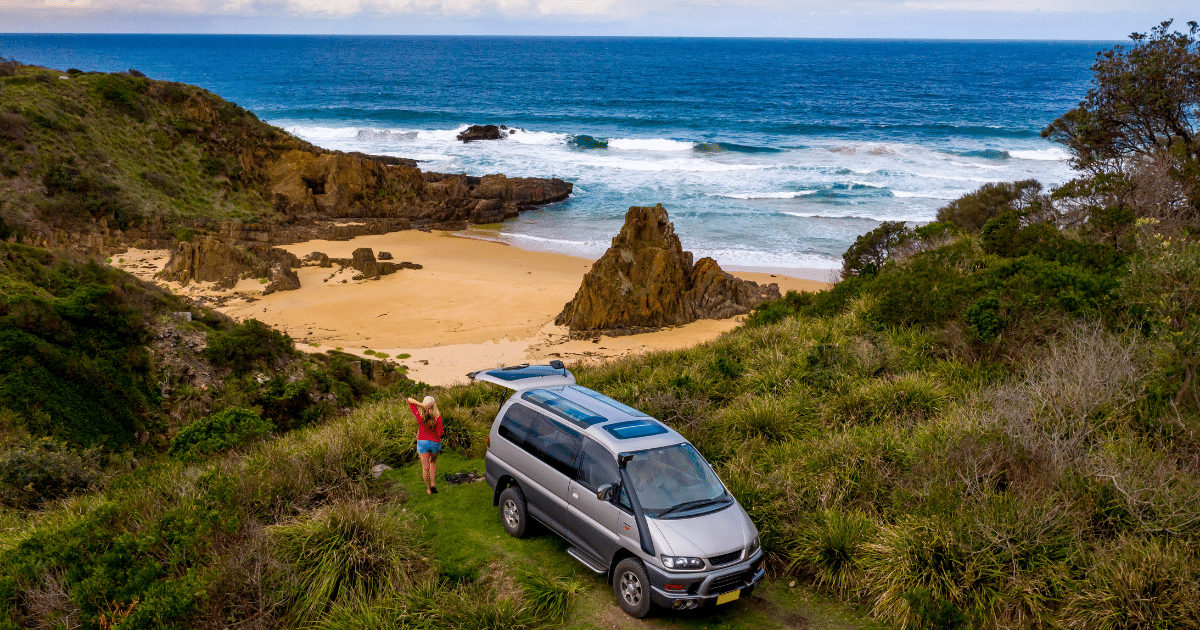 Obviously, you can always stay at an RV park. But campgrounds get expensive fast, and if you're living the van life, you're probably not looking to spend a ton of money on lodging!
Luckily, there are lots of ways to find free camping. There are apps that share boondocking locations in BLM land and public property with overnight parking.
Sleeping overnight in a parking lot is also a common practice in van life. Places like Walmart, Cabella's, and Camping World often allow overnight parking for camper vans and RVs.
I share more about how to find parking for the night in step 4 of the how to get started with van life section below.
How to Get Wifi in Your Van
WiFi is one of the biggest complaints of van life. Because most van lifers work remotely, it's crucial to have consistent WiFi access, but it's not always easy to find.
In addition to getting a mobile hotspot on your phone plan, you can get a cell phone signal booster like WeBoost to ensure you get a signal in most places. Another option is a WiFi signal booster so you can get WiFi outside of public places like restaurants and coffee shops.
Parking outside Starbucks or Panera Bread is a common practice for getting WiFi in your camper van. Going inside and working in a cafe is also always an option!
Finding Things to Do & Community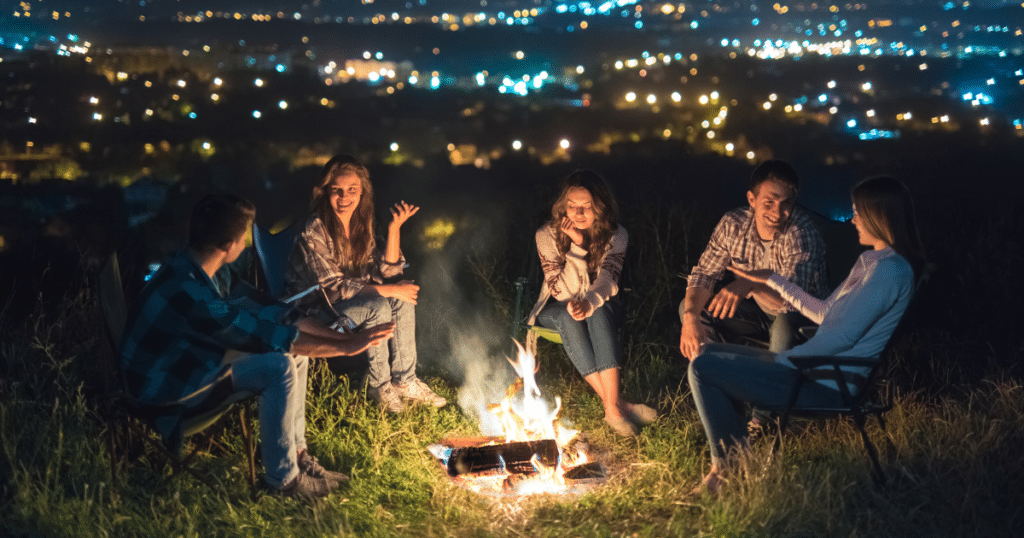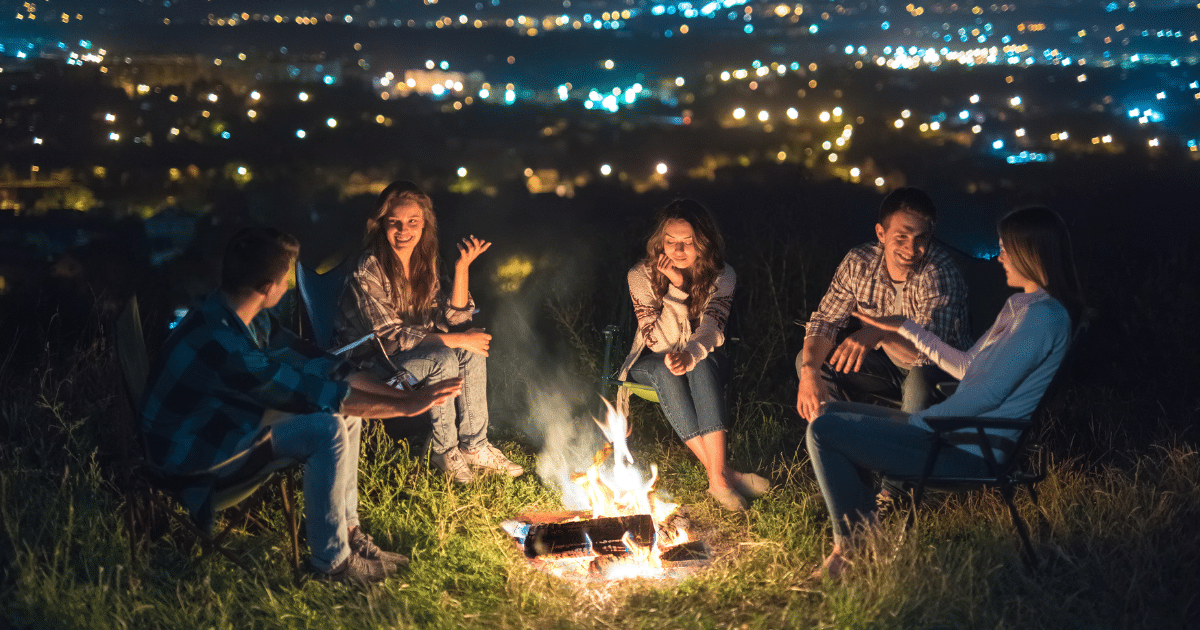 If you're doing the van life solo, you will be alone a lot. It's important to find things to do and a community so you don't go totally crazy!
Meeting new friends and hanging out around a campfire is one of my absolute favorite things about van life.
The best way to find fun things to do and meet other vanlifers is with social media. You can do a quick search for Facebook groups full of vanlifers. You can even do searches based on location, so you're more likely to find people near you.
Here are a few ideas for finding things to do and people to hang out with wherever you're staying:
Attend van life gatherings, like Open Roads Fest. You can find more with a simple Google search.
Take classes and attend events. You can find local stuff on MeetUp.
Talk to people! Whenever you stay at State or National Parks, there are always plenty of people and many of them are nice and won't mind telling you about things to do in the area. Some of our favorite experiences were times we just randomly went out somewhere with our camp neighbors!
Is Van Life Safe?
Van life is safer than most people think, as long as you are alert and careful. I have never had an issue with theft or felt threatened, and I haven't met any other vanlifers who have.
However, some basic caution goes a long way. Here are a few tips for staying safe while living in a van:
Always have an exit plan. A quick look at Google Maps and a drive around the block goes a long way to knowing your surroundings.
Keep your valuables out of view from the windows, and consider keeping anything particularly valuable in a hidden safe.
Get a car alarm if your camper van doesn't already have one.
Keep your doors locked and put up black out curtains.
Lastly, trust your gut. If something feels off or unsafe about an area, go somewhere else.
Overall, van life is really safe with a little basic preparations!
A Note on Leave No Trace!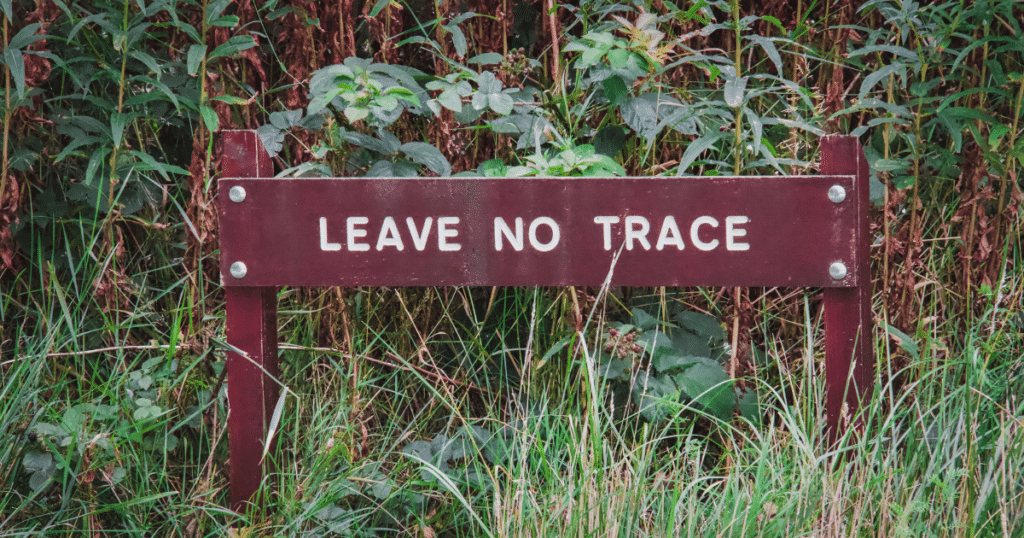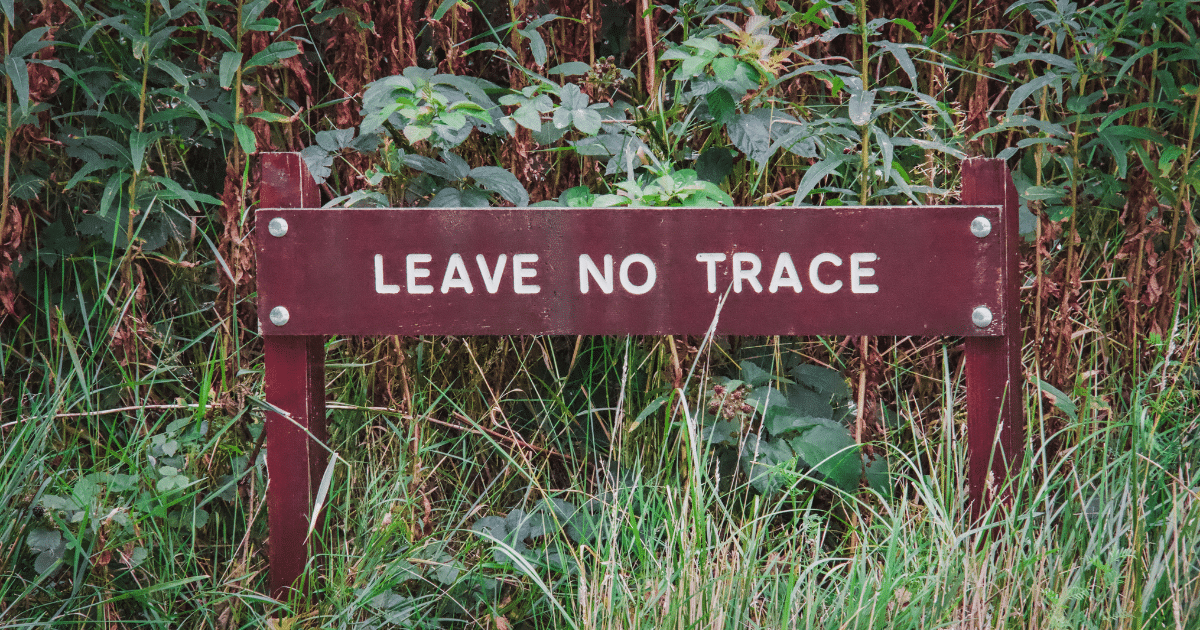 Whenever you're staying at National Parks or anywhere in nature, always follow Leave No Trace principles!
Dispose of your waste properly. If you pack it in, pack it out.
Only travel and camp on durable surfaces. Avoid ripping up the ground with your vehicle.
Leave what you find and minimize campfire impacts.
Essentially, leave the places you stay better than it was before you got there! Pick up all trash and don't hurt the environment or the animals.
How to Get Started with Van Life
Assuming you've decided van life is right for you, here are your next steps.
1. Decide: Build or Buy?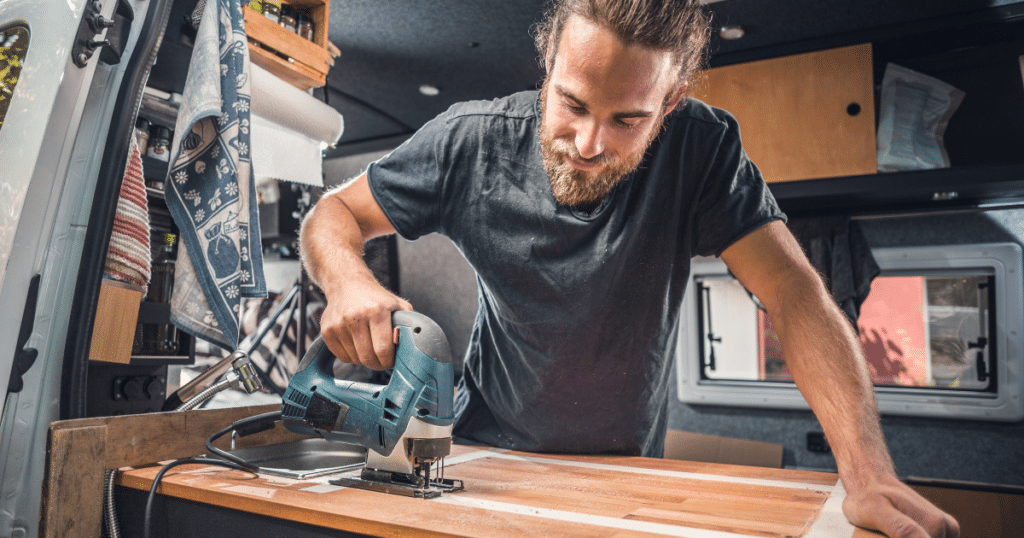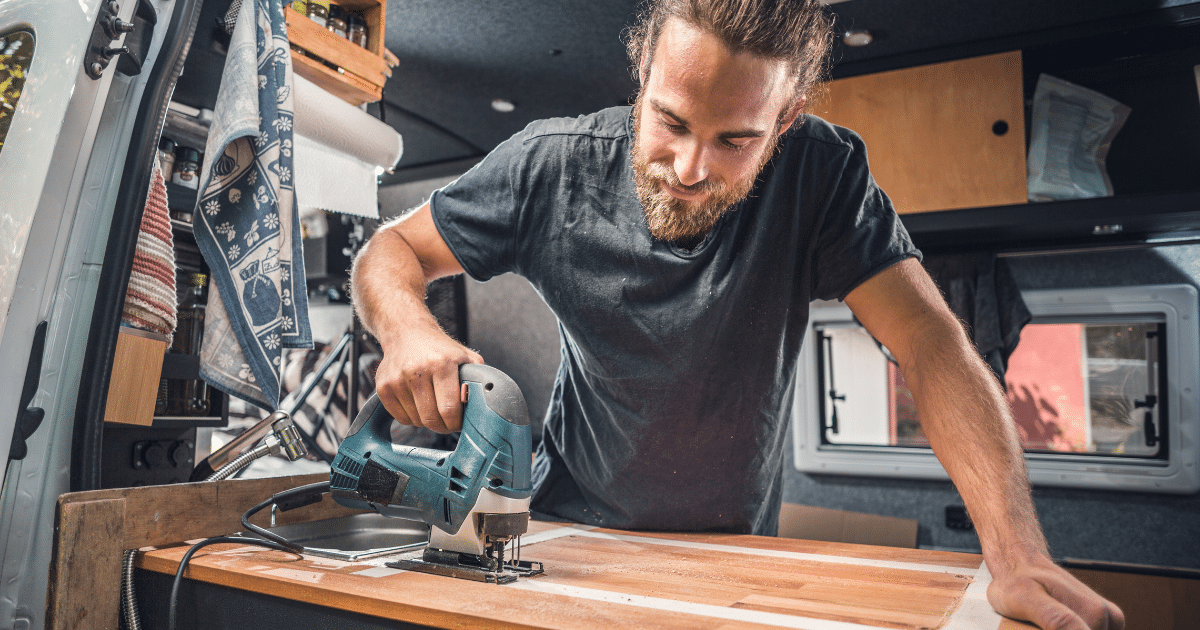 Your first decision is whether you want to convert your own van build or buy an already built camper van or class B RV. This just depends on how much money and time you want to spend.
Building your own camper van can give you more features and options at a much better price. You have control over everything that goes into it, (including which diesel heater you want)!
But if you have more money or lack the time to learn to build one yourself, a luxury camper van can get you on the road faster with less trouble.
Personally, I built a van and would do it again. You save money while also learning valuable life skills. But the choice is yours!
Some of the best vans for van life builds include:
Mercedes Sprinter Van
Ford Transit
Dodge Ram Promaster
Ford E-Series (Econoline)
Chevrolet Express/GMC Savana
But if you have more money than time, here are some of the best pre-built camper van options:
Airstream Interstate 24X
Fiat Ducato Base Camper Van
Winnebago Revel
Sportsmobile Classic 4×4
Alternatively, you can hire a van conversion company to build you the exact van you want while still getting the customization of a conversion.
Related Reading: How to Get a Loan for an RV
2. Get Campervan Insurance
Once you've got a camper van, the next thing you need is insurance. However, insuring a camper van for full-time use is different from insuring one for vacation.
The main differences are…
If you want to learn more about camper van insurance, here are some helpful guides:
Best Camper Van Insurance Options (Coming Soon)
3. Set Up Your Mail Forwarding & Domicile
Another common question I'm often asked about RV life is how I get my mail. It's a fair question – how DO you get your mail when you don't know where you'll be and don't have a mailbox?
The answer: Set up a domicile in your state of choice and use Escapees to forward all your mail to you. I'll let you go check out that guide for this step.
4. Figure Out Where You're Going to Travel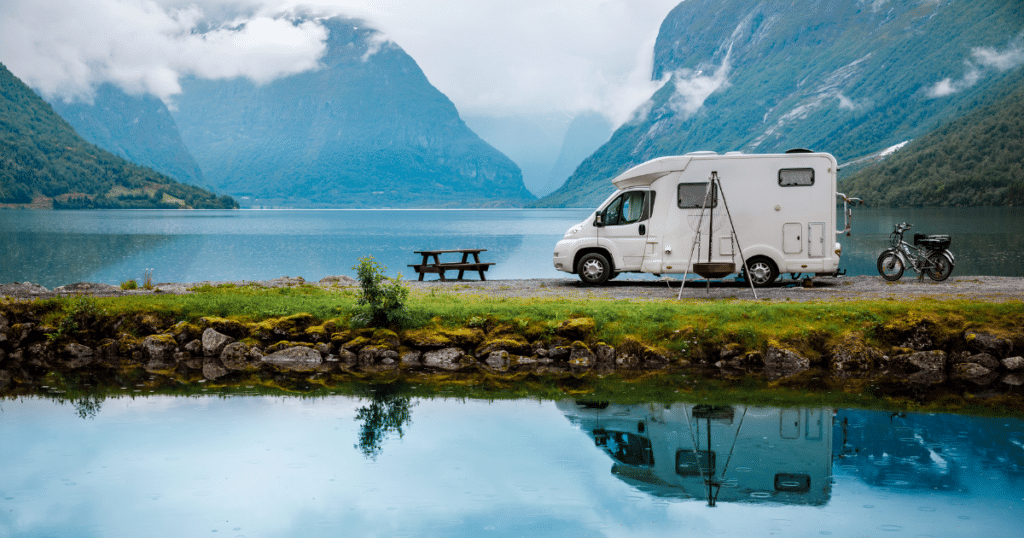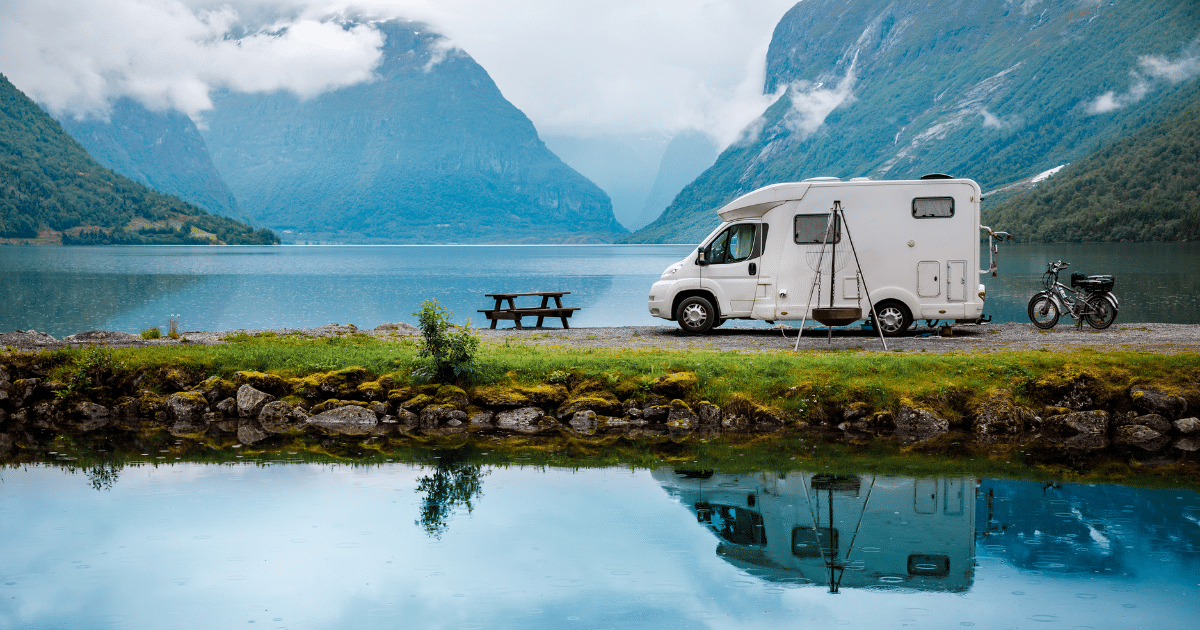 You've got your camper van, insured it, and set up mail forwarding. Now it's time for the fun part: Planning your route!
Sure, you can go to popular RV destinations. But with your new tiny house on wheels, you can literally go anywhere you want!
RV parks and campgrounds are great, but you have lots of options for camping off-the-grid and in national parks or on the beach or by a lake.
So how do you find these glorious camping locations? Well, here are some apps to help you find spots for overnight parking and off-grid camping:
5. Hit the Road!
You're now ready for van life! It's time to hop in your new camper van and go for a road trip.
Living in a van means you have more freedom to be location independent. Get out there and find other people living in a van; nomadic individuals living the digital nomad lifestyle.
Must-Have Van Life Gear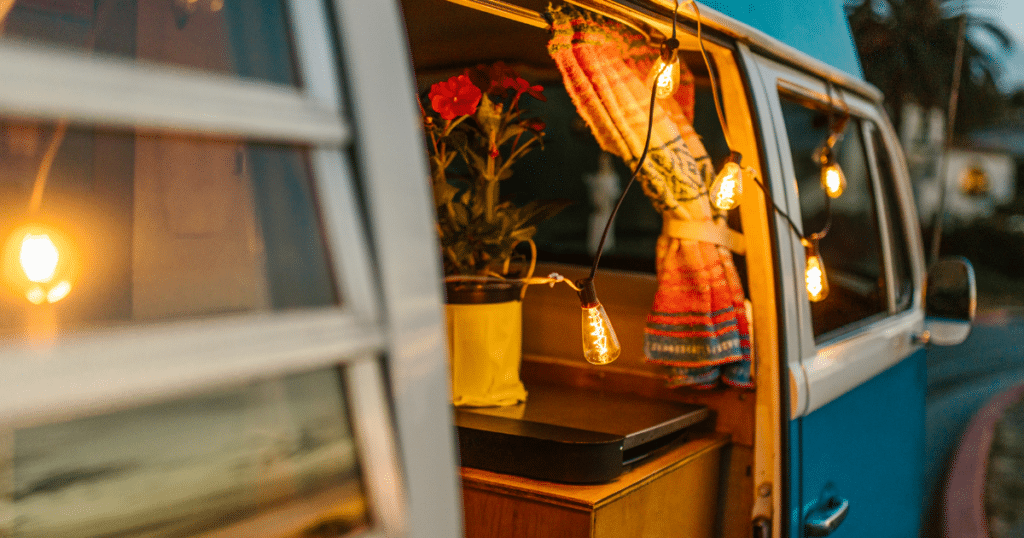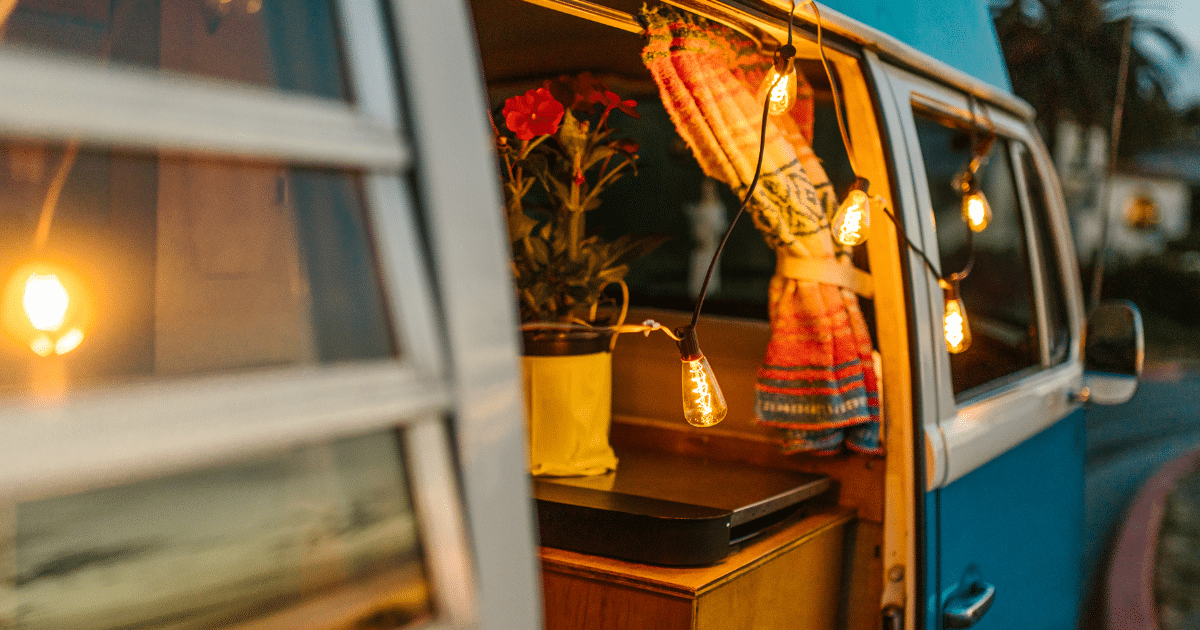 Now that you're living in a van, you might want to consider getting some of these must-have van life essentials to make life on the road a little easier:
Obviously this isn't an exhaustive list, it's just some items I have and use nearly every day. I'm working on an extensive guide to van life must-haves and it will be live soon!
How to Try Van Life Before You Commit
If you're thinking about living the van life but are worried about the limited space or think you might not like it, I have good news…
You can test the van life before you commit with a camper van rental from Outdoorsy!
Test the Vanlife Before You Commit!
Click the button below to brose campervan rentals near you and get $50 off your first rental with code "thewanderingrv".
Final Thoughts
I hope you enjoyed this blog post on how to live and road trip in a conversion van.
This lifestyle may not be for everyone, but it can be incredibly rewarding. If you have any questions or concerns, feel free to leave a comment below and I'll answer everything I can!
Here are some other articles you might be interested in: