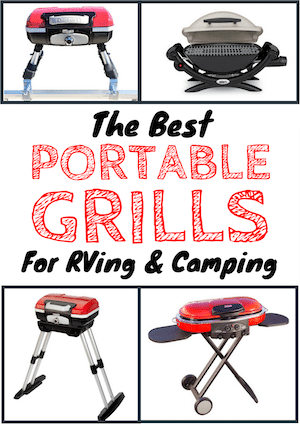 What's the best portable grill in 2022? We scoured the web for reviews and tested the best grills, from the Weber Q2200 to the Camco Olympian, to answer that one simple question.
So what's the best one?
The answer depends on your grilling and BBQ needs. There is no "one size fits all" – not if you're a true grill cook!
Do you prefer electric, gas, or charcoal grills?
Is the grill for your RV, boat, or camping?
Do you want cast iron, cast aluminum, or stainless steel burners?
Fortunately, we've answered all these questions for you. Here's an index so you can jump right to what you're looking for:
First, let's talk about what to look for in your grill.
Table of Contents
Note: Some of the links in this article are affiliate links. This doesn't cost you any more than normal. Read our disclaimer for more info.
What Makes a Great Propane Gas Grill?
The Hearth, Patio and Barbecue Association has conducted a few polls and found some interesting statistics: Most gas grills retail for under $300and last an average of 3 years.Just something to keep in mind as you make your choice. Divide the cost of the grill by 1,095 (3 years) to find the cost per day, if you're curious. For example…
True Cost of a Gas BBQ Grill
$199 grill ÷ 1,095 days = $0.18 per day!
Now, before you blindly choose a new BBQ grill, there are a few things you'll want to consider. Specifically, you should answer the following questions:
How often will you use the barbecue over the course of a year?
How many people will typically be served when you grill?
Do you need a unit that's transportable for camping or tailgating?
Will it need to fit in the storage compartment of your RV?
How long do you expect your grill to last?
What price range are you looking in?
These questions will help you choose the best grill for you.Once you know when, where, and how often you'll be grilling, it's time to look at some of the specific features to help you make your choice.
Portable Gas Grill FAQ
If you're going to buy a new grill, you should know what the terms stand for and why they matter. (Or, if you don't care and just want to know the best grill, click here to skip to the reviews.)
Note: I'll follow each section with a "Key Takeaway" in a red box for easy skimming.​
How Many BTUs Do I Need?

British Thermal Units (BTUs) determine the output of gas to heat up your grill.

Theoretically, the higher the number of BTUs, the hotter the temperature can get. On a grill, the BTU rating describes the maximum heat output for the main grill area or per burner.

Note: BTU does not cover side burners, warming trays, rotisserie burners, etc.

Look closely at this rating – some manufactures will lump all the burner output ratings together to trick you into thinking it's a bigger number.

But the BTU rating isn't the only factor in determining how hot the burner will get. An inefficient unit made of thin materials that can't hold the heat will lose a lot of those thermal units.

In other words, thin materials mean you'll need a model with a higher BTU output to grill a steak in the same amount of time as a quality grill.

If you see a barbecue with a very high BTU rating for its size, they may be trying to compensate for lightweight components – such as the grill, lid or open side construction not being able to hold the heat.

Also keep in mind that the higher the BTUs, the faster you'll burn through fuel. So too high of a BTU output means you'll be spending more money.

Related Reading: The Ideal Grilling Times & Temperatures Chart for ANY Food

KEY TAKEAWAY – Look for 80 – 100 BTUs per square inch of cooking space and heavy, durable construction to retain heat.
Do I Need Two Temperature Control Knobs?

Most portable units will only have one temperature control knob due to their size. But if you're considering one with dual burners, look for dual temperature controls to accommodate two different temperature zones when cooking.

KEY TAKEAWAY – If you get a dual burner grill, get one with dual temperature controls.
How Much Surface Cooking Area Do I Need?

Most charcoal grills don't have a large warming tray or holding area. So, you should figure out how much grill surface area you'll need. Many portable units are big enough to cook for a group of 2 to 4 people, but some can cook for as many as 6. That's why you should know how many you'll usually be serving.

Additionally, cooking your entire meal on the grate will obviously need more space than grilling up some burgers. Of course, the larger the size, the more expensive they get.

A 200 sq. in. cooking grate will hold about 12 burger patties (average patty being roughly 4″ x 4") with enough room between them for proper cooking. This is also enough space for a meal consisting of 8-10 ounce steaks, with baked potatoes and corn on the cob for two. So, about 100 sq. in. per person is a good guesstimate to help you to determine how much space you might need.​

KEY TAKEAWAY – Get a grill with ~100 sq. in. cooking surface area per person.
What Kind of Burners Do I Need?

Look for burners made out of stainless steel or brass, since aluminum will burn out and cast iron will eventually rust. Stainless with an 18-8 rating, or 304 grade, is the best for corrosion resistance.

To protect burners from dripping grease, most propane grills will have a metal deflector between the grate and burners. This also helps to produce a more even heat, reducing "hot spots" on the grate.

KEY TAKEAWAY – Go with stainless steel or brass with an 18-8 rating, or 304 grade, for longest life and corrosion resistance.
What Type of Grate Do I Need?

A good grate will help to hold the heat in the cooking area and conduct the heat into the food for cooking  (that's how you get the characteristic char marks).There are three kinds of grates:

Chrome and nickel plated grates: Fitted with a wire core, these grates are lightweight, which means it's easy to carry. But that also means they don't hold the heat well. Plus, the plating can chip and they tend to rust. Stay away!!

Cast iron grates: Great for holding and conducting heat, but will rust without a treatment of oil (a spritz of cooking spray on both sides after cleaning is an easy solution). Not a bad choice.

Stainless steel grates: Work well, are easy to clean, and not too heavy. However, they don't hold heat or conduct as well as cast iron. This is really the grate of choice for most people.

KEY TAKEAWAY – Stainless steel is the grate of choice for rust-resistence, even heating, portability, and ease of cleaning.
What Kind of Ignition Do Portable BBQs Have?

Most grills are now equipped with spark ignition systems. Some run on battery and others use the friction of a push button or dial to ignite a spark.For the times when the starter fails, there's usually a manual ignition hole on the side where you can use a candle lighter or those long fireplace matches.

KEY TAKEAWAY – Most have spark ignition systems.
Should I Get a Grill That Uses Natural Gas or Propane?

Portable BBQs really only run on propane. In order to use natural gas, you have to be hooked up to the gas line for your house – not very portable.

KEY TAKEAWAY – You'll only find propane.
What Quality of Construction Should I Look For?

Obviously, you want your parts to be as lightweight as possible and easy to carry as possible…

However, lightweight materials can often mean flimsy and cheap. So how do you tell the difference?​

In order to test a grill's construction quality, do the following:

Test for stability by gently pushing against it from different angles to see if it's unstable or prone to tipping. (Welded stands have greater stability than those held together with nuts and bolts or cotter pins.)
Check working areas and surfaces for sharp edges and corners that can cut or get snagged on clothing, oven mitts or aprons.
Grab the handle to see if there's enough grip room – if your knuckles touch the metal, you'll burn them on the lid when you open it.

The best materials for gas grills are cast aluminum, cast iron, enameled steel and stainless steel. This is because:

Aluminum will eventually discolor from the barbecue heat and exposure to the elements, regardless of quality. The thinner the material used, the quicker it will lose its pristine look.
Cast iron is extremely durable but will rust if not properly painted, and and its heavy. A good choice if you don't mind maintenance and won't be lugging it very far.
Enameled steel won't rust, but it can chip.

The old adage is true: You get what you paid for.

So have a look at the quality of the painting, the heft and gauge of the metal used, and the welds or nuts and bolts.

If you're buying an accessory cart: Is it sturdy enough to get bumped against without a disaster? How many plastic parts are there? And what about hinges or any moving parts – do they look durable enough to last a few years?

KEY TAKEAWAY – Stainless steel again comes out on top. Look at the painting, heft and gauge of the metal used, and the welds or nuts and bolts to determine quality.
What Kind of Transportation Features Do I Need?

You want something that's easy to get in and out of your trunk or RV. Additionally, determine the following:

Does the lid have a latch for secure traveling?
Will it sit flat or does it have to stand on end?
Does it come with a travel case?
Is any disassembly required to move it?
Do you need a model with wheels for easier movement?
Will the collapsed dimensions fit in your trunk or stow compartment?

KEY TAKEAWAY – Look for the ability to lock in storage, the smallest size for your needs, wheels to make transport easy, and proper collapsible dimensions to fit in your storage compartment.
What Kind of Fuel Tank Do I Need?

Most travel grills come with small camping size propane cylinders, which are great for a couple of meals.

But in the long run, it's often more economical to purchase a conversion kit for a 20-pound propane tank. The conversion kit is usually an extra that can run up to $100, so factor in that cost if it's not included in the purchase price.​

KEY TAKEAWAY – You may want to purchase a 20-pound tank conversion kit for longer outings.
Do I Need Shelves?

Need? No. Especially if you're mainly going to be cooking on table top.

But I highly recommend getting one that does – they are immensely helpful, especially if your dry camping or tent camping. Most travel grills have them, however.

Typically, shelving on transportable units is detachable or slides out of the way when you're not using it.

Of course, this means you have another item to check for sturdy construction. Make sure they can withstand a plate of food and your utensils.

KEY TAKEAWAY – While not required, having shelves is great. Make sure they're sturdy enough to hold 5-10 lbs.
Do I Need Accessories?

​Many units won't come with accessories, so factor that into your budget. You may want to get BBQ utensils and a stand or cart to go with your new grill.

KEY TAKEAWAY – You'll probably want accessories. Keep room in your budget for grill accessories.
What Kind of Assembly Do Portable BBQ Grills Have?

​Ever hear the phrase "some assembly required"?

Don't cringe – most transportable models need little to no assembly. (Unless you're buying a unit overseas – make sure the instructions are in English and you don't need to use a drill!)​

KEY TAKEAWAY – Typically, little to no assembly required. At most, you may have to screw or slide a few things together.
Now that you understand the features to look out for in your grill decision, let's dive into the best portable BBQ grills of 2021!
Here's another quick navigation to find your perfect fit:
Top Rated Portable Gas Grills 2021
The best portable grills in 2021 are:
Traeger Bronson 20 Portable Wood Pellet Grill
Cuisinart CCG-180 Gourmet Portable Propane Grill
Weber Q1000 Liquid Propane Grill
Coleman Roadtrip Propane Travel Grill
Weber 10020 Smokey Joes Charcoal Grill (Alternative to Propane)
Keep reading to see the reviews!
There you have it – the top rated grills to take with you anywhere. Did you buy a grill? Which one did you go with? Let us know in the comments below!
Read Next: The Best RV Accessories Rated By 30 RV Experts
Looking For Something Bigger? Click Here to See Reviews on the Best Pellet Grills