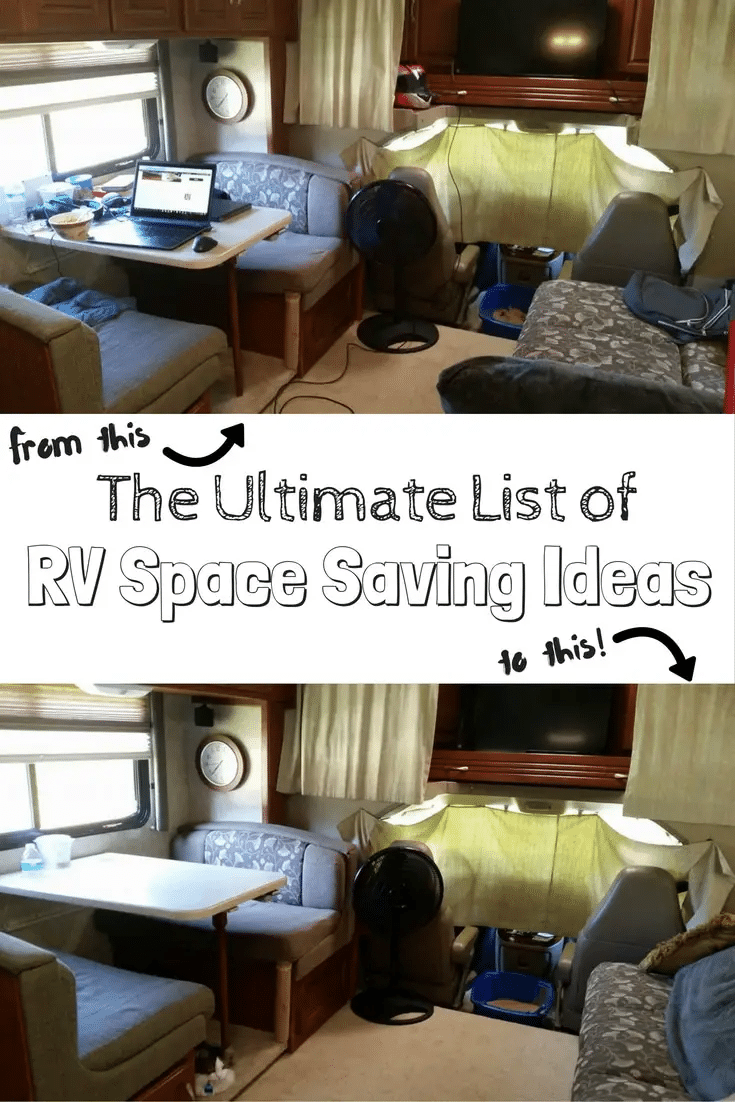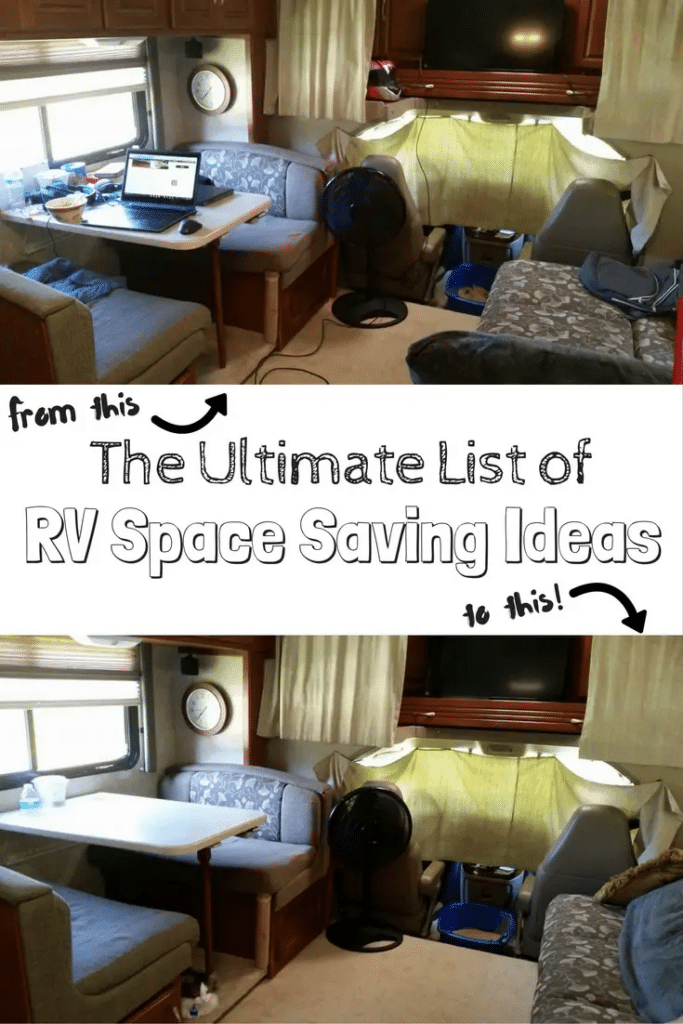 One of the biggest challenges when it comes to RV life is limited space.
Soon after moving into an RV, we got sick of all the clutter, so we scoured the internet to find the best RV storage ideas of all time.
In this post, you'll learn how to organize your RV (or small space) today – and keep it that way!
Use the table of contents to see all the different hacks and click whatever interests you:
Note: Some of the links in this article are affiliate links, which means we make a small commission if you buy something. You don't pay anything extra by purchasing through these links. See our disclaimer for more info. Thank you!
5 RV Storage Tips Before You Begin…
1. Take Stock
Write down everything you have. I know, this is a monstrous task, but there really is no better way to organize your RV or small space than by knowing exactly what you have.
2. Purge the Useless Items
Do you really need 12 drinking cups and 20 plates? Unless you have a huge family, I doubt it. I'm a culprit, too. I have 3 pairs of sunglasses. I don't need them, but… y'know. Everyone has those things they just don't want to get rid of.
As fulltimers, we plan to get rid of everything we don't use at least once per year. If you're not living in an RV, I recommend doing this after every RV trip.
3. Designate a Place for Everything
And I do mean everything. Keys, your fly swatter, loose change, bike helmets, the RV trash can — you name it. It's the only way you'll ever get your RV to stay organized.
4. Use the "One In, One Out" Rule
This is a great way to stay on top of your organization goals. Anytime you bring something new into the RV, the old one should go out. For example…
If you bring a new sweater into the RV, an old sweater should be removed.
This rule will help you upgrade old stuff without keeping tons of unnecessary clutter.
5. Stick to a Cleaning Schedule
With a house that moves, you have to put everything away before you start your drive. However, when you stay in one spot for any length of time (we sometimes stay at one site for over a month), daily cleaning can be overlooked and clutter builds up. No amount of RV storage ideas will help you if you don't develop a routine.
We have a daily morning routine of cleaning up after breakfast.
Once we're finished eating in the morning, I like to take 20 minutes to wash the dishes and pick up anything lying around. By doing a small pickup session daily, the cleaning is more manageable and never becomes a huge hassle.
Now — on to the RV storage ideas!
RV Kitchen Space Saving Ideas
Here are a few RV space saving ideas:
1. Put a Free-Standing Drawer Unit in a Cupboard (Secure w/ Bungee)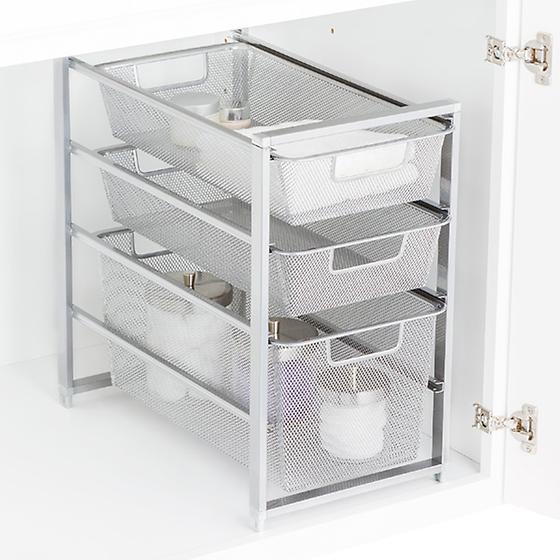 These cabinet-sized drawer units are pricey, but if you have the money they can be one of the best ways to use RV cabinet space that may otherwise be wasted. Kayla and I don't use them because of the price, but we'd love to have them if we had the extra money! Secure them with bungee cords to keep them from opening on the move.
2. Get an Over-The-Door or Door-Mounted RV Trash Can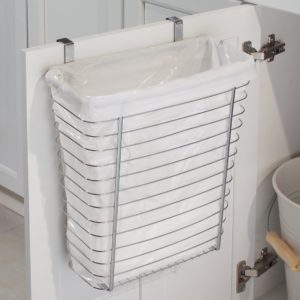 An RV trash can on the floor takes up a lot of space… but you need a trash can. Trust me – I went weeks without a trash can in the RV and it's a huge pain. This over-the-door trash can saves space and is totally out of the way!
3. Use Storage Bins in Your RV Shelves

Storage bins are probably the number one most important piece of the RV organization puzzle. We have a dozen, and could probably use two dozen more. You can use them in cupboards, drawers, and in the outside storage compartments. Label them for bonus points!
4. Replace Your Tea Kettle with This Foldable One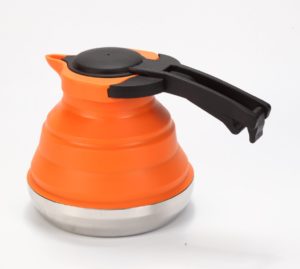 Cookware can be the biggest space sucker of all the items in your RV. If you like to heat your water with a kettle, getting a collapsible tea kettle will save you a lot of room and headaches. You can also get collapsible colanders and even collapsible pots!
5. Replace Mixing Bowls with Stackable Nesting Bowls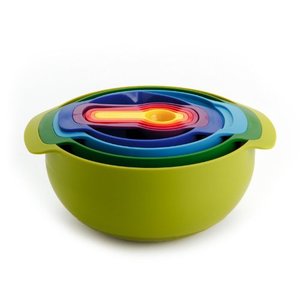 Nesting bowls are a go-to RV space-saving idea. We basically stopped using bowls in the RV until we found these because they just take up so much room. One of those "bowls" is actually a colander, which is great.
6. Use Dish Cradles to Maximize RV Cabinet Space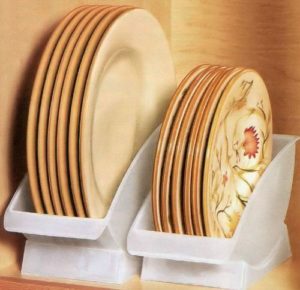 These are way up on our wish list. Stacking dishes vertically in a dish cradle makes them take up less space and, more importantly, makes it easier to get them out without needing to take anything off the top of them.
7. Install a Hanging Basket for Fruit

If you can find a spot to put a hanging basket, they're great. Kayla and I don't really have anywhere we could put one, so unfortunately, we don't have one.
8. Get a Roll-Up Sink Rack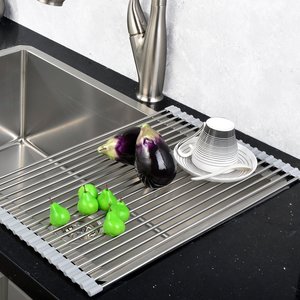 Having an above-the-sink rack, rather than a countertop one, frees up that precious counter space. This model even rolls up for easy storage.
9. Install a Peg Board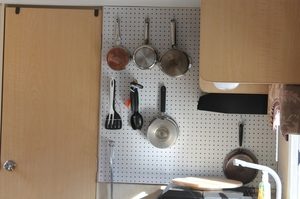 We don't have a spot for one of these ourselves, but I wish we did. A peg board on the wall looks like a really cool, easy way to organize the unorganizable: pots and pans.
10. Buy Tons of Suction Cup Hooks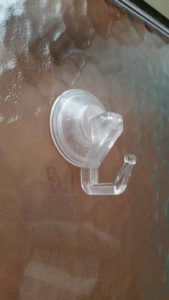 The suction cup hook pictured above is from our shower, and this thing works wonders! I love anything you can use to hang stuff without putting holes anywhere because we're planning on selling our RV when we're done and want to keep its value.
Get Our Top 3 RV Storage Hacks
Send me the guide
We respect your privacy. Unsubscribe at anytime.
11. Fruit Hammocks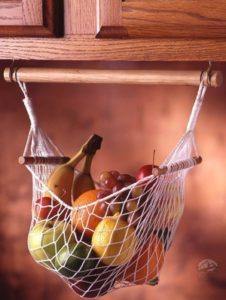 If you're like us and can't find room for the hanging baskets, these fruit hammocks might work for you instead. I like them because the fruit ripens evenly so you don't get spots over-ripened.
12. Paper Plate Dispenser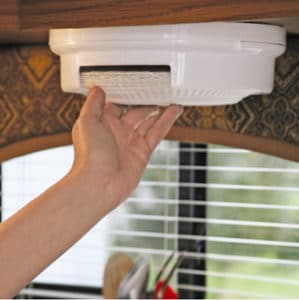 Another item high on our wish list is this awesome paper plate dispenser.
13. Fold Out Spice Rack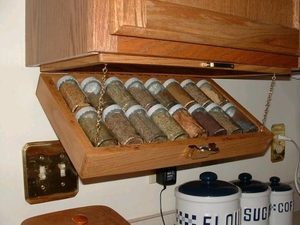 This spice rack can be installed right under a cabinet and will save tons of RV cabinet and counter space. It beats our system – we have all the spices in a storage container, which is a pain when you have to dig out the one you want.
14. Dangling Mason Jars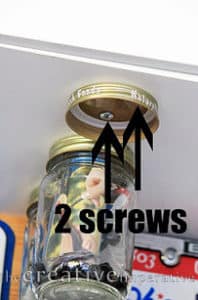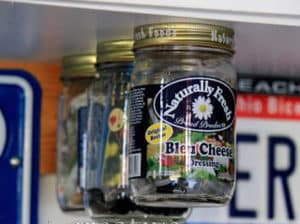 This one's cool, and affordable. Just get some mason jars and screw them into the ceiling to store small stuff!
15. Wall-Mounted Magnetic Strips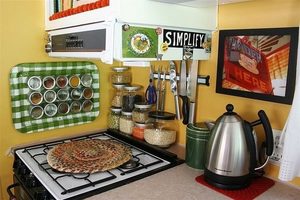 A wall-mounted magnetic strip is high on our wishlist as a way to store our knives. Put them away while driving, though – you don't want them to come flying off the wall if you crash!!
16. Magnetize Your Cutting Board to the Underside of a Cabinet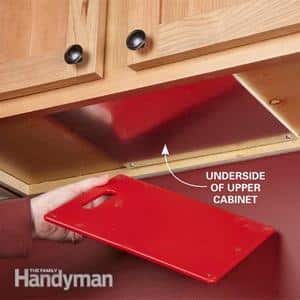 Get some magnets to install on the back of your cutting board, and a sheet of metal to install under your cupboard: Boom, your cutting board is organized and out of the way.
17. Use Curtain Tension Rods Vertically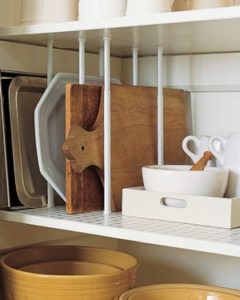 You've probably heard of using curtain tension rods in cupboards to keep things from falling out. But, have you thought of using them vertically to organize things? Try it out!
18. Over-The-Sink Shelf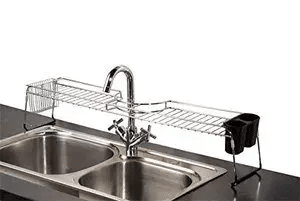 If you can find a way to stabilize it, an over-the-sink rack will add some much-needed kitchen space.
19. Airtight Square Canisters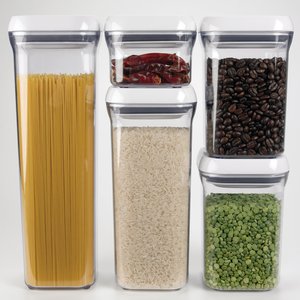 Tupperware is one of the greatest things for storing food, but they can be hard to organize, to say the least. These square canisters (which are also airtight) are great for maximizing your storage space!
20. Spice Gripper Clips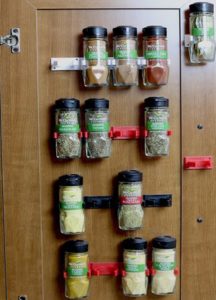 Like I said, spices can be a pain to organize. These are another item high on our wishlist – spice gripper clips!
21. Magnetic Spice Holder (Use Caution!)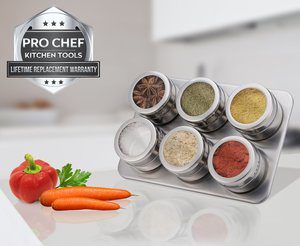 These are super popular, so I wanted to mention them. Just be wary of these magnetized spice racks, because Nikki Wynn from Gone With the Wynns said they didn't work well for her. Maybe she didn't set it up right, but I'd rather not deal with spice all over my floor to find out.
22. Knife Safe by Camping World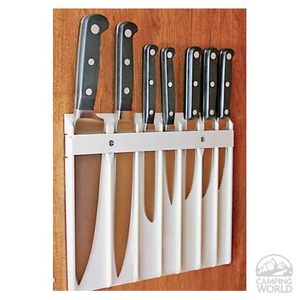 A good alternative to the magnetic strip for storing knives is the knife safe by Camping World. I'm still not sure I would leave them in this while driving, though.
23. Food Dispensers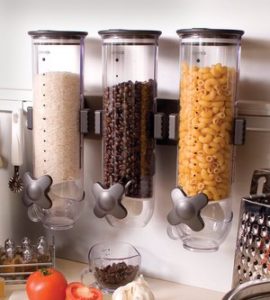 Wall-mounted dry food dispensers are a great way to free up some cupboard and counter space. Just put the contents in and toss the packaging! It makes it easier to get to your food, too.
24. Floating Wine Rack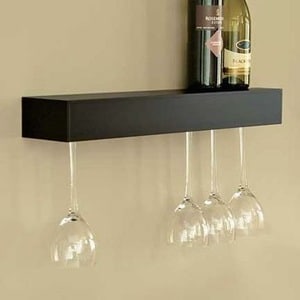 A floating wine rack probably isn't your first idea to store wine glasses in your RV, but hey, you gotta have dreams of wine, right?
25. Lazy Susans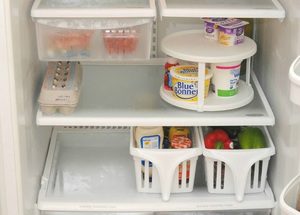 If you don't know what a Lazy Susan is (I didn't before I did some research on organization), it's basically a plate that spins (just like the glass plate in your microwave). They are awesome! You can use them in the fridge or in cupboards to easily get to stuff in the back.
26. Divided Organizers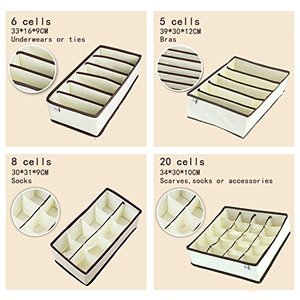 These divided organizers are another great way to save space. You can store drinkware, clothes, accessories, and more! You can create your own with a box and some cardboard dividers left over from packages if you want to be thrifty.
27. Use Towel Rods to Hold Pot Lids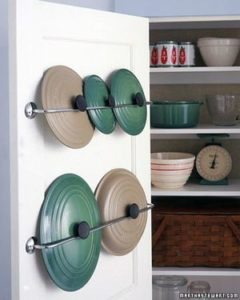 Pot lids are the worst things to find space for. They are awkward and never sit right. Just use a curtain rod to hold them on the back of a cupboard!
28. Under-Shelf Baskets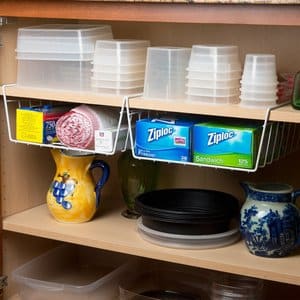 You can use under-shelf baskets to add more storage space to your cupboards – and under the shelves in your fridge!
29. Organize Bakeware with a Pan Organizer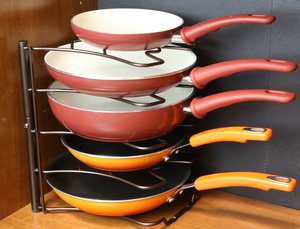 Who says pan organizers are only for pans? Put your baking trays in them, too!
30. Magazine Rack Can Organizer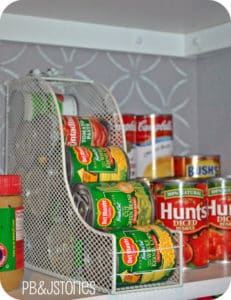 You can use magazine racks to organize the cans in your cupboard; plus, it will stop them from rolling around and making a mess.
31. Bungee Your RV Trash Can to the Wall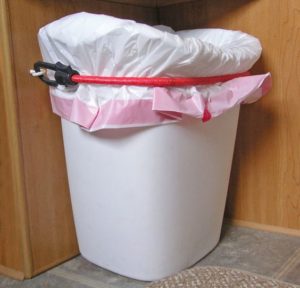 Sometimes an over-the-door trash can is just too small, and you need something bigger. Just take a bigger trash can and use some bungee cords and eye hooks to tie it to the wall; viola, a mobile-ready RV trash can that's out of the way!
32. Use Old Wipe Containers to Store Plastic Bags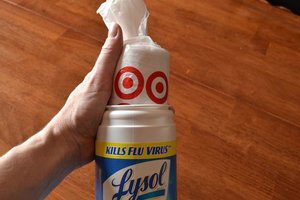 infarrantlycreative
Plastic bags tend to accumulate and take up way too much space. Instead of stuffing them in a dark corner of your RV, use an old wipe container to organize them!
33. Repurpose Coffee Creamer Containers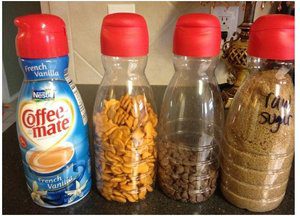 sharonscrapbook
If you're a coffee lover like we are, you've probably thrown out a lot of coffee creamer bottles. Next time you find yourself running out of creamer, keep the bottle, clean it, and reuse it to store food! It takes up less space than most packaging.
34. Combine a Shower Caddy with a Command Hook to Make a Produce Rack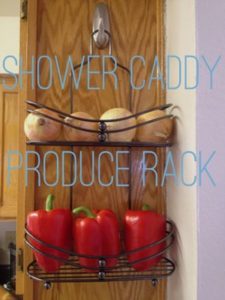 MyFridgeFood
35. Store Garbage Bags on a Paper Towel Holder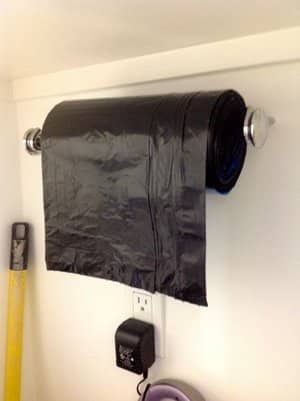 Paper towel holders can be used to hold tons of different things. Use them to store your garbage bags for easy access!
36. Or – Store Them in an Old Juice Bottle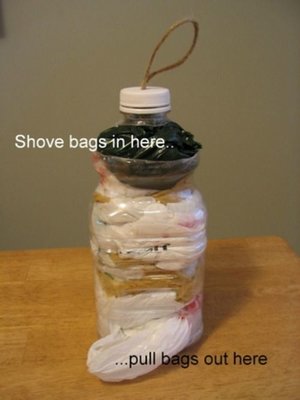 If you can't find space for a paper towel rod, an old juice bottle will work to store bags. It may not store the whole roll, but it's an easy way to get your bags out.
37. Collapsible RV Trash Can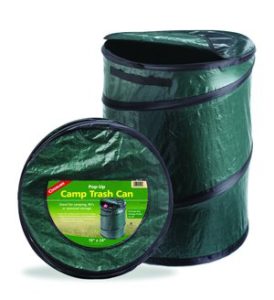 If you haven't already figured it out, I love collapsible stuff. This collapsible trash can takes up virtually no space, and it has plenty of room as an everyday trash can.
38. Thumbtack Sandwich Baggies Inside Cabinet Doors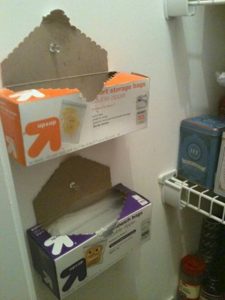 Thumbtacks can perform miracles. Just pin your sandwich baggie boxes right to the back of a cupboard!
RV Storage Ideas for the Bathroom
39. Make Your Own Towel Caddy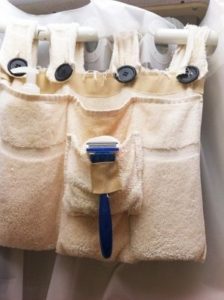 If you're a creative type, you can combine a towel with some buttons and sewing skills to create one of these cool shower caddies.
40. Use a Shoe Organizer as a Towel Holder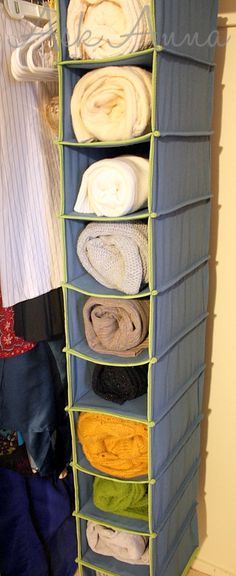 via Pinterest
41. Hanging Containers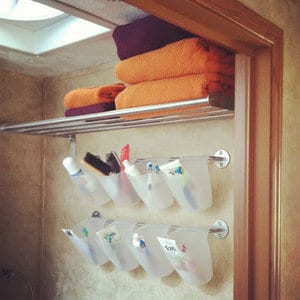 I couldn't find the plastic containers from Ikea they used in the picture, but you can use these ones from eBay instead.
42. Elastic First Aid Holder

All those creams and ointments can get pretty unorganized if left laying in the medicine cabinet. You can easily store and organize them by stapling an elastic band around them to hold them in place!
43. Create a Toiletry Holder with an Old Coat Hanger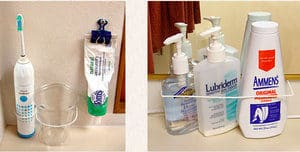 andybaird
You can use an old metal coat hanger and some screws to keep your toiletries organized and in place as you travel.
44. Hook Dispensers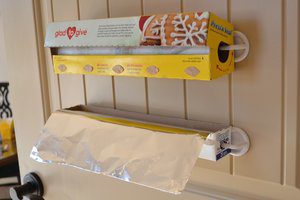 askannamoseley
You can take a page out of Anna Moseley's book and install some hooks in the wall to create an aluminum foil dispenser. It keeps the box from taking up room on the counter and makes it easy to get to; win-win!
45. Storage Pods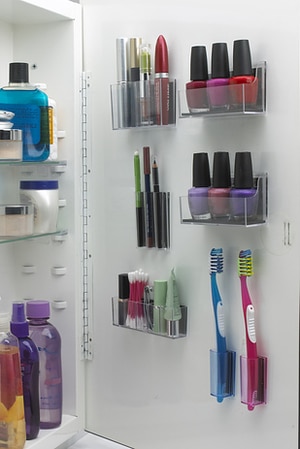 Use command strips to hang plastic toiletry holders!
46. Handmade Extra Toilet Roll Storage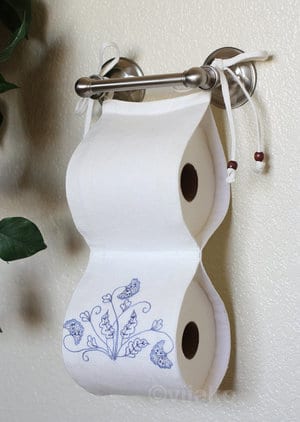 They're a little pricey, but if you like these extra toilet paper roll holders, you can get them on Etsy.
47. Shampoo Dispenser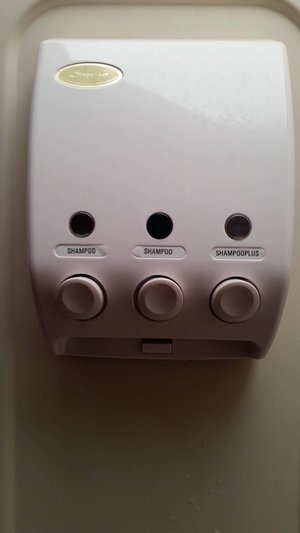 Our RV shower has this nifty shampoo dispenser. There's a big lack of shelf space in our RV shower, so this comes in handy.
48. Command Strip Broom Holder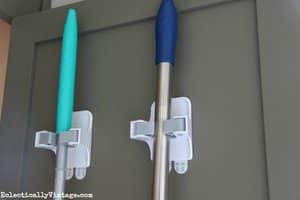 Organize your brooms and mops with a command strip broom gripper.
49. Command Strip Necklace Holder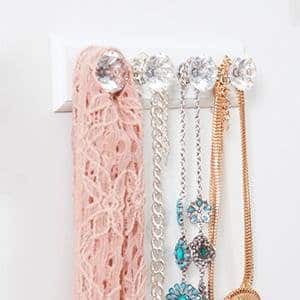 My grandma got us this necklace organizer for Kayla, and she loves it. It's the best way to store her necklaces while also making them easy to get to.
50. Collapsible Laundry Basket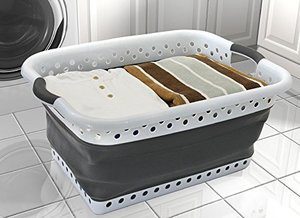 If you need a laundry basket in your RV, try this collapsible one to save some space!
51. Laundry Bag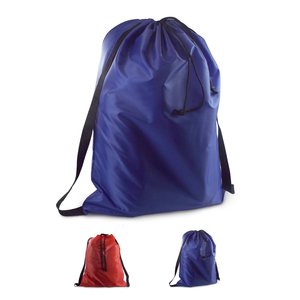 Alternatively, you could do what I have done and get a laundry bag. Ours isn't like this backpack version, though – we wish it was!
52. Store Bobby Pins in an Old Tic Tac Container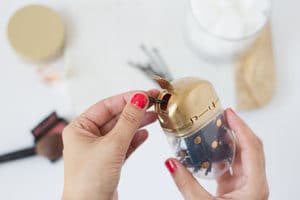 lovelyindeed
Try out this cool project by Chelsea from Lovely Indeed. Turn an old tic tac container into a bobby pin holder!
53. Hang Spice Racks for Bathroom Supplies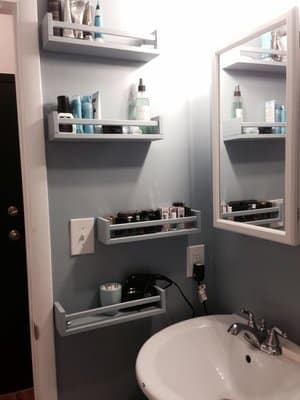 Pinterest
Paint Ikea spice racks to match your bathroom cabinet, then use them as storage shelves for bathroom supplies.
54. Over-the-Cabinet Hair Dryer Holder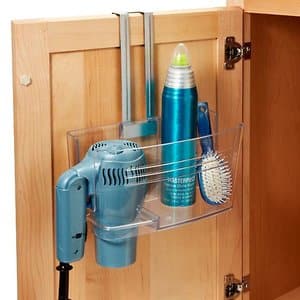 containerstore
The container store sells this nifty over-the-door hair dryer and supply caddy.
55. Tape Together Coffee Cans for TP Storage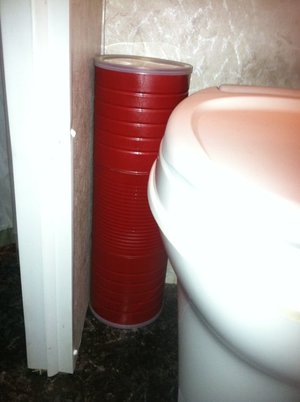 Pinterest
You can cut the bottoms of some old coffee cans and tape them together and paint them to match your decor! Easy toilet paper storage.
56. Use a Dry Foods Container as a Small Waste Basket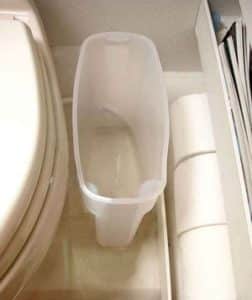 If you're looking for a small, out-of-the-way trash can, use an old dry foods container.
RV Bedroom Storage Solutions
57. Remodel Your Bunkbed Into a Closet or Office

This is a travel trailer space saving idea since most motorhomes don't have bunk beds. It can be annoying having space used for something you simply don't need or want there. If you have a bunk bed, but don't use it, you probably feel the same way.
If you're feeling crafty, try converting that space into an office to get the most out of every square inch of your rig.
58. Portable Filing Folder Bag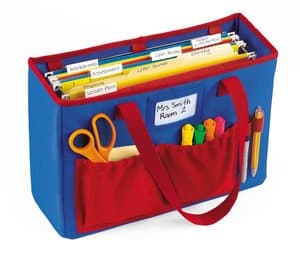 Keeping good records is really important, especially for those of us self-employed. It can be hard to find room to keep track of this stuff, which is why you should get one of these.
59. Make a Storage Headboard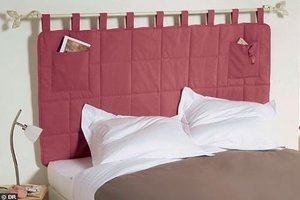 If you're good at stitching, this is an interesting project to undertake. It could double as a shade for the window behind your bed if you have one.
60. Caddy Night Stand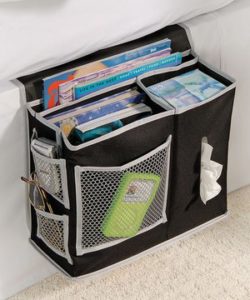 Bedroom space is lacking in most RVs (besides under the bed, but who wants to pick up their bed every day?) A caddy night stand could solve that problem for you!
61. Fold Your Clothes to Fit Into a Small Space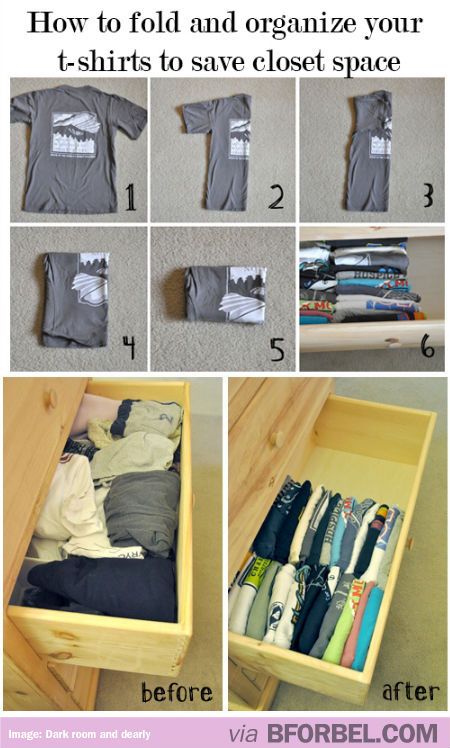 Pinterest
62. Use a Shoe Box for Decorative Storage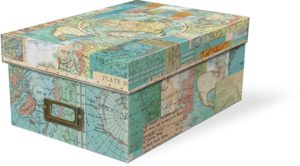 these cool decorative shoe boxes
63. Organize Hats with a Clothes Hanger and Shower Rings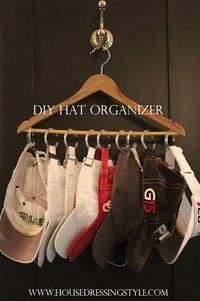 Pinterest
64. Use a Shoe Organizer for Extra Shelves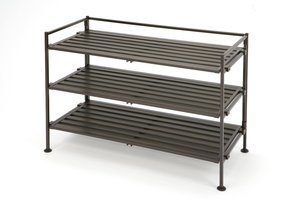 A shoe rack can actually fit in many RV cupboards. Use it for extra shelf space!
Living Room Space Saving Ideas
65. Velcro Remotes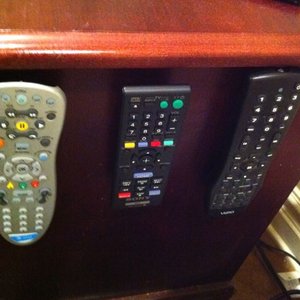 Pinterest
Kayla and I did this with our remotes, and we love it! We used these velcro squares.
66. Store Flashlights with a Broom Holder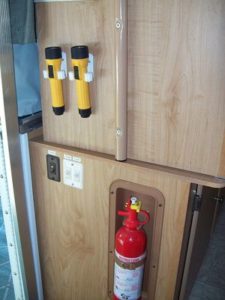 Pinterest
Get another command strip broom holder to store your flashlight by the door for easy reach.
67. Get Shelves with Side Hooks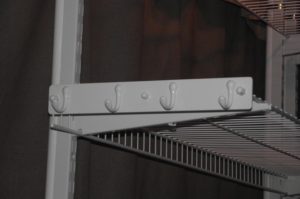 popupportal
I couldn't seem to find these online anywhere. If you know where to get them, let me know!
68. Door Catch Hideaway Hooks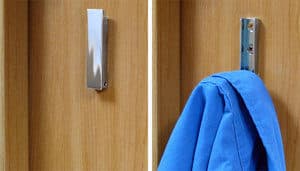 Hide your coat or towel racks using door catchers.
69. Create a "Quick Drop Zone"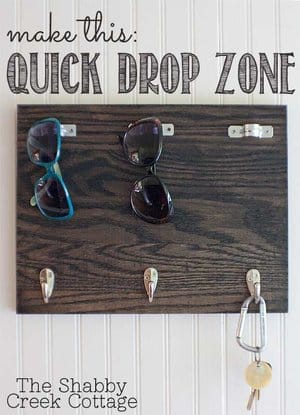 TheShabbyCreekCottage
Create a "Quick Drop Zone" to store small things like keys and sunglasses right by the door for easy access.
70. Use Magazine Racks for Odds and Ends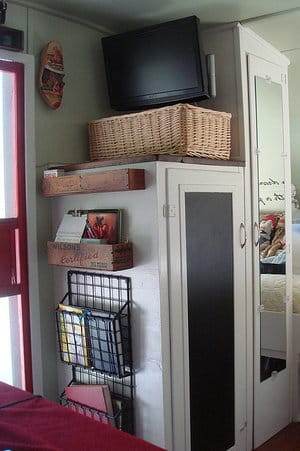 creativeaccumulation
71. Paper Roll Rod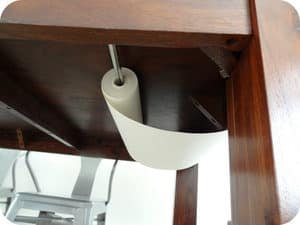 If you have kids who like to draw on paper, try this project to install a paper roll under a cabinet.
72. Inside the Door Storage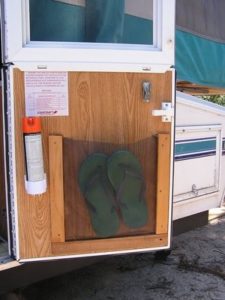 Pinterest
This is something you can easily make yourself, or you can just buy it.
73. Desk Lamp w/ Power Outlet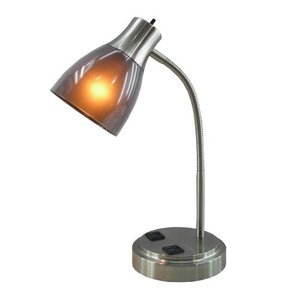 This tip is less for organization and space saving, and more for supplying your RV with a power outlet you can reach without bending over. Our RV has a power outlet under the dinette we use when we're working on our laptops, and it is a pain to get under there to plug stuff in.
74. Storage Cubes Turned On Their Sides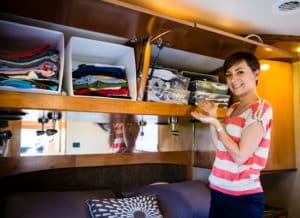 This is another idea we got from Gone with the Wynns.
75. Peel & Stick Cord Organizers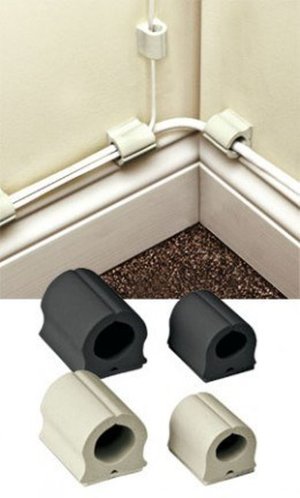 Pinterest
Sticking with our theme of not putting holes in the walls, these peel and stick cord organizers are great for making your cords look pretty. Most of your cords are hidden anyway, but it's always nice to see cords actually organized.
76. Get an Ottoman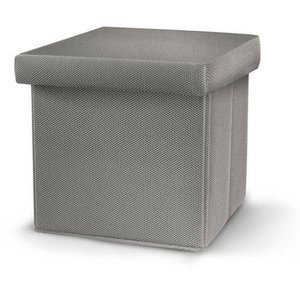 Collapsible ottomans are great for adding extra storage and utility. Plus when you're not using them, you can put them under the dinette or fold em up.
RV Basement/Outside Storage
77. Add More Rear Storage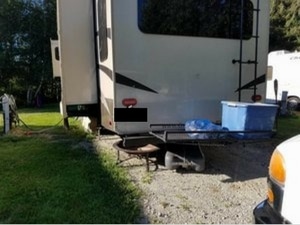 Our current RVing neighbor has a tow cargo carrier attached to his fifth wheel for extra space. Sometimes the best RV storage ideas are the ones that simply add more space to store things!
78. Make the Most of Your Tow Vehicle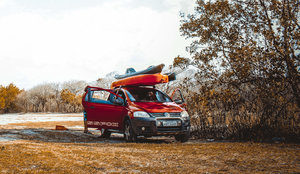 You can put kayaks, bikes, extra storage and more in your tow vehicle. Make the most of it!
79. Hang RV Hoses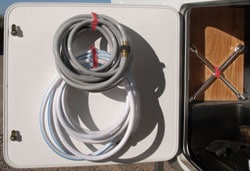 One way to do this is by hanging nylon velcro strips.
80. Mounted Ceiling Supplies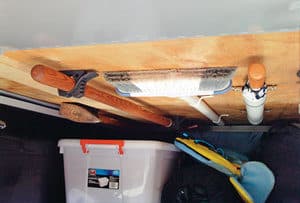 CamperTrailerAustralia
Use pipes and brackets to mount supplies like brooms, umbrellas, fishing rods and more to your outside storage ceiling.
81. Mesh Bag for Water Hose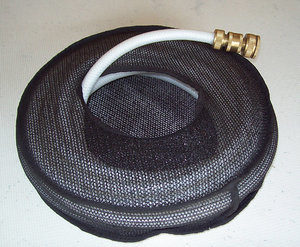 BudgetBedFlys
You can find them here.
82. RV Water Hose Splitter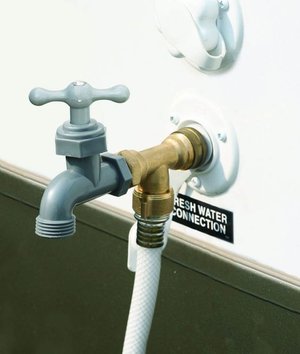 Pinterest
Another tip that isn't exactly for storage, but more for convenience. Easily wash your RV, clean your black water tank, or whatever you need an extra hose for. Get one here.
83. Reusable Grocery Bags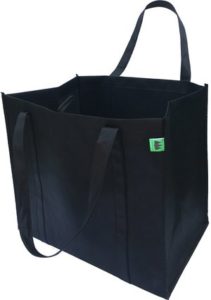 You can use these for groceries (duh), but you can also use them to store extra stuff in. We have a bunch of cleaning supplies in one of ours. You can get them at most grocery stores or on Amazon.
84. Mount Electrical Adapters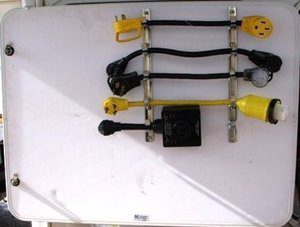 Other Miscellaneous Space Saving Ideas
We have more space saving ideas but weren't sure which category to put them in or didn't want to make a separate category for only one or two things. Here they are!
85. Over-The-Seat Organizer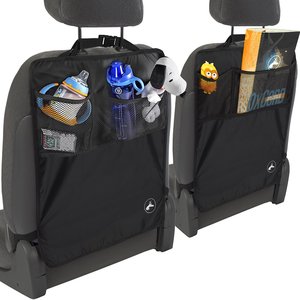 Who says you can't use your motorhome's seats as extra storage? Get one here.
86. Pull Out Surfaces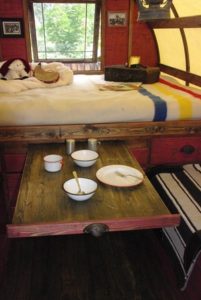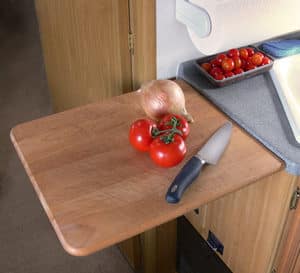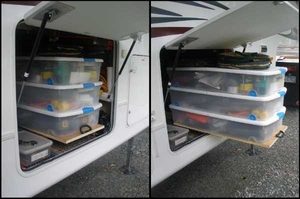 We wish we had more pull out surfaces. Hidden counter space is one of the best RV storage ideas you'll ever head. You can build some if you're interested in DIY.
87. Command Hooks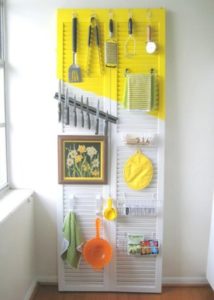 DIYncrafts
We LOVE command hooks. They are a super easy way to organize your stuff and save cupboard space. Check out DIYncrafts awesome guide to using command hooks for some great ideas!
88. Insta-Hangers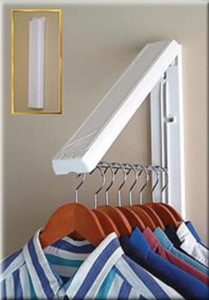 These insta-hangers are pretty cool. You can use them to organize the clothes in your closet, or to hang up your nice outfit while you iron it. When you're done, they snap down and hide away!
89. Combine Hooks with Metal Containers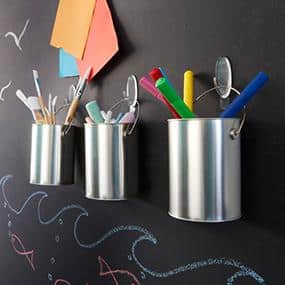 This is one of my favorite camper storage ideas. It lets you get really creative!
90. Vacuum-Sealed Bags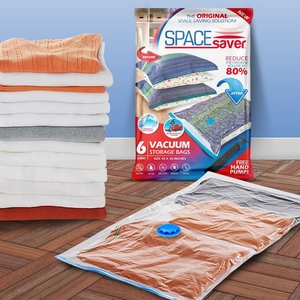 If you're bringing extra pillows, blankets, or clothes with you in the RV, these vacuum-sealed bags are an excellent way to keep them fresh and save space.
91. Chalk Paint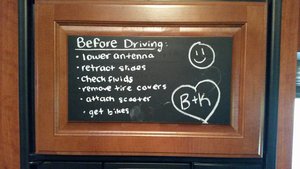 We used chalk paint on our fridge to help us remember what to do before we pack up and drive.
92. Get a Toolbox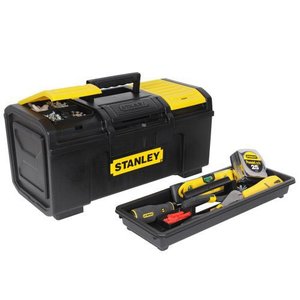 You need tools if you're going to spend time in an RV. You never know when something's going to break – I've used my toolbox 5 times in the past week alone. Check out Ditching Suburbia's fulltime RVer's toolbox article for tool ideas.
93. Use a DVD Binder Instead of Cases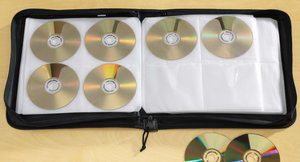 DVD cases take up a lot of space. Ditch the cases and get a DVD/CD binder instead.
94. Alternatively, Take Everything Digital
Instead of using your precious storage space on a DVD binder, download all your movies onto an external hard drive (here's a guide). You can also keep all your music on there (or just use Pandora). Heck, use an e-reader or kindle instead of carrying physical books, while you're at it!
95. Use More Tension Rods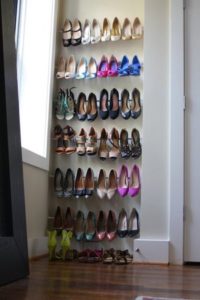 We've found there to be a near endless use for tension rods. You can hang spray bottles on them, hang baskets on them for extra storage space, or use them vertically to organize stuff.
96. Store Things in Tackle Boxes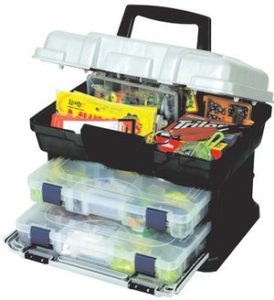 Tackle boxes aren't just for fisherman. You can store all kinds of odds and ends in them!
97. Install a Ball Storage Net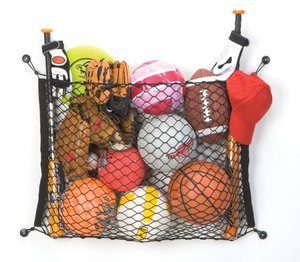 If you're into sports, it can be difficult to find a place to store all your equipment. Try installing a storage net!
98. Magnetic Tape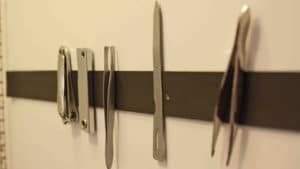 Magnetic tape can be super useful for storing small metal objects on the wall.