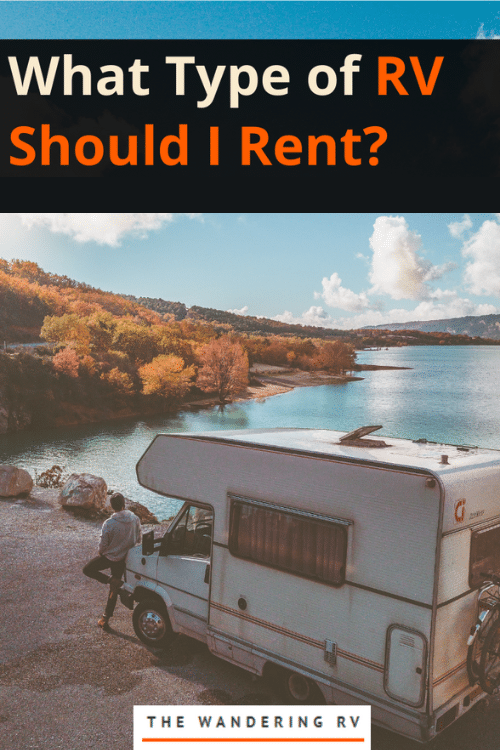 If you are thinking about renting an RV but are unsure about what kind of RV to rent, don't worry—you're not alone, and we're here to help. With so many options available, it can be challenging to make a decision. As such, we've developed this guide to help you choose the best RV rental just for you. 
Table of Contents
Already Know What You Want?
Click the button below to start browsing RV rentals near you now! Get $50 off with coupon code "thewanderingrv"!
Types of RV Rentals
There are two main types of recreational vehicles, motorhomes and camper trailers. The difference between the two is that motorhomes are driven to their destination, whereas camper trailers (just called campers from here on out) must be towed behind your vehicle.
Drivable / motorized RVs are broken into three RV classes:
Class A Motorhomes: These are the large bus-looking campers
Class B Motorhomes: These include camper vans, and slightly bigger than camper vans
Class C Motorhomes: These are the RVs with a compartment over the cab, usually on a truck or Sprinter chassis
Campers are are a bit more varied, with several options to choose from:
Travel Trailers: These can be considered any kind of camping trailer that you tow on a ball hitch behind your vehicle
Fifth Wheels: These are bigger camping trailers that can only be towed by a pickup truck with a custom hitch in the bed
Toy Haulers: These are travel trailers or fifth wheels that have a garage space to store "toys" like ATVs or motorcycles
Pop-Up Campers: These are campers that "pop up" once you arrive at camp to create your living space
Teardrop Trailers: These are teardrop-shaped camping trailers. Usually very lightweight and can be towed with smaller vehicles
While there are some other types of campers out there, these are the main options that travelers typically choose.
Let's take a deeper look at the options we've listed above. 
Types of Motorhomes
Class A Motorhome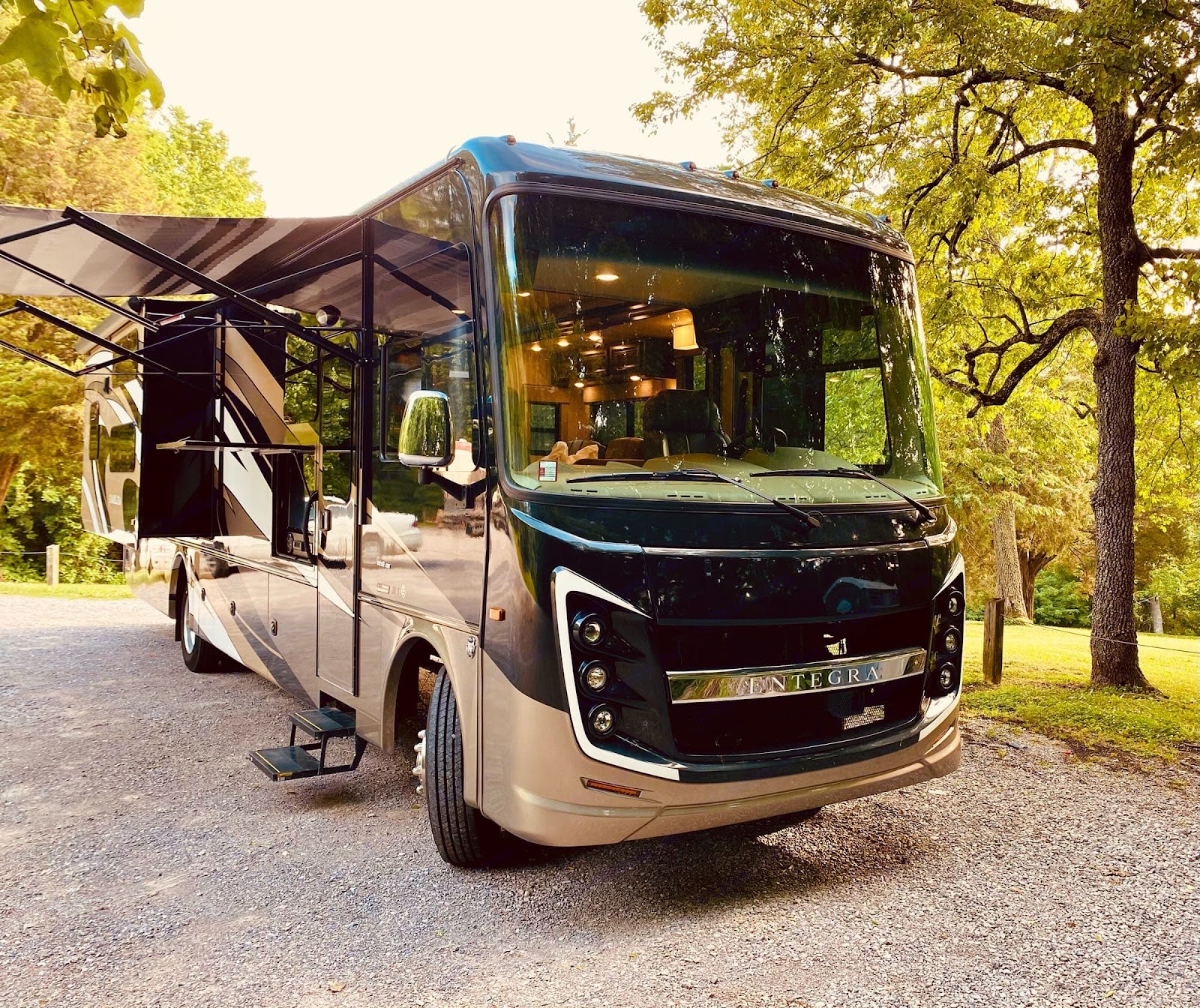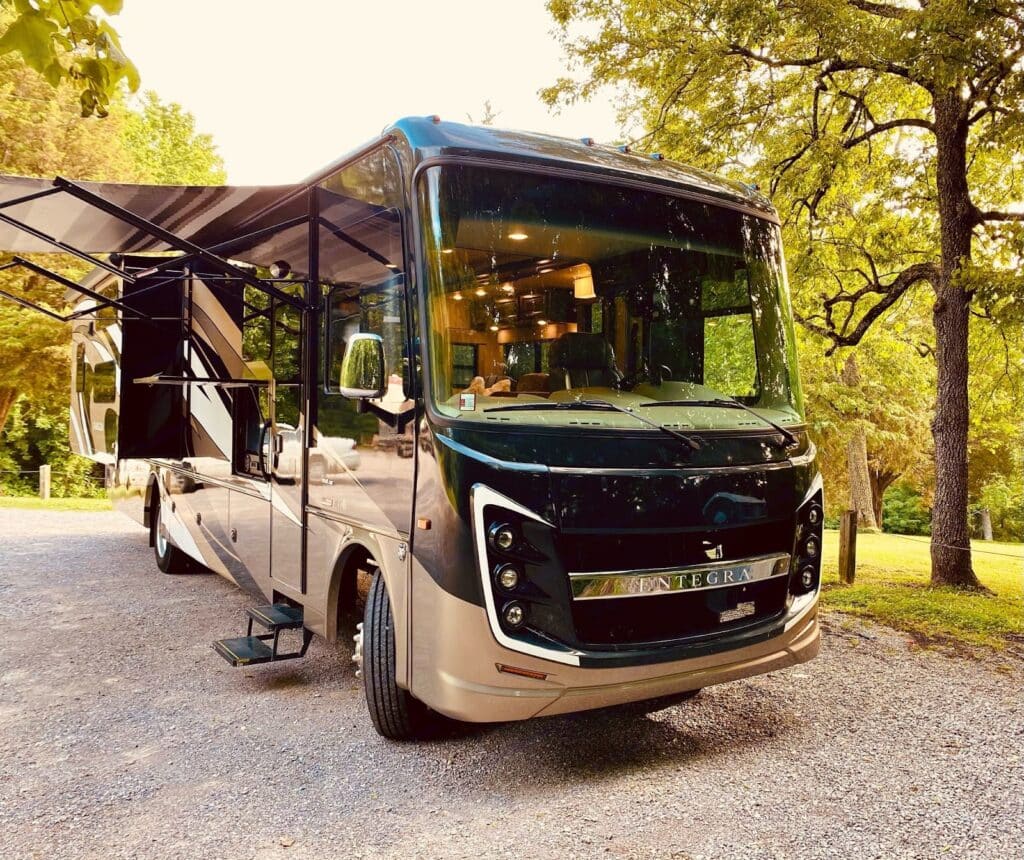 Whether you're looking for the ultimate luxury RV rental or you need a spacious RV that can sleep up to eight people, a Class A motorhome is the way to go. Class A motorhomes are among the most luxurious and largest RV rentals available because they are built on a commercial bus or truck chassis. However, because of this, their fuel mileage is not the best.
If you're looking for a rental RV for the whole family, a Class A motorhome is a perfect choice. These RVs are spacious, but they aren't the most fuel-efficient out there. If you're looking for temporary housing, a Class A motorhome is also an option because of its space.
Class B Motorhomes / Camper Van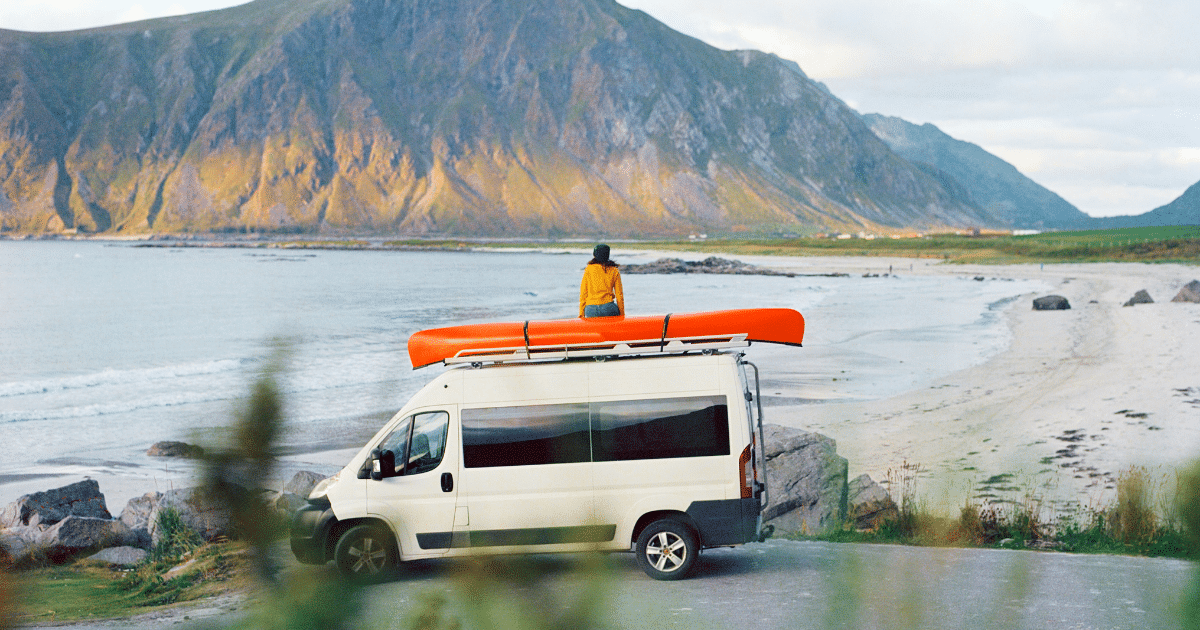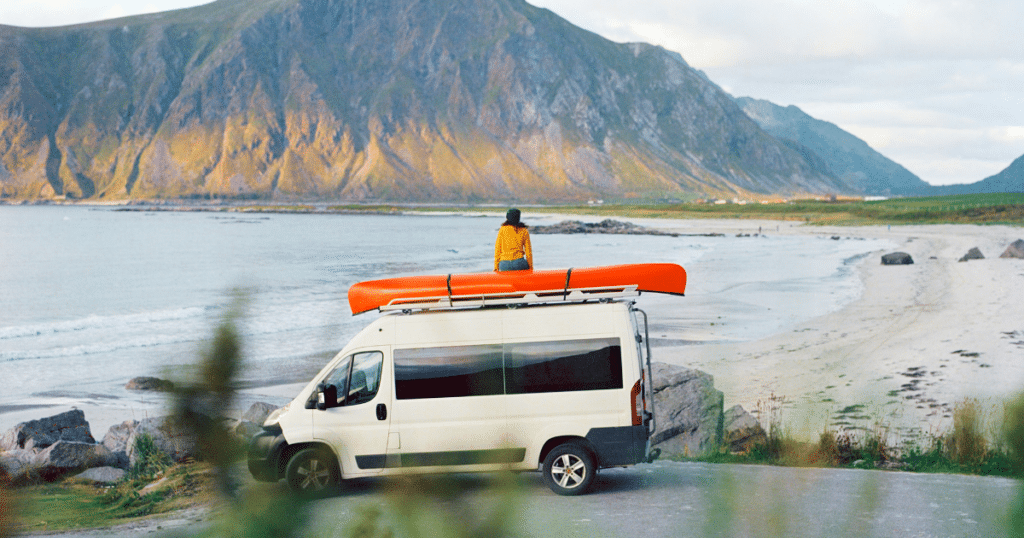 Class B RVs and camper vans are a great way to experience the RV lifestyle. They're built on a small van chassis, which means you can fit into most parking spots! These motorhome rentals have plenty of sleeping space, making them a good option for RV vacations! If you're looking for a small or nimble RV, go with an RV van rental.
Class C Motorhome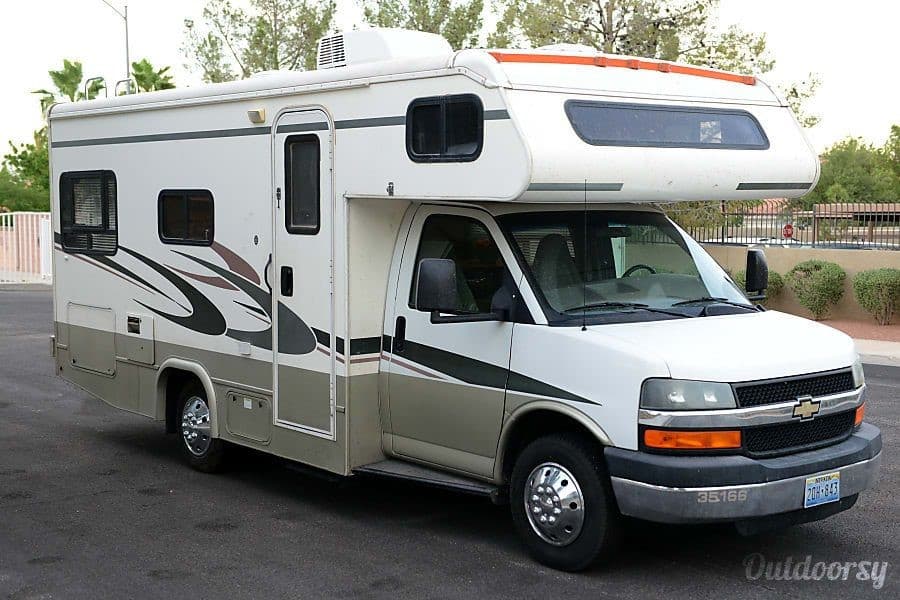 One of the best things about a Class C motorhome is that they're designed to have more indoor and outdoor storage compartments, allowing renters to have way more storage space. Class C RVs are the perfect choice for large families who want a spacious vehicle but don't want the extra expense of a larger Class A RV.
Types of Camper Trailers
Travel Trailers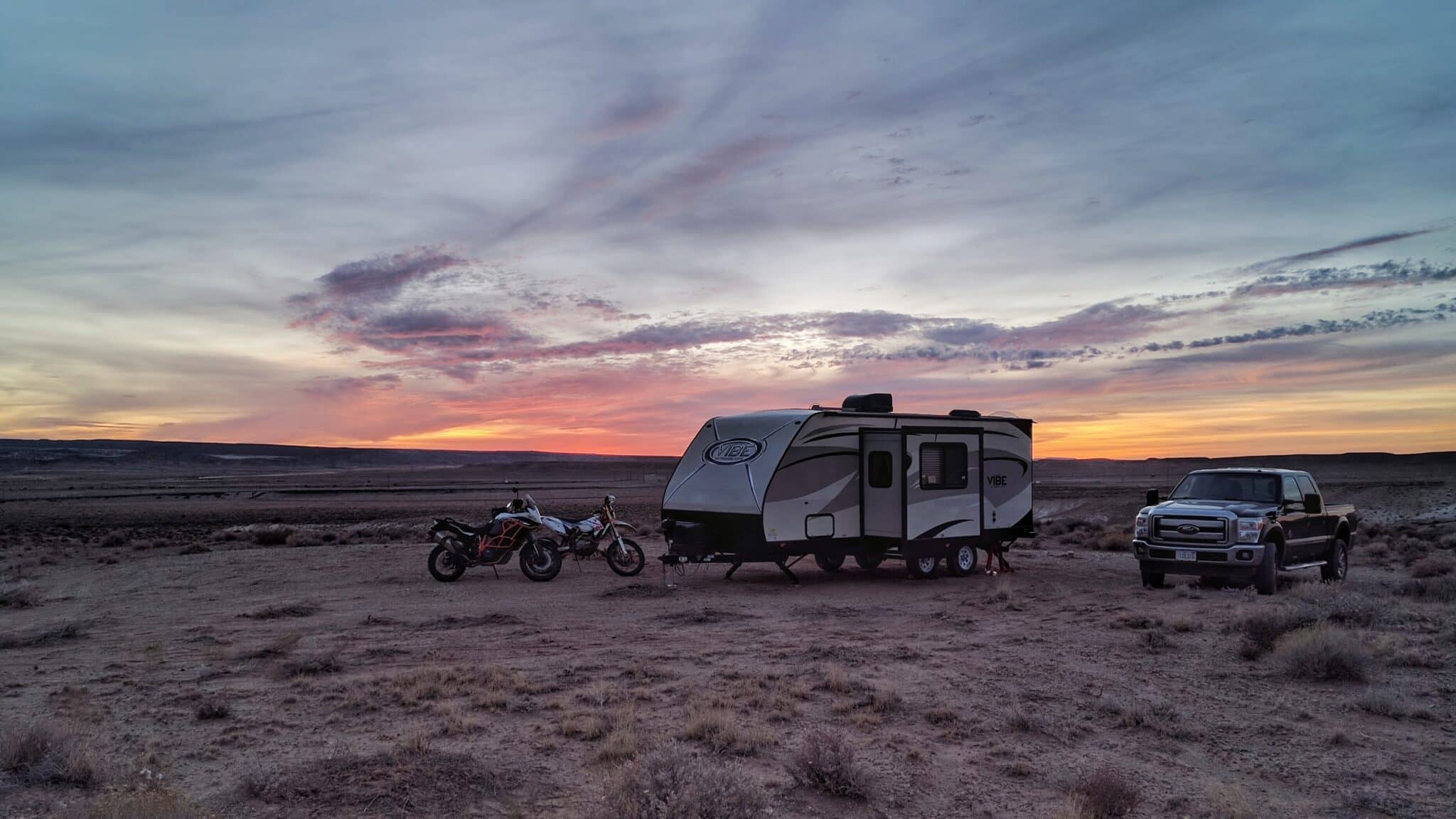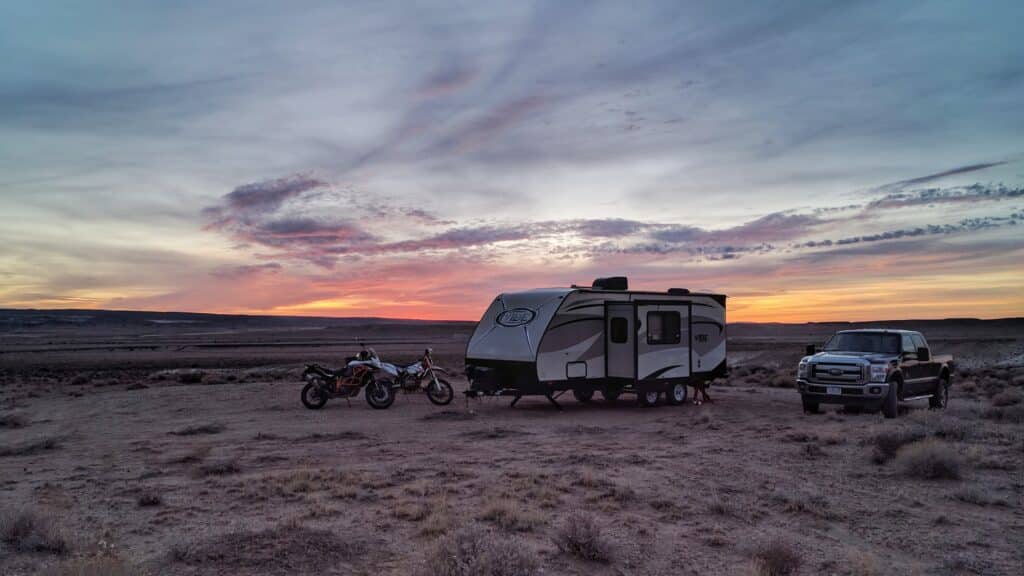 Travel Trailer rentals are one of our favorite options for first-timers looking to sleep six or more people. They have plenty of storage space, all the amenities you'd want in an RV, and more, making them perfect for RV camping with friends and family. Travel trailers, like class C RVs, come in all shapes and sizes. Whether you're looking for a large RV or something more compact, chances are you'll find what you're looking for in a travel trailer. I lived in my 25′ Forest River Vibe for months at a time. It was easy to tow with my truck and was big enough to move around in, but small enough to get off the beaten path for that perfect remote spot.
Fifth-Wheels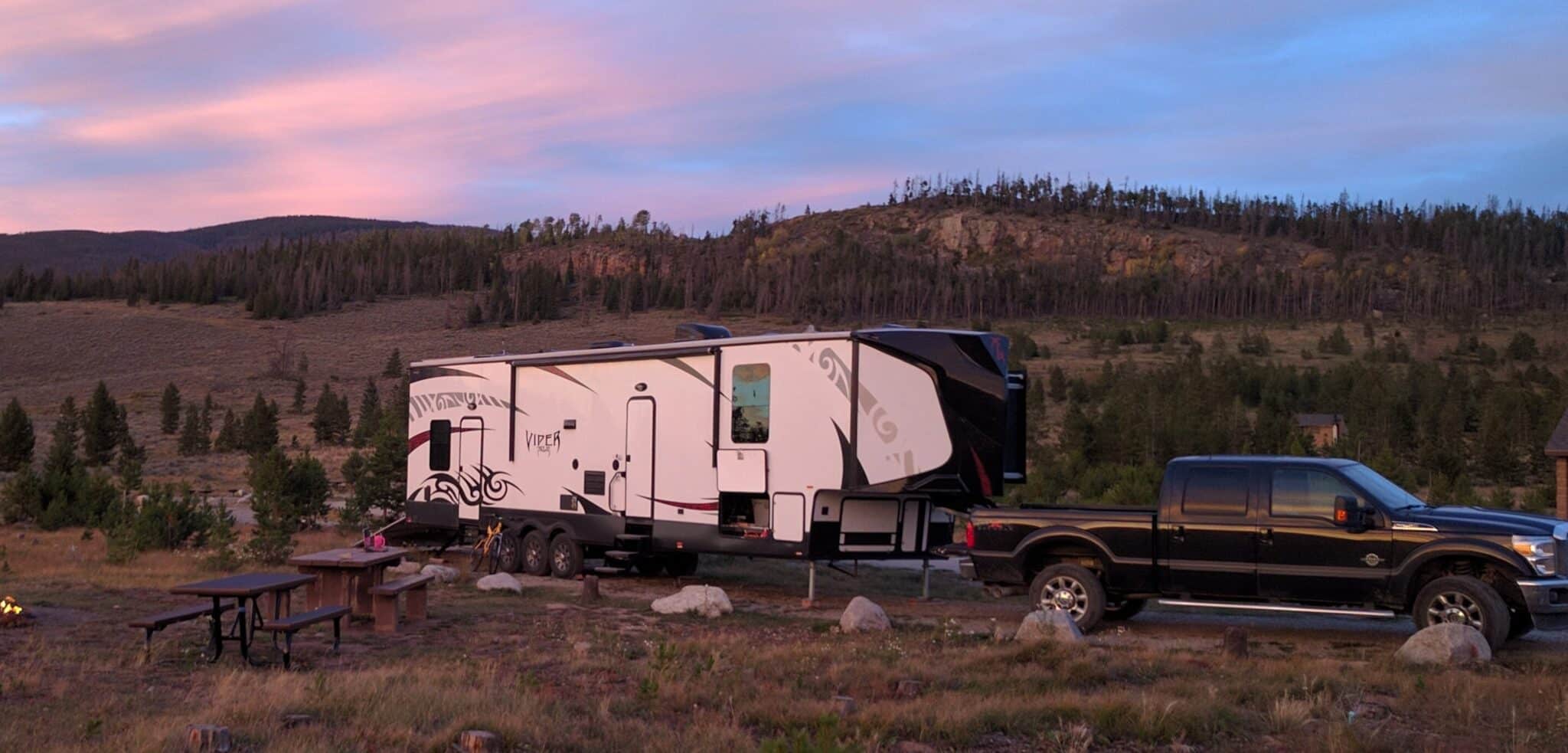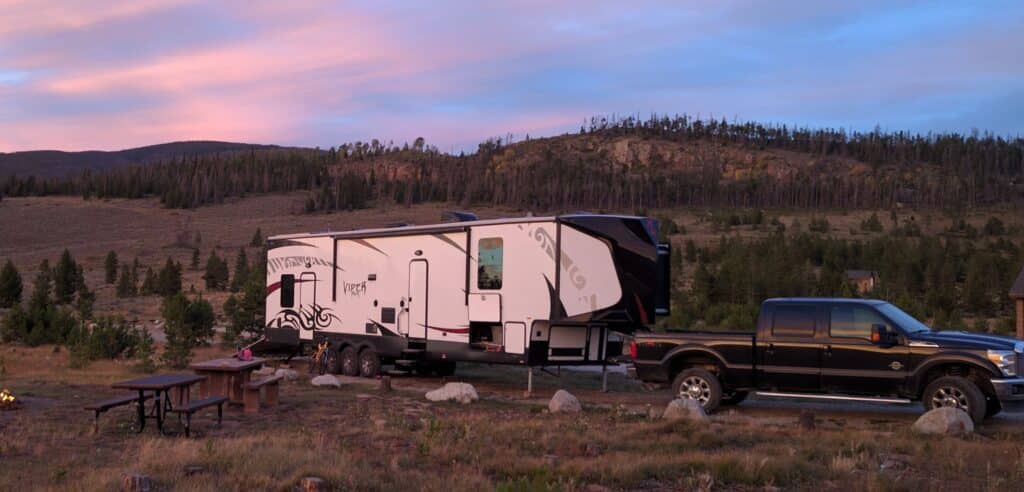 Fifth-Wheel trailers are large, spacious RVs that are perfect for families and groups of friends. They're larger than your typical RV and create a more luxurious environment than you'd find in a small RV rental. Fifth wheels are ideal for those who need a lot of space and don't mind either towing their camper or having it dropped off at the campground. My first camper was a 43′ fifth-wheel toy hauler. While it was enough space to fit pretty much everything I owned in it, it was very difficult to find older campsites that it would fit in. It required a heavy-duty diesel truck to pull it, and was just a lot of camper to maintain.
Toy Haulers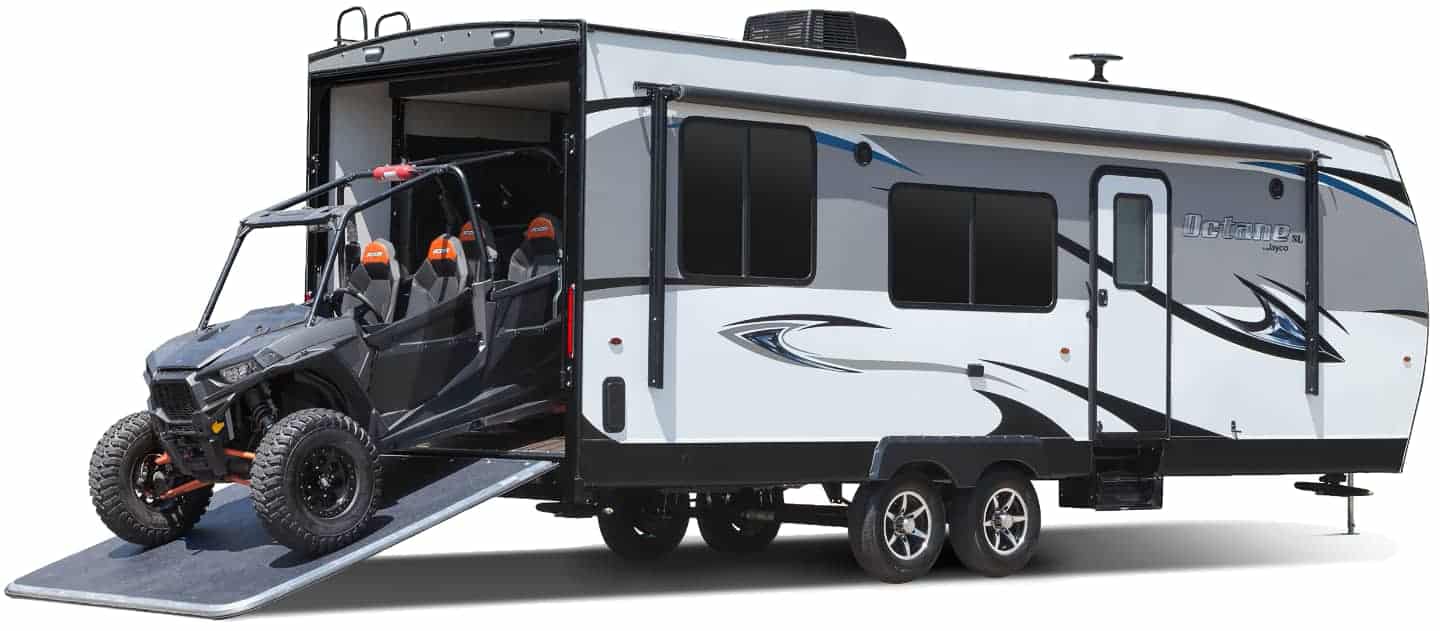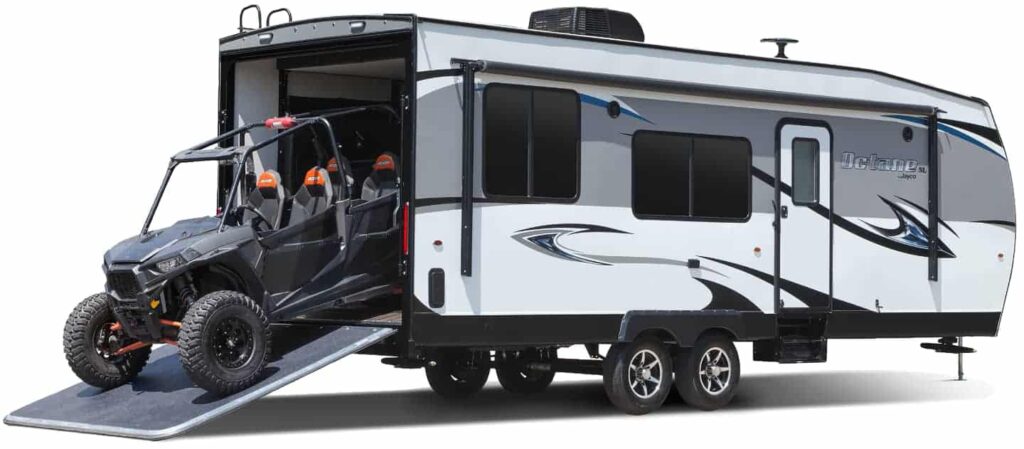 Toy Hauler rentals include a garage that can be used to store ATVs and motorcycles during your trip. Plus, once you're at camp, you can turn that space into an extra bedroom or living area! Toy haulers make great recreational vehicles for those who love to go RV camping and also want to explore and play once at camp.
Pop-Up Campers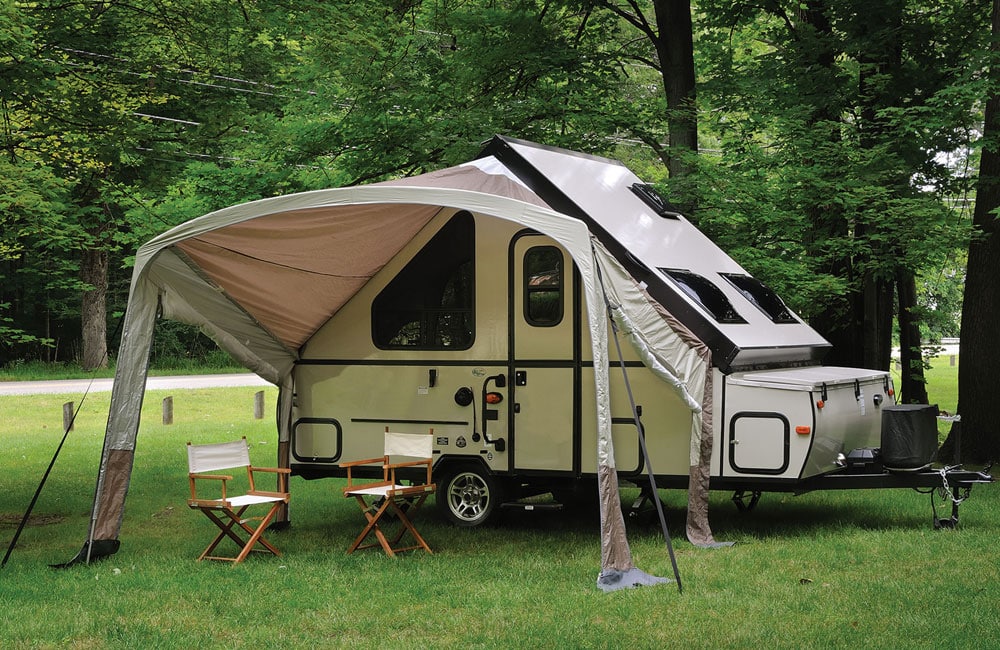 Pop-up camper rentals allow you to go virtually anywhere! Whether you want to pitch your tent on the top of a mountain or on the beach, campers are a great option for first-time RV renters who don't want to worry about a separate vehicle on their first road trip.
Top Considerations to Help You Choose an RV Rental
Now that you know the types of RVs available for you to rent, here are a few questions to help you decide which one is right for you.
What Kind of Camping Trip Would You Like to Go on?
Are you planning to stay at a large RV park right off the highway, or would you prefer to travel down a rough dirt road to a secluded spot?
Once you get to camp, what kind of space will you need? If you only plan on staying in paved road RV campgrounds, you can get as big of an RV as you want. But if you're more interested in adventure travel off the beaten path, you'll probably need a class B RV rental with four-wheel or at least all-wheel drive.
If you want to bring toys (the whole reason I go camping!), you have options as well. Do you have an RV that pulls a trailer? Or a pickup pulling a toy hauler? For the longest time, I put my dirt bikes in the bed of my truck and pulled my travel trailer.
Do You Want to Stay in One Place or Visit Multiple Places?
If you're going to stay in one spot for your whole vacation, a travel trailer or fifth wheel is a great option with plenty of space. The RV rental companies can drop off your vehicle right where you plan to stay. 
If you want to travel long distances in your RV, then a motorized one is probably the better choice. However, Class Bs can be used as well, and many people enjoy using smaller Class As for occasional trips as well.
Do You Want to Use Your Tow Vehicle to Pull the RV?
If you own a truck or SUV, you can rent a towable RV that allows you to travel farther and stay in more remote locations. But if you don't have a tow vehicle, you may be limited to drivable RVs. However, if you're staying in one location during your trip, the rental company can drop off the trailer for you.
Who Will Be Driving and What is Your Budget?
Will the driver be comfortable driving a big rig? It's possible to rent an RV without a special license, but first-time renters need to think about how comfortable they are behind the wheel of a big rig if they've never driven one before. 
Typically, large RV rentals are more costly than smaller ones. Class B RVs and pop-up campers will be your cheapest options, but other things factor into the cost as well: location, age of the RV and the time of year you rent it.
Want to save money? Click here to see how to get the cheapest RV rentals.
Best RV Rental Companies
If you're looking for recreational vehicles, peer-to-peer rental options like Outdoorsy, RVezy, or RVshare are the way to go. Unlike traditional rental companies, peer-to-peer RV rental companies allow you to rent directly from an RV owner. They have rentals available all over the country and even in Mexico and Canada, making it easy to find the perfect RV!
If you're ready to rent an RV, click here to browse RV rentals near you now.