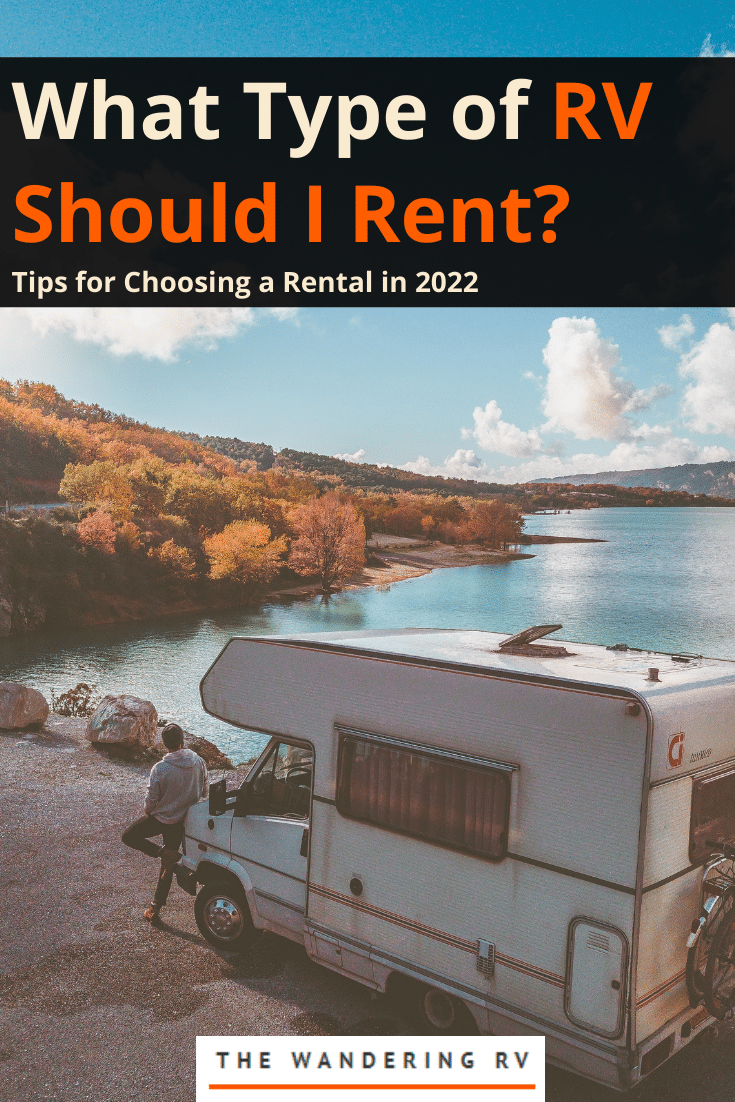 Are you thinking about renting an RV, but aren't sure what kind of RV to rent?
With so many options out there, it can be hard to make a decision! Do I want a camper van or a class B RV? Can I even tow a fifth wheel?
Don't worry – we wrote this guide to help you pick the best RV rental type just for you.
Let's dive in!
Table of Contents
Already Know What You Want?
Click the button below to start browsing RV rentals near you now! Get $50 off with coupon code "thewanderingrv"!
RV Rental Types & RV Classes
There are many types of recreational vehicles, broken into two categories: Drivable RVs (motorhomes) and tow-able RVs (camper trailers).
Drivable / Motorized RVs are broken into three RV classes:
Class A Motorhomes (the big bus-looking campers)
Class B Motorhomes (slightly bigger camper vans)
Class C Motorhomes (the RVs with a compartment over the cab)
Tow-able RVs are a bit more varied, with lots of options:
Travel Trailers (a term that covers any kind of camping trailer that you tow on a ball hitch behind your vehicle)
Fifth Wheels (bigger camping trailers that can only be towed by a pick up truck with a custom hitch in the bed)
Toy Haulers (travel trailers or fifth wheels that have a garage space to store "toys" like ATVs or motorcycles)
Pop-up Campers (campers that "pop up" once you arrive at camp to create your living space)
Teardrop Trailers (teardrop-shaped camping trailers)
There are some other types of campers out there, but for simplicity's sake, we'll stick to these.
Related Post — 27 Camper Van Rental Companies to Try #VanLife
Class A Motorhome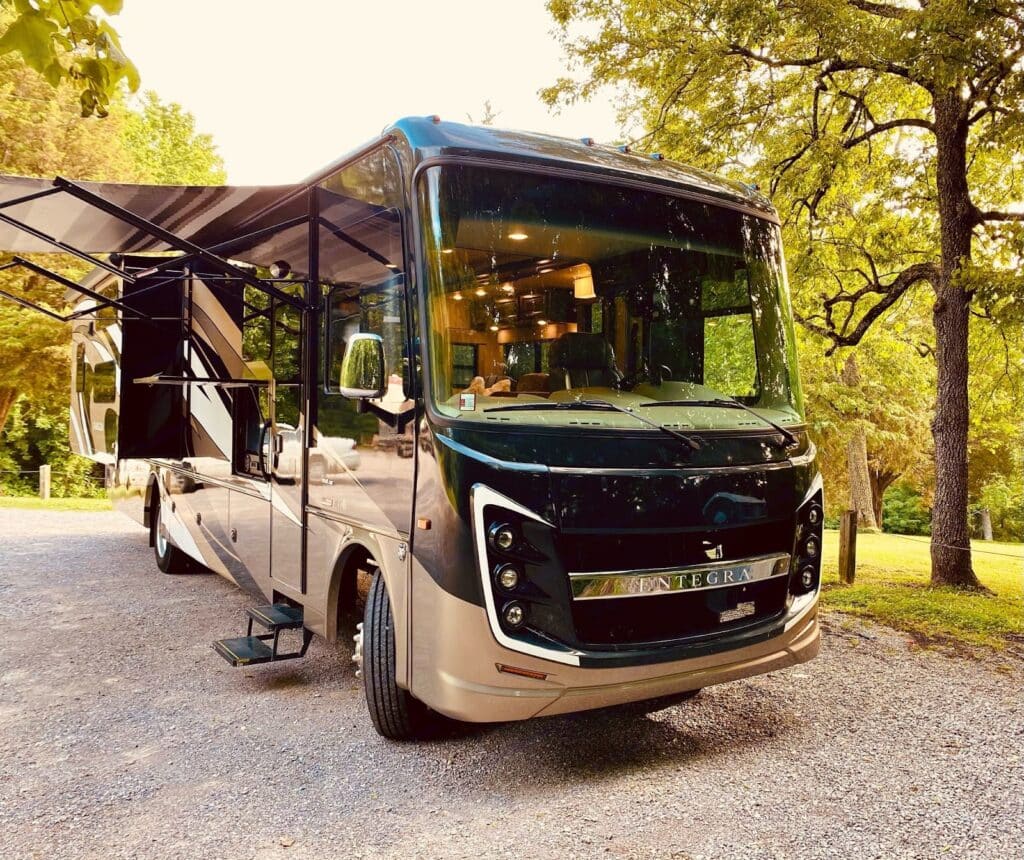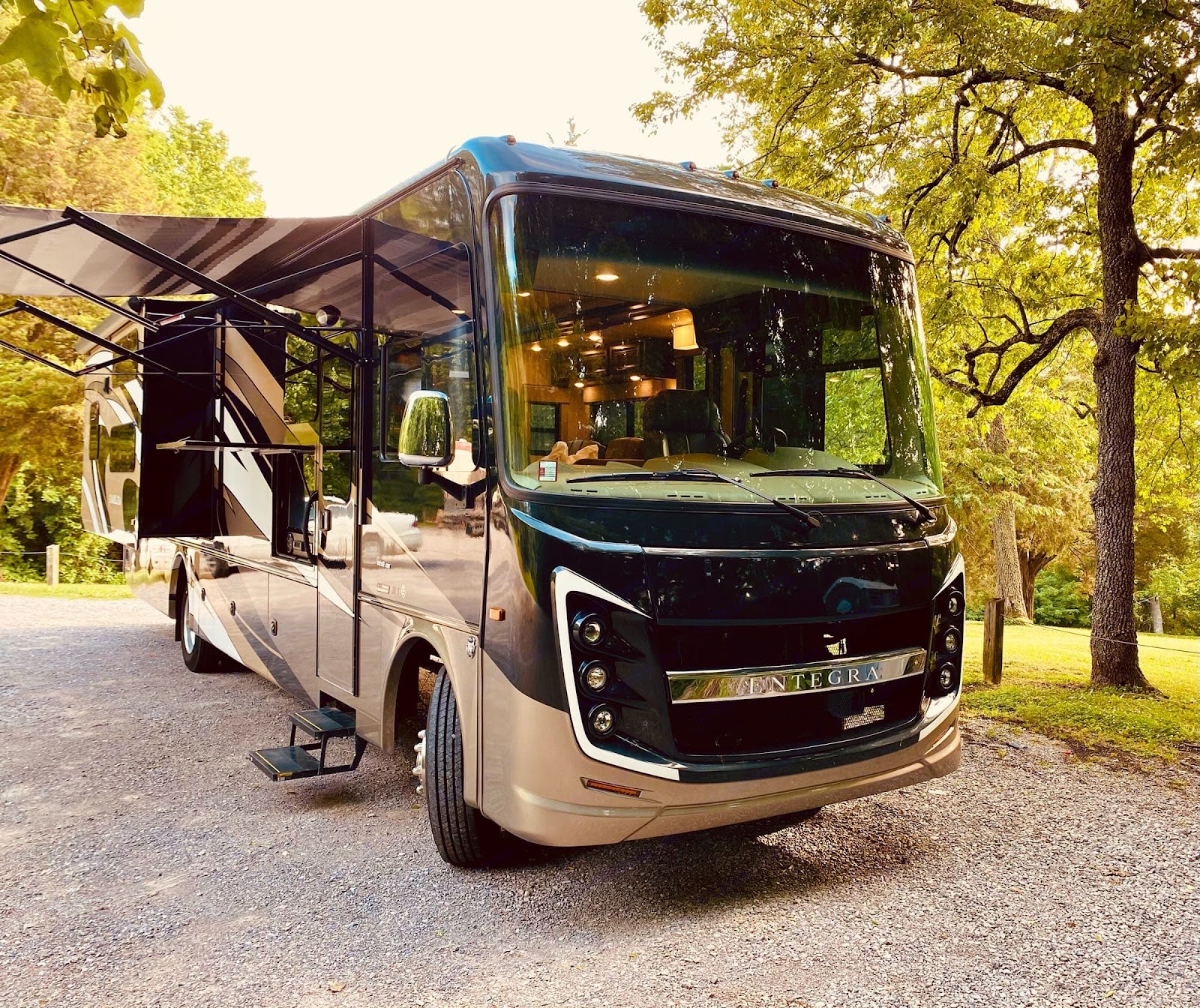 Whether you're looking for a luxury RV rental or you're looking for an RV that can sleep up to eight people, a Class A motorhome is the way to go.
Class A motorhomes are known to be some of the most luxurious & largest RV rentals available, built on a commercial bus or truck chassis with either a gas or diesel engine. But because of this, they don't have the best gas mileage.
A Class A is the perfect rental RV if you're bringing the whole family with you on a camping trip and need a larger RV (though they're not the most fuel efficient RVs out there). Class A motorhomes are also good if you're looking for temporary housing thanks to the space they offer.
Class B Motorhomes / Camper Van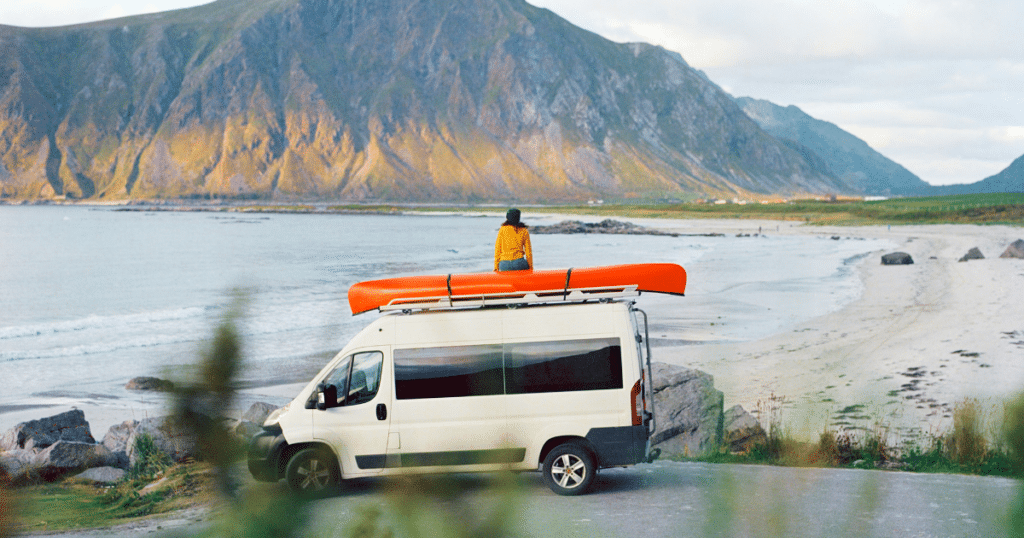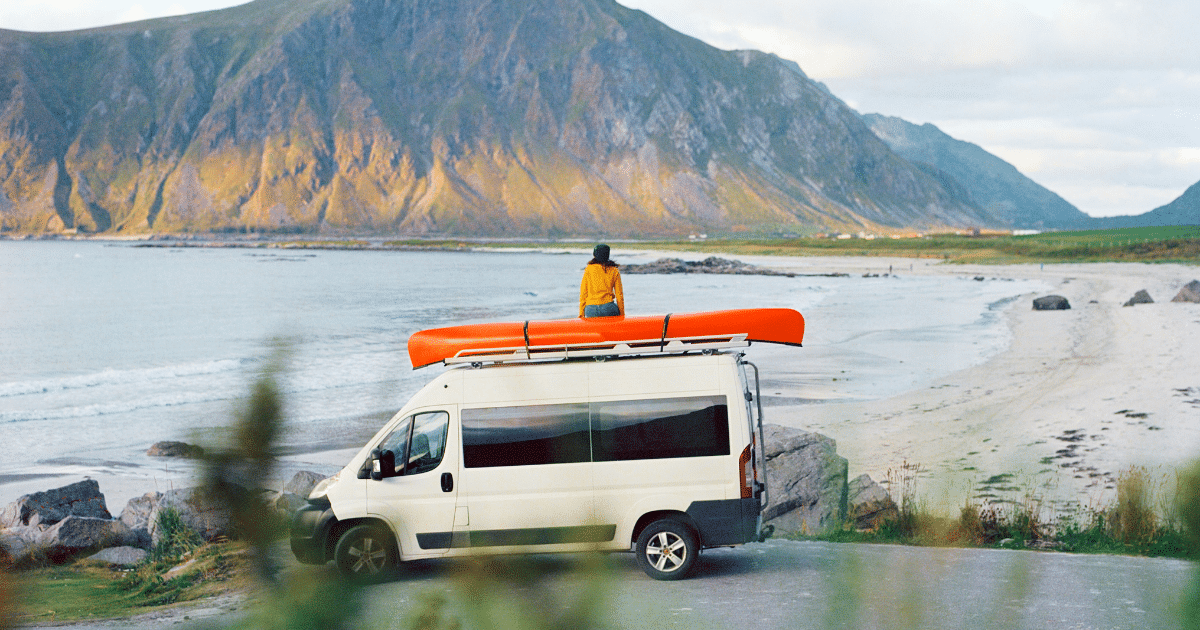 Class B RVs and camper vans have to be one of the coolest ways to experience the RV lifestyle. They're built on a small van chassis, which means you can fit into most parking spots!
These motorhome rentals have a good amount of sleeping space (most come with a queen sized bed) and make for a good RV vacation! If you're looking for small and nimble, go with an RV van rental.
Class C Motorhome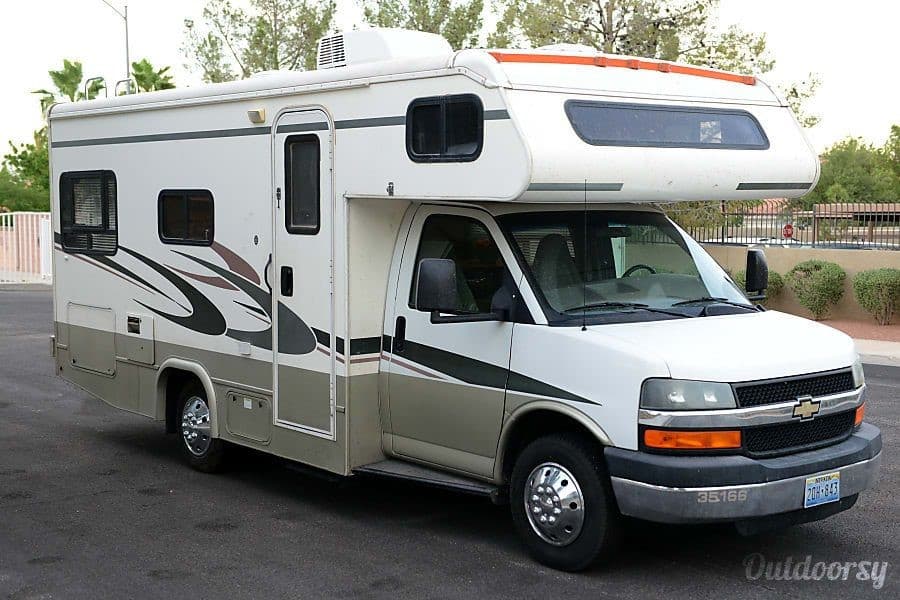 One of the best things about a Class C motorhome is that they're designed to have more indoor and outdoor storage compartments, allowing renters to have way more storage space! Class C motorhomes are a great way to experience the RV life while renting!
Unlike class B RVs, class Cs are the perfect RV for larger families who want something big, but not quite as big as a class A.
Travel Trailer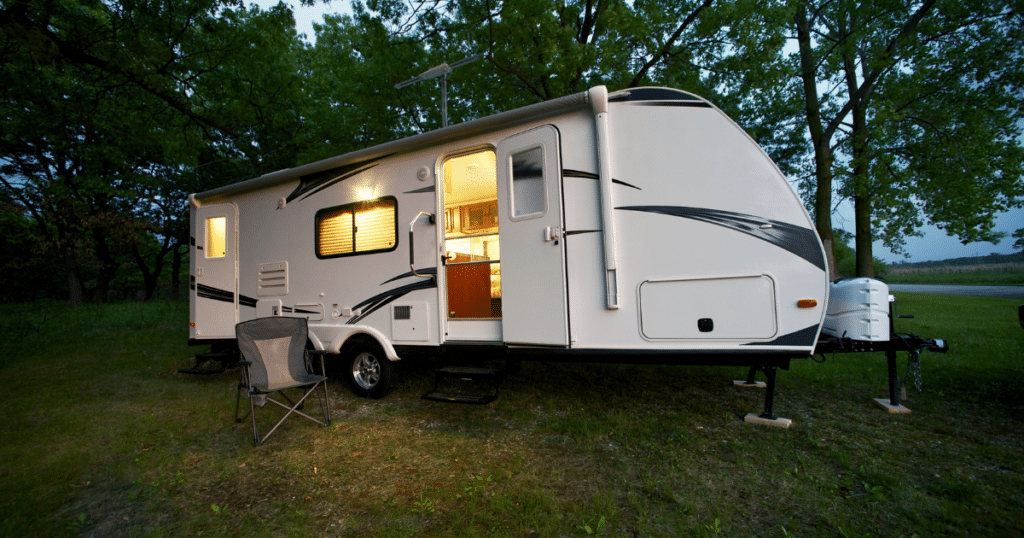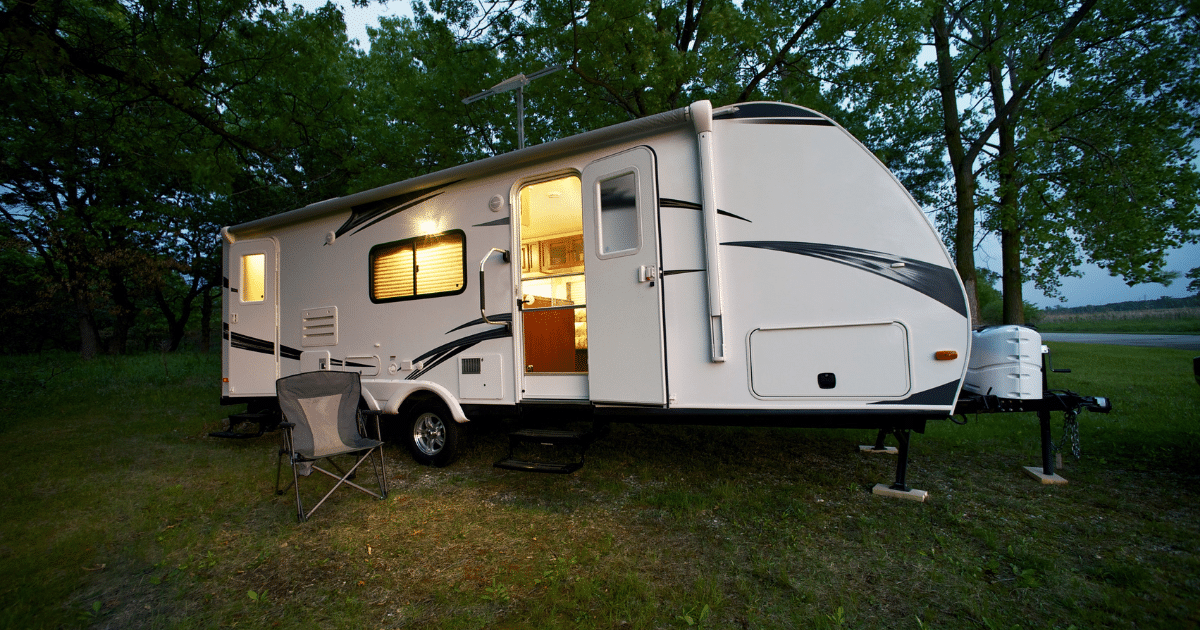 Travel Trailer rentals are one of our favorite rental options for first timers looking to sleep up to six people. With plenty of storage space, all the amenities you'd want in an RV, and more, they're the perfect choice for RV camping with friends and family!
Travel trailers are similar to class C RVs in that they come in a LOT of different shapes and sizes. Regardless of the type of RV you're looking for, you'll probably find it in a travel trailer.
Fifth Wheel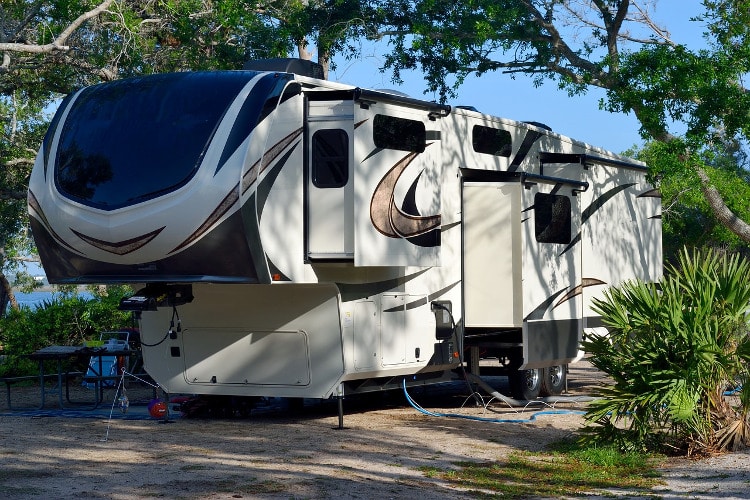 Fifth Wheel trailers are large trailers that are perfect for a large family or friend group! They're larger than your typical RV and create a spacious, luxurious feeling that you can't get with small RV rentals.
Fifth wheel trailers make excellent RV rentals for anyone needing a ton of space who either has a pick up truck that can tow it, or doesn't mind having the camper dropped off at the RV park for them.
Toy Hauler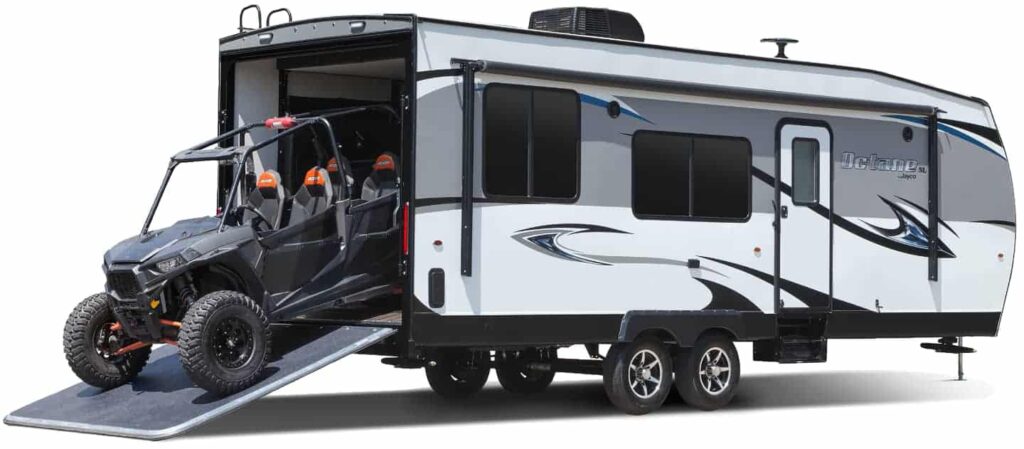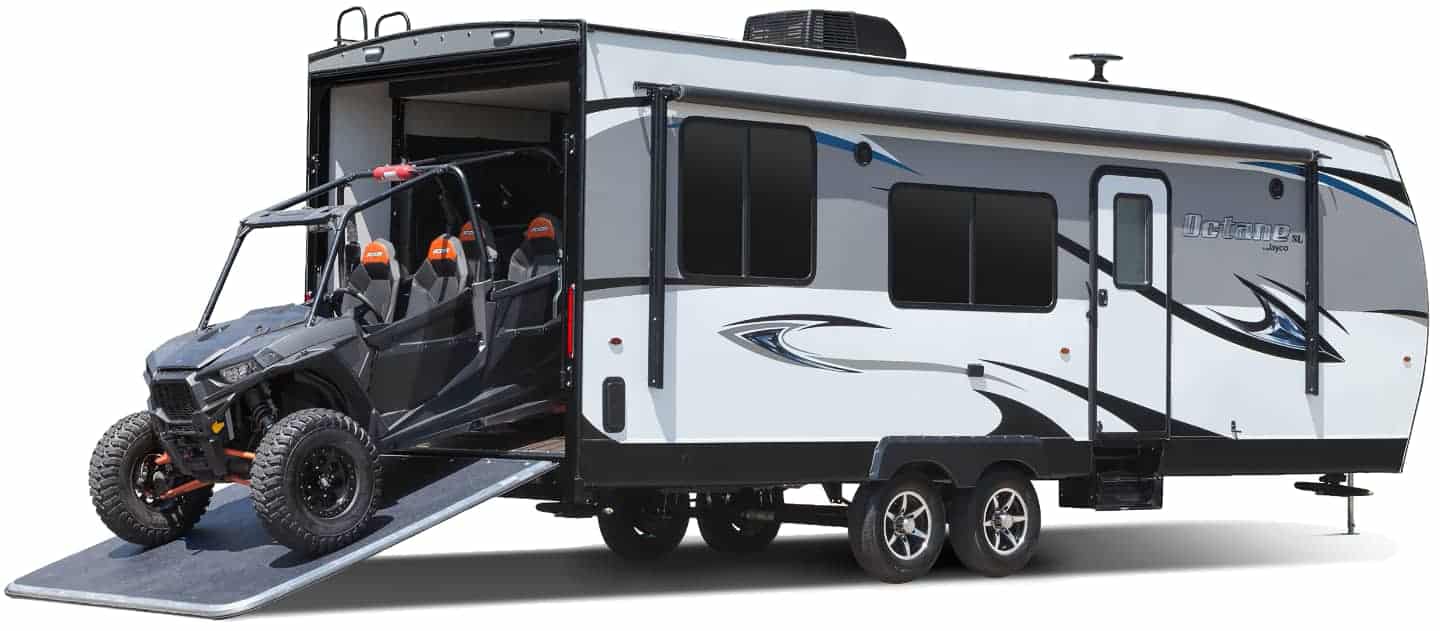 Toy Hauler rentals are travel trailers or fifth wheels that come with an added garage with space to bring ATVs and motorcycles on your trip. Plus, once you're at camp, you can transform that space into an extra bedroom or living area!
Toy Haulers are great RV rentals if you're going RV camping somewhere with plenty of space for off-roading and don't care about the fuel mileage!
Pop-Up Camper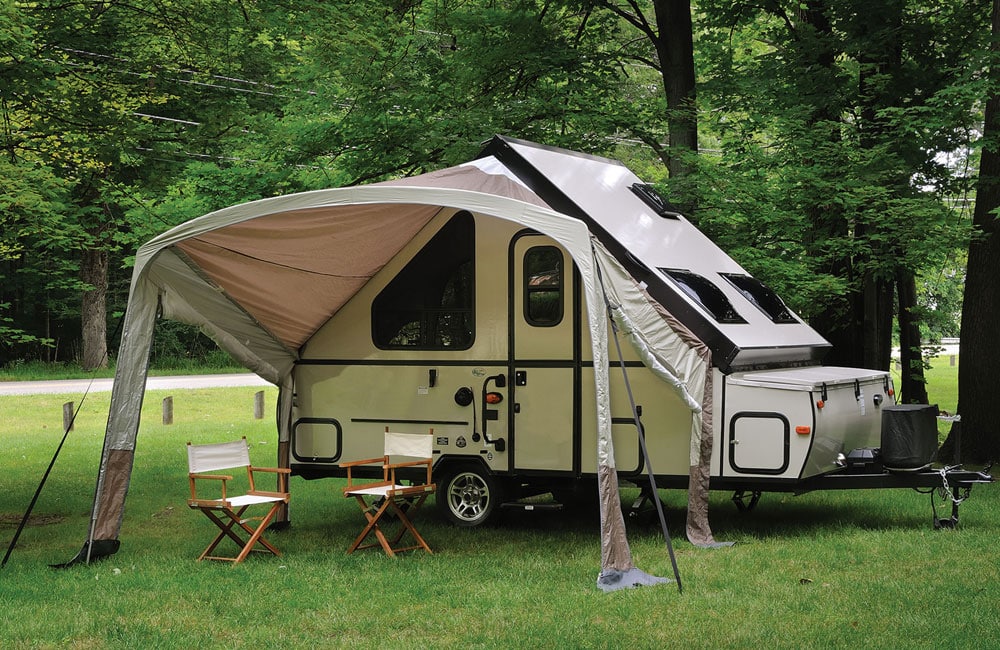 Pop-up camper rentals allow you to go virtually anywhere! Whether you want to camp on the top of a mountain or on the beach, pop-up campers allow you to do just that. These are a great option for first time RV renters who don't want to worry about a separate vehicle on their first road trip!
Related Post — 4 Best RV Rental Companies Compared (Prices & Reviews)
How to Choose an RV Rental
Now that you know the types of RVs available for you to rent, here are a few questions to determine which type is best for your road trips.
1. What kind of camping trip do you want to go on?
Are you planning on staying at a big RV park right off the highway, or do you want to get off the beaten path down a rough dirt road to a secluded spot?
Once you get to camp, how much space do you need and how many people will be staying in your camper?
If you only plan on staying in paved road RV campgrounds, you can get as big of an RV as you want and not worry about it. But if you're more interested in adventure travel off the beaten path, you'll probably need a class B RV rental with four-wheel or at least all-wheel drive.
2. Do you want to stay in one place or visit multiple places?
If you're just going to set up at one spot for your whole vacation, a travel trailer or fifth wheel is a great option with plenty of space and you can have the RV rental companies drop off your RV right where you will be staying.
But if you want to take extended trips to multiple locations, having motorized RVs is probably the better option. Class Bs are the best for frequent moves, but Class Cs and even some small Class As can be great options as well.
3. Do you want to use your tow vehicle to pull the RV?
If you have a towing vehicle like an SUV or pickup truck, you can rent a towable RV, which opens up your options.
But if you don't have a tow vehicle, you may be limited to drivable RVs. Like I said, though, you can have the rental company drop off the trailer for you if you stay in one location.
4. Who will be driving?
Is the driver comfortable driving a big rig? While you don't need any special licenses to rent an RV, first time renters need to think about how comfortable they are behind the wheel of a big rig if they're never driven one before.
5. What's your budget?
Typically, large RV rentals are more expensive than smaller ones. This means class B RVs and pop-up campers will be your cheapest options. But other things factor into the cost as well, such as location, how old the RV is, and even the time of year you're renting (winter is cheaper than summer).
Want to save money? Click here to see how to get the cheapest RV rentals.
Best RV Rental Companies
If you're looking for recreational vehicles, the best and most versatile option will always be peer to peer rentals like Outdoorsy, RVezy, or RVshare.
Unlike a traditional rental company like Cruise America or El Monte RV, peer to peer RV rental companies allow an RV owner to rent to you directly. They have rentals available all over the country and even in Mexico and Canada, making it easy to find the perfect RV!
If you're ready to rent an RV, click here to browse RV rentals near you now.