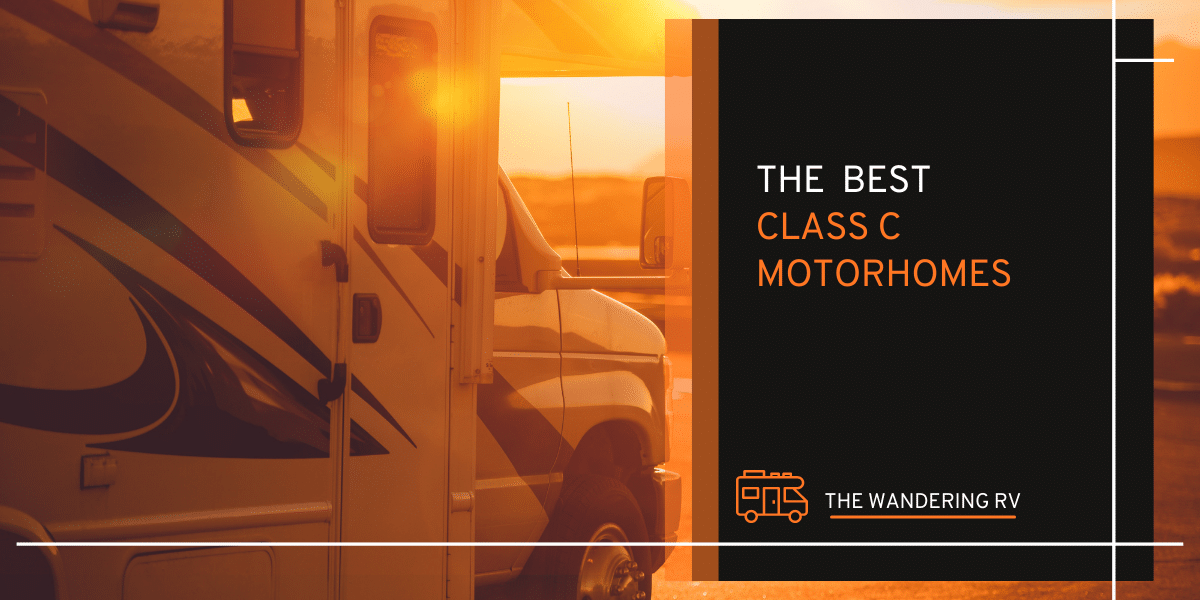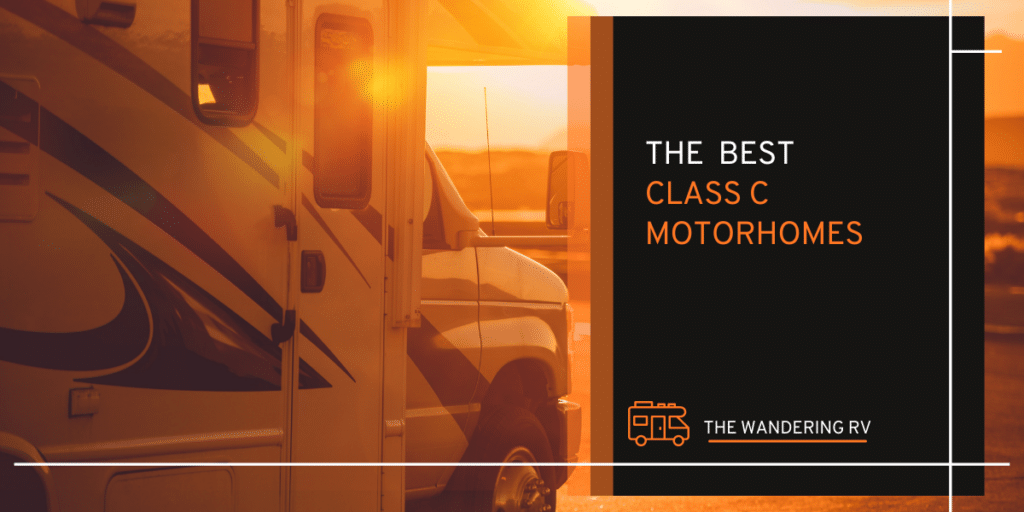 Welcome to the wonderful world of Class C motorhomes! These versatile and cozy homes-on-wheels have been stealing hearts and making road trips extra fabulous for years. But don't be fooled by their size – these compact adventurers pack a punch when it comes to features and amenities. Buckle up and join us as we take a tour of the best Class C motorhomes, where you'll find the perfect travel companion for your wanderlust-driven escapades!
Why are Class C RVs So Popular?
Class C motorhomes are the Swiss Army knives of the RV world, offering a blend of comfort, style, and practicality that's hard to resist. Their unique design and over-cab sleeping area have made them a fan-favorite among road-trippers, weekend warriors, and full-time RV dwellers alike.
The benefits of choosing a Class C Motorhome
Class C motorhomes strike a perfect balance between the spaciousness of Class A motorhomes and the agility of Class B motorhomes. They offer a comfortable living space, easy maneuverability, and a familiar driving experience, making them an ideal choice for first-time RVers and seasoned travelers alike.
Factors to consider when choosing a Class C RV
Price Range
When searching for the perfect Class C motorhome, it's essential to consider your budget. These versatile vehicles can range from affordable entry-level options to luxurious high-end models, so knowing your price range will help narrow down your options.
Size and layout
The size and layout of your Class C motorhome will significantly impact your overall travel experience. Consider the number of people it needs to accommodate, the desired living and sleeping arrangements, and how much space you'll need for storage and amenities.
Amenities and Features
Class C motorhomes can be equipped with a wide range of amenities and features, from basic necessities to luxurious extras. Think about your must-haves and nice-to-haves, such as an outdoor kitchen, entertainment system, or solar power capabilities.
Fuel Efficiency
While Class C motorhomes generally offer better fuel efficiency than their Class A counterparts, it's still essential to consider fuel costs. Smaller, lighter models will typically consume less fuel, so keep this in mind if long-term travel expenses are a concern.
Towing Capacity
If you plan to tow a car or trailer behind your Class C motorhome, make sure to consider the vehicle's towing capacity. This will ensure you can safely tow your belongings without overburdening the motorhome or compromising its performance.
Top Class C Motorhomes for 2023
As we dive into the top Class C motorhomes for 2023, we've categorized our picks into three distinct groups, ensuring there's something for every type of RVer. Get ready to explore the nimble and efficient models based on smaller chassis (think Sprinter, Ford Transit, etc), the spacious and versatile motorhomes built on larger Ford chassis, and finally, the mighty and luxurious Super Cs, which boast semi-truck chassis for unmatched power and performance. Buckle up, because we're about to take you on a ride through the best of the best in the Class C motorhome world!
Comparison Table:
MFR
Model
Length
MSRP
Sleeps
Tow
Cap
MPG
Engine
Chassis
Winnebago
Navion 24D
25'6″
$193K
5
5,000
18
Mercedes 3.0L Diesel
Mercedes Sprinter
Jayco
Redhawk 26M
28'8″
$153K
5
7,500
9
Ford 7.3L Gas
Ford E-450
Jayco
Seneca XT
34'3″
$304K
4
12,000
9
Ford 6.7L Diesel
Ford F-550
Winnebago
Minnie Winnie 31k
32'9″
$154k
4
7,500
8
Ford 7.3L Gas
Ford E-450
Renegade
Valencia 38BB
38'2″
$315K
10
13,000
7
Cummins 6.7L Diesel
Freightliner S2RV
Nexus
Rebel 4×4 35R
34'11"
$275K
7
15,000
8
Duramax Diesel
International CV
Best Small Class C Motorhomes (Under 30ft)
Winnebago Navion 24D
Length: 25.5ft
Engine / Fuel: Mercedes 3.0L Diesel
Towing Capacity: 5,000lbs
Est MPG: 18
MSRP: $193,111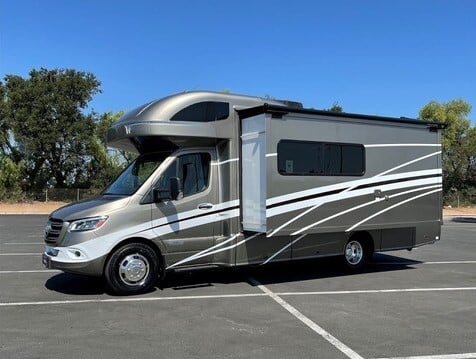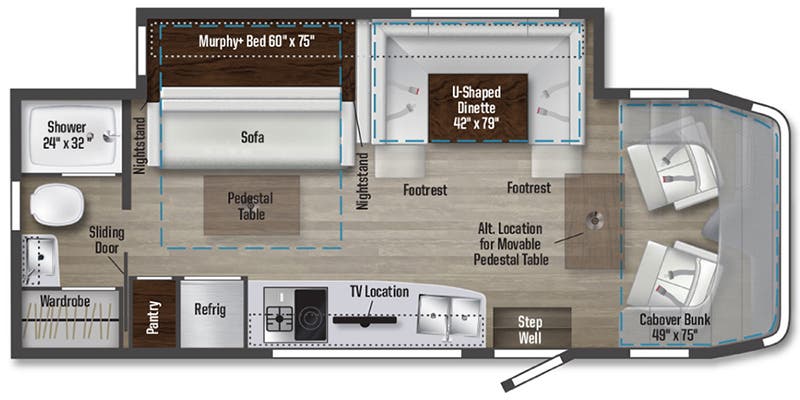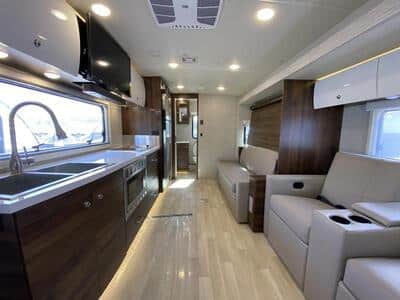 Kicking off our list in the "Small Class C" category is the ever-popular Winnebago Navion 24D. This compact and cleverly designed motorhome is perfect for those seeking a fuel-efficient option without compromising on comfort. The Navion 24D features a space-saving Murphy bed, which easily folds away when not in use, providing additional living space during the day. Impressively, this compact RV boasts a fuel efficiency rating of 18mpg, ensuring you can roam far and wide without breaking the bank. With the Winnebago Navion 24D, you'll enjoy both style and practicality in a compact package.
The Navion 24D features a full-wall slide that maximizes interior space and a reliable Mercedes Diesel engine. You'll enjoy the convenience of a tankless water heater, a towing capacity of 5,000 lbs, and a full rear bathroom with a space-saving sliding door. The well-equipped kitchen includes a convection microwave/oven, and the View Class C comes with industry-leading holding tanks, solar panels, and a generator. Built on a Mercedes-Benz Sprinter chassis, the Navion 24D offers advanced safety features and a comfortable, luxurious interior with easy-to-clean surfaces. This compact motorhome is perfect for those seeking both efficiency and comfort on their adventures.
Jayco Redhawk 26M
Length: 28'8"
Engine / Fuel: Ford 7.3L Gas
Towing Capacity: 7,500 lbs
MSRP: $153,000
Est MPG: 9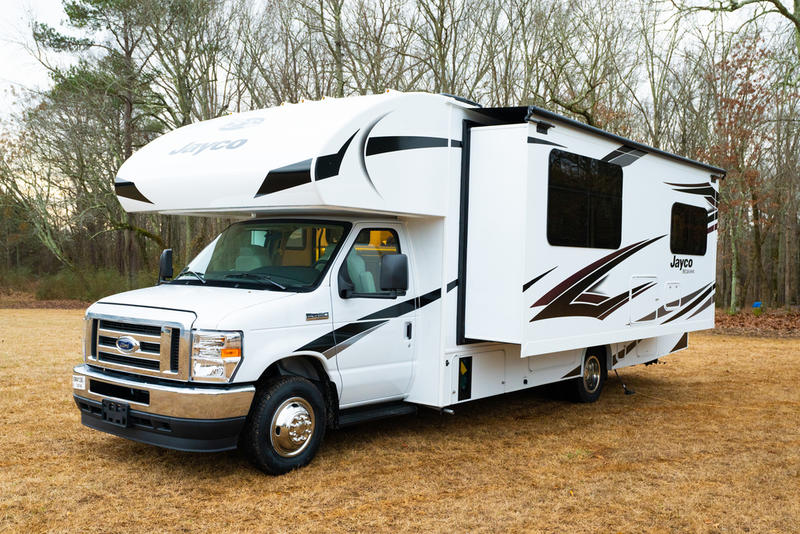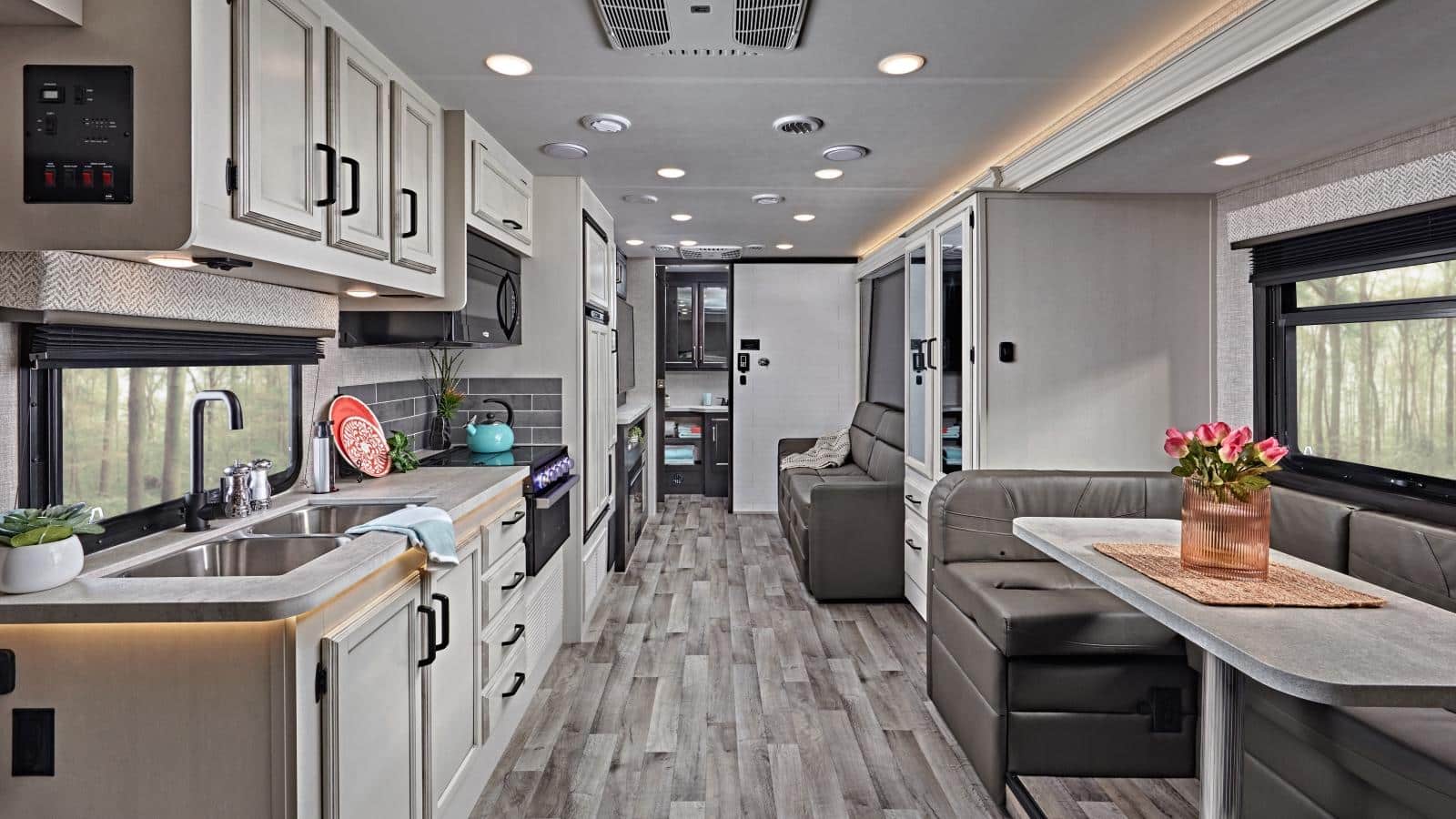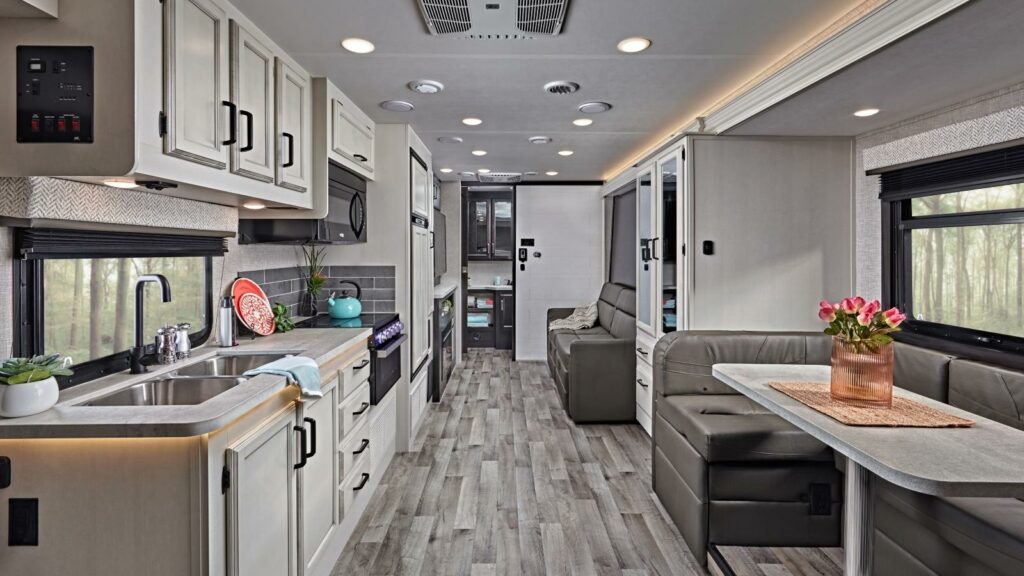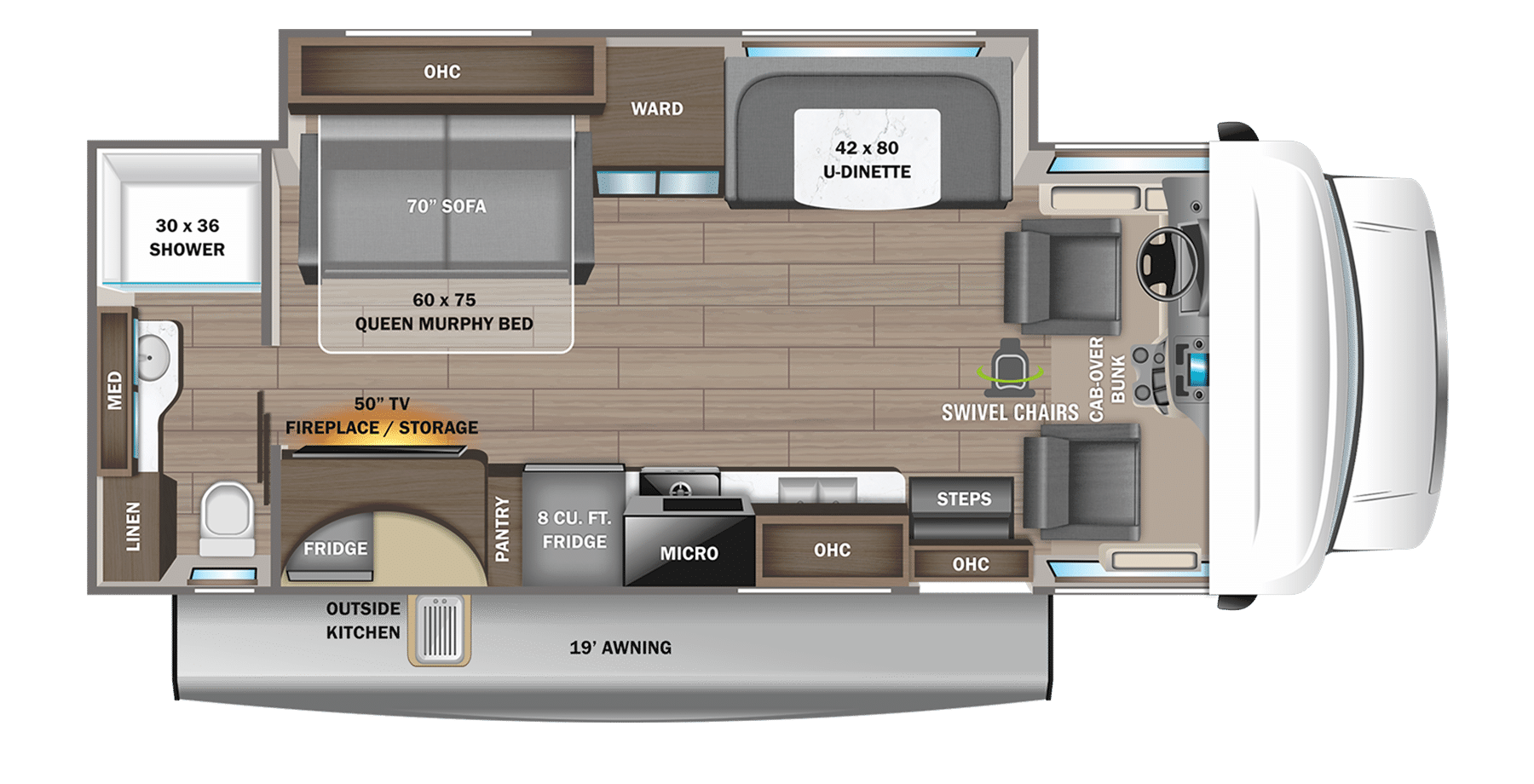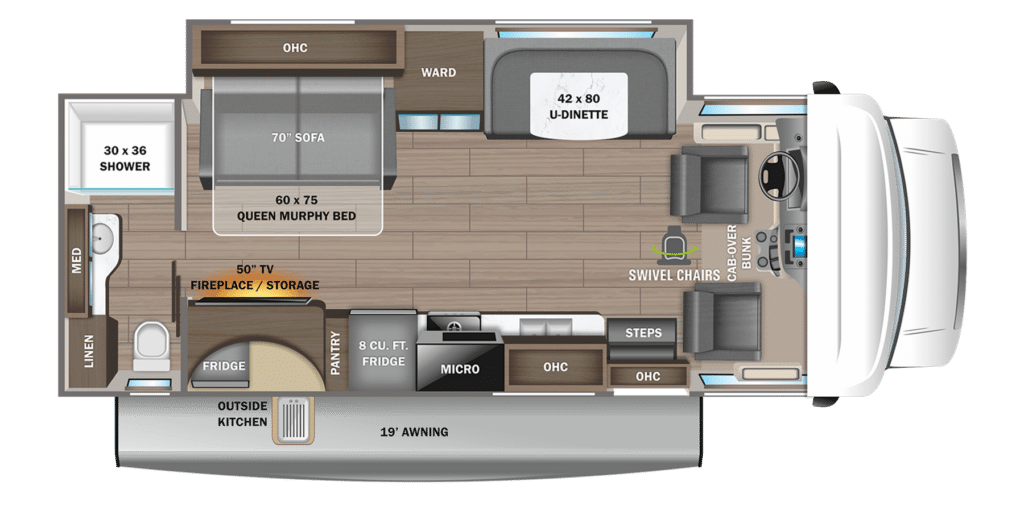 The Jayco Redhawk 26M is a small, budget-friendly Class C RV that has made its mark in the market. Built on a powerful Ford E-450 chassis with the reliable 7.3L "Godzilla" motor, it boasts a towing capacity of 7,500 lbs and is perfect for navigating mountain passes. Despite its compact size, the Redhawk offers ample living space and storage thanks to its five versatile floor plans. Top features include an electric fireplace, a 750 lb over-the-cab bunk weight capacity, comfortable swivel front seats, and plenty of storage. The Redhawk's light, modern design colors, and hardwood cabinet doors and drawers add to its spacious feel.
The 26M version of the Redhawk comes equipped with an outdoor kitchen, an indoor fireplace, and an open floor plan. While it may have fewer amenities than the Winnebago Navion 24D, it offers significant savings in terms of price. The E-450 chassis is built for durability, although it is heavier and has lower fuel efficiency compared to the Sprinter chassis. The Redhawk 26M also features a 4,000W generator, options for solar, and an automatic leveling kit. With back-up and side-view cameras, an LED smart TV, and a spacious dry bath, this Jayco model is a great option for those seeking a value-packed small Class C RV.
Best Medium Class C Motorhomes (Under 30-38ft)
Jayco Seneca XT
Length: 34'3"
Engine / Fuel: Ford 6.7L Diesel
Towing Capacity: 12,000 lbs
MSRP: $304,125
Est MPG: 9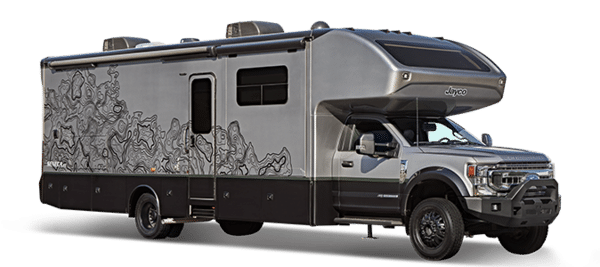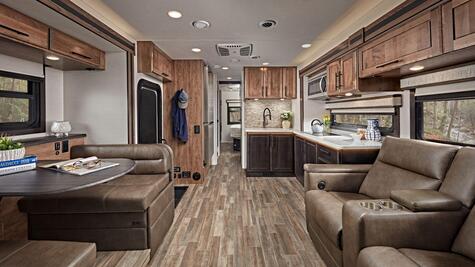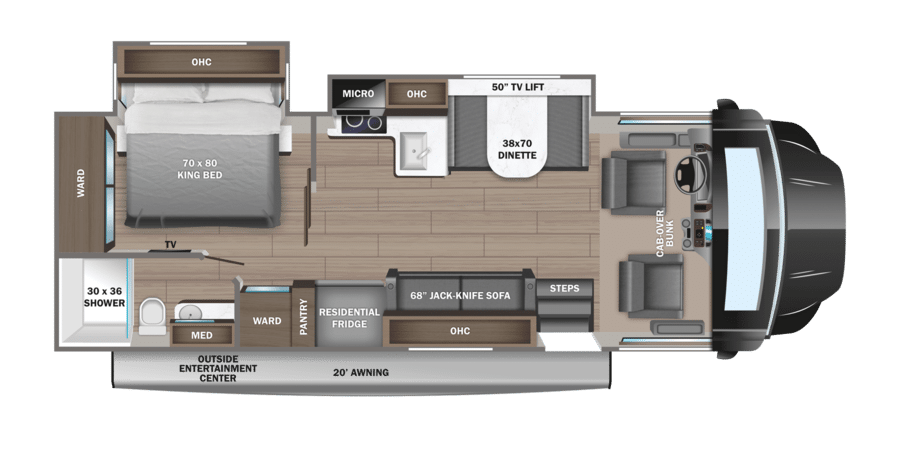 The Jayco Seneca XT is a one-of-a-kind addition to the Super Class C RV lineup. Built on the robust Ford F-550 or F600 4×4 chassis and powered by a 6.7L turbo diesel engine, this all-terrain vehicle is perfect for off-road adventures. With a tow rating of 12,000 lbs, rugged bumpers, and a slightly lifted 2-inch BDS radius arm suspension, the Seneca XT offers unparalleled performance both on and off the pavement. The JRide Premium ride and handling package further enhances its capabilities, while the integrated front and rear auxiliary lighting and upgraded front bumper give it a distinctive, rugged appearance.
Some of the Seneca XT's highlights include two A/C units, a one-piece seamless crowned fiberglass roof, a 6,000W Onan Quiet Diesel generator with auto-gen start, and a premium Sikkens full-body paint. With automatic hydraulic leveling jacks, dual fuel tanks, and a water filtration system, this RV offers a seamless camping experience. Inside, you'll find a walk-around king-size bed with bedspread and nightstands, a 2,000W pure sine wave inverter, and a 200W solar panel with a dual controller. The JRide Premium package ensures a smooth ride with a computer-balanced driveshaft, front and rear heavy-duty stabilizer bars, Hellwig helper springs, and Koni shocks.
Retailing at $304k, the Jayco Seneca XT is more expensive than its counterparts, but it stands in a class of its own when it comes to ruggedness and off-grid camping capabilities. For those seeking the ultimate combination of power, performance, and off-road prowess in a Class C motorhome, the Seneca XT is an exceptional choice.
Winnebago Minnie Winnie 31K
Length: 32'9"
Engine / Fuel: Ford 7.3L Gas
Towing Capacity: 7,500 lbs
MSRP: $153,610
Est MPG: 8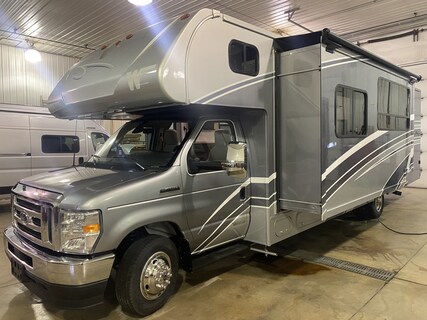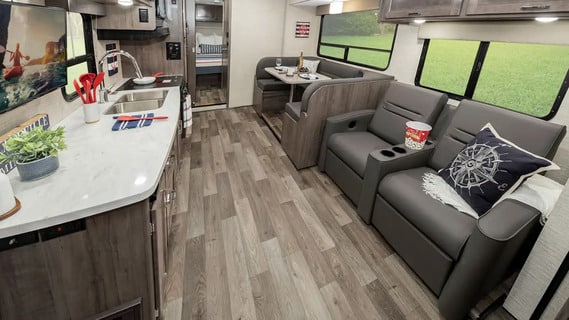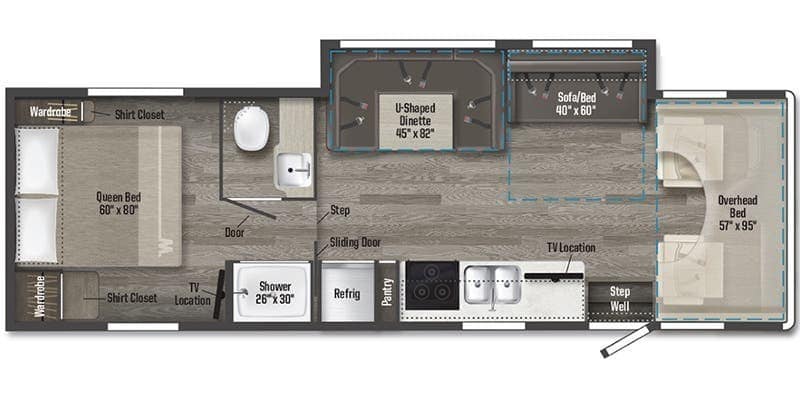 The Winnebago Minnie Winnie 31K offers a fantastic balance between affordability and comfort in the medium-sized Class C motorhome category. Sitting on a Ford E-450 chassis and powered by the 7.3L Godzilla motor, this RV can tow up to 7,500 pounds and features a private bedroom. With a starting MSRP of $155k, the Minnie Winnie 31K is the economical choice for those seeking a versatile and budget-friendly option in this segment.
This motorhome boasts a rear private bedroom with a 60″ x 80″ queen bed, wardrobes on either side, and a TV location for your entertainment needs. The separated bathroom layout allows for a hassle-free morning routine, with a 26″ x 30″ shower featuring a skylight and a private toilet and sink area. The kitchen comes equipped with a three-burner range, an oven, and a large two-way double door 8 cu. ft. refrigerator/freezer with woodgrain paneling. The 45″ x 82″ U-shaped dinette offers a comfortable space to enjoy meals, while the 40″ x 60″ sofa bed provides additional seating and sleeping options. The 57″ x 95″ bunk over the cab can be used for sleeping or storage. The exterior also showcases a TON of storage space.
The Smart Driver Assist technology includes features such as adaptive cruise control, lane departure warning, and forward collision warning, ensuring a safe and enjoyable journey. With flexible seating and sleeping options, as well as a full galley with Corian solid surface countertops, the Minnie Winnie 31K is an excellent choice for travelers seeking a well-equipped, budget-friendly Class C motorhome.
Best Large Class C Motorhomes ("Super C")
Renegade Valencia 38BB
Length: 38'2"
Engine / Fuel: Cummins 6.7L Diesel
Towing Capacity: 13,000 lbs
MSRP: $315,500
Est MPG: 7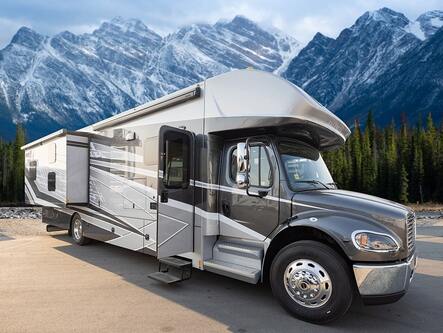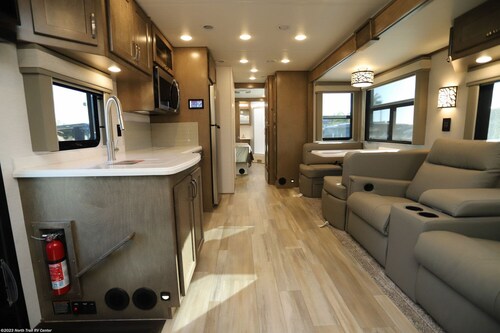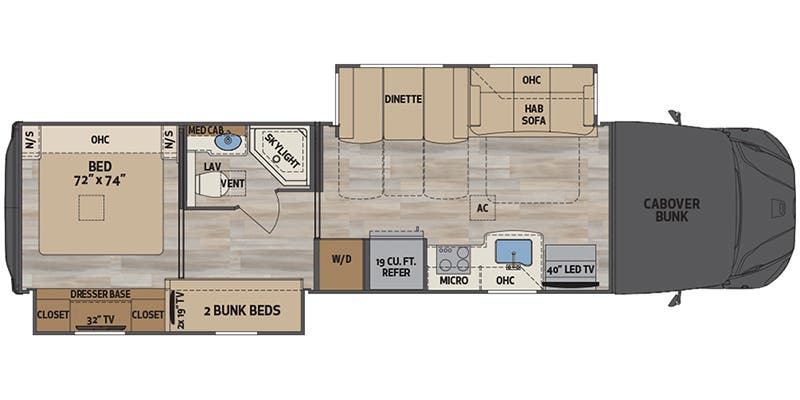 The Renegade Valencia 38BB is a luxurious and spacious Super C diesel motorhome, perfect for families in need of a heavy-duty RV with reliable towing capabilities. With an MSRP of $315k, it is a more expensive option compared to other models, but its build quality and robust features justify the price tag.
This motorhome boasts a rear private bedroom with a 72″ x 74″ king bed, a dresser base with a 32″ TV, and closets on either side. The bunk beds offer additional sleeping space, each with their own 19″ TV. Other sleeping options include the 60″ x 80″ bunk over the cab, the hide-a-bed sofa, and the booth dinette. The kitchen comes equipped with a three-burner cooktop, a 19 cu. ft. refrigerator, and stainless steel appliances. The full bathroom features a neo-angled shower with a vent for steam elimination, ensuring everyone stays fresh and clean during the trip.
Built on the first front-engine diesel Freightliner S2RV chassis with a Cummins ISB 360 HP engine, the Renegade Valencia offers a refined ride and responsive handling. Its long list of amenities includes an 8KW Onan quiet diesel generator, 3,000W True sine wave inverter, 12v water tank heaters, and Truma™ comfort plus tankless water heater. The RV also comes with two 15,000 BTU low profile roof A/C units with heat pumps, ducted heating and air conditioning, and a Garmin touch screen with Bluetooth, GPS, RV maps, and a color camera monitor. With a towing capacity of 12,000 lbs, the Renegade Valencia 38BB is the ideal choice for families seeking a high-quality, heavy-duty motorhome that offers both comfort and functionality.
Nexus Rebel Super C 4×4 35R
Length: 34'11"
Engine / Fuel: Duramax 6.6L Diesel
Towing Capacity: 15,000 lbs
MSRP: $307,820
Est MPG: 8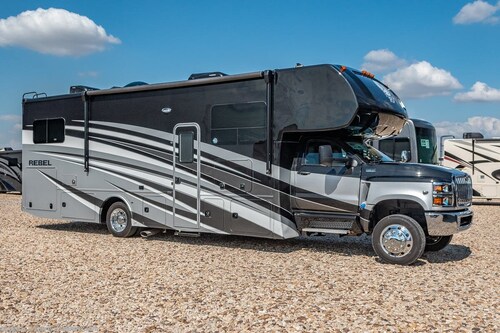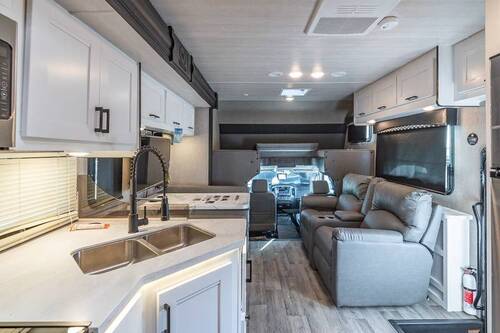 Introducing the Nexus Rebel Super C 4×4 35R, a versatile and powerful RV that combines off-road capabilities with a comfortable and feature-packed living space. With an MSRP of $307,820, the Rebel 35R is built on the International® CV™ Series commercial-grade truck chassis, boasting an impressive 350-HP, 6.6L Turbocharged V8 engine, 700 lb. ft. of torque, and a best-in-class 22,000 lbs. GVWR. This heavy-duty motorhome is the ideal choice for those seeking the perfect balance between rugged performance and comfortable amenities at a competitive price point.
This Rebel measures approximately 34 feet 11 inches in length, and offers a spacious and well-appointed interior that includes hardwood cabinetry, LED lighting, solid surface kitchen counters, a deluxe booth dinette with storage, and large flat-screen TVs. It also comes equipped with various options such as liquid spring suspension, an outside kitchen, theater seating, oven, convection microwave oven, outside entertainment center, Mobileye collision warning system, solar panel, Nexair fan in the living room, roof ladder, and a glass shower door.
This beast is perfect for adventurers who need a 4-wheel drive RV capable of towing substantial weight while still providing a comfortable and well-equipped living space. Although it may not have all the luxurious amenities found in the Renegade, its lower price and off-road capabilities make it an attractive option for those seeking an exceptional balance of performance, comfort, and value.
Conclusion
In conclusion, choosing the perfect Class C motorhome ultimately comes down to your unique needs and preferences. However, it's worth noting that opting for a Ford chassis and engine can offer you the benefits of more affordable parts, greater accessibility to service centers, and easier maintenance. So, hit the open road with confidence, knowing you've made a smart decision for your wallet and your sense of adventure! Happy travels!