Get $50 Off Your Airstream Rental!
Rent with Outdoorsy to get $50 off (discount applied at checkout).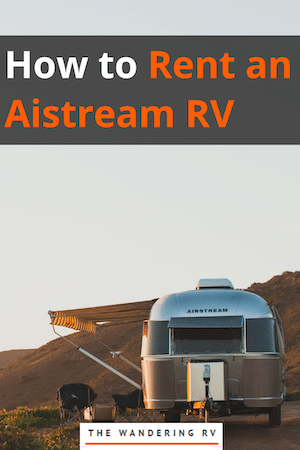 Want ​an Airstream Rental at the best price?
Used by NASA to shuttle astronauts to their launchpads, Airstream travel trailers are possibly the coolest RVs ever made.
To help you rent one of these classy tin trailers, we found the best deals on Airstream rentals on the web!
Click here to browse the best deals on Airstream rentals now or keep scrolling to read our tips.
Let's dive in!
Table of Contents
Note: Some of the links in this article are affiliate links. This doesn't cost you any more than normal. Read our disclaimer for more info.
Where to Rent An Airstream
Can you rent an Airstream RV? Absolutely! There are loads of RV owners who rent their Airstream travel trailers and camper vans on Outdoorsy.
Just go to their site, enter the rental location and date range for your RV vacation, then type "Airstream" in the Keywords search filter in the "More" dropdown menu.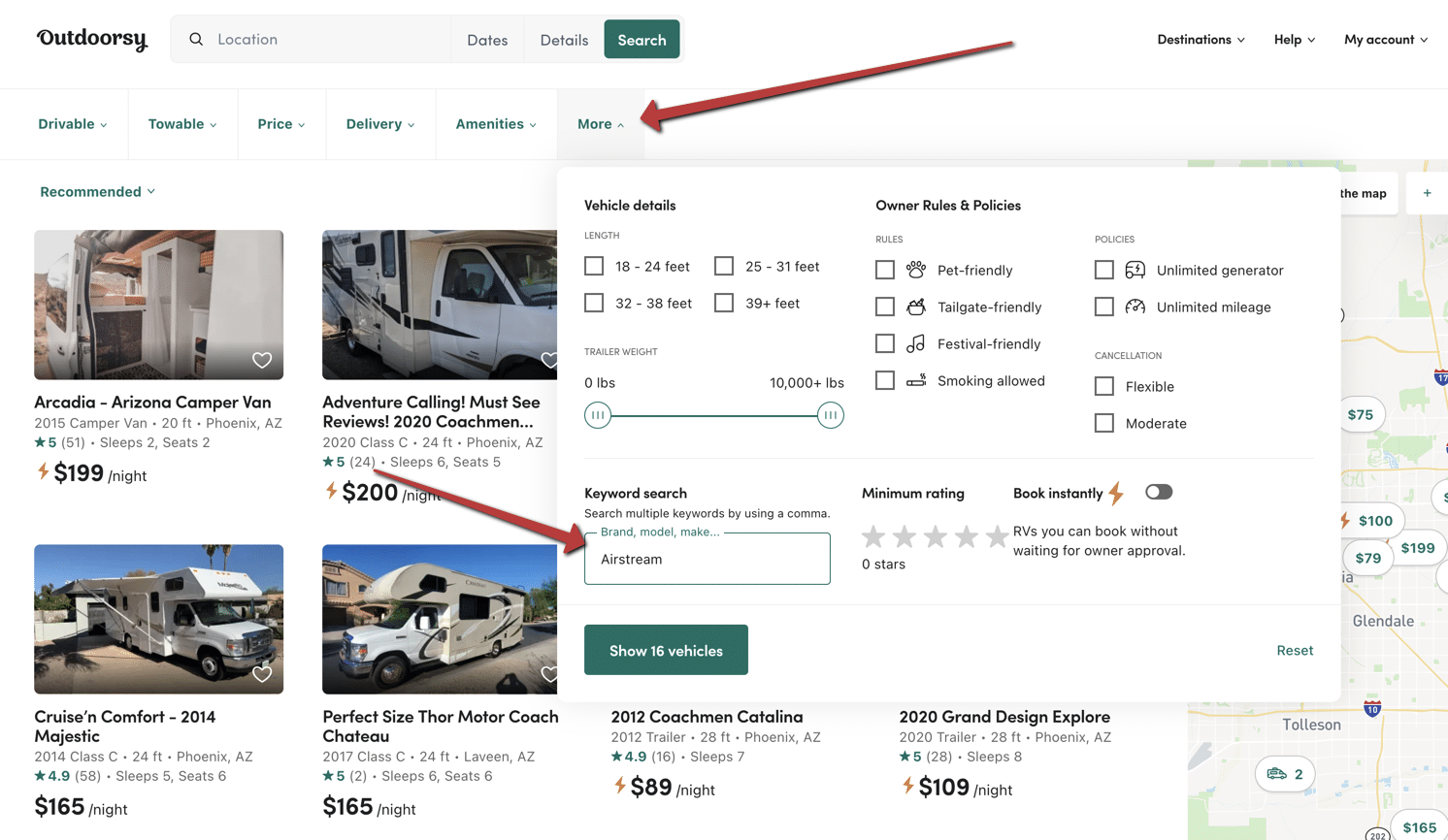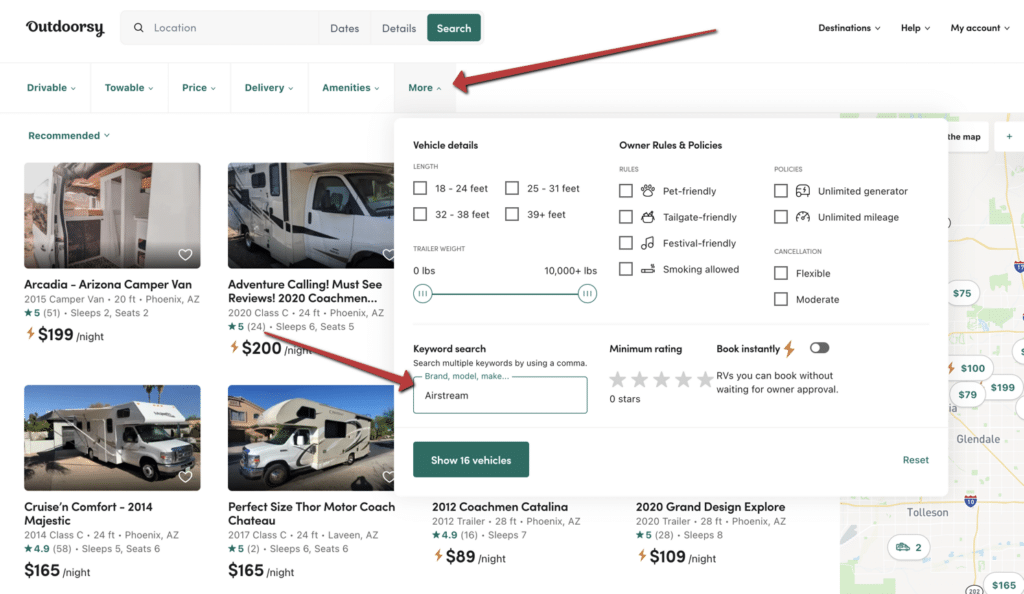 From here you can refine your search further by price, amenities, rules, customer ratings, etc.. I recommend looking for 5-star reviewed vehicles, since it is a peer-to-peer rental platform (meaning RVs for rent by owner, not by an RV dealership).
You can book online without needing to call anyone or visit an RV dealership!
Why Outdoorsy? Because we compared the top four RV rental companies based on reviews, customer service, prices, availability and features (such as roadside assistance and insurance), and they came out #1 in nearly every category.
Read our full Outdoorsy review here to learn more.
How Much Does It Cost to Rent An Airstream?
Airstream rental prices vary based on size, model, age of the unit, location, and time of year. But in general, they typically cost between $100 to $400 per night.
Smaller models, like the new 16′ Basecamp or 16′ Nest by Airstream (see video below), are in the $100 to $150 range.
But you can also rent luxury Airstreams like the massive Airstream Land Yacht (see video below). They have more room and better amenities, but also have a luxury price tag at $300 to $400+ per night.
Why You Should Rent An Airstream
Besides the fact that they look awesome and NASA used them for shuttling astronauts, they are also super light. How light?
Well, a French cyclist names Alfred Letourneur pulled one using a bike as his tow vehicle!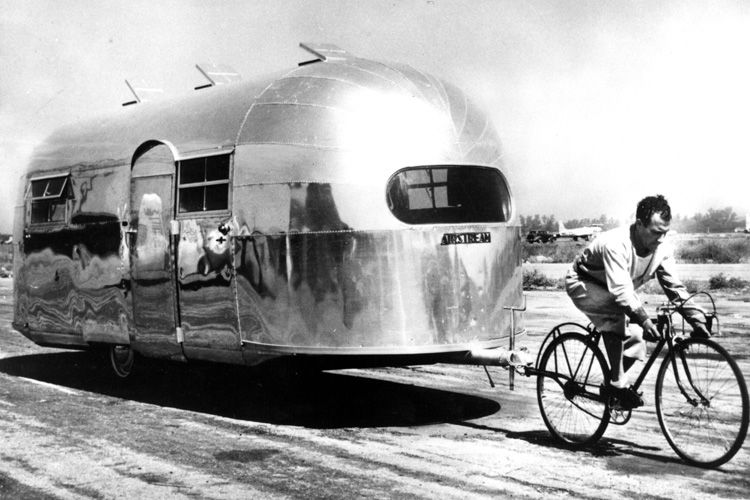 That's not all. These snazzy trailers were once used to move High-Ranking Air Force Officials. Pretty cool, right? But let's look at the actual pros and cons…
Airstream Trailer Pros & Cons
Is renting an Airstream right for you? Here are some pros and cons to help you decide.
Airstream RV Pros
They're high-quality and durable. There's a reason NASA chose these RVs to transport their astronauts (besides just how cool they look)! Compared to motor homes and other travel trailers, Airstreams are built with some of the highest-quality materials and built well.
They have fantastic interiors. Just like the outside, the inside of most Airstreams looks amazing. They have cutting-edge tech inside them for the year they're built.
They get better MPG than regular trailers. Due to their aerodynamic build, Airstreams cut through the wind and thus your tow vehicle gets better MPG. While not a huge difference, it can save money on long trips.
They look awesome. They're the coolest looking RVs you can find!
Airstream RV Cons
You have to put the landing gear down to stay in them. Feel like pulling over and taking a nap? That's fine, but make sure you put the levels down or else your RV will tilt backward!
They have poor insulation. Since they're made out of just steel, wood, and aluminum, they lack proper insulation. If you're taking them out in the winter, it's best to do it in the south or you'll be pretty cold!
Due to the metal, the inside can get hot. Air conditioners help with this, but if you park them directly in the sun they can get pretty hot inside!
Older Airstreams are cramped. Older Airstream models were not very wide, and as such they can feel a little cramped inside. The newer models are great, though!
Get $50 Off Your Airstream Rental!
Rent with Outdoorsy to get $50 off (discount applied at checkout).