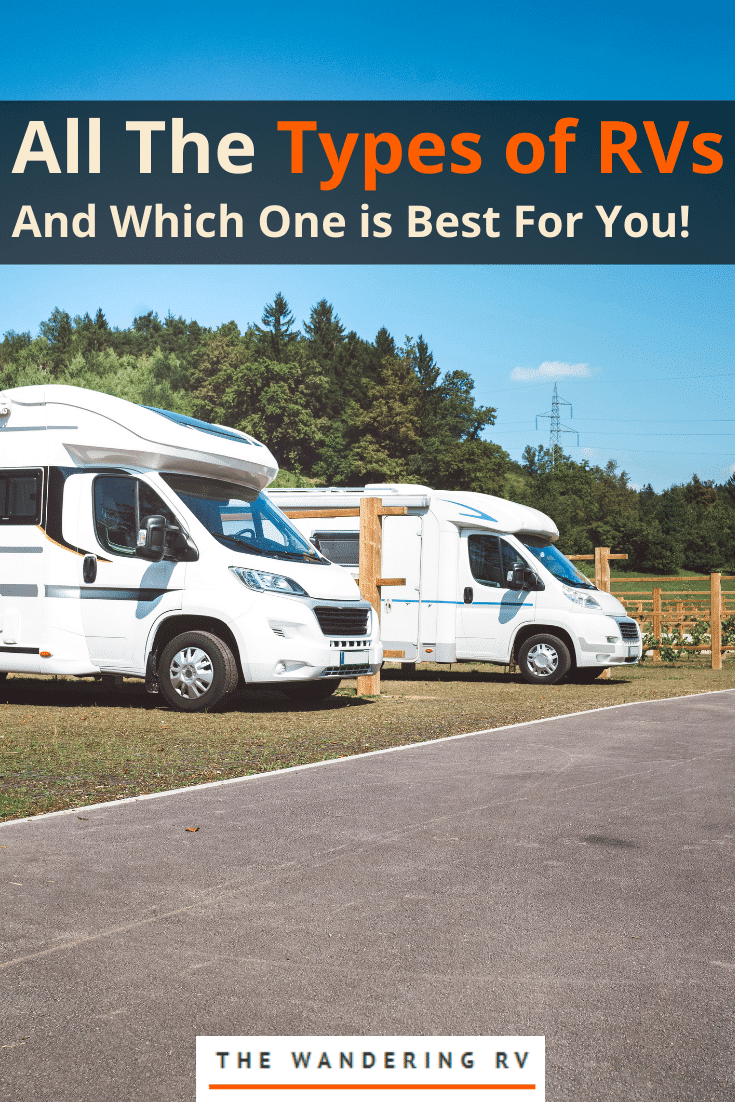 There are many types of campers & RVs on the market out there.
From giant fifth wheels and Class A motorhomes to tiny teardrop trailers and truck campers, how do you know what's what and which to pick?
That's why we wrote this guide; to help you learn what the different RV types and find the perfect RV that suits your specific camping needs.
Let's dive in!
Table of Contents
Types of RVs: Motorized vs Towable
The first distinction to be made is between driveable RVs with a motor and towable RVs with no engine.
Motorized RVs
A motorized RV is a camper that has full driving capabilities. It comes with an engine, exhaust system, and everything else you need to be able to drive it around. You do not need a tow vehicle for these as you can drive them directly.
Towable Campers
Towable RVs, on the other hand, do not have an engine or any way to be driven directly. Instead, you need a truck or other vehicle with the capabilities to tow the camper behind you.
Related Post — Complete List of RV Manufacturers: All the Brands & Types
Types of Motorized RVs
First, let's talk about the different types of RVs that you can drive. These include:
Class A Motorhome
Class C Motorhome
Class B Campervan
Truck Camper
Skoolies
Let's talk more about each:
Class A Motorhome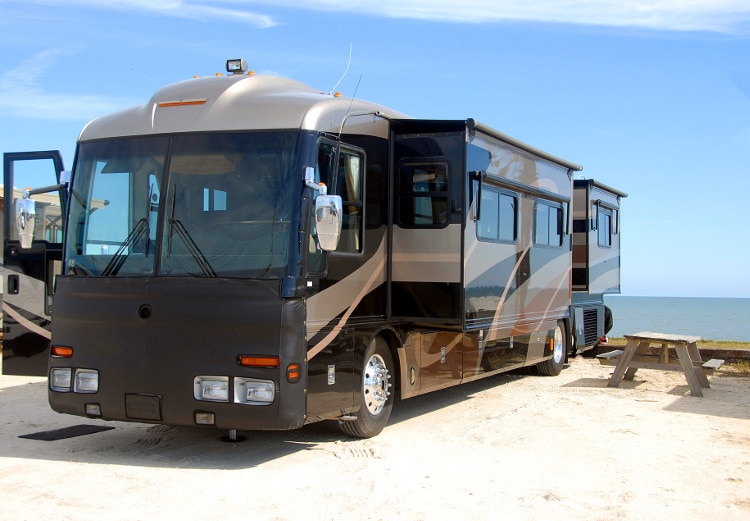 A Class A Motorhome is basically a giant bus with a living space inside. These are the huge RVs you see with the flat windshield front.
This type of RV offers the most living space of any driveable RV, and often includes the most amenities as well. It's not uncommon for these campers to include a washer and dryer, plenty of slide outs for extra living space, a full-size king bed and bathroom, and more.
If you want to RV in luxury, you probably want a Class A motorhome or a fifth wheel.
However, due to their size, Class A's often have very poor gas mileage, are more difficult to drive, and are limited to where they can park. This is something to think about when deciding which RV type is right for you!
Class C Motorhome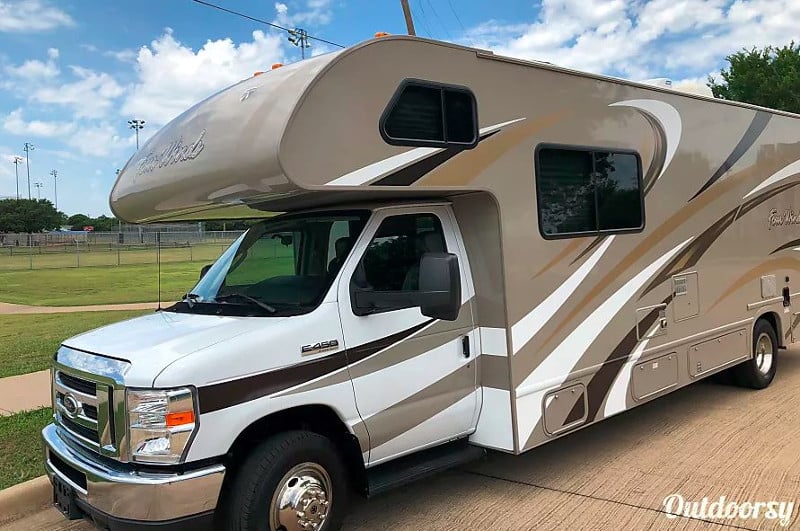 A Class C Motorhome is the RV you see with the section that extends over the cab. This space is typically utilized as an extra bed area, but it can also be turned into storage. This type of RV is built on a truck chassis.
Class C RVs are the middle-ground between size and capability. While you can find Class C's that are as large as a Class A, they also make much smaller Class C's that can fit in a normal parking spot, which is really convenient.
These types of campers have a lot of variance to fit almost any need!
Related Reading — Best Small Campers with Bathrooms
Class B Campervan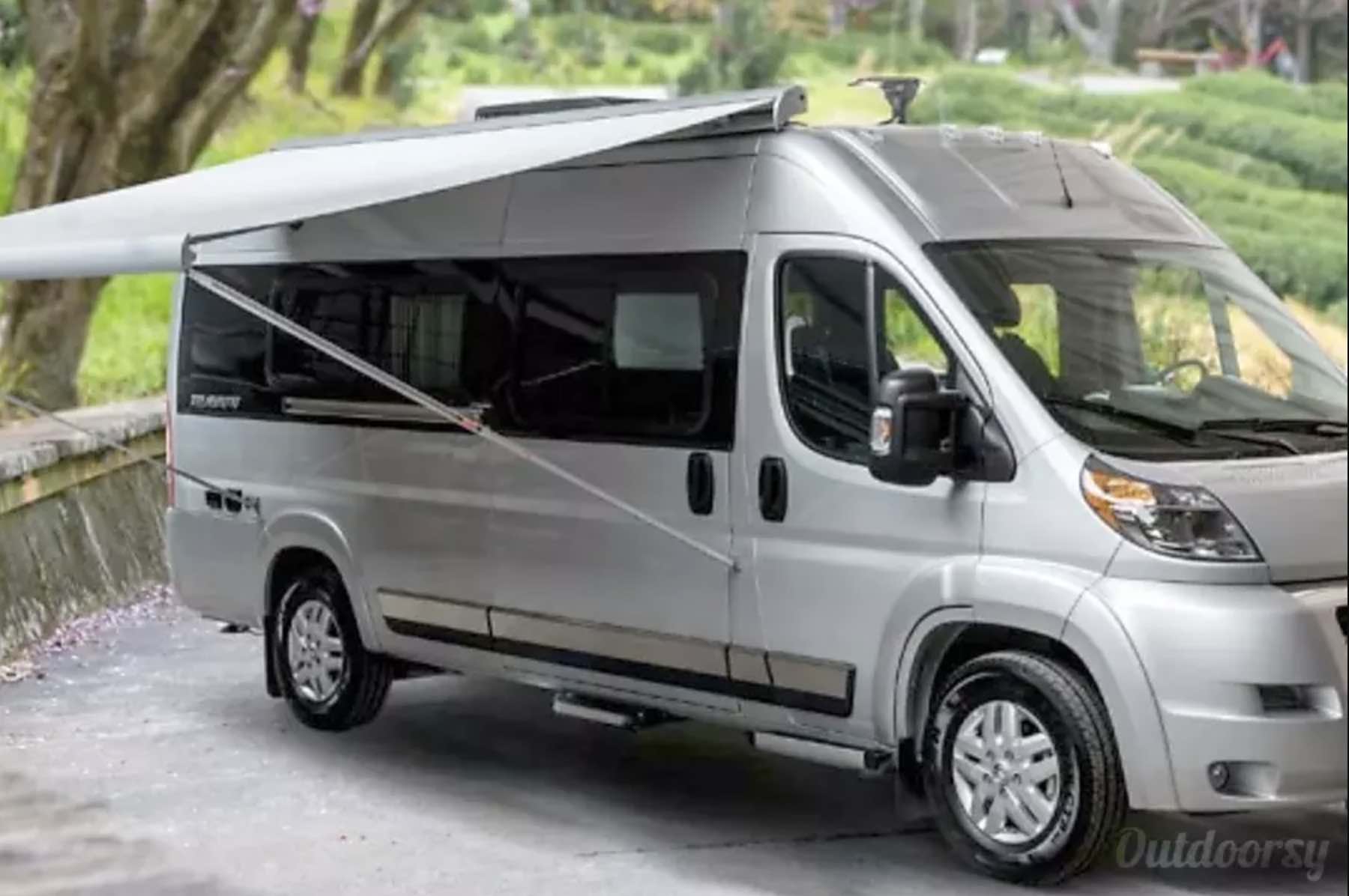 Class B Motorhomes, often refered to as a campervan because they are built on a van chassis, are small campers with minimal footprint. They're great for anyone who wants to try boondocking (AKA dry camping or wild camping).
Another great thing about the campervan is the ability to stealth camp, or camp in parking lots and other places where you normally wouldn't "camp" but can because people think you're just parked there.
However, they offer only basic amenities and living space, so take that in to consideration! Click here to see the best camper vans with bathrooms.
Want to try before you buy? Click here to see some small RV rentals so you can test out the different RV types before you spend tens of thousands of dollars on one!
Truck Camper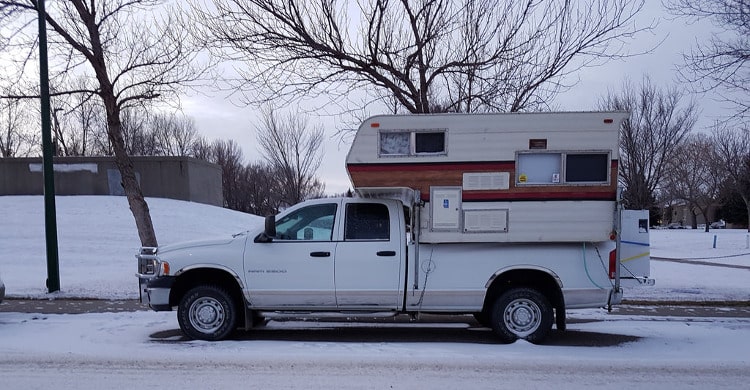 Finally, a truck camper is nothing more than a camper placed in the bed of the truck! Truck camping is a lot of fun, but it's not for everyone.
While it offers the most flexibility in terms of where you can fit your vehicle and ease of driving, it is also the smallest amount of living space. You're mostly living outside when you use one of these. It's perfect for a hunting trip, however.
One cool thing about truck campers, though, is that you can go off-roading and camp in some absolutely incredible places! If you want to learn more about this unique camping style, check out this guide to overlanding.
Skoolies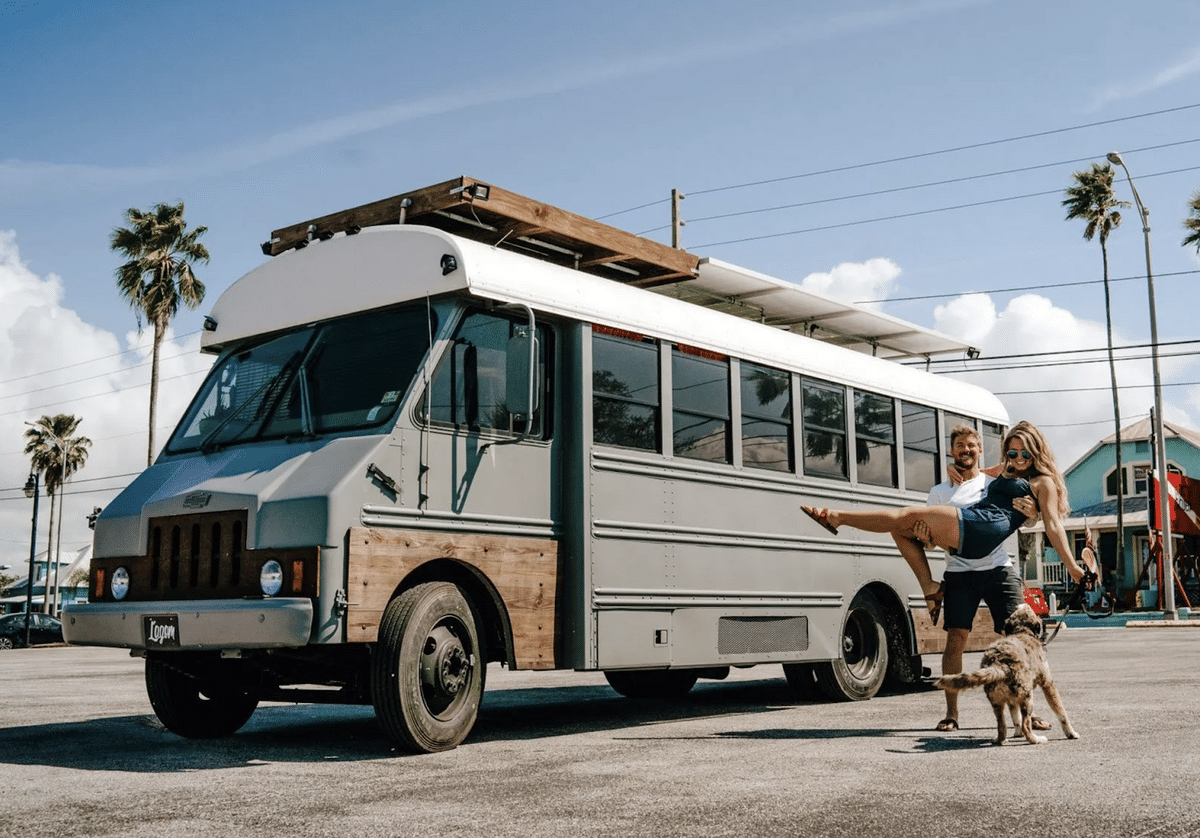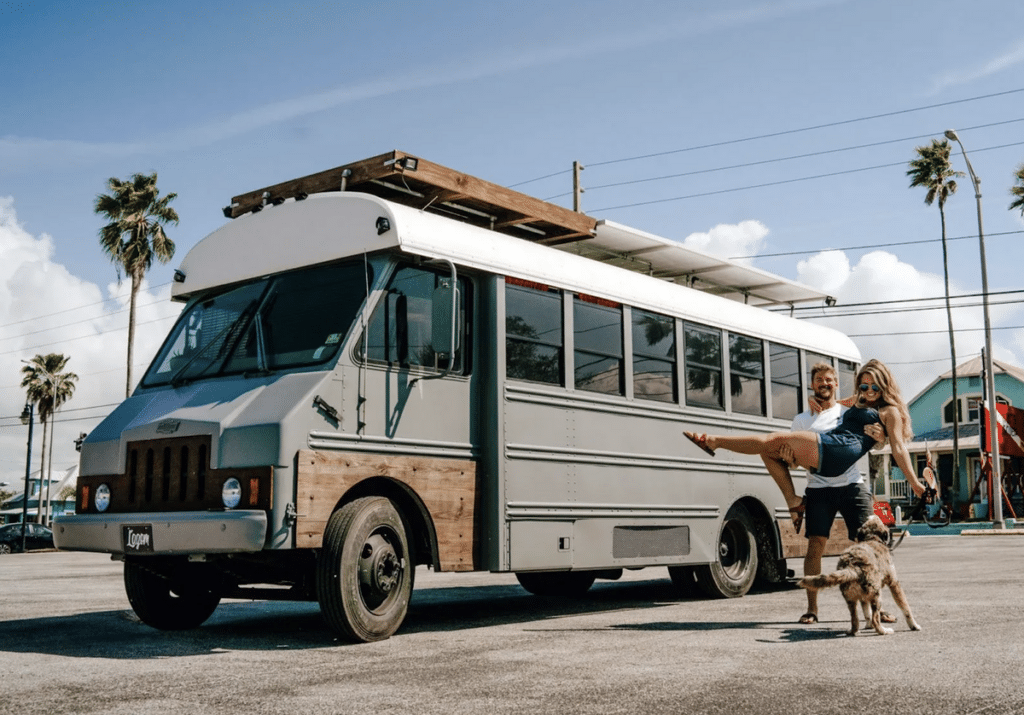 A skoolie is a converted school bus made to be a recreational vehicle! You remove the seats, add some insulation, and call it done.
Keep in mind, however, that Skoolies can be difficult to insure unless you hire a professional conversion company to build them out for you.
This is because a) school buses weren't built to be RVs and b) a professional install means less risk of water damage or an electrical fire.
So just keep this in mind if you want to go the skoolie route!
Types of Towable Campers
Your other option is to get a towable RV that you pull behind your vehicle. These RV types include:
Fifth Wheel
Travel Trailer
Teardrop Trailer
Pop Up Camper
A Frame Camper
Toy Hauler
Let's check 'em out!
Fifth Wheel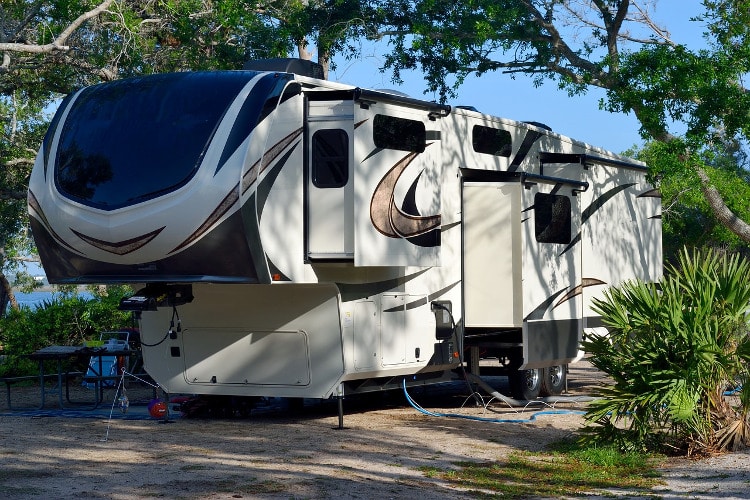 A fifth wheel is the towable equivalent of a Class A RV. They are huge, luxurious, and offer the most amenities of all the types of RVs.
However, fifth wheel trailers are also the heaviest and most difficult to maneuver. It requires a strong towing vehicle to pull a fifth wheel, and you're limited to where you can park it. Make sure your vehicle can handle the weight of these guys or it will kill your suspension and, eventually, your engine!
One great thing about fifth wheels is that they sit IN your truck bed, rather than being towed behind it like traditional travel trailers. This offers more stability and control when towing these massive beasts.
Read more about fifth wheel hitches here.
Travel Trailer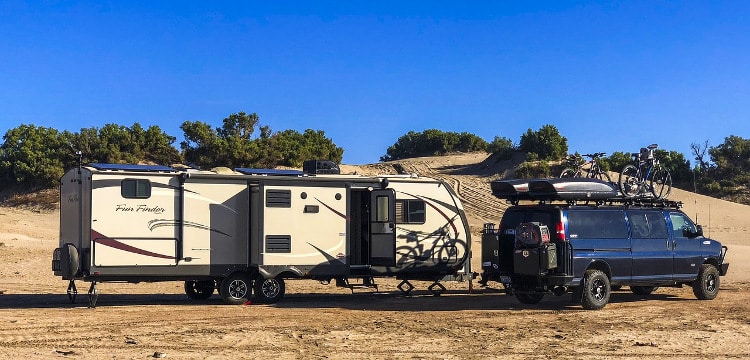 Travel Trailers come in ALL shapes and sizes. From lightweight mini campers to giant travel trailers with an attached toy hauler, you can find whatever you need.
Like Class C motorhomes, travel trailers offer the most flexibility of any type of RV. If you want something in a travel trailer, it probably exists. One of the most popular types is travel trailers with a bunkhouse so there's room for the whole family.
The one downside to travel trailers (and any of the other types of campers below) is that they are towed behind your vehicle from your tow hitch, which means your vehicle is more likely to sway when it catches wind, and it's a bit harder to maneuver in reverse. Here's a list of the best travel trailer brands if you want to learn more!
And check out some of the best small travel trailers here.
Teardrop Trailer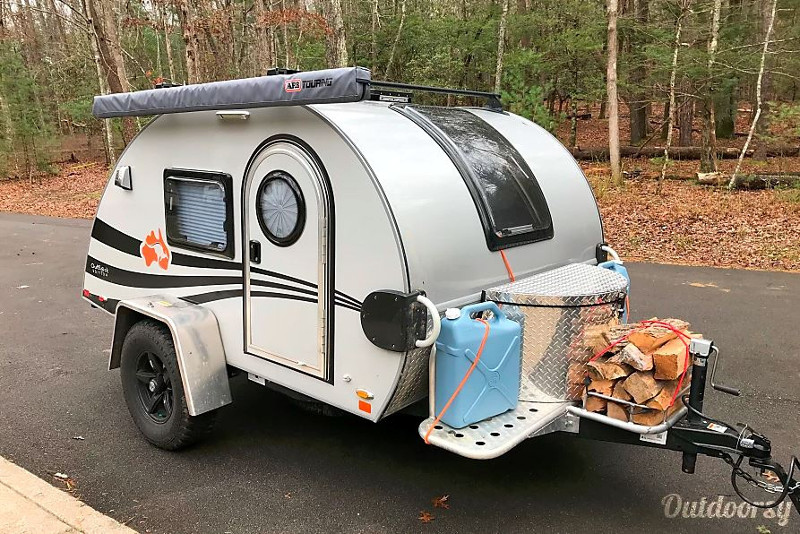 A teardrop trailer is exactly what it sounds like – a trailer shaped like a teardrop!
These tiny campers are lightweight, easy to maneuver, and can fit almost anywhere. You can even get off-road trailers that can be pulled by a 4×4 vehicle and taken to cool remote locations most campers couldn't get to!
The drawback, of course, is the limited space and limited amenities. Depends on how you want to camp!
Pop Up Camper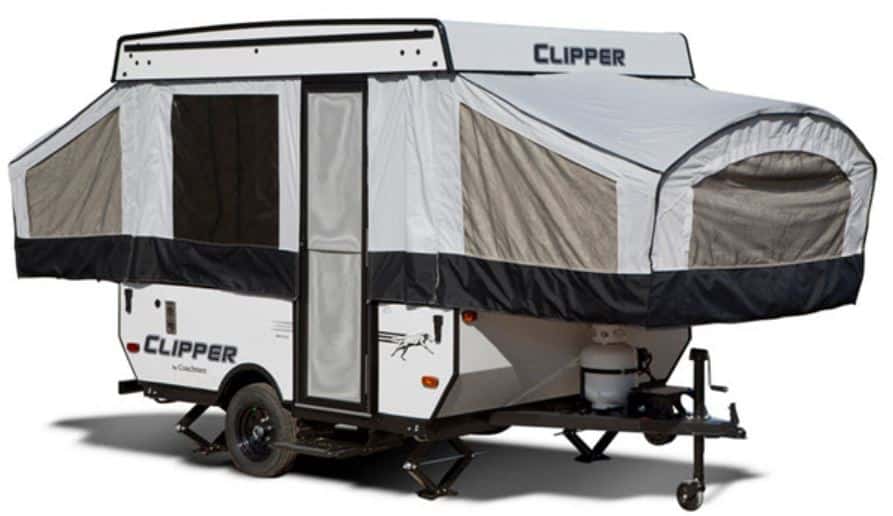 A pop-up trailer is exactly what it sounds like as well – a camper trailer that "pops up" to open up and become bigger!
The benefit to pop-up campers is that they are super lightweight for the amount of living space they provide. This means you can tow pop-up campers with small vehicles like a car or SUV!
However, pop-ups often require much more maintenance than their hard-sided counterparts. This is because you have to care for the fabric and watch closely for leaks.
A Frame Camper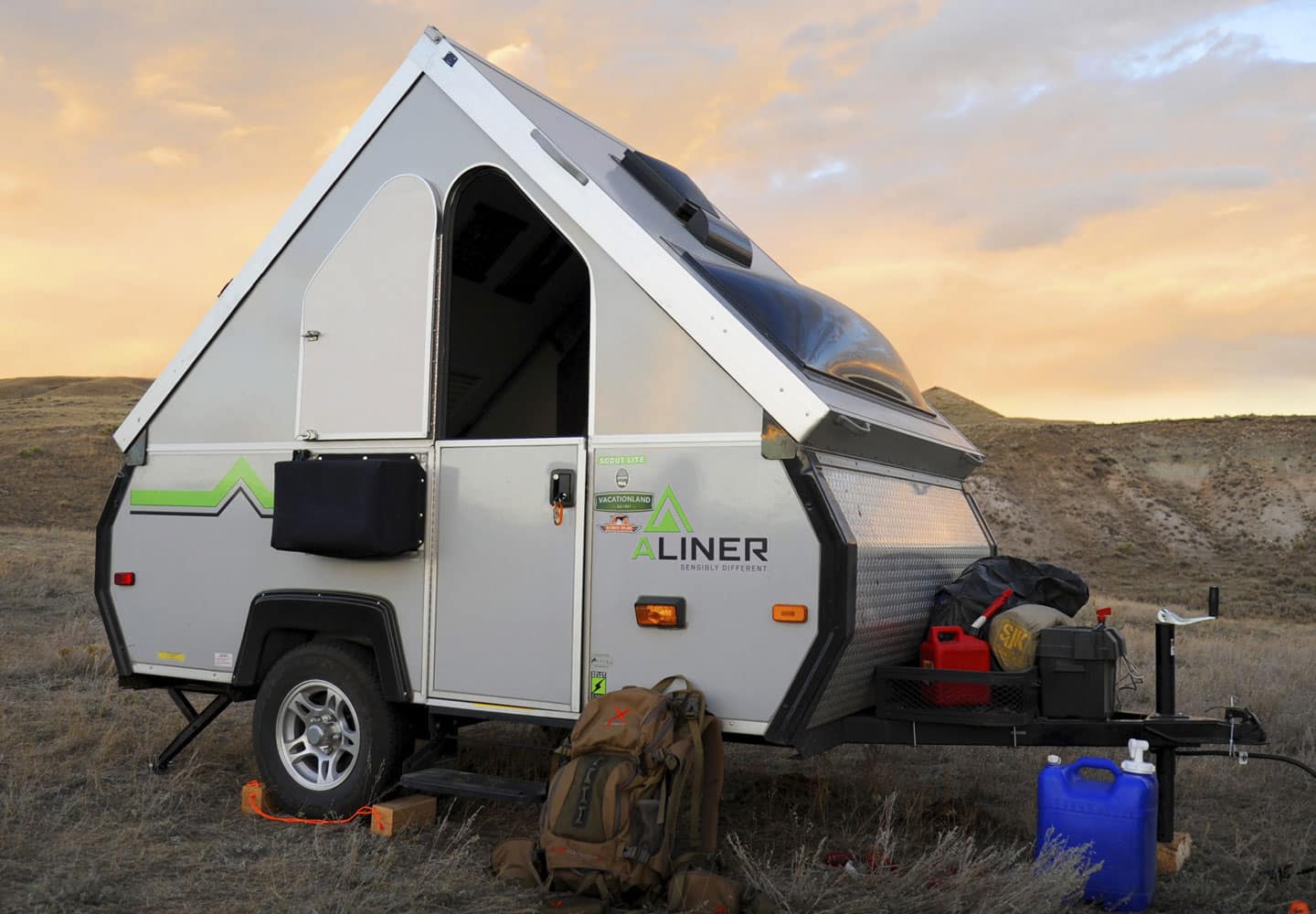 An A-Frame camper gets its name from its shape – they look like an "A".
Again, these types of travel trailers are lightweight and easy to tow. They're similar to pop ups because the "A" shaped roof actually pops up and lowers!
But, they offer limited storage space and interior space. They're great for people who want to keep their footprint small and live in a unique-looking camper!
Also, A-frames are normally built more towards off-roading and overlanding.
Toy Hauler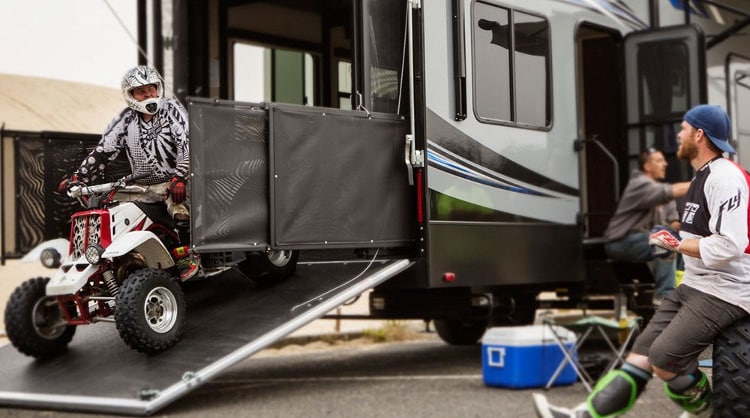 A toy hauler is a camper that has a garage space in the rear for any "toys" you might want to bring camping, such as dirt bikes, ATVs, or motorcycles.
Both travel trailers and fifth wheels can also be toy haulers! Toy Haulers aren't their own specific type of RV, they are more so in addition to other types of RVs.
If you want a toy hauler, first figure out what type of RV you want; the fifth wheel or travel trailer. From there, decide on which amenities are important to you, and be sure to consider the weight of the camper and the towing capabilities of your tow vehicle.
What Type of RV is Right For You?
This is a very difficult question to answer without knowing you and your camping needs. So rather than try to answer it, I will give you a few questions to ask yourself to help you figure this out:
Do you want to tow your camper or drive it?
Towing offers you a detachable vehicle that you can use to drive to activities or the grocery store once you set up camp, but it also requires you to make two separate purchases if you don't already have a good towing vehicle.
If you're on a limited budget or don't care about having a detached vehicle, a motorized RV might be right for you.
What size of RV are you comfortable driving/towing?
It doesn't matter how much you want a giant living space if you don't feel comfortable driving that beast down the highway. Decide what balance you feel comfortable with between living space, amenities, weight, and driveability.
What are your must-haves?
Do you absolutely need a washer and dryer in your camper? What about an outdoor cooking and living space? Slide-outs to increase interior space? How much sleeping space do you need? What about storage space?
I'm confident that if you take the time to think about and answer all these questions for yourself, you'll be able to figure out the kind of RV that's right for you!
And if you still can't decide, leave us any questions you might have in the comments below.
Read Next: