A new breed of trailers has captured the hearts of adventurers everywhere: A-frame campers! These unique, lightweight pop-up campers combine the convenience of easy towing with a surprising amount of storage space and amenities, making them the perfect choice for compact travel. In this article, we'll introduce you to the best A-frame campers, comparing their features and options to help you find the perfect match for your on-the-go lifestyle. So, let's unfold the possibilities and explore the world of A-frame campers together!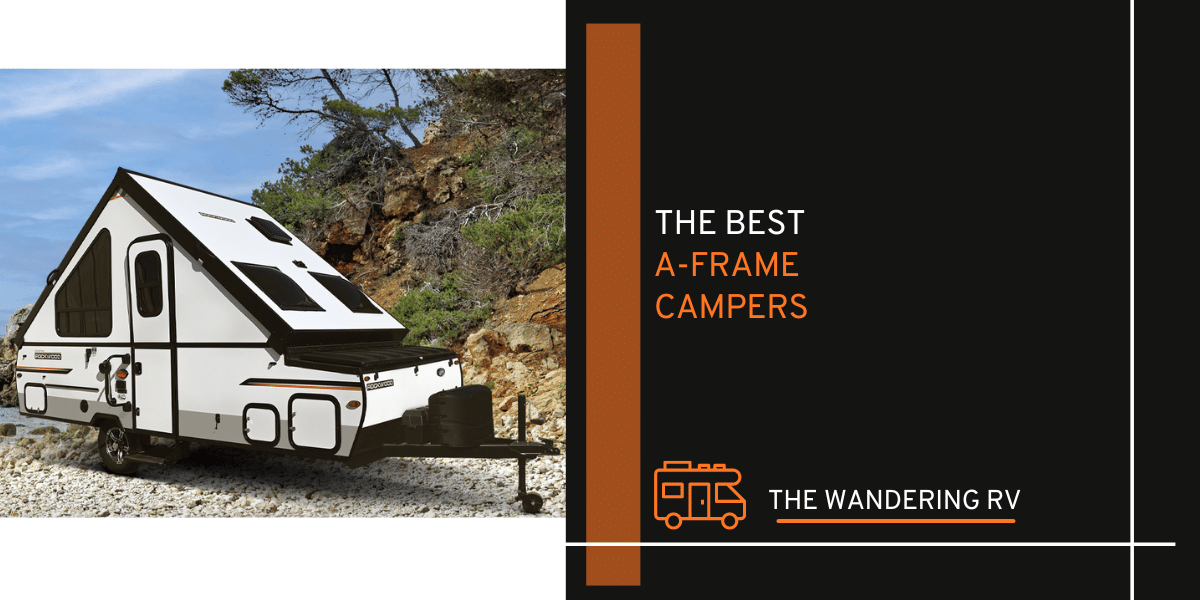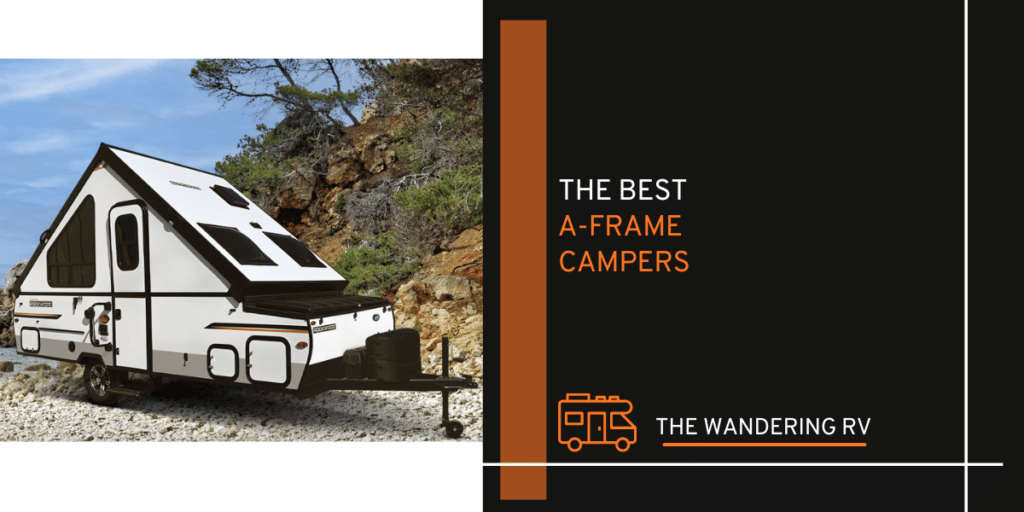 Table of Contents
Not Sure Which Camper to Buy?
Why not try before you buy? Find the models you're thinking about buying,
then give them a test run in a cheap & easy RV rental.
1. The Rockwood A-112 A Frame Camper Trailer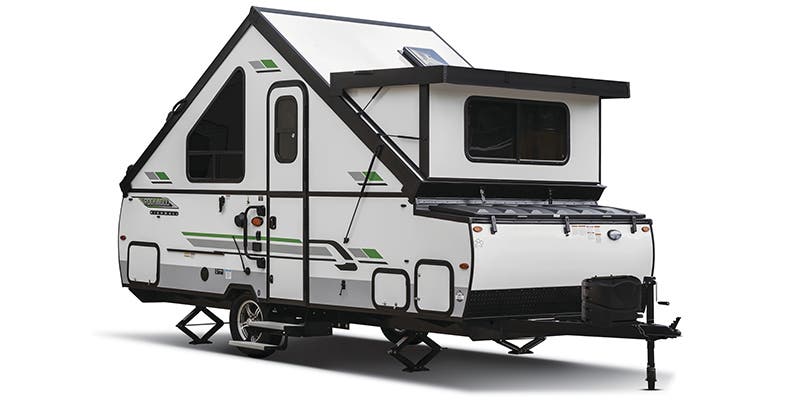 Key Features
Full Wet bath
Portable toilet
10K BTU Cool Cat Heat Pump (A/C & Heater)
1.7 CU – 12V Refrigerator w/ 100W Roof Solar Panel
Stereo w/ Outside Speakers
Hot Water Pkg w/ Outside Shower
The Rockwood A-214HW camper is a great A-frame camper option for anyone looking for one. If you're looking for something that is well-designed and durable then this is the camper for you. This a-frame trailer is designed to give you the desired space and floor plan set to comfortably fit 2+ people.
For example, the interior design features, a residential queen flip-up bed, tons of storage, and the ability to shower in the wet bath or rinse off with the outdoor shower.
This A-frame camper is truly one of the best on the market and is one you should consider purchasing.
2. Aliner Ranger 12 A Frame Camper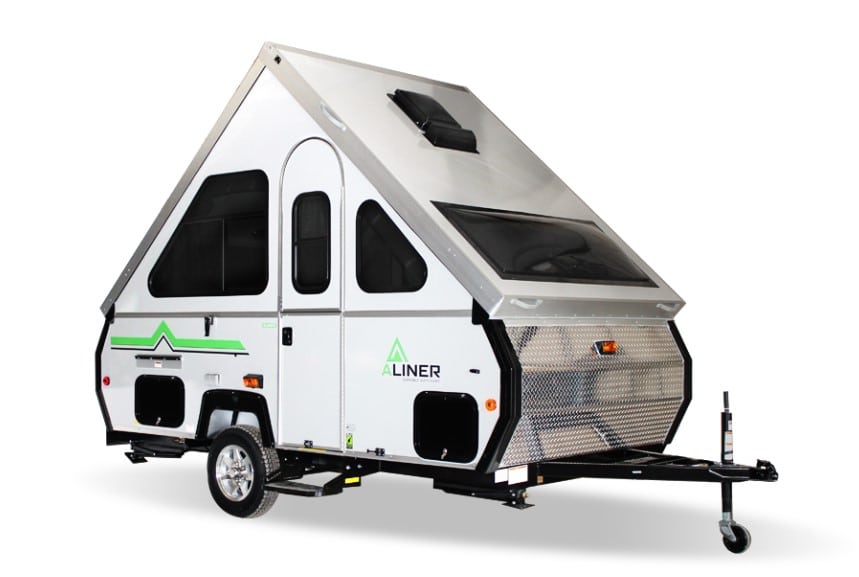 Key Features
E-Coated Frame with powder coating on the front tongue and bumper
11-gallon fresh water tank
Only 1,450 lbs
6-gallon water heater
Three-burner stovetop
Electric brakes
Indoor / Outdoor 12v fridge / freezer
Vacuum bonded Fiberglass
Weatherproof exterior
This Aliner Ranger 12 is perfect for those looking for a smaller A-frame travel trailer. It has less options that Aliner's Classic and Expedition, but still has everything you need for a fantastic weekend adventure.
This camper comes equipped with a three-burner stainless steel stove top and an indoor / outdoor fridge. These simple cooking options are perfect for those looking to relax in the great outdoors and cook easy meals for the whole family.
It's well-built with durable materials. Overall, this A-frame camper is another great option for anyone looking to purchase a small reliable travel trailer.
Related Reading: RTIC Cooler Review – One of the Best Coolers for RVing
3. Aliner Scout-Lite A-Frame Camping Trailer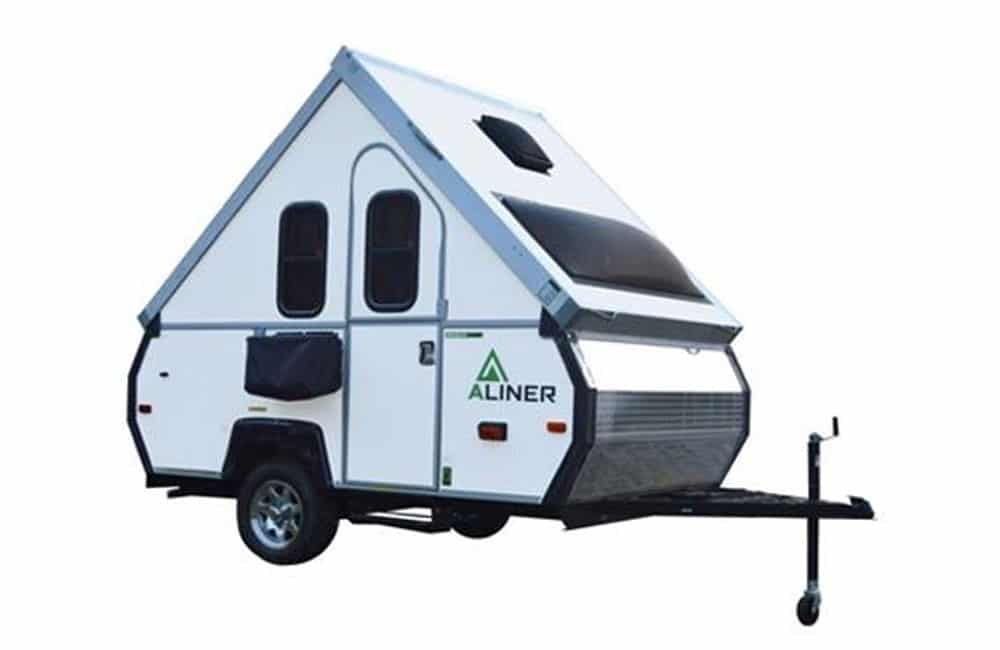 Key Features
10" Electric Brakes
Vacuum Bonded Fiberglass Panels
Anodized Aluminum
35 Amp Converter
Spare Tire and Carrier
Battery Tray
City Water HookupPorts
Black and White Exterior
The Scout-Lite A-Frame Camper includes two skylights with nightshades, high-density foam cushions, and even a fantastic fan to keep you cool indoors.
The exterior consists of extra storage for all of your, aluminum reinforced wheels, and even a front and rear diamond plate. This camper is designed to be very durable and reliable which is what makes it so popular among camping enthusiasts.
​It also has electric brakes and many different charging ports for all of your electronic devices. If you are looking for a well-designed A-frame camper that has all of the features you could imagine, then there is no need to look any further!
Related Reading: Everything You Need to Know About Travel Trailer Insurance
4. Aliner Expedition A-Frame Camping Trailer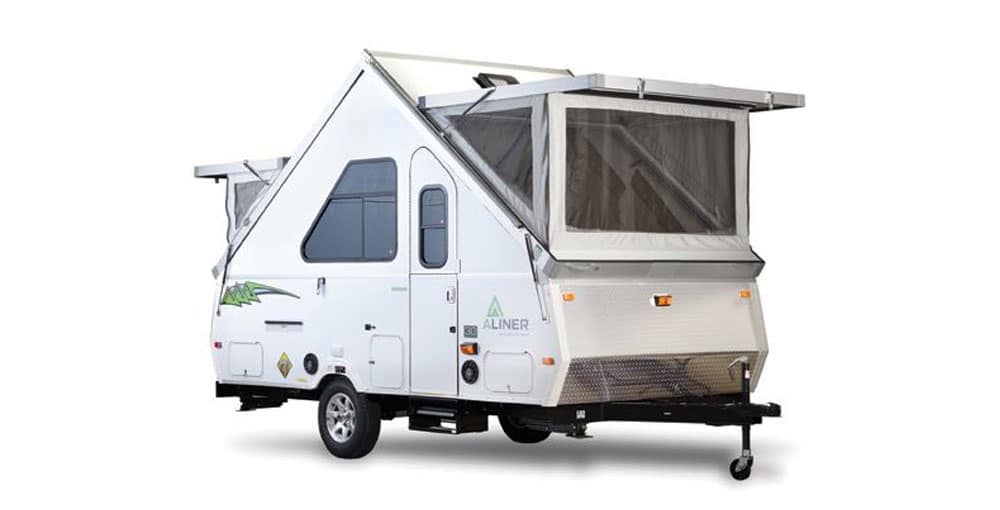 Key Features
Flush mount Euro-style Sink
Euro Style Stove
High Chassis capacity
11 gallons of fresh water
Optional shower & toilet
Residential countertops
Taller bed
Off-road axle
The Aligner Expedition A is one of the first off-road style A-frame campers on our list. This camper comes built with an off-road grade axle that will allow you to travel on those bumpy back roads or even take trails off Road. This allows you to expand your camping abilities with the option of getting off the beaten path for your camping adventure.
This travel trailer also comes with a flush mount euro-style sink and an 11-gallon freshwater tank. There's also an optional package that would include a shower and toilet, which is something I would highly recommend if you ever decided to purchase this camper.
​It also has a euro-style stove included for all of your cooking needs. Overall, this Aliner A-frame camper is not only built to be durable to go off-road but also has optional packages that are full of everything you would ever need in the great outdoors.
5. The XL-1920 By Chalet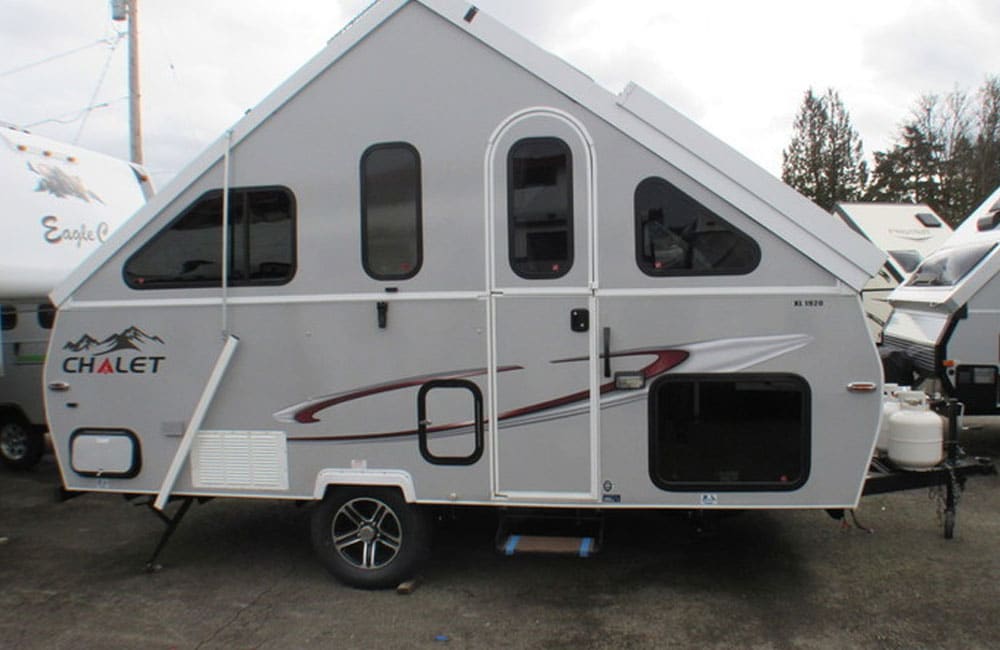 Key Features
8 ft headroom
Bunk beds
Electric roof
Dining area/double bed area w/ three burner stove
Double sink and refrigerator
Smoked safety
Insulated and common keyed
Porta-potty access door
Exterior graphics
The XL-1920 By Chalet is ideal for families who want to get the most out of their camper's space. It's perfect for families thanks to the two bunk beds and dining area that can double as an extra bed space. When looking at the interior, the unit includes a fridge, furnace, and three-burner cooktop.
Additionally, there is a sink, residential-height countertops, and even an electric roof lift system. The design is made to be both functional but also provide you with a homey feel.
Some of the exterior features include an ice-grey fiberglass exterior. This camper also comes with LED docking lights over the battery and hitch LPG tanks.
Aside from that, the unit comes with premium aluminum wheels and a diamond plate rock guard. There are also storage compartments accessible from the outside which is perfect for storing all of your camping gear.
It's also a top-recommended brand thanks to its versatile and durable design, as well as its reasonable pricing. When you find yourself looking for your next home away from home make sure to give this A-frame camper a good look and consideration.
Should You Buy an A-Frame Camper?
If you are looking for the perfect first camper for you and your family then you definitely need to consider purchasing an A-frame camper. These campers are lightweight which makes them super easy to set and tow for almost any SUV or truck.
A-frame campers are also very affordable which is why they are in such high demand among the camping community. These are just a few of the many reasons why you need to consider purchasing an A-frame camper as your next home away from home!
Not Sure Which Camper to Buy?
Why not try before you buy? Find the models you're thinking about buying,
then give them a test run in a cheap & easy RV rental.
FAQs
Here are a few common questions we're asked about A-frame campers:
What is the best A-frame camper?

The Flagstaff hard side camper is the best A-frame camper on the market in our opinion. Although this is a pop-up camper it has so many key features and options that truly make it one of the best.

Whether it is the stainless steel appliances or the electric water pump this camper will blow you away. It also comes with a flush toilet, which is something you usually do not see with pop-up campers.

The fact that this camper comes with a functioning toilet and water pump is just one of the many things that make it stand out against all the others. To pair with this camper electric water pump there is also a 20-gallon water tank that is located under the camper. This camper also comes with thermostatically controlled heat and three-speed ventilation.

There truly is no way you could go wrong when purchasing the Flagstaff hard side pop-up camper.
Are A-frame campers any good?

The simplest way to answer this question is with a resounding yes. A-frame trailers are the perfect lightweight mini campers for anyone looking to purchase their first-ever camper. These campers are easy to set and tow which is what makes them so popular. If you are looking for the perfect small camper or travel trailer you can not go wrong with purchasing an A-frame camper.
How much does an A-frame trailer weigh?

A-Frame campers are considered lightweight which makes them easy to tow with most vehicles. Most A-Frame trailers weigh anywhere from 1,800 to 3,800 lbs. The weight range normally depends on the length of the camper and the types of appliances, model, and flooring in the camper.
Other Types of Campers: