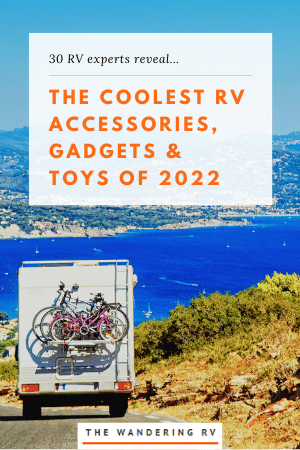 If you're anything like use, you love buying new stuff for your camper.
(It's a running joke that I can't stop buying new stuff… sorry, not sorry!)
Luckily, because I've bought so much stuff and have so many friends who are also into RVing, I was able to make this list of the best RV accessories.
But don't take my word for it… we also interviewed other RVers to get their opinions, too!
So whether you live in your RV or just vacation once in a while, these RV gadgets, RV supplies, and camper accessories are sure to burn a (hopefully small) hole in your wallet! Let's dive in!
Table of Contents
Note: Some of the links in this article are affiliate links. This doesn't cost you any more than normal. Read our disclaimer for more info.
The Dyrt Camping App
Find free camping with a public lands map
Up to 40% off select campgrounds
First 30 days free with code "TWRV"
Recommended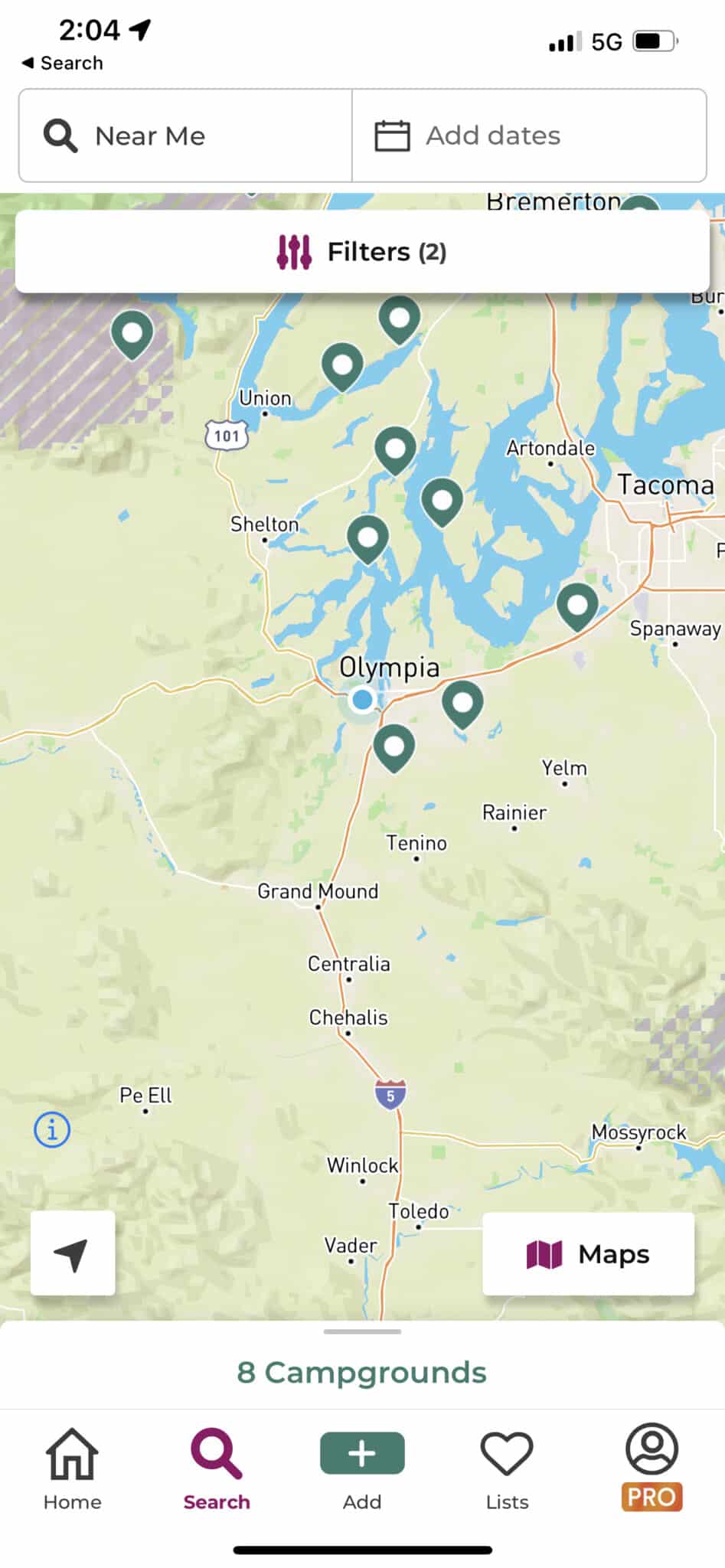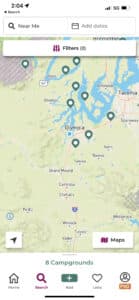 Our Personal Top 5 Picks
We personally use and love these five camping supplies:
Custom RV Mattress
3 choices: Value, Premium or Dual Zone Adjustable
Fits Any RV
Far More Comfortable Than Traditional RV Mattresses
RECOMMENDED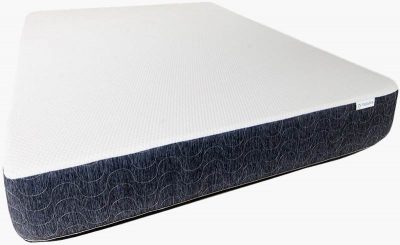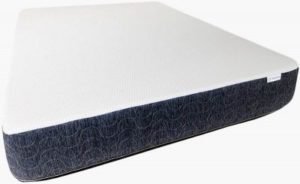 Swedish Dishcloths
Absorbant & odor-resistant
Reusable & washable
Eco-friendly
Extremely effective cleaning
RECOMMENDED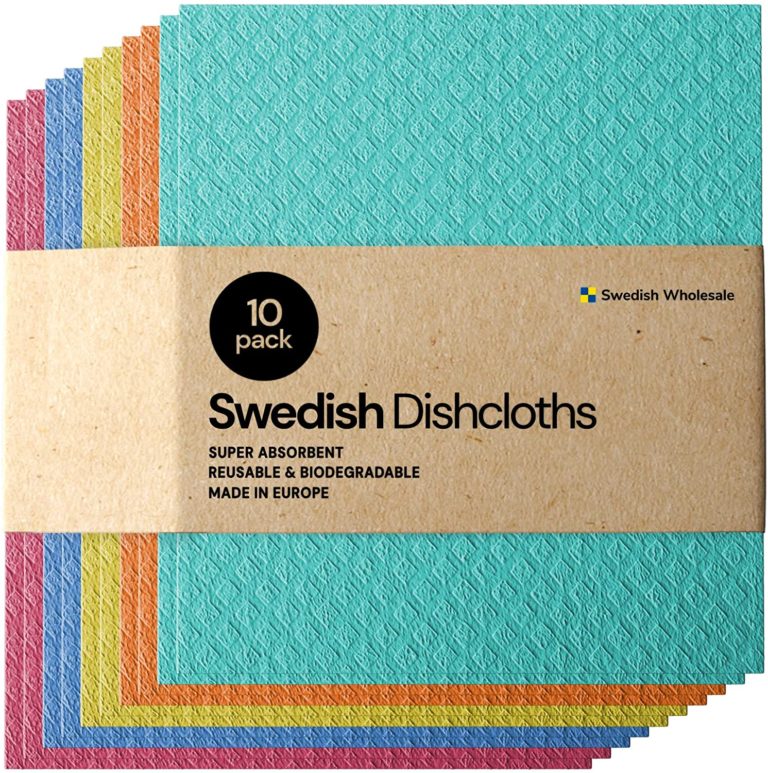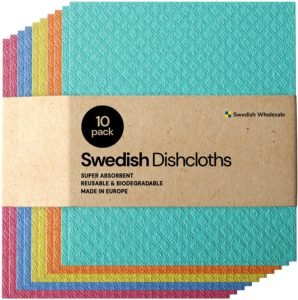 Jackery Portable Solar Power Station
Excellent for Boondocking
Portable & Lightweight
Powers up to 8 Devices!
RECOMMENDED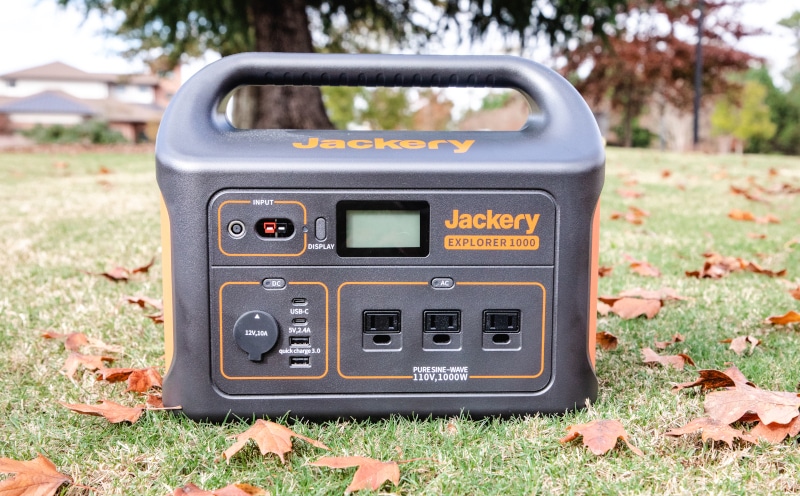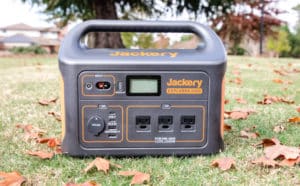 Outland Portable Propane Gas Fire Pit
asily start fires anywhere
Compact & easy to transport
Approved during most campfire bans
Includes cover & carry kit
RECOMMENDED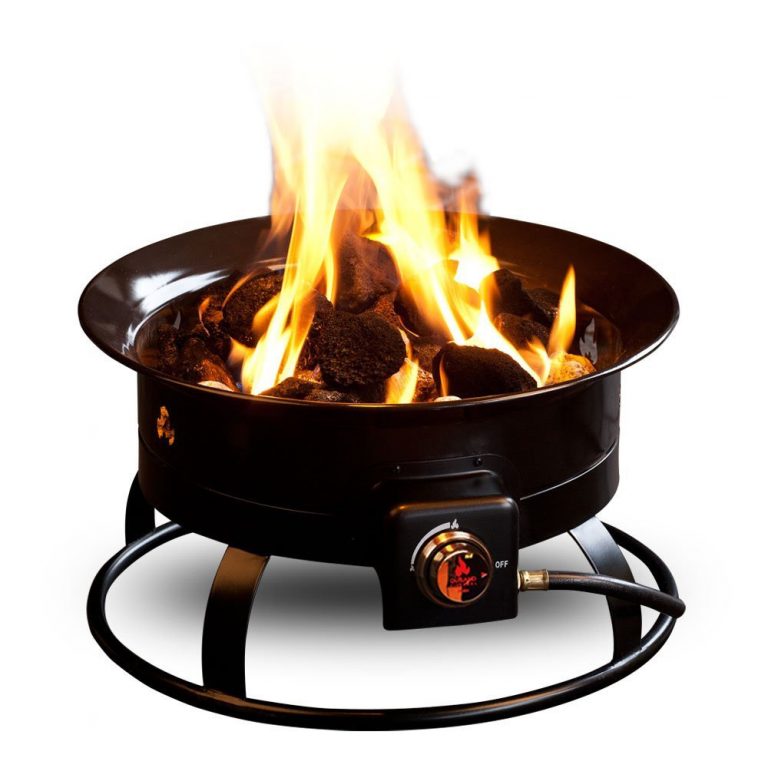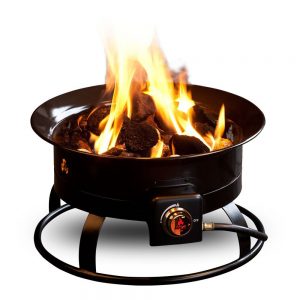 Roadlink Unlimited RV Wi-Fi
Get Wi-Fi From Almost Anywhere!
Unlimited Data Plans Starting At Just $30 Per Month
Easy to Install
RECOMMENDED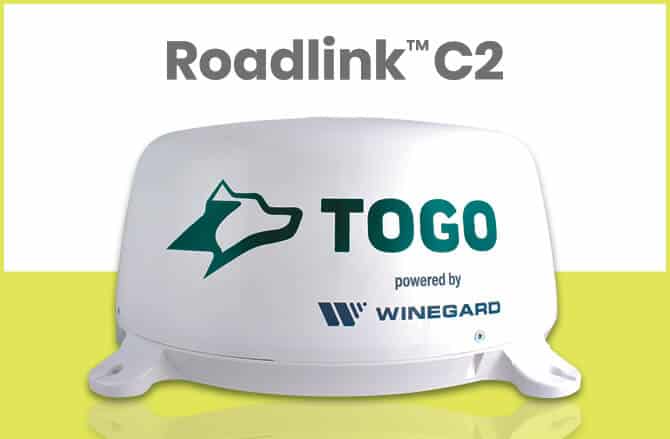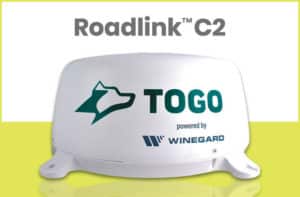 Use code "WANDERINGRV" for 1-Year of Roadtrippers Plus for free!
Now then – on to the "regular" RV supplies! 🙂
General RV Essentials
Before we talk fancy camper accessories that make life better, let's quickly talk about the essentials – like an RV sewer hose to drain your holding tanks and drinking water hoses without chemicals that can harm your body.
Camco Drinking Water Hose
Lead, Phosphate, BPA Free
Anti-Kink Design
No Plastic Taste
RECOMMENDED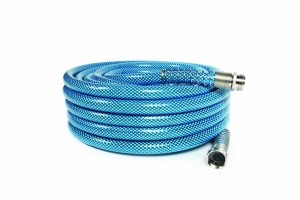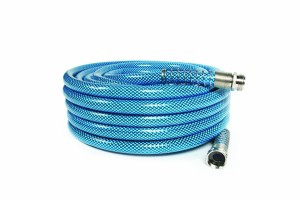 Camco Deluxe RV Sewer Hose
4-in-1 Elbow Adapter
360 Degree Swivel Fittings
Best Reviewed Sewer Hose on Amazo
RECOMMENDED


Camco RV Showerhead
On/Off Switch to Save Water
Rubber Tips for Easy Cleaning
Choice of 5 Spray Pattern
RECOMMENDED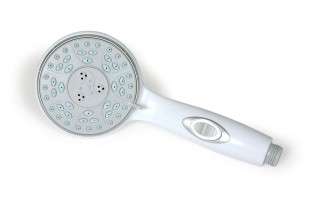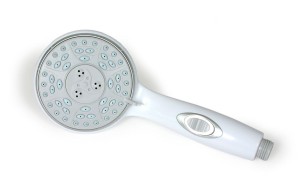 Recommended by: Heath & Alyssa Padgett

Heath and Alyssa have been featured on CNN, CBS and more for their documentary, "Hourly America, about how they traveled to all 50 states in their RV to try a different job in everyone!
Next up, we have a whole slew of RV supplies recommended by Doug and Harmony from Fummin Family Fun Trip (follow their daily vlogs on YouTube):
Here are all the items they recommend for your travel trailer in their video:
Tri-Lynx RV Leveling Blocks
#1 Best Seller on Amazon
Fit Any Leveling Function
Withstand Any RV Weigh
RECOMMENDED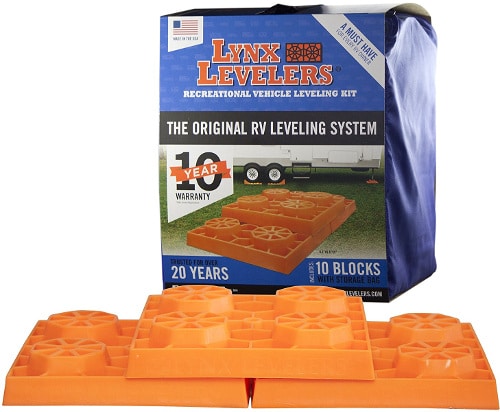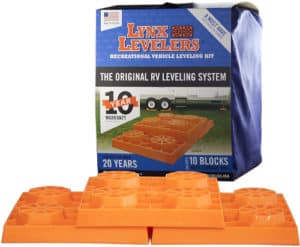 Adjustable Water Pressure Regulator
Lead Free
Gauge to See Pressure
Inlet Screened Filter
RECOMMENDED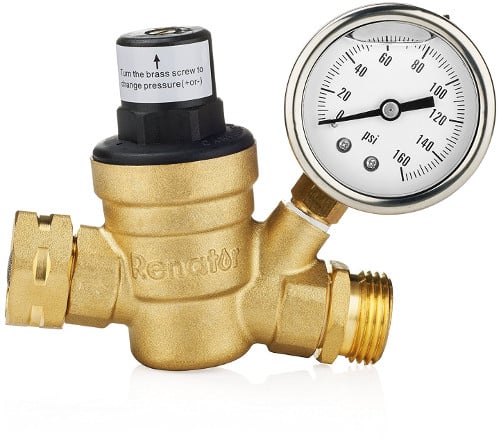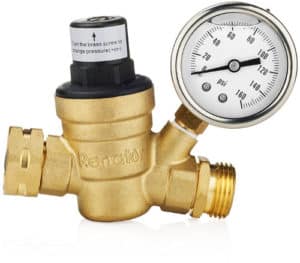 Non-Adjustable Water Pressure Regulator
Lead Free
Protects from High Pressure
Inlet Screened Filte
RECOMMENDED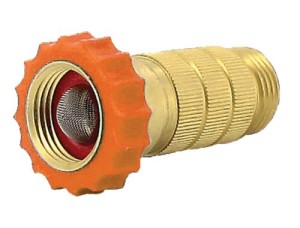 Water Hose Quick Connect
Easily Connect & Disconnect
Fits All Standard Hoses
3/4-8 NH Thread Size
RECOMMENDED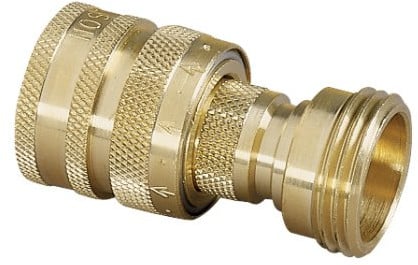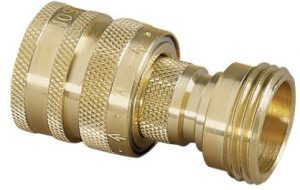 Hose Y
Converts 1 Faucet Into 2
Flow Control/Shut-off Levers
Heavy-duty constructio
RECOMMENDED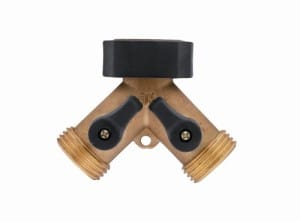 Expandable Garden Hose
Extends 33-100ft
Space Efficient
8 functional safety nozzle
RECOMMENDED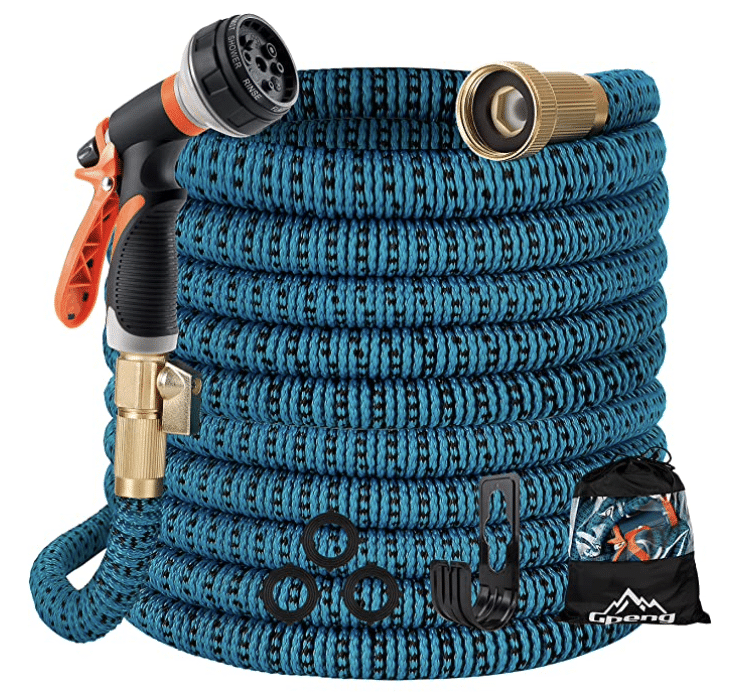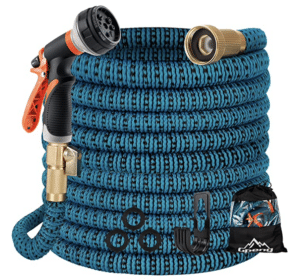 Finally, we have something both practical AND makes for fun RV accessories…
Related Reading – Must-Have Overlanding Gear for Adventure Travel
Walkie-Talkies
Walkie-Talkies
20 Mile Range Two Way Radio
Compatible with any radio
22 channels and 121 privacy code
RECOMMENDED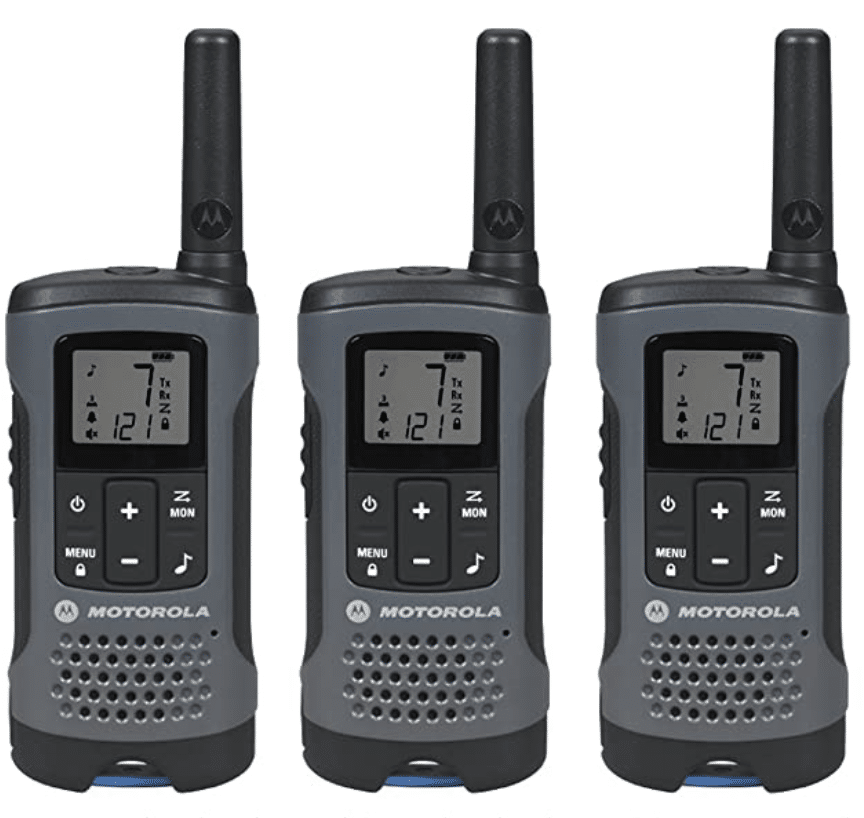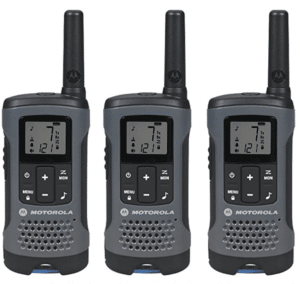 Recommended by: Nancy Walters

Nancy Walters runs the blog at RV-A-GOGO, which was ranked one of the top 100 RV blogs by Feedspot!
"We use these every time we back into a site and put slides in and out."
Besides providing utility to stop you from accidentally taking out the water pump, they have a lot of other uses.
For example, you can play all kinds of fun games with walkie-talkies or use them to scare the crap out of each other. Fun times!
RV Kitchen Accessories
RV kitchens are incredibly small. For anyone that likes to cook (like us), they leave a lot to be desired.
That's why we love things that are small and do more than one thing, like the first RV kitchen accessory on our list:
Instant Pot
Instant Pot Space Saver
7-in-1 Multi-Functional Cooker
Easy to Use Control Panel
UL and ULC Certifie
REXOMMENDED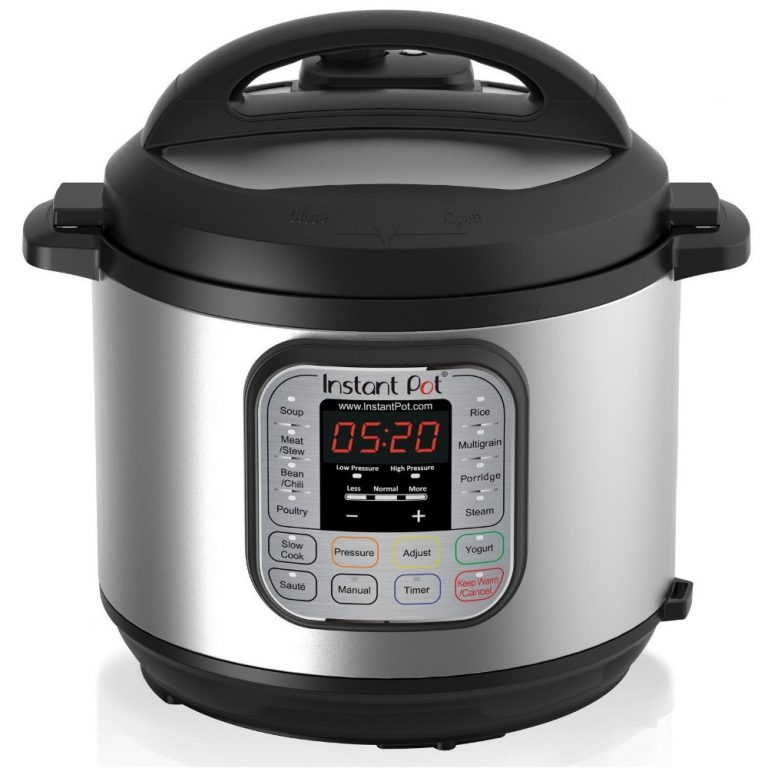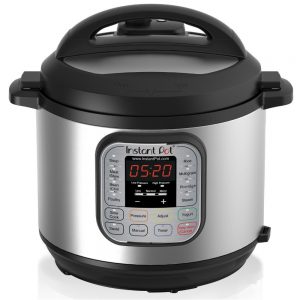 Omnia Stove Top Oven
Cook Oven Meals On Your Stove Top!
Great for RVs With No Over
Works Like A Charm
RECOMMENDED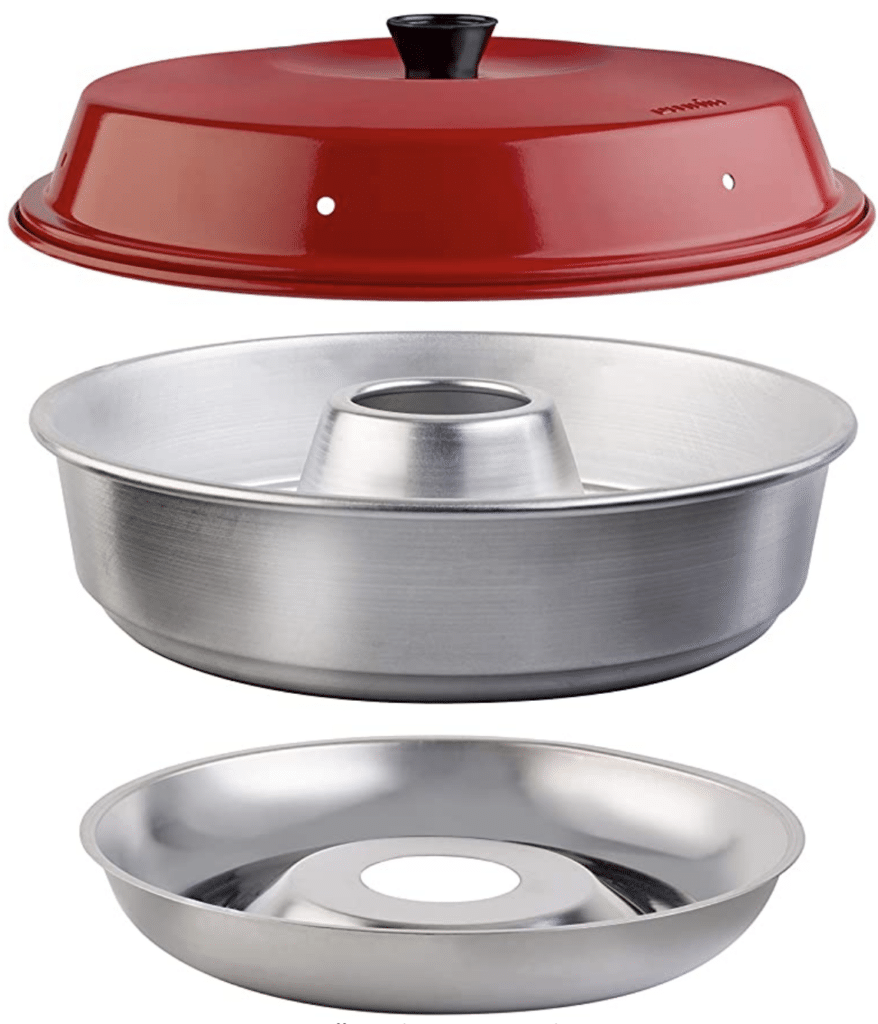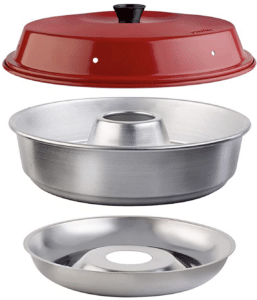 Recommended by: Heather & Chris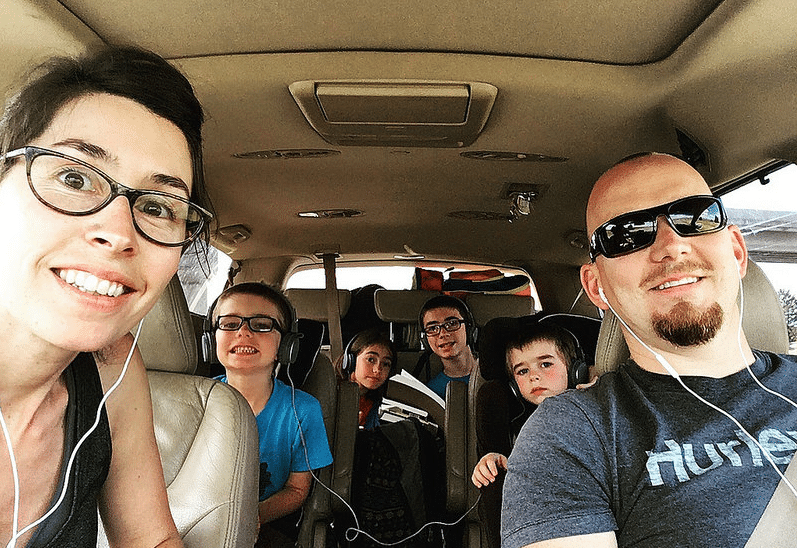 Heather and Chris run their blog 4 Radical Road Schoolers and a Fat Cat (great name, right?).
Instant Pot is an all-in-one kitchen device: a pressure cooker, slow cooker, yogurt maker, rice cooker, steamer, and more.
Because it does so much stuff with one device, this thing is an absolute must-have RV gadget! It makes your limited space seem just a tad bigger, which is great.
Here are some cool recipes you can make with it.
Collapsible Kitchen Accessories
Heather and Chris also recommended a few collapsible accessories. If you live in a small travel trailer, these are a godsend!
We already shared how amazing collapsible items are in our list of RV storage ideas. They make it so much easier to organize your cupboards and save space.
Collapsible Storage/Prep Bowls
Set of 3
Collapse to 1/3 Their Height
Microwave, Freezer, and Dishwasher Saf
RECOMMENDED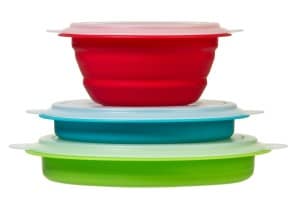 Collapsible Mixing Bowl
5-Quart
BPA Free and FDA Approved
Dishwasher Saf
RECOMMENDED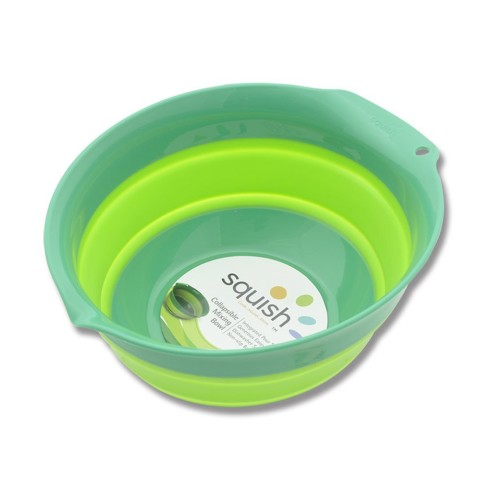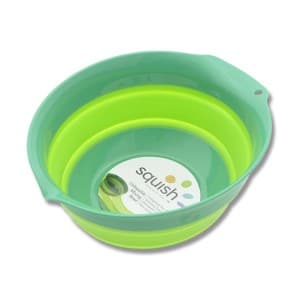 Collapsible Colander
2 Pack.  2&3 Quart
BPA Free and FDA Approved
Dishwasher Safe
RECOMMENDED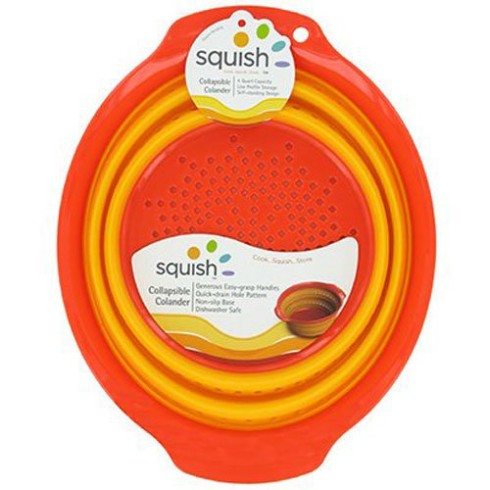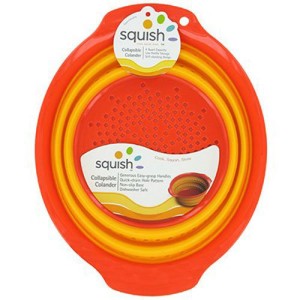 Note: If you'd prefer something a little sturdier, stackable bowls also make great space savers.
Bialetti Coffee Maker
Bialetti Coffee Maker
6-Cup Capacity
Cast Aluminum Design
Includes 1 Replacement Filter and 3 Replacement Gasket
RECOMMENDED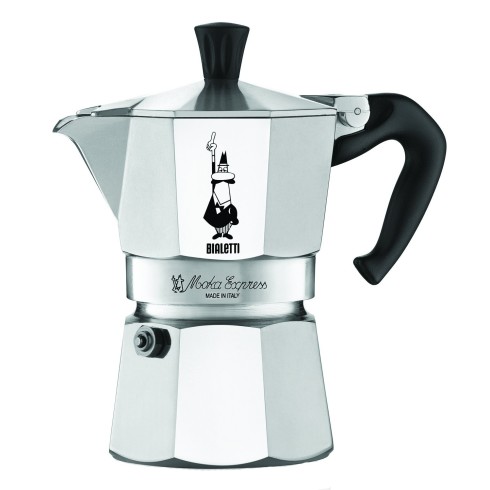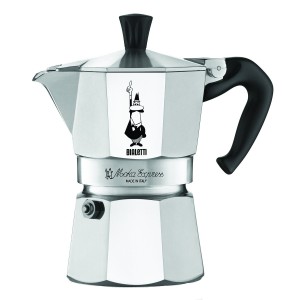 Recommended by: Robert & Jessica

Robert and Jessica blog at Exploring the Local Life. Follow their travels on YouTube and Facebook.
"When we first started out, we had a Keurig. It was fantastic, but it took up a lot of room. Our little Moka Pot takes up about the same amount of space as a hot/cold beverage tumbler.
Plus it doesn't use electricity. This a good thing in case you find yourself without electricity (and if you RV long enough you will eventually find yourself without electricity)."
But in case you'd rather feel like a scientist or an alchemist, we also received the next recommendation:
Chemex Coffee Steeper
Chemex Coffee Steeper
Non-Porous Borosilicate Glass Won't Absorb Odors or Residue
Cover Coffee & Store in Fridge Without Losing Flavor
Simple & Easy to Us
RECOMMENDED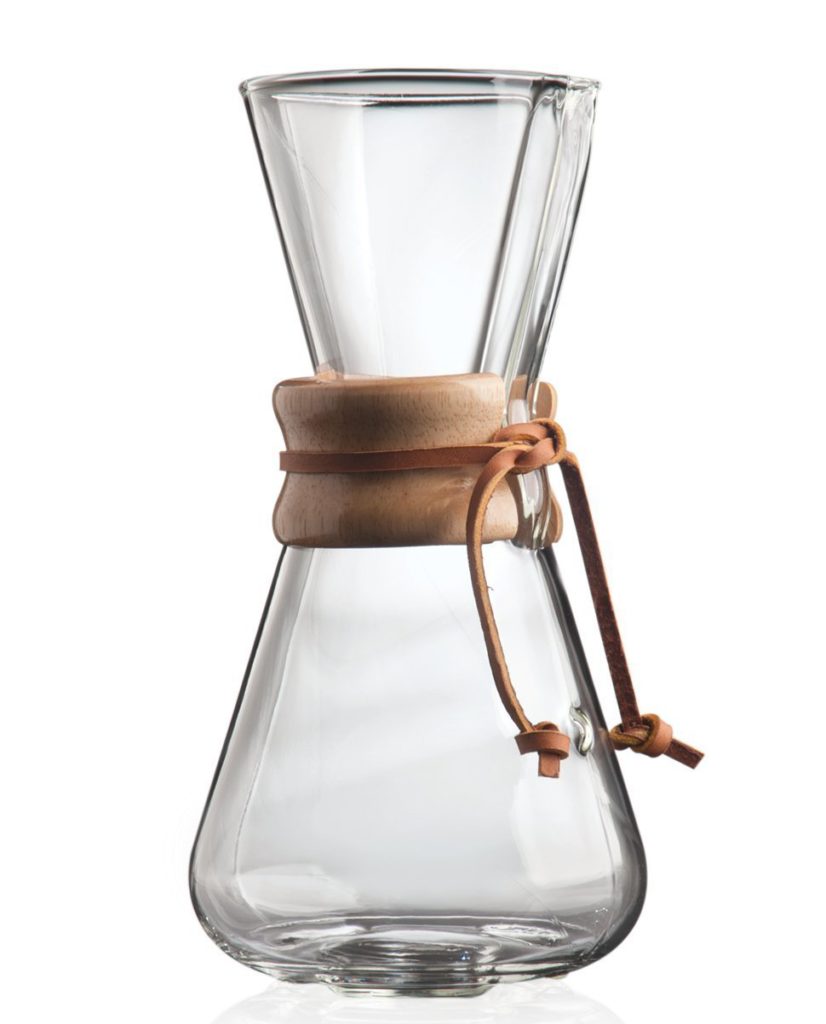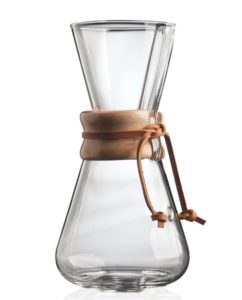 Recommended by: The Roamans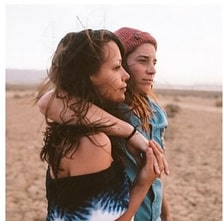 Vanessa and Marissa run The Roamans Blog, where they chat about yoga, travel, and their awesome dog Penny (who happens to love organic peanut butter).
"As far as our Chemex is concerned, we use this every day.
We tried a few different coffee-brewing methods along the way on the road, and even initially lugged around our Keurig for a while! But the Chemex has to be the simplest way for us to brew on the go. We love our pour-over coffee method."
Plus, the thing looks like something an alchemist would have in their shop. Pretty cool!
RV Fridge Fan
Beach Lane 12-Volt Fridge Fan
Cuts Initial Fridge Cool-Down Time By 50%
Reduces Food Spoilage
Helps RV Fridge Use Less Energy
RECOMMENDED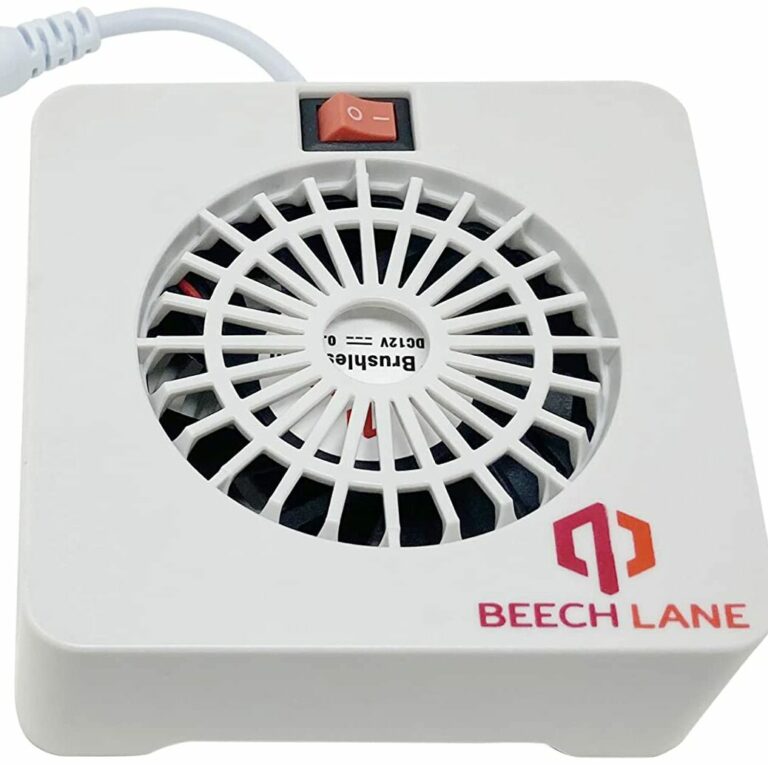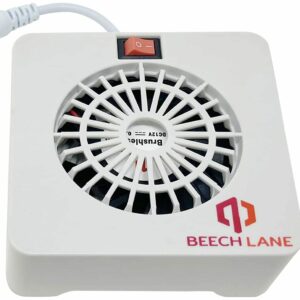 Recommended by: Heather & Dave

Heather and Dave run the Happiest Campers blog. They recently totaled their RV, so go give them some love!
"We typically park in warm climates, and the fridge fan makes a huge difference to maintain a steady temperature in the fridge. It uses less energy to keep things cool while preventing frost buildup. No more emptying all the contents and defrosting! Food stays fresher longer too."
Camco Stack-A-Plate Bowl Holders
Camco Stack-A-Plate
Store and Protect Plates During Travel
Non- Slip Backing
Reduces Rattlin
RECOMMENDED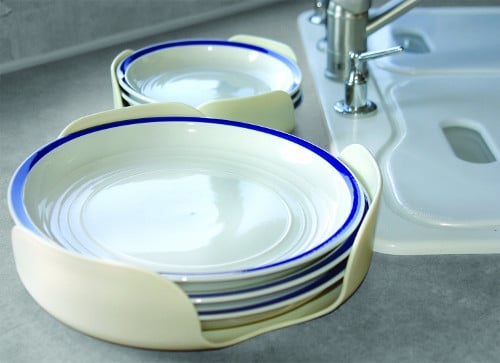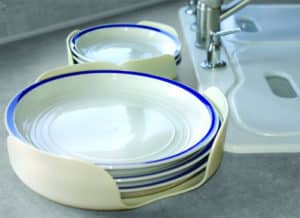 Recommended by: Marie & Josh

Marie and Josh share their adventures at Ardent Camper.
"The only time we've broken a ceramic plate after 2.5 years on the road was when I dropped one washing dishes. These holders keep everything secure as we bounce down the road. :)"
Note: They originally recommended stacking plate and bowl holders from IKEA. However, these are no longer available, so we found a suitable replacement on Amazon.
Cast Iron Pan
Cast Iron Pan
Pre-Seasoned and Ready-to-Use
Made in the USA
Sturdy Handle w/ Hole for Hangin
RECOMMENDED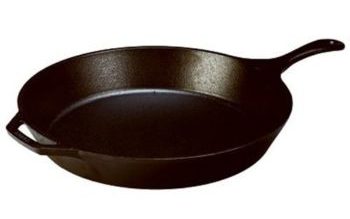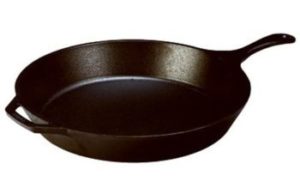 Recommended by: Tim & Amanda Watson

Tim and Amanda run Watsons Wander, where they tell their stories about working and living full-time in an Airstream.
"A well-seasoned cast iron pan is a must-have in any RV.
When we first started out, I thought cast iron was far too heavy to be part of the RV kitchen. I've since learned that cast iron is great because it's so versatile. We actually carry around less cookware because our single 10″ cast iron pan serves so many purposes.
Not only is it perfect on the stovetop for things like seared meats, crispy bacon, and even eggs, but it also transitions easily to the oven for dishes like pizza, quiche, and casseroles.
Any cast iron pan will work in an RV, but if you're in the market for an affordable American-made pan I would highly recommend Lodge brand cast iron."
That's all for RV kitchen accessories! Next up we have magical temperature control.
RV Temperature Control Gadgets & Hacks
Keeping it cool or warm in an RV can be tricky. The insulation isn't great in these things and running the AC requires a lot of power.
This section is dedicated to RV gadgets and hacks to keep it toasty warm or comfortably cool, regardless of outside temperatures.
Dyson Air Multiplier Table Fan
Air Multiplier Table Fan
Smooth Airflow Without Blades
Cools an Entire Room
2-Year Warranty
RECOMMENDED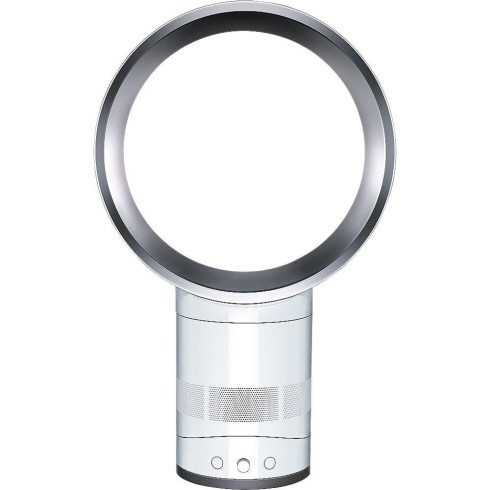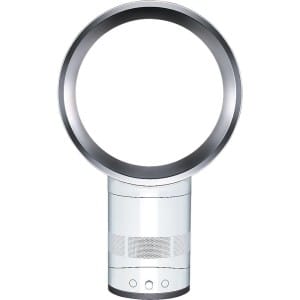 Recommended by: Liz Wilcox

Liz Wilcox is a funny full-timer who blogs about her travels. Follow her on YouTube and Facebook.
Liz moved into her RV without a clue about 8 months ago. It didn't take her long to realize that $20 fan in the corner of the bedroom just wasn't going to cut it.
With warm weather approaching, she's committed to buying the Dyson Air Multiplier before the summer solstice. A cheaper option may be this Bladeless Tower Fan and Air Purifier in one
Reflectix
Reflectix
Reflects Sunlight to Keep RV Cool
Fiber Free, Environmentally Safe
Install in Minutes
RECOMMENDED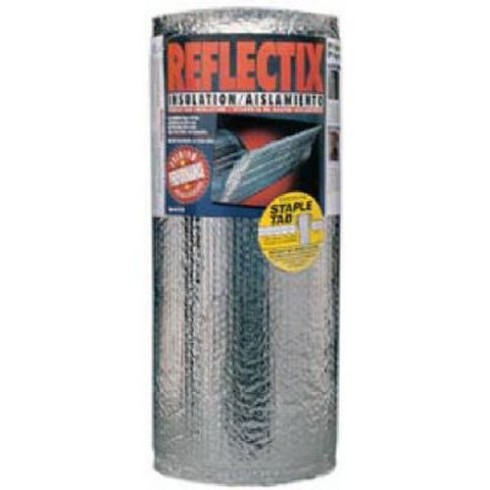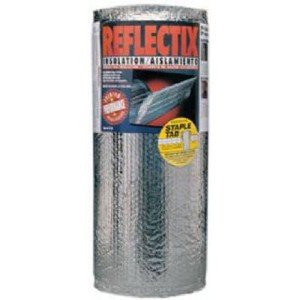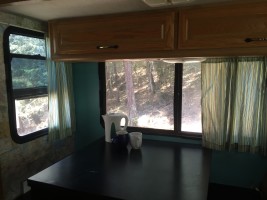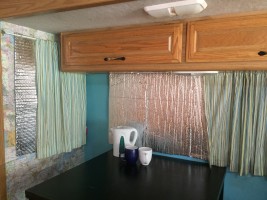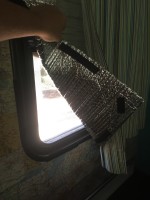 Recommended by: Paul & Becky Kortman

Paul and Becky blog about how to travel as a family at Home Along the Way. Follow them on Facebook and Twitter.
Reflectix is a reflective insulant you can put in all your RV windows to reflect sunlight away from your camper. It keeps the inside temperature lower on those brutally hot summer days. You can use velcro strips to easily place it on the window.
Plus, it costs less than $20 a roll – how's that for an RV hack?
Outdoor & Camping Accessories
Just because you're in an RV doesn't mean you're not camping! Why not update that RV awning of yours with something that showcases your personality?
From propane fire pits to hiking gear, these RV accessories will help you get the most fun from the great outdoors.
Related Reading: 40 Unique & Cool Camping Gifts Any Camper Would LOVE!
Portable Propane Fire Pit
Solo Stove Bonfire 
lifetime guarantee.
Easy to Use & Light
Hotter Fire & Less Smok
RECOMMENDED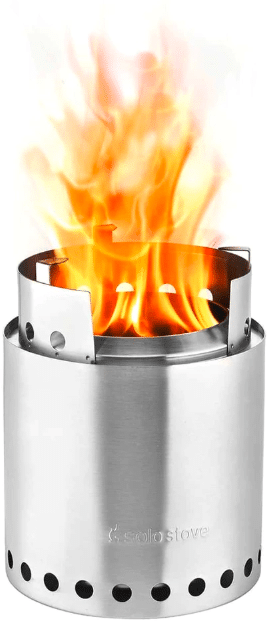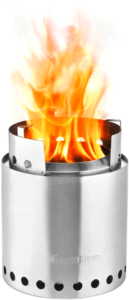 Portable Propane Fire Pit
Easy to Use & Transport
Perfect No-Mess Campfire
58,000 BT
RECOMMENDED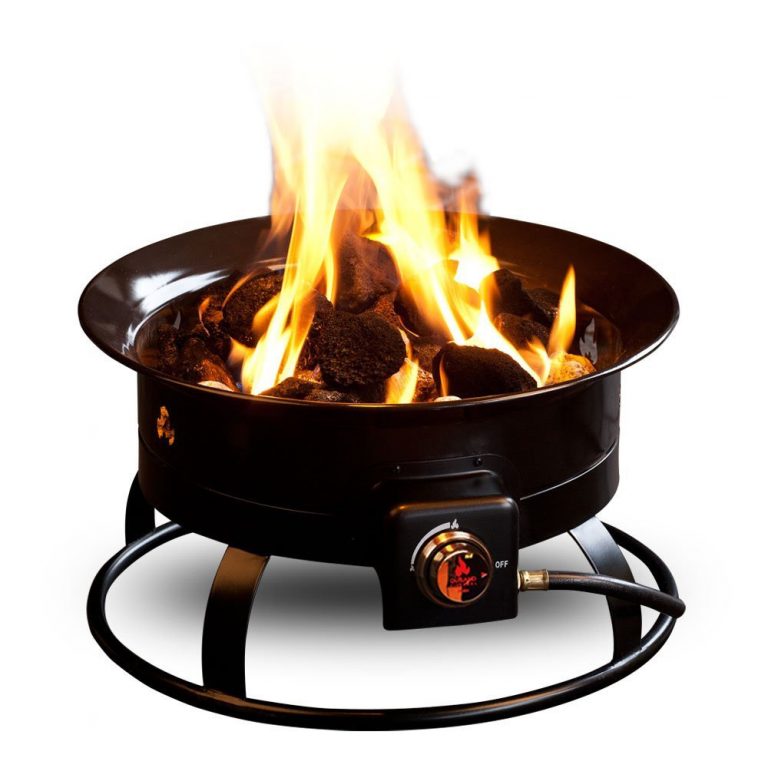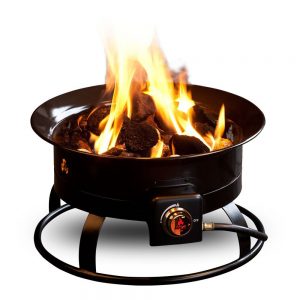 Recommended by: Heather and her family of six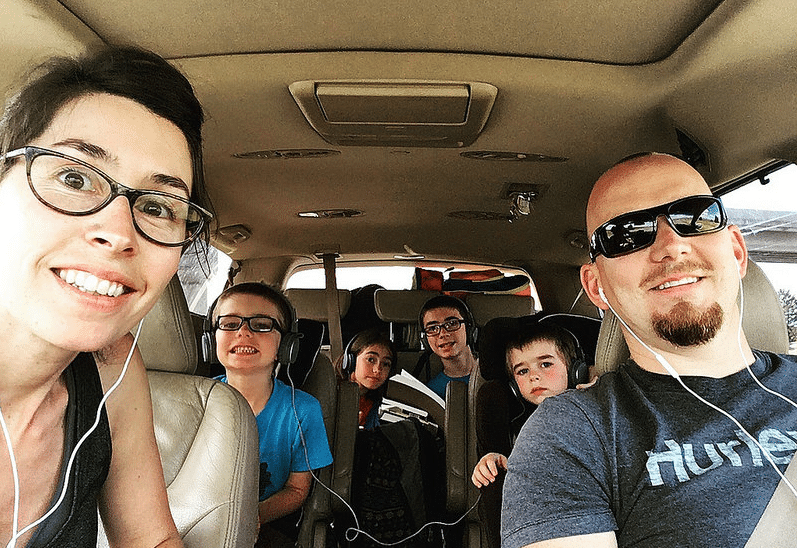 Find Heather and her big family of six full-timers at Faith Takes Flight.
fire pit. I canu2019t underestimate how lovely it is to produce fire within moments and enjoy a warm evening outside smoke-free. Knowing that I wonu2019t need to do a load of laundry and anticipate showers after a campfire means that we enjoy them much more often. Hauling or finding local firewood is no longer an issue. Want smores? No problem! Our kids love that they donu2019t have to give up their favorite fireplace pastime. In addition, we find that offering an evening around the fireplace is a great way to enjoy time with new friends that weu2019ve met along the road. https://www.amazon.com/gp/product/B00KY4S388/ref=oh_aui_search_detailpage?ie=UTF8&psc=1"}">"I can't underestimate how lovely it is to produce fire within moments and enjoy a warm evening outside smoke-free. Knowing that I won't need to do a load of laundry and anticipate showers after a campfire means that we enjoy them much more often.
Hauling or finding local firewood is no longer an issue. Want smores? No problem!
Our kids love that they don't have to give up their favorite fireplace pastime. Plus, we find that offering an evening around the fireplace is a great way to enjoy time with new friends we've met along the road."
Hammocks
Covacure Camping Hammock
Polyester Ripstop
Made in the USA
Fits 1-2 People
RECOMMENDED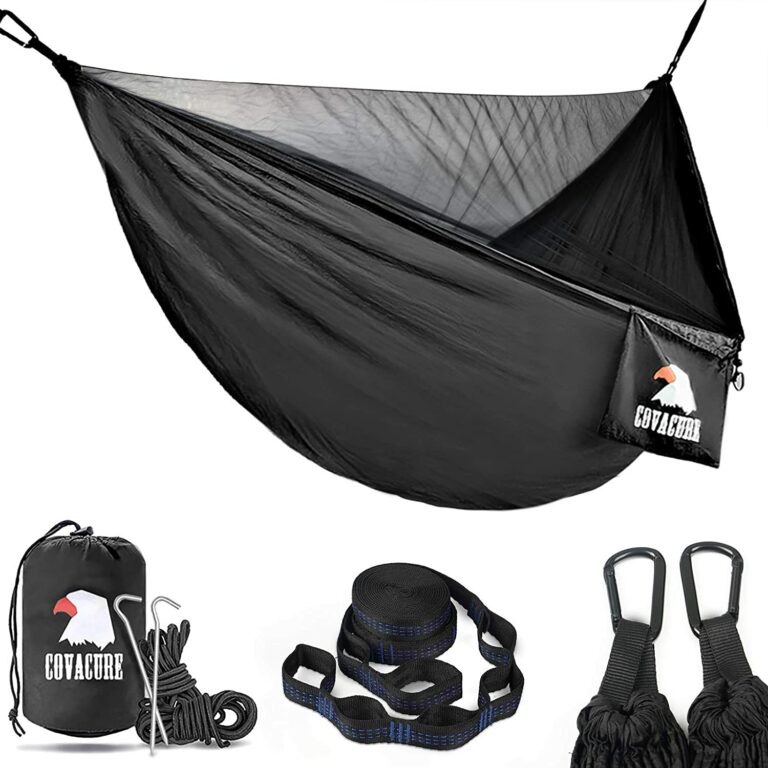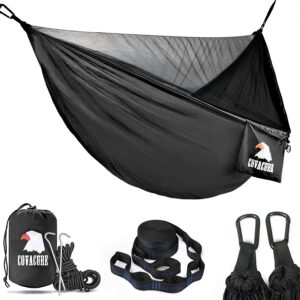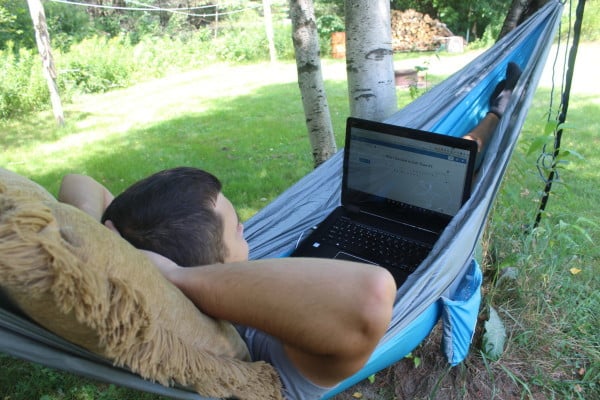 You can't talk about camper accessories without adding hammocks. These are one of my favorite parts of RVing! Nothing like an afternoon nap or reading in a hammock.
Wood Pellet Grill
Traeger Wood Pellet Grill
Wood-smoked flavor
Extremely Durable
Easy to use and control heat
RECOMMENDED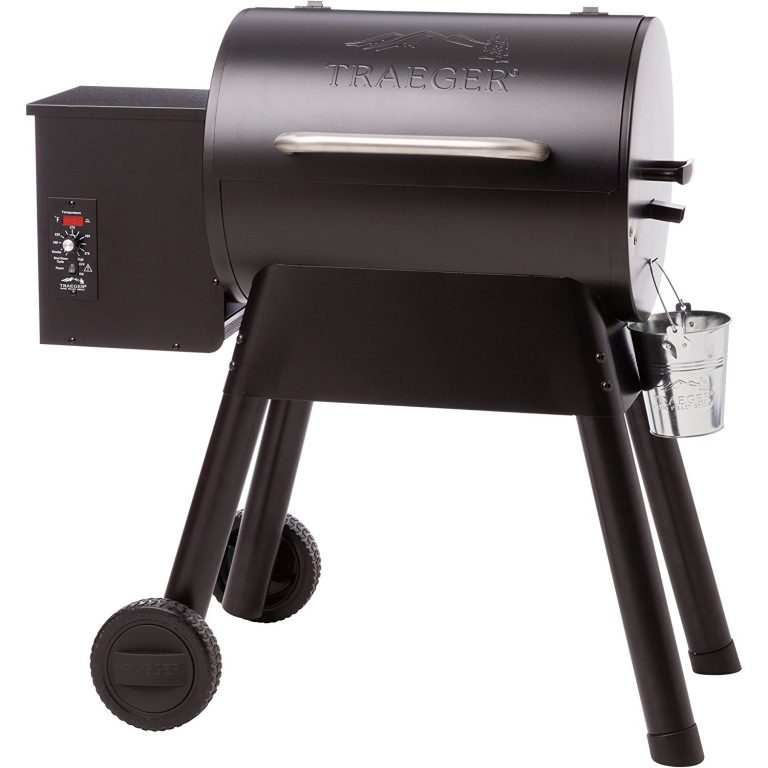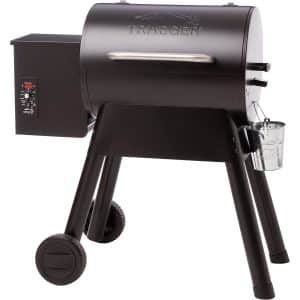 Traeger wood pellet grills work by igniting wood pellets (or "wood chips") using a hot rod, followed by an induction fan stoking the fire and pushing the hot air around the inside of the grill.
What's so great about pellet grills is that you can set the exact temperature you need with the digital control unit!
Solar Oven
Solavore Solar Oven
Easily Cook on a Hot Day
Hot Food Without Using Inside Oven – Keep Your RV Cool!
Comes With a Recipe Boo
RECOMMENDED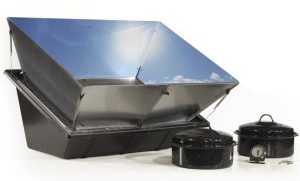 It's a blisteringly hot summer day. You don't want to stand in front of a hot stove or run the oven in your RV.
What do you do?
Pull out the solar oven! This thing can cook stew, mac n' cheese, and even Indian dishes by sitting in the sun. It comes with a full recipe guide as well. An alternative on Amazon here!
Boondocking & Dry Camping Accessories
Not everyone wants to hook up at an RV park. Sometimes, the best spots are those in the middle of nowhere next to a lake or in a desert.
To help fill out this section, we have boondocking lovers Jason and Nikki Wynn from Gone With the Wynns.
Portable Toilet w/ Tent
Portable & lightweight
Easy to clean
Durable tent for privacy
RECOMMENDED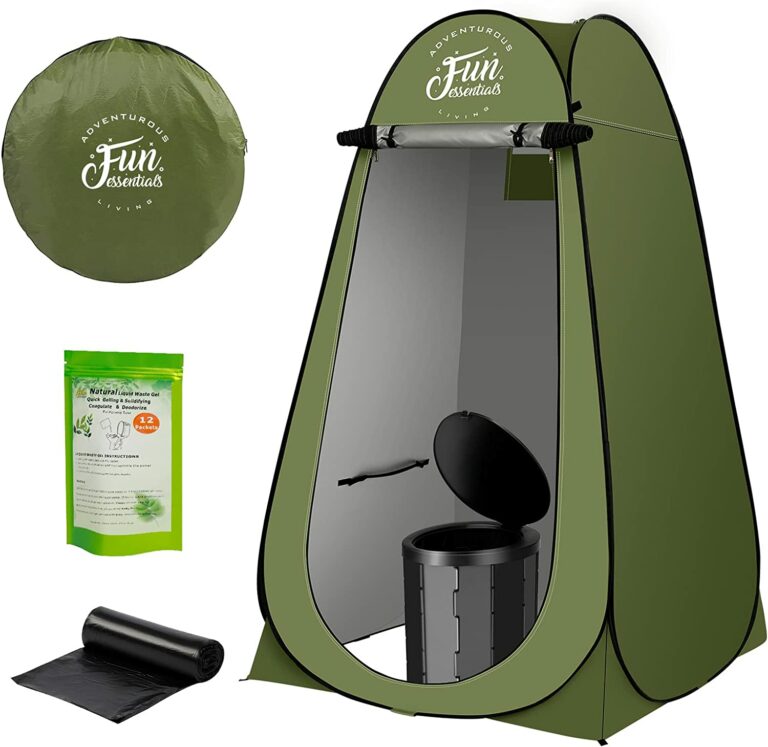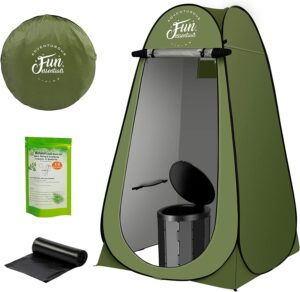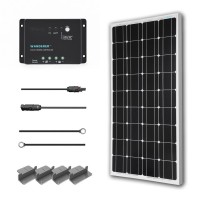 View Gone With the Wynns Solar Guide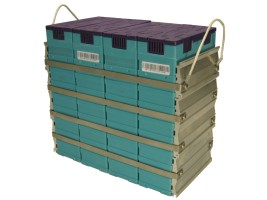 View Technomadia's Lithium Battery Guide
Recommended by: Jason & Nikki Wynn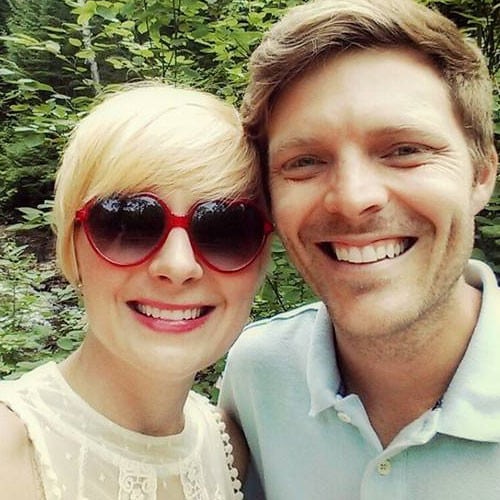 Jason and Nikki Wynn are full-time travelers. First an RV, then a sailboat!
"The items for us that help extend our time wild camping are by far the most important. Composting toilet, Solar and Lithium Batteries took our week-long wild camping adventures and turned them into 2-3 week off-grid vacations."
Another interesting item is the solar attic fan, which you can learn about here. They're meant for attics, but you may also install one on your RV roof!
Collapsible Dish Pan
Collapsible Dish Pan
10 Quart Capacity
Space Saving Expanded Size
Innovative Design
RECOMMENDED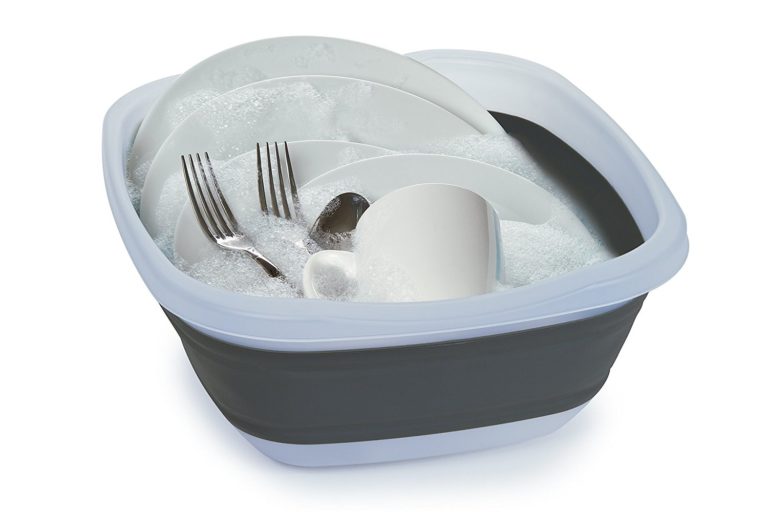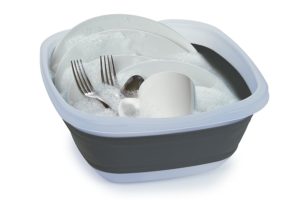 Recommended by: Marissa & Nathan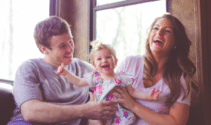 Marissa, Nathan, and their daughter Hensley run Less Junk More Journey, a blog about minimalism and full-time travel!
"The pan above (or any cheap pan that fits your particular sink) is awesome for dry camping. The water can be dumped or flushed into the black tank to save on grey water storage while boondocking.
We also use it to catch the water while our shower heats up and we wash the dishes with that water so there is no wastage. Simple, but effective."
Lithium Jump Starter
Genius Boost HD Lithium Jump Starter
2000 Amp 12V
Includes Flashlight & SOS Mode
Designed for Gas Engines Up to 8 Liters, Diesel Up to 6
RECOMMENDED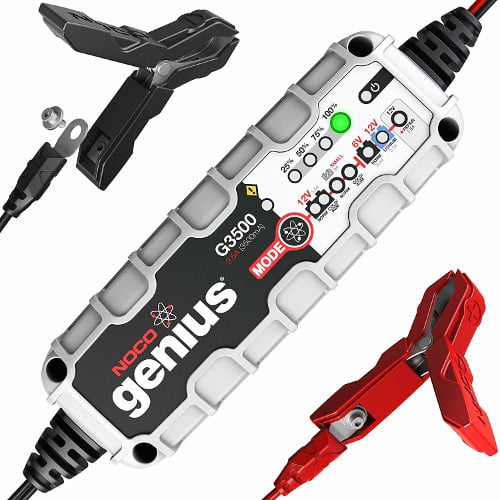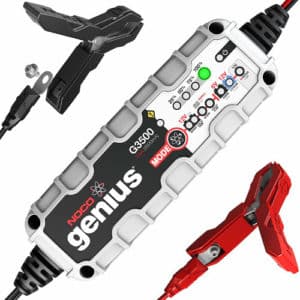 Also recommended by Marissa and Nathan is this jump starter.
"We also have this jump starter that has been very handy. It can charge devices and jump start a vehicle when needed. Very portable."
There's nothing worse than boondocking and getting stuck in the middle of the woods. This can help prevent that.
Note: You may also want a good battery charger to fill up your RV batteries.
Camper Space-Savers
Because space in an RV is so limited, items that make organization easier are a must. Luckily, there are TONS of RV storage ideas floating around.
To help us with this section, Hudson and Emily gave us their two must-have space-saving gadgets.
Custom Drawer Organizers
Fits Any RV or Kitchen Drawer
Custom to YOUR Tools & Spices
Affordable& Durabl
RECOMMENDED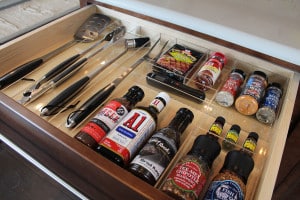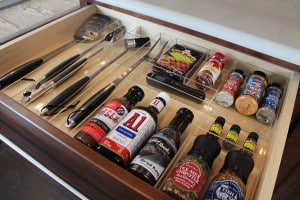 Higher Hangers
40-Pack
Heavy Duty – Lasts Forever
Space-Saving & Light Weight
RECOMMENDED


Recommended by: Hudson & Emily

Hudson and Emily blog about their full-time travels with a unique twist: It's really a blog about marriage!
"The Higher Hangers allow clothes to hang higher, so we were able to add a second bar to hang our clothes on. Doubling our closet space has been great!
Plus the drawer organizers can be fit to any drawer. We now have a place for everything."
Essential Internet Connection Accessories
One of the biggest complaints of full-timers (and people vacationing in an RV) is having a hard time getting online.
Campground wifi is usually no good; and even if it is, if you happen to get a spot far away from the office, you're screwed.
Luckily, with these gadgets, you'll stay connected (almost) all the time!
(Note: This article isn't meant to be a comprehensive guide to mobile internet. If that's what you're after, check out Technomadia's incredibly thorough guide. Chris and Cherie know their stuff.)
WiFi Ranger
WIFI Ranger
Extends WiFi signal
Improves Connection at Campgrounds
Easy to Use & Instal
RECOMMENDED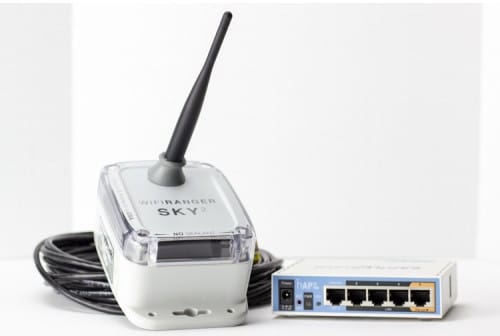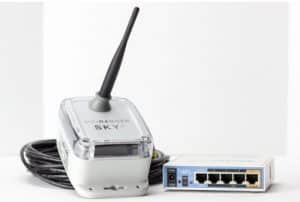 (Use coupon code "WFRGEEKS" for 5% off!)
Recommended by SO many RVers, it's hard to give credit.
This nifty contraption allows you to pick up wifi up to two miles away! It serves as a wifi signal booster so you won't have to worry about being parked a mile from the campground router. Even better, it allows you to "tether" multiple wifi signals together to create an even faster wifi.
The best part, however, is that it encrypts your connection. With the massive number of unsecured wifi signals you'll be connected to, this is what I'd be concerned about. You'll be nice and secure!
Note: Get the "Sky2 Pack" or above. The "Core" and "GoAC" are indoor solutions that won't pick up a signal by themselves. The more expensive packages have a longer range (2500 ft up to 2 miles) and a faster speed (650 MHz to 720 MHz).
Here's a video by the RV geeks on how to install the WifiRanger:
Mobile Hotspot & Signal Booster
WeBoost 4G Cell Service Booster 
Get Better Cell Service On the Road
Friendly, U.S.-based customer support
Faster Data Download
RECOMMENDED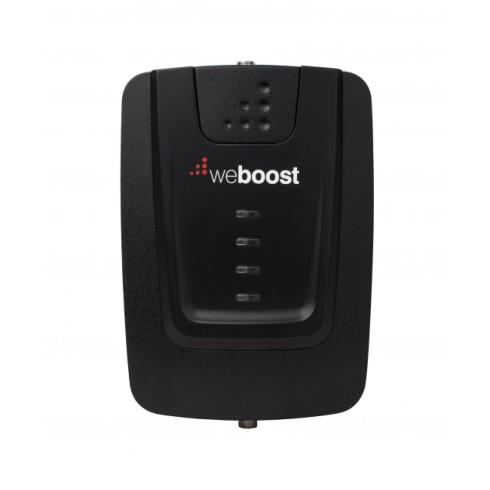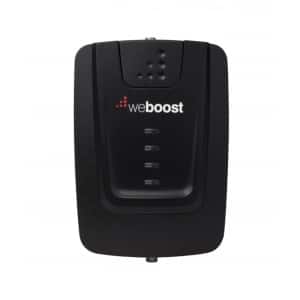 Almost all phones and plans include a built-in hotspot to stay connected without wifi. Combine that with a signal booster like the WeBoost 4G to get a signal almost anywhere.
Unfortunately, you face the problem of limited data.
If you're a Netflix binger (or a gamer, like us), you'll chew through half a gig of data in one 30-minute episode. If you have 10 gigs, that's just 10 hours of Netflix. One or two binges per month.
Of course, Verizon does offer an unlimited plan, but they do throttle your data after a certain point.
Miscellaneous RV Accessories
Last but not least, we have a few cool gadgets that just didn't fit in any of the other categories.
Without further ado, here they are:
Portable RV Fridges and Coolers
Vevor Portable 12-Volt Fridge
1-year warranty
Portable
Temp range: -4F to 68F
Runs on 12v or 120v
RECOMMENDED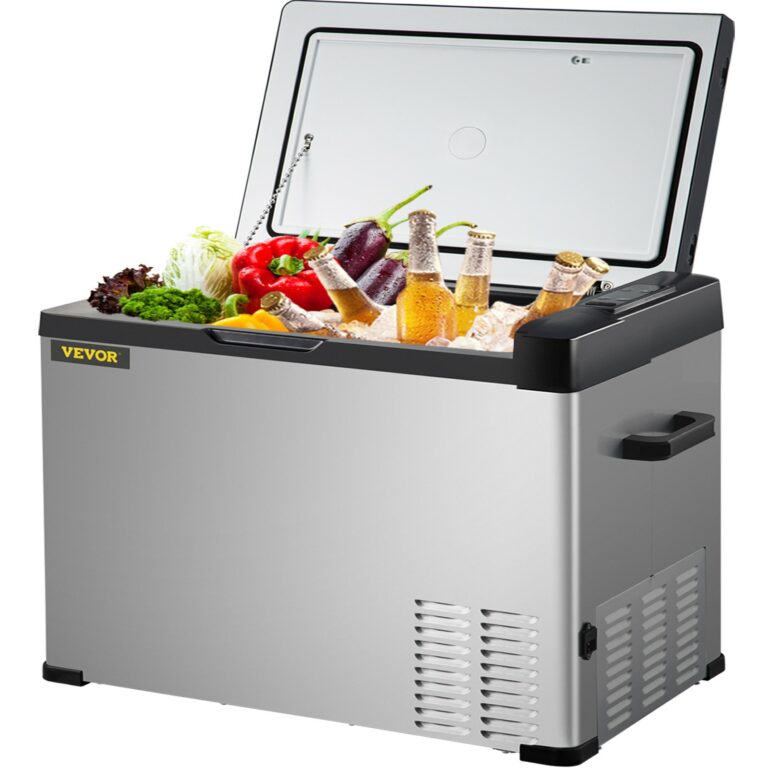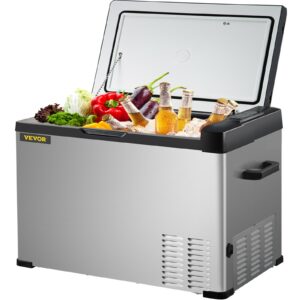 RTIC 65 Cooler
10 pounds of ice will last 4-5 days at FDA approved Temperatures of 40º F and lower
Weighs only 34 lb
RECOMMENDED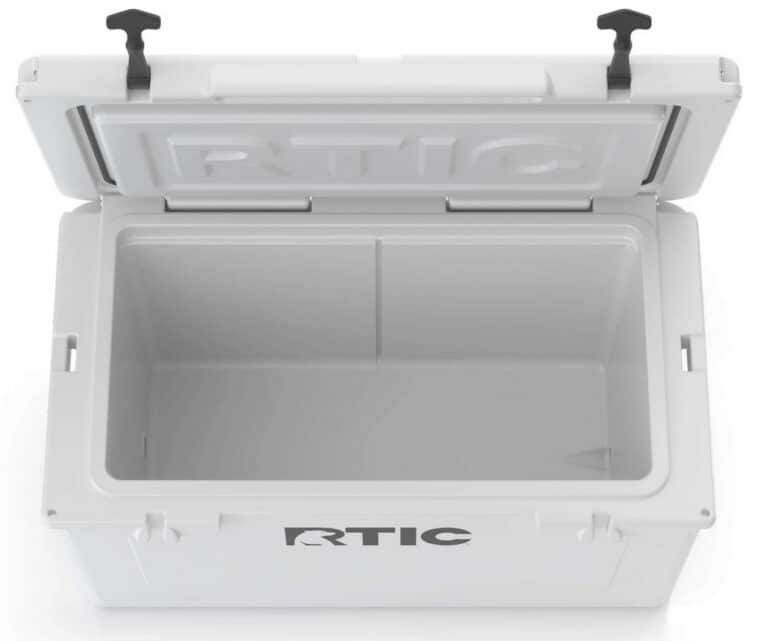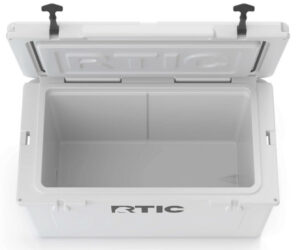 RV GPS
Garmin dēzl 7-Inch RV GPS
Filter truck/RV stops by brand name or preferred amenities
Avoid Low Bridges & Curvy Roads Not Suited for RVs
Track Maintenance – Never Miss Oil Changes & More
RECOMMENDED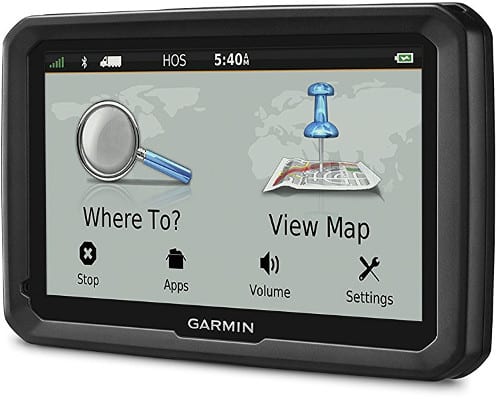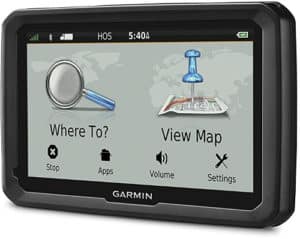 Recommended by: Do It Yourself RV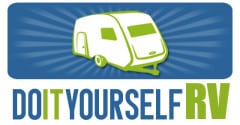 Do It Yourself RV is a blog dedicated to helping RVers do everything from modding their RV to fixing it all by themselves
While paper maps are still very prevalent among RVers, an RV GPS makes everything easier. They're designed to keep your motorhome or camper from going anywhere under its height clearance. Otherwise, things like this happen.
Also, RV covers are excellent to store your RV in the winter or keep it out of the sun!
RV GPS Tracker
An RV GPS tracking device, such as this one made by WhereSafe, can help you keep your RV protected while it's in storage.
RV GPS Tracker
Real-Time 24/7 Location Tracking
Multiple Installation Options
Low Monthly Costs
RECOMMENDED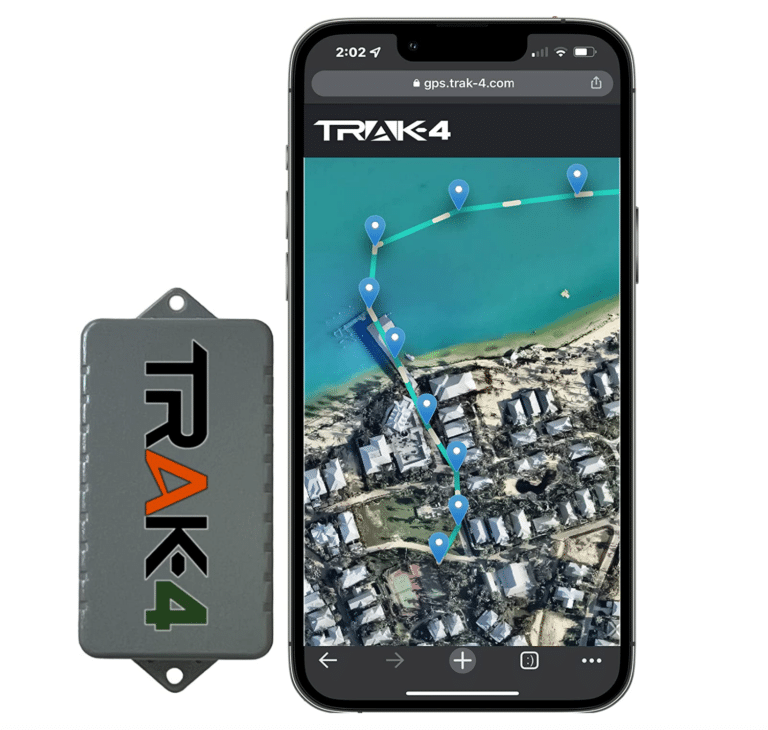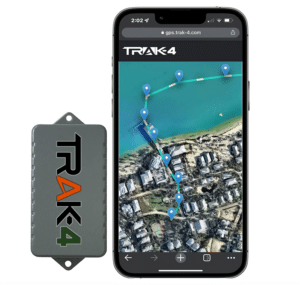 It's also great to keep tabs on your RV if you rent it out or let a friend or family member borrow it!
Roof Gutter Drip Extenders
Camco RV Gutter Spouts
Directs Rainwater Away From Sides of Your RV
Helps Reduce Ugly Black Streaks
Quick and Easy Instal
RECOMMENDED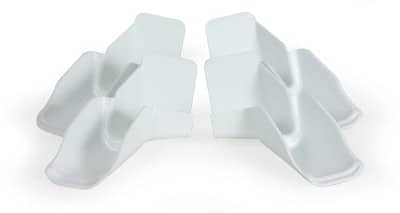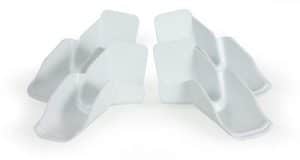 Recommended by: Ray & Anne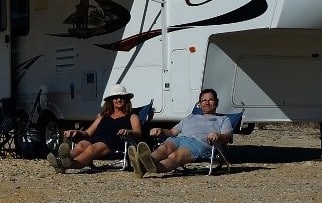 Ray and Anne run Love Your RV, a site with RV tips, tricks, and mods.
If you own an RV trailer, you've dealt with those ugly black streaks from water dripping down the side. With these gutter drip extenders, that won't happen anymore! Yay!
Portable Folding Propane Grill
Weber Liquid Propane Grill
12,000 BTU-Per-Hour
280 Square-Inch Cooking Area
Easy-Start Electronic Ignitio
RECOMMENDED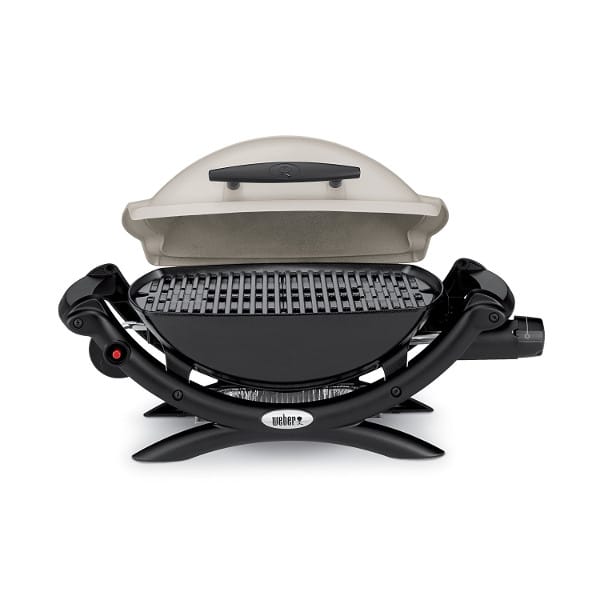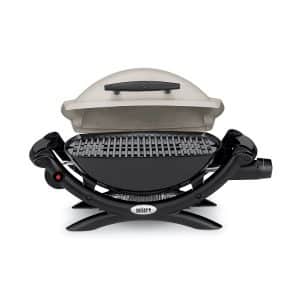 Recommended by: Eric and Brittany Highland

Eric and Brittany are full-time RVers turned overlanders who are driving across the world (literally) in their Jeep Gladiator. Learn more at their blog Hourless Life.
Eric wrote a post discussing his top things to have in an RV for TrustedSource, an RV insurance provider. This came in at number two, and I had to add it to the list.
Remember, my biggest gripe about RVing is the limited cooking space! When you can cook outside easily, that eliminates the problem.
Xbox One
Xbox One S Starter Bundle
1TB Hard Drive to Store Tons of Games & Movies
Access Over 100 Games Free
Watch Netflix & DVD/Blue-Ra
RECOMMENDED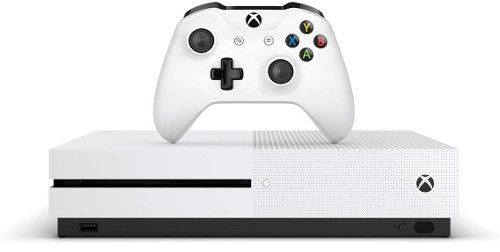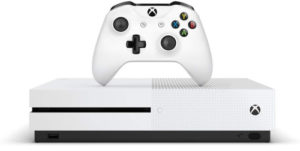 Recommended by: Ross & Amber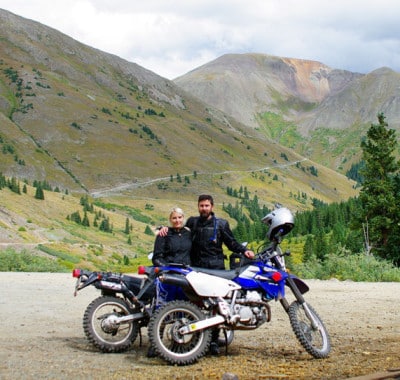 Ross and Amber run Nerds On the Road. Amber also runs Lost Kat Photography (check out her amazing photography skills!).
Nerds after our own hearts! Having an Xbox One means games, movies, and fun times even when it's raining.
When they don't have the internet, they rely on their library of over 500 songs and 200 movies to keep them entertained!
Other RV Supplies You'll Probably Want
Here are some other RV accessories you'll probably want for your camper:
​RV Product Reviews
We've reviewed almost every kind of product you can buy for your RV! Here are links to all our buying guides:
Frequently Asked Questions
Before we end this long piece, here are some FAQs about RV supplies we're commonly asked:
What Do I Need for RV Camping?

Every camper needs a potable water hose for drinking water, leveling blocks, a sewer hose, some RV toilet chemicals, and RV-friendly toilet paper.
Is RV Toilet Paper Necessary?

It's not necessary, but it is highly recommended. RV toilet paper disintegrates faster than regular toilet paper, which helps to avoid clumping and clogs—two things you really don't want!
What RV Hookups Do I Need?

Most RV parks provide either partial hookups, which include electricity and water, or full hookups, which add sewer service. Some deluxe parks also include hookups for cable television and telephone lines.

You may need a 30 to 50 amp electrical outlet adapter (or a 50 to 30 amp adapter), depending on your rig's electrical system and the available hookup at the RV park you're staying at.
I hope you enjoyed this awesome list of camper accessories from people living the camper life! Wasn't that amazing? HUGE thank you to all our contributors for making this possible. 🙂
Please share if you think it was useful! Click here to pin it on Pinterest!
Happy RV camping!
Other Popular Articles: