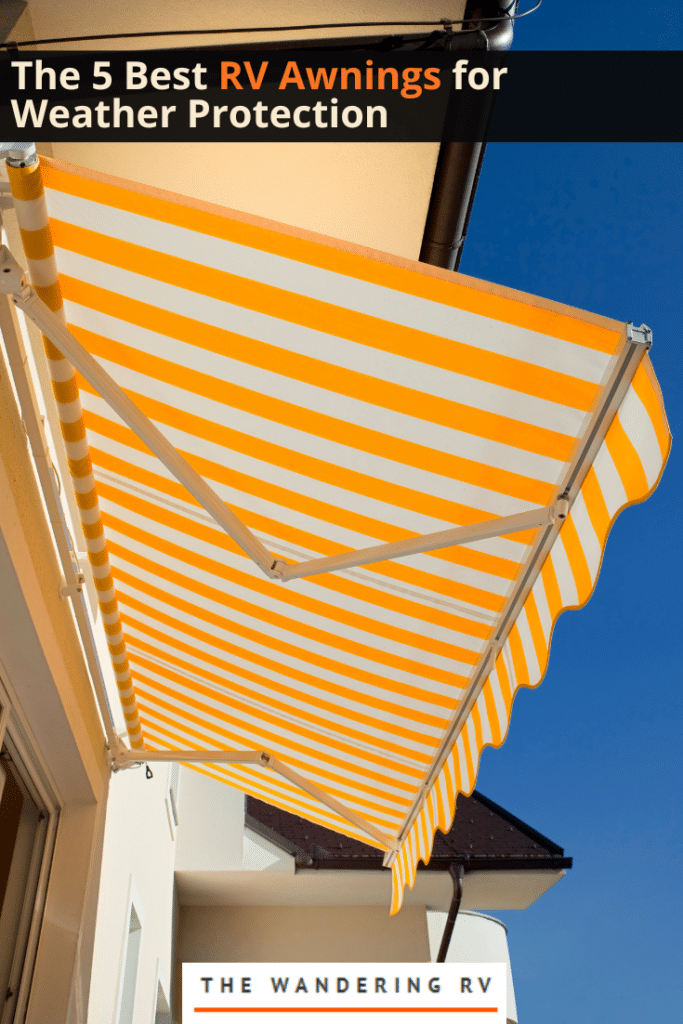 Are you looking for a new RV awning? Maybe you want to upgrade your plain, boring awning to an attractive, colorful print?
We've got you covered! In this guide, we'll be talking about different types of RV awning fabrics, how to properly care for your awnings, how to properly measure your RV awnings, and the best awnings on the market today.
Let's dive right in!
Table of Contents
RV Awning Fabrics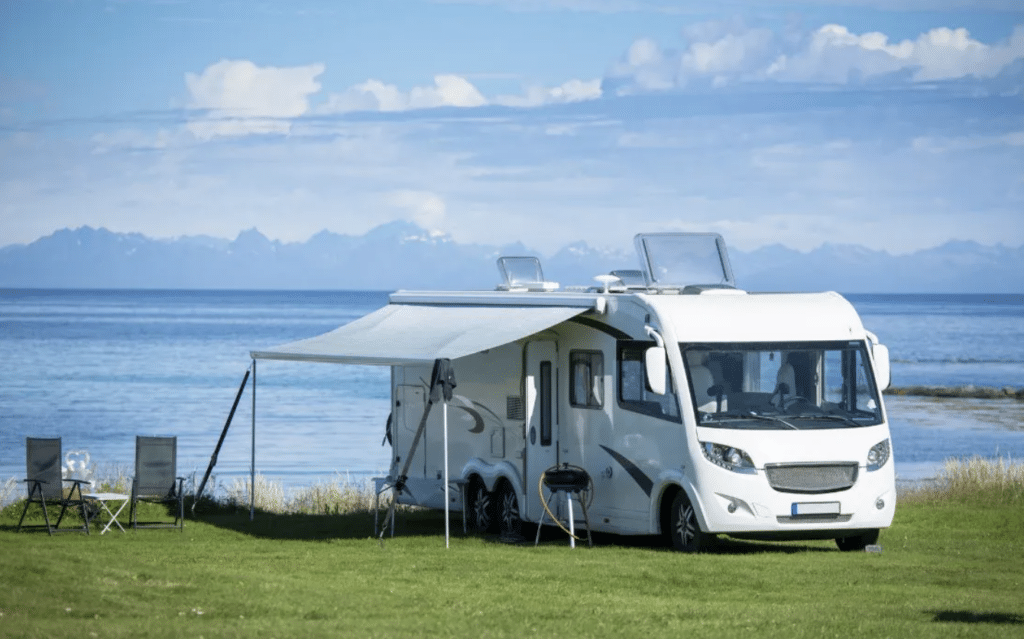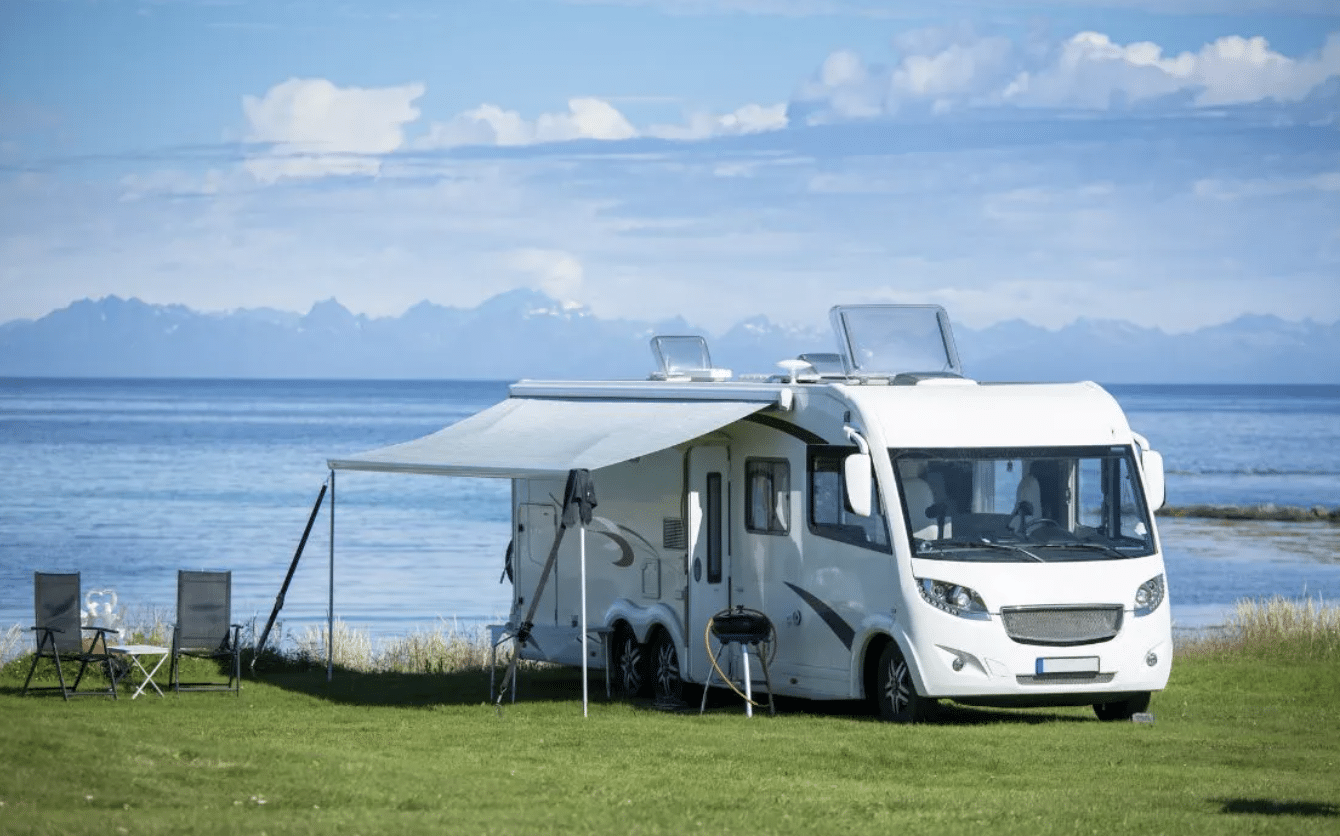 There are two types of RV awning fabrics you can choose from:
Depending on where you'll be staying will help you determine the perfect RV awning for you. For example, if you plan on camping in places that experience a lot of humidity or rainfall, you'll need your RV awning to be made of materials that are able to dry quickly. If you're camping in places with dry heat or extreme UV rays, you'll want an RV awning that's able to withstand those harsh elements.
Let's briefly talk about both vinyl and acrylic awnings!
Vinyl Awnings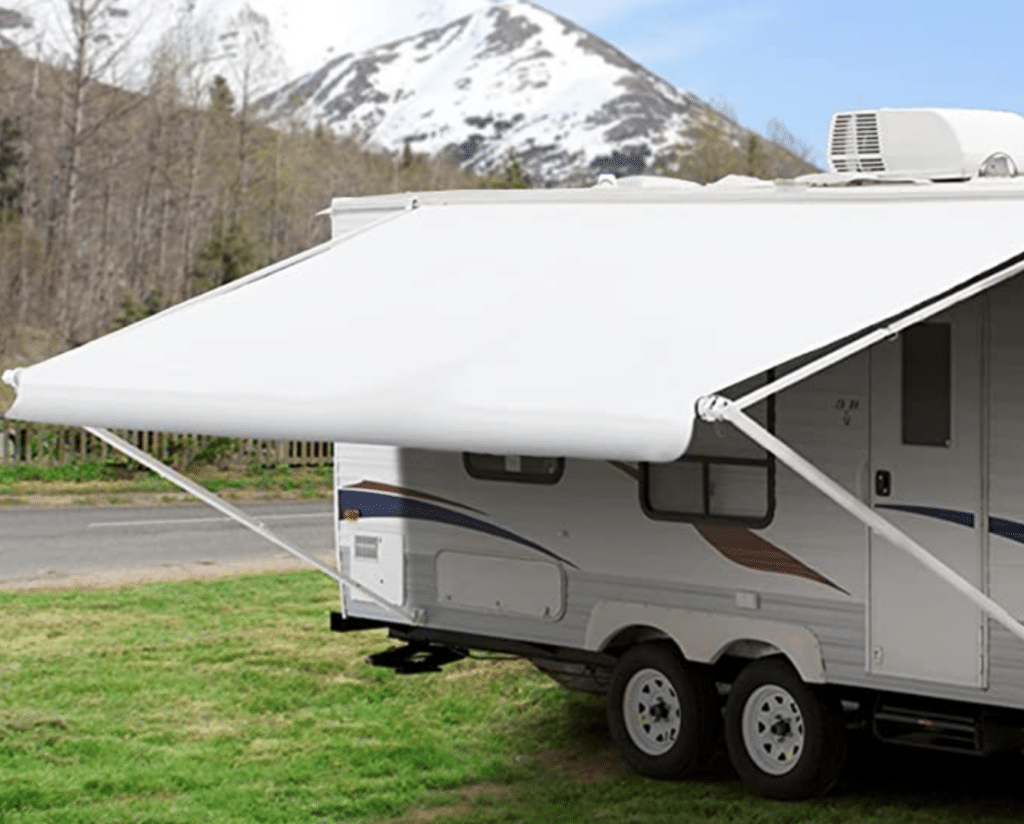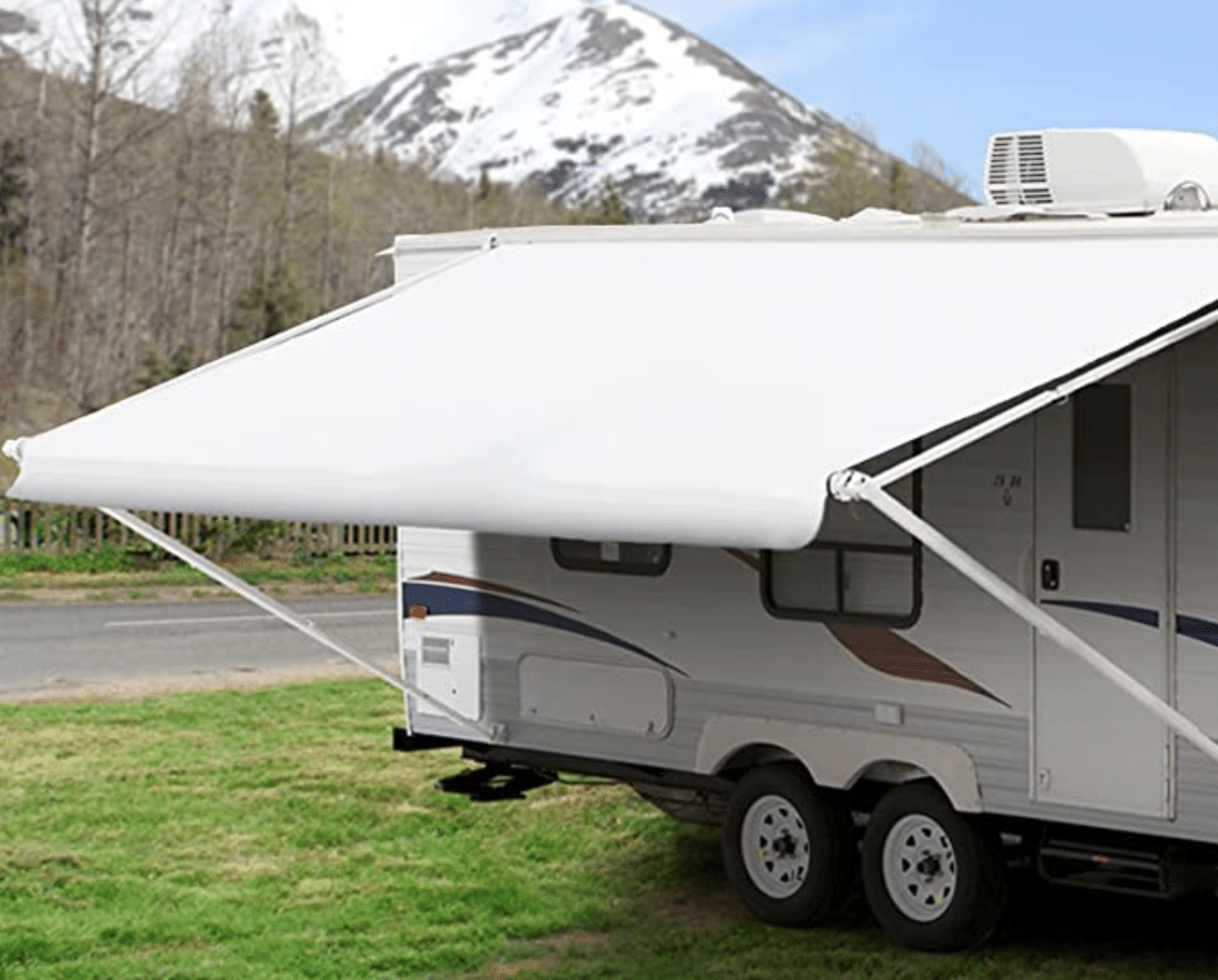 Vinyl RV awnings are typically what come with most RVs and can last for many years if they're taken care of.
With a layer of lamination on top of the fabric, they're entirely waterproof and block out harmful UV rays easily.
However, vinyl is known to trap heat. You're going to feel a bit hotter under these types of awnings, so purchasing a fan to keep you cool would be a good idea (more on accessories later, though)!
You'll also need to wash vinyl RV awnings to keep off dirt, grime, and dust. This can be done every few weeks though! Unlike acrylic awnings, you're not able to roll these RV awnings up while they're damp. It can cause mildew and, depending on how wet it was before needing to roll it back into your rig, can rot.
On the off chance that you need to leave and it's not fully dry, make sure you extend your RV awning as soon as you reach your next destination and dry it completely.
Acrylic Awnings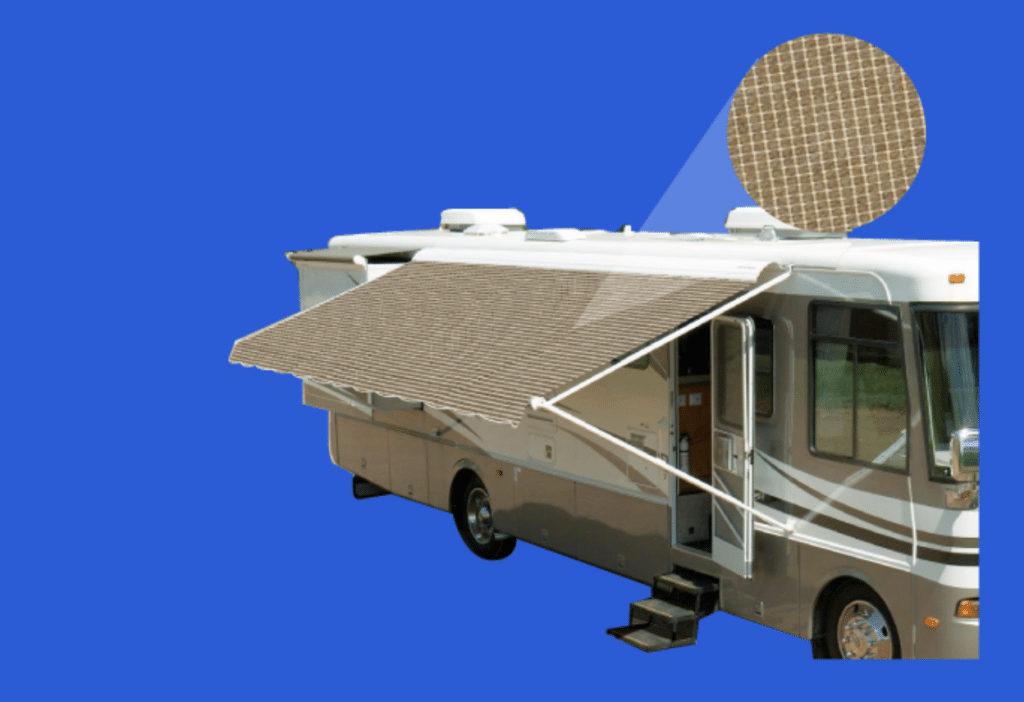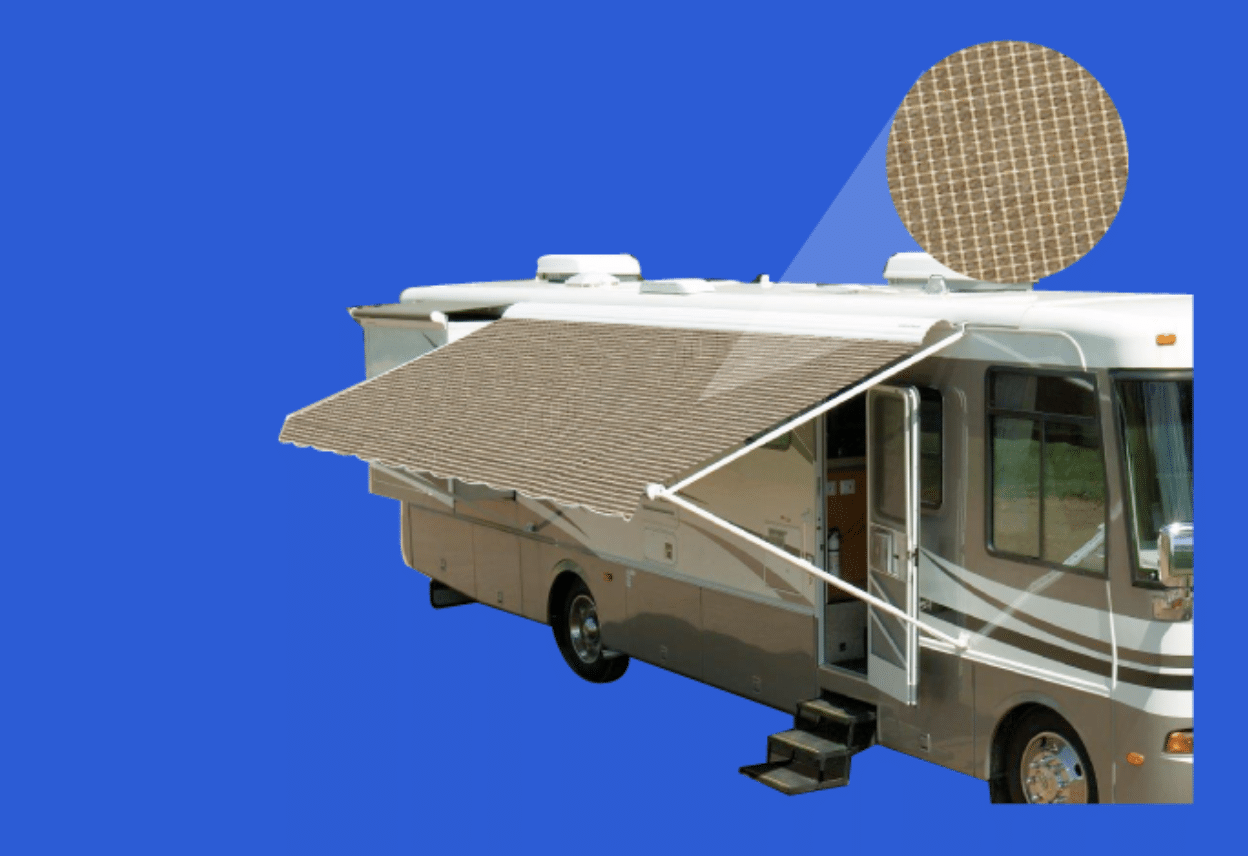 Acrylic RV awnings made with a woven material that circulates air flow through the fabric, allowing it to dry quickly. If you ever find yourself in a rush and need to roll up your camper awnings while they're still damp, acrylic fabric is able to dry while traveling on the road.
This material also allows heat to rise on hot days, which allows you to feel much cooler under the acrylic fabric. Not to mention, the acrylic material is woven very tight which keeps rain and UV rays away from your camper.
However, acrylic awnings aren't waterproof. If you were to touch the underside of the material while wet, it could cause water to drip through that spot. So long as you don't disturb this awning while it's raining, you should be good to go!
Typically, you'll find unique and fun patterns and colors with these types of camper awnings and the color holds up pretty well. You'll also be able to see the pattern from the top and underside of your awning!
How to Measure for an RV Awning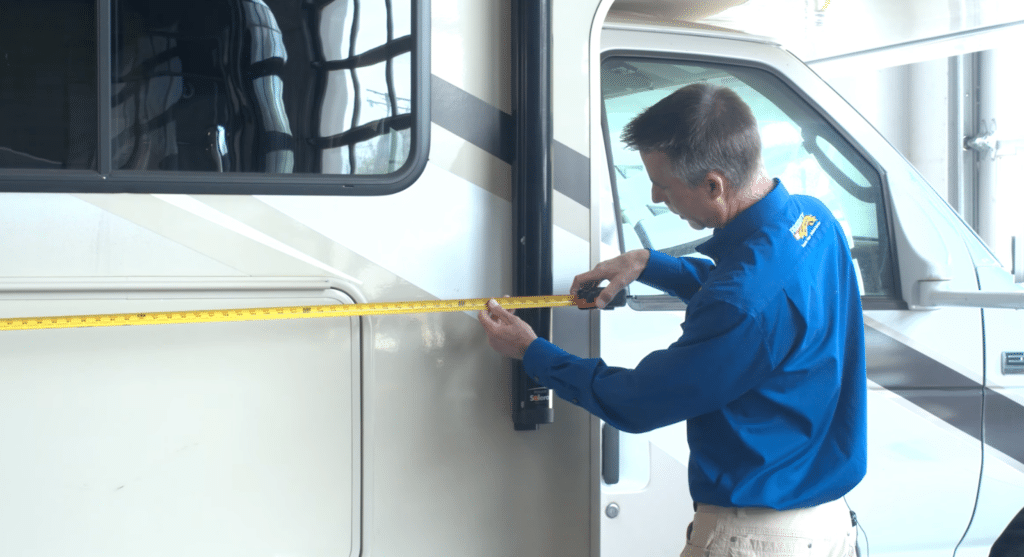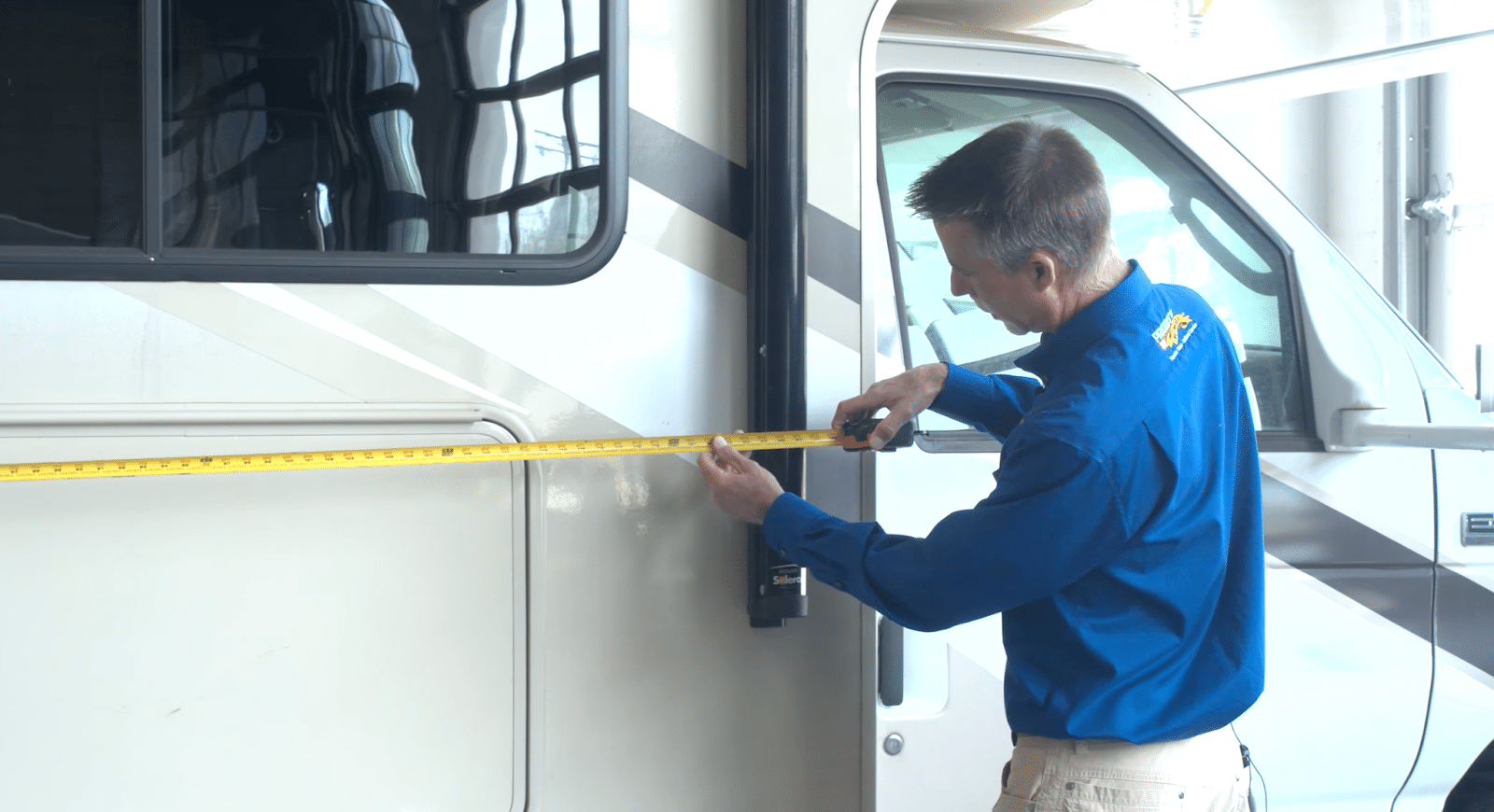 Have you ever measured for a replacement RV awning only to realize that the fabric you've purchased doesn't fit how you expected it to?
This is a very common theme that we've seen when it comes to RV awnings (but it can be avoided if you measure your awning fabric correctly).
In order to measure your RV awning, measure from the center of the left arm, go across the roller bar, and then to the center of the right arm. Here's a quick video to help:
After you have your measurements, you're able to place an order! Depending on the size of your rig, you may see that from the center of the left arm to the center of the right arm measures at 10 feet. This may throw you off guard as, typically, the awning is typically only 8 feet.
However, awning fabric shrinks overtime, and having a bit more awning replacement fabric will certainly help you out in the long run! Keep in mind that when you go to order, you can choose a new fabric color too!
Now that we know how to properly measure for a new RV awning, let's get into the 5 best RV awnings on the market today!
Related Reading: Best Camper Van Awnings For Your Van Conversion
5 Best RV Awnings
Whether you're looking for manual awnings, automatic awnings, window awnings, or full size awnings, the following are sure to excite you!
1. SunWave Awning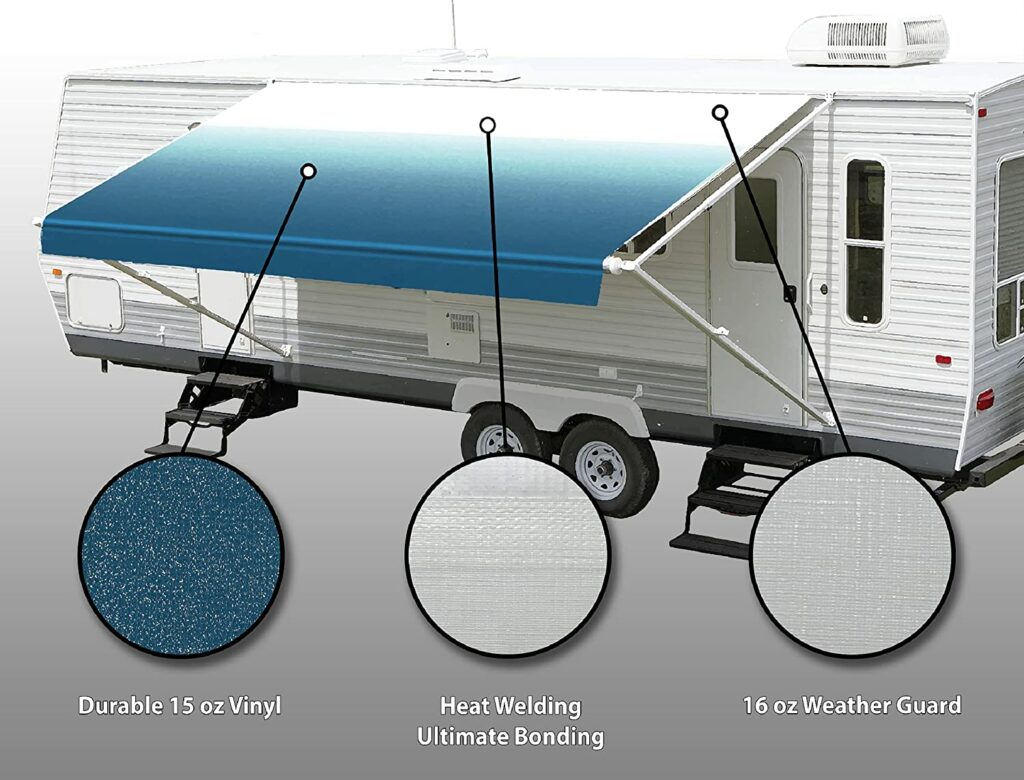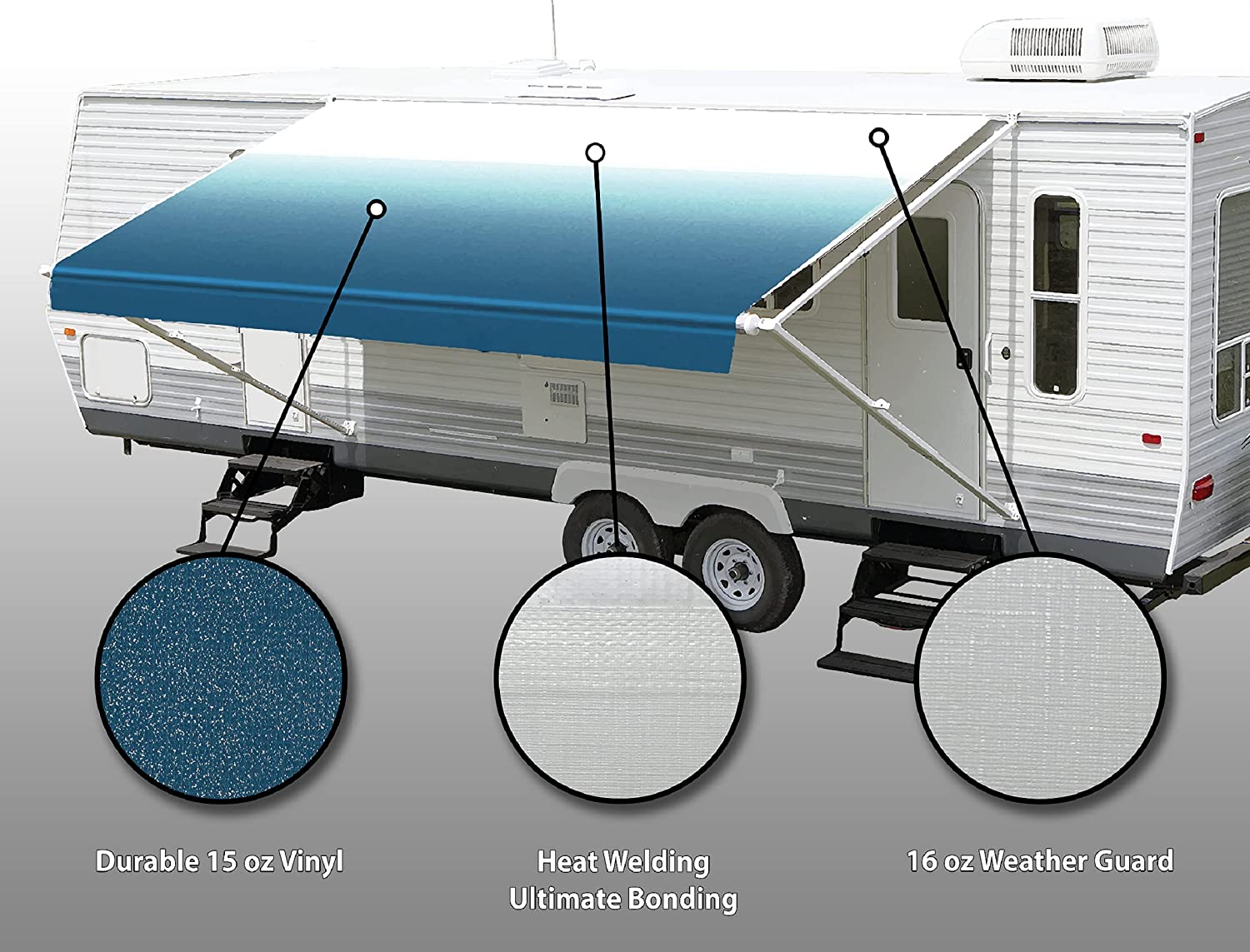 The SunWave RV patio awning is one of the top rated vinyl RV awnings on the market today.
Like most vinyl RV patio awnings, the fabric of the SunWave is colored on both sides and visually appealing from all angles. It comes ready to install with 1/4" poly cord for the rail as well as 3/16" poly cord for the roller tube.
Many RVers gravitate towards this RV awning because of the price range (and size selection). The thick vinyl also has an extra weather shield layer meaning this awning should last for years.
SunWave Awning
Canopy is made of durable 15 oz vinyl. Weather-Guard is made of heavy duty 16 oz vinyl. Canopy and Weather-Guard are bonded together by HF heat welding.
Premium Quality RV Awning Fabric is compatible with all major awning brands
The fabric comes completely finished with hemmed edges and cord sewn in.
Recommended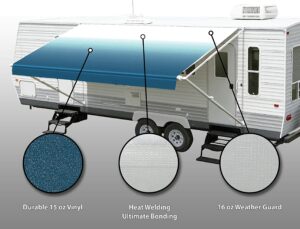 2. Solera RV Patio Awning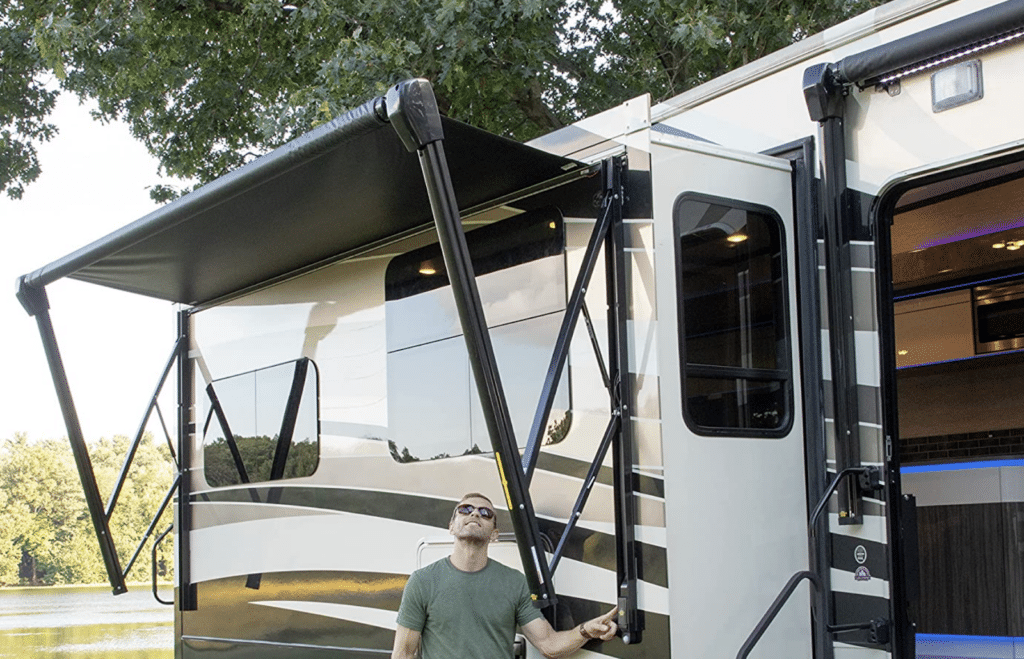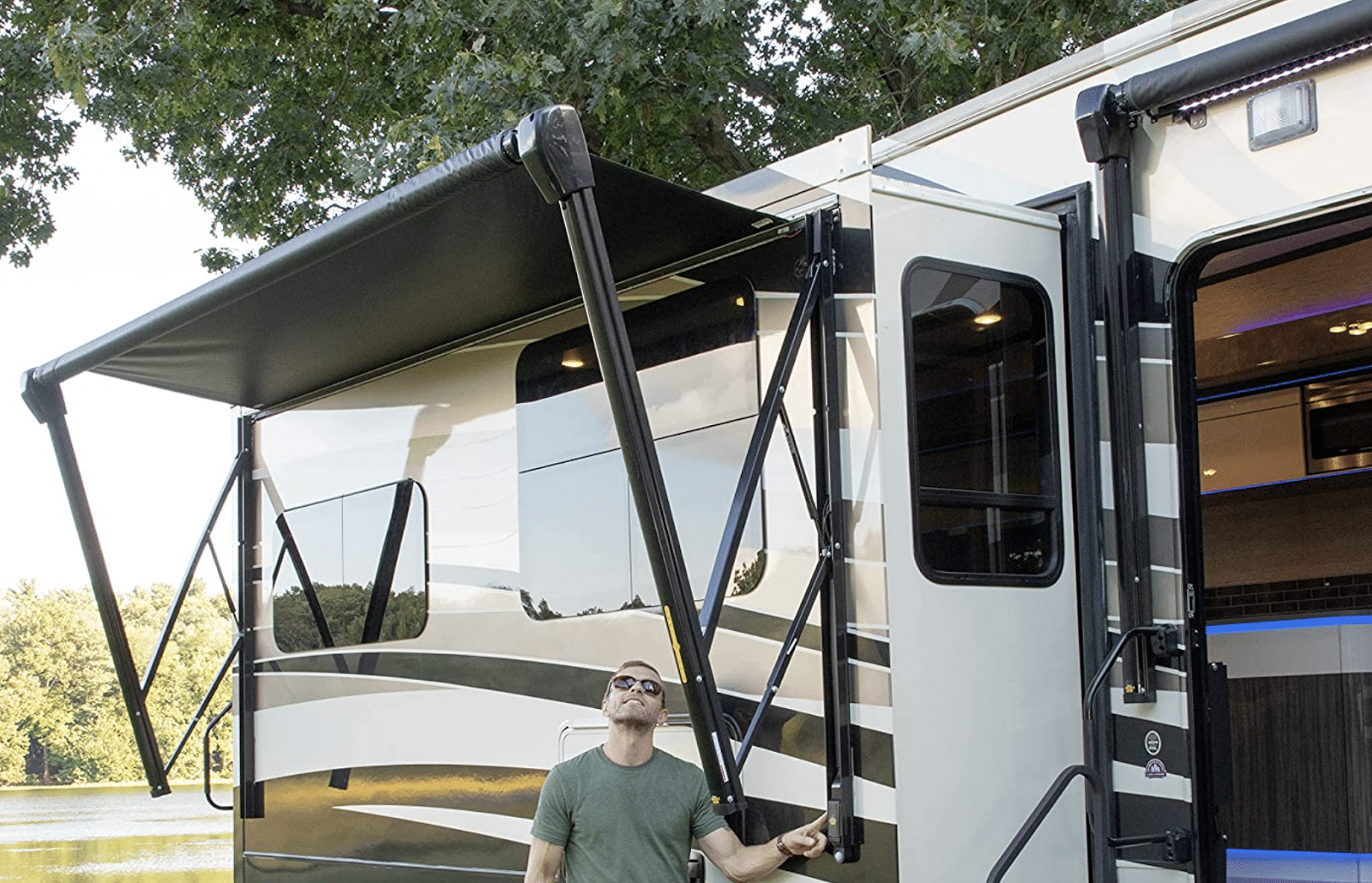 Like most RV patio awnings, the solera RV patio awning saves time, money, and stress.
You're able to choose from an automatic or manual awnings and the material is made to withstand up to -25 degrees Fahrenheit without cracking (most RV awnings are only able to handle 20 degrees Fahrenheit).
This awning is able to support tons of RV accessories, too. LED light strips, shades, screen rooms, and more!
Solera RV Patio Awning
This fabric is available in 9 great color options and multiple sizes ranging from 10′ to 21′
Replacement fabrics are constructed with heavy-duty, 13-1/2 oz. vinyl, heat-welded seams
All of the replacement fabrics come with an integrating LED lighting track
Recommended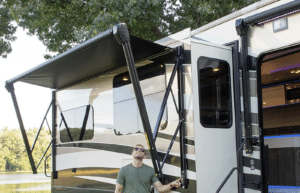 3. ShadePro RV Awning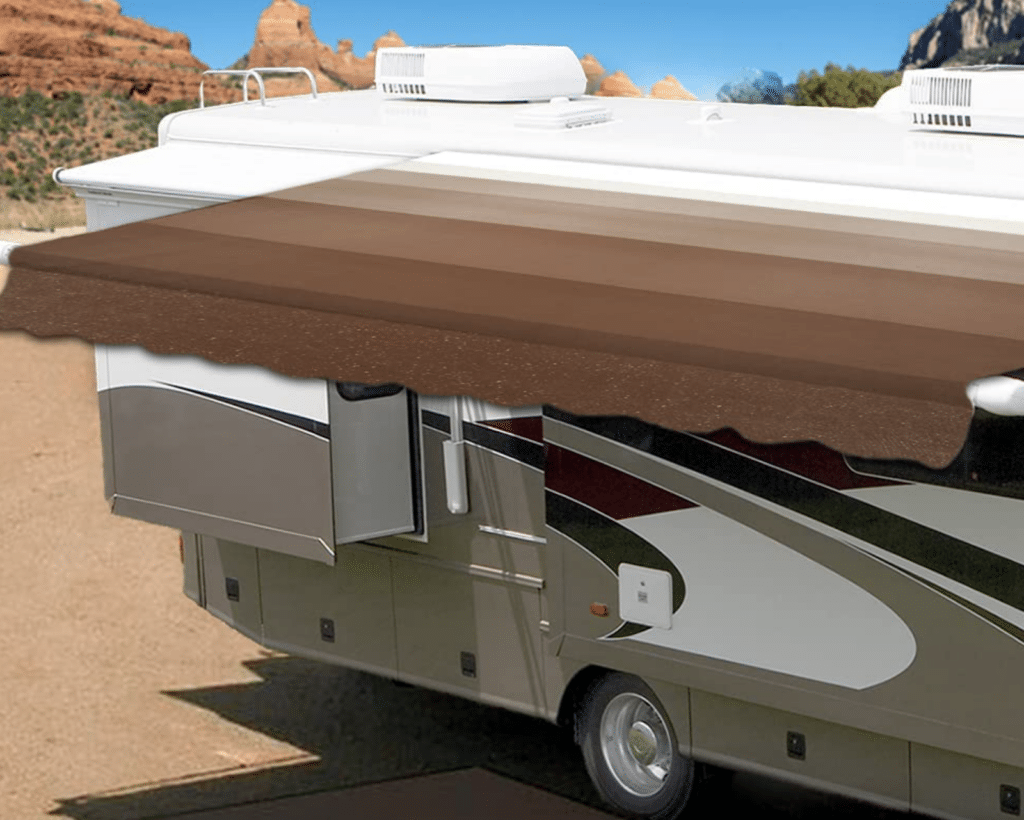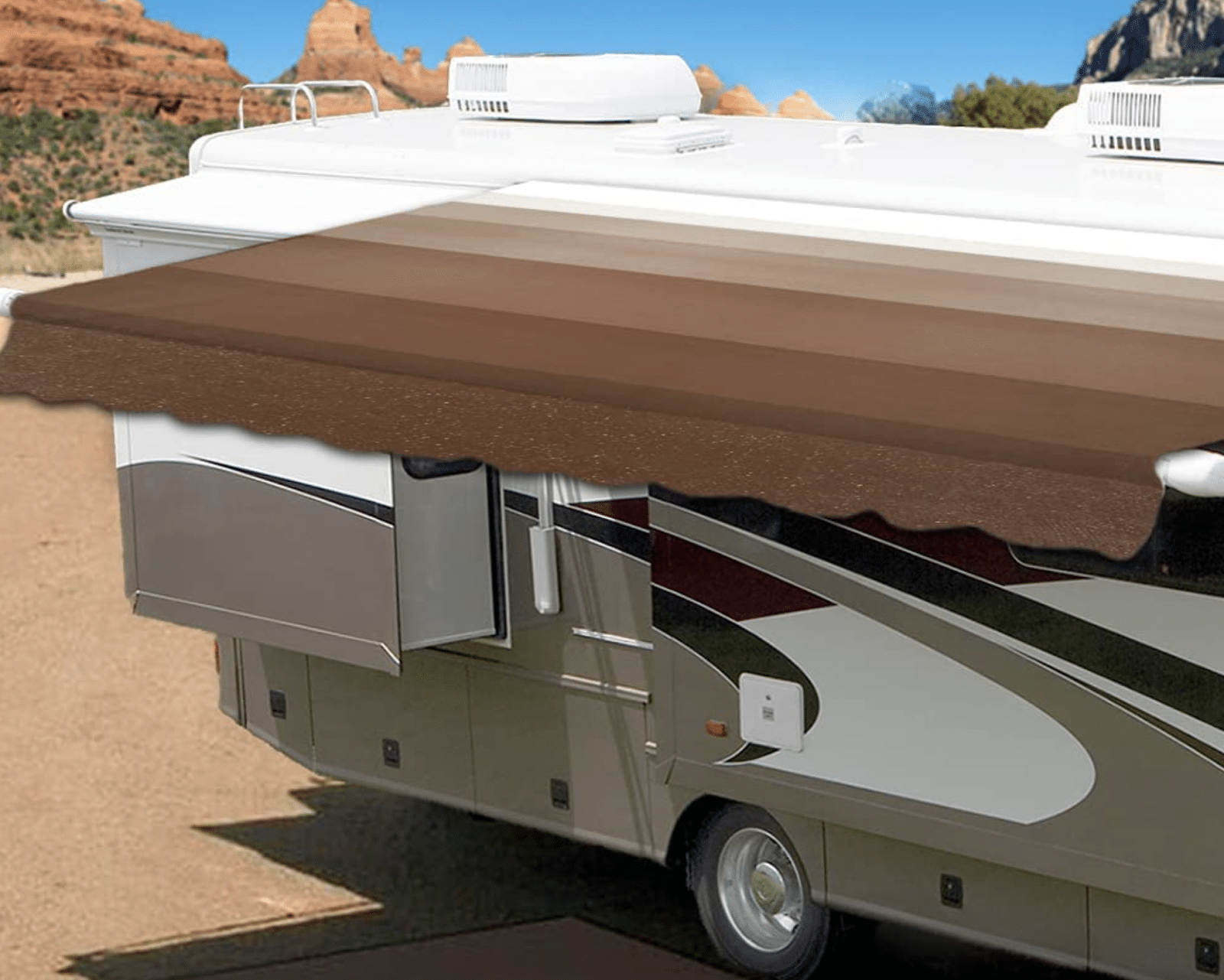 Similar to other slideout awnings, ShadePro RV awnings are incredibly stylish and you're able to manually operate them!
With easy to follow instructions, a good color pattern, and a carefree installation, you'll realize why the RV community recommends the ShadePro awning among others. ShadePro's universal fabric replacement will perfectly fit your RV's existing awning (such as Carefree of Colorado, Dometic, Lippert, Carter, and Faulkner).
You can purchase ShadePro window awnings as well (which are just as nice as the full size RV awnings). Many people claim that this awning has fit perfectly on their camper, too!
ShadePro RV Awning
Set includes awning fabric and install instructions
ShadePro's 15 Oz, 3 ply heavy duty vinyl fabric resists UV and water and is cold-crack tested to -20°F
Designed to fit most RV awnings without metal covers
Recommended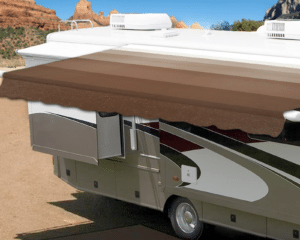 4. ALEKO RV Awning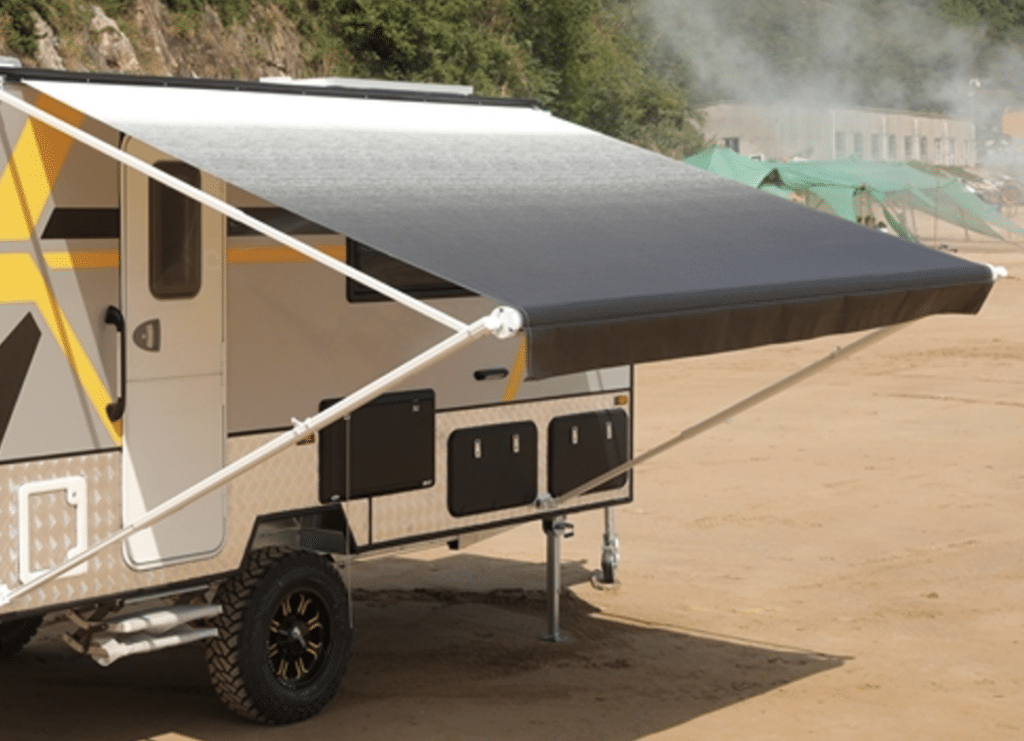 Image Credit: ALEKO Products
If you're looking for the best RV awning for your camping adventure, look no further than the ALEKO RV Awning!
This awning is UV, mildew, fade, and water resistant and there are several color options (and designs) that you're able to choose from.
While this awning was created to fit on your RV, it's also able to provide coverage for your front or backyard patio! The installation procedure is the same for both applications.
ALEKO RV Awning
Features automatic electric motor and manual crank for sliding open and closing
Polyester fabric promotes air flow, reduces trapped heat and moisture
Exterior cloth canvas UV resistant for keeping the family cooler
Recommended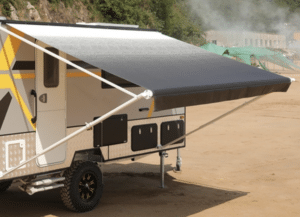 5. Fonzier RV Awning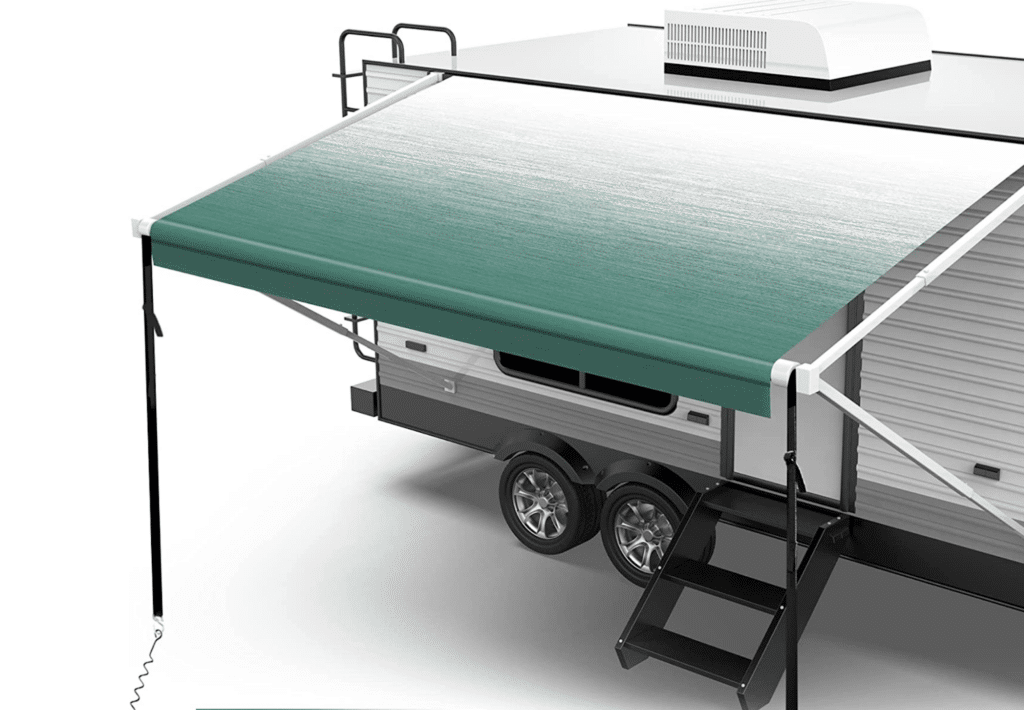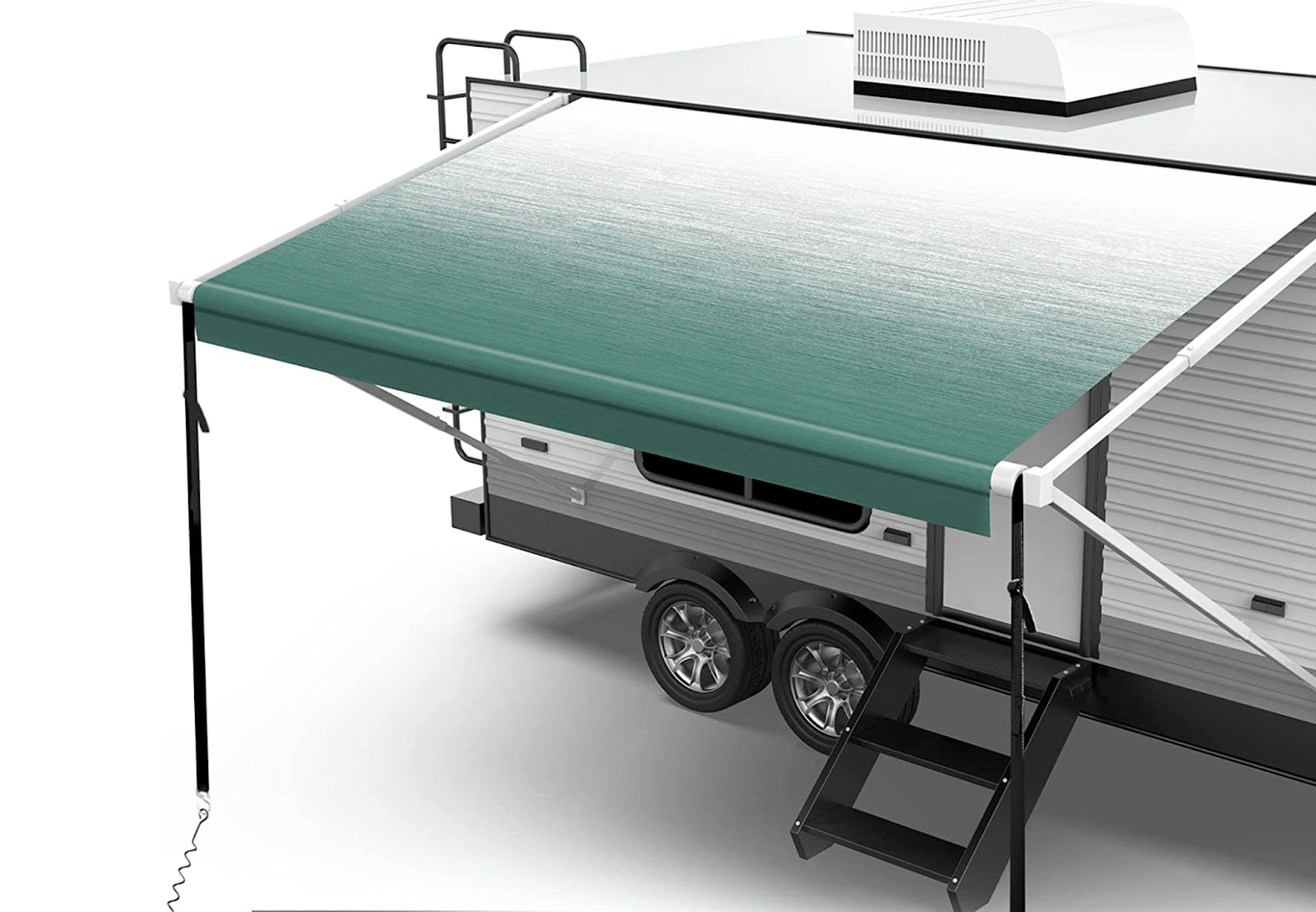 Fonzier was created by a collective who have a rich passion for outdoor adventures and a deep love for RV traveling.
This awning is 100% waterproof and able to withstand harsh UV rays. Not only that, they use a hot pressing process to make both of the side edgings completely fused. It's way more stable than other sewn fabric awnings on the market (and you don't have to worry about getting fringe or burr on the sides).
If you want the best of the best for your next camping trip, who better to choose from than Fonzier?
Fonzier RV Awning
The average tensile strength test of the upgraded 18 oz mesh is 251 PSI (others: 140 PSI)
UPF50+ and 100% waterproof, protecting your eyes and skin from the harm UV and rain
This 18oz fabric replacement has a 3-layer design: anti-UV composition on the surface, 18oz vinyl fabric in the middle, and waterproof membrane at the bottom
Recommended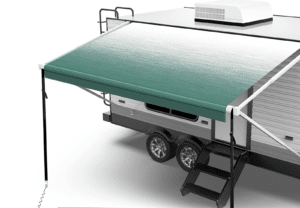 Accessories to Compliment Your Awning
RV accessories are incredibly important and when it comes to awnings, there are plenty of accessories you're able to purchase. A few that we'd recommend among all others are:
Outdoor mats
Screen rooms
Attachable Sunshades
LED lighting
Outdoor Mats
Outdoor mats (also known as outdoor rugs) are able to elevate your lounging area, as well as keep the inside of your RV clean from dirt, debris, and more. They also help to provide a level of foundation to place RV furniture (as gravel and bumpy grass sometimes doesn't allow for the sturdiest of setups).
Here's an outdoor mat we'd recommend:
Stylish Camping RV Reversible Graphic Patio Mat
Breathable material won't damage grass
UV coated to protect against fading and other sun damage

Soft and durable virgin polypropylene material
Recommended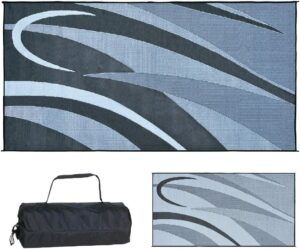 Screen Rooms
Screen rooms are able to expand your living space. They're typically lightweight and come with easy to follow instructions for attaching them to your awning. If you want to sit outdoors in some light wind or rain and you have a screen room, it'll protect you from getting wet!
Here's a screen room we'd recommend:
ShadePro Villa RV Awning Screen Room
Fits most straight-sided RVs with awning rail to ground dimensions of 100″ to 141″
Heavy-duty marine grade fabric, privacy panels, heavy-duty zippers, and custom-made side panels
 Included snapless side panel support rafters with brackets provide a better, stronger, seal
Recommended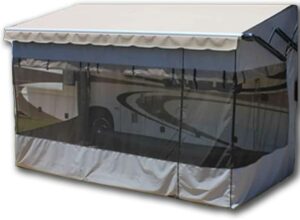 Recommended Reading: 100+ RV Space Saving Ideas For Ultimate RV Organization
Attachable Sunshades
Attachable sunshades are able to block even the worst UV rays which keeps your outdoor area more comfortable. They also give you a bit of privacy from your neighbors! Here's a quick video on how attachable shades work:
Here's an attachable sunshade we'd recommend:
RV Awning Shade Screen
Easily secure your awning screen and protect it against wind gusts and damage
Awning screen shade comes with zipper about 20% down from the top
Made of strong PVC weave fabric that blocks out 89% of uv rays
Recommended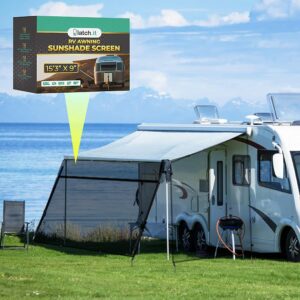 LED Lighting
With all of the LED lights available for RV awnings, it's silly to not have some installed! Whether you want them to spend a bit more time outside when the sun goes down or just as a nice accent, they're perfect to have.
Most LED lights are controlled with a remote and you're able to set the intensity with the click of a button.
Here are some LED lights that we'd recommend:
Waybelive LED RV Lights
You can select up to 4 modes and 16 colors with remote control, change the rim light color as you like, and control distance up to 16 ft
The Flexible strip light allows you to bend or shape freely
The rim lights are shielded by protective tubing to withstand slams
Recommended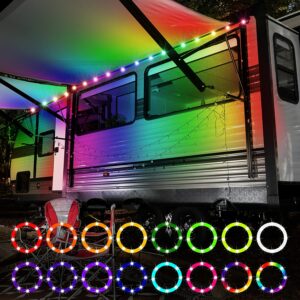 How to Use & Care For Your Awning
Your awning is typically the most overlooked piece of your RV. But it shouldn't be!
By following the next few steps, you'll be able to keep your RV awning in tip-top shape:
Wash your awning at least twice a year – With dirt, debris, mold and mildew buildup, leaves, and tree sap, you'll want to clean off your awning with a light spray of a hose. Depending on how often you're using your awning, you'll have to clean it a bit more than twice a year. Don't forget about your window awnings!
Allow your awning to dry completely before storing it – You can cause mold and mildew growth if you don't allow your awning to completely dry before rolling it back into your RV!
When not in use, roll your awning into your RV – Overtime, UV rays can damage your RV awnings to the point of cracking. If you plan on only staying at a campsite for a few days, you may not need to use your awning and you can leave it rolled up!
Lock your awning in place when at your campsite – Typically, all awnings have a locking  mechanism that prevents it from opening and ripping off while driving. Be sure to lock your awning when it's rolled up to avoid further damage!
Consider an RV awning stabilizer kit if you'll be in areas with high winds – RV awning stabilizer kits help to keep your awning from flailing around in the wind (which could cause damage to the mechanical parts and fabric within an awning)!
We hope this post helped you to find the best RV awning for you. Have one that we didn't mention? Leave a comment below!
Looking for more content? We've got you covered: