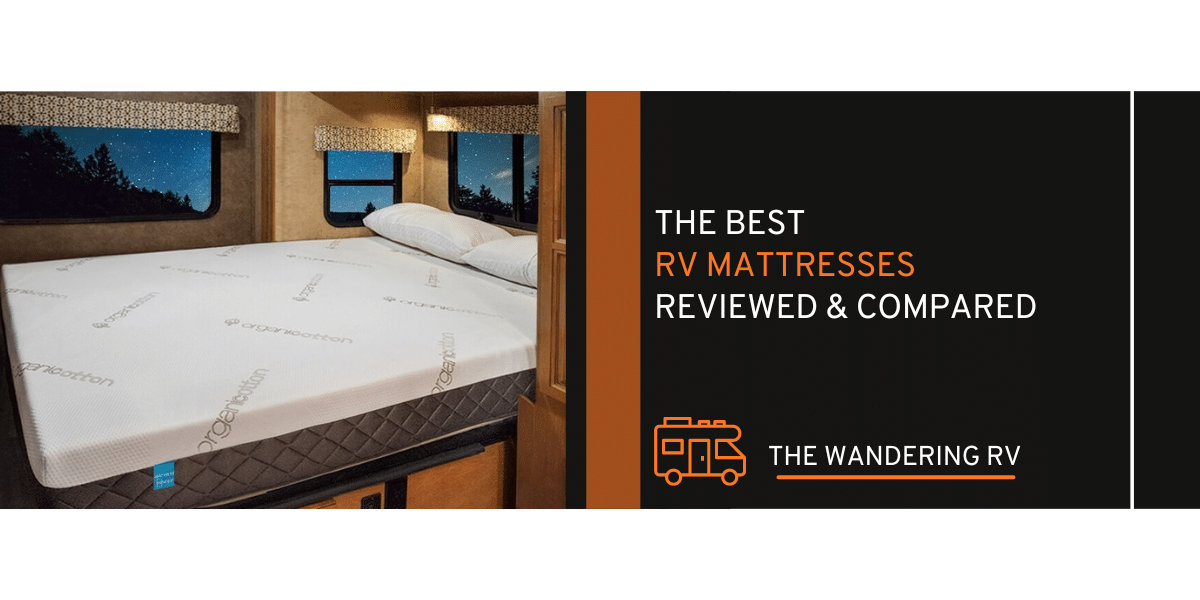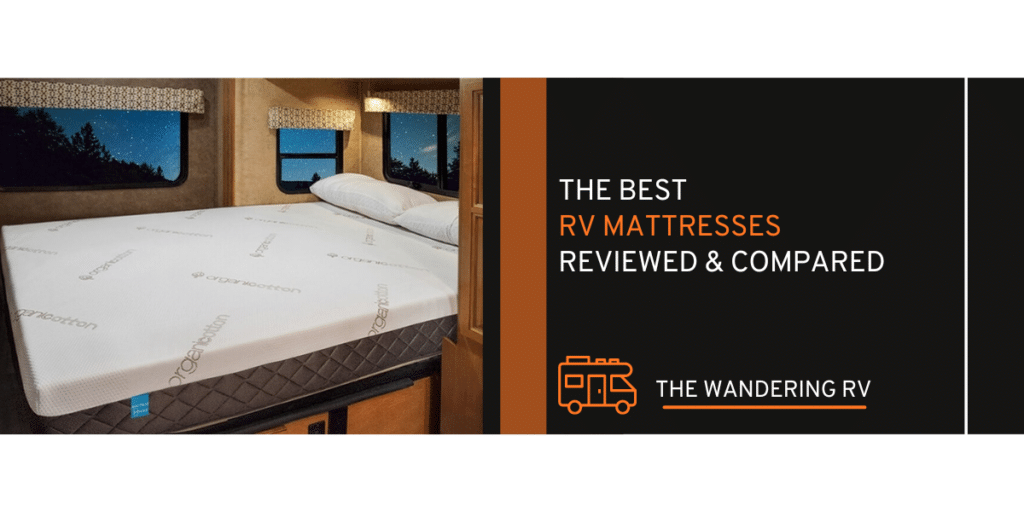 Ever been on an epic RV adventure only to find that your mattress feels like a bed of rocks? Don't worry, you're not alone! Most factory RV mattresses lack the necessary comfort for a good night's sleep. It's time to put those restless nights behind you and upgrade to a mattress that's as cozy as a bear hug.
In this insightful guide, we'll introduce you to the best RV mattresses on the market, ensuring your future road trips come with sweet dreams.
Table of Contents
Note: Some of the links in this article are affiliate links. This doesn't cost you any more than normal. Read our disclaimer for more info.
The 5 Best Camper Mattresses
There are tons of camper mattresses out there – but we wanted to make things easy for you!
These camper mattresses are, in our opinion, the best of the best! Let's dive in.
Mattress Insider Custom RV Mattress
Mattress Insider is the best (and most trusted) RV mattress providers in the world
They can make the perfect mattress to fit your needs
Their offerings for RVs include Sedona Sleep 8(a budget option), Elation (best value), and luxury (premium, luxury RV mattress)
Top Pick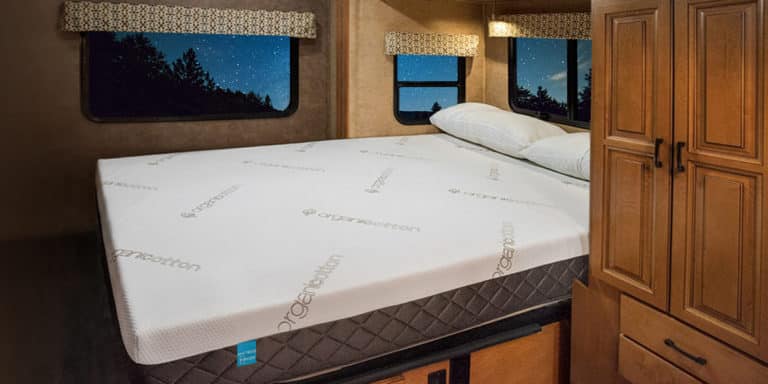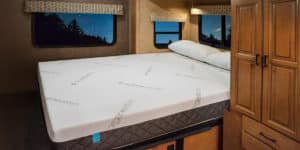 Serenia Sleep 8 RV Mattress
The Serenia Sleep 8 RV mattress is one of the most requested camper mattresses out there
These mattresses are made in the USA with sourced materials from both the US and Canada
The Serenia Sleep is CertiPUR-US certified, meaning it's non-toxic
It's a great choice for those who want comfort but don't want to break the bank
'Best Price' RV Mattress
Infused with Green Tea to help reduce stress and control odors
It's equipped with a pressure relief system to ensure a comfortable night's sleep
Certified with a 10-year warranty.
Dynasty Mattress Deluxe
Most people compare these RV mattresses to Tempur-Pedic memory foam mattresses – at just a fraction of the cost.
Comes with a 120-day trial as well as a 20-year warranty
Has a removable four-way zipper cover, making it easy to clean
Zinus Deluxe Memory Foam Mattress
Made from plant-based oil instead of petroleum
This RV mattress is CertiPUR-US certified and free of most chemicals found in other mattresses
Conforming memory foam comfort
This is what I use for my bed!
RV Mattress Types
There are 6 different mattress types you can choose from, including:
Foam
Memory Foam
Gel
Innerspring (Coils)
Latex
Air
Let's take a quick look at each of these.
Foam
Foam is the cheapest and thinnest mattress type you can find. It's usually not very comfortable and it's what comes in most RVs when you first buy them.
Memory Foam
Memory foam beds have a layer of soft memory foam and a sturdy foam base for support. These beds can cost anywhere between $300 to $800, however!
Gel
Gel mattresses are perfect if you plan on traveling in warm climates. They provide an overall cooler sleeping experience (and they're one of my favorite mattresses)!
Innerspring (Coils)
While innerspring mattresses are known to be high-quality mattresses, they aren't exactly ideal for RVing. They're much heavier and contain metal, which increases the risk of rust and condensation inside your mattress.
Latex
Natural latex mattresses are made from rubber trees and are known to be dust-mite resistant! These mattresses last a lot longer than synthetic mattresses, too.
Air
Air mattresses range in price and it's important you get one specifically designed for your RV. High-end air mattresses allow you to adjust the amount of air on either side of the mattress (if you're someone who loves a firm mattress but you like it a bit softer, it's an easy fix!).
RV Mattress Sizes
Camper mattresses come in as many shapes and sizes as the campers you put them in. You've got fifth-wheel trailers, motor homes including Class A, B and C, travel trailers, pop up campers, teardrop trailers… the list goes on.
There can't be a one-size-fits-all mattress.
However, there are some common mattress sizes that tend to fit most campers. Here's a chart showing all the common mattress sizes: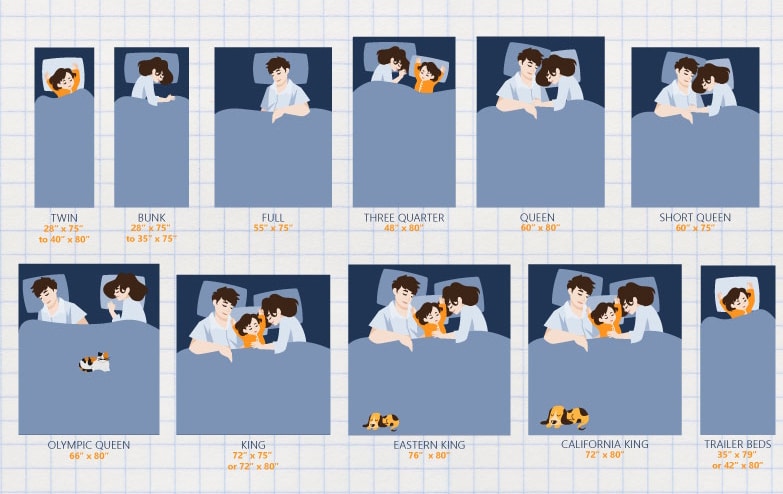 Twin
A standard twin bed is 38 x 75 inches, but because RV mattresses come in a variety of sizes, you'll find custom twin beds ranging from 28 x 75 to 40 x 80 (which is the standard size for campers and pop-ups).
Bunk
An RV wouldn't be the same with bunk beds! Bunks are common in recreational vehicles designed for families. The standard length is 75 inches, but the width can be 28 or 35 inches. There are some unconventional sizes that you'll find every now and again. When that happens, we recommend looking for a truck bed. They tend to be just a tad bit longer and wider.
Full
Full (or double) mattresses are usually found in RV fold-out sofas. RV full beds tend to be one inch wider than your average full bed.
Three Quarter
These beds are pretty self-explanatory. They're 75% the width of a standard queen size bed. Instead of the traditional 60-inch width, a three quarter is 48 inches. You'll find these RV beds in oddly shaped RVs.
Queen
RVs tend to have a pretty bad rep when it comes to size. However, many RVs and pop-ups feature queen-sized mattresses, which are 60 x 80 inches! If the RV has multiple sleeping areas, you'll usually find a queen in the main one.
Short Queen
Unlike the "average" queen bed, short queen RV mattresses are five inches shorter (so they're 75 inches long instead of 80 inches).
Olympic Queen
Olympic Queens are wider than your standard queen bed. Instead of 60 inches across, the Olympic version is 66 inches.
King
King-size beds are surprisingly common in RVs and campers! The standard size is 76 x 80 inches in homes but tend to be slimmed down for mobility. You'll usually find RV sizes are 72 x 75 inches or 72 x 80 inches – perfect for those who need a bit more room to sprawl out after a long day of traveling.
Eastern King
Eastern King beds are a little wider than a regular King, measuring 76 inches across instead of 72 – perfect for those with fur babies who take up a lot of room (we have one of those – you'd be surprised at how much room a cat can take up!).
California King
Honestly, you'll find this mattress more frequently in homes than in an RV. It's a longer mattress than a standard king, but slightly narrower. Instead of 76 x 80 inches, it's 72 x 80 inches. If you can make it work though – go for it!
Trailer Beds
Trailer (or truck) beds come in two sizes – either 35 x 79 or 42 x 80 inches. Not super ideal for two people though!
RV Mattress Toppers
Mattress toppers can be a life-saver to make a firm bed softer. However, they can't make a sagging, non-supportive bed supportive again.
If your mattress is simply too firm, consider the following topper options:
Cooling Bamboo Mattress Pad
Each mattress topper is made from natural bamboo fabric. Bamboo is hypoallergenic and gentle on sensitive skin.
This mattress topper is equipped with a soft, cushiony pillow-top texture
Comfortable, soft, breathable, and high-quality mattress pad.
Lucid Gel Memory Foam Topper
This mattress topper is infused with a plush gel material that captures heat to control the temperature
This product features a 3-year warranty
With this pressure-relieving comfort, you'll receive a good night of sleep every night
While it doesn't feature a short queen size, it's easy to cut these to size
Zinus 4 Inch Green Tea Memory Foam Mattress Topper
Comes in different thicknesses to fit your comfort needs
CertiPUR US Certified for durability, performance, and content
Also has options for pillow top and swirl tec cooling gel
Frequently Asked Questions
If you've read this far, you may have some questions! That's OK, we've got answers. Here are some frequently asked questions among RVers:
Conclusion
So there you have it, folks! No more restless nights tossing and turning on a lackluster RV mattress. We've served up the best options available, so you can make an informed choice and finally sleep like a log. Say goodbye to the days of waking up feeling like a pretzel – it's time to invest in an RV mattress that cradles you in comfort while you explore the great outdoors.
Other RV Buying Guides: