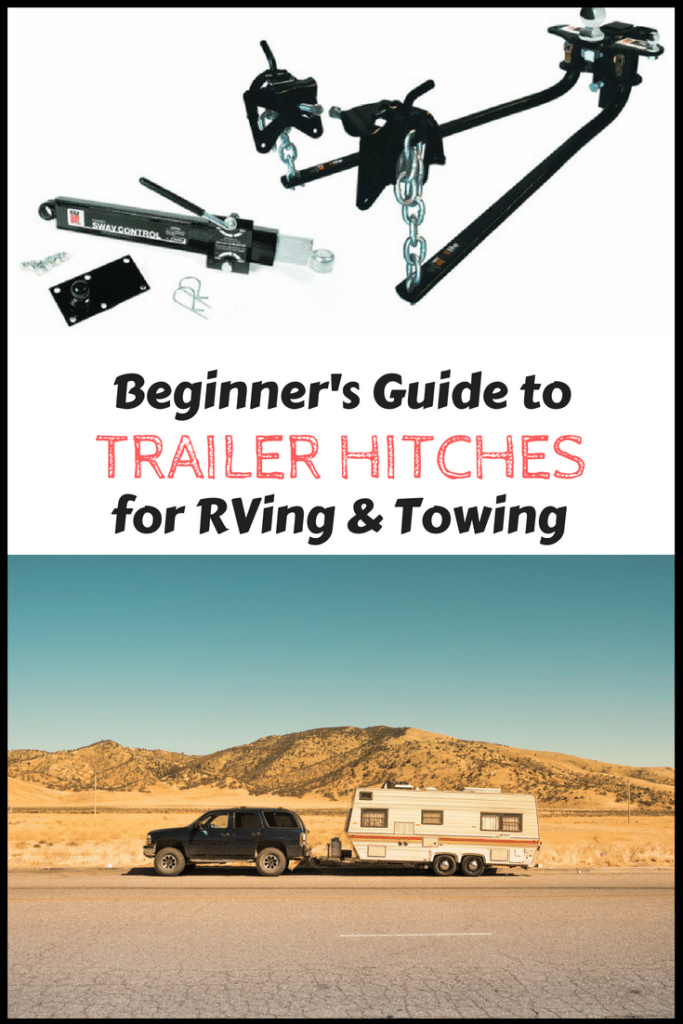 Hey, guys!
Today, Bill and I go over which RV trailer hitch & towing accessories you need, and other important things you need to know to tow a trailer.
We also cover some towing safety rules for the road (which we'll get into at the end of this guide).
Before we get into the bulk of this article, here's a table of contents to help you get right to where you want to go!
Table of Contents
Note: Some of the links in this article are affiliate links. This doesn't cost you any more than normal. Read our disclaimer for more info.
The Various Towing Components (They're Not Always Sold Together!)
It's important to know that you're not getting everything you need to tow a trailer behind you upfront (unless you find someone who's selling their truck/trailer together).
Because of that, we wanted to take the time to explain what you'll need before you start this journey!
Tow Vehicle
First and foremost, you can't tow anything without a proper tow vehicle.
A tow vehicle can range anywhere from a…
Car
Truck
Van
SUV (Sport Utility Vehicle)
CUV (Crossover Utility Vehicle)
RV
Even an ATV could be a tow vehicle (although, an ATV is kind of impractical when thinking about how you want to tow your travel trailer…).
Important Note​Not all tow vehicles are able to tow the same amount of weight. To find what your current vehicle's towing capacity is, check out your owners manual.
​To give yourself an idea of how much weight you might be towing, take a look at the chart below: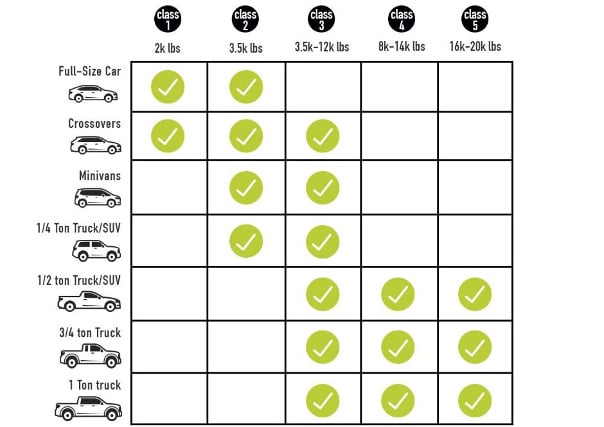 Image Via: allseasonsrv.com
We'll dive deeper into the weight towing capacity in the next few sections, though!
Important NoteWhen purchasing any of our Amazon recommendations below,make sure you enter your vehicle information first!

Trailer
A trailer is essentially what you're pulling behind you.
The most common trailers are…
Utility trailers
Travel trailers
Pop-up campers
Flatbed trailers
Enclosed car haulers
But you can also use your trailer hitch to tow a cargo carrier or bike rack.
All trailers have a different GTW and TW (not sure what the heck I'm talking about? More about that in the next section)!
Important Note: All towable trailers must have tail lights, brake lights, and turn signals (required by law).
Trailer Hitch
A trailer hitch is what attaches a trailer to your tow vehicle (among other components). They can be bolted or welded onto your tow vehicle (welding is typically stronger).
The most common type of trailer hitch is a receiver hitch, as shown below.
Receiver Hitch
Welded for strength and fit
Durable powder coat finish
Tested for safety
Recommended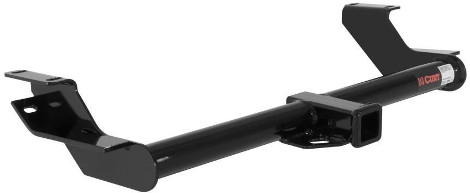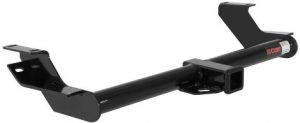 Ball Mount
A ball mount is a removable hitch ball platform that slides into the receiver of a hitch and fastens with a pin and clip.
CURT 45036 Loaded Ball Mount
2″ drop for precise trailer leveling
Robotically welded for perfect fit
Accepts a 2″ coupler
Recommended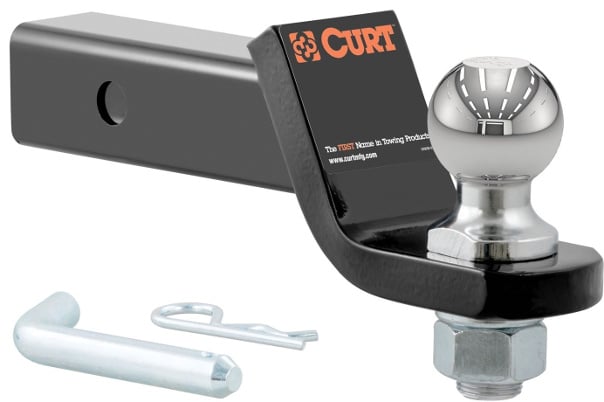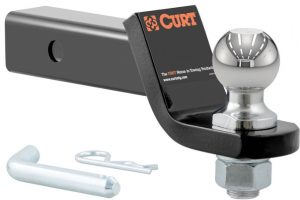 Adjustable Ball Mount
5000 lbs. GTW Capacity
Receiver size: 2 inch, hitch ball hole: 1 inch
Heavy duty black powder coat finish
Recommended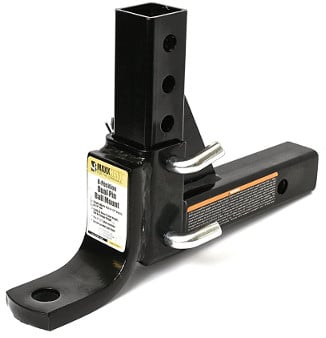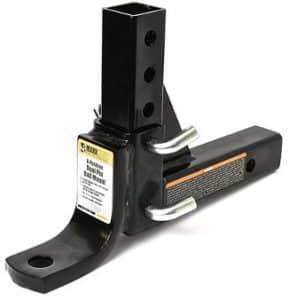 Pro Tip: Adjustable ball mounts (such as the one pictured above) can be used in order to raise or lower the height of the ball (allowing a more level towing experience).
Trailer Ball
A trailer ball (also known as a tow ball or hitch ball) is the connection point between your tow vehicle and trailer.
The trailer ball allows you to turn corners and go over bumps without disconnecting vehicles. Note that most ball mounts come with a trailer ball so you don't need to buy them separately unless you need a different size.
Curt 40001 Trailer Ball
Fits 1 7/8″ couplers and accepts up to 2,000 lbs. GTW
Protected by a durable chrome-plated finish
Recommended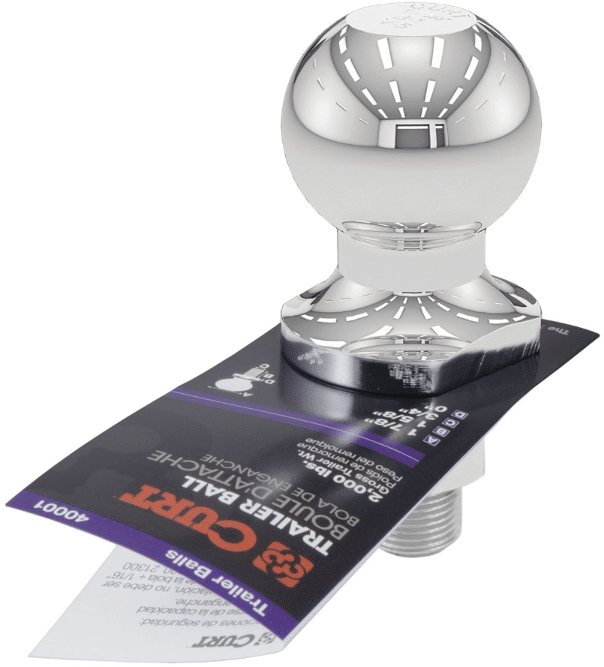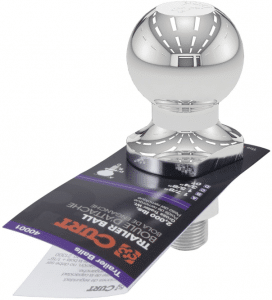 Pro Tip: Trailer balls come in a variety of sizes, such as…
The smaller the diameter, the less weight capacity it has.
Hitch Pin & Clip
A hitch pin is a small metal rod that holds the ball mount in the hitch's receiver tube.
More often than not, a hitch pin is bent in an "L" shape and drilled at one end to intertwine with a hairpin-shaped retainer clip. Again, most ball mounts come with a hitch pin and clip, so make sure you really need one before you buy one.
Curt 21583 Hitch Pin & Clip
5/8″ diameter pin fits 2″ or 2 1/2″ receiver tubes
Grooved pin allows clip attachment at any angle
Bent handle for an easier grip
Recommended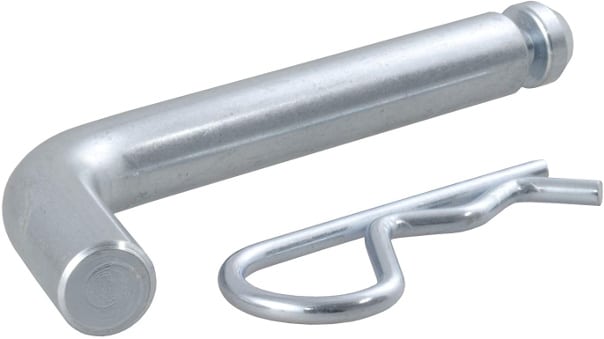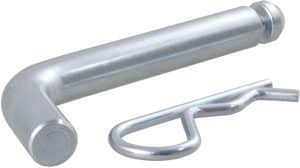 Note: A hitch pin can also be substituted with a hitch lock if you want to add more security to your trailer so it isn't stolen (unlikely, but possible!).
Safety Chains
A safety chain will restrain the trailer from separating (if the hitch or coupler fail).
CE Smith Trailer 16661A Class II Safety Chain Set 3500 lb
24 inches long
Zinc plated
5/0 chain size
Recommended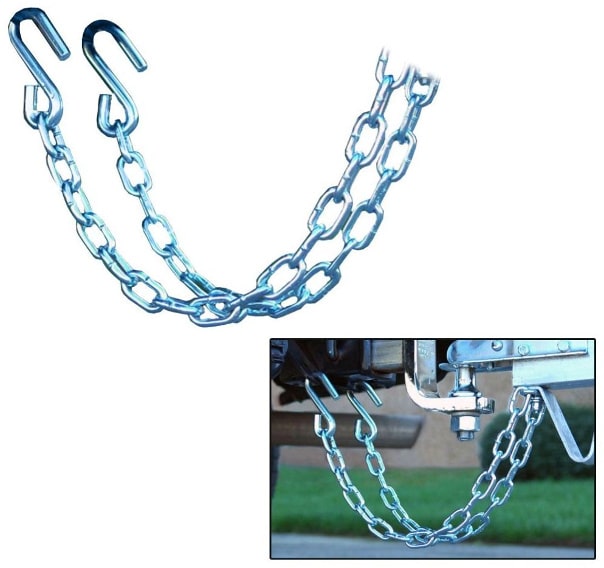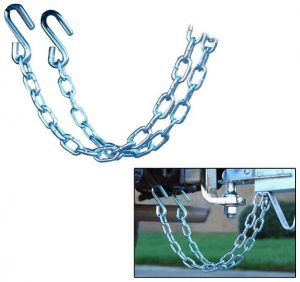 Safety cables may be used in place of safety chains (but we recommend you only use them in emergency situations).
Pro Tip: Each trailer should have two safety chains set up in a criss cross position under the coupler (shown below). If the coupler becomes disconnected at any point, the safety chains will catch the nose of the trailer (which provides the control you need in the event of an emergency situation).
GVWR, GAWR, GTW, TW… What Do All These Weights Mean?
Have you seen any of these abbreviations before? Chances are, you've seen them mentioned somewhere.
But… do you know what they are and why they matter?
If not, you're about to! If you do, feel free to skip over this section 🙂
GVWR (Gross Vehicle Weight Rating)
The GVWR (gross vehicle weight rating) is the maximum loaded weight of your vehicle.
GAWR (Gross Axle Weight Rating)
The GAWR (gross axle weight rating) is the maximum weight that can be placed on your front (or rear) axles.
GTW (Gross Trailer Weight)
The GTW (gross trailer weight) is the total weight of the trailer and its cargo.
TW (Tongue Weight)
The TW (tongue weight) is the downward force exerted on the back of a tow vehicle by a trailer or towable load.
The tongue weight is greatly affected by where cargo is positioned and is important for maintaining good control of the vehicle (we'll talk more about tongue weight in the next section).
If you exceed beyond the weight your vehicle can take, you risk harming your vehicle's engine, transmission, breaks, and many other systems. Be sure to double (or triple) check what weight your vehicle is able to handle!
Determining Proper Weight Distribution (The 10-15% Rule)
Before we talk about the different types of trailer hitches, we wanted to talk a bit more about weight distribution.
In the first section (under tow vehicle) we showed you this chart…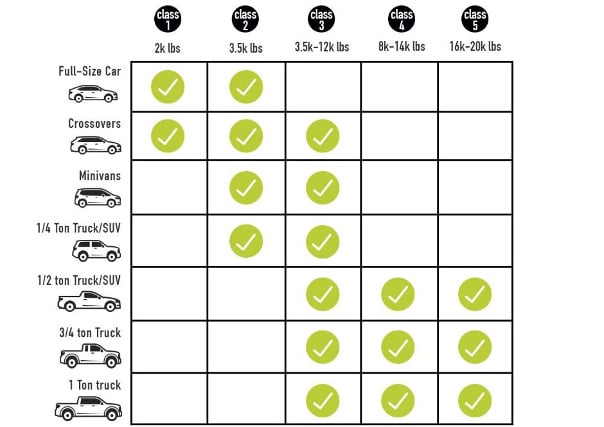 Image Via: allseasonsrv.com
… now, we want to walk you through the 10-15% rule when it comes to towing trailers behind you!
Truck manufacturers will talk your ear off telling you how much weight the F150, F250, F350 (and more) can tow.
What they don't tell you, though, is that you need the tow package installed in the truck to get the most out of your vehicle.
Not sure what we mean? Here's a quick example:
The F150 is able to tow up to 13,200 pounds… if you have the long bed cab with 2-wheel drive, 3.5-liter Ecoboost, and the max tow or heavy duty payload installed.
Without all that stuff, the F150 can only tow 5,100 pounds.
Without putting all of your trust into your local truck salesman, follow the 10-15% rule.
To explain what the 10-15% rule is, we'll give you a quick example…

Say your truck can tow 10,500 pounds and has a tongue weight of 1,000 pounds with a weight distributing hitch. When you apply the 10-15% rule, that 10,500 pound trailer will have a tongue weight between 1,050 and 1,575.
The truck is limited to 1,000 pounds on the hitch itself, meaning the 10,500 pound trailer will max out the tongue weight.
You'll have to do some math to figure out how much your tow vehicle can carry without causing problems, but by doing this, you'll save yourself from future problems.
To find out what your trailer's tongue weight is, we recommend purchasing a Tongue Weight Scale. The tongue weight is typically 10- 15% of the weight of the trailer, and this scale can find the gross trailer weight of up to 20,000 lbs.
Best RV Trailer Hitches
Now that we've gone over the technical side of things, let's figure out which RV trailer hitch is right for you!
It's important to find the one that's right for your vehicle for safety purposes (more on that later).
Let's dive in!
Weight Distribution Hitch
A weight distribution hitch system helps to ensure a smooth, level ride while allowing you to tow the maximum capacity your hitch allows.
Eaz-Lift Weight Distributing Hitch Kit
U-bolts and chain package are pre-installed on spring bars
Maximum gross weight rating of 10,000 lbs
Recommended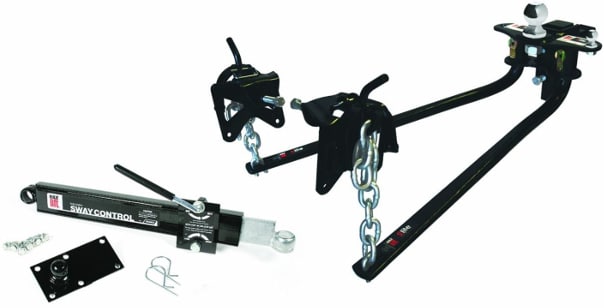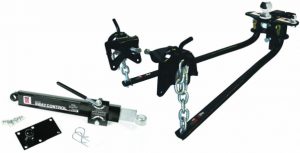 More than that, it helps correct tow vehicle sag, improves steering (as well as stopping), and, when used with sway control, corrects trailer sway.
5th Wheel Hitch
Fifth wheel hitches are designed to carry heavier loads (more than what your typical ball hitch can handle).
Curt 16245 Q24 5th Wheel Hitch
Ideal for towing 5th wheel trailers up to 24,000 lbs
Dual jaws provide 360-degree kingpin contact
Recommended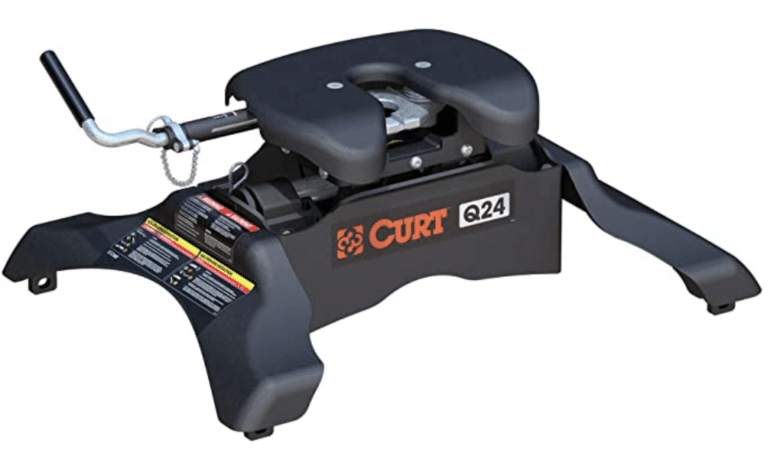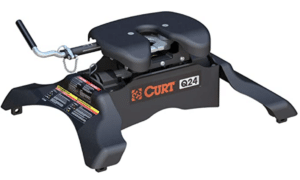 These are different than most hitches because the attachment point is in the bed of the truck instead of the rear bumper. If installed properly, the weight of the trailer presses down almost directly over the rear axle (which is what allows the truck to carry more weight).
Gooseneck Hitch
Like a fifth wheel hitch, a gooseneck hitch is mounted in the bed of the truck. However, a fifth wheel hitch sits above the bed of the trailer, while the gooseneck hitch uses a ball mount level with the bed.
Curt 16055 Bent Plate Gooseneck Hitch
Mounts to all industry-standard 5th wheel rails
Has built-in safety chain attachment slots
Recommended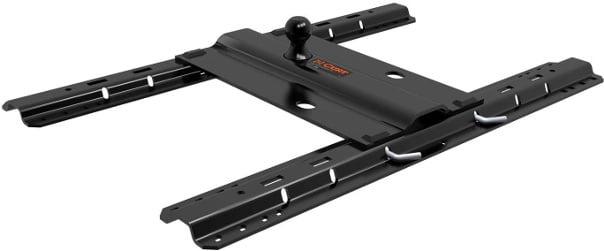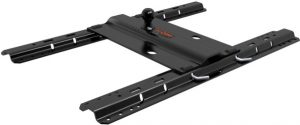 Pro Tip: Gooseneck trailers are mostly used for agricultural or industrial use. We recommend purchasing a fifth wheel hitch when towing a trailer.
Bumper Hitch
Bumper hitches are usually used when towing lighter RV's (and/or domestic vehicles – if you were towing a car behind a Class A, you might be inclined to use a bumper hitch).
Curt 19100 RV Bumper Hitch
Offers lower hitch point to provide level trailer towing
Protected by a durable black powder coat finish
Fits 4″ x 4″ bumper beams
Recommended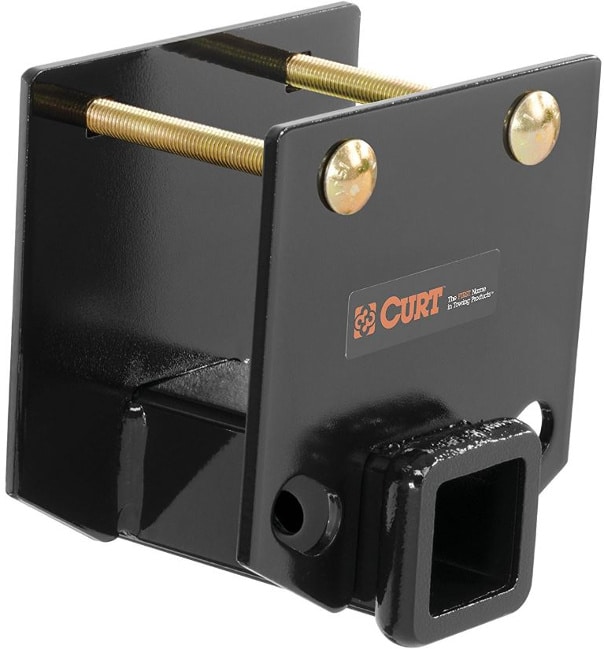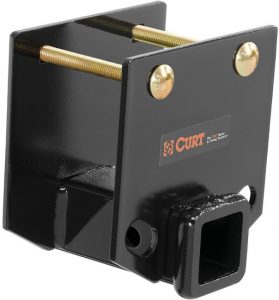 Each bumper hitch has a standard 2-inch ball mount receiver and comes with safety chain attachments.
Pintle Hitch
More often than not, you'd use a pintle hitch if you were going to drive through rough terrain on a daily basis.
In order to install a pintle hitch, you'll first need a pintle mounting plate.
After that, you have two options to choose from:
1. Pintle Hook
Curt 48004 Receiver-Mount Pintle Hook
Fits trailer hitches with a 2″ x 2″ receiver tube opening
Constructed from solid, forged steel for superior strength
Recommended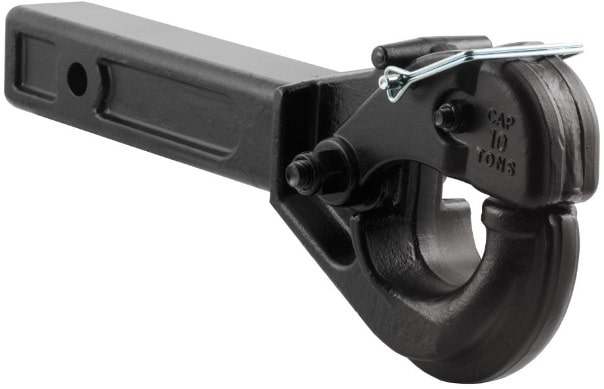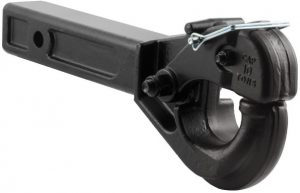 A pintle hook and loop is an attachment where the hook attaches to the vehicle and the loop mounts on the trailer. Pintle hooks are best known for the ability to drive smoothly on rough terrain.
While you can use them to tow your trailer, they're mostly used for industrial and farming purposes.
2. Pintle Combinations
Curt 48007 Receiver-Mount Ball & Pintle Combination
Couples to 2″ couplers or lunette eyes with a 2 1/2″ or 3″ inside diameter
Spring-loaded locking arm for secure coupling
Recommended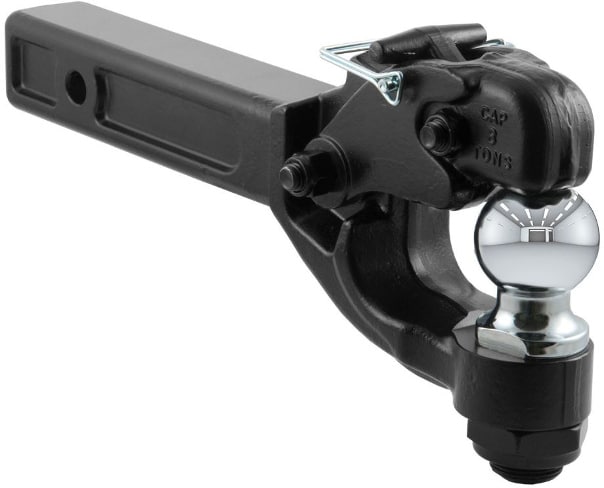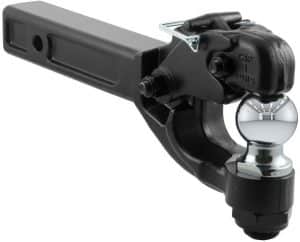 Pintle combinations, like pintle hooks, serve the same purpose yet vary in design. The difference, however, is that a pintle combination is able to tow more (or less) weight depending on the ball mount attached.
These balls are interchangeable, too!
5 Important Rules of the Road for Towing Safely
Have you ever heard someone say that towing is just as easy as driving a stand alone vehicle (if not easier)?
While that may be the case for some, it takes a lot of confidence and practice to be able to say that yourself. (Especially when reversing.)
You might already know the "rules of the road" when it comes to RVing – but if not, we're sure this section will help you on your journey!
Let's dive in 🙂
Properly hitch your trailer to your vehicle. Double check that all of your connections are in place before hitting the road. This includes (but is certainly not limited to) making sure your safety chains are crossed under the trailer tongue and secured correctly.
Keep an eye out for trailer sway. If you have a sway control unit (or a weight distribution hitch) you won't have to worry about this as much. That said, large trucks, heavy wind, and high speeds can make your trailer sway beyond your control if you're not careful.
Allow plenty of stopping distance. In a trailer, it takes a lot longer to change lanes, accelerate, turn, and stop. Be sure you observe traffic flow from a distance and, in case of emergency, be ready to react diligently.
Be cautious when changing lanes. We cannot stress this enough… If you're towing a trailer on the road, please invest in some tow mirrors to increase your view. If you don't, your blind spots increase which can (and in some cases, will) lead to accidents.
Be careful pulling into places – you can get stuck easily. Pulling into a small parking lot that you have to back out of to get out might not be the best idea when traveling in a trailer (or RV). Plan your stops accordingly – and be careful in tight places!
While there are dozens of safety precautions you should take, we feel like the five above are some of the most overlooked rules.
Be careful out there, folks!
What We Learned
Whew – we're at the end of this massive guide! Let's quickly review what we learned…
Not all towing compartments are sold together (which means more money upfront).
You're going to want a tongue weight scale to figure out how much weight your towing vehicle can tow. If money's tight, just use the 10-15% rule!
Let us know if you have any tips or tricks for new (and old) RVers with travel trailers.
Happy camping!
More Great RVing Articles!
– Expert Poll: 30 RVers Reveal Their Must-Have RV Supplies
– 100+ RV Storage Ideas to Organize Your Rig
– Best Camping Gear for RVing and Backpacking in 2020