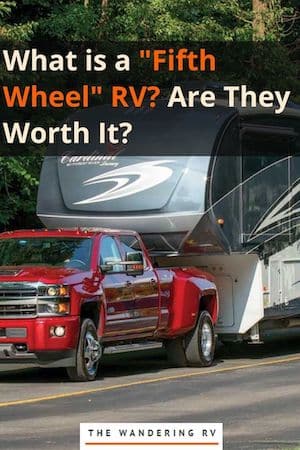 With all of the RVs out there, it can be tough to figure out which model suits you and your family. Fifth wheels are a great option for a multitude of reasons – they've got plenty of room, slide outs, can easily be towed with a pickup truck, and more!
But, have you ever wondered where the name "fifth wheel" comes from? Or which models are best? If so, you've come to the right place!
These trailers are truly worth every penny and offer so many amazing features, it's hard to pass up! Ready to learn more? Let's dive in and take a look at some of these amazing trailers.
Table of Contents
What is a Fifth Wheel? Why is it Called That?


A fifth wheel trailer is a type of RV that is typically larger than most travel trailers. These trailers are similar to gooseneck trailers because of their tow vehicle bed hitch location.
The hitching mechanism is installed into the bed of whichever vehicle you plan to use as your tow vehicle. Most fifth wheels are able to be pulled by a gooseneck hitch, a U shaped hitch, a typical ball hitch, all of which can be installed into your truck bed (except for the ball hitch which is mounted in your truck's hitch).
The hitch location makes fifth wheel trailers easier to tow because of its better turning radius, which is something most people will enjoy.
The idea for fifth wheels were initially invented for horse-drawn carriages in the mid-1850s. Manufacturers would place a horizontal wheel on the cargo frame that allowed the front axle to pivot on its own. This made the hauling process (even with farm and construction equipment) much easier due to the improved stability and maneuverability.
As time progressed into the early-1900s and the invention of emerged a design was made for and the name carried over. Over 100 years later we now see variations of this design all across the world from gooseneck trailers to fifth-wheel trailers (both of which are extremely popular), and fifth-wheel trailers have emerged as a leading class of RV across the United States!
Pros & Cons of Fifth Wheel Trailers
When taking a look at the top fifth wheel manufacturers in the United States, it's easy to find so many positive and desired aspects.
Most of these large trailers can still be towed by a one-ton truck, however, some people choose to use a heavy-duty truck or semi-truck.
Lets talk about what we feel are the most important pros and cons of fifth-wheel campers:
Pros
High safety record
Large living space
Gooseneck trailer hitch
Limited trailer sway
Stable towing platform
Durable trailer frame
Towable with pick up truck
Less fuel consumption compared to Class A motorhome
Cons
Limited size range
Need larger storage area during the offseason
Require more maintenance than small travel trailers
Large amount of slides (more things to have issues with)
As you can see, the pros to fifth-wheel trailers far outnumber the cons. However, it's still important to keep these cons in mind when looking to purchase a fifth-wheel camper. After all, they're huge! Some people much prefer to drive a small travel trailer than a large fifth wheel.
3 Best Fifth Wheels Available Now
1. Forest River Cardinal Luxury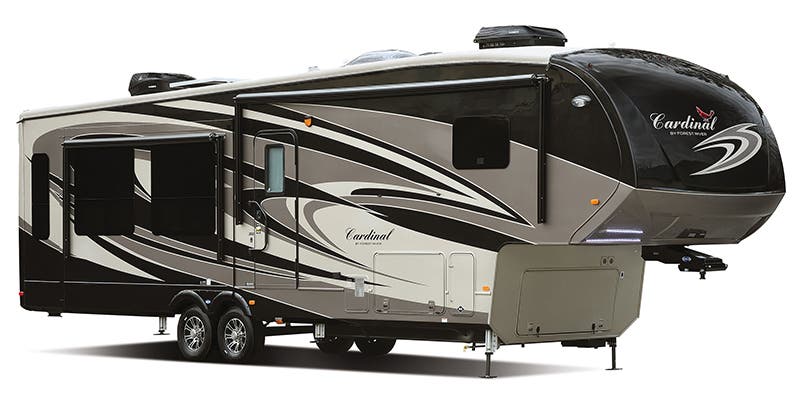 The Forest River brand is one of the most well-known and highly praised RV manufacturers on the market. The company produces top-quality motorhomes, travel trailers, and fifth wheel trailers that are extremely well designed. The Cardinal Luxury fifth wheel was voted RVPro Best of Show in 2019, which even further shows just how amazing this trailer is!
They currently offer over 15 floorplans to choose from, so campers can easily find the RV that best suits their needs. The body lengths range from 34-feet, 11 inches all the way to 41-feet, 8-inches, and a gross vehicle weight rating from 15,500 to 16,780-pounds.
The master bedroom has upscale touches such as outlets in the bed, USB ports, and nightstands on both sides. Plus, there is a privacy wall between the and the living room, which helps reduce noise and provides a more private sleeping area for guests and family.
Some other features of the Cardinal:
Tongue and groove plywood
Crown molding cabinet accents and ceiling trim
Solid baltic birchwood drawer boxes
A coat closet
Mor/Ryde strut assist entry steps
Multiple slide outs
And more!

Overall the Forest River Cardinal Luxury fifth wheel trailer is an extremely well-designed (and reliable) trailer that will provide you and your family with everything you need to enjoy the great outdoors!
2. Jayco Pinnacle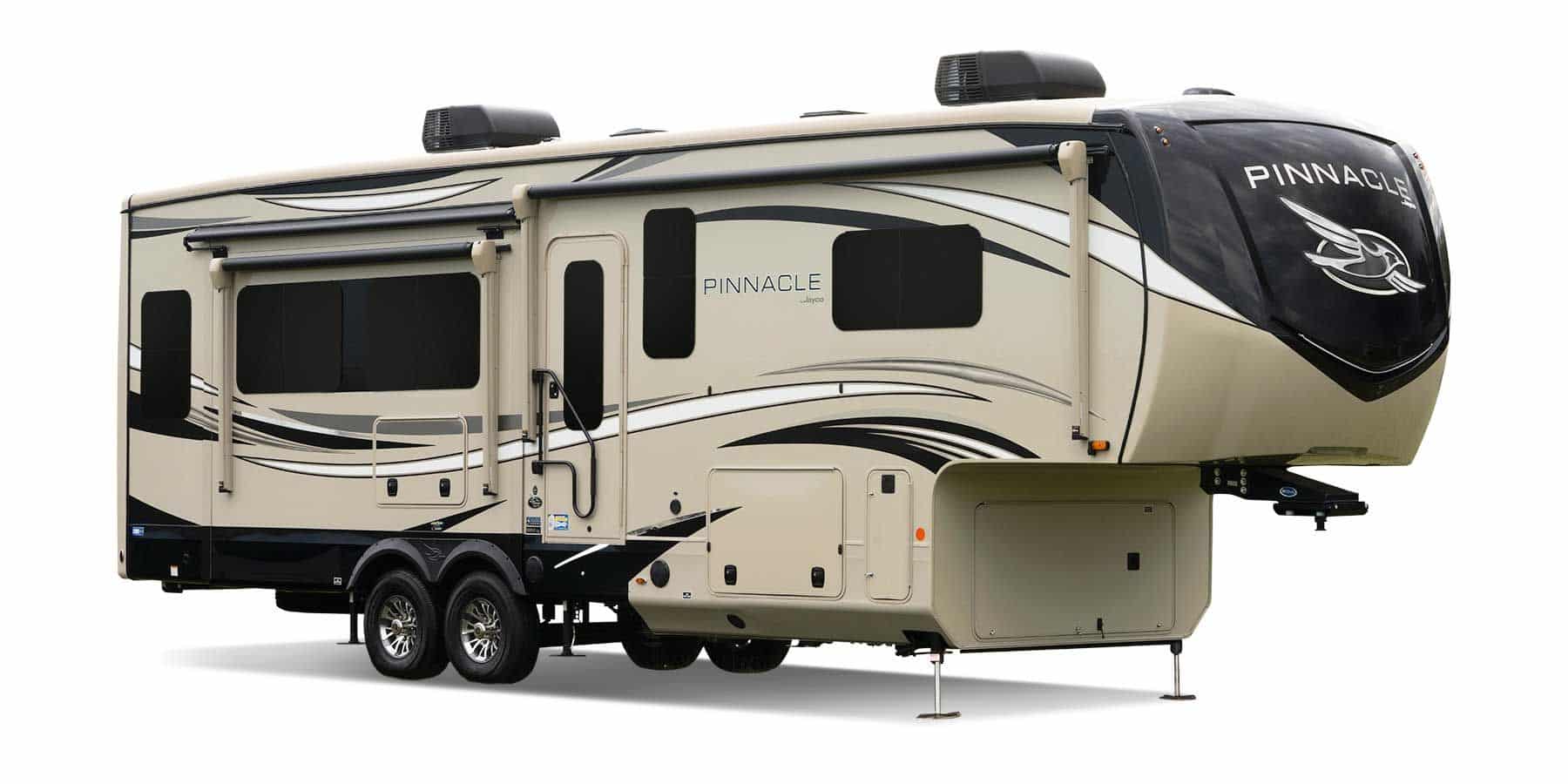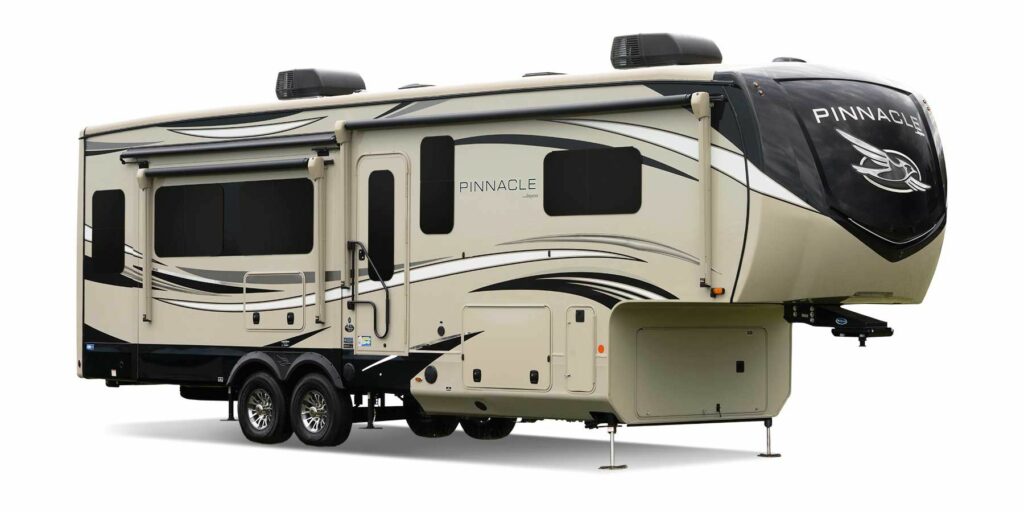 The Pinnacle is one of Jayco's top fifth wheel trailer options on the market today. There are six floorplan options for you to choose from with gross weights ranging from 12,585 to 14,330 pounds and lengths starting at 36′ 6″ all the way up to 41'9″.
The interior of this trailer comes packed full of amazing amenities that are sure to make your camping experience top quality. Some of these features include (but aren't limited to):
21-cubic foot residential refrigerator
Under-bed storage
Crown molding with LED lighting
Soft-close drawers that can hold weight up to 75 lbs
And more!
The exterior of the Jayco Pinnacle also has some top quality features. Some of these include (but aren't limited to):
Laminated gel-coated fiberglass exterior walls
Stronghold VBL aluminum frame
Climate shield which helps protect campers in extreme weather conditions and makes it easier to regulate the temperature in high heat and freezing temps

The Jayco Pinnacle truly is an amazing fifth wheel trailer that is reliable and is widely considered to be one of the best fifth wheels on the market.
3. Keystone Fuzion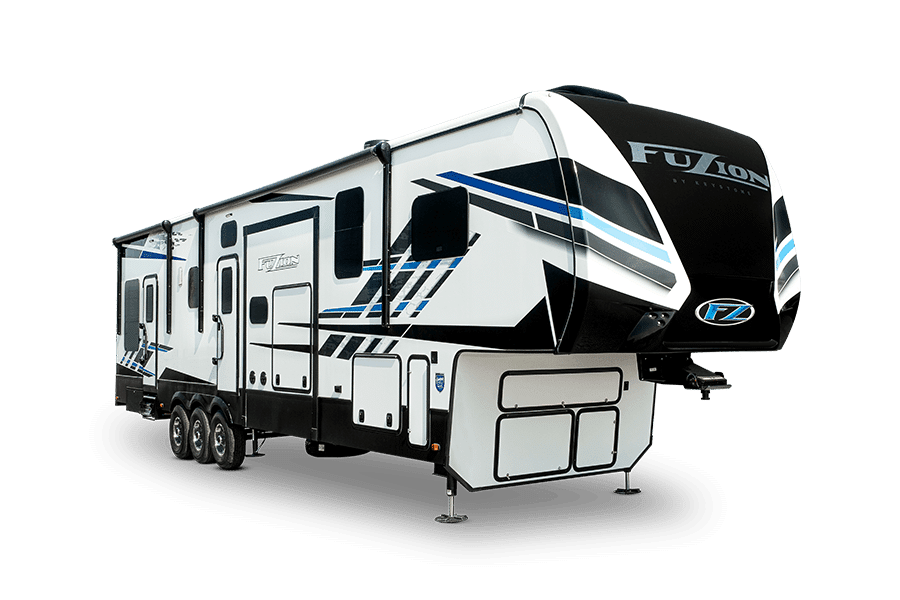 The Keystone Fuzion is the final fifth wheel trailer on our top three list today.
However, don't let this fool you into thinking this trailer is any less quality than the first two! The Keystone Fuzion comes with several floorplan options to provide sleeping capacities ranging anywhere from 2 to 8 people. The Fuzion has a gross weight range from 13,646 to 16,177 pounds and a length range from 39-feet to 44-feet.
Some of the Fuzion key features include things such as (but not limited to):
Attic vents
Crush-resistant insulated A/C duct-work with Omni Chill units to reduce air leaks and boost cooling efficiency
In-floor heating ducts
And more!
The Fuzion is also a toy hauler which has an added garage built into the trailer for transporting ATVs or any other recreational vehicles!
The interior of this trailer includes farmhouse cabinets, flooring, and lighter color accents thought-out the whole trailer. Inside the trailer, you will find no carpet within the living area which makes it much easier for cleaning spilled liquids, food, and even dirt.
As you can see the Keystone Fuzion is an amazing fifth wheel trailer that is reliable and is widely considered to be one of the best trailers on the market.
Summary
Fifth wheels are extremely well-designed travel trailers that are easier to tow than most traditional trailers due to their unique hitching location.
Each fifth wheel trailer we discussed today are top-tier options for anyone looking for the perfect large trailer for them and their families!
Other Types of Campers: