Embrace the freedom and flexibility of small campers without compromising on comfort! With a compact camper that includes a bathroom, you can camp just about anywhere while still enjoying the luxury of a hot shower and the convenience of a private toilet. We've scoured the market and tested the options to bring you the best small campers with bathrooms, taking into account quality, price, towing weight, and features.
So, let's jump in and discover the perfect cozy camper for your next adventure!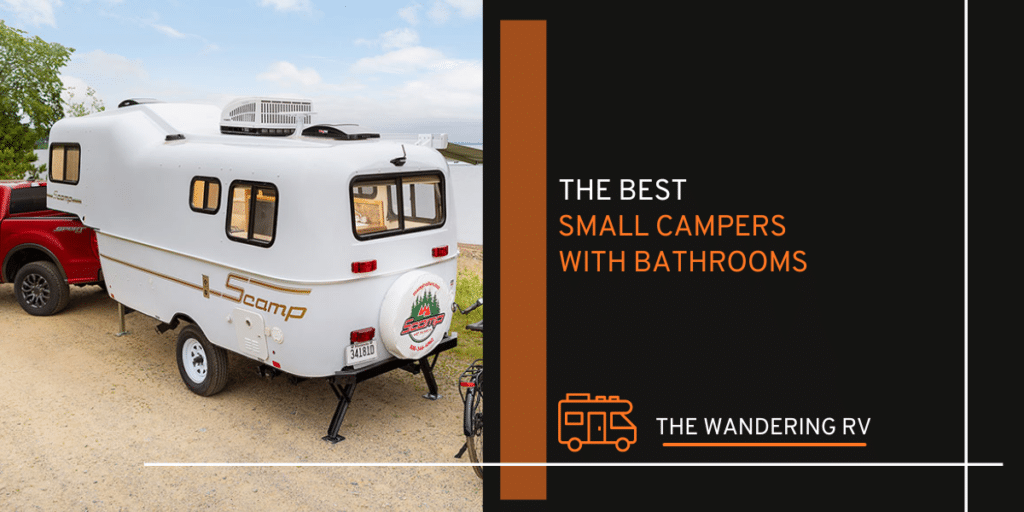 Table of Contents
Quick note: Different people have different definitions of "small". So this list includes everything from 11' micro campers to 22' small travel trailers. You're bound to find what you're looking for!
The Best Small Campers with Bathrooms Under 2,000 lbs
In order of lightest to heaviest, here are the best small campers with bathrooms under 2,000 lbs** available right now:
**Note that this is DRY weight, not GVWR! Fully loaded, these campers may still exceed 2,000 lbs. Make sure you weight your camper and check your vehicle's tow capacity carefully before you tow these trailers!
1. Scamp 13′ Deluxe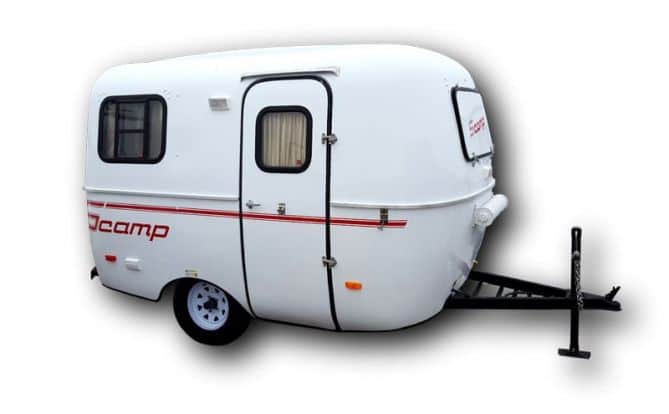 Price: $18,000 – $22,000
Dry Weight: 1,200 – 1,600 lbs
Length: 13′
Sleeps: 1-2
The 13′ Scamp Deluxe are the smallest and lightest camping trailers with a bathroom! If you want the lightest possible rig and don't mind a used model, these older small camping trailers are perfect for you.
2. 14' iCamp Elite (The Smallest RV with a Shower and Toilet)

Price: $10,000 – $15,000
Dry Weight: 1,337 lbs
Length: 14′
Sleeps: 1-2
The 14′ iCamp Elite is the second smallest camper with a bathroom. Unfortunately, these small camping trailers are no longer manufactured, so they may be difficult to find!
The dinette transfers into a bed. As a bonus, it even comes with an oven and fridge! All these features are rare for a micro camper like this.
Here's the layout: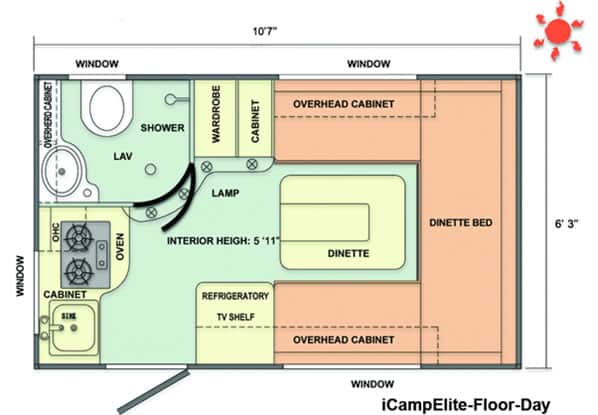 3. Scamp 16′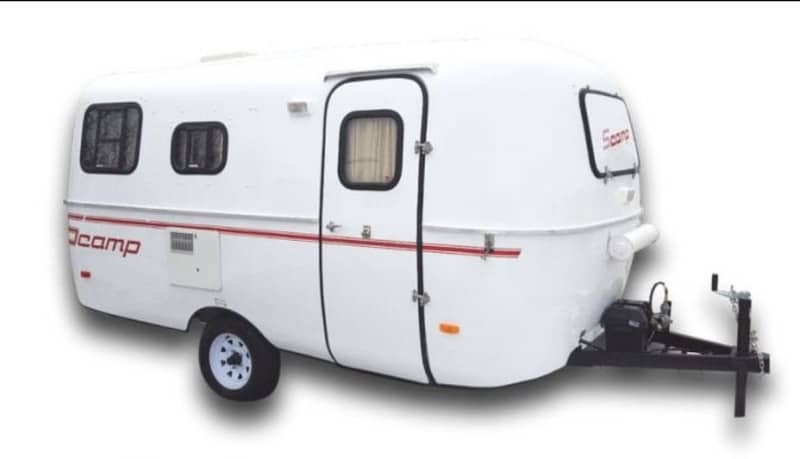 Price: $9,100 to $19,200
Dry Weight: 1,750 – 2,200 lbs
Length: 16′
Sleeps: 2-4
That's right – Scamp is the creator behind two of the four best small campers with a wet bath! Their 16′ version gives a bit more room, at the cost of a bit more weight.
Here are the floorplan options: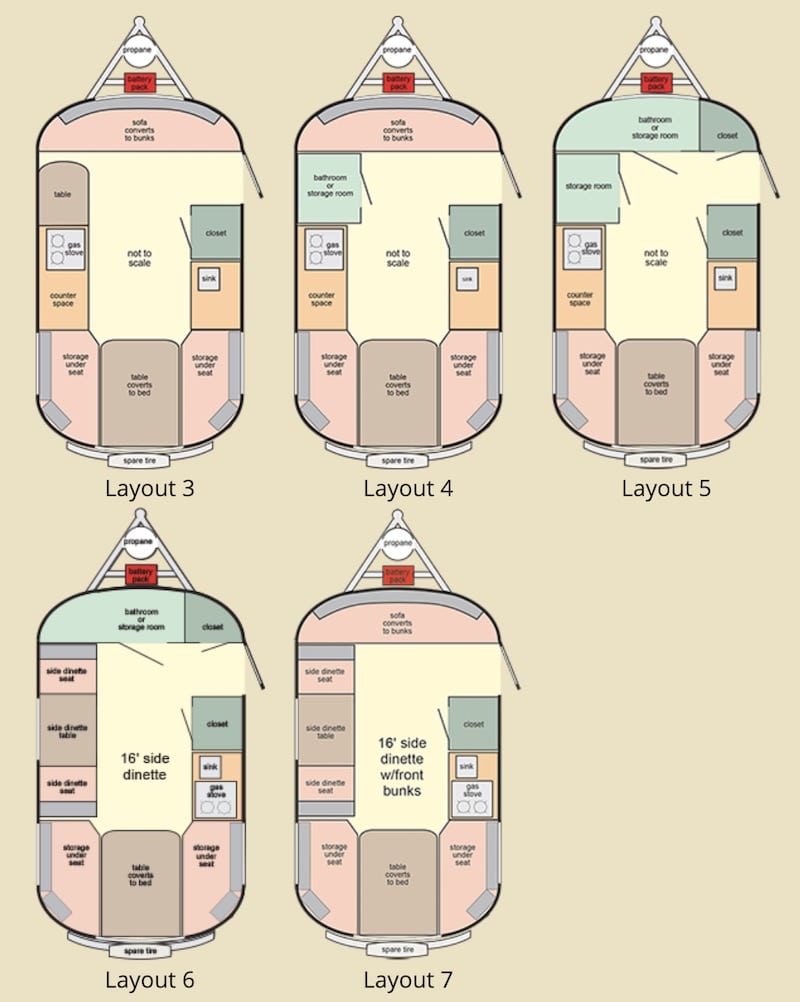 4. Happier Camper Traveler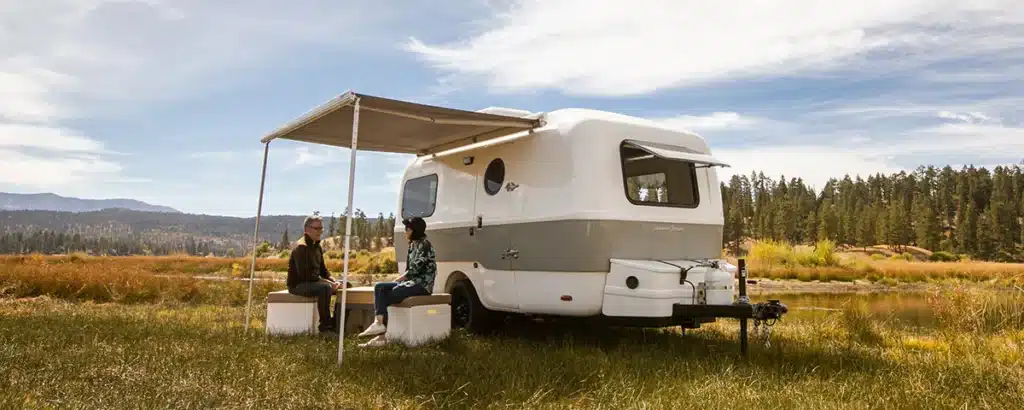 Price: $68,950+
Dry Weight: 1,800 lbs
Length: 17′
Sleeps: 2-4
Previously on this list, we had the Happier Camper. However, the only option in that small camper was a dry bath. The new Happier Camper Traveler is a bit bigger and comes with an optional onboard wet bath!
Plus, the modular design means you can customize it however you want! However, it is MUCH more expensive than the other small camper options on this list.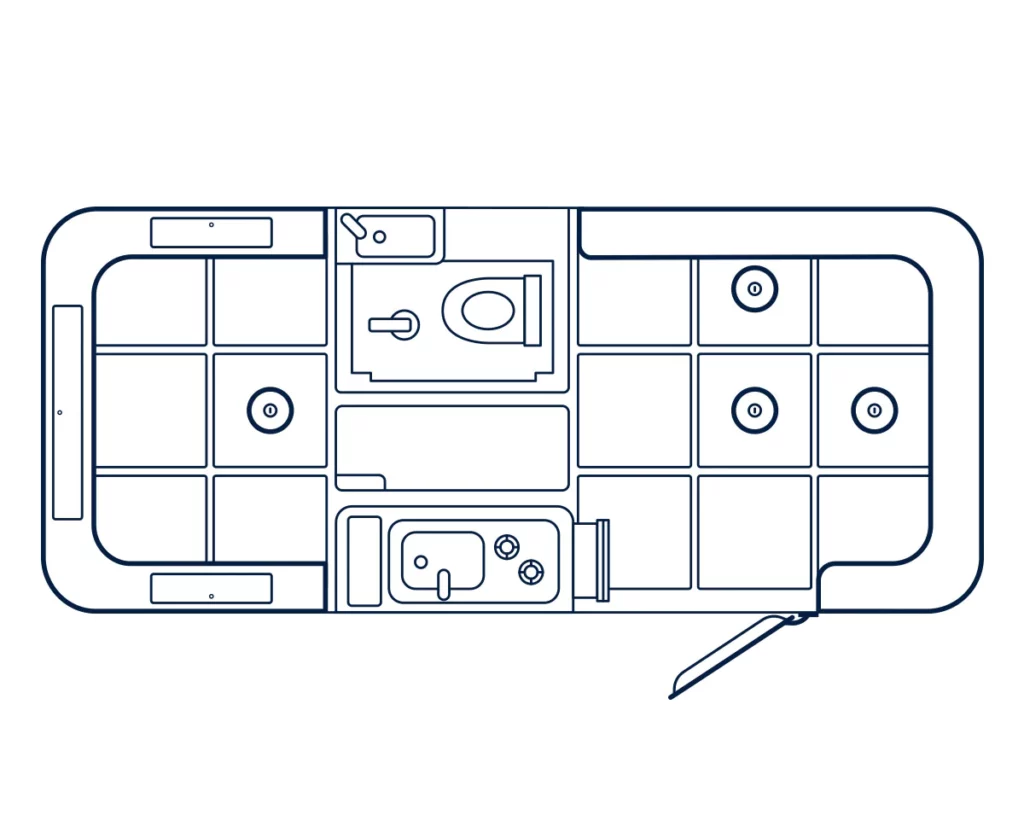 Bonus: Not sure where to bring your small camper? Check out The Dyrt App to find tons of free campgrounds and more!
The Dyrt Camping App
Find free camping with a public lands map
Up to 40% off select campgrounds
First 30 days free with code "TWRV"
Recommended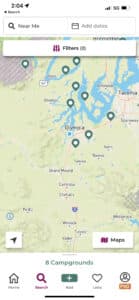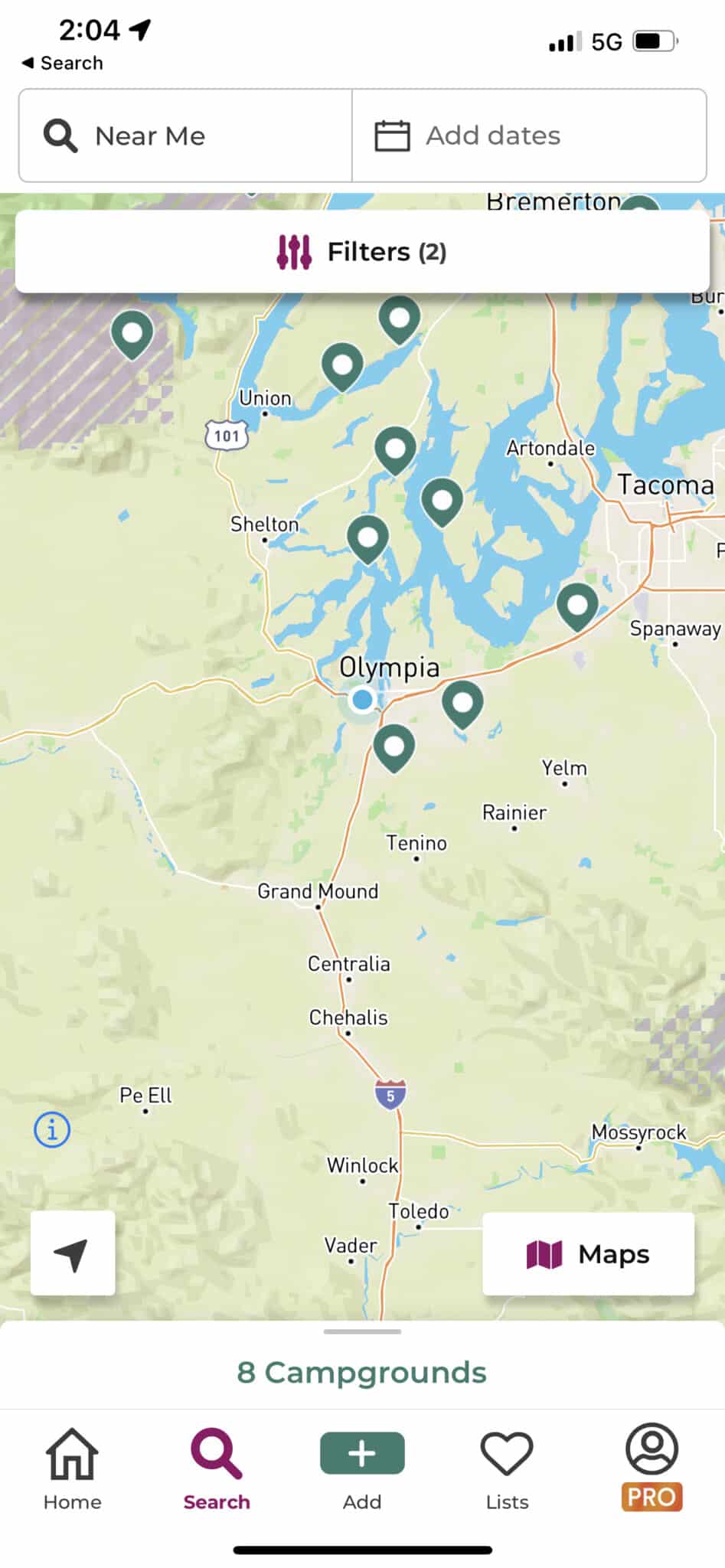 The Best Small Campers with Bathrooms Under 5,000 lbs
Need more options or able to tow a bit heavier of a trailer? These small camping trailers might be a better fit for you!
5. Skyline Layton Retro 140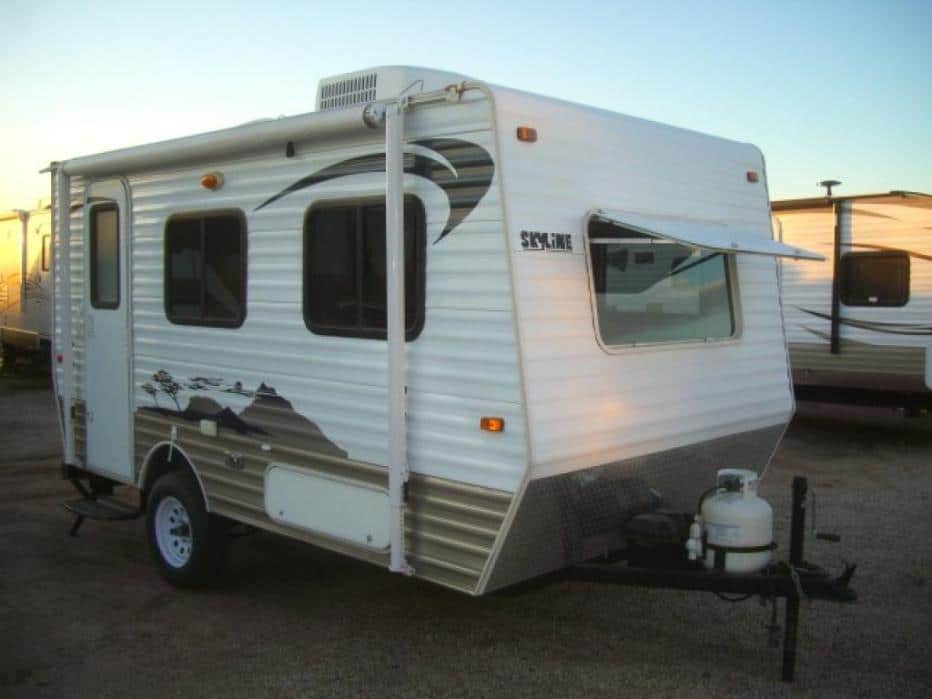 Price: $10,808
Dry Weight: 2,100 lbs
Length: 15.83′
Sleeps: 2-3
An oldie but a goodie, the Skyline Layton Retro 140 is a great small camping trailer with a bathroom. If you can find one, that is! They're no longer being manufactured, so you'll only be able to get them used.
6. Rockwood Hard Side EXPLORE A214HW Pop-Up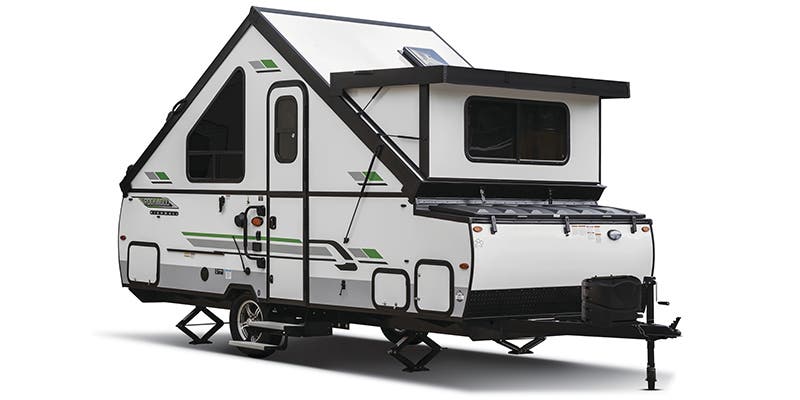 Price: $28,208
Dry Weight: 2,700 lbs
Length: 21'02"
Sleeps: 2-3
The Rockwood pop-up trailer is a great pop-up camper with plenty of build options to customize to your heart's content.
These trailers feature a wet bath with a portable toilet and standup shower. It features a 20 gallon fresh water tank and also has an outdoor shower to help rinse off. They have options for a stout solar setup and outdoor gas grill as well!
7. Little Guy Mini Max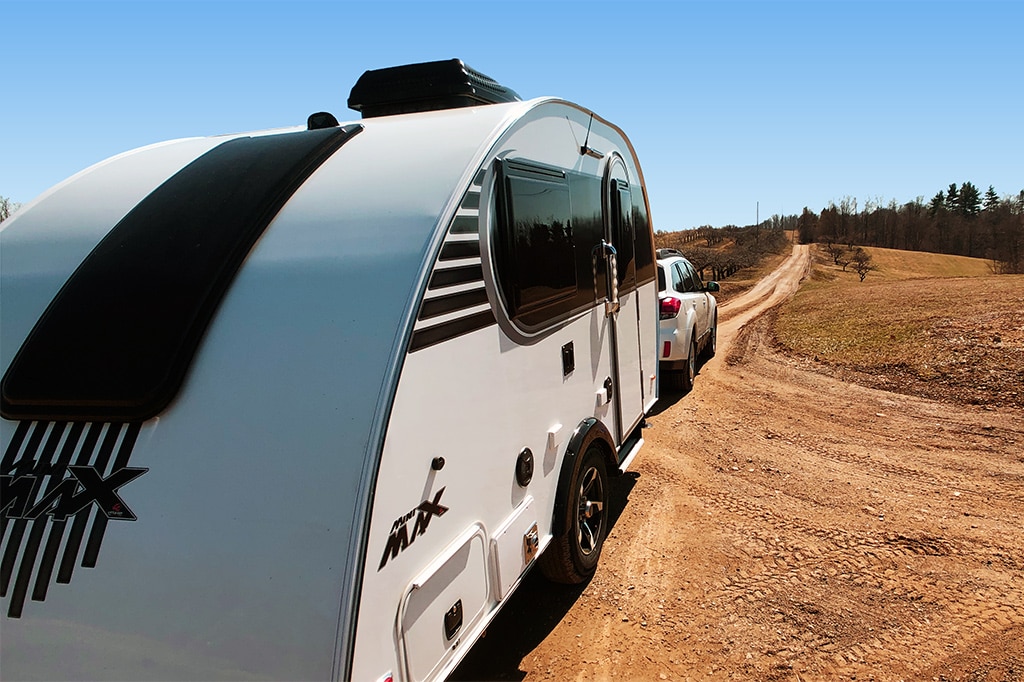 Price: $33,771
Dry Weight: 2,320 lbs
Length: 17′ 2″
Sleeps: 2-3
The Little Guy Mini Max is an extremely popular option for lightweight camping. These teardrop campers come with a small kitchen, AC / furnace, and optional backup camera.
They also have an option for off-road tires, letting you take your teardrop trailer off-road, for the more adventurous souls out there!
8. Casita Travel Trailers Spirit Deluxe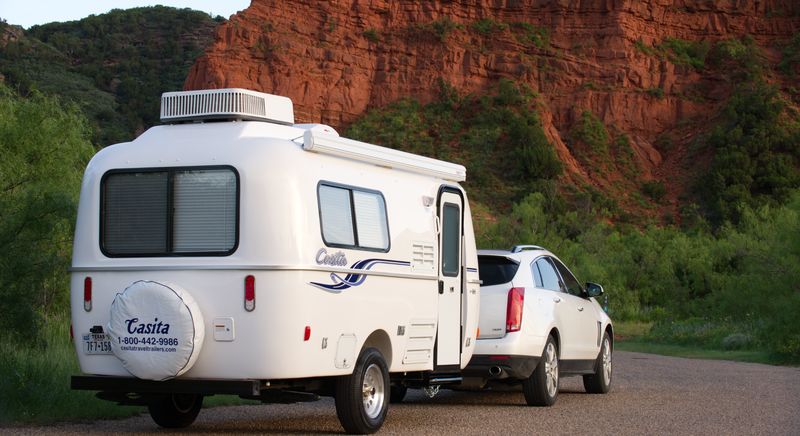 Price: $32,694
Dry Weight: 2,480 lbs
Length: 17′
Sleeps: 2-3
Coming in at 17′ the Casita Spirit Deluxe is an amazing travel trailer that includes a bathroom!
This trailer has a total weight of 2,480lbs which makes it towable with most full-sized pickup trucks and is perfect for any first-time camper!
Here is a floor plan of the Casita Spirit Deluxe to help you understand this camper's amazing design and placement of the bathroom!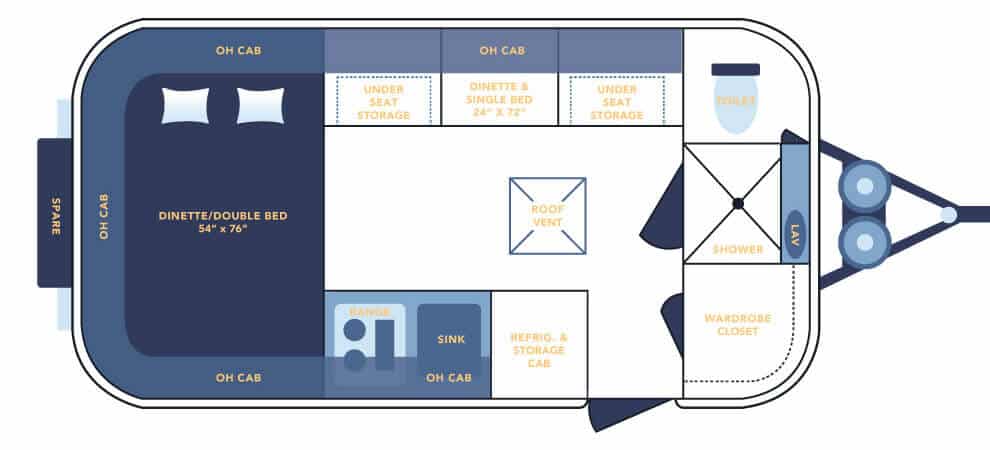 9. Forest River R-Pod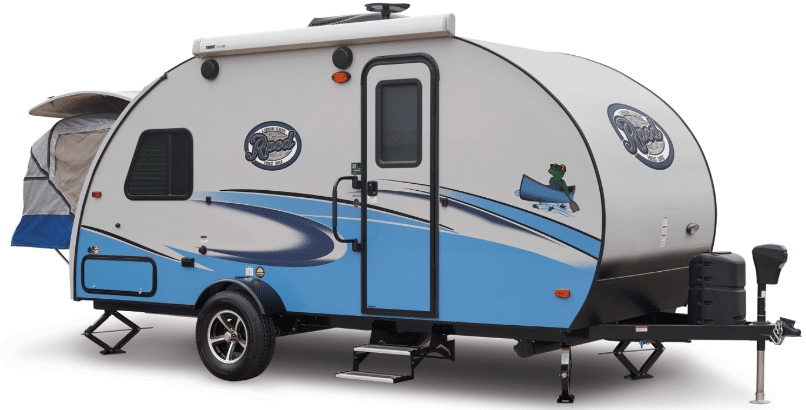 Price: $39,000
Dry Weight: 2,714 – 4,574 lb
Length: 17′
Sleeps: 2-3
The Forest River R Pod series is one of the most popular towable RVs on the planet. Tiny, versatile, and lightweight, it's easy to see why!
With excellent build quality, you get luxury at a decent price. Plus, these campers are some of the most spacious for how light they are. Definitely worth taking a look at!
10. KZ Spree Escape Mini Series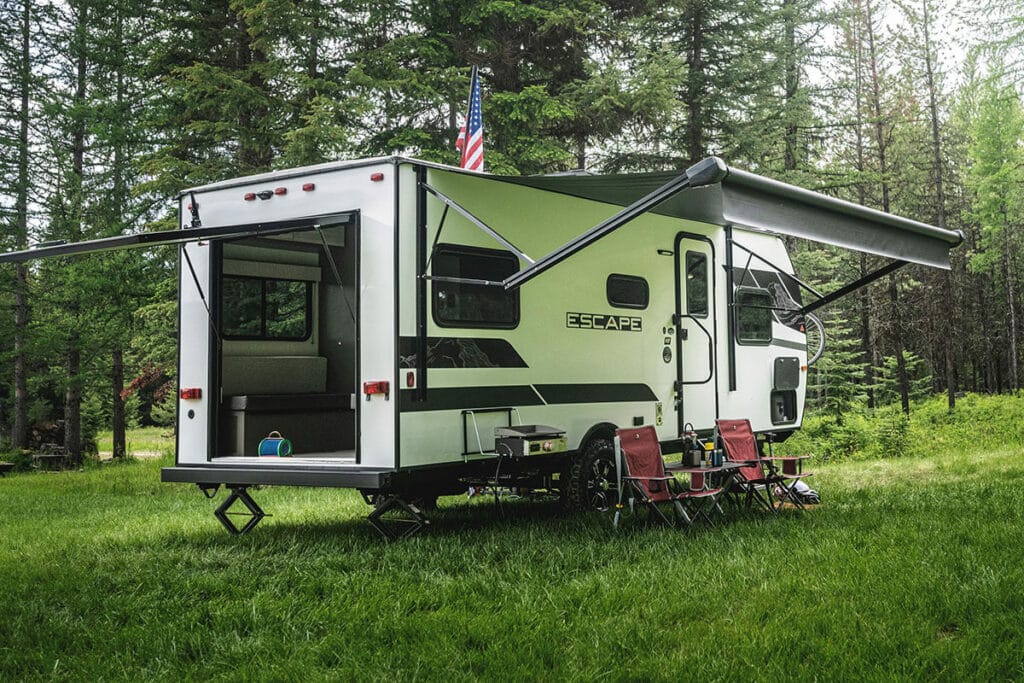 Price: $35,995
Dry Weight: 3,320 lbs
Length: 22′
Sleeps: 2-3
The KZ Spree Escape E17 Hatch (pictured above) is impressively large for a small camper.
The roof is fully walkable, which means you can hang out up there if you want! Otherwise, this makes it easy to repair, which is always a plus. The main bonus is the rear hatch that opens vertically. This allows you to store and use your toys with ease. This just skirts into our "small" list at 22′, and is heavier than most of the other trailers on this list.
11. Lance 1575 Travel Trailer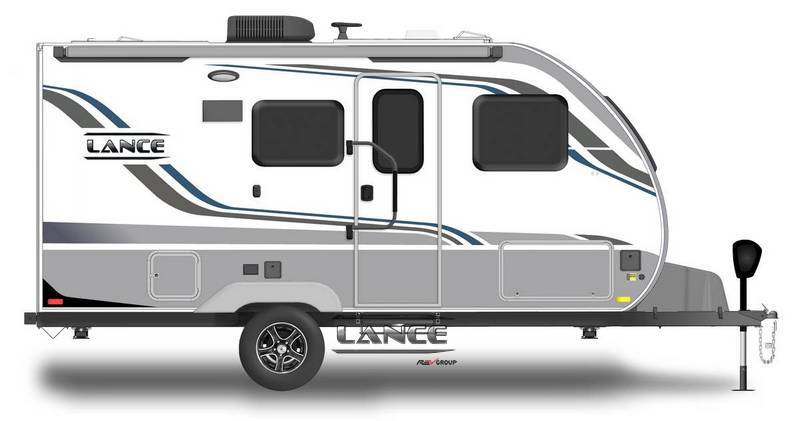 Price: $36,995
Dry Weight: 3,590 lbs
Length: 20′ 5″
Sleeps: 4
The Lance brand has been producing quality truck campers and travel trailers for half a century.
The new 2023 Lance 1575 is the perfect small travel trailer coming in at just over 20 feet in length. It has a dry weight of 3,590 lbs which makes it easy to tow with most pickup trucks. Their updated model has a slideout that maximizes interior space but also added 800 lbs to their previous model.
This trailer also comes with an amazing bathroom layout that includes a flushable toilet and shower for all of your bathroom needs! It features fresh / gray / black tanks of 26 gallons each.
12. Bigfoot RV B17FB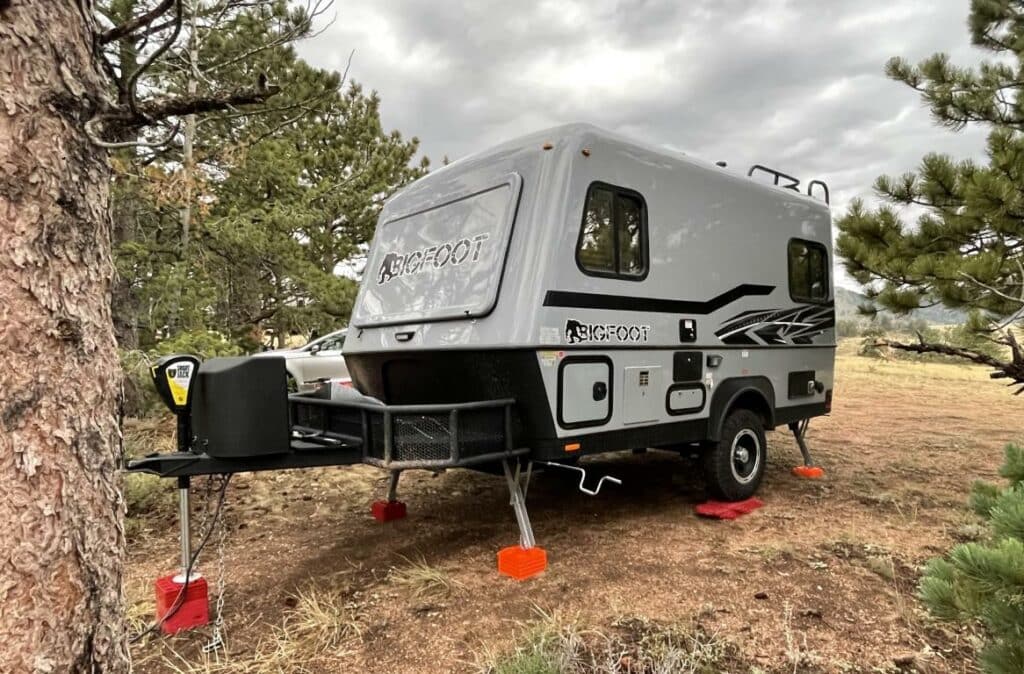 Price: $62,531
Dry Weight: 3,360 lbs
Length: 17.5′
Sleeps: 2-3
This small brand from our northern neighbors of BC, Canada builds some beautiful small trailers. We really like the look of their 'Beast' option kit. This beefs up the tires, changes the paint scheme, and adds a nice 6″ lift to help for camping off-road.
While it is packed with features, it comes at a steep price. The MSRP on these start at $62,531.
13. Airstream Bambi 16RB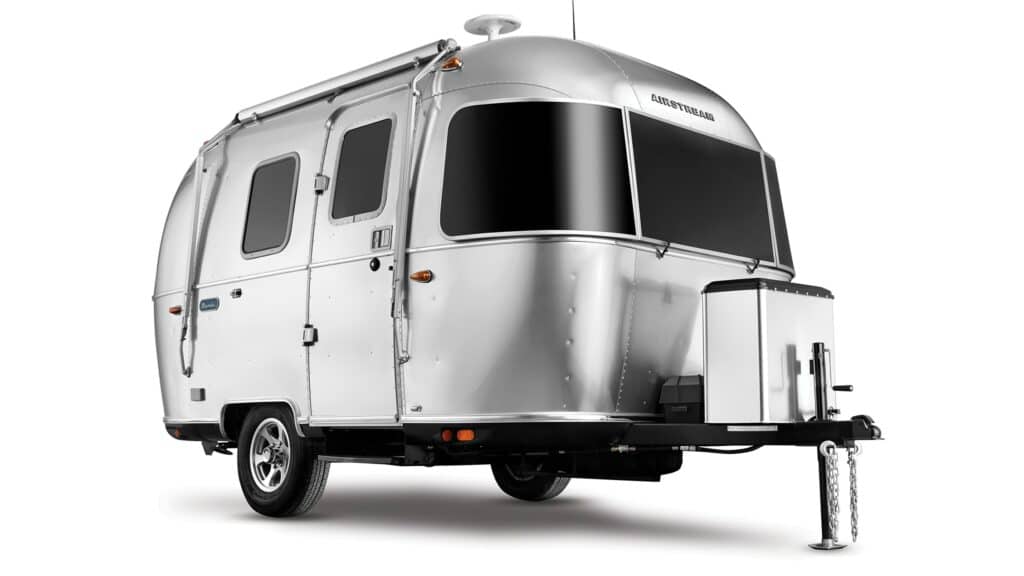 Price: $66,500
Dry Weight: 2,890 lbs
Length: 16′ – 22′
Sleeps: 2-3
The Airstream Bambi is made by one of the best RV manufacturers of all time: Airstream! And it has one of their best layouts yet.
Coming close in size to the Airstream Basecamp, which is a smaller version with a dry bath, the Bambi still has a wet bath and lots of space to move around inside.
However, this designer brand and list of great features comes with a heft pricetag!
14. 21'8 Winnebago Rialta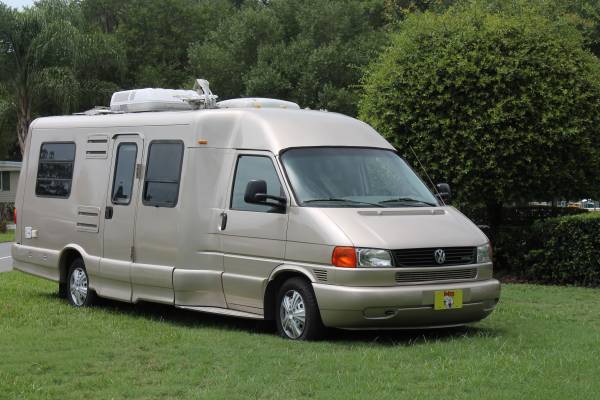 Price: $26,000
Dry Weight: n/a
Length: 21′ 8″
Sleeps: 2-4
Winnebago stopped making the Rialta in 2005, but if you're on a budget and looking for small campers with bathrooms, it's an excellent choice. Assuming you can find one, that is.
Here's the floor plan, if you're curious: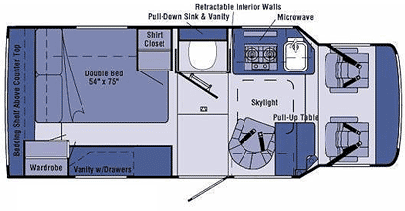 The nice thing about the Rialta is that, while it's "small" in that 21 feet isn't going to keep you out of most spaces, it's still not a micro trailer like some of the others on this list. There's some breathing room.
And, of course, a bathroom with a door is always nice.
15. Sportsmobile Sprinter Extended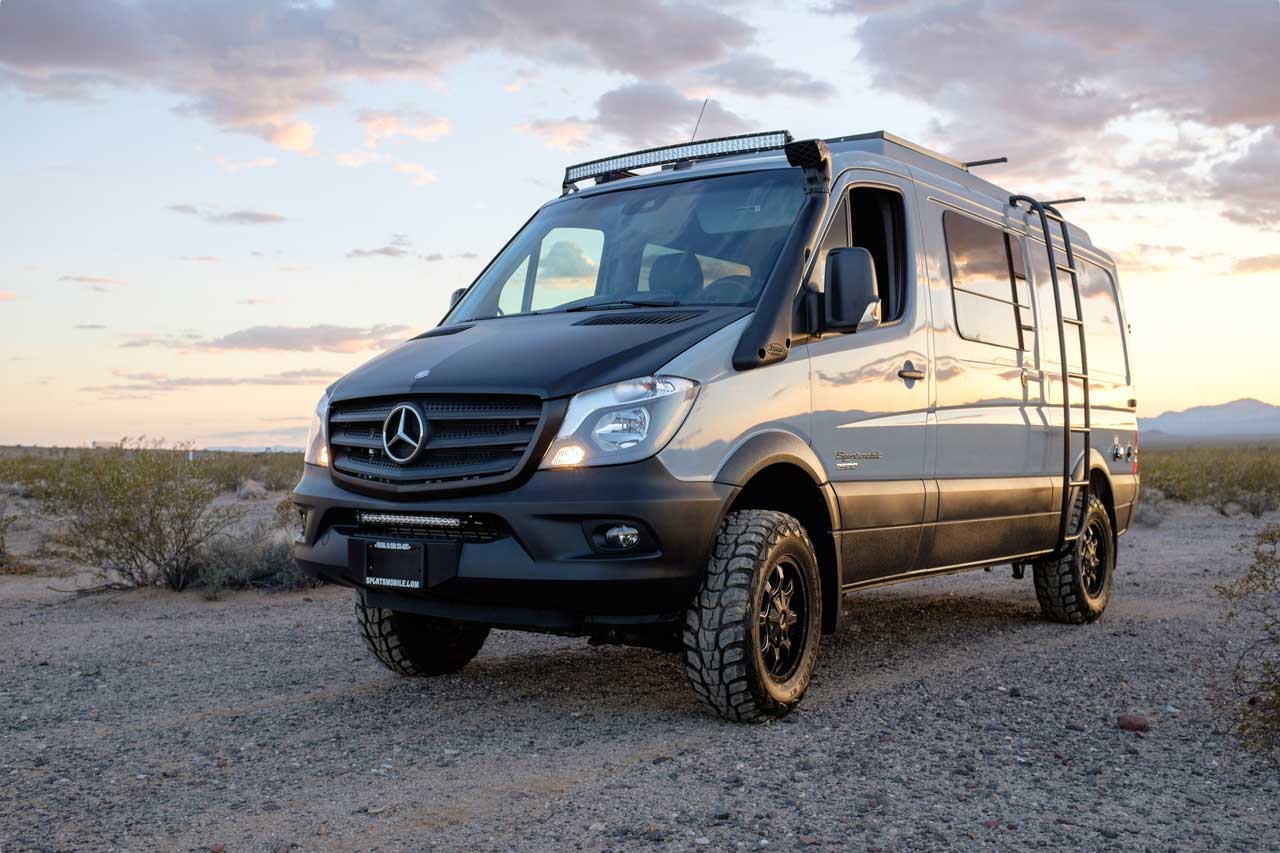 Price: $164,000
Dry Weight: 4,641 lbs
Length: 22′ 6″
Sleeps: 2-4
Do you dream of being a total badass and driving a mini camper van up mountains, through rivers, and across deserts?
Enter the Mecedes Benz 4×4 Sprinter.
This thing is awesome. It can go almost anywhere. Here's a video:
Keep in mind that 1) this is a Mercedes, so it's expensive and 2) the extended version is the only one with a built-in bathroom, and that's custom-made, so it's even more money.
But if you have the money and the desire, she's a beauty.
Bonus: Barefoot Caravans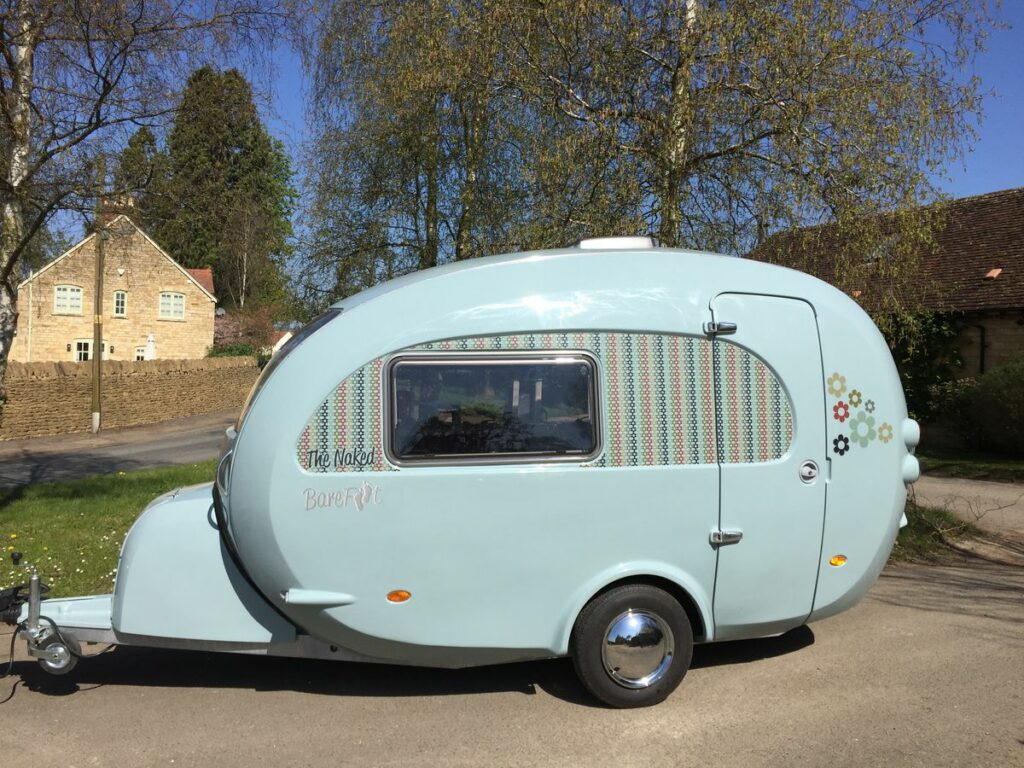 Price: €32,500
Dry Weight: 1,750 – 2,000 lbs
Length: 16′ 6″
Sleeps: 1-2
Barefoot Caravans are a very respected brand within the small camper industry. But since they're so hard to find and expensive to transport to the US, we just added them on as a bonus.
With a total length of 16'6″ and a width of 6'2″ this trailer is small and compact, but do not let its smaller size fool you! This trailer includes a bathroom and shower for all of your bathroom needs!
Here is a floor plan of the 16'6″ Barefoot Caravan for anyone looking to see its layout.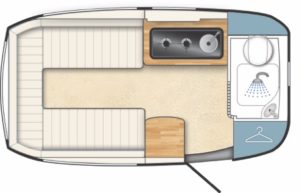 Frequently Asked Questions
Here are some common questions we're asked about these small campers with bathrooms:
Final Thoughts
We hope our list of the 15 best small campers with bathrooms has helped you find the perfect balance between compact size and essential amenities for your camping trips. With these versatile options, you'll never have to sacrifice comfort or convenience while exploring the great outdoors. So, go ahead and choose your ideal small camper with a bathroom, hit the road, and enjoy the best of both worlds!
Can't decide which camper to buy? Consider renting a camper for a few days to test drive the models you're interested in!
Other Popular Articles: