Need an RV Insurance Quote?
Click the button below to view the best rates from Progressive!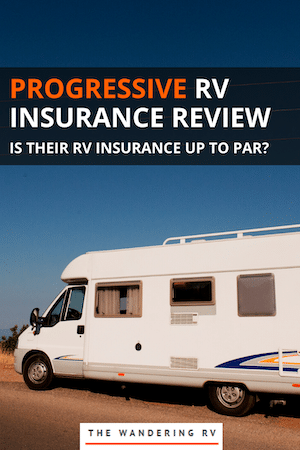 Considering Progressive RV insurance?
In today's article, we take a deep look at Progressive's camper insurance policies, including costs, coverages, and customer service so you can make an informed decision.
Ready to learn about this insurance agency? Let's dive in!
Table of Contents
Note: Some of the links in this article are affiliate links. This doesn't cost you any more than normal. Read our disclaimer for more info.
Progressive RV Insurance Overall Rating: 3.5/5
While Progressive is a household name when it comes to insuring your vehicle, you may not know that they can also protect your RV or travel trailer. When comparing RV insurance companies like Progressive and Good Sam, you need to know what they offer and why they're better—or worse—than the competition.
Progressive may not offer you the best extended warranty on your RV, but they do have plenty of discounts. When you need policy answers, Progressive answers insurance questions. However, customer service can be hit or miss in terms of knowledge and professionalism.
If you're looking for an insurance company with plenty of options, discounts, and offers, you want Progressive RV insurance. Let's look at how this company can help you save.
Need an RV Insurance Quote?
Click the button below to view the best rates from Progressive!
Insurance Coverage & Benefits: 3/5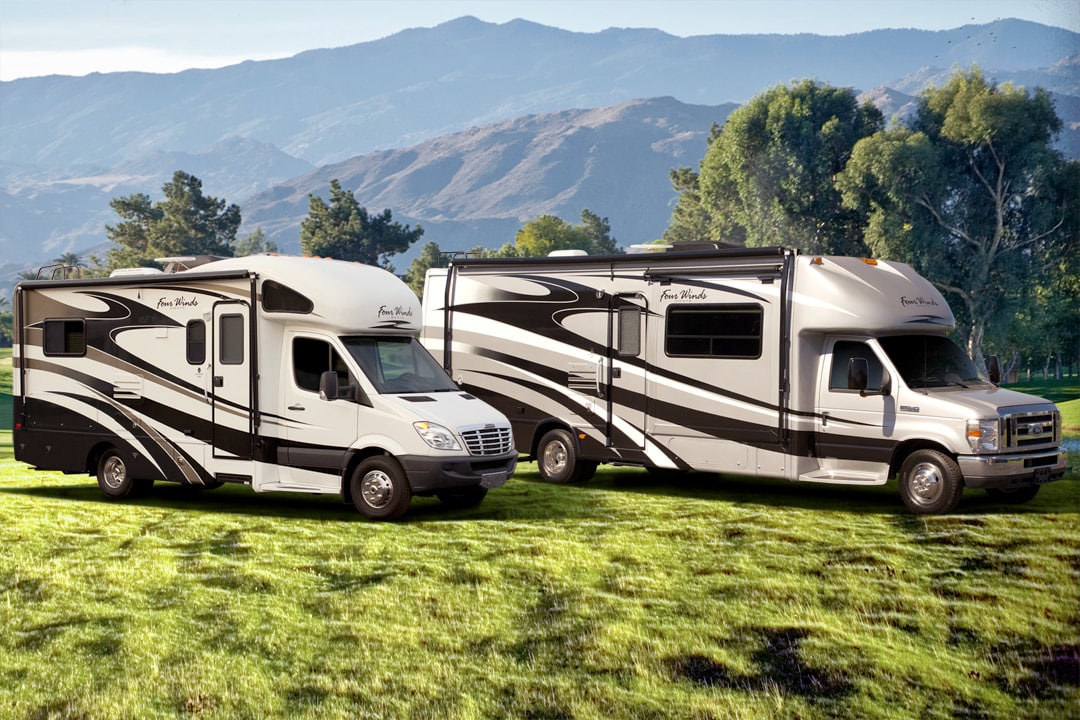 Progressive offers a range of coverage types, from auto and home to RV insurance–but how do they compare to other more specific RV insurance companies like Good Sam? Do they offer the same coverage?
Basic Coverage
Because Progressive focuses mainly on auto coverage, they tailor their basic coverage to vehicles.
Their basic coverage includes liability insurance, including bodily injury and property damage. That's the minimum you can get with their insurance package, without any add-ons or special features.
If you're looking for something more, you'll need their full coverage options, which include:
Comprehensive
Collision
Uninsured/underinsured bodily injury
Uninsured/underinsured motorist property damage
Medical payments
While many people choose comprehensive and collision, if you want coverage beyond liability, you can select whichever options suit your needs. They also offer extras, from roadside assistance to rental car reimbursement.
RV Specific Coverage
When you look at what Progressive offers in terms of RV-specific coverage, it's much the same as their vehicle insurance packages. You get comprehensive, collision, and liability to help if your RV gets damaged in an accident or natural disaster, but Progressive's RV options go even further.
Their extra coverage options allow you to protect not only your RV's exterior but its passengers and your belongings on the inside, too. Some of their additional coverage options include:
Roadside assistance
Total loss replacement
Personal effects
Vacation liability
Pet injury coverage
Their policy options are on par with insurers like Good Sam, though some of their options should come standard. For example, unlike Good Sam and other RV specialty insurers, Progressive doesn't offer standard roadside assistance, which may be a deal-breaker for some RV owners.
Whether you think Progressive is right for you will depend in part on what you deem necessary protection for your RV, as well as what you're willing to spend.
RVs Covered
Despite its lack of certain standard features, Progressive covers a broader range of recreational vehicle types than other insurers. They're also on par with Good Sam, a specialty RV insurer.
Their RV coverage extends to your:
Travel trailer
Horse trailer
Class A, B, or C motorhome
Fifth-wheel, pop-up, and utility trailers
Truck campers
No matter what kind of recreational vehicle you own, with Progressive, you're covered. You can even go to the Progressive insurance website and get a free quote on your RV insurance. All you have to do is enter the type of coverage you want—in this case, RV/Trailer—and enter your zip code.
Progressive RV Insurance Costs & Discounts: 5/5
If the idea that many features don't come standard with Progressive RV insurance scares you, they offer ways to reduce your costs. After all, you don't want to think about filing a claim, but if you do, you want to know your rates won't skyrocket.
What does Progressive offer for discounts? And what might you pay for your policy without them?
Initial Costs
Their RV insurance starts at $125 per year, though most people pay more. That's with their basic insurance policy, and it doesn't cover your travel trailer.
The cost of your coverage depends on the age, make, model, and class of your RV. Your driving history also factors in, just as it would with vehicle insurance.
Your zip code affects your insurance costs, too. Some states have higher rates than others. You have to think about where you plan to travel, and whether your policy will cover you in those places.
If you live in an area with high insurance rates—or even if you don't—Progressive has some ways you can save on your policy.
Multi-policy: Bundle auto, home, and other types of insurance to lower your rate
Quote in advance: Remember how you can get a free quote? If you do that at least one day before you sign up with them, you can lower your rate.
Original owner: If you're the original owner of your travel trailer or recreational vehicle, you can get a discount just for that.
Pay in full: While some people prefer to pay monthly for their policy, Progressive gives you a discount if you pay it all upfront.
Responsible driver: If you haven't had any speeding, parking, or other violations, and haven't been in any accidents, you qualify for a responsible driver discount.
Prompt payment: All you have to do to get this discount is to pay your bill on time.
Claim free renewal: This discount kicks in only when you renew your policy. If you haven't filed a claim where you were at fault over the past year, you'll get a discount.
Homeowners: You can get a discount on your RV insurance if you own your home.
Continuous insurance: If you had insurance before you sign up, they'll give you a discount.
Paperless: If you choose to receive paperless statements and other information, you can get a lower rate.
The extent of each discount varies. For example, a responsible driver discount may amount to more than a paperless discount. Still, if you can lower your rate, you're on your way to getting more value for your dollar.
Customer Support: 2/5
If you need to file a claim on your RV, your insurance company should be available to talk to you about questions, trouble with your bill, or other policy problems. How does Progressive's customer support measure up against other companies like Good Sam?
24/7 Service
If you hit the road early and get in an accident, don't worry. Like many modern companies, Progressive's customer support representatives are available to speak with you 24 hours a day, 7 days a week.
However, while 24/7 service is great, the quality matters. What do Progressive clients have to say about their customer support experiences?
What Clients Like
According to ConsumerAffairs reviews, many customers found customer support "outstanding." Others named specific customer service personnel who made filing their claim quick and straightforward.
Many customers felt that they were treated respectfully and that the person they spoke with was friendly and understanding.
What Clients Dislike
While there were several positive reviews, there were just as many negative ones across review platforms like ConsumerAffairs, Wallet Hub, and Credit Karma. Many people said customer support didn't help them when they tried to file their claim. Others said the person they spoke to was unprofessional and not knowledgeable about the policies.
Some customers were surprised at how bad the customer service was, especially since Progressive is a household name. Others found their experience to be so disappointing that they intended to switch providers.
We found that more people had negative customer support experiences than positive ones.
Additional Offers: 4/5
Besides their discounts, they have other offers that may make their RV policies work better for you.
Small Accident Forgiveness
Small accident forgiveness takes effect as soon as you sign up for coverage. With this offer, if you have a claim under $500, they won't increase your rates.
Large Accident Forgiveness
Large accident forgiveness takes effect after you've been with the company for a few years. You must be a customer for at least four years and have no at-fault claims for at least three years.
Once you qualify for large accident forgiveness, you won't have to worry about skyrocketing rates after you make a claim, even if it's over $500.
Disappearing Deductibles
The disappearing deductibles are one of Progressive's most attractive offers. If you go a certain amount of time without filing a claim, the company lowers your deductible by 25%.
The only problem with these offers is that many customers say their rates go up, even if they haven't gotten into an accident or filed a claim.
Progressive RV Insurance Contact Information
If Progressive RV insurance sounds ideal for your recreational vehicle, camper, or travel trailer, you can contact them in four easy ways:
Phone: 1-888-671-4405
Email: On the insurance website, log in and select the subject of your email. Then, provide details related to your question in the form.
Chat: On this page, select the Start Chat button, and you'll be connected with a customer support representative.
Social Media: You can find them on Facebook, Twitter, Instagram, YouTube, and LifeLanes.
Final Thoughts
If you're looking for an RV insurance policy that gives you plenty of ways to save, try Progressive. They offer lots of discounts, and they insure all types of RVs, from your travel trailer to your motorhome.
When you're on the road, it's important to make sure you and your family are safe. Contact Progressive for more information on their RV coverage policies.
Need an RV Insurance Quote?
Click the button below to view the best rates from Progressive!