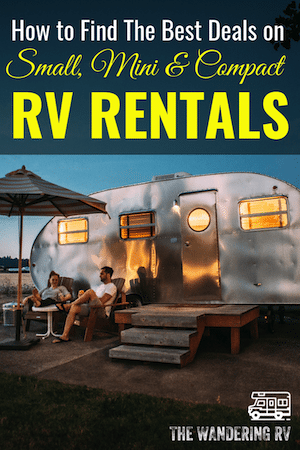 Looking for small RV rentals?
Compared to big RV's like Class A's and Fifth Wheels, mini RVs have lots of advantages (some small campers are incredibly lightweight, too)!
In this guide, we'll share how to get the best deals on Camper Van rentals, Tear Drop Trailer rentals, Class B rentals and more in 2020.
Click here to browse small RV rentals near you now or keep reading to learn our top tips!
Let's dive in.
Table of Contents
Note: Some of the links in this article are affiliate links. This doesn't cost you any more than normal. Read our disclaimer for more info.
Different Types of Small RVs
Lots of RVs are considered "small". You've got mini RVs like teardrop trailers, drivable small motor homes like Class B's or Class C's, tiny truck campers, and small travel trailers.
Let's take a look at the pros and cons of each:
Teardrop Trailers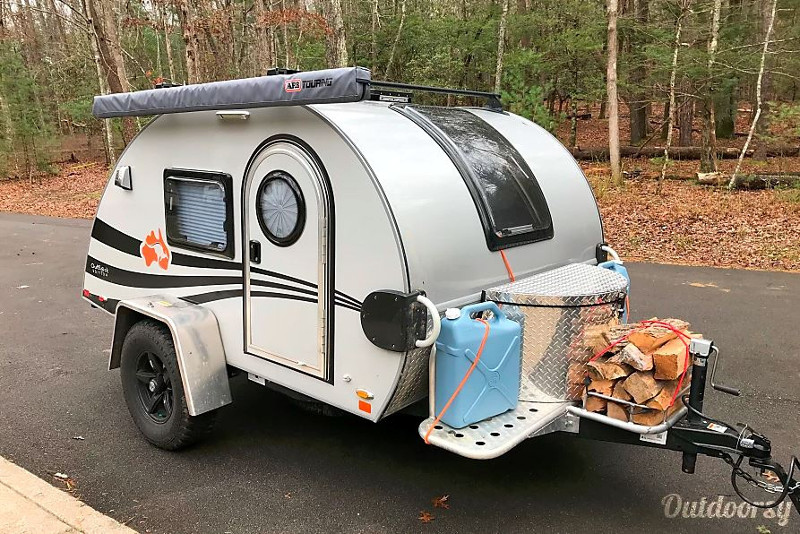 Teardrop trailers are as small as it gets! These tiny campers are basically beds in a tin can that are so lightweight you can pull many of them with a bicycle!
Of course, some ​small RV rental trailers are a bit bigger and even have a bathroom. So they're not all as compact as the one in the picture above.
Teardrops are great for those who want to go off-roading or just want something more stable than a tent. But they're probably smaller than you're looking for!
Truck Campers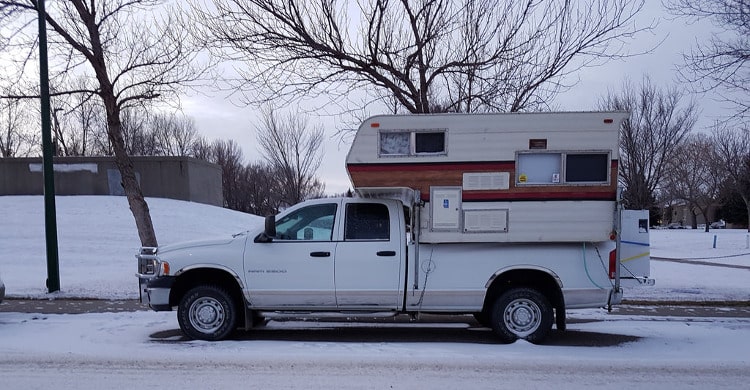 Truck campers like the one above are literally campers placed in the bed of a pick-up truck! While they're also pretty small, most of them are bigger than teardrop trailers and many have enough room for two people to fit comfortably.
However, most truck campers don't come with a toilet, let alone a shower. Many also don't have a stove or oven, either.
These are also great for off-roaders and people who want a bit more space than a teardrop, but don't want to tow a full trailer behind them.
Class B's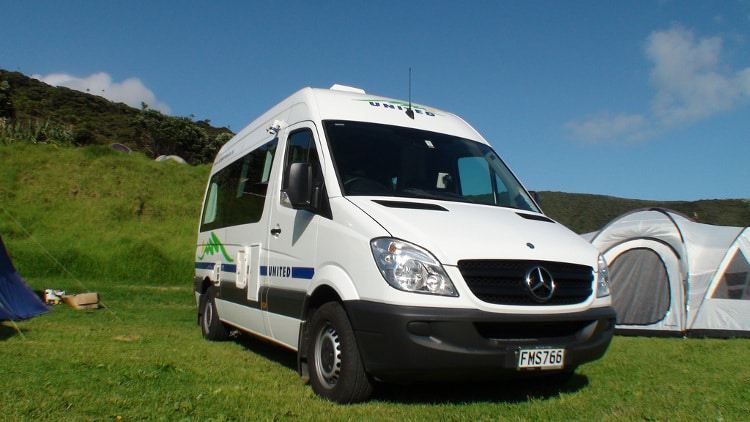 When you think of small RV rentals, you're probably thinking of a Class B RV.
These motor homes are extremely reliable and often come with great amenities like a bathroom and kitchen. They are also small enough to fit in most normal parking spaces, and get great gas mileage compared to their bigger counterparts.
They're perfect if you're looking for a mini RV rental.
Class C's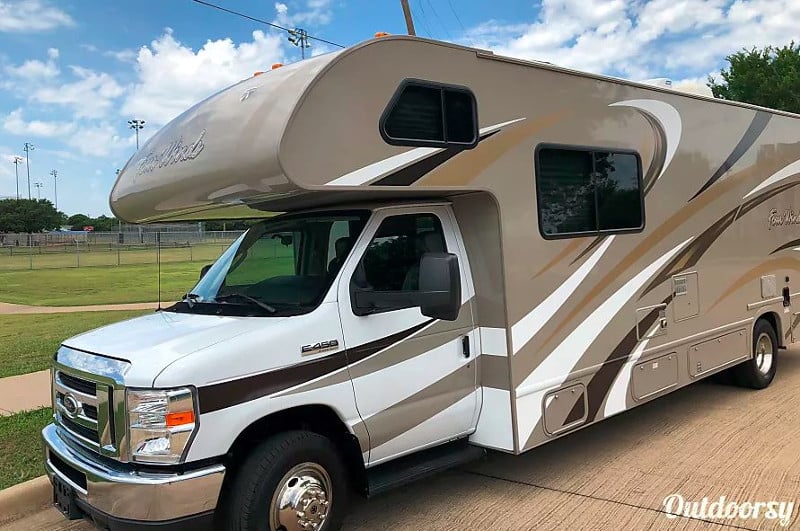 Another type of compact RV rental is a class C RV.
These RVs are much bigger than any other RV on this list, with the average size being 20-30 feet long. However, you can find them as small as 16 feet. They're known for the signature bunk over the cab.
These are perfect if you need more living and sleeping space, but still want something relatively small in comparison to Class A RVs and fifth wheels.
Some Class C ​motorhomes also have slide-outs, which add even more room to your RV.
Pop-Up Campers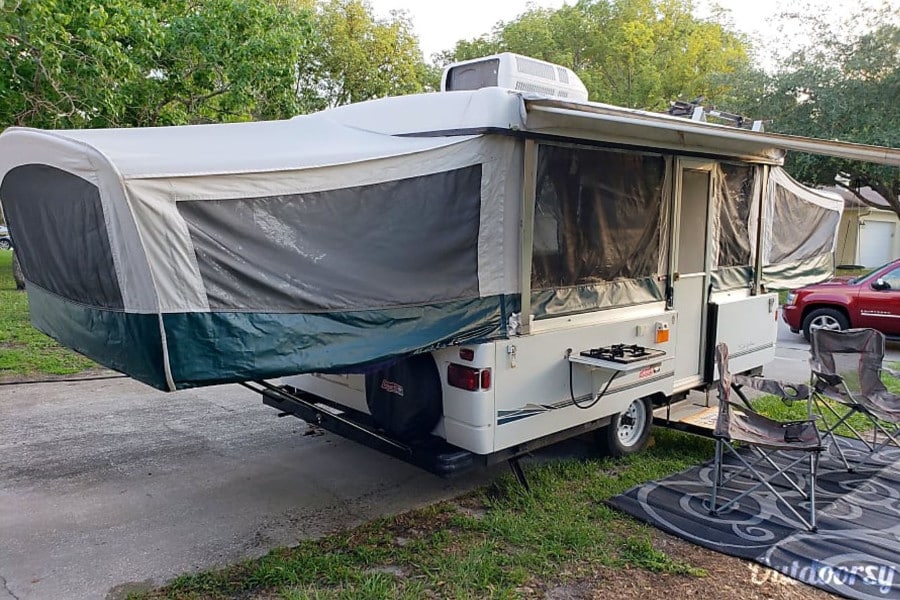 Finally, we have pop-up camper rentals. Pop-up campers are lightweight, while still having more room than most compact RVs thanks to their tent-like pop outs.
They're also easy to tow (because they're so lightweight) and many can be taken off-roading. (Just be sure to ask the RV owner if it's OK before you do!)
Small RV Rental Prices
In general, a renting a small RV typically costs less than a larger RV.
Prices for small RV rentals fluctuate depending on the time of year, age, amenities, the model of RV your renting, and the rental location.
However, we did a study on RV rental prices with Outdoorsy and found that the average cost of renting an RV is between $70 and $150 per night.
When looking for small RV rentals, you can find some that are more expensive or less expensive depending on what you are looking for. Some are more luxurious while others are more basic.
And if you get a monthly or long-term rental, you can usually find even lower rates.
Where to Rent a Small RV (Best Deals in 2022)
We've found that the best place to rent an RV is Outdoorsy.
Outdoorsy offers RV rentals by other RV owners. Think of it as the Airbnb of the RV world. Renting like this is great because you can save money and headaches compared to renting from an RV dealer. Anyone can start their own RV rental business!
Plus, Outdoorsy offers free roadside insurance and up to $1M insurance on all their rentals! They also have 93% 5-star reviews from over 55,000 customers and have amazing customer support. We've personally rented from them and used their customer service, and can honestly say the experience was fantastic!
Not only can you rent small RVs, but you can also rent motor homes, fifth wheels, camper vans, pop up campers, travel trailers, and virtually any kind of recreational vehicle there is.
Why Outdoorsy? Check out our small RV rental company comparison where we pit the top rental companies head to head.
Great RV Rental Destinations
Rentals By Type