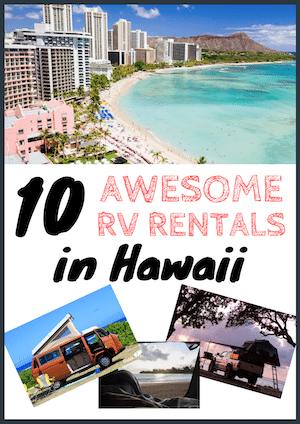 Looking for a campervan rental in Hawaii?
We've got you covered 🙂
We found the 10 best recreation vehicle rentals in Hawaii – everything from cheap RV rentals to luxury rigs, small off-road camper vans to airstreams.
Ready to plan your Hawaii vacation?
Let's get to it!
Table of Contents
The 10 Best RV and Camper Rentals in Hawaii
Disclaimer: These RVs rent out fast! You usually need to rent them weeks (sometimes months) ahead of time.
If the RVs below aren't available for the time you want to rent them, click here to go to Outdoorsy and see what else is available for you in Hawaii!
1. 2007 Dodge Caravan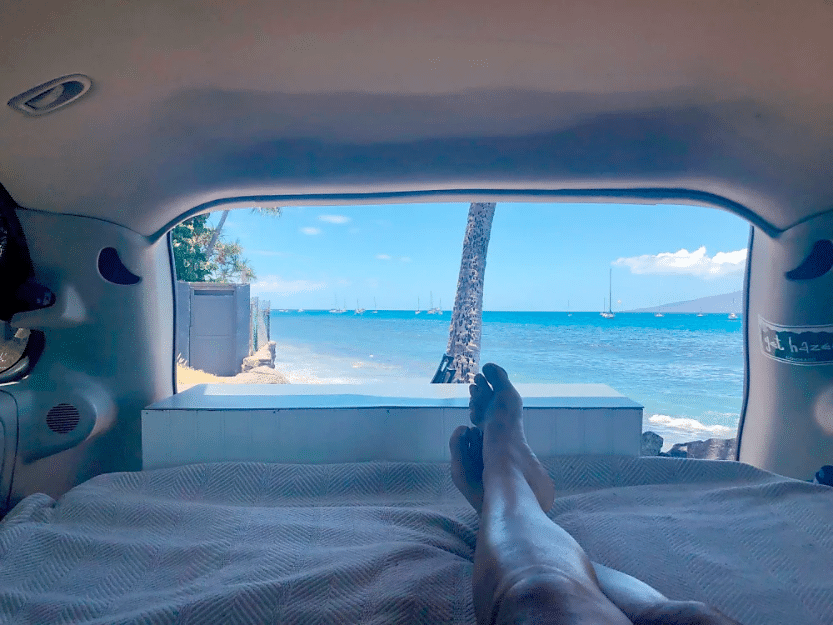 Price: $70/night Pet Friendly? No
Slides: 0 Sleeps: 2
This 2007 Dodge Caravan is a beauty.
While it's a camper van, it's spacious enough to sleep two people and includes a kitchen with some counter space for when you're at a campground (or out and about on the road).
Take a look at how nice the inside of this Maui camper van is: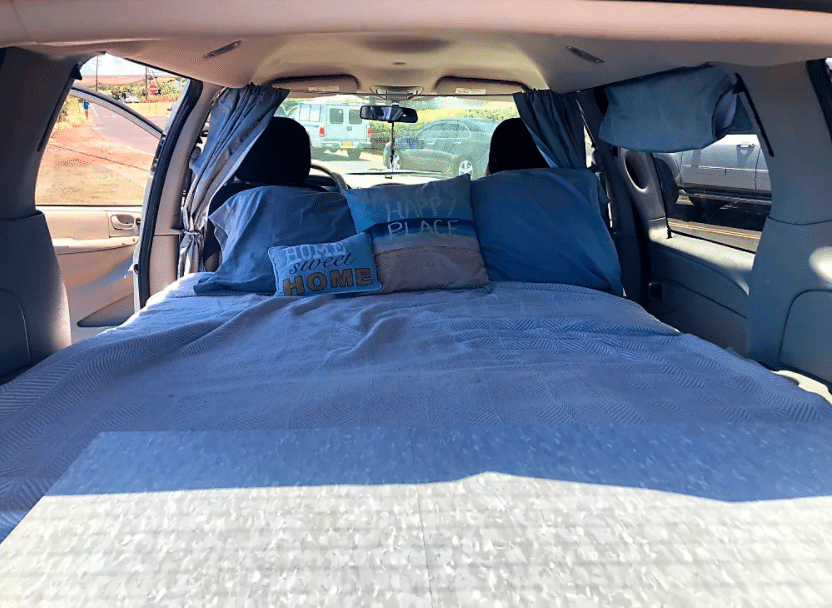 It may not be the biggest rig, but at $70 per night it's hard to beat! When you're ready to sleep, all you have to do is hop in the back.
Think of the places you could go with this camper van!
2. 2006 Jeep Wrangler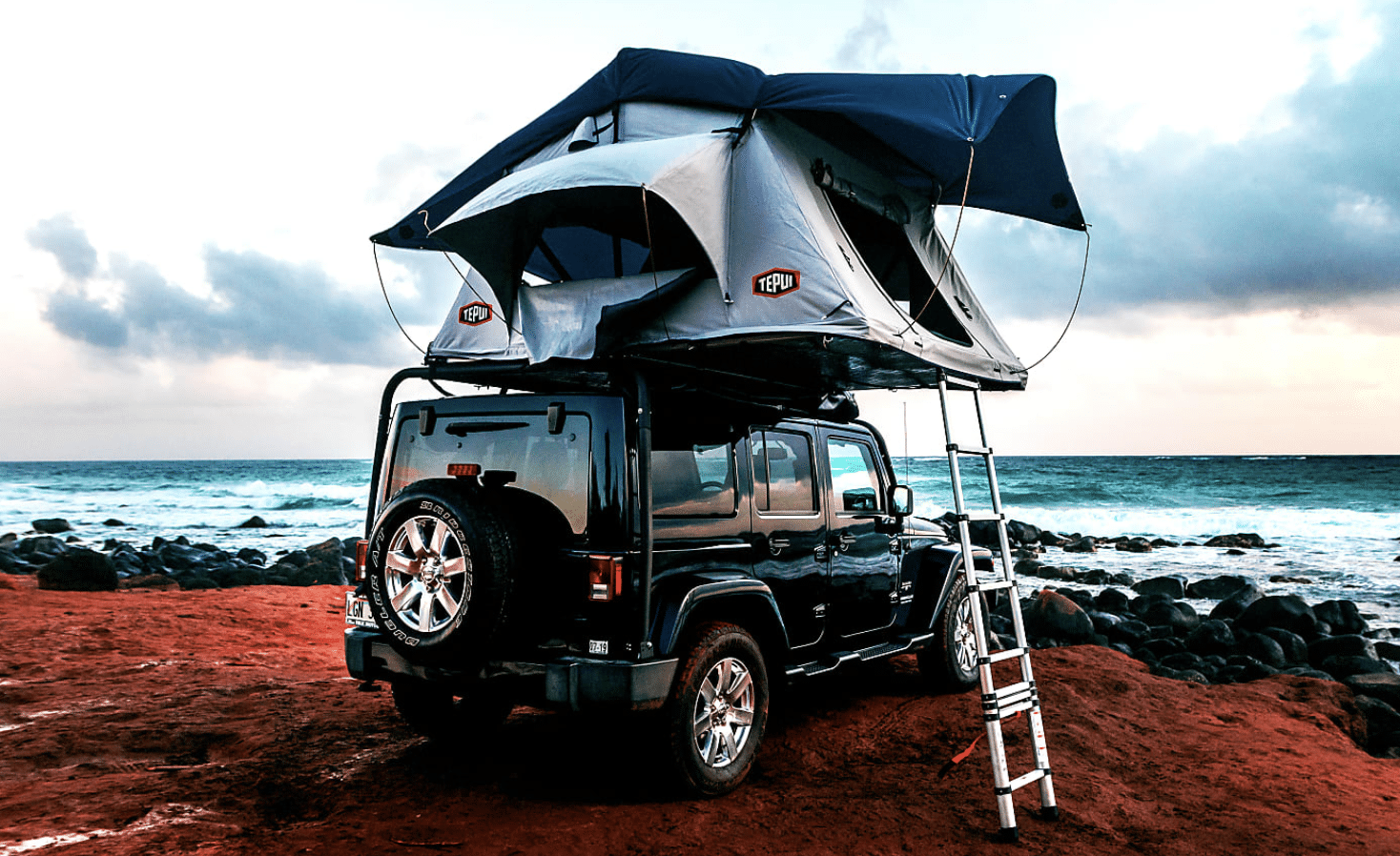 Price: $179/night Pet Friendly? Yes
Slides: 0 Sleeps: 4
This 2016 Jeep Wrangler is an awesome way/ to get the full Hawaii experience.
You're able to bring this truck/pop-up anywhere you'd like on the island of Hawaii!
The inside of this jeep is nothing to scoff at, either. Leather interior, Alpine sound system, bluetooth, power adapters, and so much more…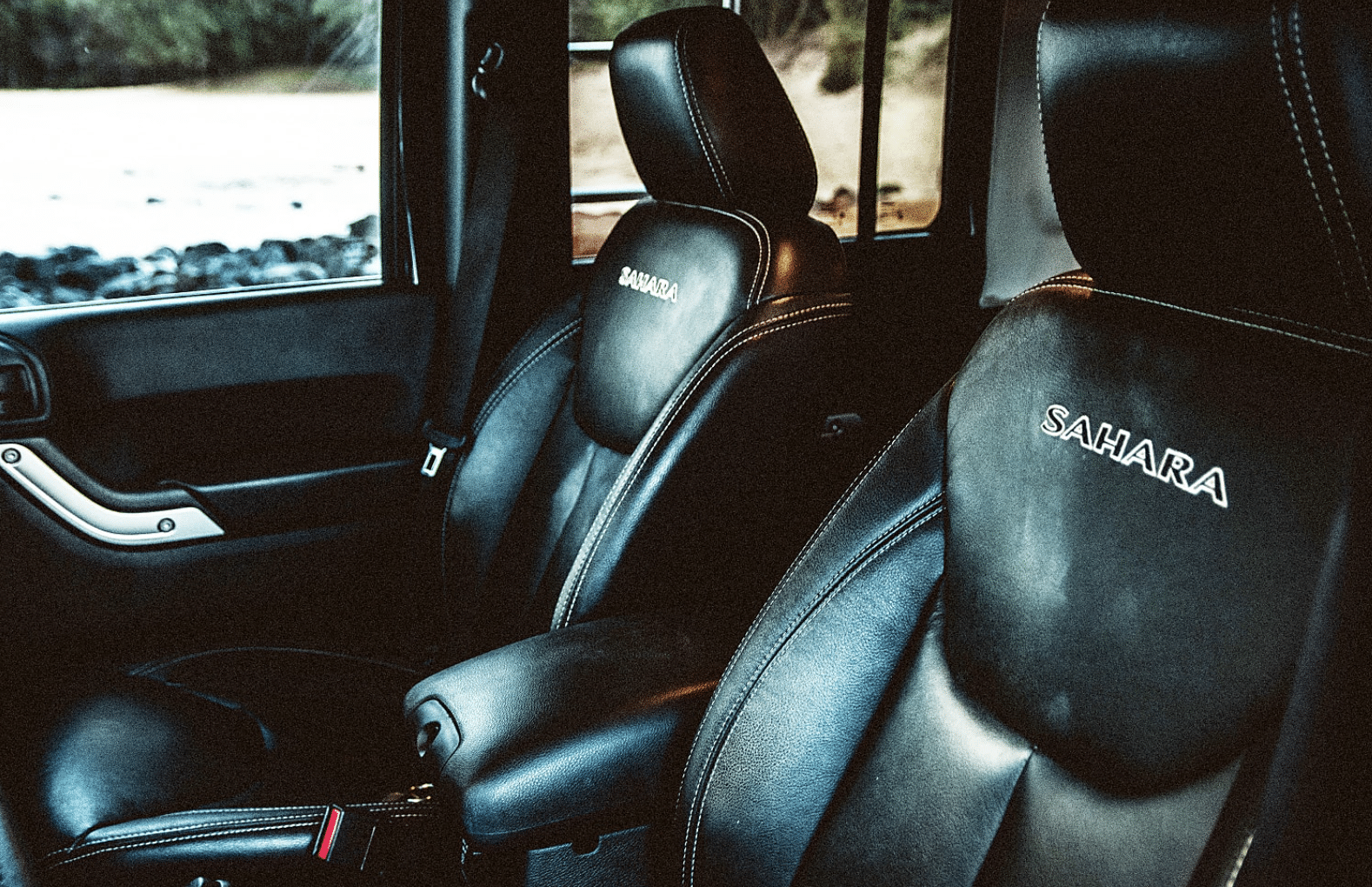 Reading the description for this rental made us want to pack our bags and head to Hawaii for a few weeks…
"Instead of rushing around Hana to get back to your hotel, all you'll need to do is head to the nearest campsite and set up your own personal paradise- complete with whatever view you desire!"
How amazing does that sound? This has to be one of the best ways to see Hawaii.
3. 2010 Honda Oydssey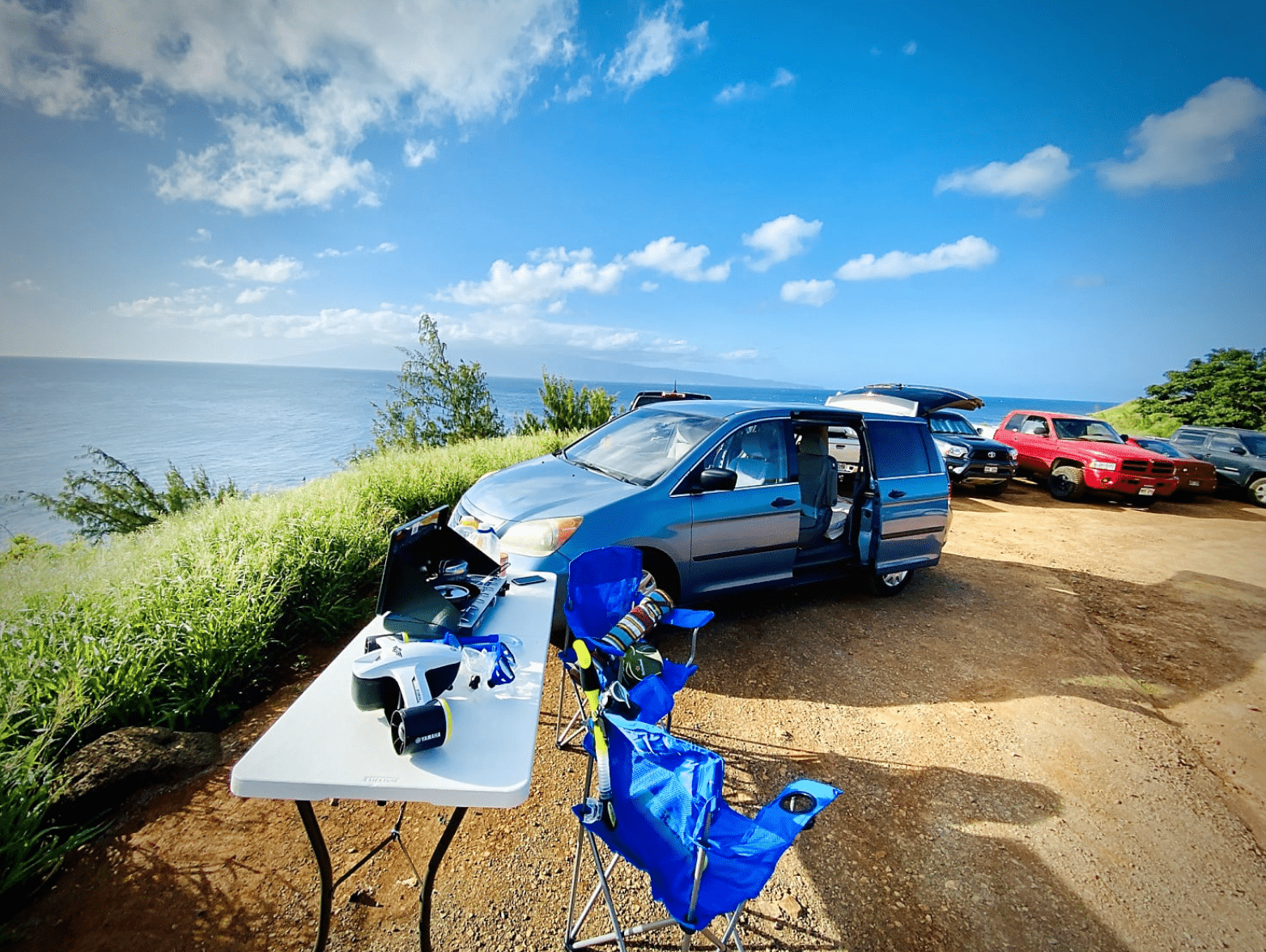 Price: $79/night Pet Friendly? No
Slides: 0 Sleeps: 2
This 2010 Honda Oydssey is a beautiful camper van that will make you say "This is the life".
Complete with a memory foam bed and a wide back hatch, you're sure to get plenty of rest while breathing in the fresh Hawaii air.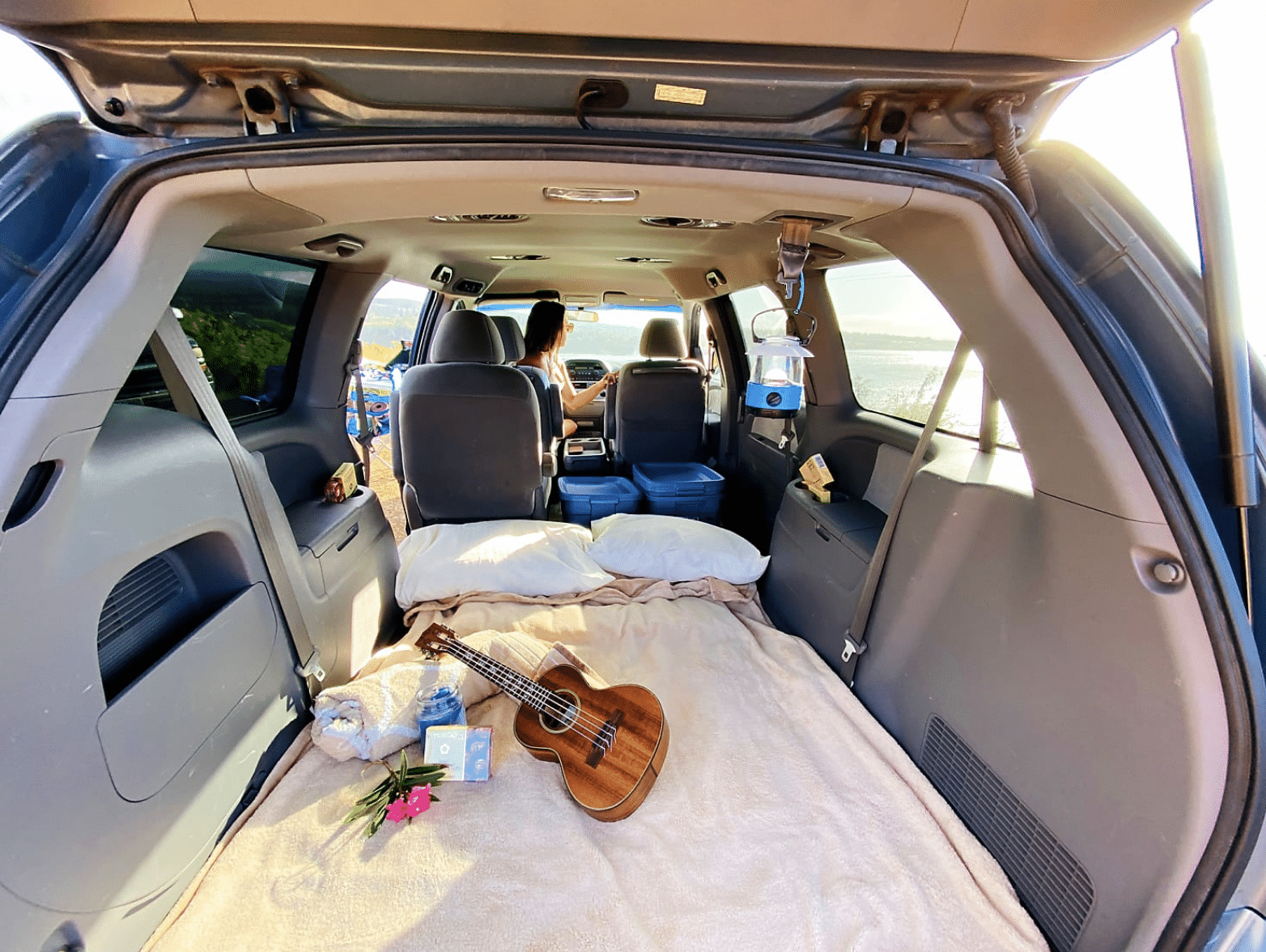 Rent an RV that doesn't tie you to a campground. Feel free to bring this sucker where you'd like (as long as you let the rightful owner know) and camp your heart out.
4. 1986 Volkswagen Camper Van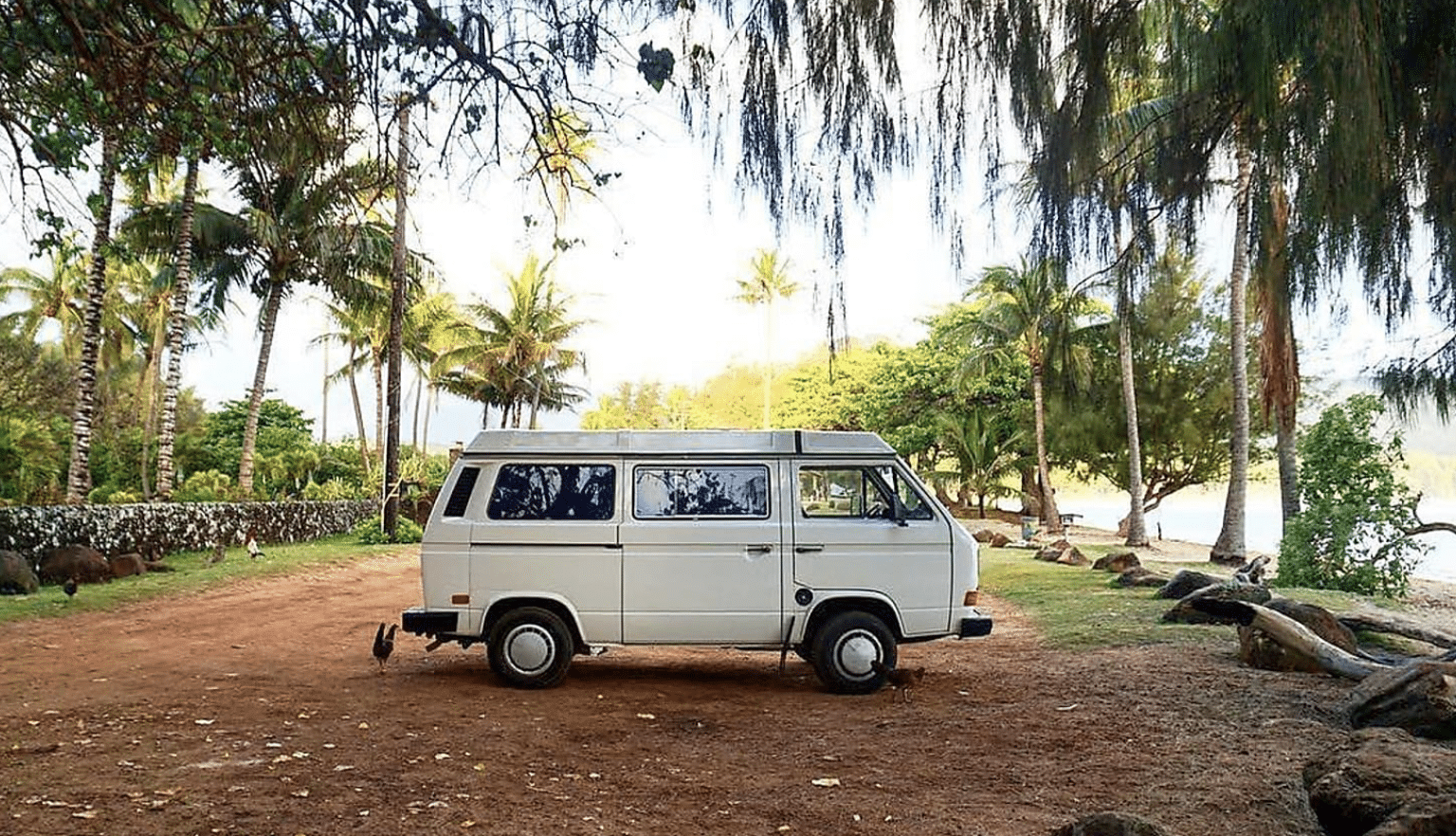 Price: $330/night Pet Friendly? Yes
Slides: 0 Sleeps: 4
This 1986 Volkswagen Camper Van is a classic. Look at how freaking beautiful it is!
Inside you'll find a stove, kitchen sink, dining table, and plenty of room to sleep.
Not to mention, you can bring your four-legged friends with you!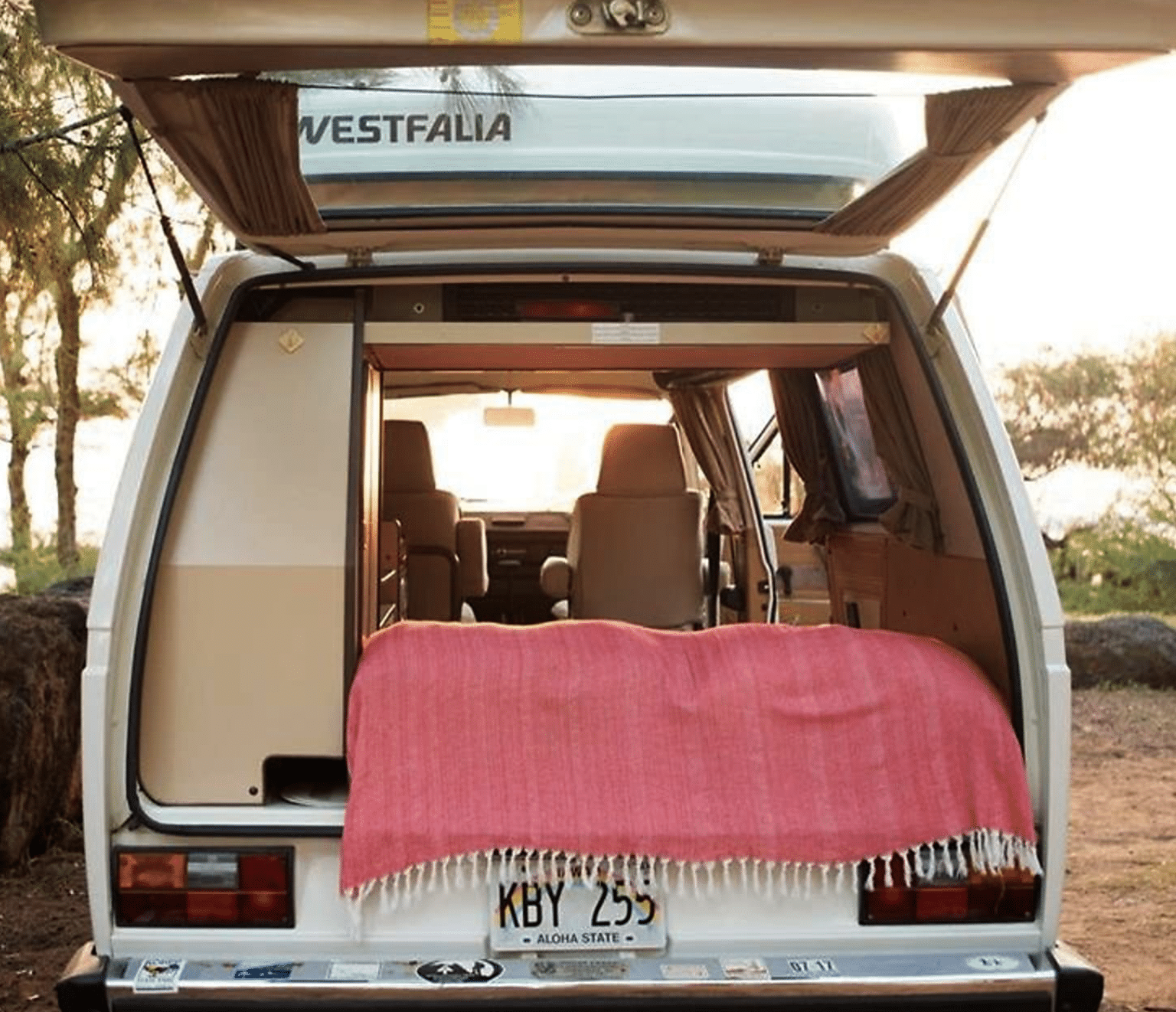 Whether you park this near a beach or by the mountains, you're sure to find comfort and peace.
5. 1982 Volkswagen Westfalia 15′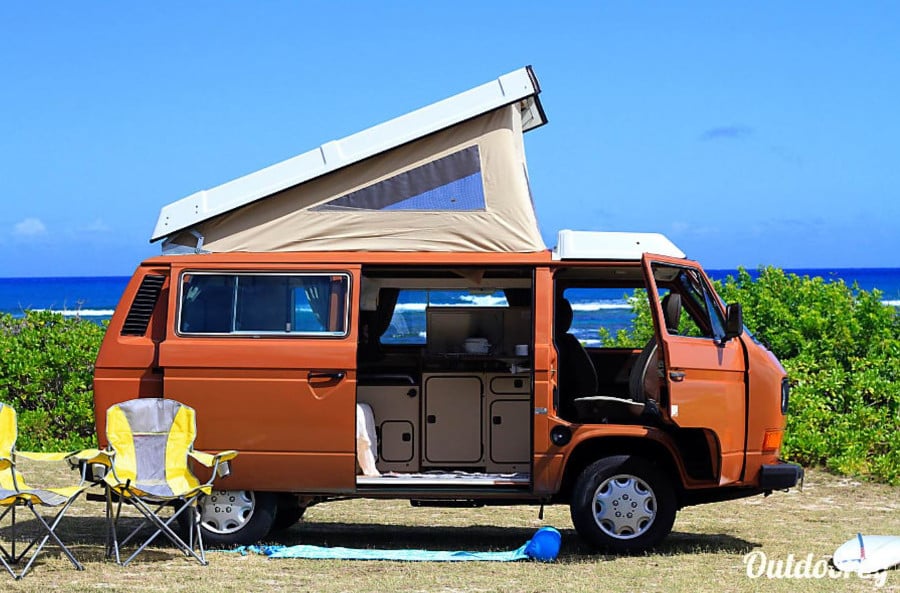 Price: $169/night Pet Friendly? Yes
Slides: 0 Sleeps: 4
This 1982 Volkswagen Westfalia is one of our favorite recreation vehicles yet.
The color, space, and amenities you get when renting this is enough to keep you satisfied until it's time to say "Aloha".
Take a look at the interior design of this beauty: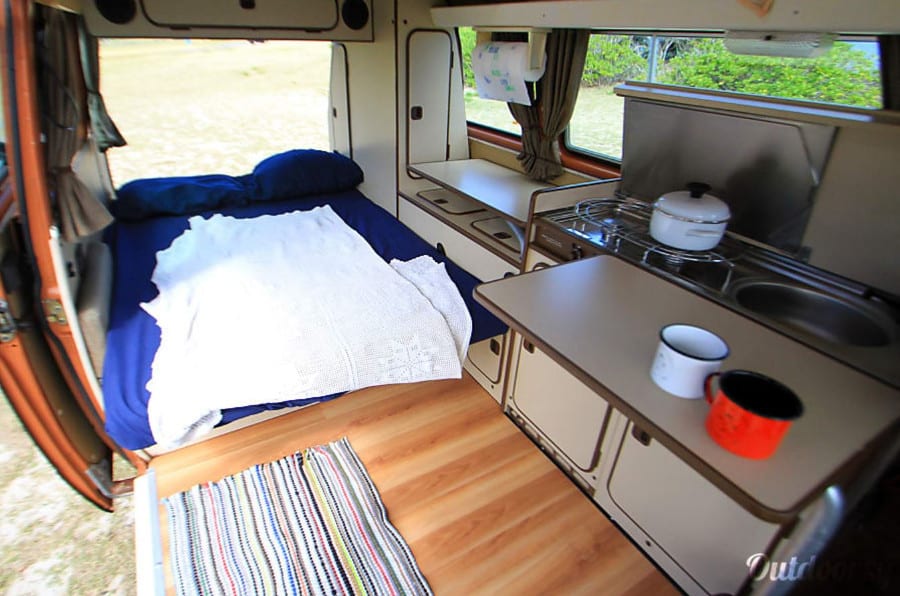 Filled with cabinets and counters, you'll feel right at home. Not to mention the cozy bed (you can sleep with the back door open if you really wanted to).
Plus, this is one of the few camper van rentals that allows pets. Just be careful when traveling with them – it can be a hassle!
6. 2015 Chevrolet City Express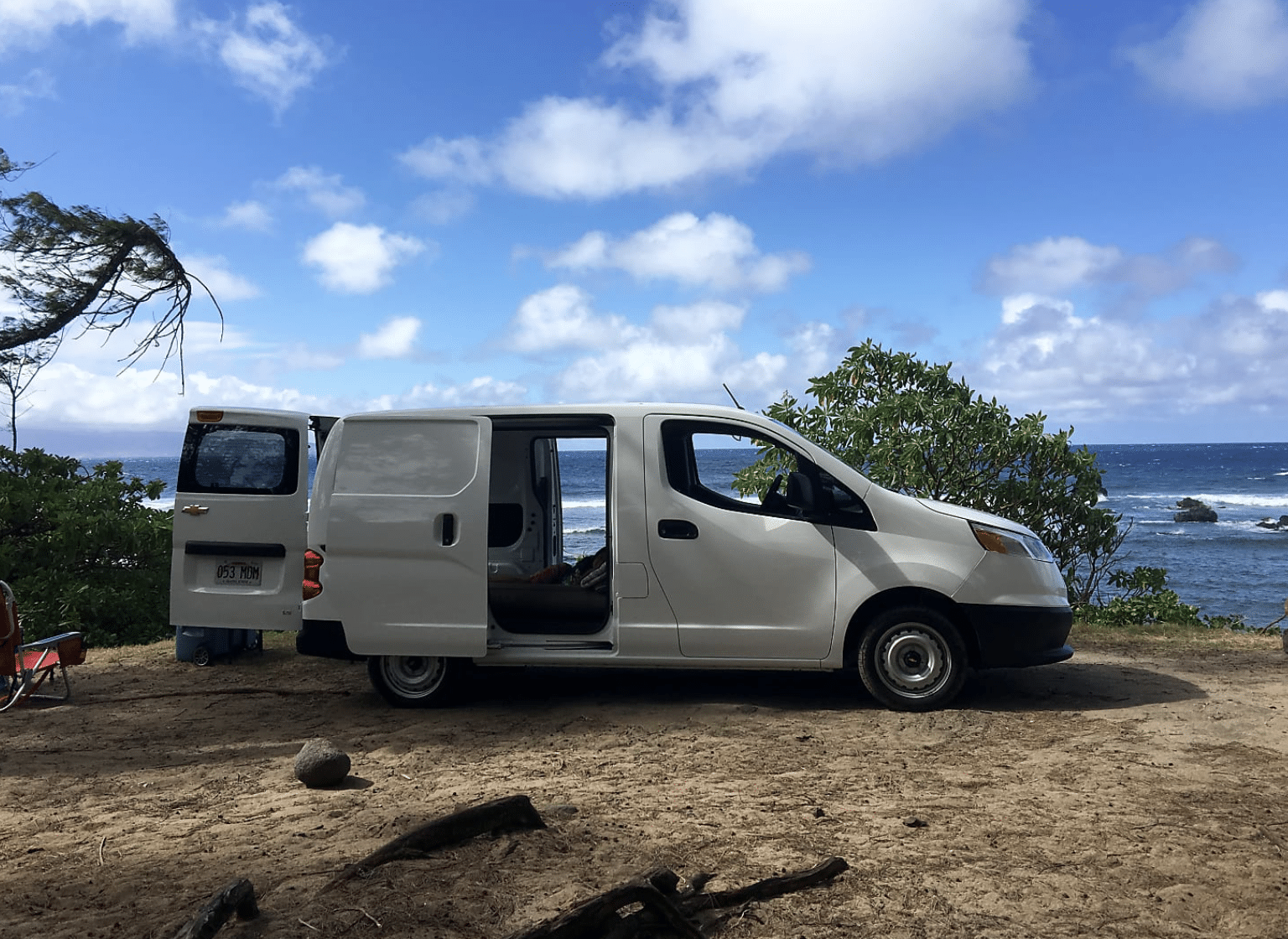 Price: $79/night Pet Friendly? No
Slides: 0 Sleeps: 2
This 2015 Chevrolet City Express allows you to travel in comfort while in Hawaii. Who wouldn't want that?
One of the coolest things about this rental is that the owners don't charge extra by the mileage! All they ask is that you fill the tank before you drop it back off!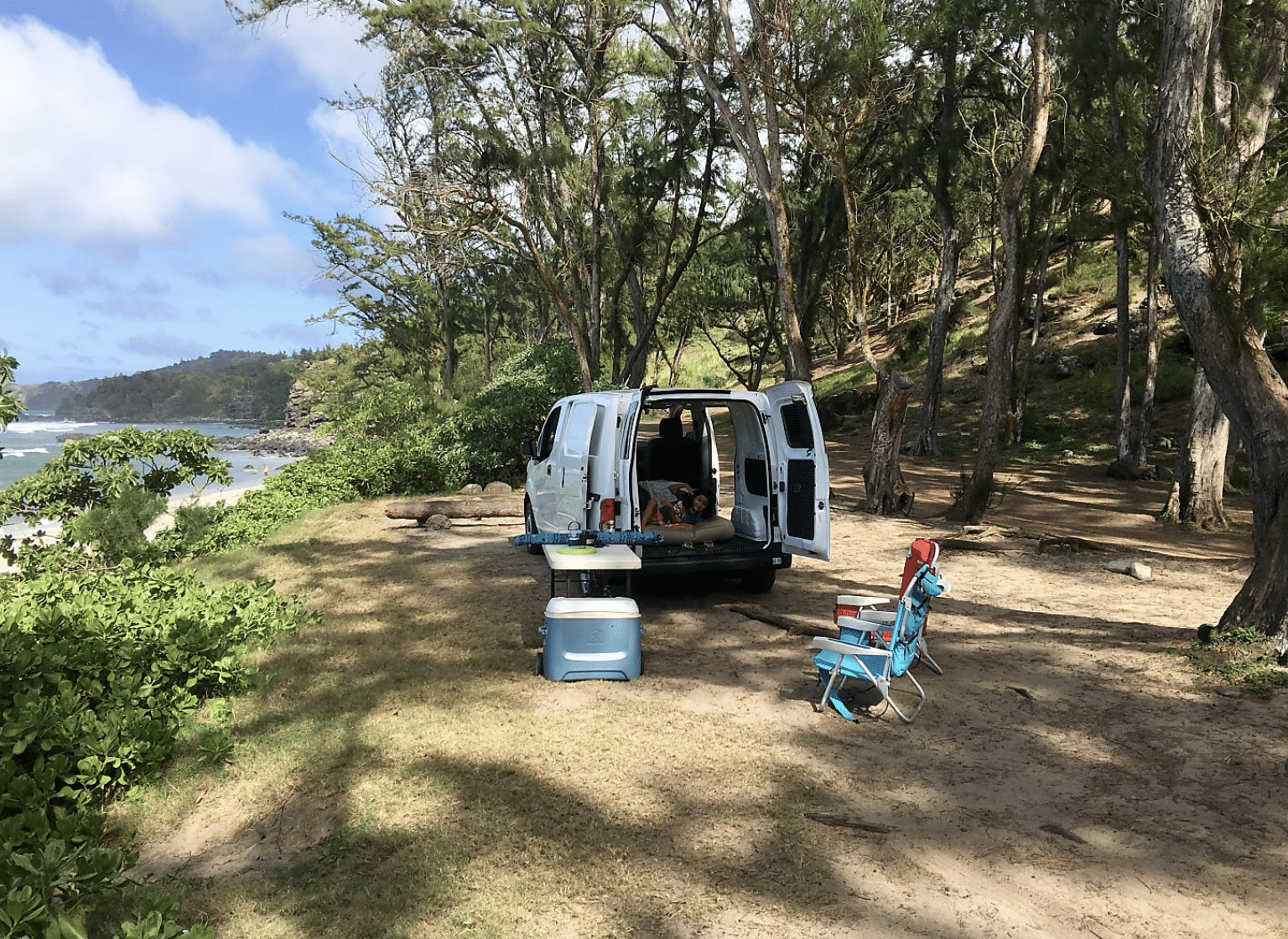 This camper van also has a roof rack for surfboards or any other gear you may want to bring.
7. 2001 Ford E350 18′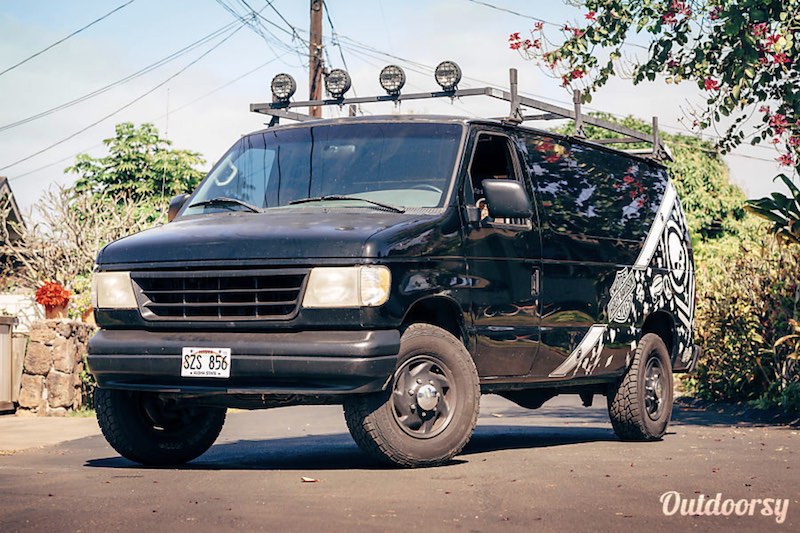 Price: $149/night Pet Friendly? No
Slides: 0 Sleeps: 2
Out of all the camper rentals, This 2001 Ford E350 is truly one of a kind.
Everything about this camper van rental screams rock'n'roll!
Take a look at the inside of this beauty: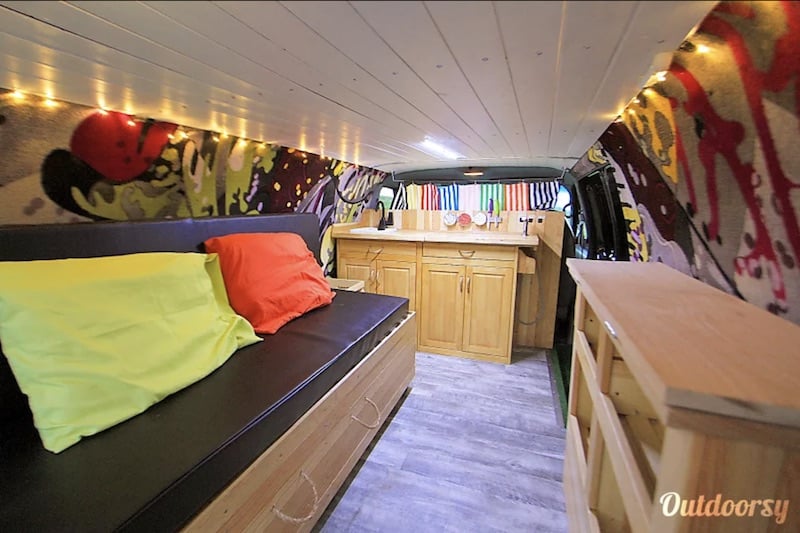 The bed is super comfortable and extends to sleep two. The layout might look a little uncommon but it is convenient! It also has a roof rack if you decide to give surfing a try.
8. 2017 Ford Transit 19′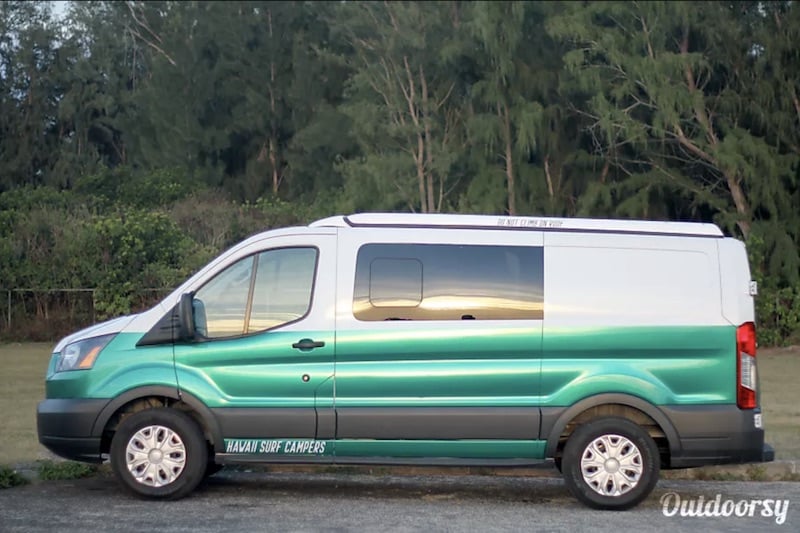 Price: $200/night Pet Friendly? No
Slides: 0 Sleeps: 4
This 2017 Ford Transit may look like a regular van on the outside but on the inside, it's your Hawaiian Island retreat!
Take a look at your soon-to-be camper van rental: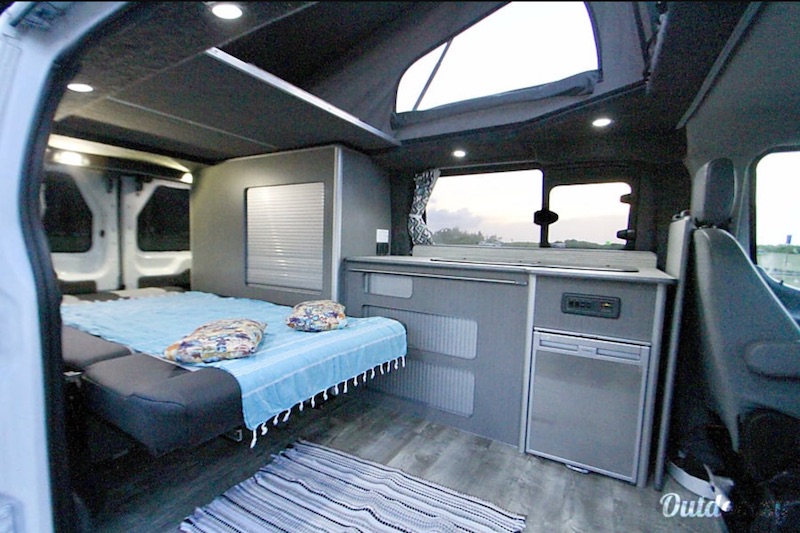 One of our favorite things? The interior is very roomy and perfect to relax in. This Honolulu camper van rental comes with a stove top, refrigerator, and more.
9. 1990 Volkswagen Westfalia 15′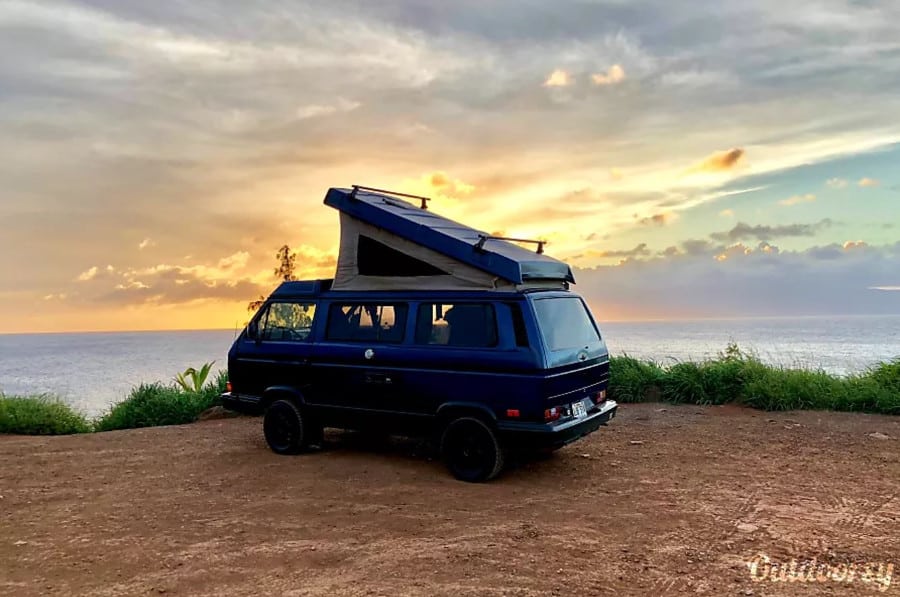 Price: $140/night Pet Friendly? No
Slides: 0 Sleeps: 4
This 1990 Volkswagen Westfalia has a 4-speed manual transmission and is ready to go on an adventure with you (and your family).
It's a family friendly camper van rental that all ages will love (how could they not – they're in Hawaii for goodness sake)!
Here's a peek at the interior: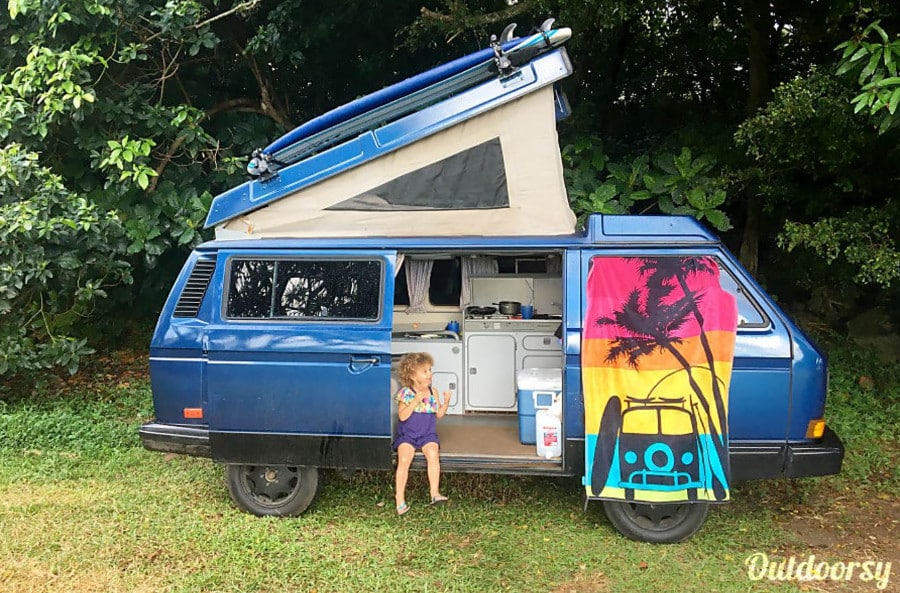 With a stove top and plenty of counter space (as well as storage) you'll have plenty of room to arrange your belongings however you'd like.
10. 2007 Winnebago Class A Motorhome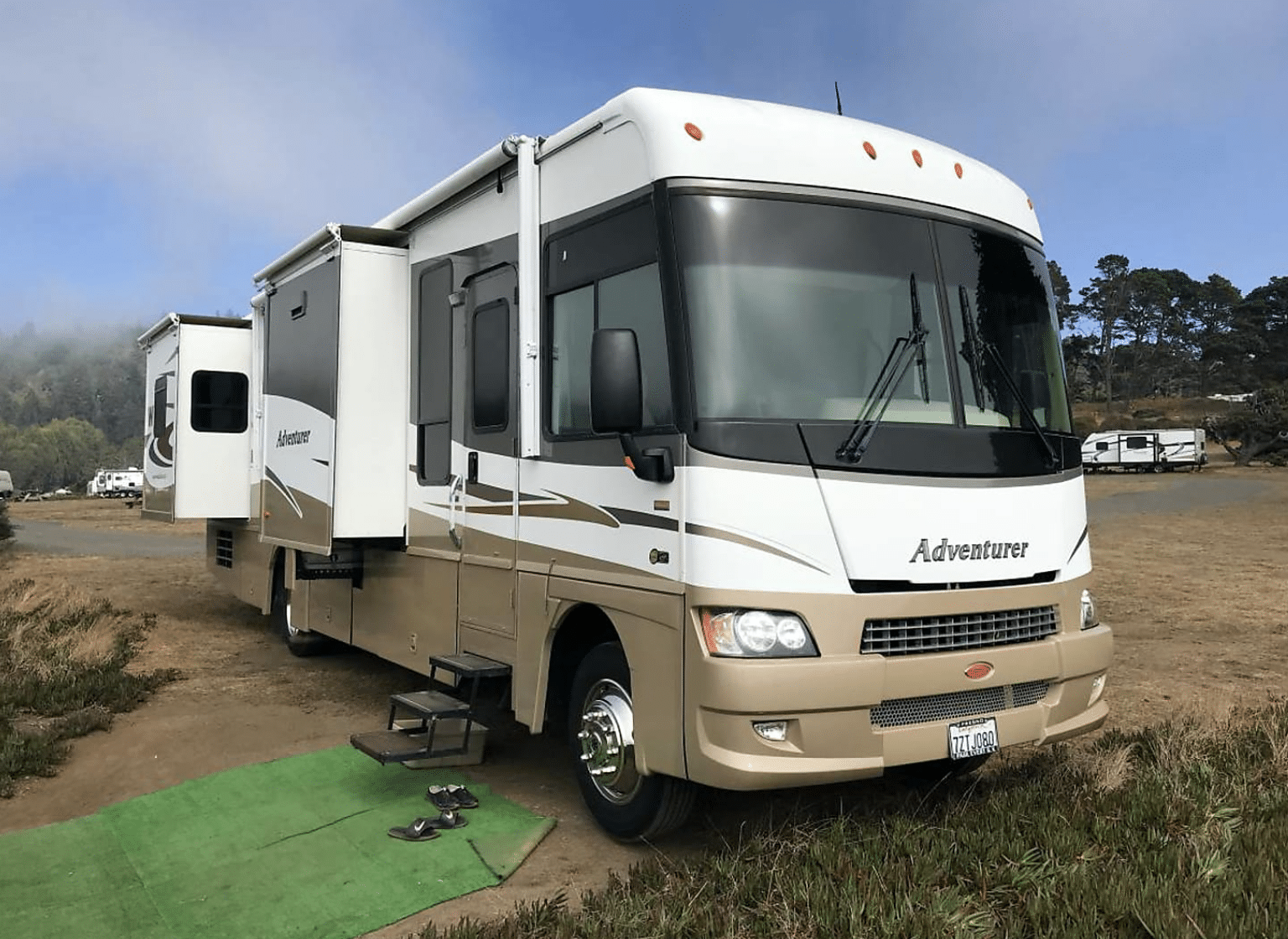 Price: $131/night Pet Friendly? Yes
Slides: 3 Sleeps: 4
This 2007 Winnebago Motorhome is perfect for families or friends looking to travel around Hawaii together!
Take a look at how spacious the interior is: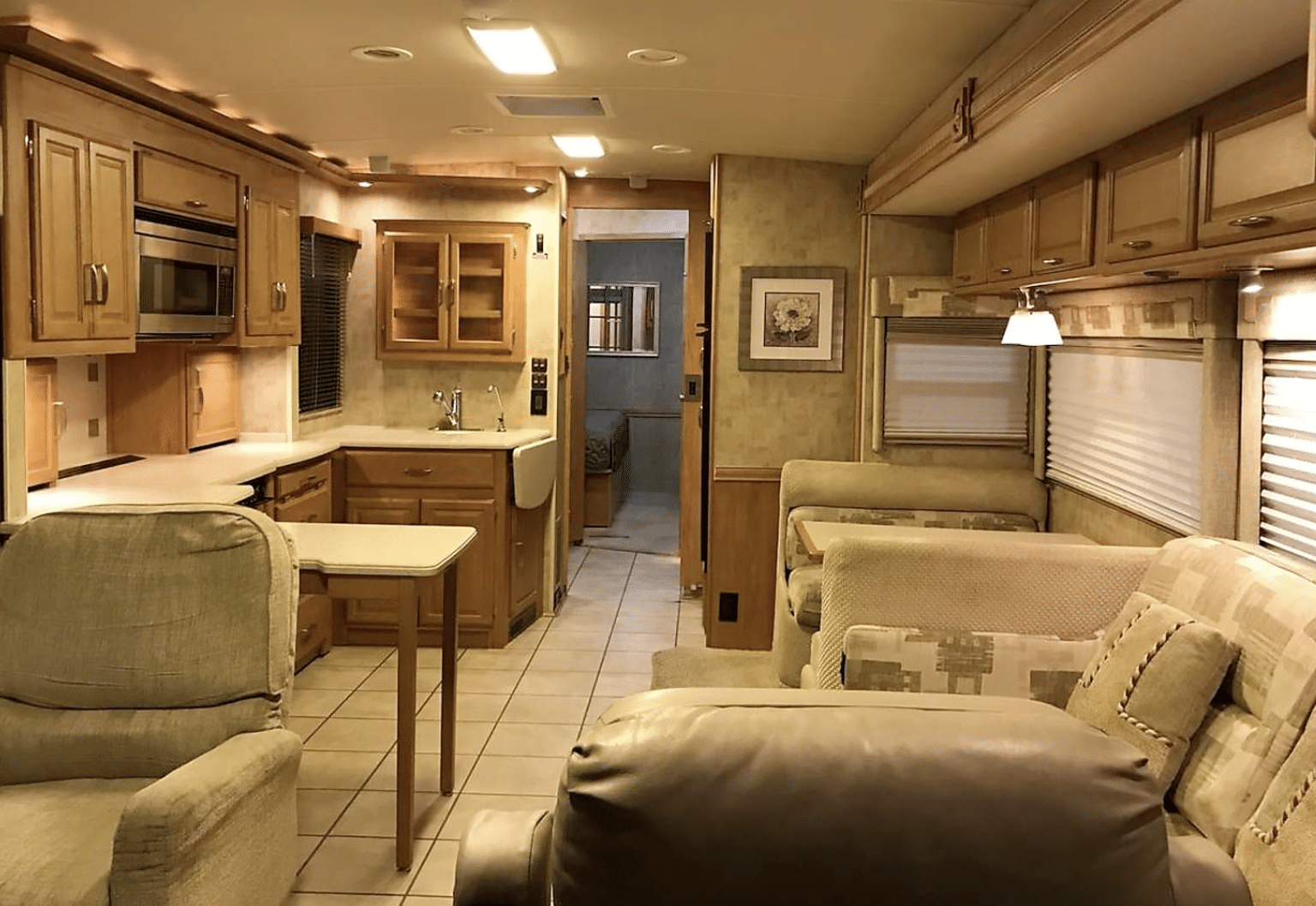 The owners say this this rental is ready to go cross country – and we're about to take them up on this offer!
Things to Do in Hawaii
That brings us to the end of our list of the best Camper rentals and Motorhome rentals in Hawaii! Remember, if you didn't like any of these we listed (or they weren't available for you), you can always check out all the Hawaii RV and Camper Van rentals available on Outdoorsy.
Now that your trip is booked, the next step is to plan your activities!
Wondering what to do in Hawaii? Here are a few ideas:
Looking for more? Check out the top things to do in Hawaii on Trip Advisor.
Planning to rent an RV in Hawaii? Check out the top RV campgrounds in Hawaii.
And that's all we have for you! Click the button below to view campervan rental Hawaii now!
Pro Tip: Want better rental prices? Ask the rentees if they offer reduced winter rates! Not all of them will, but a winter trip in the south can save you some money. You can also check availability and add Outdoorsy Roadside Assistance to most of the rentals for added peace of mind.
Want to take RV road trips elsewhere? Check out these other RV destinations:
More RV Rental Destinations
Rentals By Type
Other Hawaii Guides
Enjoy your RV rental vacation!!