Get $50 Off Your Phoenix RV Rental!
Rent with Outdoorsy to get $50 off (discount applied at checkout).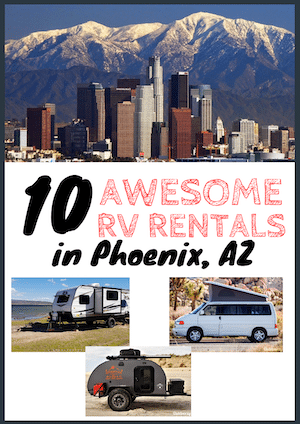 Looking for RV rentals in Phoenix, Arizona?
Look no more!
We found the 10 best RV rentals Phoenix has to offer – everything from cheap RV rentals to luxury motor home rentals, small off-road travel trailers to massive Class A's.
You're just moments away from being in an RV in Phoenix, Arizona!
(You can scroll through the whole post or choose an option below that catches your eye.)
Table of Contents
The 10 Best Phoenix RV Rentals
Disclaimer: These RVs rent out fast! You usually need to rent them weeks (sometimes months) ahead of time.
If the RVs below aren't available for the time you want to rent them, click here to go to Outdoorsy and see what else is available for you in Phoenix!
1. 2015 Ford Transit Camper Van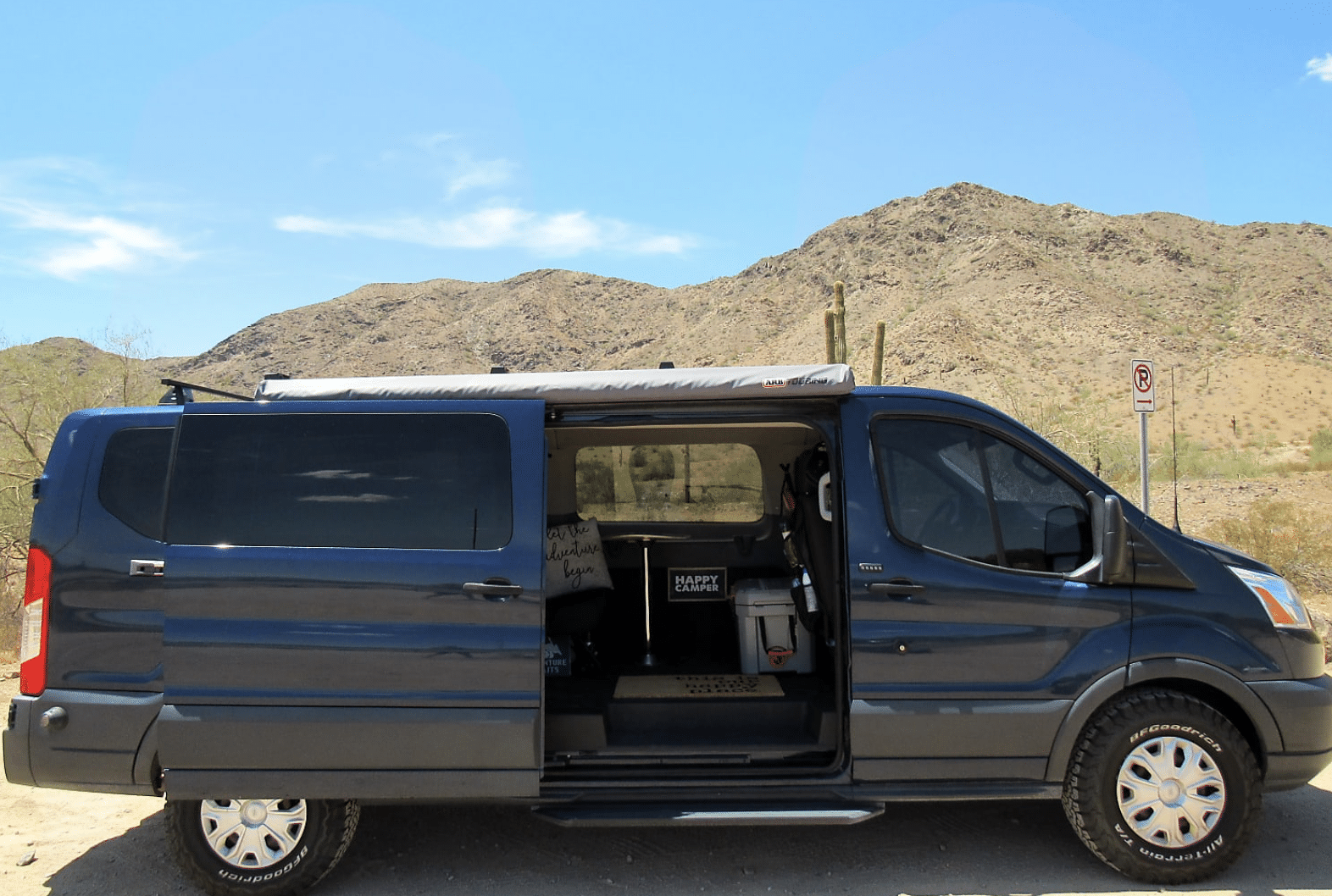 Price: $130/night Pet Friendly? No
Slides: 0 Sleeps: 3
This 2015 Ford Transit camper van is perfect for those who want to get up and go – literally!
With lane assist warning, wide mirrors, and side windows, you'll be cruising down the highway with ease.
It even comes with a memory foam mattress, ensuring you'll sleep well before a long drive – take a look inside: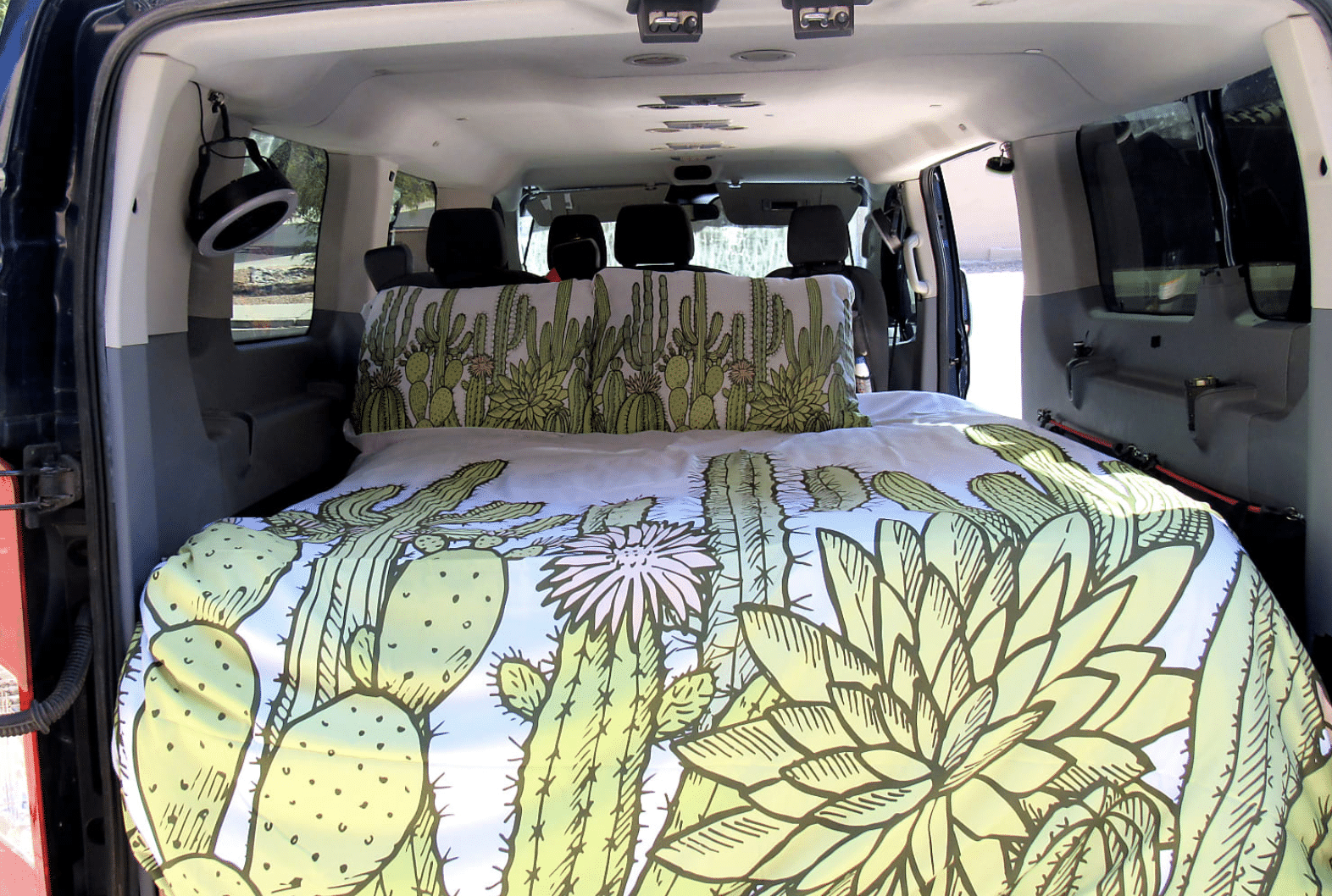 This camper van is equipped with oversized, all-terrain tires which are perfect for traveling on improved gravel roads.
2. 2017 Coachmen Leprechaun 31′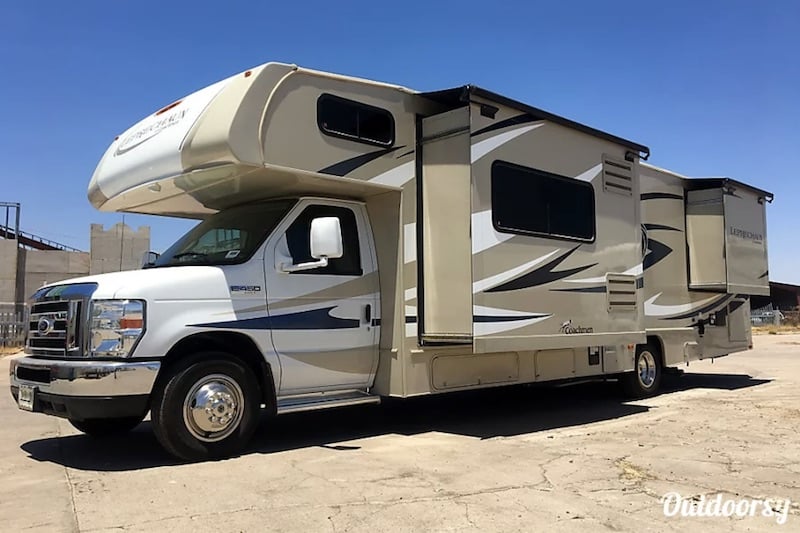 Price: $209/night Pet Friendly? Yes
Slides: 2 Sleeps: 8
This 2017 Coachmen Leprechaun is perfect for a family looking to go on a road trip adventure down Route 66.
Here's a look at the floor plan: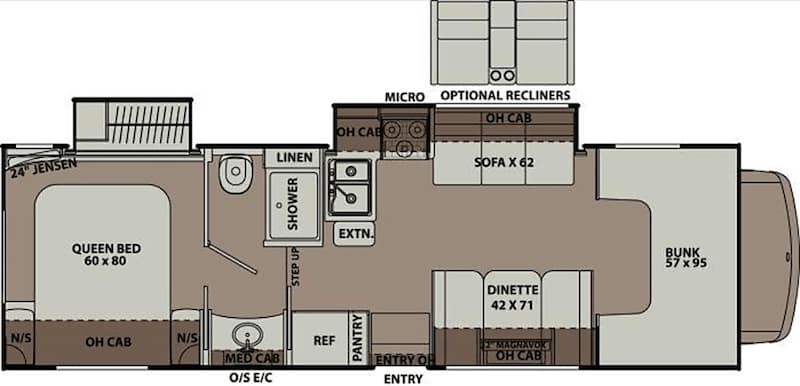 This motor home rental can truly be your base station on wheels. With a kitchenette that has a large refrigerator, comfortable couch, and a large master bedroom, everyone will have the convenience of home on the road!
I bet you're wondering how eight people could sleep comfortably in this coach. Allow me to help! There is a queen bed in the master that sleeps two, a sofa bed, a converting dinette, and an over-the-cab bunk. Plenty of room!
3. 2006 Skyline Weekender Trailer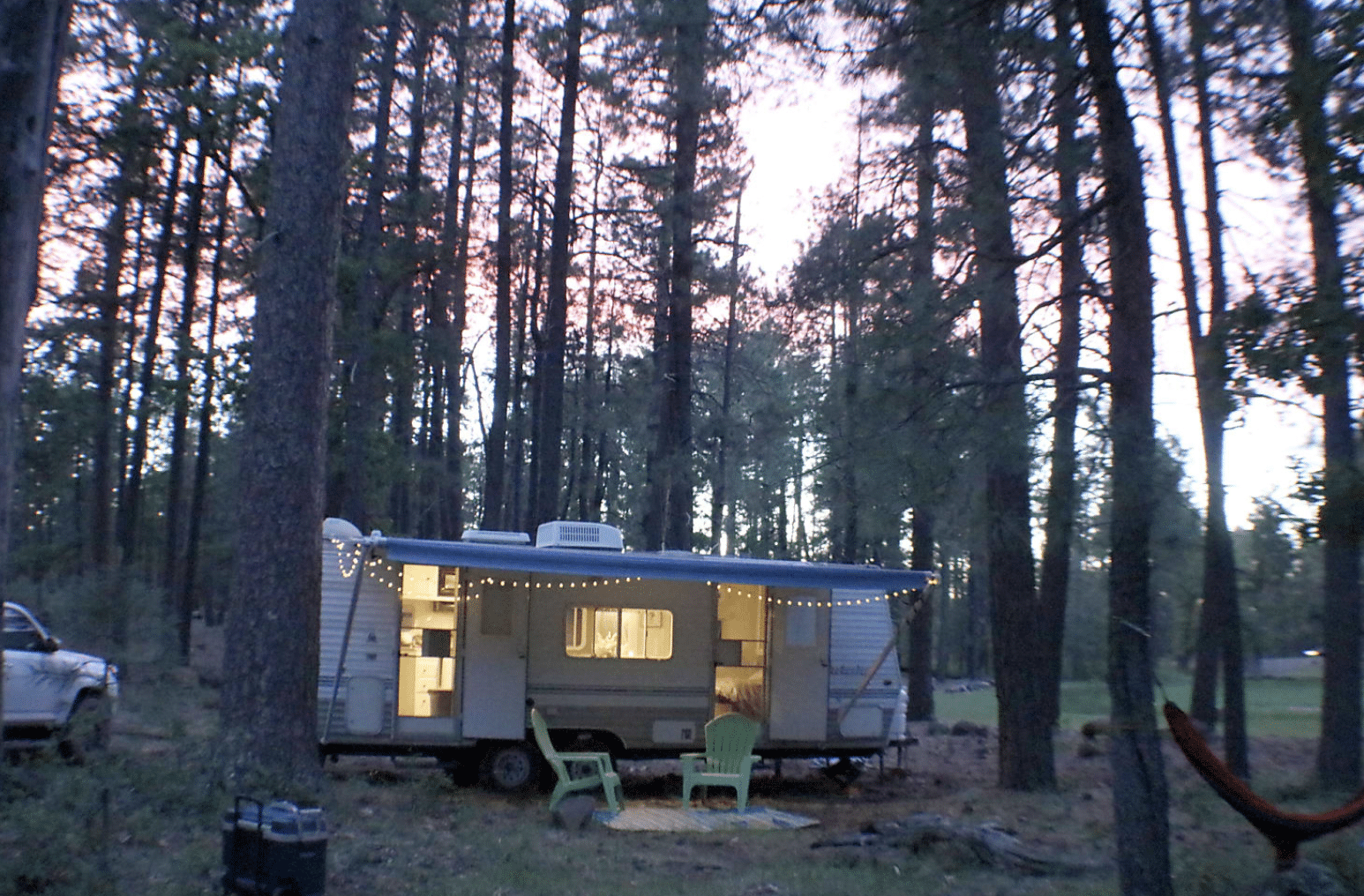 Price: $110/night Pet Friendly? Yes
Slides: 0 Sleeps: 4
Enjoy the outdoors while still having all the comforts of home in this 2006 Skyline Weekender! This travel trailer rental has some pretty cool perks inside.
Check out the floor plan: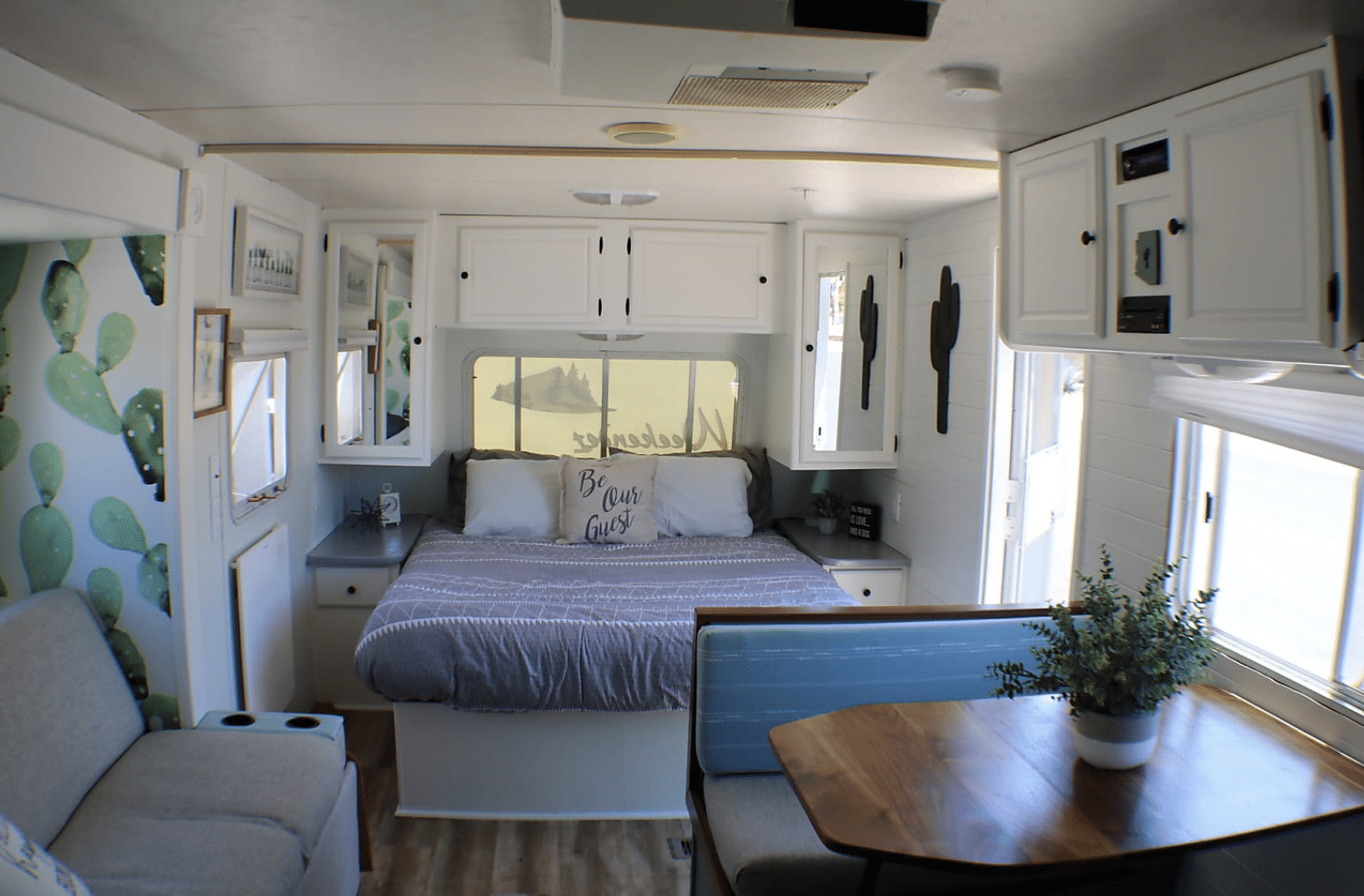 This camper is newly remodeled with an updated kitchen, bathroom & living area.
It's pet friendly and perfect for families – not to mention it can be towed by a large SUV or a truck!
4. 2019 Jayco Jay Flight 21′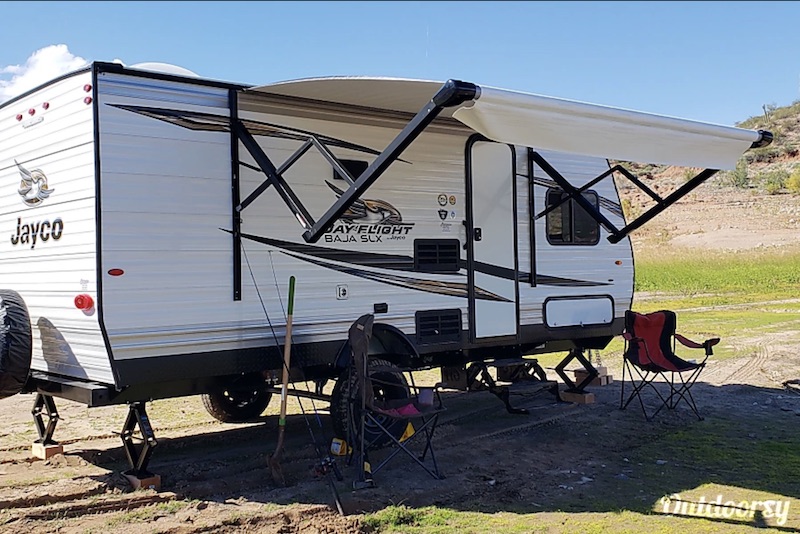 Price: $75/night Pet Friendly? Yes
Slides: 1 Sleeps: 6
On a budget? This 2019 Jayco Jay Flight is a steal at $75 per night! It's perfect for a family or group of friends to check out the great sights that Arizona has to offer.
Check out the floor plan: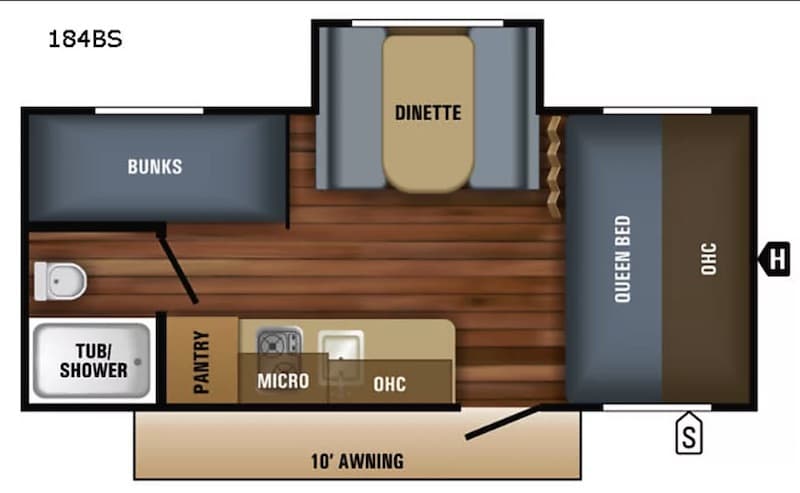 This travel trailer rental comes with twin bunks, a queen bed, and a converting dinette that can sleep one or two.
It comes with a well equipped kitchen that includes a two burner range and microwave for convenient snacking or meal times. You can even enjoy a meal under the stars with the 10′ power awning and LED lights.
Added bonus: If you don't have a vehicle to tow this camper, RV owner Kimberly will also rent out an SUV for your trip or drop it off at your campsite.
5. 2019 Winnebago Outlook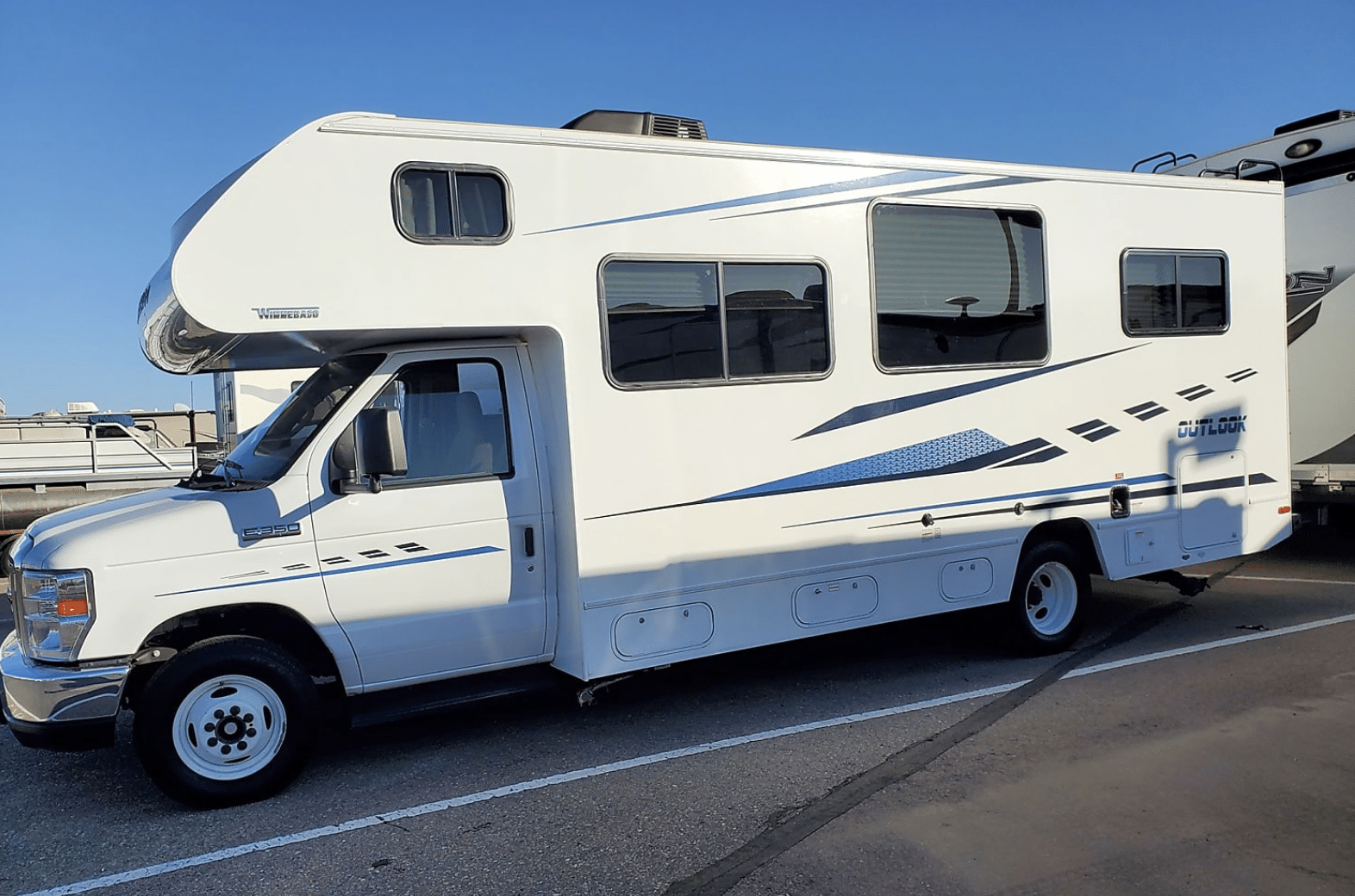 Price: $190/night Pet Friendly? No
Slides: 0 Sleeps: 6
This 2019 Winnebago Outlook is absolutely gorgeous! With a luxurious and spacious interior, you're going to feel like you're in a hotel suite instead of a motor home rental.
Here's a look inside: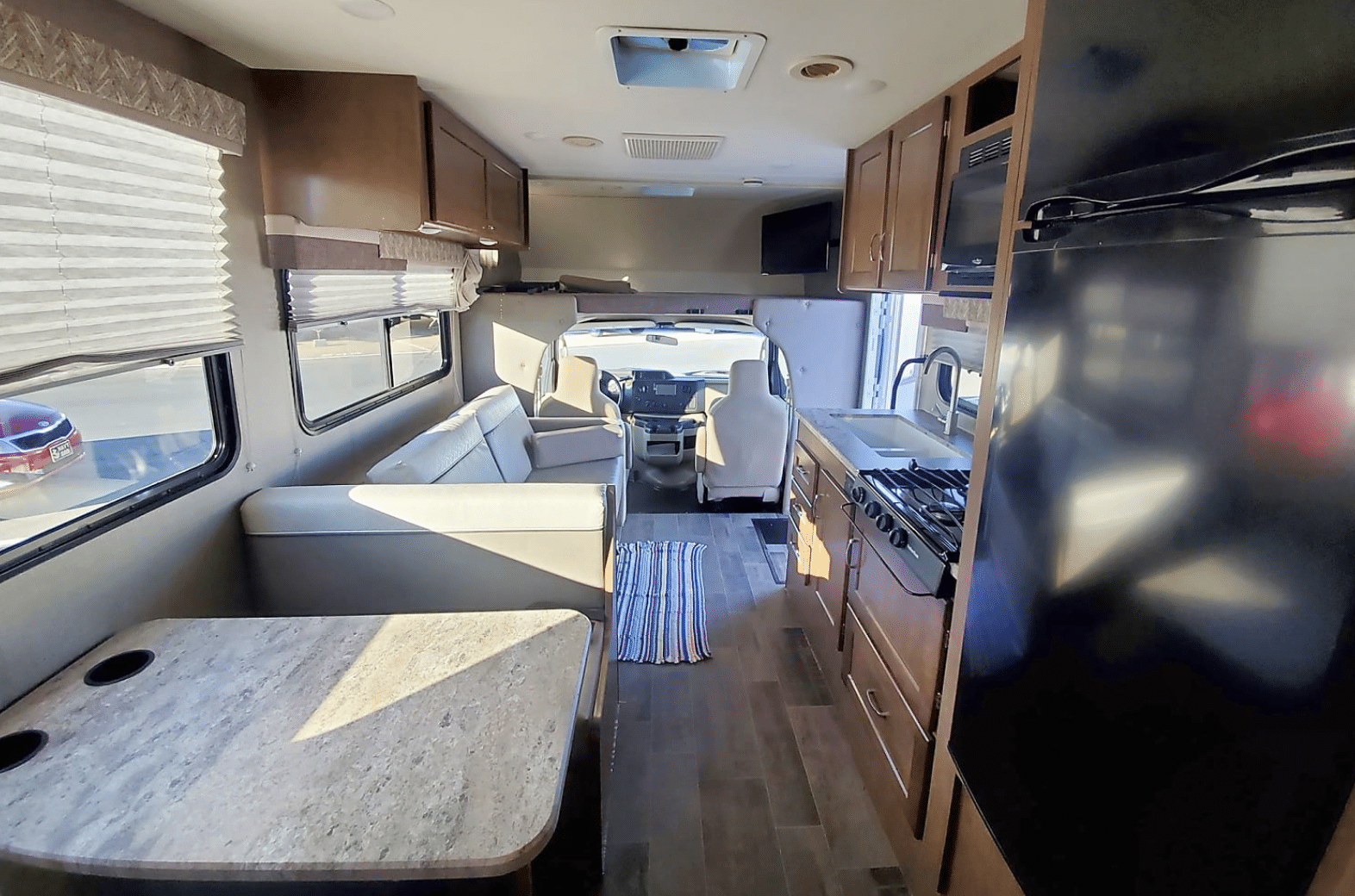 There may not be any slides on this rig, but the inside is incredibly spacious! You're able to move around with ease (especially in the bathroom!).
6. 2015 Ford Transit Camper Van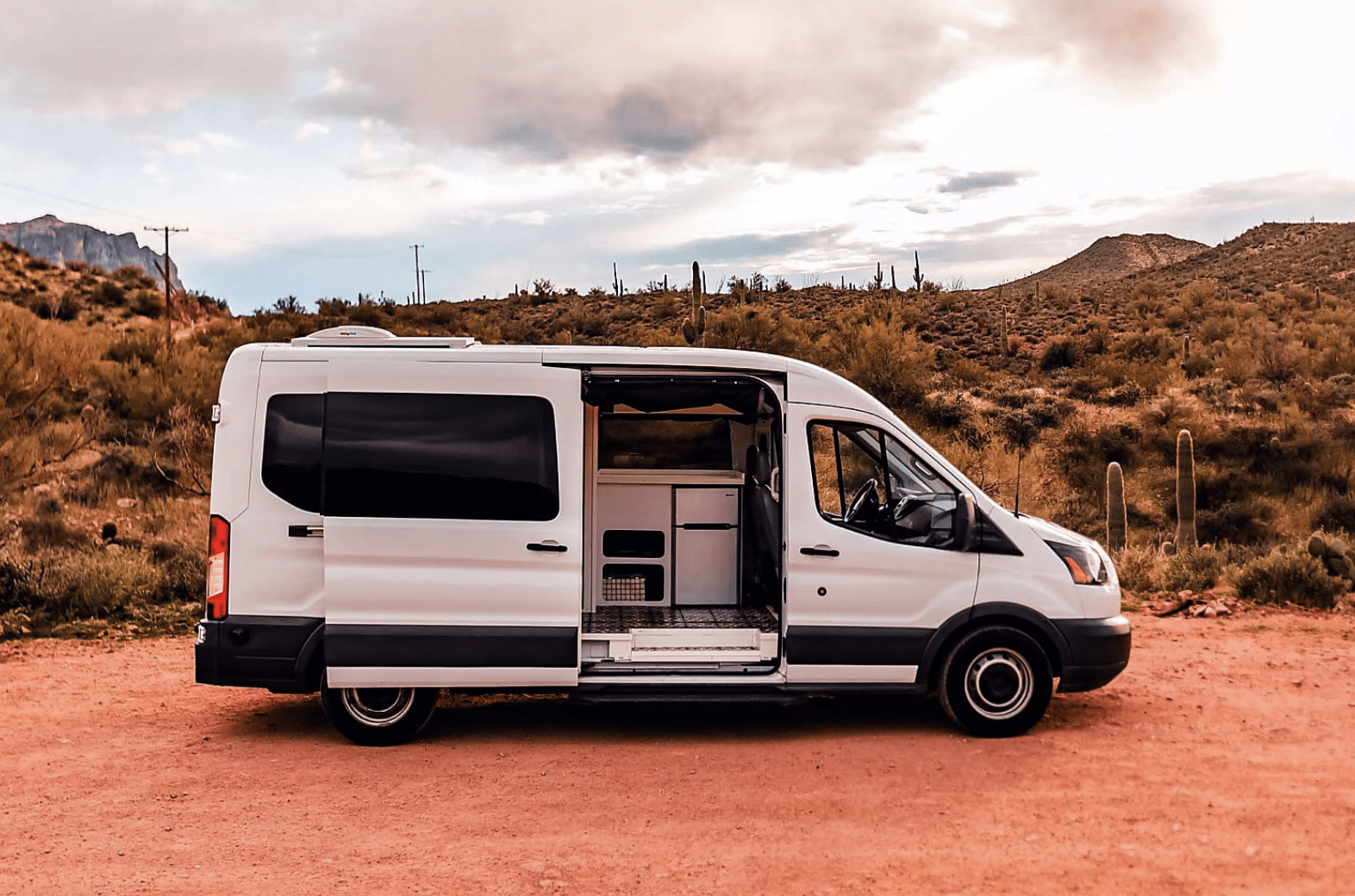 Price: $179/night Pet Friendly? Yes
Slides: 0 Sleeps: 2
We absolutely love the inside of this 2015 Ford Transit Camper Van. It is to die for!
Here's a look inside: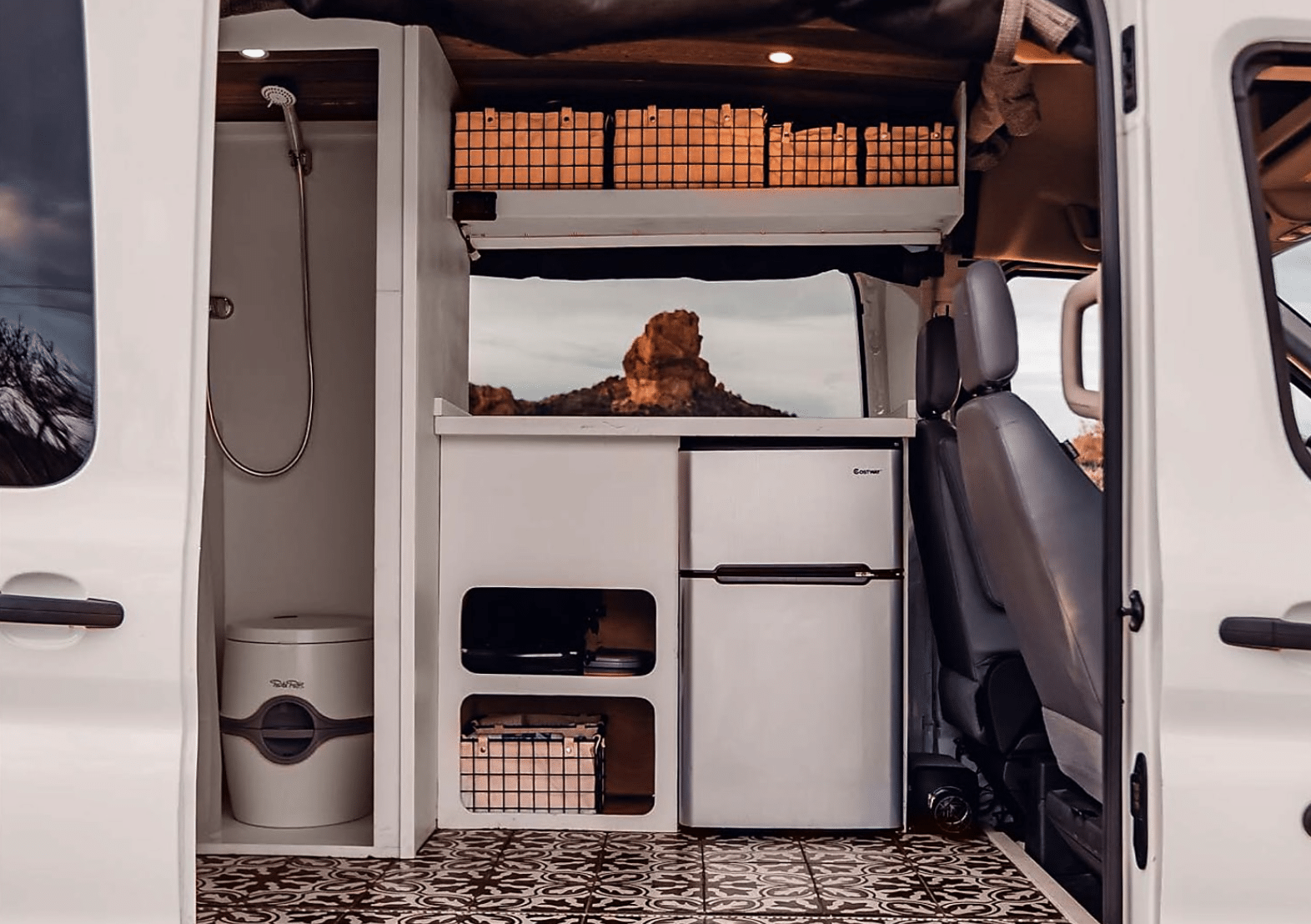 This camper van rental is perfect for a couple to use for an escape through the Southwest. With its maneuverability and ability to park in a regular spot with ease, anyone can take this van for a spin.
The van is equipped with the gasoline twin turbo Ecoboost V6 engines and all of the interior lights and appliances are powered by a 220ah battery bank that charges through solar power and while the engine is running.
7. 2017 Other Homebuild 9′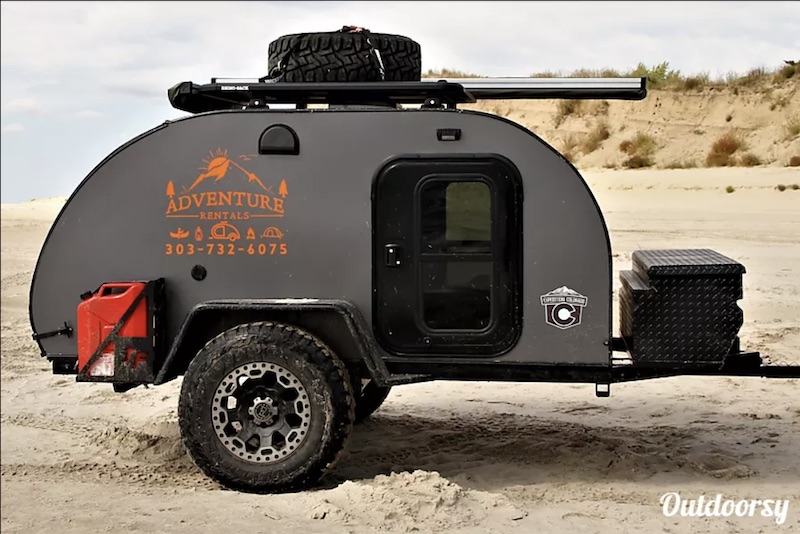 Price: $150/night Pet Friendly? Yes
Slides: 0 Sleeps: 2
This 2017 Other Homebuild is a pretty neat little teardrop trailer. I love the wood paneling in the interior the most!
Here's a look at the floor plan: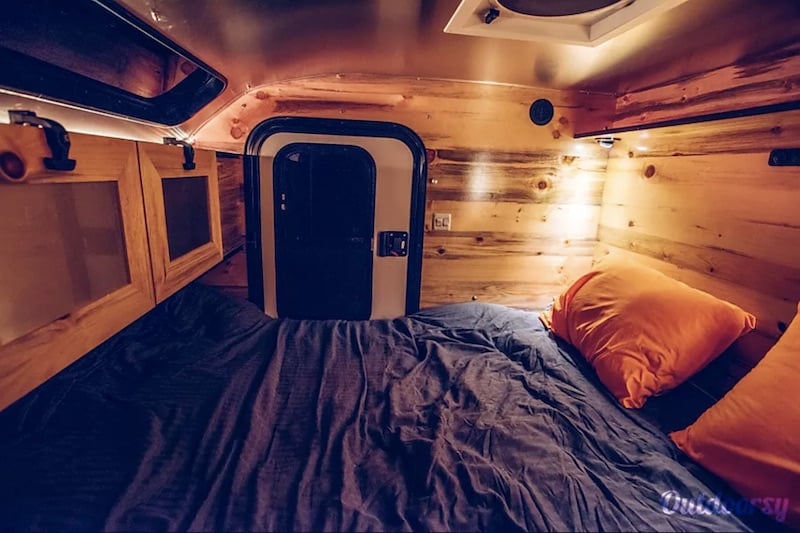 This travel trailer rental is ready for just about anywhere you want to go! It is expertly equipped with high clearance, heavy duty Timbren axel-less suspension with breaks, and 33″ all terrain tires. It also comes with a front tongue box for extra storage.
Inside, there is a queen size pillow top mattress, screened windows on each side, and a ceiling fan for extra ventilation. There are also multiple USB ports and 12-volt outlets throughout the galley and cabin.
8. 2019 Forest River Georgetown 37′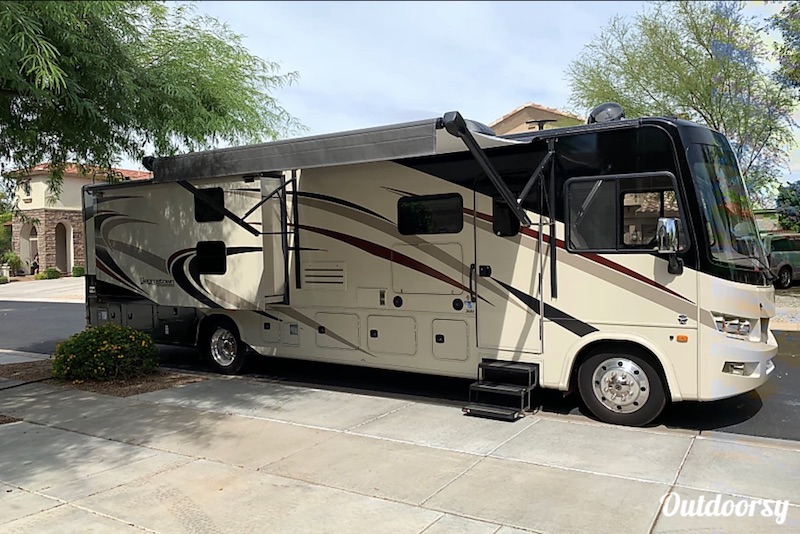 Price: $309/night Pet Friendly? No
Slides: 3 Sleeps: 6
Explore Arizona in this luxurious 2019 Forest River Georgetown. After spending time in this motor home rental, you may never want to go home again!
Here's a look inside: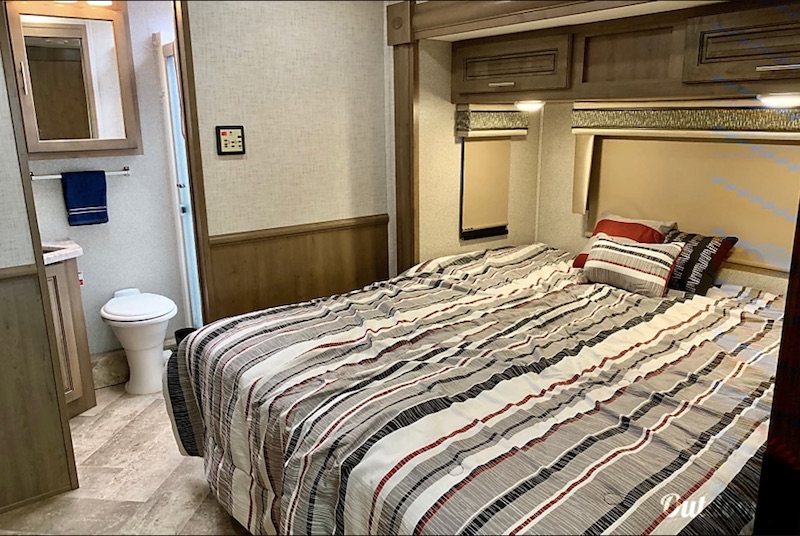 This RV rental is practically brand new, and RV owner Chad has kept it in immaculate condition.
The rear of this coach has a master bedroom with a king sized bed and private master bath. There is also two bunk beds with their own LCD TVs, a hall bath, pull out sofa, and a drop down bed over the cab.
The interior has all tile flooring, solid surface countertops, a full size refrigerator, gas stove, and five LCD TVs.
Some of the other features that this rental offers include an auto level, outdoor, shower, BBQ grill, and awning.
9. 2018 Rough Rider Trailer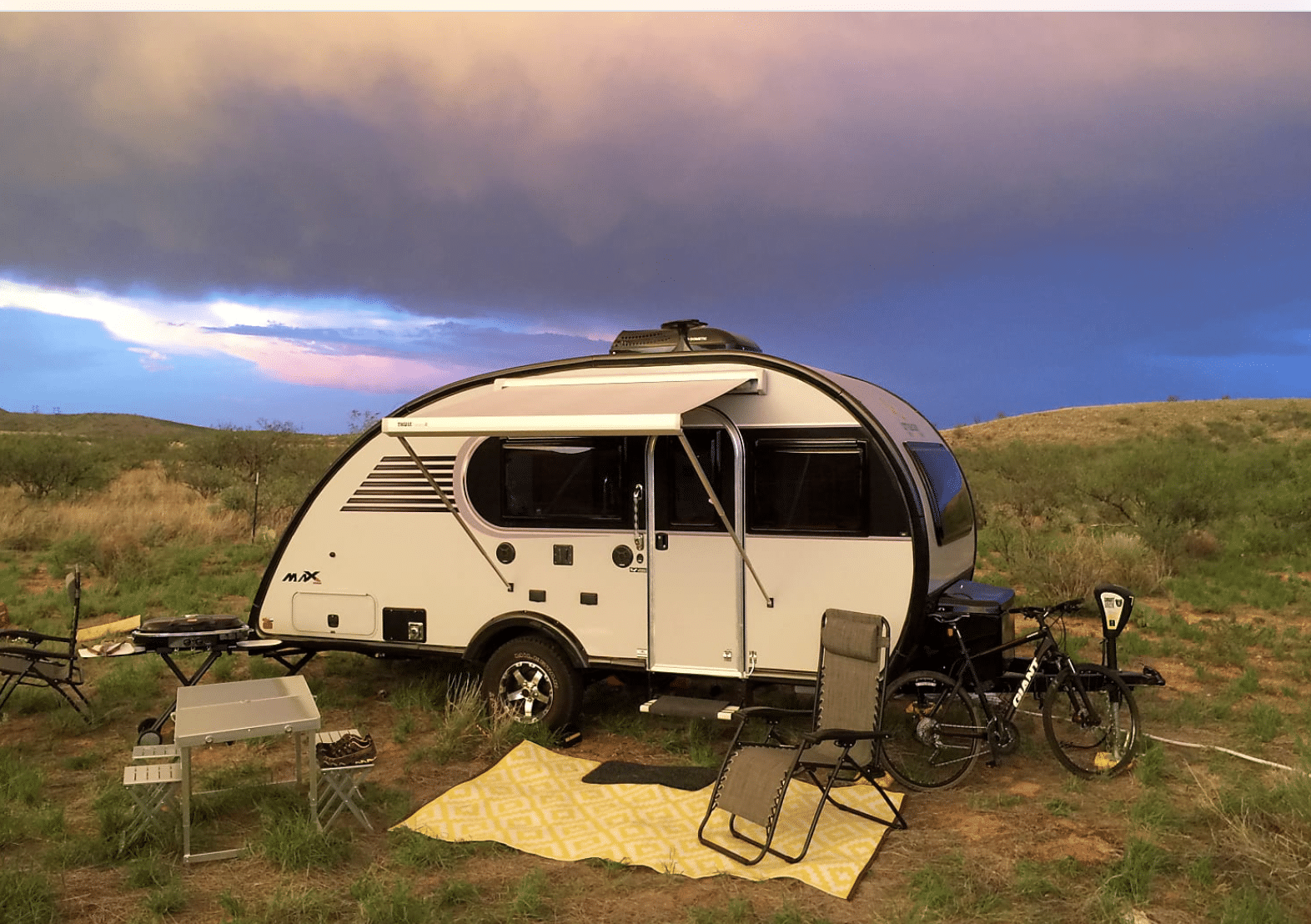 Price: $109/night Pet Friendly? Yes
Slides: 0 Sleeps: 3
Enjoy Arizona in this 2018 Rough Rider Trailer. Park out in the desert and enjoy a night under the stars in this rig!
Here's a look at the floor plan: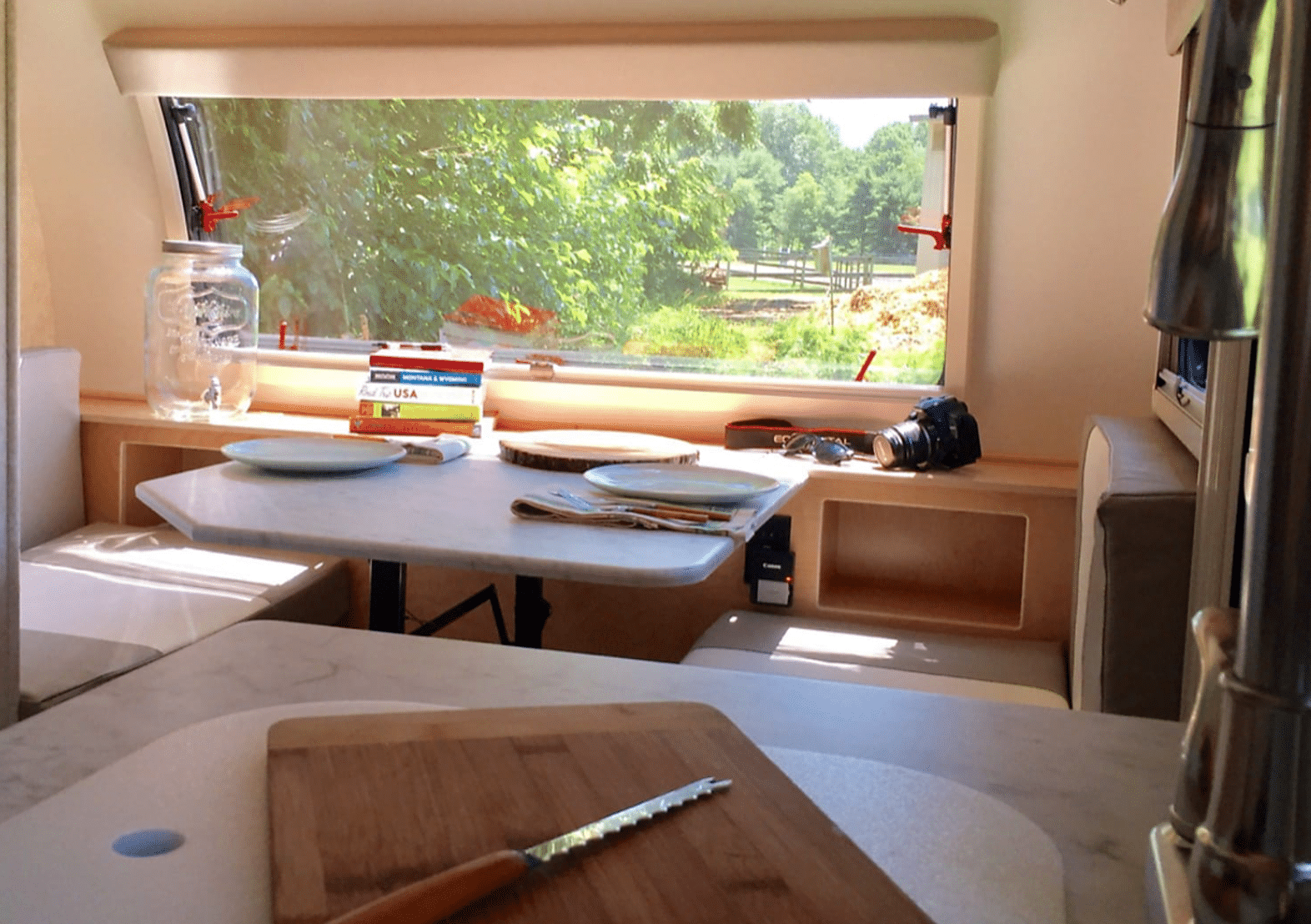 This trailer rental comes with a "heavenly" queen-sized bed and has a window perfect for star gazing above it.
It also comes with blackout curtains to ensure you're able to sleep peacefully no matter the time.
10. 2016 Airstream Trailer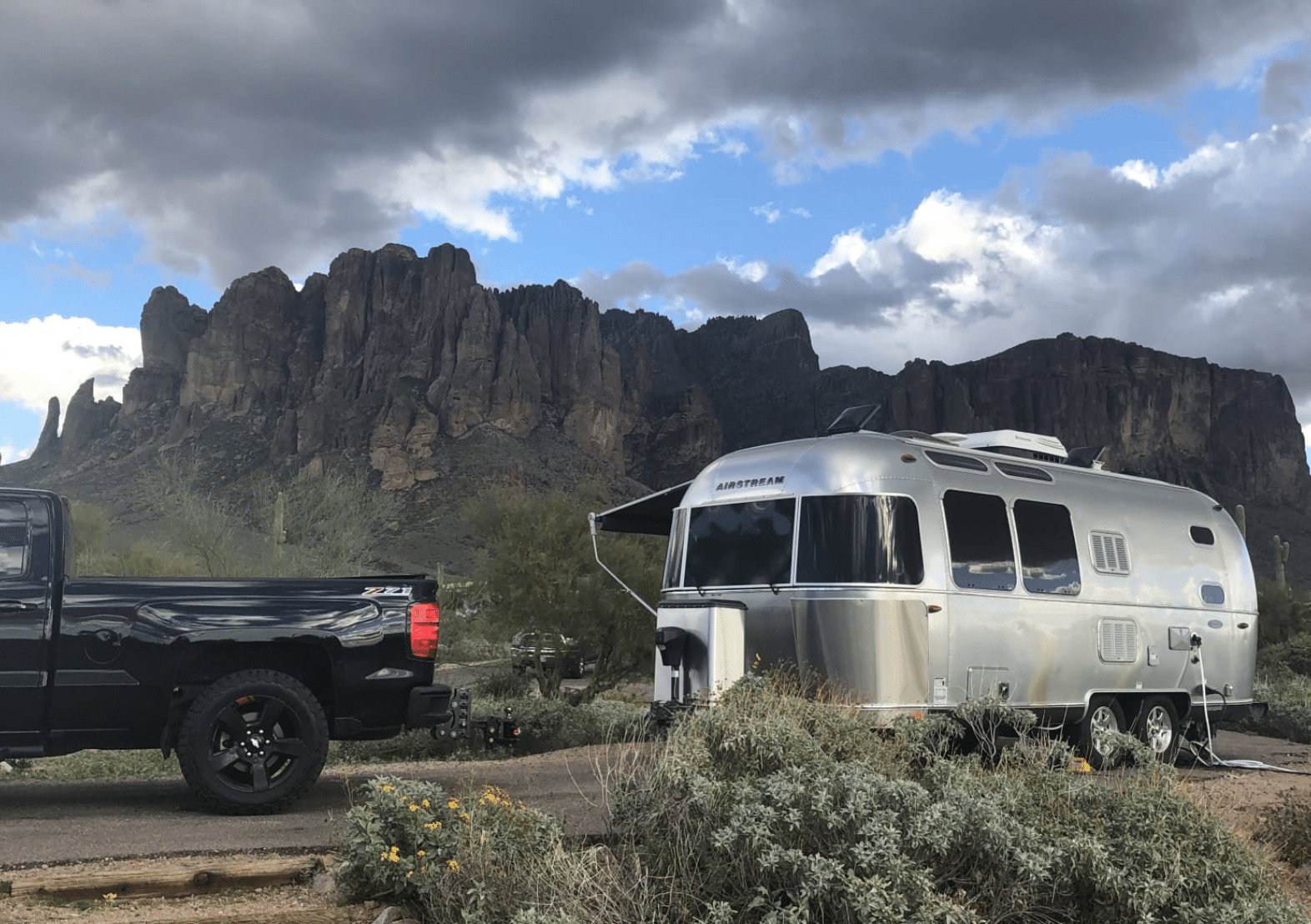 Price: $149/night Pet Friendly? Yes
Slides: 0 Sleeps: 6
Last, but certainly not least, we have this 2016 Airstream Trailer.
Here's a look inside: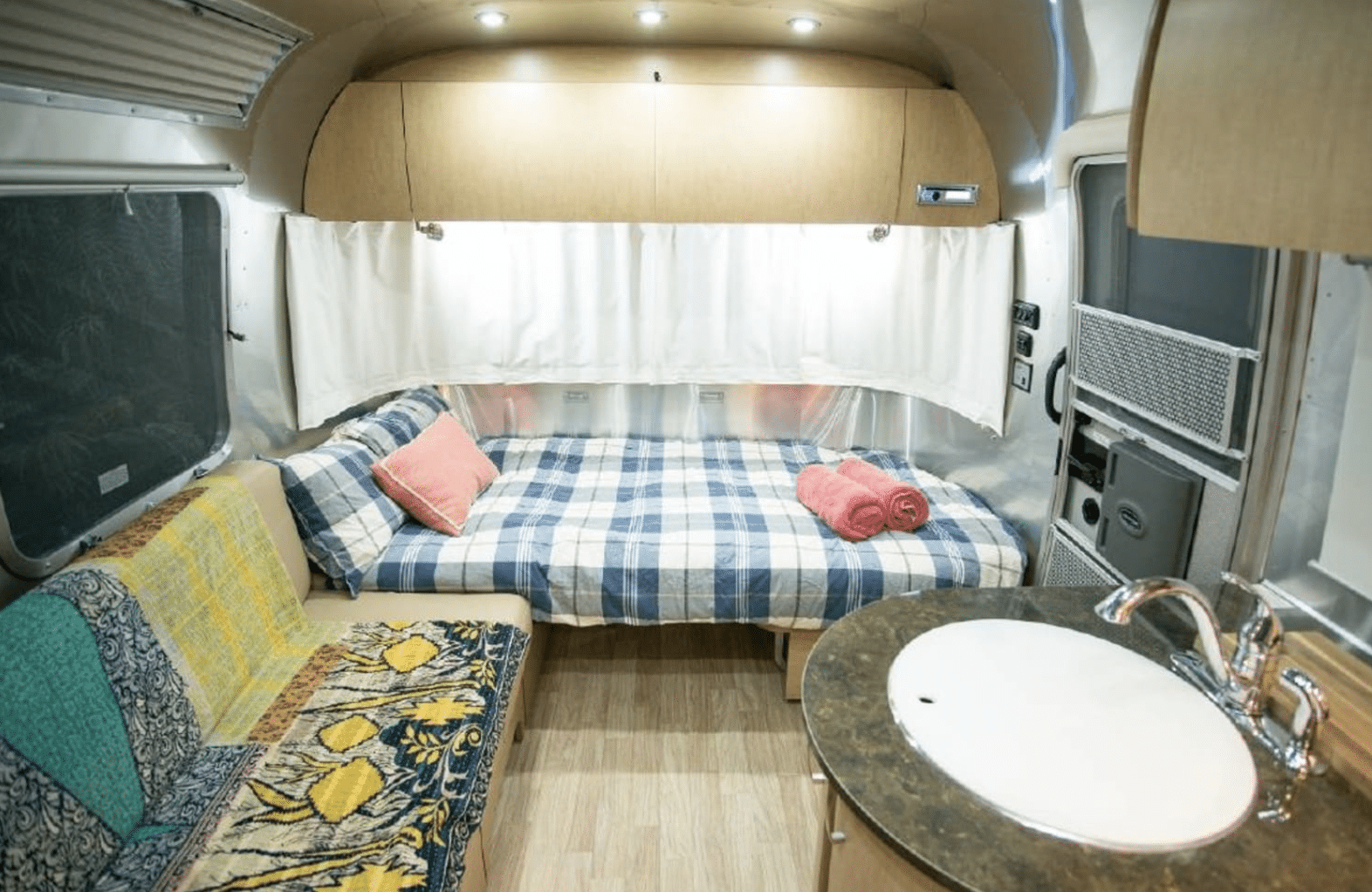 This Airstream rental may be small, but it's maneuverable and easy to drive.
It's fit for families, long-term travelers, or weekend wanderers – check it out today!
Things to Do in Phoenix, AZ
That brings us to the end of our list of the best RV and camper van rentals in Phoenix, Arizona!
Remember, if you didn't like any of these we listed (or they weren't available for you), you can always check out all the Phoenix RV rentals available on Outdoorsy. You can find everything from tent campers to luxury Class A's.
Now that your trip is booked, the next step is to plan your activities!
Wondering what to do in Phoenix, AZ? Here are a few must-see tourist attractions:
Are none of these the tourist attraction of your dreams? Check out the top things to do in Phoenix on Trip Advisor.
If you are planning your trip and need a little help finding a place to park your rig, here is a list of RV campgrounds and RV resorts.
And that's all we have for you! Want to share your Phoenix camper van or RV rental or some cool things to do in Arizona? Or have questions? Leave a comment below!
Pro Tip: Want better rental prices? Ask the rentees if they offer reduced winter rates! Not all of them will, but a winter trip in the south can save you some money. You can also check availability and add Outdoorsy Roadside Assistance to most of the rentals for added peace of mind.
Want to take RV road trips elsewhere? Check out these other RV destinations:
More RV Rental Destinations
Rentals By Type
Enjoy your RV rental vacation!!