Get $50 Off Your Los Angeles RV Rental!
Rent with Outdoorsy to get $5o off (discount applied at checkout).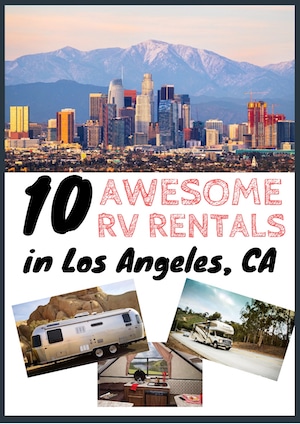 Looking for RV rentals in Los Angeles, California?
Look no more!
We found the 10 best RV rentals Los Angeles has to offer – everything from cheap RV rentals to luxury motorhome rentals, small off-road travel trailers to massive Class A's.
You're just moments away from being in an RV in Los Angeles, CA!
(You can scroll through the whole post or choose an option below that catches your eye.)
Table of Contents
The 10 Best Los Angeles RV Rentals
Disclaimer: These RVs rent out fast! You usually need to rent them weeks (sometimes months) ahead of time.
If the RVs below aren't available for the time you want to rent them, click here to go to Outdoorsy and see what else is available for you in Los Angeles!
1. 2019 Toton X Hybrid Trailer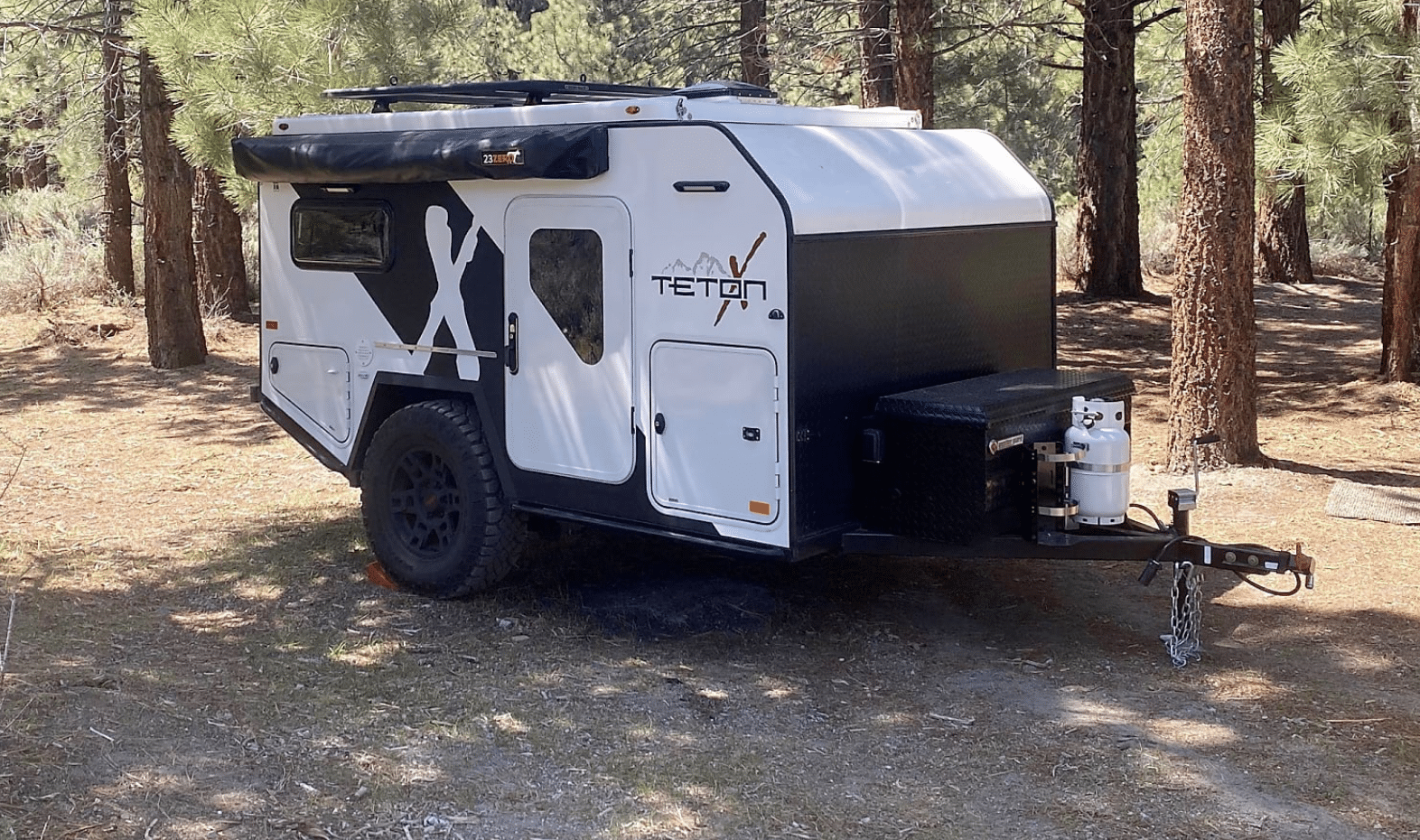 Price: $195/night Pet Friendly? Yes
Slides: 0 Sleeps: 4
This 2019 Teton X Hybrid is the perfect motorhome rental to explore the in's and out's of Los Angeles and the surrounding areas!
Check out the inside: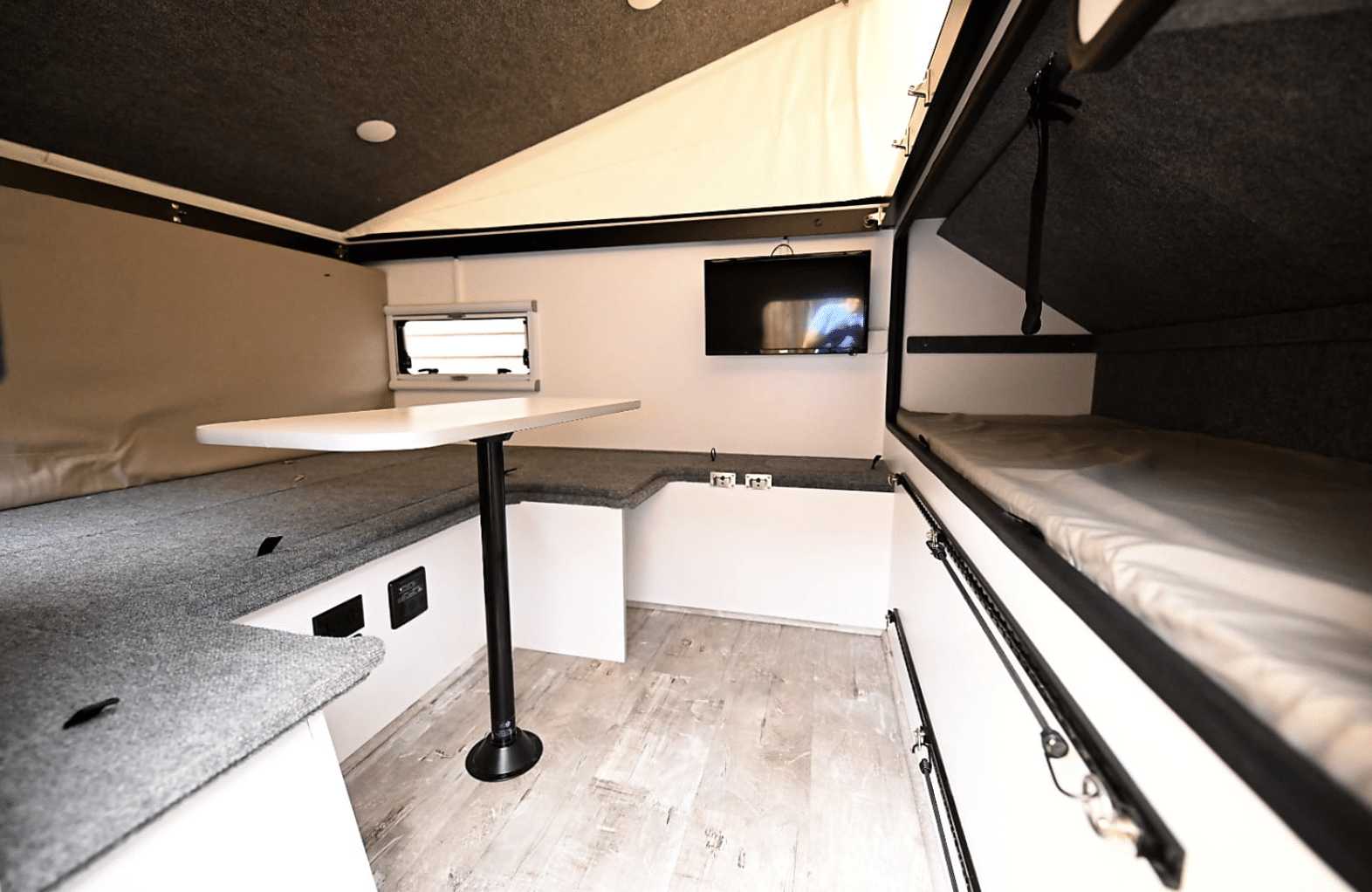 This trailer comes in at a super light 3000lbs, making it easy for almost any vehicle with a 2" receiver and 7pin connector to tow it.
The interior is dedicated to sleep and protectIon from the elements with a super comfortable king or queen bed that can sleep 4 (like in a tent), but also an "upstairs" and a front bunk if you need to accommodate 2 more smaller people/kids.
2. 2017 Hymer Aktiv 20′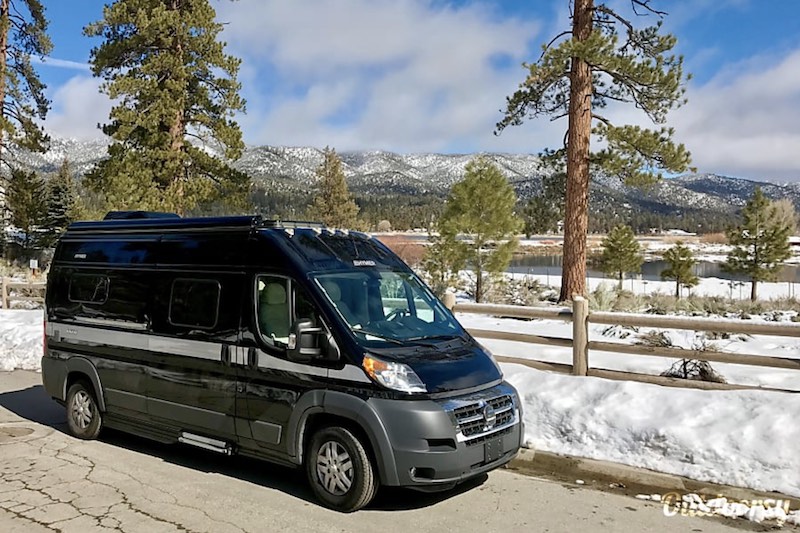 Price: $250/night Pet Friendly? Yes
Slides: 0 Sleeps: 4
Were you looking for a camper van rental with a European design? I know I was! This 2017 Hymer Aktiv is elegant inside and out!
Here's a look at the floor plan: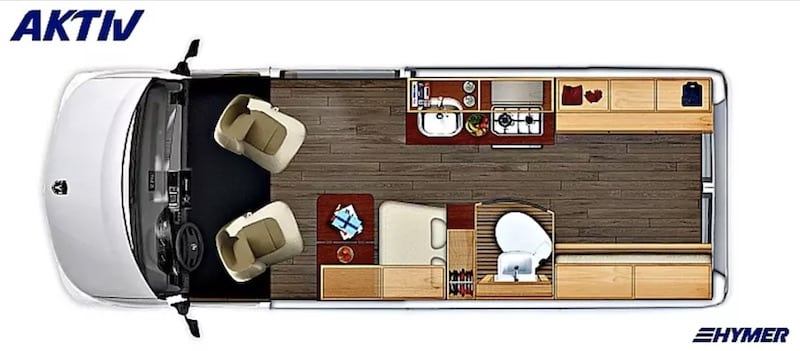 This camper van is a compact yet roomy studio on wheels! As a camper with enough room to fit a family of 4 and the maneuverability to get through California's worst traffic, you can see everything from Beverly Hills to Sunset Blvd to Anaheim!
It even comes with some pretty cool features like a TV/DVD, refrigerator, microwave, stovetop, and an awning to enjoy that comfortable 75° weather!
3. 2014 Airstream Interstate 24′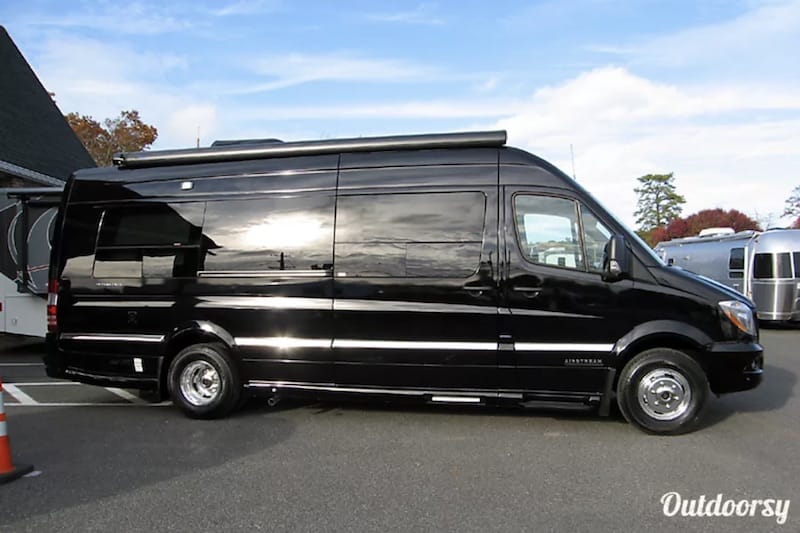 Price: $225/night Pet Friendly? Yes
Slides: 0 Sleeps: 2
Go on a glamping adventure in this 2014 Airstream Interstate! Susan, the RV owner, boasts that it's the perfect getaway car because it is easy to drive and provides a luxurious ride.
Here's a look inside: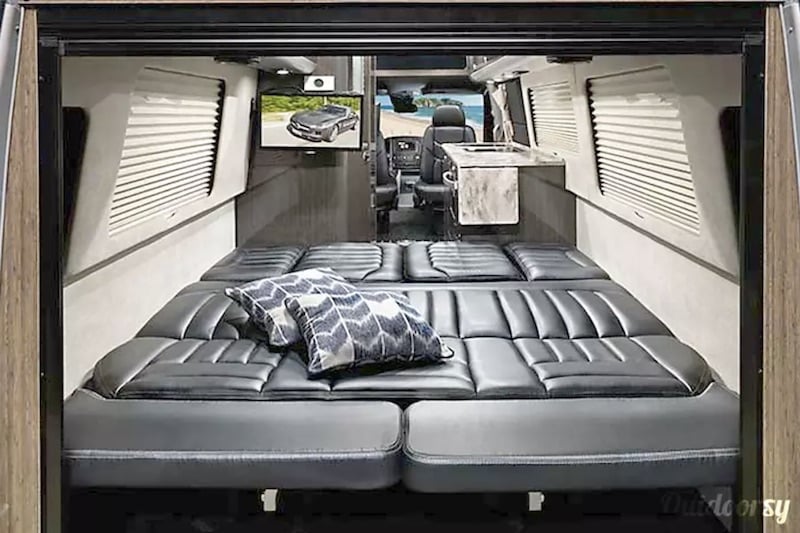 I have a special place in my heart for Airstream so this camper van rental really seals the deal for me! What makes this such a great choice is all of its safety features like side-view cameras, parking assist, collision prevention, and lane keeping assist.
Another huge plus is the fuel economy – getting typically in the upper teens to low 20s per gallon. That is a big deal when California gas prices can get up to almost $5/gallon!
4. 2012 Fleetwood Jamboree Sport 29′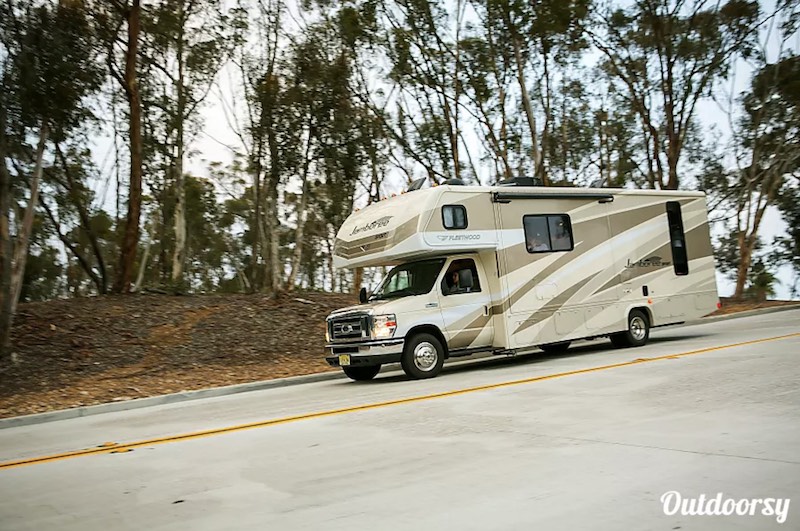 Price: $225/night Pet Friendly? No
Slides: 2 Sleeps: 6
The RV owner, Eva, says that the perfect renter for this 2012 Fleetwood Jamboree Sport is "the family that wants to make memories." If that sounds like you, then don't miss out on this motor home rental!
Check out the modern, minimalist floor plan: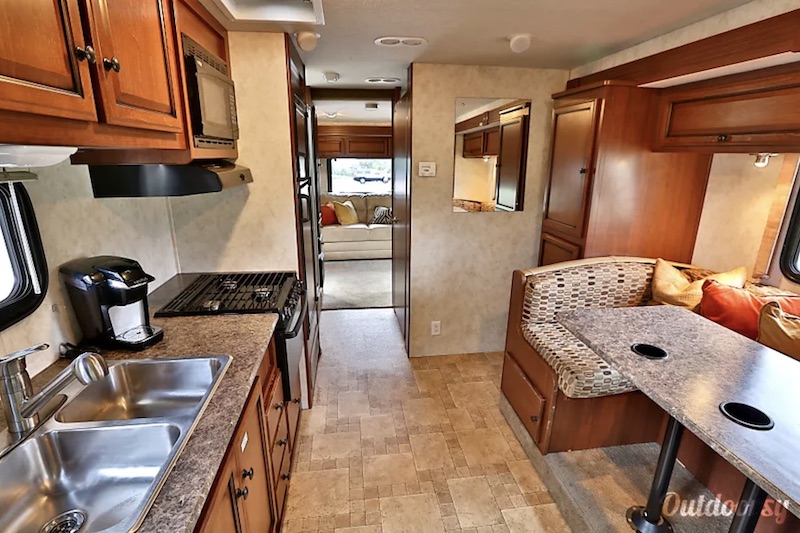 Eva takes great care and pride in the way she cares for her RV. She wants to share her motor home with a family who will love it as much as she does and will treat it with a lot of respect.
There are a few add-ons that you can get for an extra charge like a linen set, kitchen set, and satellite. Eva will even deliver the RV to the RV campground or RV resort of your choosing!
5. 2000 Ford E350 16′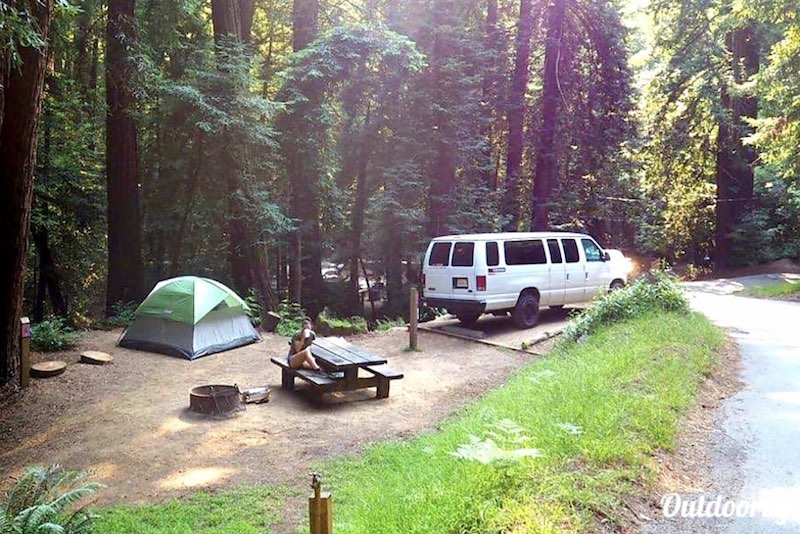 Price: $80/night Pet Friendly? Yes
Slides: 0 Sleeps: 2
Looking to rent an RV on a budget? Check out this 2000 Ford E350!
Here's a look inside: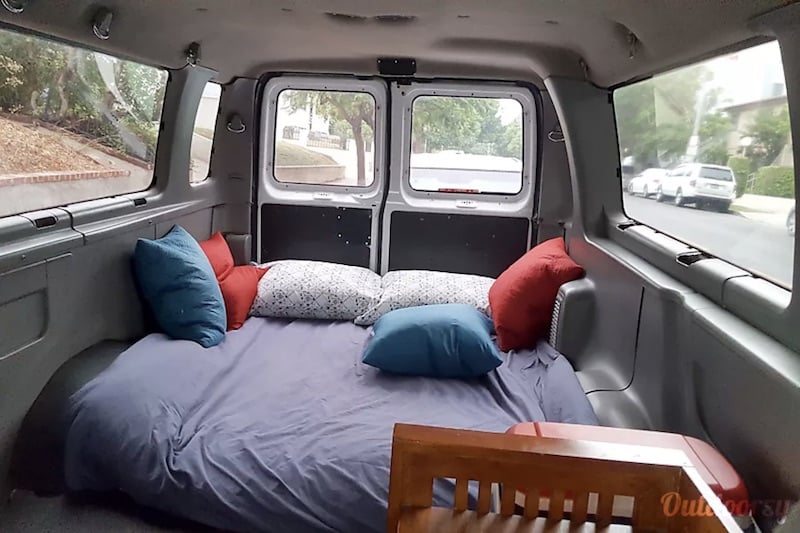 This camper van rental is perfect for two people to see Los Angeles! When you are done exploring Sunset Blvd, you can take this puppy out to the dunes and sleep under the stars because it comes equipped with off-road tires that are perfect for any terrain.
The inside has a comfy, plush futon bed, air conditioning, and a nice stereo.
RV owner, Scott, even throws in some pretty cool extras like a tent, cooking stove, cooler, umbrella, and a surfboard (because you can't really say you've been to SoCal without hitting some waves)!
6. 2017 Forest River Stealth 22′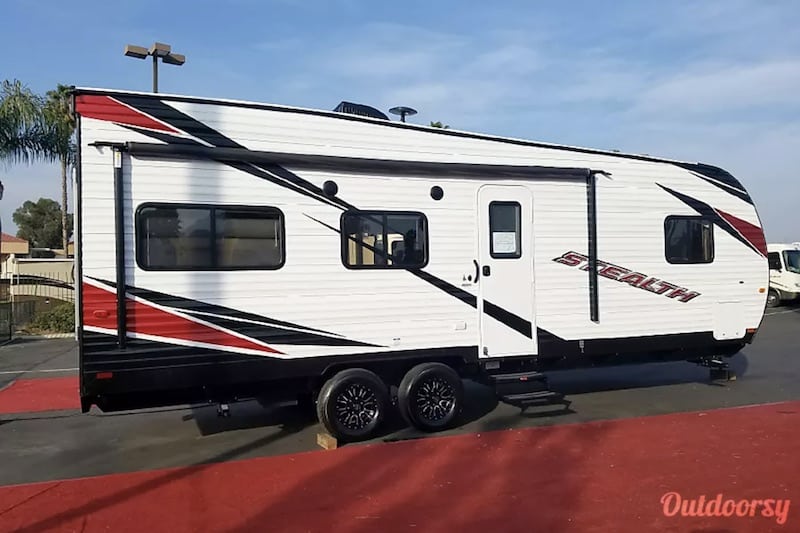 Price: $165/night Pet Friendly? Yes
Slides: 0 Sleeps: 8
One of the best things about going to Southern California is going out to the Dunes. This 2017 Forest River Stealth is perfect for a week out in the desert!
Here's a look inside: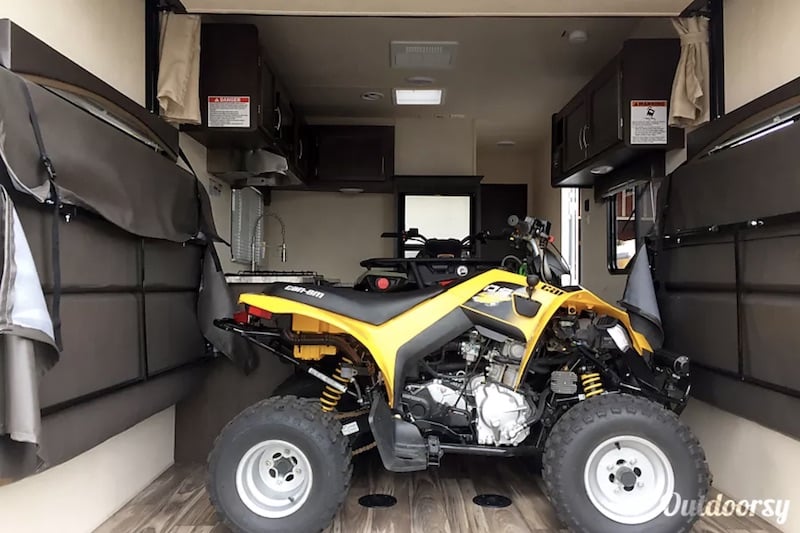 This toy hauler travel trailer rental comes with a ton of great features like an electric awning, 2 propane tanks, bluetooth radio, an electric bed, two fold up couches, a front bedroom with full bed, and 13ft of RV storage. That's just the beginning of what this RV offers!
The only thing that RV owner, Monica, asks is that you have Break Controller and Binder insurance.
7. 2017 Coachmen Viking 20′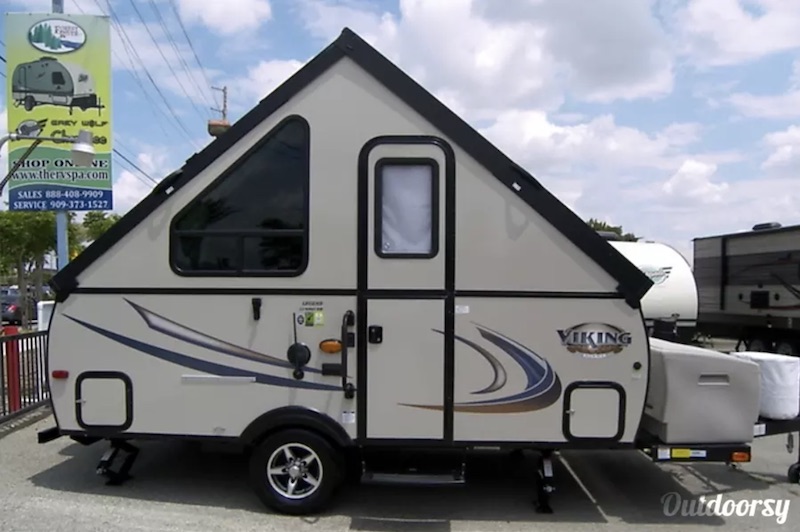 Price: $105/night Pet Friendly? Yes
Slides: 0 Sleeps: 4
I love the look of this 2017 Coachmen Viking! It's a great alternative to tent camping and easy to tow.
Here's a look inside: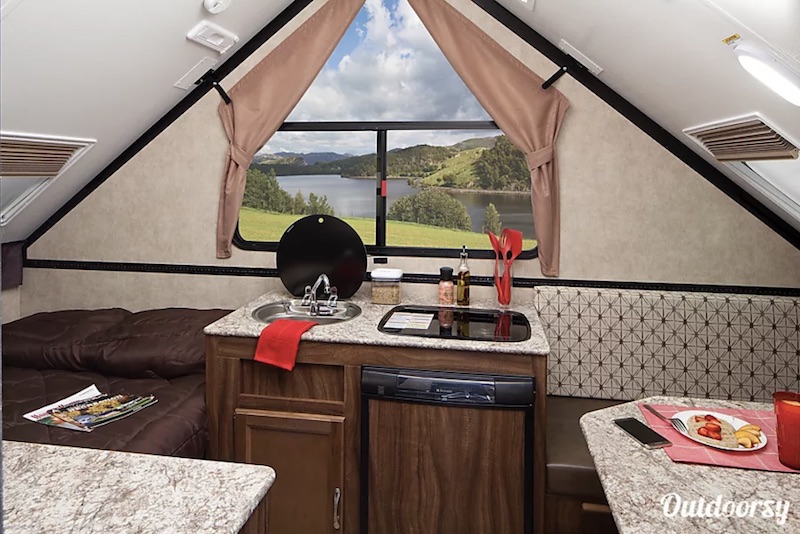 This travel trailer rental has some amazing features like a refrigerator, stovetop, microwave, and air conditioning/heating. The RV owner even throws in a coffee pot, camping chair, kitchen set, porta-potty, and privacy pop up tent for free!
The only thing to keep in mind when renting the Viking is that it needs to be plugged into shore power and is not good for dry camping unless you bring a generator.
8. 2010 Tiffin Motorhomes Allegro Open Road 35′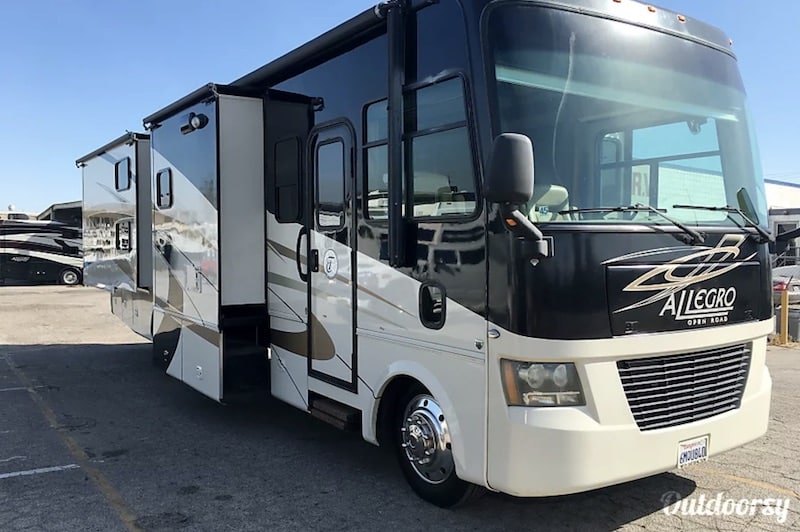 Price: $190/night Pet Friendly? No
Slides: 4 Sleeps: 8
This 2010 Tiffin Motorhomes Allegro Open Road has enough room to be considered a small house! 
Here's a look inside: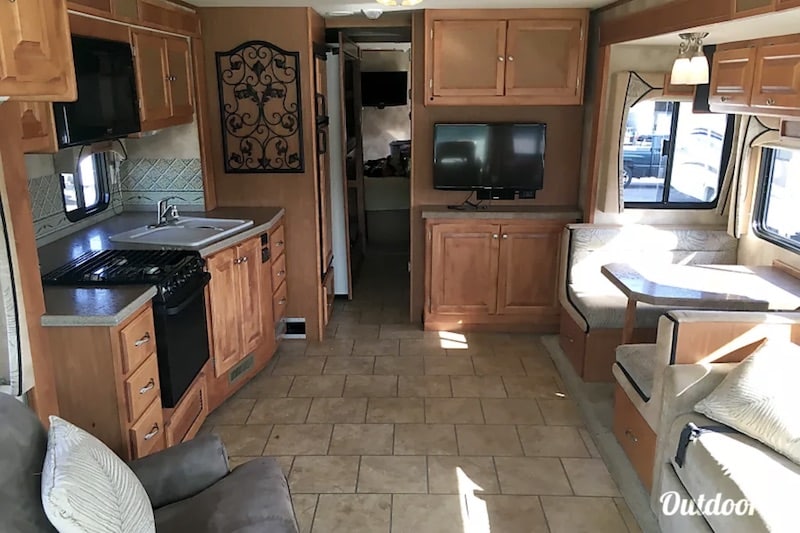 This motorhome rental in Burbank is a great choice for a large family. It comes with a master bedroom for some parental privacy and bunks for the kids.
The owner will even provide linens, a kitchen kit, and a beach kit for a small fee.
9. 2018 Airstream International 25′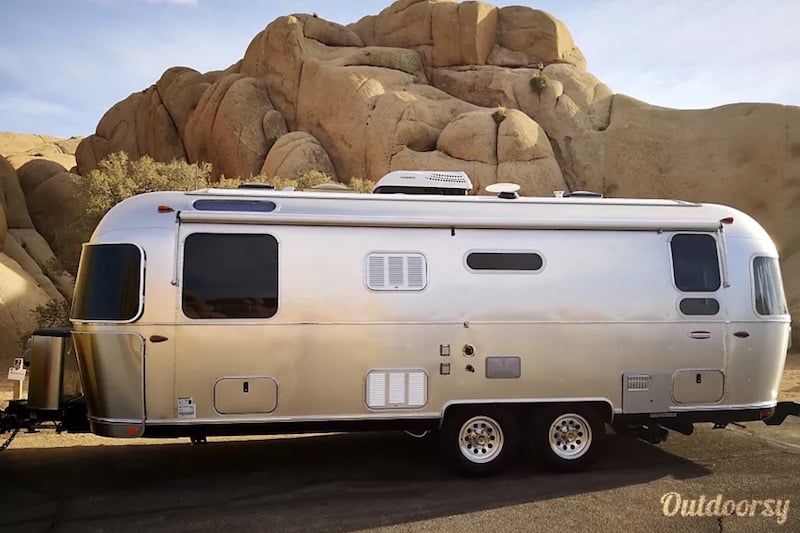 Price: $265/night Pet Friendly? Yes
Slides: 0 Sleeps: 6
This 2018 Airstream International is one luxury RV rental Los Angeles has to offer. With a simplistic exterior and European inspired interior, you are sure to love this travel trailer!
Here's a look inside: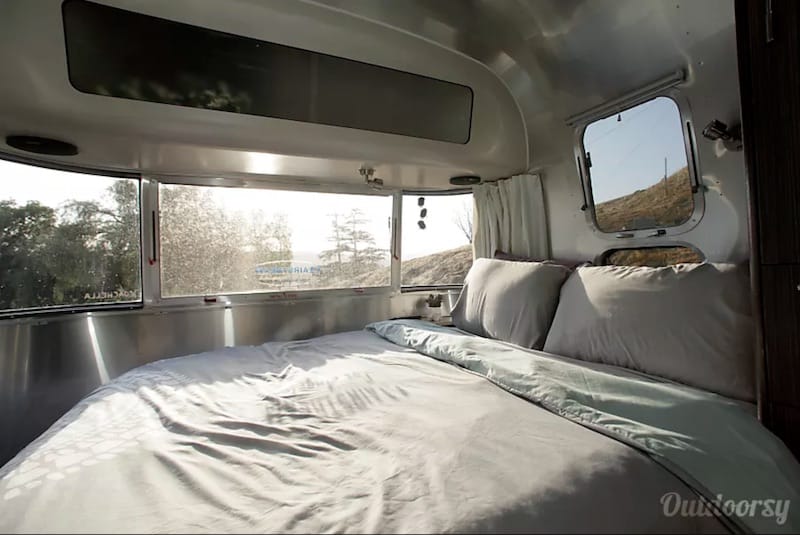 This travel trailer rental offers a semi-private master bedroom with queen bed plus two fold out beds.
In the kitchen it has a large RV fridge with separate freezer and a gas stove with oven.
As an added bonus, this Airstream is solar equipped which will power everything except the air conditioning and microwave when boondocking.
10. 2012 Monaco Vesta 32′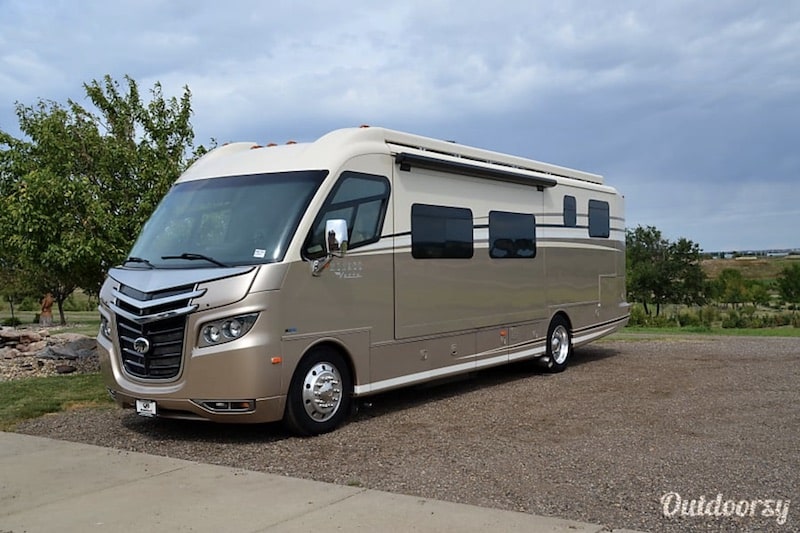 Price: $200/night Pet Friendly? Yes
Slides: 1 Sleeps: 4
Last, but certainly not least, we have this modern 2012 Monaco Vesta!
Here's a look inside: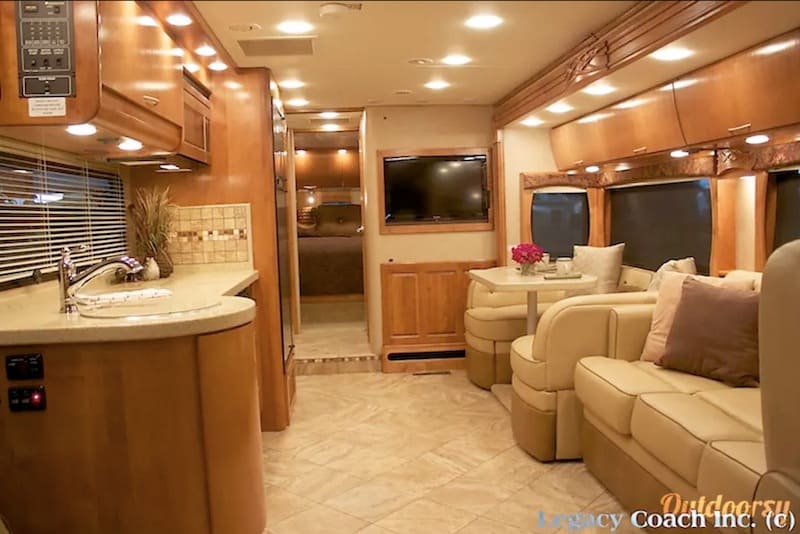 This motorhome rental has quite a few features like a diesel front engine, two air conditioners, satellite navigation, bluetooth phone, solar panels, and integral diesel generator.
The RV owner, Dave, even throws in kitchen essentials, four camping chairs, barbecue, mat, and table.
Things to Do in Los Angeles, CA
That brings us to the end of our list of the best RV and camper van rentals in Los Angeles, California!
Remember, if you didn't like any of these we listed (or they weren't available for you), you can always check out all the Los Angeles RV rentals available on Outdoorsy. You can find everything from tent campers to luxury Class A's.
Now that your trip is booked, the next step is to plan your activities!
Wondering what to do in Los Angeles, California? Here are a few must-see tourist attractions:
Are none of these the tourist attraction of your dreams? Check out the top things to do in Los Angeles on Trip Advisor.
If you are planning your trip and need a little help finding a place to park your rig, here is a list of RV parks and RV resorts.
And that's all we have for you! Want to share your Los Angeles camper van or RV rental or some cool things to do in California? Or have questions? Leave a comment below!
Pro Tip: Want better rental prices? Ask the rentees if they offer reduced winter rates! Not all of them will, but a winter trip in the south can save you some money. You can also check availability and add Outdoorsy Roadside Assistance to most of the rentals for added peace of mind.
Want to take RV road trips elsewhere? Check out these other RV destinations:
More RV Rental Destinations
Rentals By Type
Enjoy your RV rental vacation!!