Get $50 Off Your Miami RV Rental
Rent with Outdoorsy to get $50 off (discount applied at checkout).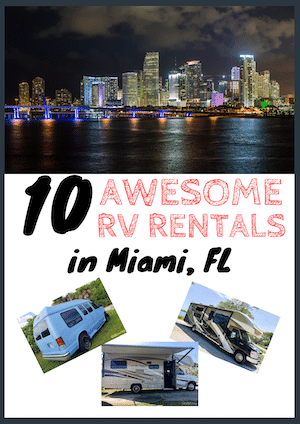 Looking for an RV rental in Miami, FL?
Look no more!
We found the 10 best RV rentals in Miami – everything from cheap to luxury, small off-road travel trailers to massive Class A's.
Get ready to plan your Miami road trip. Your rental awaits!
(You can scroll through the whole post or choose an option below that catches your eye.)
Table of Contents
The 10 Best RV Rentals in Miami, FL
Disclaimer: These RVs rent out fast! You usually need to rent them weeks (sometimes months) ahead of time.
If the RVs below aren't available for the time you want to rent them, click here to go to Outdoorsy and see what else is available for you in Miami!
1. 2018 Grand Design Imagine 32′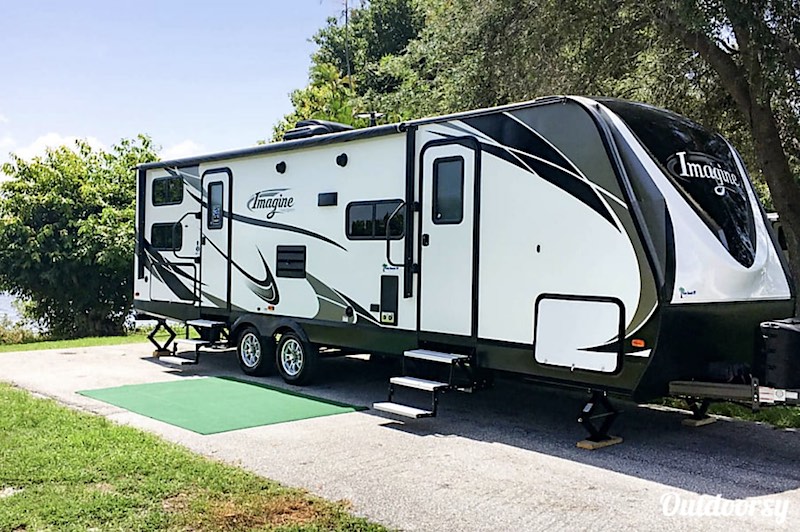 Price: $159/night Pet Friendly? Yes
Slides: 1 Sleeps: 7
We are starting out our Miami, FL RV rentals with this 2018 Grand Design Imagine. With it's modern interior, you are sure to roll in style!
Here's a look inside: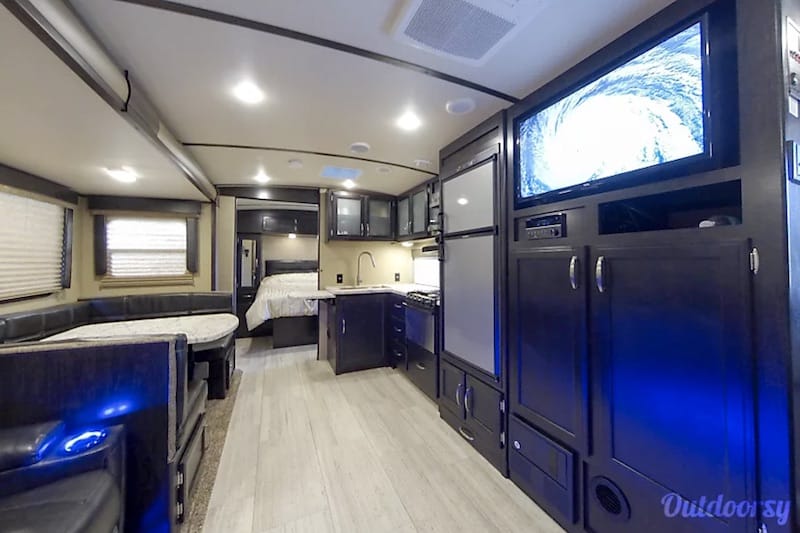 This gorgeous travel trailer comes fully stocked with dishes and utensils for all your food needs.
It has a large bathroom with walk in closet and linen closet. Experience everything this RV has to offer on your next trip to Miami!
2. 2012 Mercedes Benz Sprinter 24′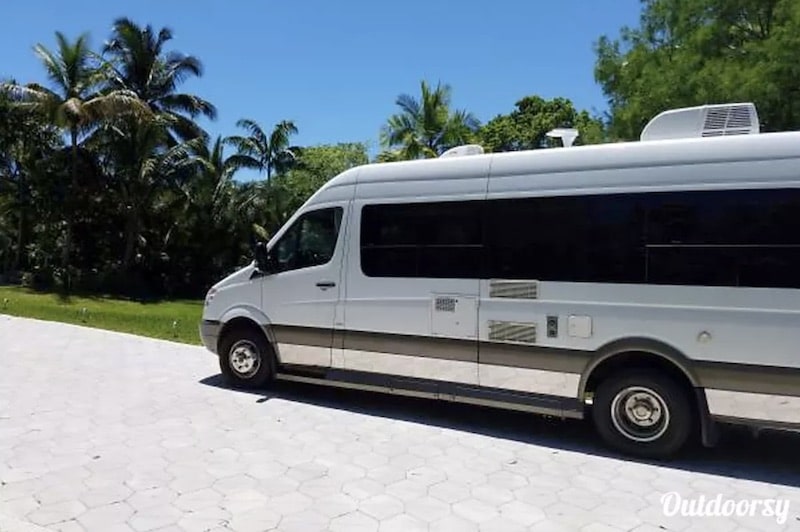 Price: $169/night Pet Friendly? Yes
Slides: 0 Sleeps: 6
Experience a smooth and elegant ride in this 2012 Mercedes Benz Sprinter. It's easy to drive and parking is a breeze!
Here's a look inside: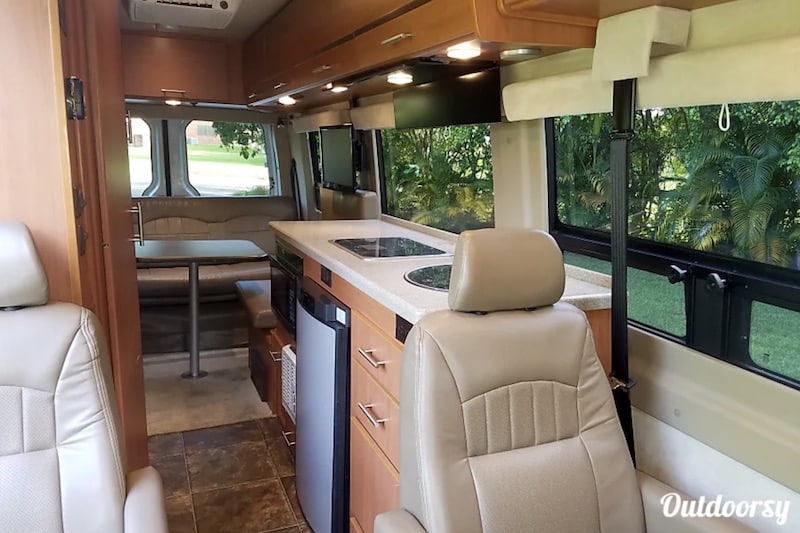 This RV model is tiny but mighty!
Inside you have a bathroom, shower, and kitchen with plenty of counter space. After a long day at the beach, you can relax on the couch that automatically folds into a queen size bed and watch the flat screen!
This camper van rental is ready to cruise America!
3. 2018 Entegra Coach Esteem 31L 31′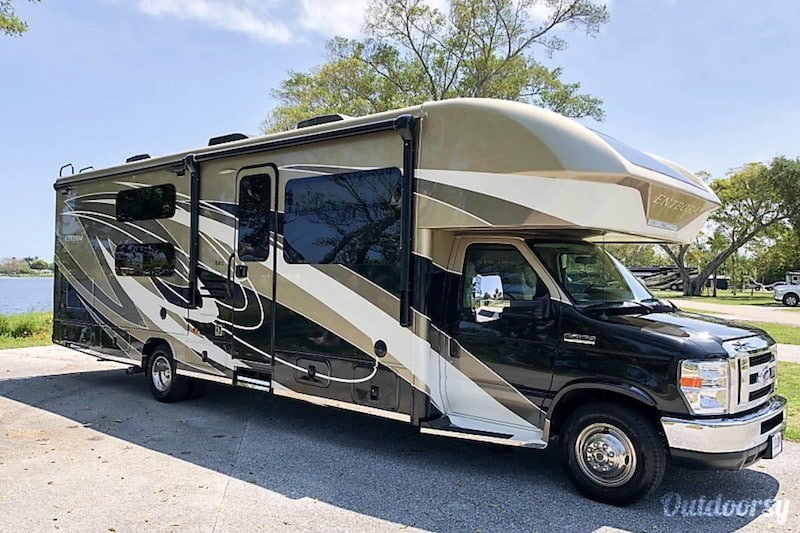 Price: $259/night Pet Friendly? Yes
Slides: 2 Sleeps: 8
It's time to wrangle up the whole family and spend time aboard this brand new 2018 Entegra Coach Esteem! A modern camping experience with plenty of room for everyone.
Here's a look inside: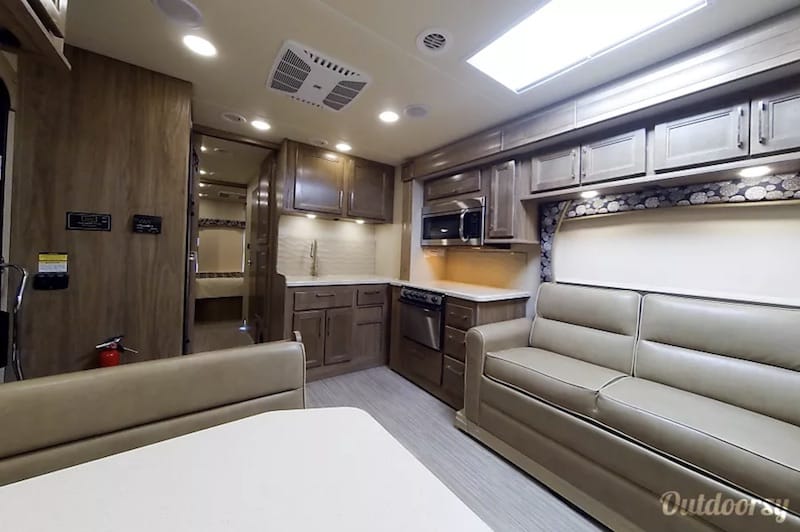 This motorhome has a set of bunks, a queen sized bed, and cab-over bunk. The sofa and dinette can also be converted into sleeping areas.
As an added bonus, the RV owner will deliver to and set up at most RV campgrounds in South Florida.
With a fully stocked kitchen, full bath, and two TVs, make this your home away from home!
4. 1998 Ford Econoline 21′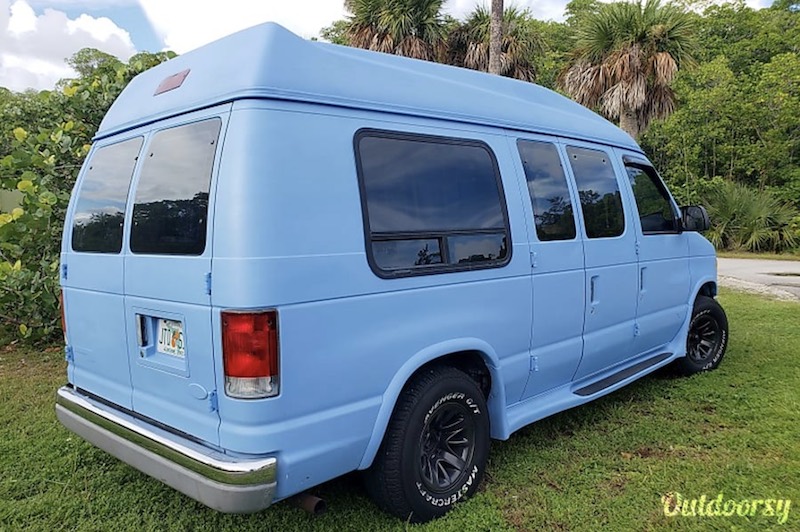 Price: $89/night Pet Friendly? No
Slides: 0 Sleeps: 2
Take this opportunity to live out your beach bum fantasies on South Beach in this 1998 Ford Econoline – aka "Big Blue!"
Here's a look inside: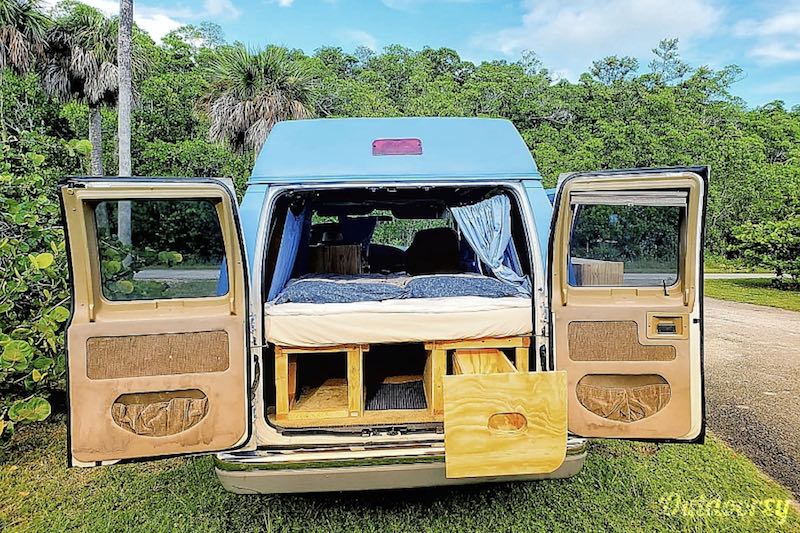 This camper van was painted by a local Miami artist during ArtBasel 2016/2017.
It comes with a dream bed, fully stocked kitchen, and other awesome perks to amp up your beach camping trip.
Check availability and book your dream RV rental vacation today!
5. 2017 Winnebago Journey 40′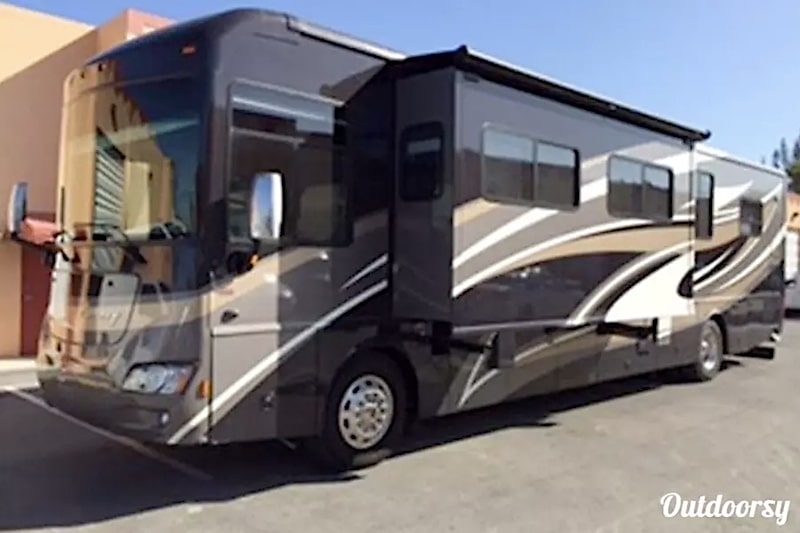 Price: $425/night Pet Friendly? No
Slides: 3 Sleeps: 6
Experience this roomy 2017 Winnebago Journey. A great motorhome rental to make memories in Miami!
Here's a look inside: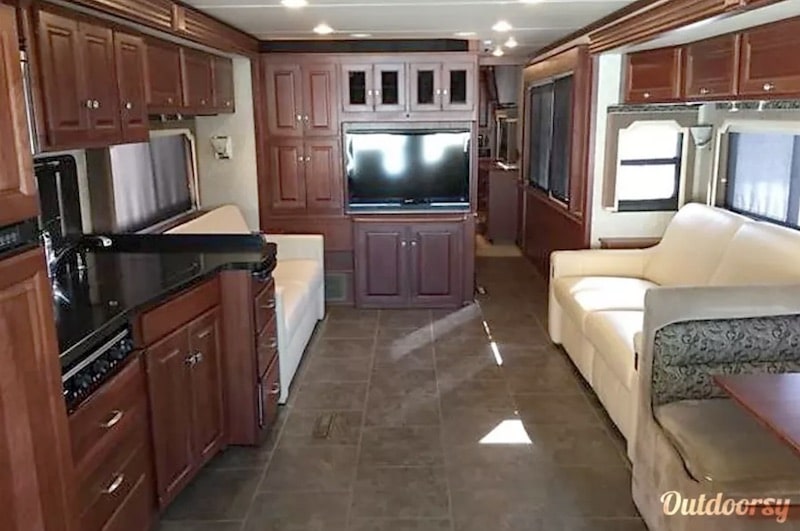 With three slides, this Miami RV rental offers a small apartment on wheels.
Enjoy some TV in the spacious living area. Catch a good night's rest in the private master bedroom.
You can even make yourself a midnight snack in the large kitchen and dining area!
6. 2017 Itasca Suncruiser 37′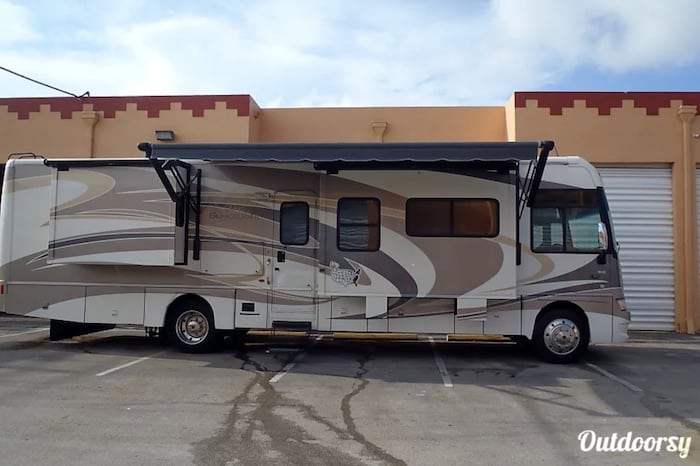 Price: $350/night Pet Friendly? No
Slides: 3 Sleeps: 4
Book an RV that is as cozy as home and so much more. Cast your worries aside and enjoy the comforts of this fully stocked 2017 Itasca Suncruiser!
Here's a look inside: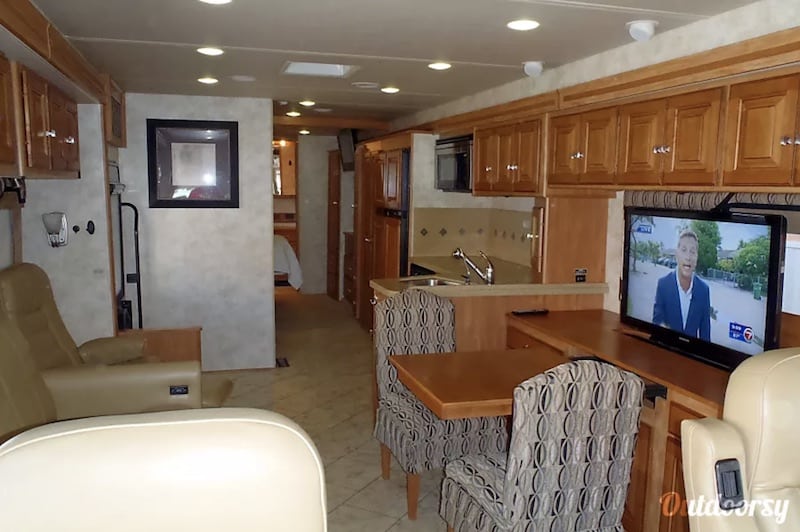 This Miami RV has it all!
Enjoy a movie under the stars and some s'mores with the outdoor TV. Cozy up in the king sized bed for the night. Throw some beach chairs in the basement storage.
Experience comfort in this luxurious, spacious coach!
7. 2015 Winnebago Aspect 32′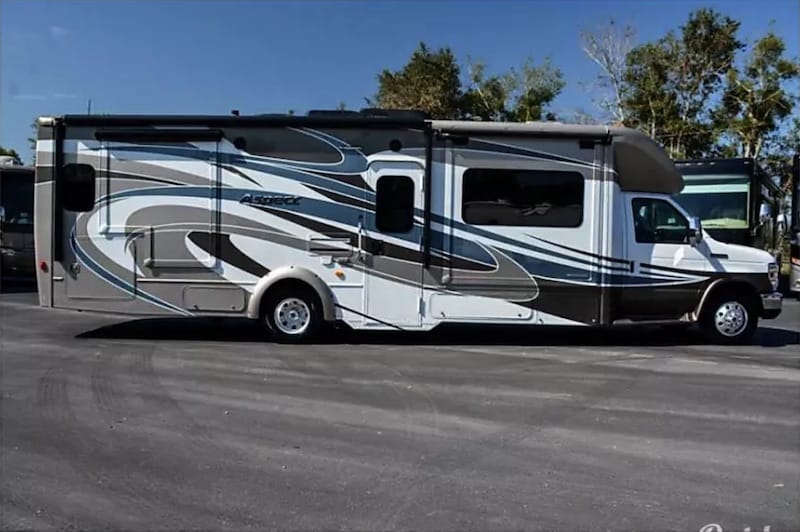 Price: $199/night Pet Friendly? No
Slides: 3 Sleeps: 4
With more features than a Swiss Army Knife, this 2015 Winnebago Aspect is the perfect rental RV for a group that isn't ready to fully rough it!
Here's a look inside: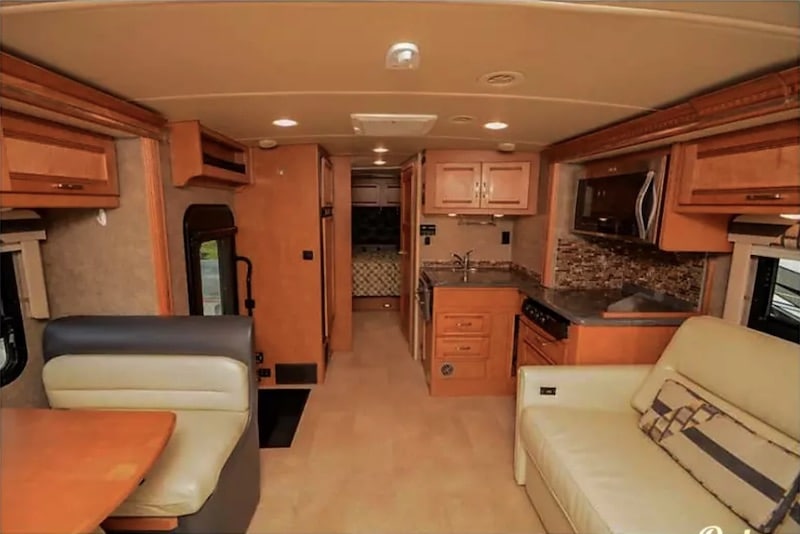 The inside has premium leather furniture for a luxurious look.
Some of the most useful features include a tankless water heater, turn signal cameras, auto leveling jacks, and navigation.
8. 2016 Keystone Passport 27′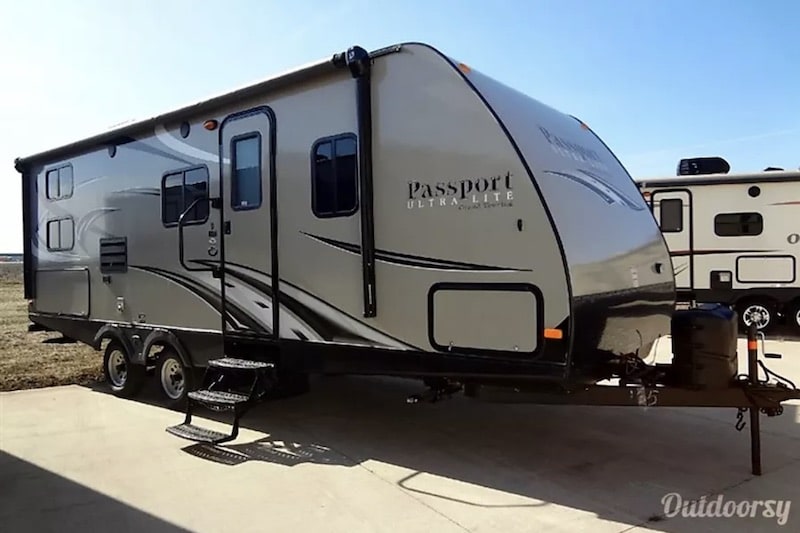 Price: $175/night Pet Friendly? No
Slides: 1 Sleeps: 6
Out of all the trailer rentals, the floor plan of this one is my favorite!
Explore Florida in this 2016 Keystone Passport!
Here's a look inside: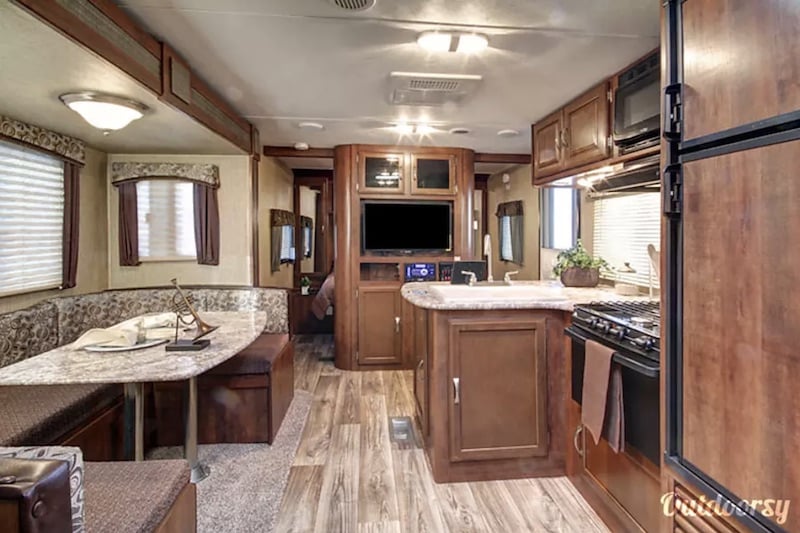 In the private master bedroom, you get a queen sized bed with storage underneath, two wardrobes for storage, and an overhead cabinet.
This rental RV also offers a full kitchen for your inner chef, and an entertainment center with TV, DVD player, and audio system in the living area. There are also bunks in the cabin for the kids!
9. 2005 Holiday Rambler Scepter 40′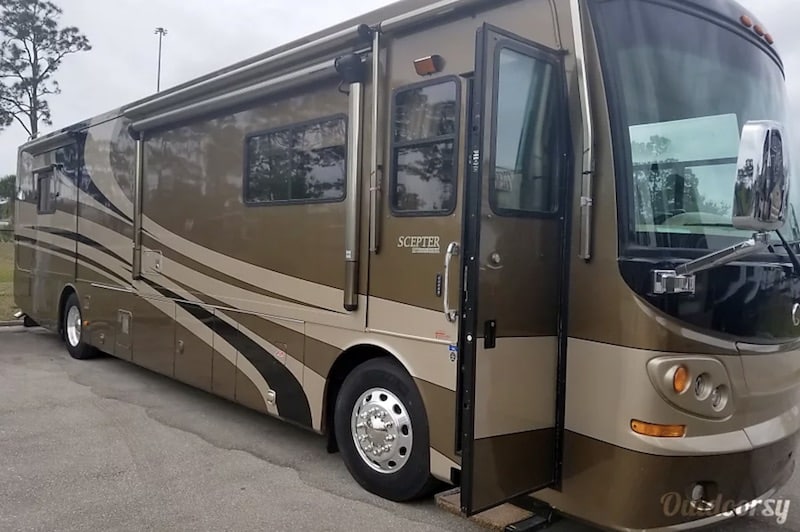 Price: $175/night Pet Friendly? Yes
Slides: 1 Sleeps: 5
Want to rent an RV with a sleek design, with sports cars in mind? Check out this 2005 Holiday Rambler Scepter.
Here's a look inside: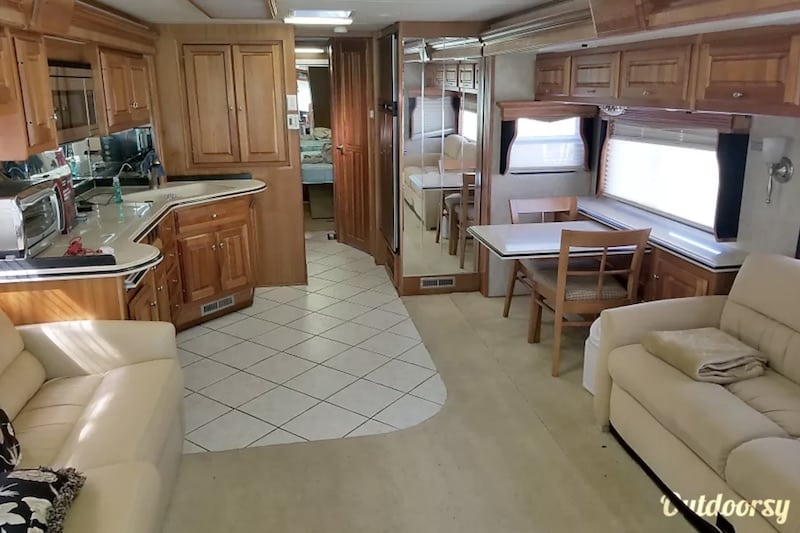 The Scepter is nothing short of spectacular with its many details.
It has solid wood cabinet doors with stylish satin nickel hardware. The slide-out fascia and crown molding are made with decorative hardwood.
Check out all the other finer details by taking a trip in this amazing Class A.
10. 2016 Coachmen Leprechaun 25′
Price: $246/night Pet Friendly? Yes
Slides: 1 Sleeps: 6
Our next Miami RV rental is this 2016 Coachmen Leprechaun. Pack up the kids and Fido!
Here's a look inside: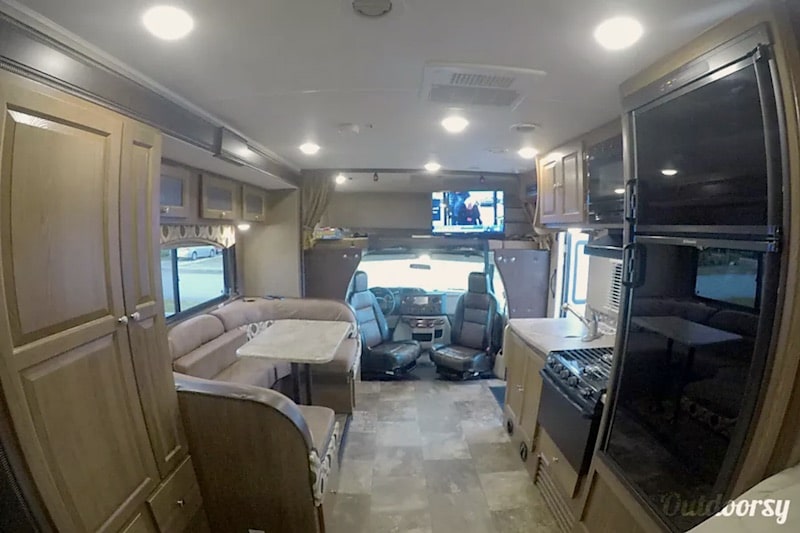 This motorhome comes with a back-up camera, power awning, and slide room awning for convenience.
Appreciate the upgraded flooring and furniture. Treat yourself to the Leprechaun!
Things to Do in Miami, FL
That brings us to the end of our list of the best RV and Camper Van rentals in Miami! Remember, if you didn't like any of these we listed (or they weren't available for you), you can always check out all the Miami, FL RV rentals available on Outdoorsy.
Now that your trip is booked, the next step is to plan your activities!
Wondering what to do in Florida? Here are a few ideas:
Looking for more? Check out the top things to do in Miami on Trip Advisor.
Planning to rent an RV in Miami? Here is a list of RV campgrounds with many options from the Larry and Penny Thompson Campground to the Boca Chita Key Campground.
And that's all we have for you! Want to share your Miami camper van or RV rental or some cool things to do in Florida? Or have questions on how to book a rental RV? Leave a comment below!
Pro Tip: Want better rental prices? Ask the rentees if they offer reduced winter rates! Not all of them will, but a winter trip in the south can save you some money. You can also check availability and add Outdoorsy Roadside Assistance to most of the rentals for added peace of mind.
Want to take RV road trips elsewhere? Check out these other RV destinations:
More RV Rental Destinations
Rentals By Type
Enjoy your RV rental vacation!!