Get $50 Off Your Winnebago Rental!
Rent with Outdoorsy to get $50 off (discount applied at checkout).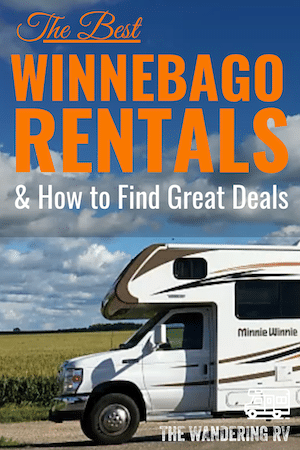 Interested in a Winnebago rental and want the absolute best deal possible?
We were too – so we researched how to get the best Winnebago rentals at affordable prices!
Outdoorsy gave us a $50 off coupon for anyone looking to rent a Winnebago RV! Just use the code "thewanderingrv" at checkout or click here to apply the coupon and browse rentals near you now.
Keep reading to learn our top tips on motor homes and travel trailer rentals!
Table of Contents
Note: Some of the links in this article are affiliate links. This doesn't cost you any more than normal. Read our disclaimer for more info.
Winnebago Rentals Vs. Other RV Rentals
Winnebago rentals are an amazing way to experience an RV vacation.
Winnebago is our favorite recreational vehicle manufacturer because of the quality of their builds and the layout of their floor plan. They really think deep about how people will use their campers! Not to mention, some Winnebago RVs are able to sleep large groups (perfect for road trips with family or friends).
Let's dive a little deeper into the pros and cons of Winnebago rentals:
Pros for Renting a Winnebago RV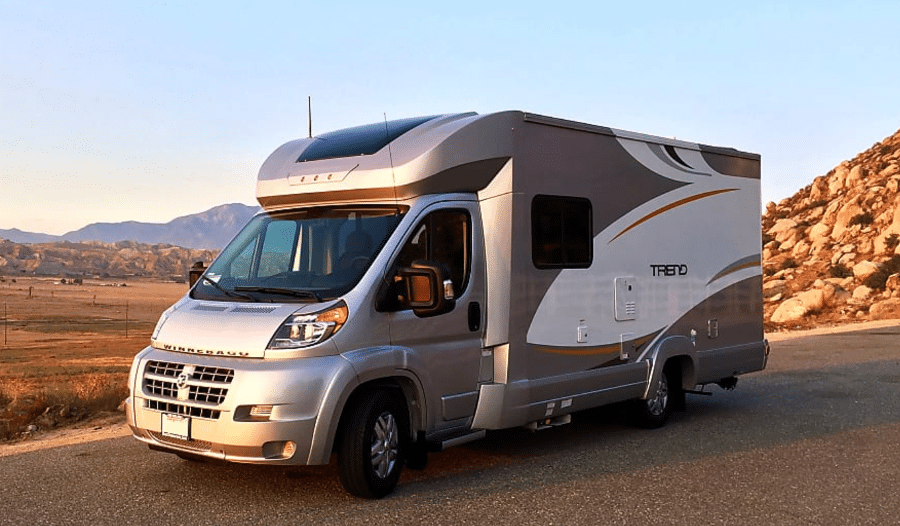 Connected living/dining area.
Winnebago's motor homes have connected living and dining rooms in most RV models, which is great!
You're able to spend time with your family even if you're cooking, can watch TV from the kitchen, and it feels very homey.
Not to mention, if you have a dinette that pulls out into a bed, it's perfect for kid's sleepovers!
Winnebagos are flashy on the outside as well as the inside.
If you're looking to travel in style, you can't go wrong with a Winnebago (or a Mercedes, but they're super expensive).
Most Winnebago's that Bill and I have seen have wooden cabinets, leather seats, and one heck of a good floor plan.
Not to mention they look awesome from the outside, too!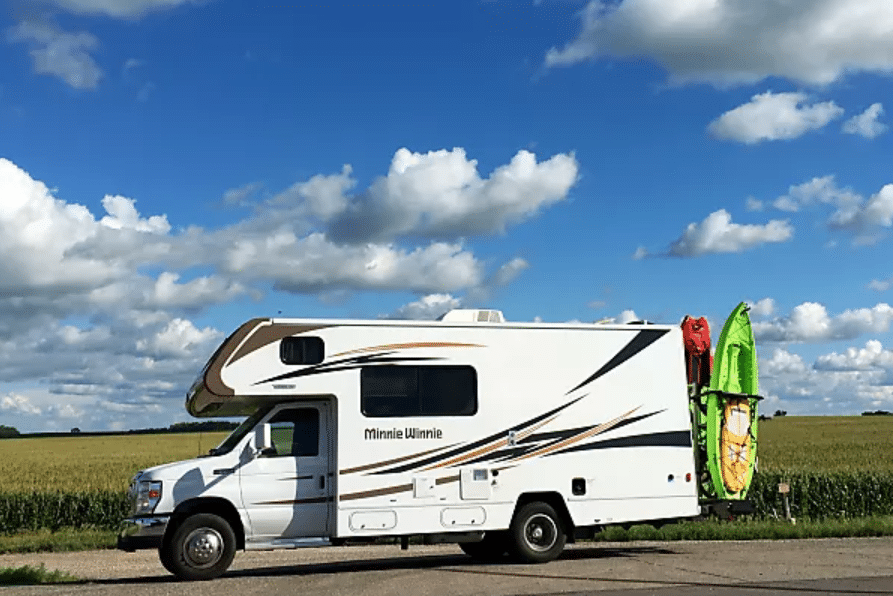 You're able to tow a vehicle with a Winnebago.
This has to be one of my favorite pros – you can bring your car along for the trip!
When Bill and I first started RVing, we sold both of our cars and bought a scooter to hook up onto the back of our rig. Halfway through our trip, we realized that my car was able to be towed by the RV!
We kicked ourselves pretty bad for not looking up what types of cars are able to be towed, and while not every vehicle can be, it's worth mentioning that this is a pro!
Cons of Winnebago Rentals
Of course, there are multiple types of RVs for a reason! Each has it's cons. For example…
Winnebago's are pretty freaking expensive.
Winnebago's are beautiful and well worth the money, but the cost to purchase one can range anywhere from $50,000 to $200,000 depending on small, large, and fancy you want it to be. Which means they're also expensive to rent.
That said, they are definitely built to last! Their motor homes, toy haulers and travel trailers are some of the best build quality you'll find.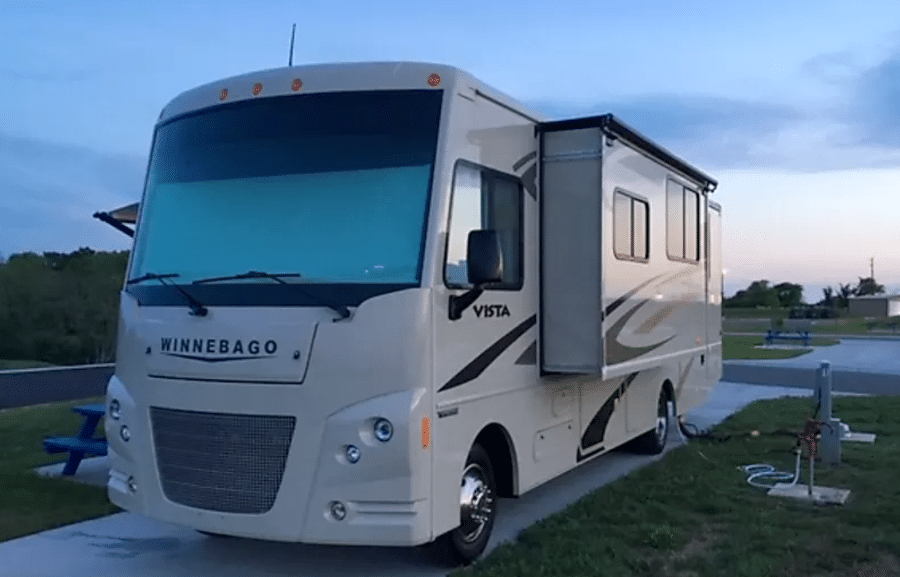 Those fuel costs won't come cheap!
One of the worst things about RVing (in my mind) is having to drive for hours to get to your destination and how much gas you need to purchase.
It adds up pretty quickly and when you factor in campground fees, groceries, and activities, you're left with a hefty bill.
How big do you want it?
This is a general con for larger motor homes, but depending on the size of your rig, you're limited on where you can go.
If your RV is over 32 feet, some campgrounds won't allow you to stay. Staying at a Walmart parking lot with a huge rig can cause some issues, too.
You're also limited on where you can go if you want a rig with a bit more space. Before you rent a Winnebago, double check with the campground to see if you're able to park it there!
Check out these Winnebago camper vans while you're at it, too!
Winnebago Rental Prices
How much does it cost for a Winnebago?
We recently partnered with Outdoorsy and did a study to find out how much it costs to rent an RV.
Because Winnebago's can be listed under Class A, B, or C RVs, the prices vary a bit.
We found that, on average across the US, Winnebago rentals cost between $100 to $275 per night to rent.
However, you can find them cheaper or more expensive depending on the rental location, time of year, model, and age of the RV. And if you rent long-term (a month or more) you can often get even lower rates.
Where to Rent a Winnebago (Best Deals in 2021)
We've found that the best place to rent an RV is Outdoorsy.
Outdoorsy offers RV rentals by other RV owners. It's like the Airbnb of the RV world. Peer-to-peer RV rentals like this are great because they're usually more affordable than renting from an RV dealer (we're all about those savings).
Plus, Outdoorsy offers free roadside insurance and up to $1M insurance on all their rentals! They also have 93% 5-star reviews from over 55,000 customers and have amazing customer support. We've personally rented from them and used their customer service, and can honestly say the experience was fantastic!
Not only can you rent Winnebago RVs, but you can also rent camper vans, fifth wheels, pop up campers, toy haulers, travel trailers, and virtually any kind of recreational vehicle there is. From Las Vegas to Portland, Maine, Outdoorsy is perfect for all your road trips!
Why Outdoorsy? Check out our RV rental company comparison where we pit the top rental companies head to head.
Get $50 Off Your Winnebago Rental!
Rent with Outdoorsy to get $50 off (discount applied at checkout).
Great RV Rental Destinations
Rentals By Type