Get $50 Off Your Pop Up Camper Rental!
Rent with Outdoorsy to get $50 off (discount applied at checkout).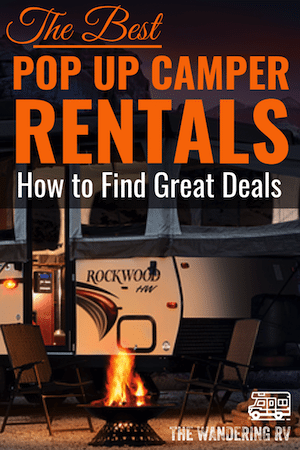 Interested in renting a pop up camper and want the best deal possible?
We were too, so we researched how to get the best pop up camper rentals at affordable prices!
We found some awesome pros and cons, how much it costs to rent a pop up camper, and so much more.
Click here to browse the best pop up tent trailer rentals near you now or keep reading to learn our top tips!
Table of Contents
Note: Some of the links in this article are affiliate links. This doesn't cost you any more than normal. Read our disclaimer for more info.
Renting a Pop Up Camper Vs. Other RV Rentals
Pop up campers are an amazing way to experience an RV vacation. Compared to other recreational vehicles like motor homes or camper vans, these campers allow you to go virtually anywhere!
Note: If you're looking for something even smaller, check out our post on the most lightweight campers here!
Pros and Cons of Pop Up Tent Trailers
Let's dive a little deeper into the pros and cons of renting a pop up camper:
Pros for a Pop Up Camper Rental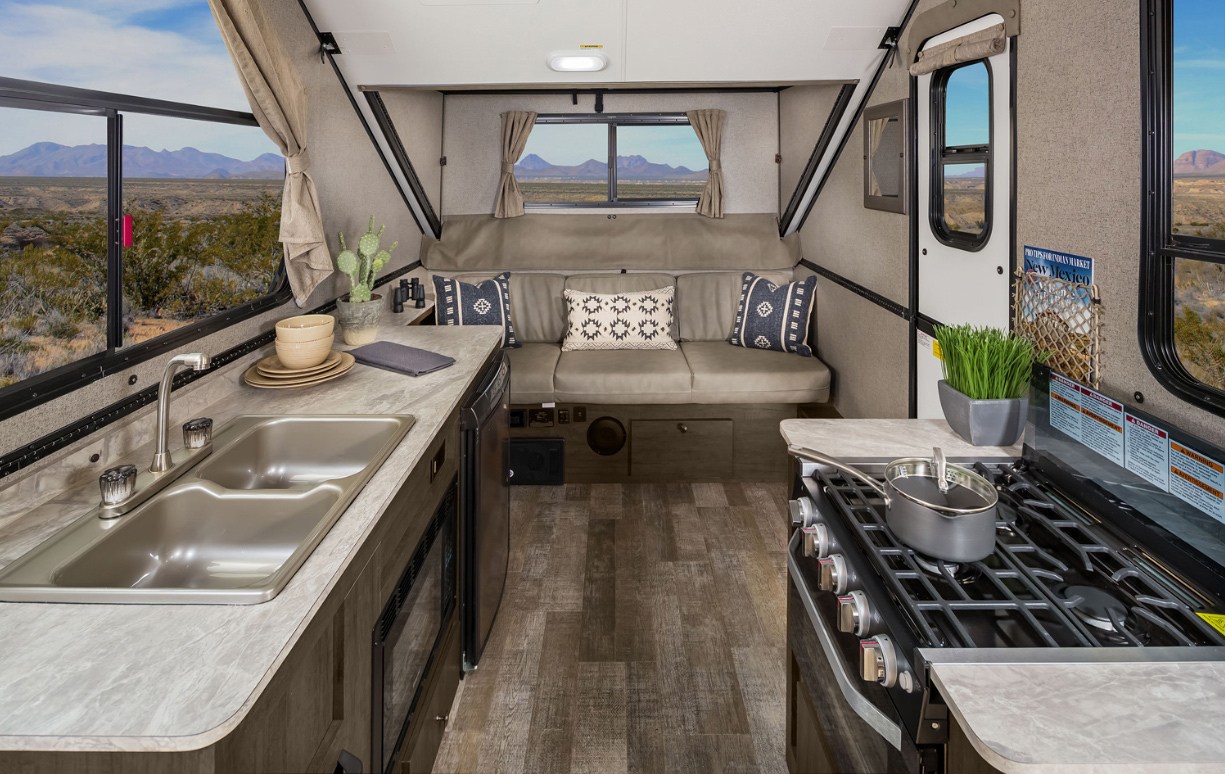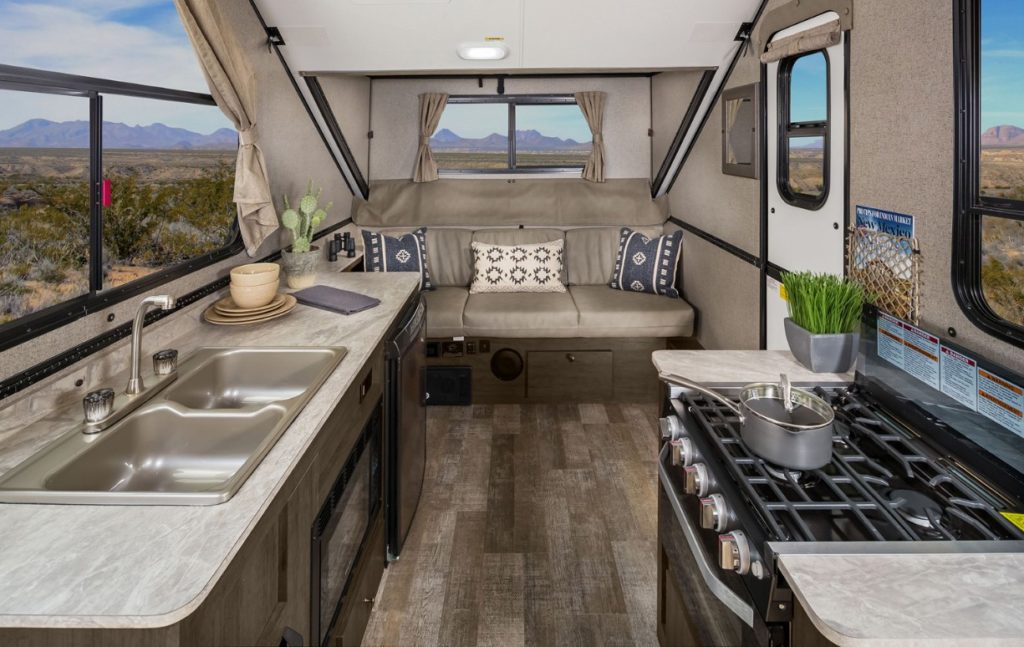 You can detach your tow vehicle.
​A pop up ​travel traile​r needs to be towed. ​
Which means, you can detach the popup camper from your tow vehicle and use it to go to the grocery store or hiking or any other fun attractions.
With a motor home, unless you tow a car behind you (which further reduces already low gas mileage), you have to unhook and bring that big ​rig anywhere you go.
You can go virtually anywhere.
​Unlike bigger RV rentals, pop up campers are ​small, which means you're able to go pretty much anywhere you'd like! Whether your ideal location is the middle of the desert, on top of a mountain, near a waterfall or on the beach, as long as you have a vehicle that can get you (and your pop up tent trailer) there, you're able to stay!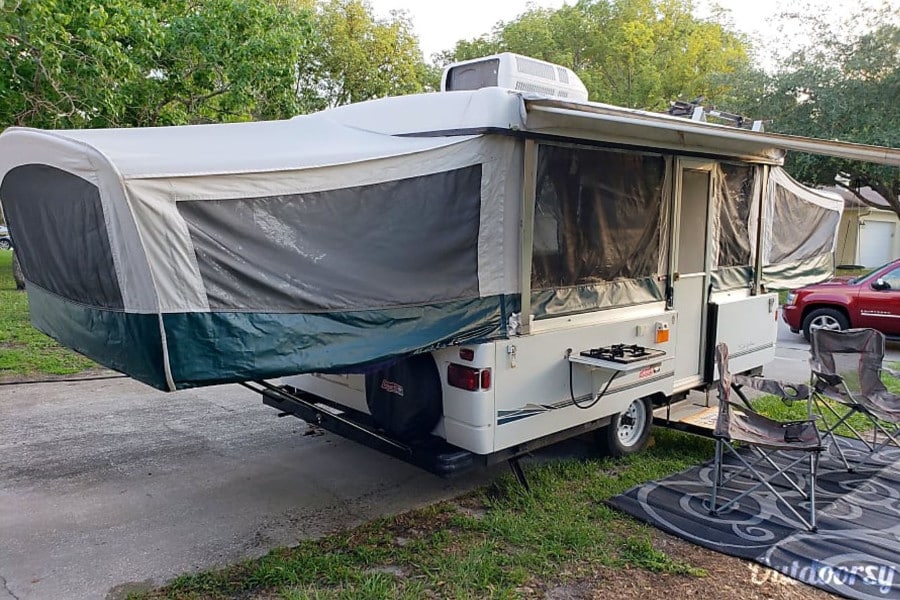 Your home doesn't have an engine.
Whether you're renting a popup camper or an RV, you'll probably be worried about small (and large) things. One of the things I'd be concerned about is if the engine failed while I was out traveling.
With a popup camper, you can put most of your worries away. There's no engine in a popup camper, which means … no mechanical failure!
Cons of a Pop Up Camper Rental
Of course, there are multiple types of RVs for a reason! Each has it's cons. For pop up campers, those cons are…
You constantly have to set up and break down camp.
This is one of the most time consuming tasks you'll be faced with with a pop up travel trailer.
​Having to set up camp isn't too bad, but putting everything back in place is a total pain in the butt. Especially if the weather isn't good on the day you're leaving… Ugh.
Check out this video by Ploofdog to better understand how to set up and break down your popup camper rental:
No bathroom for you… in the camper, that is!
One of the cool things about ​a bigger rig is that you can get up and use the bathroom or work on your laptop while someone else it driving. ​But most pop up camper rentals won't have a bathroom.
This may be a small problem, but when it's the middle of the night and you have to go, it's a pain in the butt!
If it rains, you'll be pretty uncomfortable.
RVing in the rain normally isn't too bad. Sure, you have to cancel your day plans, but at least you'll stay dry!
When you rent a pop up RV, rain will be your enemy. The sides of the camper get wet​, and when it dries, you might smell mildew.
​They're smaller than most other RVs.
​​While a pop up ​tent trailer can be set up in small spaces and pulled by small tow vehicles, their size can be a set back for a big family.
That said, you'd be surprised at how big some pop ups are! I've even seen some with a full queen bed!​​​ They're the perfect small rig for a road trip.
How Much Does a Pop Up Camper Cost to Rent?
On average, a pop up camper rental costs between $50 to $100 per night.
However, you can find them cheaper or more expensive depending on the rental location, time of year, model, and age of the RV. Some people even allow you to rent their pop up tent trailers for under $50 per night!
And if you rent long-term (a month or more) you can often get even lower rates from the RV owners.
Where did we get this data? We recently partnered with Outdoorsy and did a study to find out how much it costs to rent an RV. Average RV rental prices are more than $100 per ​day, so a pop up camper is a good deal!
Is a Pop Up Trailer Camper Right for Me?
A pop up RV camper is right for you if:
You want to save money (they're one of the cheapest options while also having more space than other cheap options like teardrop trailers).
You're going on shorter trips (longer trips without a shower can be tough!).
You don't mind the small space (other RVs have a lot more room than pop ups).
Where to Rent a Pop Up Camper (Best Deals in 2022)
We've found that the best place to get an RV rental is Outdoorsy.
Outdoorsy offers RV rentals by other RV owners. It's like the Airbnb of the RV world. Peer-to-peer RV rentals like this are great because they're usually more affordable than renting from an RV dealer (we're all about those savings).
Plus, Outdoorsy offers free ​roadside assistance and up to $1M insurance on all their rentals! They also have 93% 5-star reviews from over 55,000 customers and have amazing customer support. We've personally rented from them and used their customer service, and can honestly say the experience was fantastic! They make sure to take care of all your needs.
Not only can you rent pop ups, but you can also rent motor homes, fifth wheels, camper vans, toy haulers, travel trailers, and virtually any kind of recreational vehicle there is. Go with Outdoorsy to get the best rental rates per day.
Why Outdoorsy? Check out our RV rental company comparison where we pit the top rental companies head to head. Contact us if you have any questions!
Great RV Rental Destinations
Rentals By Type