Are you in the market for a lightweight camper?
Unlike some of the giant fifth wheels and huge travel trailers, lightweight campers have the benefit of being able to be towed by nearly any tow vehicle.
Some of these trailers can even be towed by a Prius or all-electric car!
Here's a list of the best ultra-lightweight travel trailers under 1,500 lbs.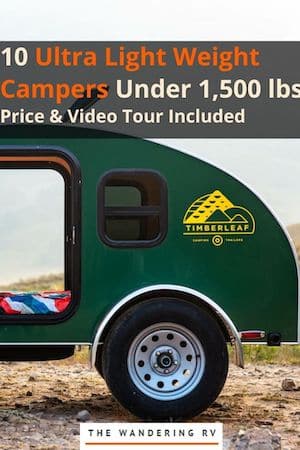 Table of Contents
10 Best Lightweight Campers (Lightest to Heaviest)
In order of lightest to heaviest, here are the best lightweight travel trailers:
1. Bicycle Camper
Dry Weight: 80 Lbs
Length: 9'4"
Price: $4,000
Are you looking for the perfect, extremely lightweight travel trailer? Allow us to introduce you to the Bicycle Camper!
With a total weight of about 100 lbs, this travel trailer is one of the lightest you will find on the market. You can transport it with your bicycle, making it perfect for solo travelers and adventurous people out there who love to take long mountain bike rides while on your camping trips!
The sitting area transforms into a bed and there's a nightstand attached for a small lamp or storage for your bedside items. This camper can be taken almost anywhere on, and off road (as long as you're willing to go there)!
2. The Meerkat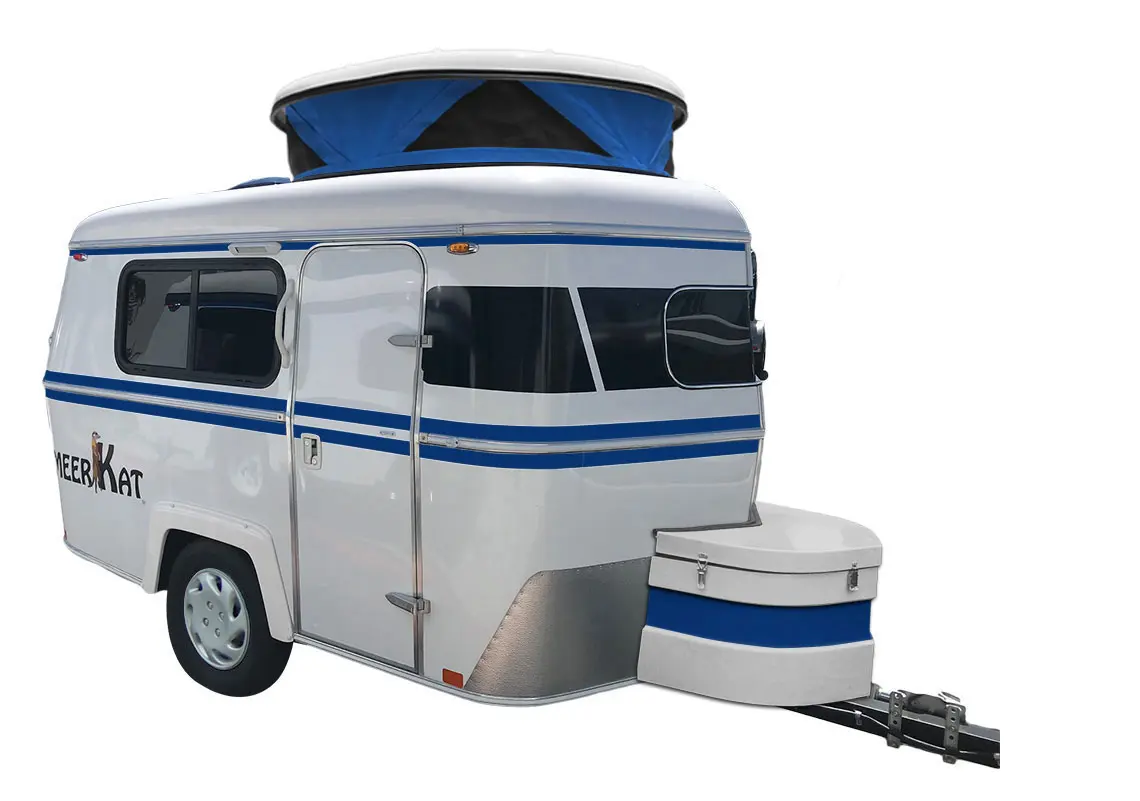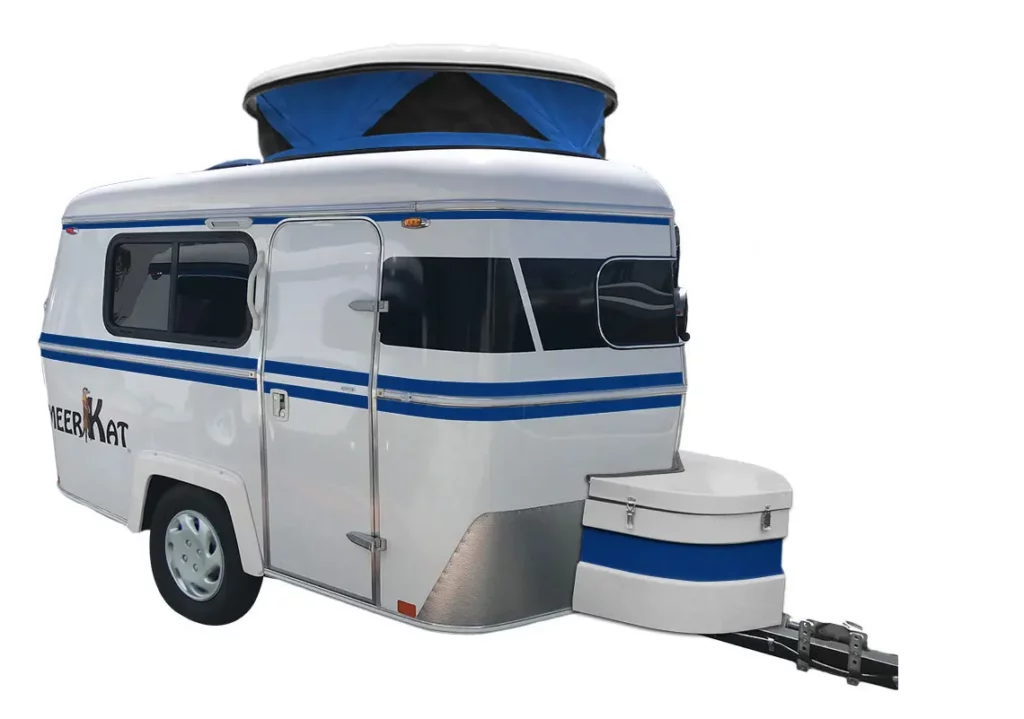 Dry Weight: 920 Lbs
Length: 13'
Price: $24,000
Made by Meerkat Trailers, the Meerkat travel trailer has all of the essentials:
A stove
Windows
An icebox
A closet
A sink
Porta Potty
A rollout bed system
These lightweight travel trailers pack the most amenities into a small space while keeping it under 1000 pounds, allowing almost any car to pull it! This takes away the stress of needing a large full sized truck just to go camping, which will make road trips much more accessible.
And, it utilizes pop-up camper technology to allow you to stand up in it while still being able to store it in a garage!
3. Colorado Teardrops Basedrop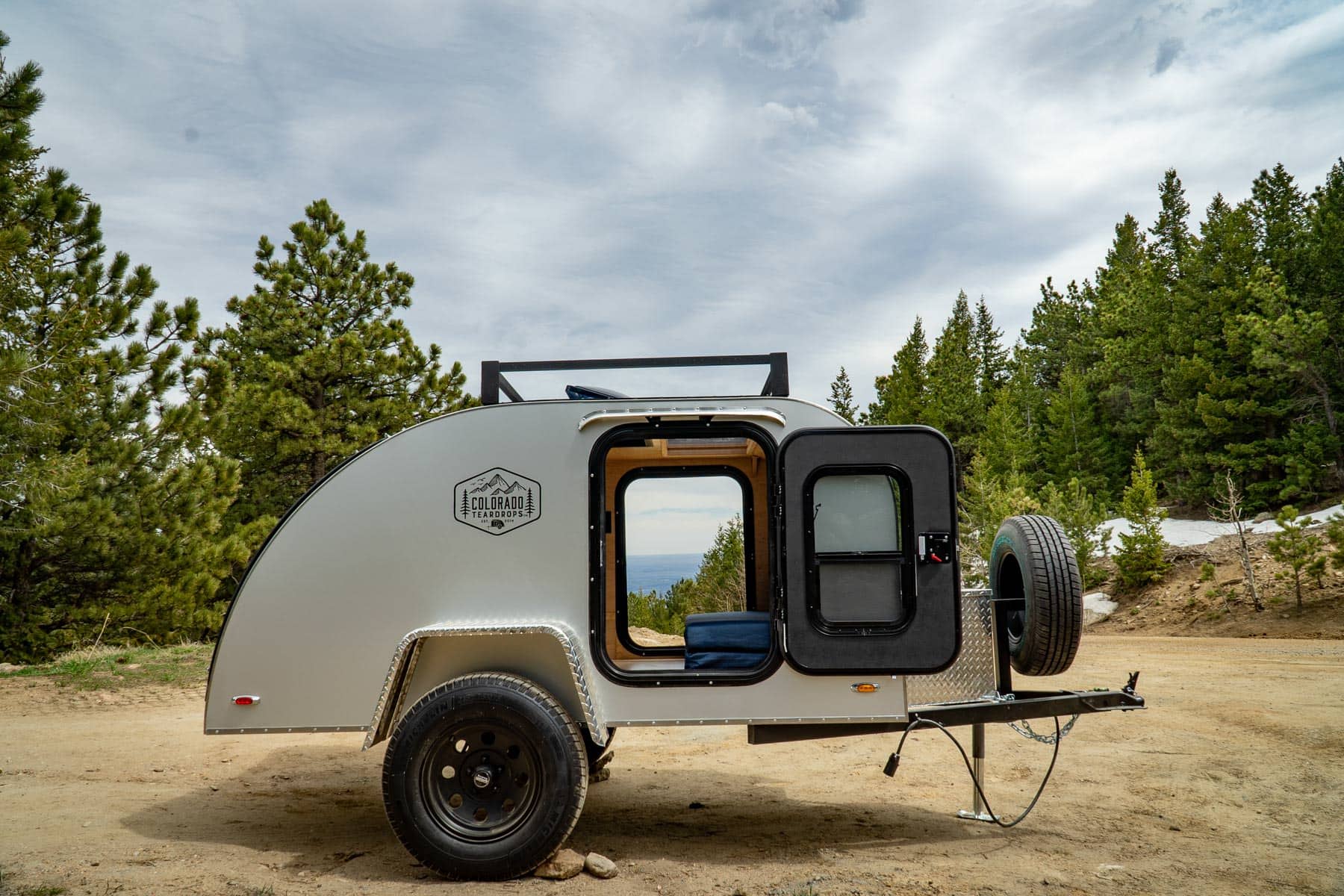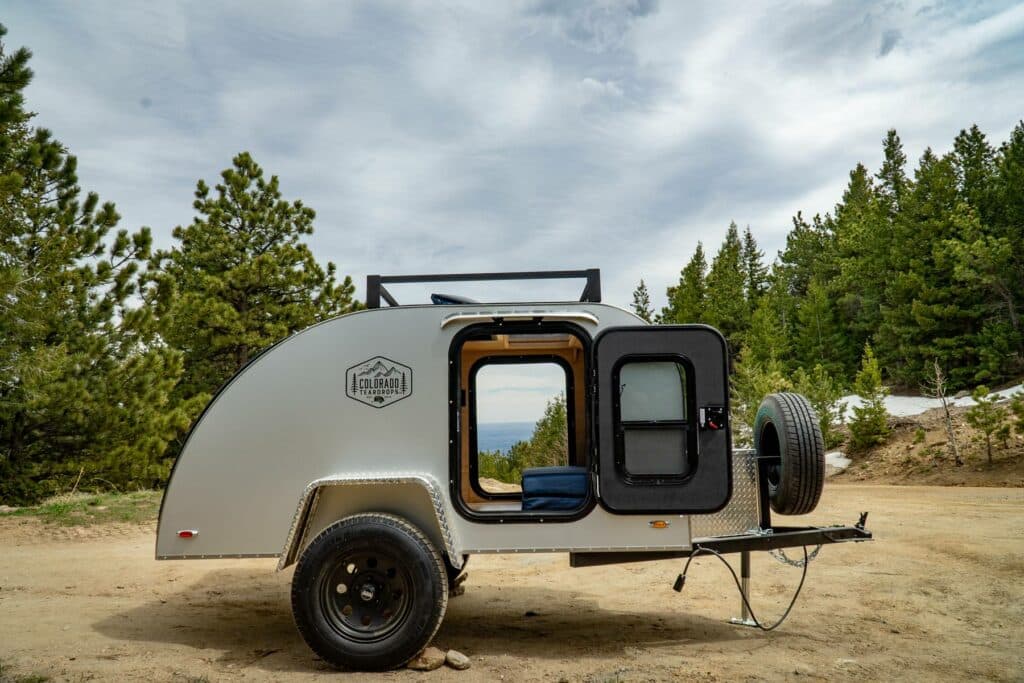 Dry Weight: 1,000 Lbs
Length: 12'4"
Price: $18,600
With a dry weight of 1,000 pounds, Colorado Teardrops travel trailers can be pulled with just about any small car. It holds a queen bed for two and has a back hatch that opens up to be a galley.
This travel trailer is fully insulated and it has an aluminum exterior and a maple wood interior, creating an attractive look all around. It's not easy to find such a small lightweight travel trailer with good looking exterior features!
Note: There might not be a bathroom in the trailer, but you can always purchase an outdoor shower or portable toilet with a pop-up shower room to ensure privacy!
4. Happier Camper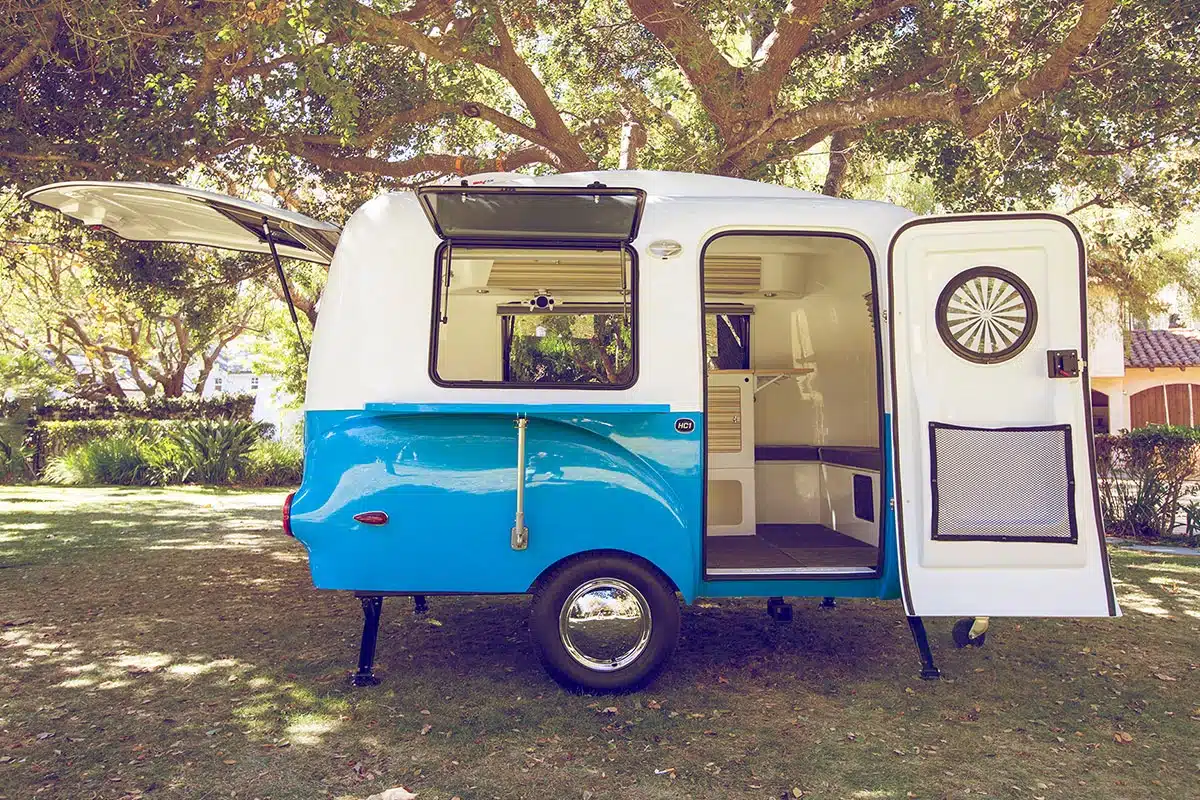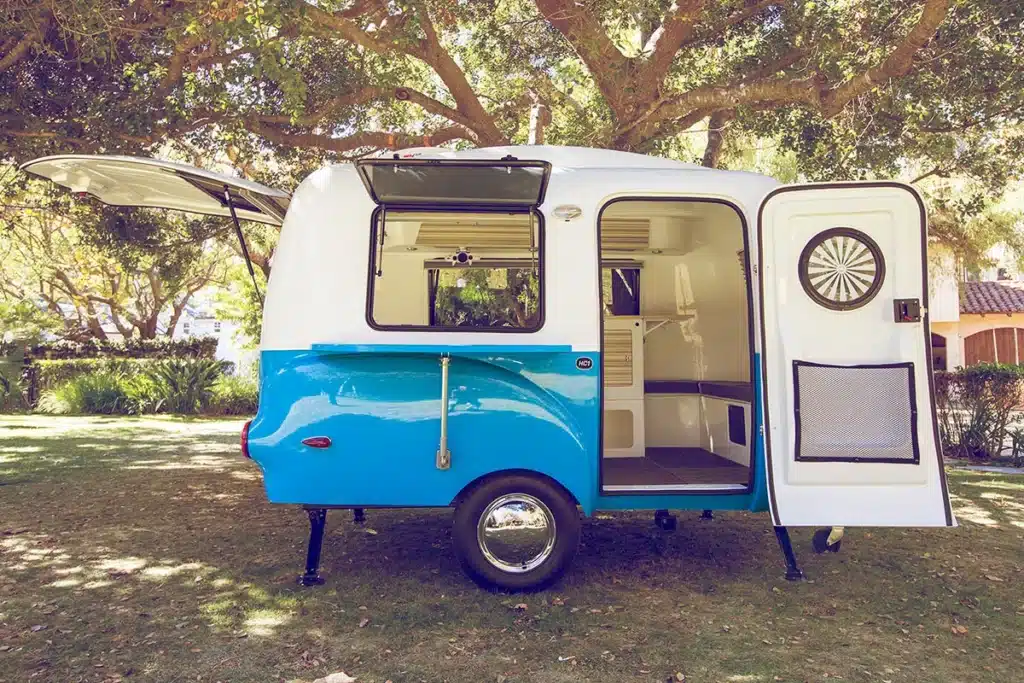 Dry Weight: 1,100 Lbs
Length: 13'
Price: $39,000
The Happier Camper will make every minute of your camping trip much happier and more enjoyable! They're considered one of the best travel trailer brands on the market right now, too.
With total freedom and a wide range of floor plans available, this small RV can be made specifically for you and your needs (which is one of our favorite key features about this lightweight camper).
Additionally, the Happier Camper is easy to tow and makes for very lightweight travel. This will make your travels much easier and more enjoyable, without the need to stress yourself out during the travel phase of your trip!
Related Reading: Rent a Small Camper & Test Before You Buy!
5. Timberleaf Teardrop Trailers
Dry Weight: 1,200 Lbs
Length: 15'
Price: $23,400
The Timberleaf Teardrop travel trailers may appear to be very simple and basic, but it's filled with everything you'd need for a little excursion. It features a fully insulated cabin designed to keep the heat, wind, and chilly nights at bay. You will also find that it offers ideal layouts for your comfort and enjoyment as well!
Not only do they offer classic teardrop campers, they have an off-road teardrop trailer too! This off-road travel trailer is perfectly designed for those of you who like a little more adventure on your camping trips.
6. Terrapin Camper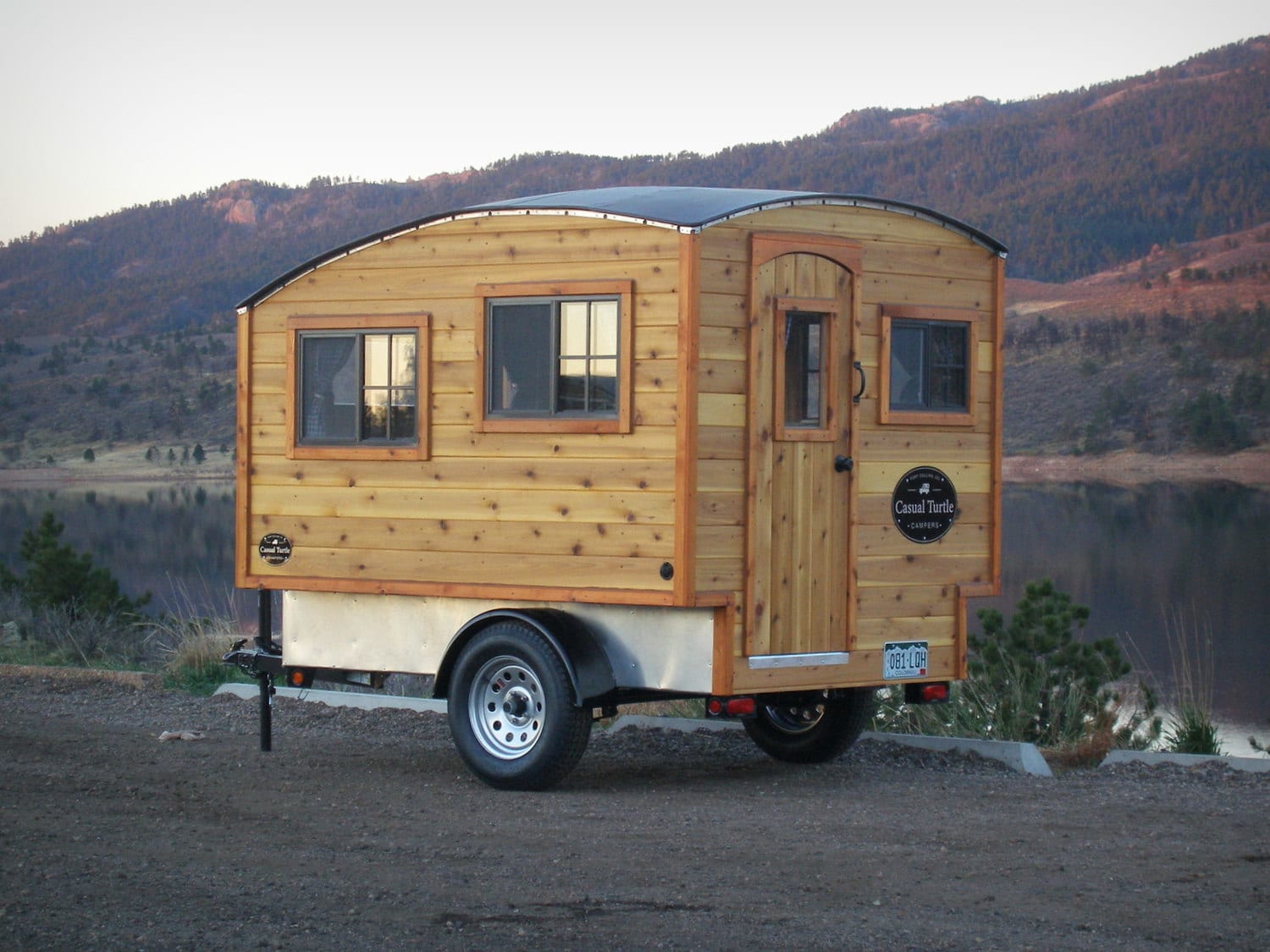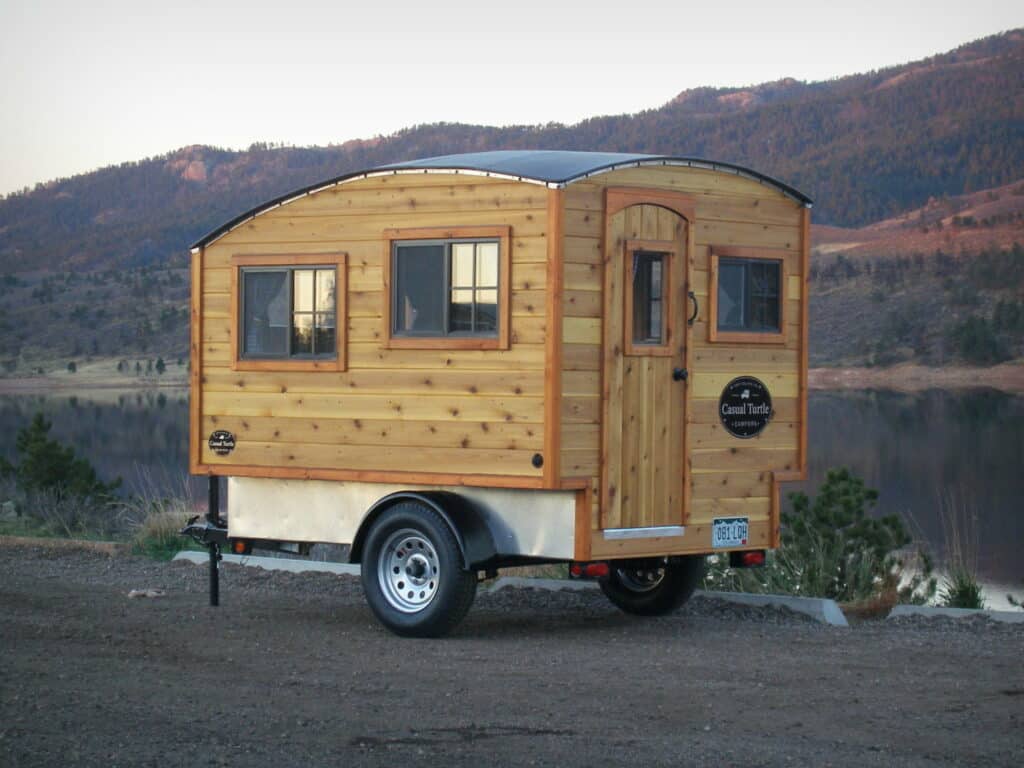 Dry Weight: 1,260 Lbs
Length: 12'
Price: $12,000
The Terrapin camper from Casual Turtle can be designed and built to fit your needs perfectly which makes this camper a unique personalized model. The wood paneling and interior features definitely make any camping experience unique!
This travel trailer is made for any type of traveling you plan on doing. Not only will you be able to enjoy long weekends at the lake or local campgrounds, but you will also be able to take this lightweight camper as far as you want to go across the country.
The floor plans are made specifically for people interested in purchasing one of these models, you can draw up your floor plan exactly how you want too! This option also gives you the power to design the trailer to ensure you have a spacious feel to it.
Related Reading: The Big List of RV Space Saving Ideas
7. Wanderlust Vintage Trailers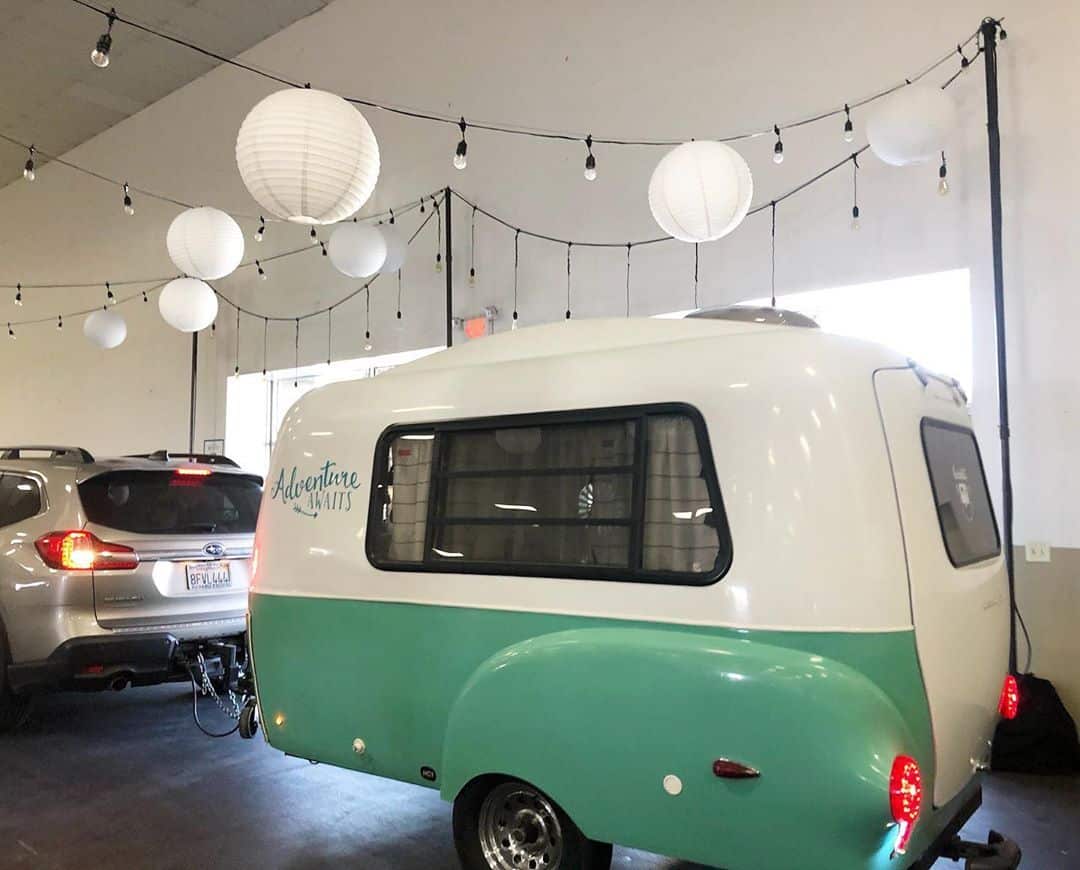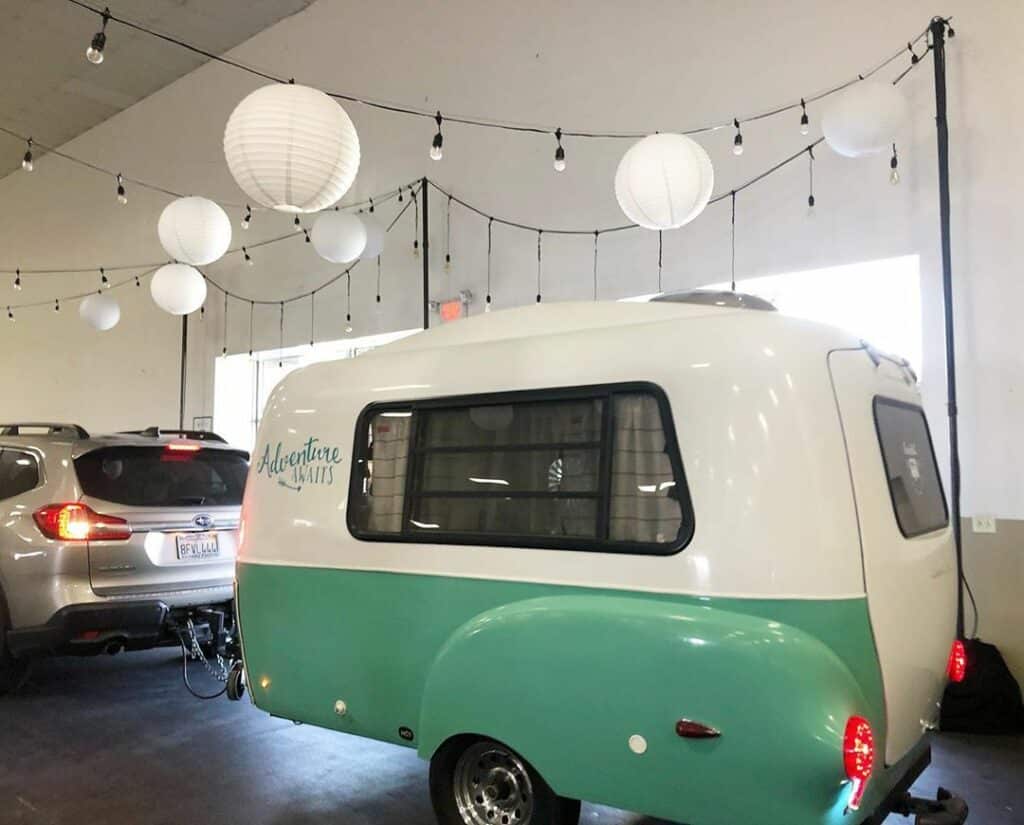 Dry Weight: 1,200-1,500 Lbs
Length: 13'
Price: Wide range
Wanderlust Vintage Trailers is a company that takes vintage rigs, typically between 20-40 years old, and restores them to like-new condition with the help of each prospective owner!
Because Wanderlust works with each owner individually, no two campers are the same! Much like the Terrapin camper, you can customize the trailer to be a unique layout and exactly what you want (floor plans included). This personalized feeling just hands to the value that this camper will give you.
Related Reading: These Are The Best Small Campers with Bathrooms
8. Scamp 13′ Fiberglass Trailer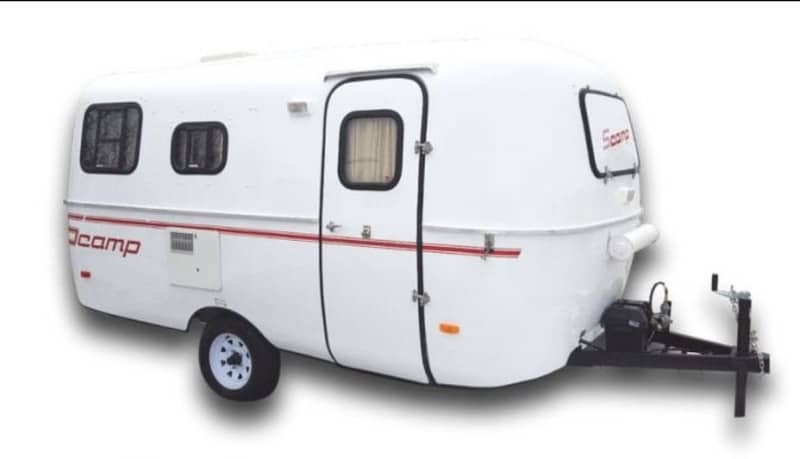 Dry Weight: 1,200-1,500 Lbs
Length: 13'
Price: $15,000
If you want a truly tiny camper that has the towing capacity to be pulled by a car, the Scamp 13 is the trailer for you!
At 13′ and less than 1,500 lbs, this micro camper still has the room for a toilet, bed, and kitchen depending on the model you choose. The ability to have a toilet is a very important option for people and is one of the key features about this small travel trailer!
Your trips with this trailer will be relaxing and worthwhile and make a perfect home away from home for many camping trips to come.
9. Cricket Camper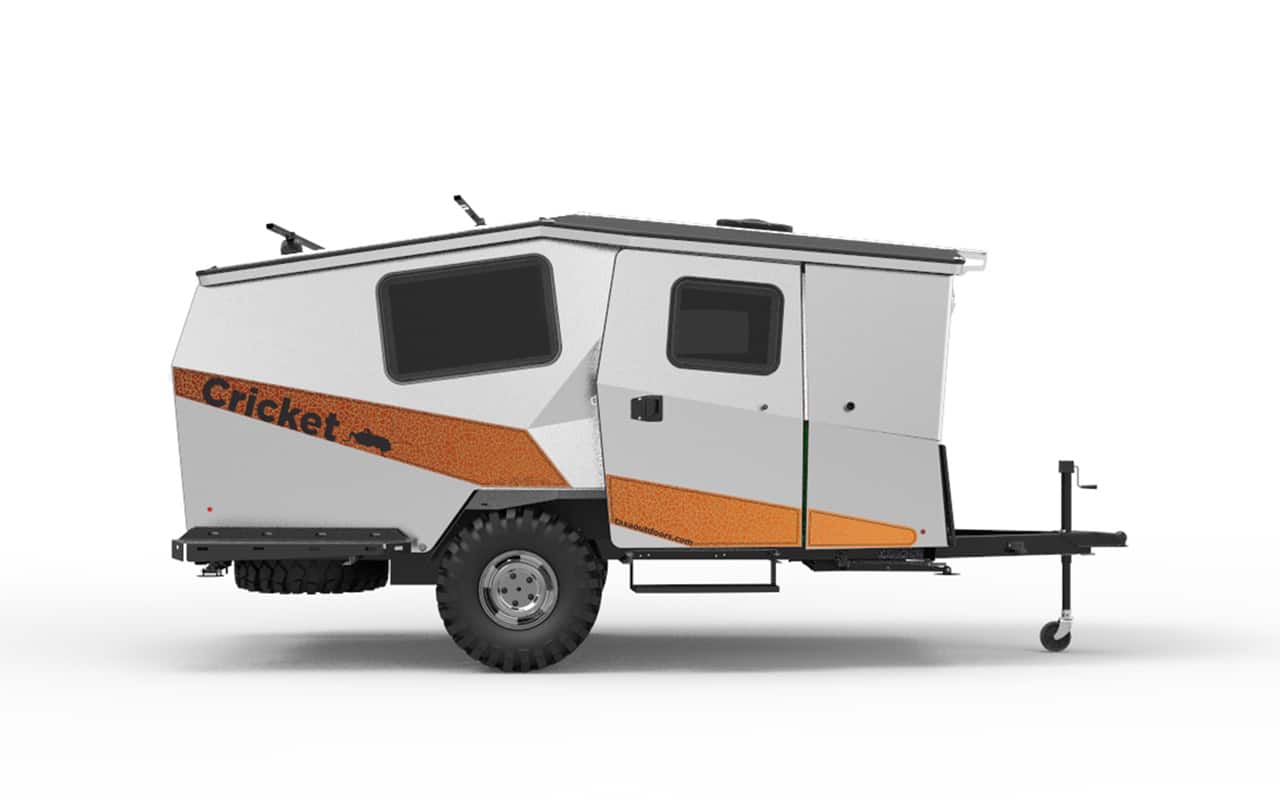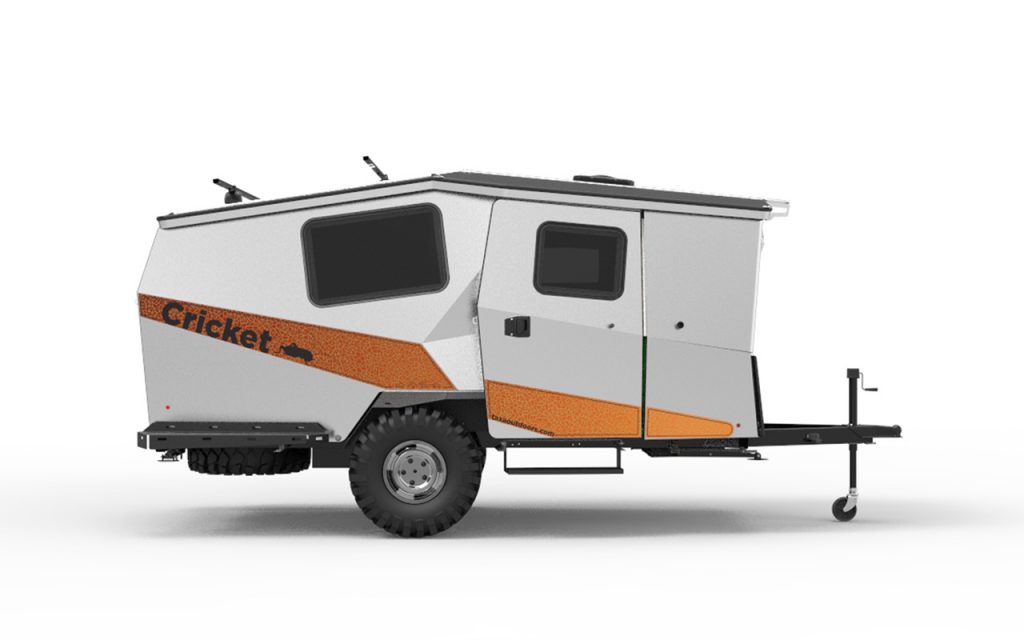 Dry Weight: 1,500 Lbs
Length: 15'
Price: $32,000
If you're looking for ultra lightweight travel trailers under 2000 pounds with an amazing look and feel, the Cricket Camper is for you.
It is especially convenient for those who like to take their camping trips off-road. This trailer is perfect for towing in rougher terrain allowing you to reach places not many other campers can.
Despite it's smaller size, there's plenty of living space, especially when you pop up the top. It's like a teardrop camper but with more space! It also comes with a built-in portable shower you can use to wash yourself off and stay clean!
10. Aliner Classic Travel Trailer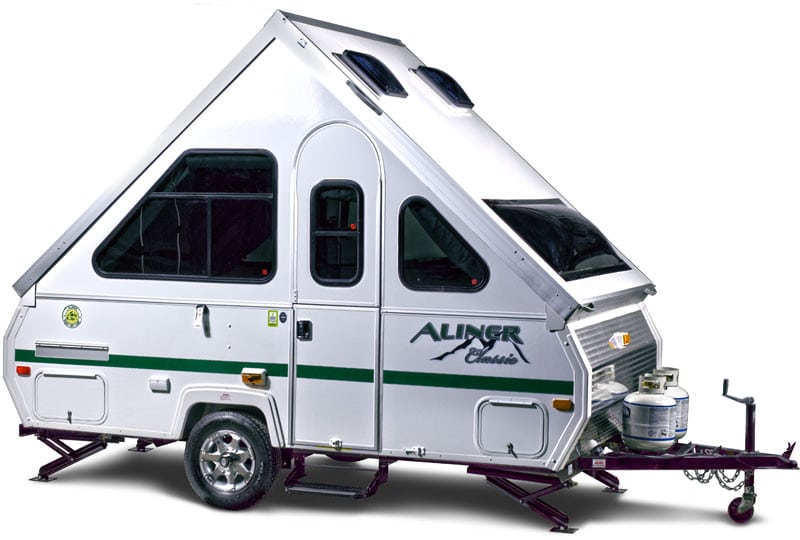 Dry Weight: 1,500 Lbs
Length: 15'
Price: $30,000
If you are a person that likes the A-Frame camper look, you'll love the Aliner Classic.
This a-frame trailer is decked out with a sink, two stove top cookers, a microwave, and a half-fridge (pretty much everything you could ever dream of having in any light weight camper)! This model definitely makes traveling and towing easy thanks to its lightweight design, too.
While it doesn't have a built-in bathroom, it does have an outside shower for staying clean while out in the great outdoors. There is no need to look any further for the perfect lightweight travel trailers than the Aliner Classic.
Other RV Options
If you're in the market for the best RV for you, consider some of these other types of campers: