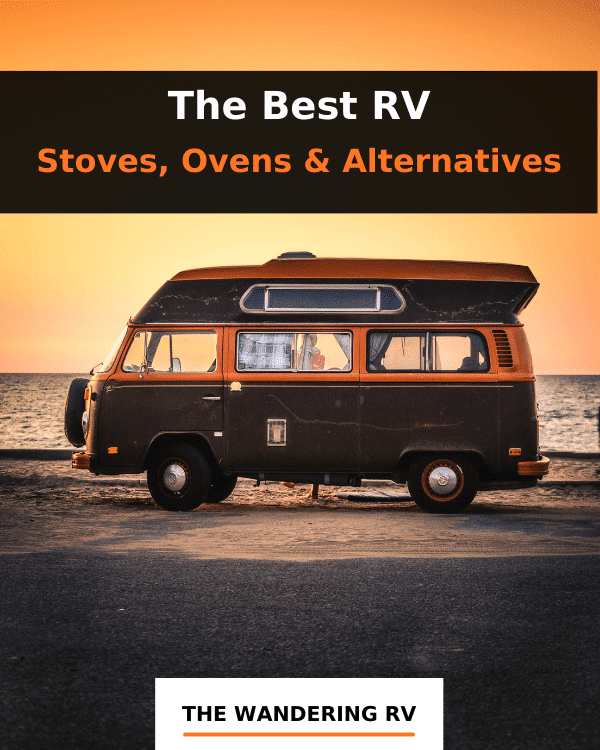 One of the most common complaints we hear when it comes to an RV kitchen (minus the size), is how crummy the RV stove and oven can be.
Lucky for you, that's what this guide is about! We're going to go over the different types of RV stoves, talk about some of the best RV stoves on the market today, explain why more people are ditching the RV oven, and more!
Let's dive in!
Table of Contents
Types of RV Stoves
There are plenty of options when it comes to RV stoves! Between RV propane stoves, cooktops, convection ovens, and more – you have plenty to choose from.
Let's talk about all options you have when it comes to your RV stove and oven.
Ranges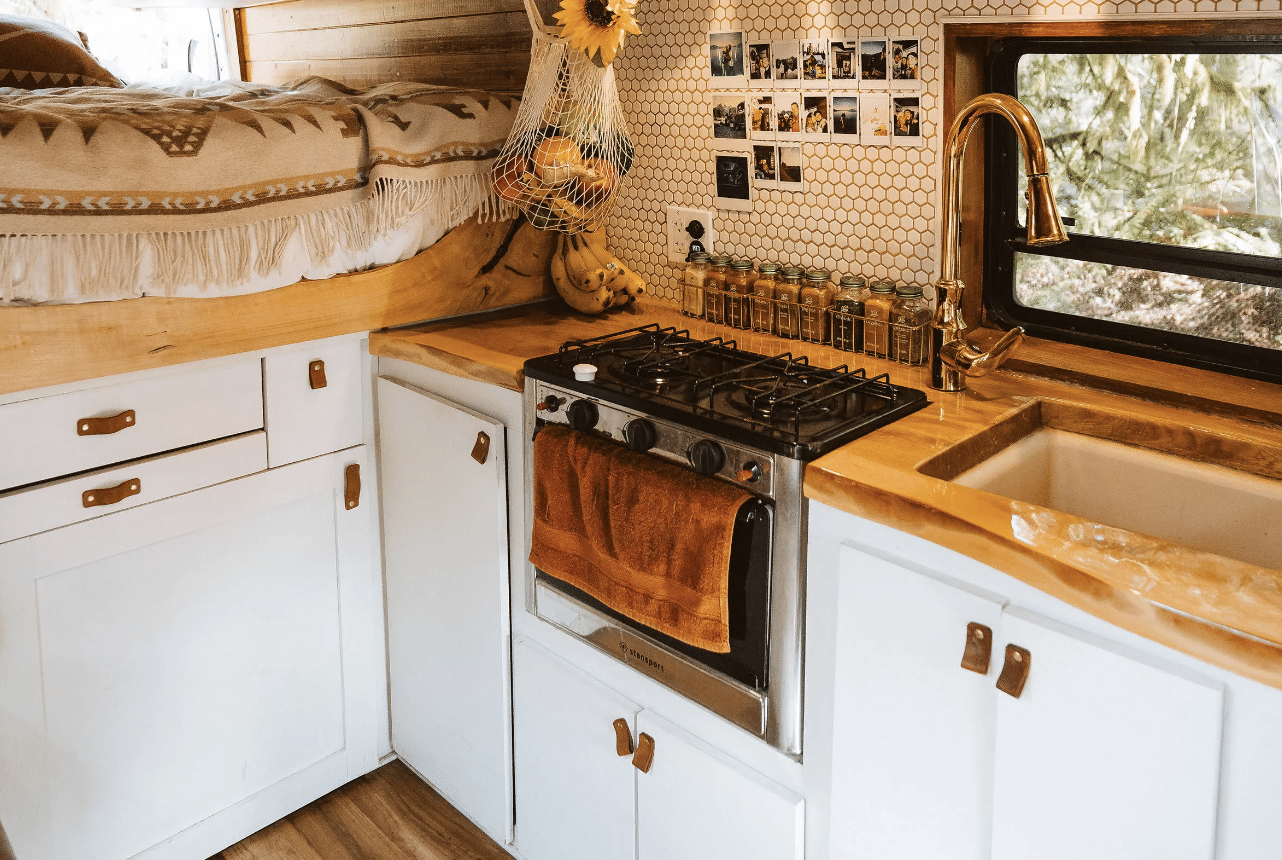 An RV range is a freestanding fixture that has both an RV stove and an oven. Think of an RV range as a mini conventional stove that you'd find in a residential home! These often house the same fuel source and can either be propane or electric. That is, you would have an electric stove and an electric oven, or a propane stove and a propane oven.
While an RV range used to be easy to find in an RV, the style is a bit old-fashioned. Because they're a bit bulky, many RV manufacturers have opted for smaller-scale appliances (and some have completely gotten rid of RV ovens altogether).
If you're a full-time RVer, having a more traditional oven like this one may be invaluable! However, RV ranges take up much more space and can cost quite a bit more than RV cooktops.
Cooktops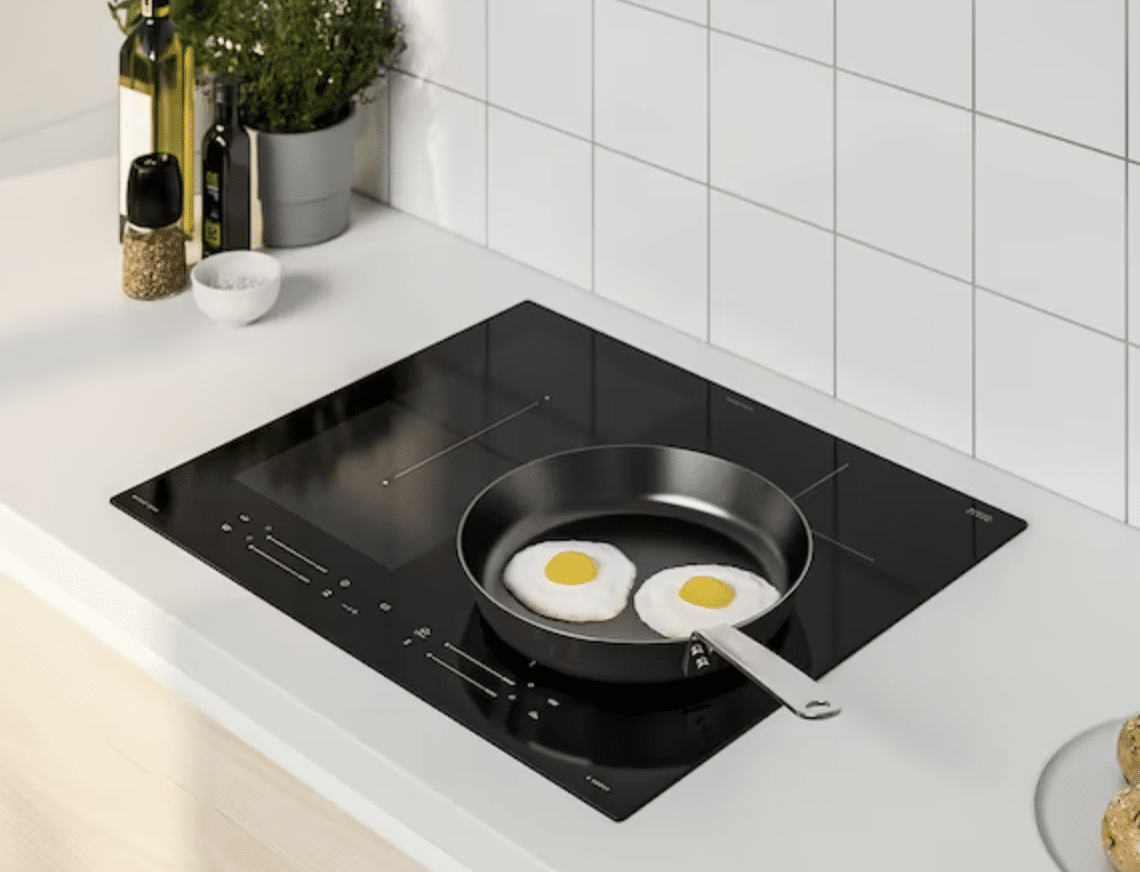 RV cooktops are typically built into a counter and can be paired with a separate wall oven (if you want one in your RV kitchen). Cooktops are able to be powered by gas, electricity, or induction to heat food and come in many different sizes (which is great if you have a compact kitchen).
Many RVers tend to go with a propane cooktop as they're lightweight and less expensive than a full-range cooktop; however, they can be tricky to install. We'd recommend going to a professional, but if you want to attempt to do it yourself, follow the steps in this video:
Note: Make sure you have enough counter space in your RV before installing a cooktop! Once it's in there, it can be hard to get out.
Gas Stoves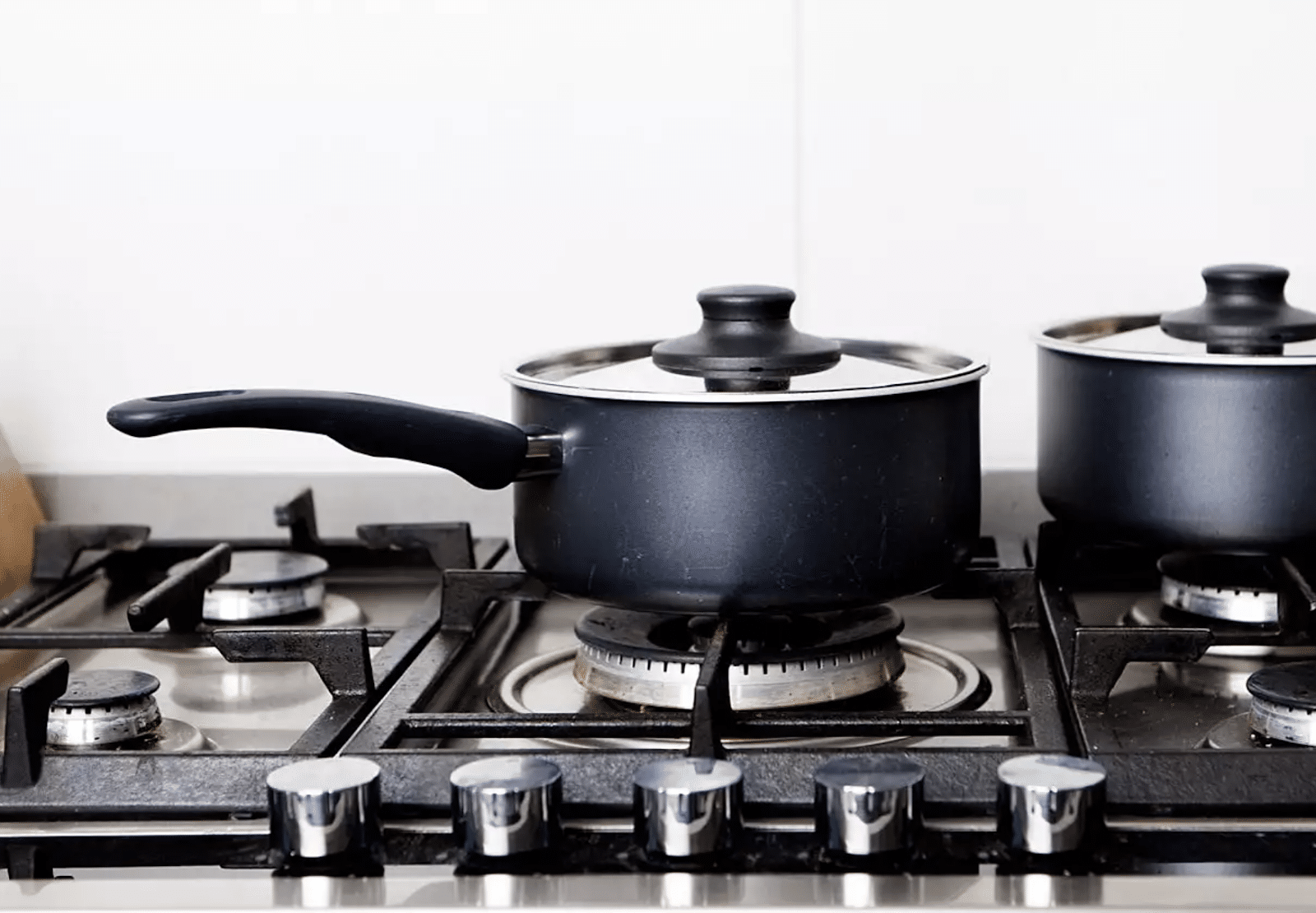 If you were to get a gas stove in your RV, you'd need to have a dedicated gas line. Installing one is fairly easy for professionals, though, so don't fret if you want an RV gas stove but don't yet have one!
Gas stoves are known for the open flame on the stovetop, and some benefits of having a gas stove are:
You get an open flame on the stovetop that's able to be adjusted instantly, allowing you to move between heat levels.
You can use the flame to directly heat foods (such as charring or roasting peppers). The flames also reach up the side of sculpted pans such as woks for stir-frying!
A gas range (and oven) preheats faster than an electric one.
You'll find that many types of gas stoves offer powerful, high-BTU burners and durable cast-iron grates.
Electric Stoves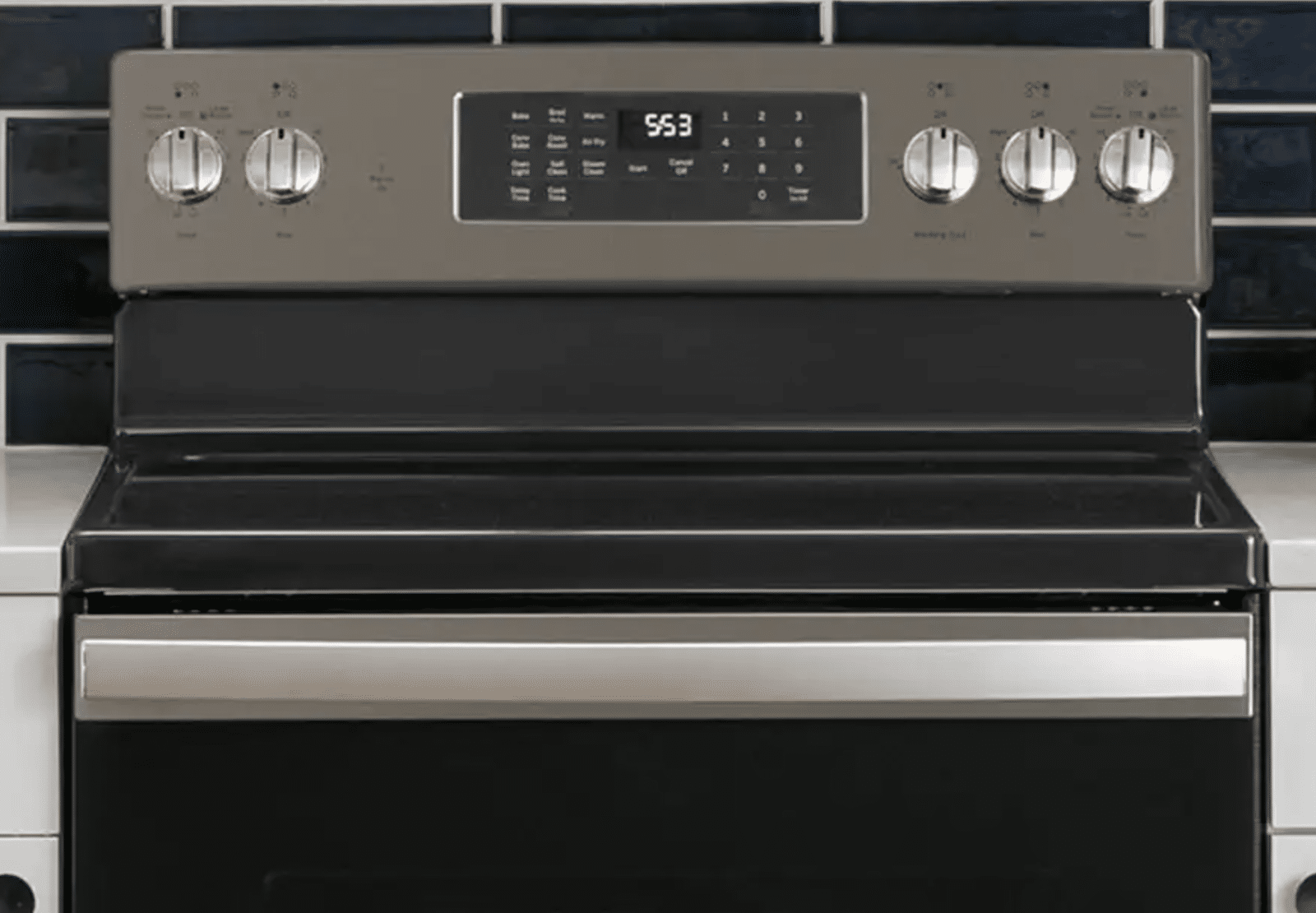 Electric stoves use heated metal coils to cook food. They're often stored within a flat glass surface and are a great option if you want more flexibility on the stovetop in your RV kitchen.
Here are some benefits of having an electric stove:
The metal coils transfer heat to cookware effectively as it goes directly to the bottom of the pan (and not around it). This helps a ton when boiling or simmering.
Glass cooktops offer more stability for pots and pans and it's much easier to clean a smooth flat surface!
Electric heat in an RV stove oven is known for being dry and consistent, which helps deliver evenly cooked meals.
An electric stove is a great tool in your RV kitchen; sometimes you can get one without an oven attached!
Convection Oven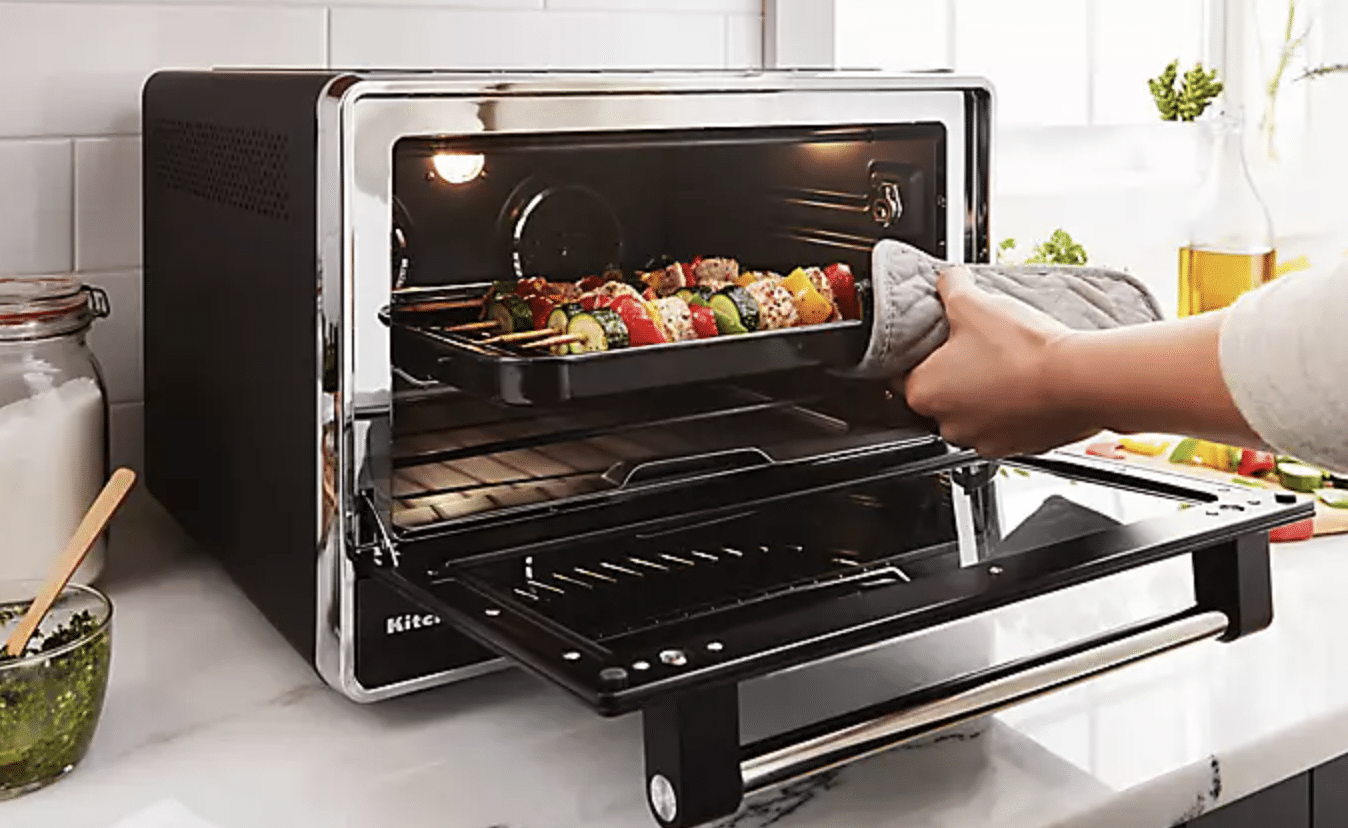 Unlike your traditional oven, a convection oven has a fan and exhaust system. The fan and exhaust help blow hot oven air over and around the food, then vent it back out.
As a result, this hot air surrounds the food so that it cooks evenly and more quickly (which a lot of RV ovens are unable to do, but we'll talk about that later).
Here are our top reasons why you should use a convection oven:
It cooks food a lot faster. The hot air blows directly onto food instead of just surrounding it. Because of this, food cooks about 25% faster in a convection oven than in a standard oven!
It cooks food evenly. Standard ovens can have hot spots, especially RV ovens, but the fan in a convection oven allows the air to circulate and helps even out the temperature variances.
It saves money. Food cooks a lot faster in a convection oven (and at a lower temperature) which is more energy efficient than your standard oven!
It's better at browning your food. The air in a standard oven can become a bit humid, as the moisture inside can't escape. Convection ovens are able to create a dry atmosphere that caramelizes sugar faster when roasting, so your food will get browner, but the interiors stay moist!
The Top 3 RV Stove Options
Whether you're looking for an RV propane stove, an RV stove oven, or an RV electric stove, there are plenty of options!
Here are our top three recommended RV stoves on the market today:
1. RecPro RV Stove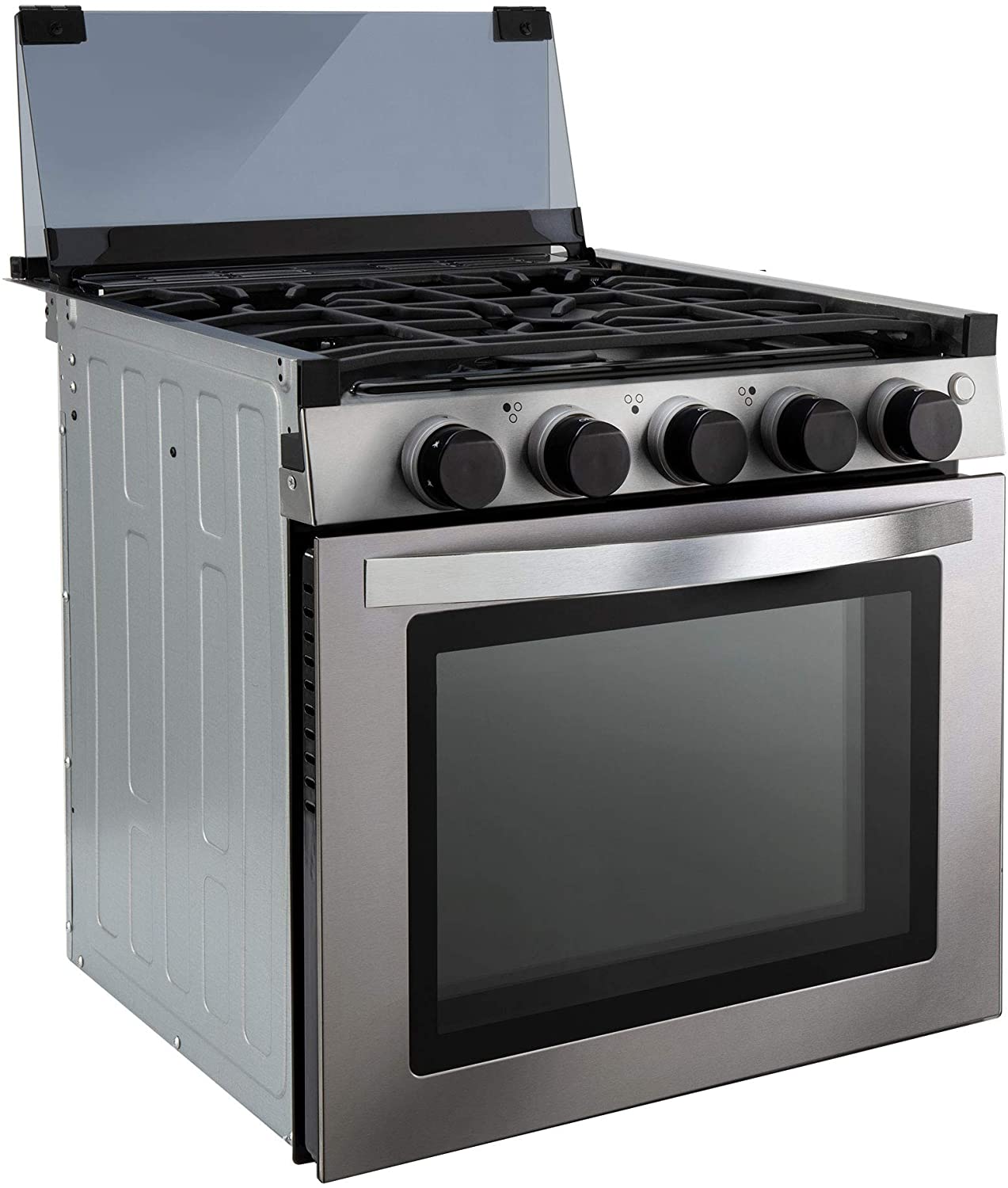 Measuring 17 1/4″ deep, 21 1/2″ wide, and 20″ high, this small RV stove oven is perfect for your RV kitchen. The stovetop has 3 gas burners and temperature controls that light up.
It can be powered by both electricity and propane and be plugged into a 12-volt RV system's circuitry. There's an optional range hood equipped with a fan (and lighting controls).
The inner volume of the oven is about 51 liters. It's easy to use, space-effective, and comes with a stovetop cover that's attached to the back of the stove. We'd consider it the best RV propane stove and oven on the market today!
RecPro RV Stove
Measuring 17 1/4″ deep by 21 1/2″ wide by 20″ high, this small stove is perfect for a quaint RV kitchen
The stovetop has 3 gas burners and temperature controls that can light up
There is an optional range hood with a fan and lighting controls and the inner volume of the oven is about 51 liters
Recommended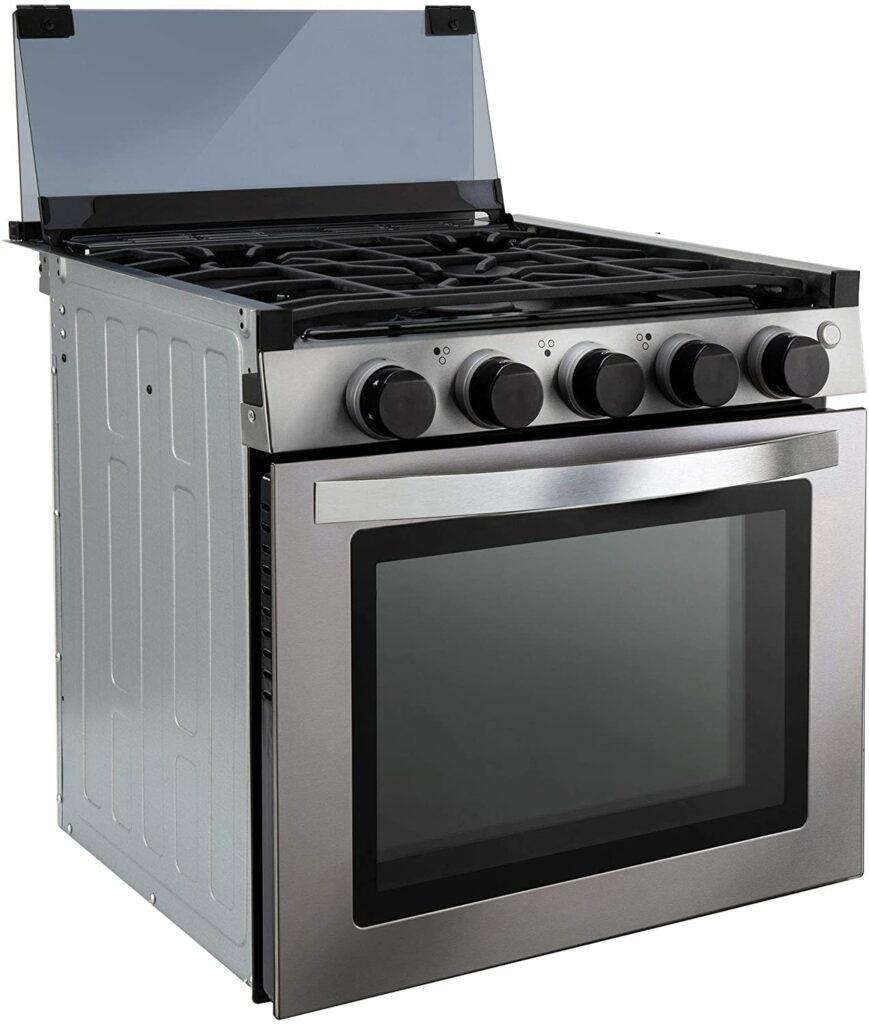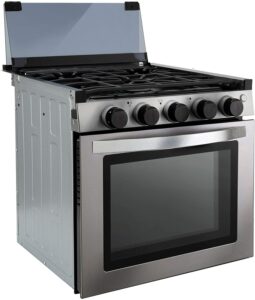 2. Flame King RV Cooktop Stove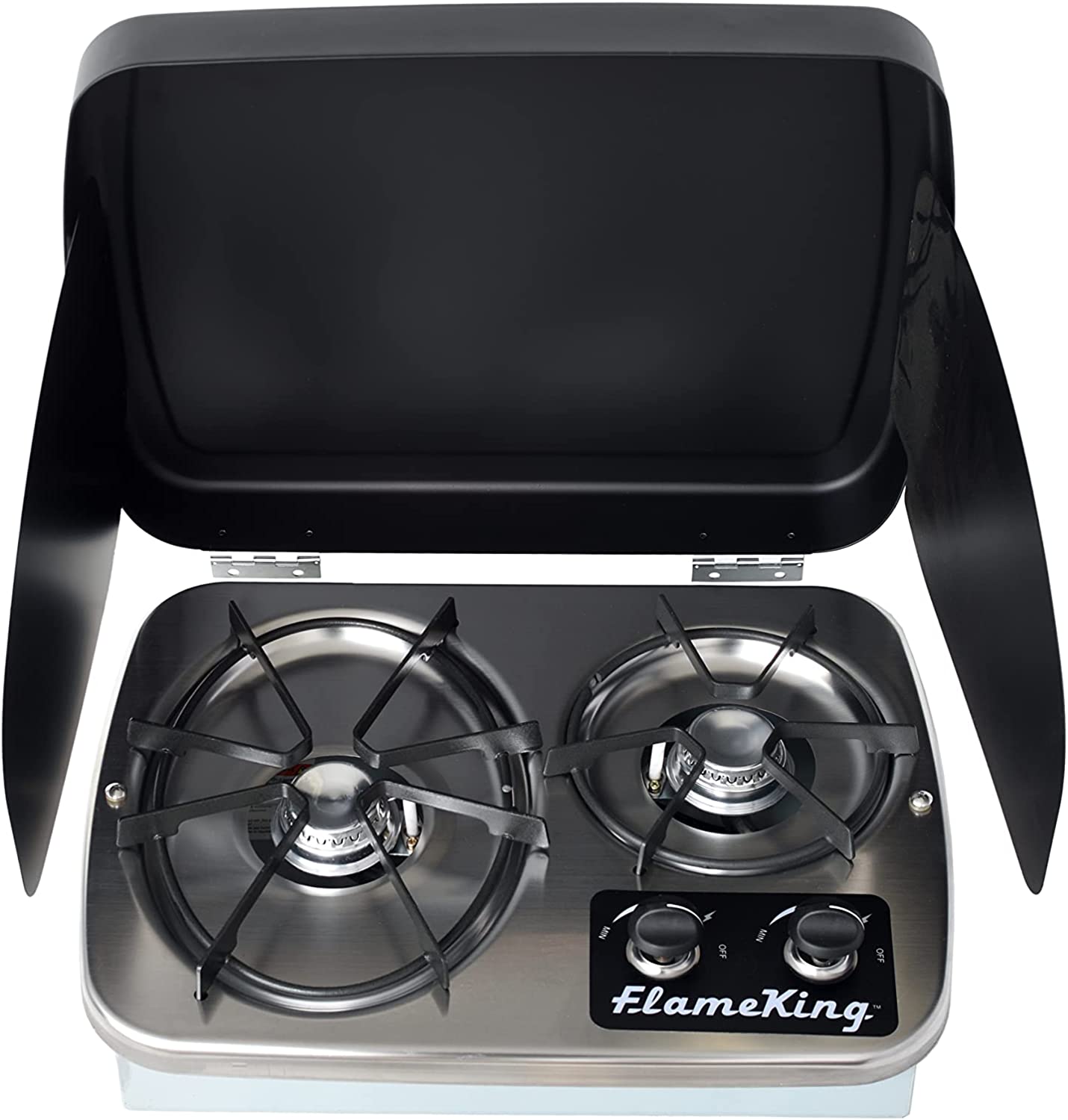 The Flame King RV Cooktop portable stove is a compact, high-efficient propane stove that is the perfect addition to RV kitchens everywhere!
Not only is this RV propane stove portable, but it also features a 7200 BTU burner with a large, oval grate as well as a 5200 BTU burner with a standard circular grate. It's also designed to fit into tight places (which is perfect if you're on an RV or tent camping trip).
The adjustable knobs control flame height and the included cover protects against wind, ensuring your flame never blows out! We love this propane-powered stove and highly recommend it!
Flame King RV Cooktop Stove
Great for RVs and camping, this lightweight gas drop-in cooktop stove eliminates concerns of weight and space restrictions
Two burner sizes feature 7200 BTU oval grate and 5200 circular grate for powerful cooking on the go
Protect your travel stove with included cover
Recommended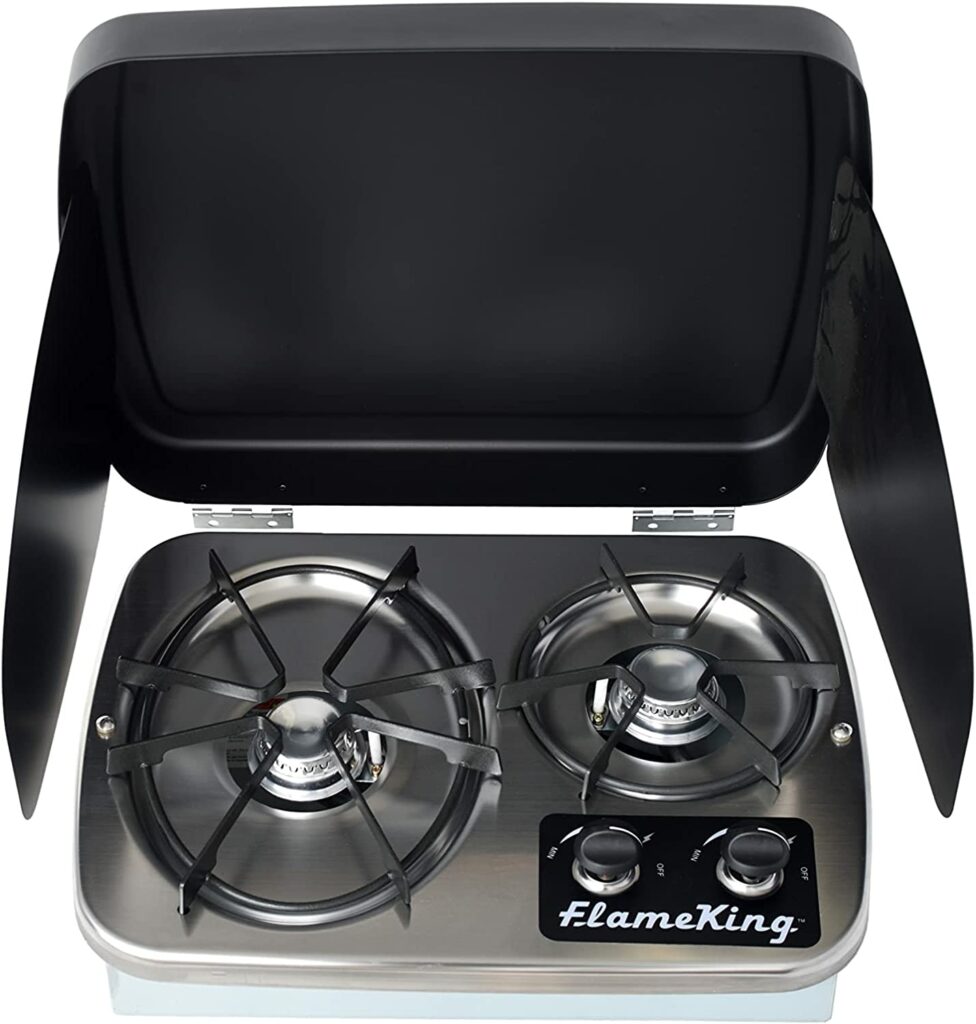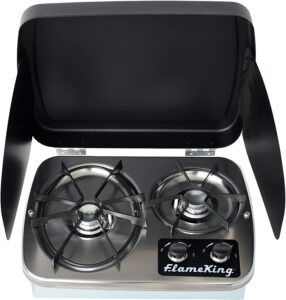 3. Furrion Camper Stove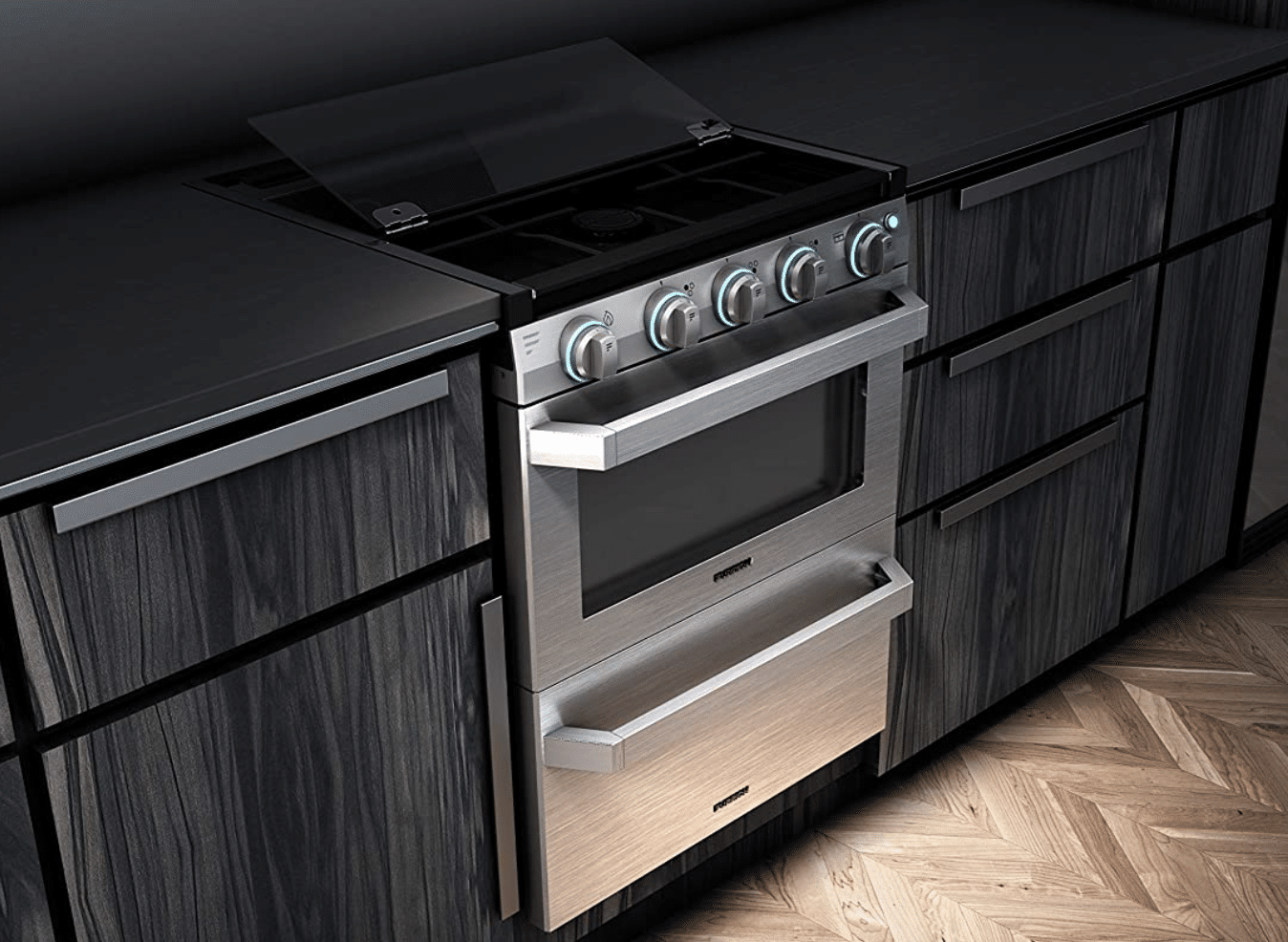 The Furrion RV camper stove and oven allows cooking, baking, frying, and grilling all while on the road. There's a safety cutoff valve that helps prevent fires, and the piezo ignition makes this oven combo easy to light.
The stainless steel finish helps protect this RV stove from extreme temperatures and vibrations while driving or while parked in the hot sun, too!
Not only that, the Furrion boasts that they have the largest capacity RV oven in the industry, with an inner volume of 1.24cu. Ft / 35L.
Furrion Camper Stove
Cook, bake, fry, and grill in your RV kitchen while on the road with this combined cooktop range and oven
The safety cutoff valve prevents fire hazards while peizo ignition makes it safe & easy to light burners and oven
Design features include a brushed stainless steel finish, layered glass door, glass cover, cavity lighting, and LED knobs
Recommended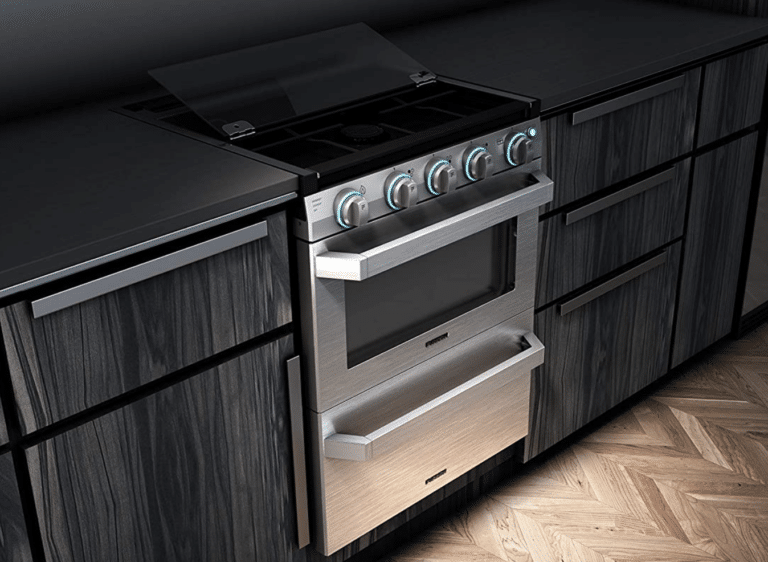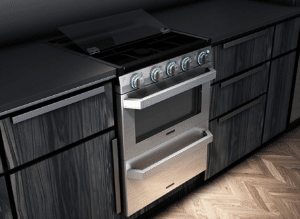 Why People Are Ditching the RV Oven
So many RV owners (ourselves included) have had issues with their RV oven. The top complaints we typically hear are:
They're too small
They cook unevenly
They're too hard to light
They're made with cheap materials and break easily
If you're new to the RV lifestyle (or van life), and aren't sure if you should get an RV oven, take a look at the complaints below.
After all, for some RVers, these complaints aren't a dealbreaker!
They're too Small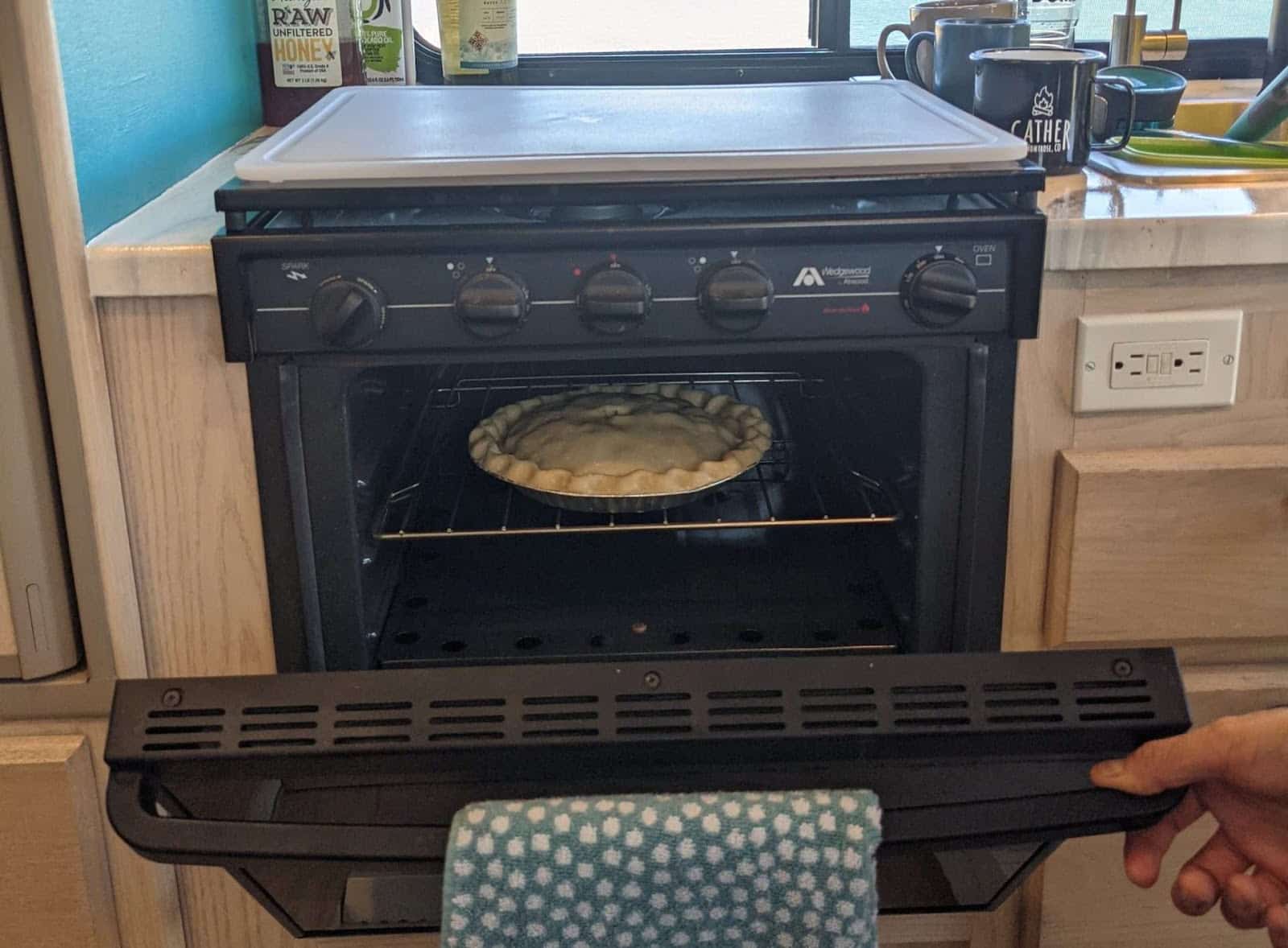 This one might not come as a surprise to you, as everything in your RV is smaller than usual (take a look at the image above – that's an average size pie!). Your RV oven is no different! Standard-size sheet pans won't fit in an RV oven (and forget about baking or cooking multiple things at the same time).
Uneven Heating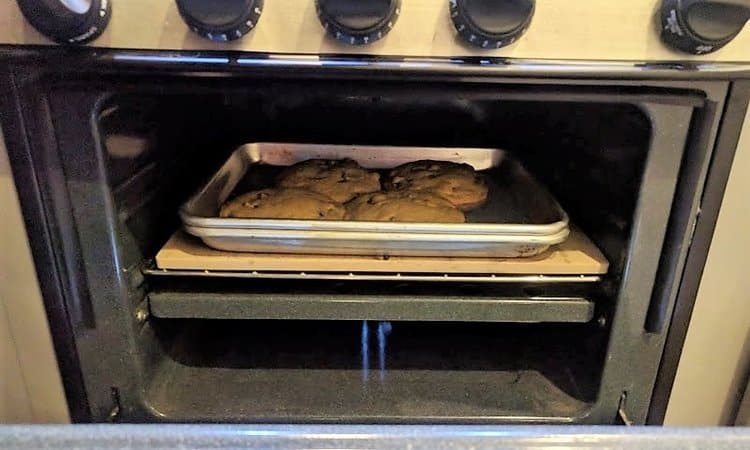 Uneven heating is one of our biggest gripes when it comes to our RV oven. It's never fun biting into your food to realize that one corner is scalding hot while the other remains cold.
Many RVers have fixed this issue by placing a pizza stone inside of their RV ovens to redistribute the heat but having cold zones in your oven is never good (even with a pizza stone).
They're Hard to Light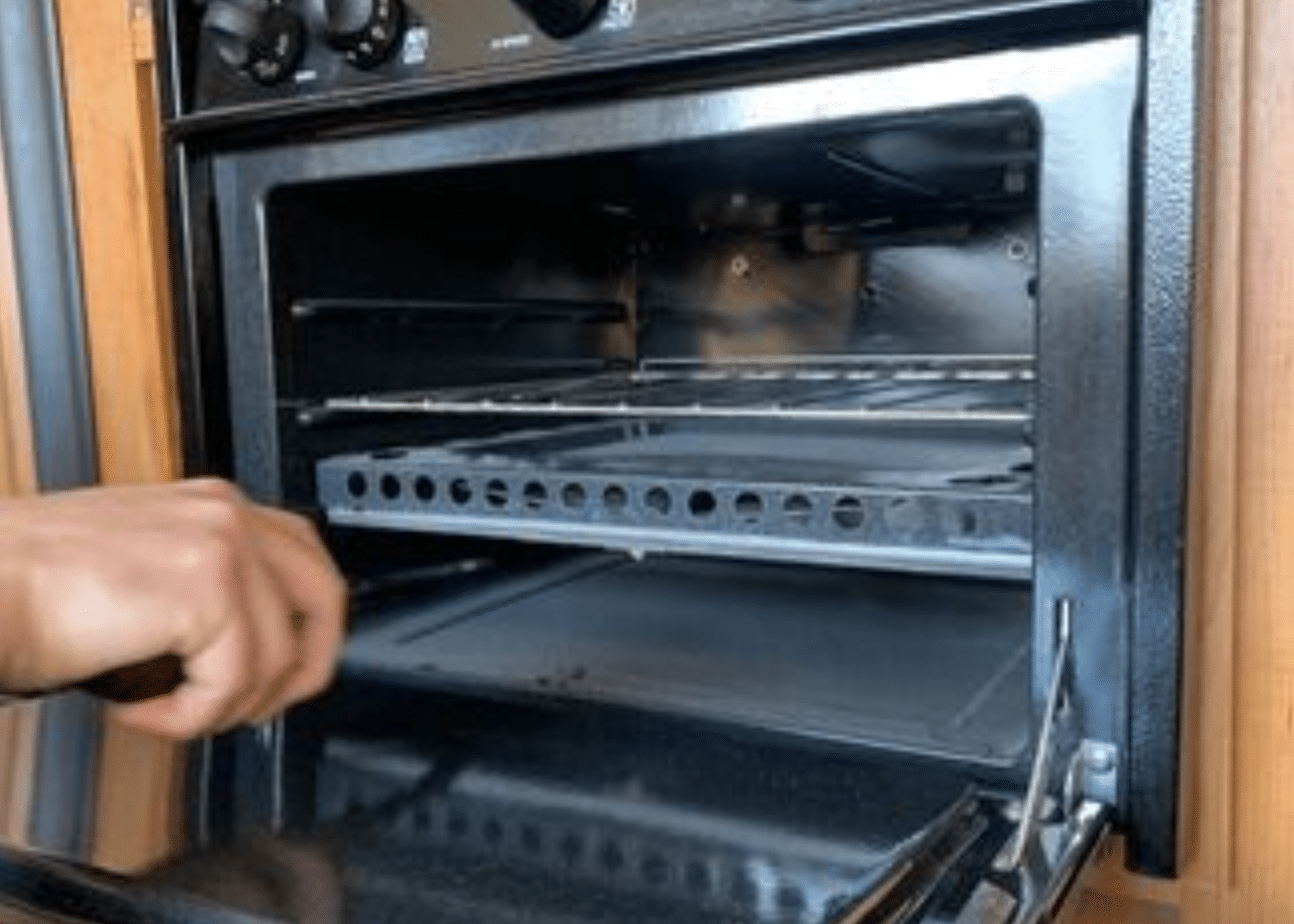 An RV oven typically doesn't have an electric ignition. This means you can't turn it on simply by turning a knob. You'll have to light the pilot light manually in order to turn the RV oven on.
The pilot light can be found in the far back of your existing RV oven (though you'll have to get down on your knees in order to reach it). Even when you do find it, it can take a few attempts to get it to light.
Low-Quality Components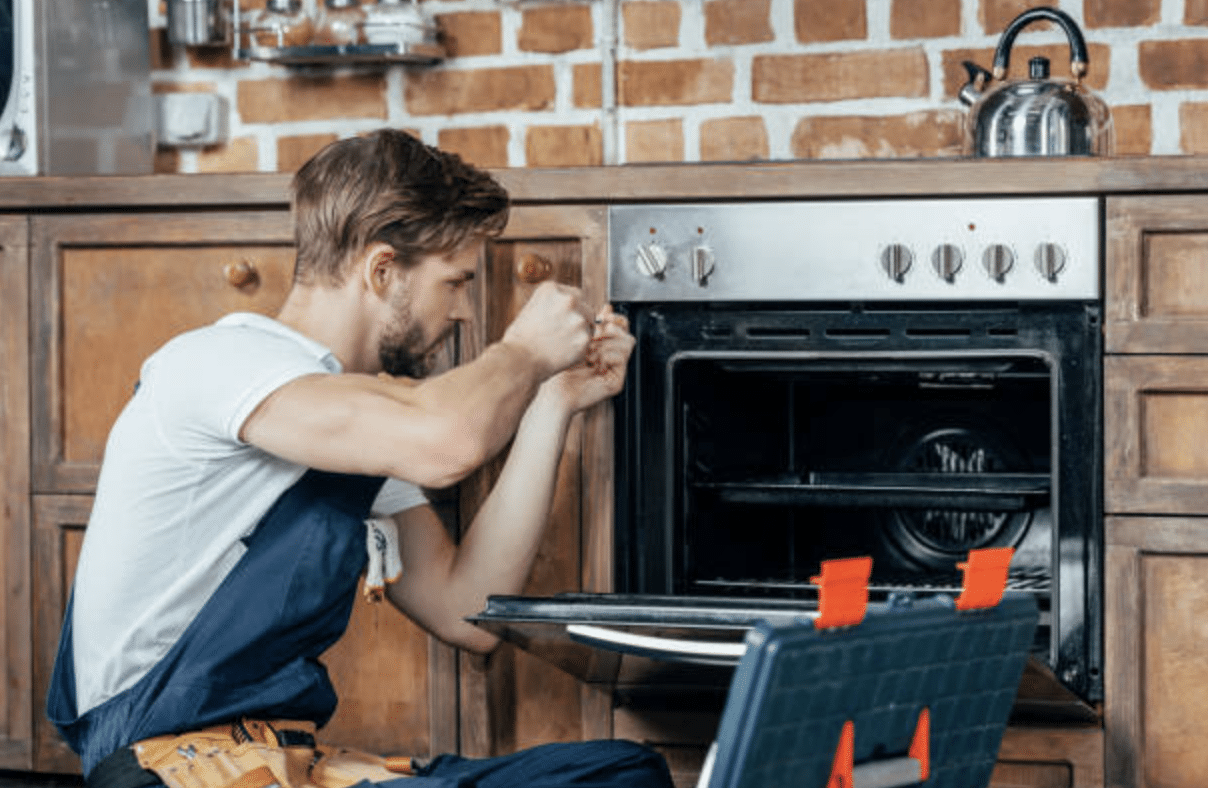 Your RV oven is more lightweight than a standard oven that you'd find within a home and, because of this, the parts that are used to make even the best RV oven can break a bit faster than normal.
Having to wait for a replacement part can take a while and you'll need to figure out a solution in the meantime. This leads us right into the next section!
Alternative RV Cooking Methods
If you've gotten rid of your RV stove and oven for more cabinet space (or you're living out your van life dreams and never had one), you might be looking for more ways to cook meals while on the road.
Here are some of our favorite alternative ways to cook while in an RV:
Dutch Oven Over a Fire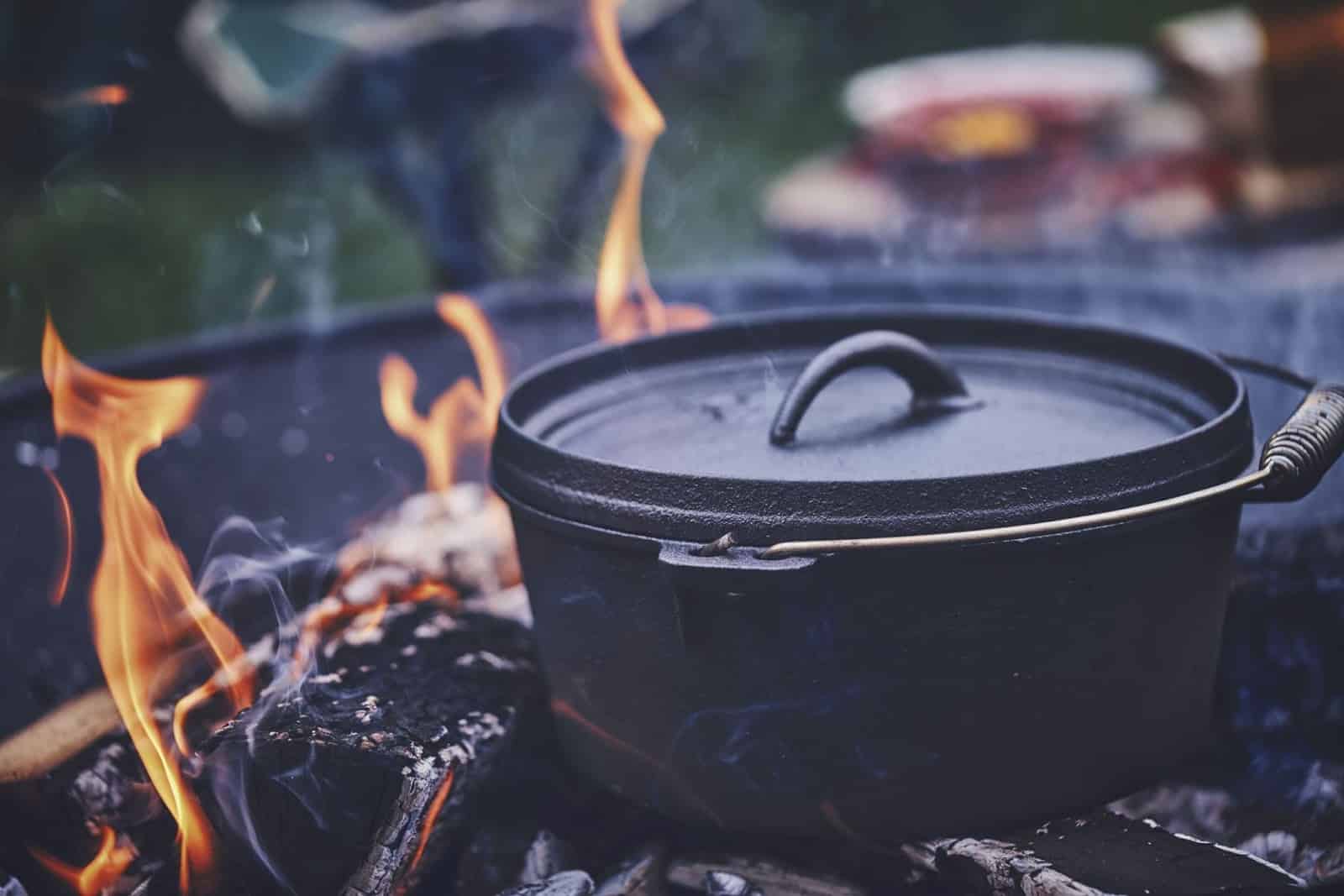 It's hard to argue that a Dutch oven is one of the most versatile camp cookware items you can own. Whether you're going to make something sweet or savory, you're able to do it all within your Dutch oven.
But, did you know that there's a huge difference between home and camping dutch ovens? Home dutch ovens have flat bottoms that are sealed in enamel. They're designed to be used in a home kitchen or in an RV stove and oven. These are not campfire friendly!
Camping dutch ovens are made entirely from cast iron and have a flat flanged lid. They're designed to be used with charcoal as well as wood embers over a campfire! Camping Dutch ovens come in many different sizes and two shapes (shallow and deep).
Shallow Dutch ovens are best for baking because the lid is closer to the food on the inside. They're often referred to as "bread ovens." Shallow Dutch ovens are some of the most versatile, too. Deep Dutch ovens are best for soups, stews, or braises. The lid is further away from the food, and the increased volume you get with a deep Dutch oven is great for feeding more than two people!
Use a Toaster Oven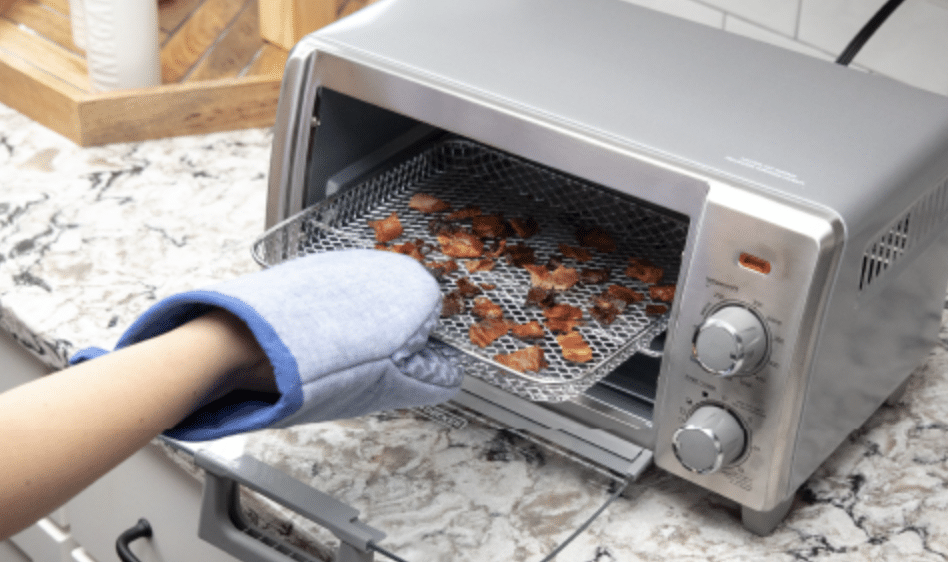 We talked a bit about a convection oven at the beginning of this post and while some could argue that toaster ovens are nearly identical to a convection oven, they're wrong!
The big difference between a convection oven and a toaster oven is that a convection oven has fans circulating throughout the space, allowing food to cook more evenly. A toaster oven on the other hand cooks food at a lower temperature and is better suited for smaller meals.
Toaster ovens are great RV appliances to use when you're traveling a lot. The airflow within them prevents food from sticking to the pan or baking dish which makes cleaning a breeze. If you have room on your RV kitchen counters, we'd recommend getting a toaster oven!
Use a Solar Oven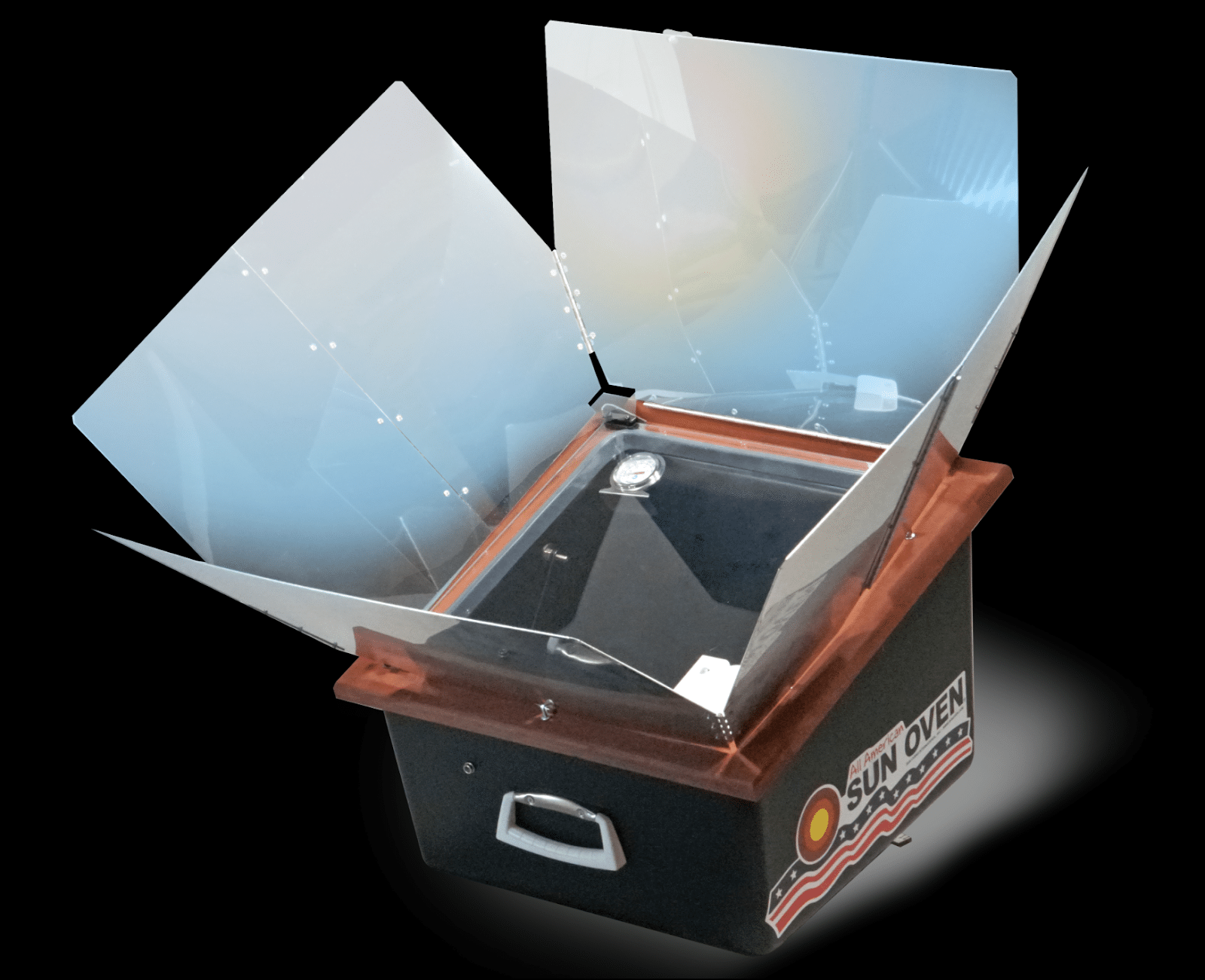 If you're looking for a way to safely cook food with sunlight instead of using expensive fuels, we'd recommend purchasing a solar oven.
One of our favorite things about using a solar oven is that we're able to keep our RV cooler in the hot summer months (we're sure you all know how hot it can get in your RV when you're cooking in your RV kitchen)!
Want to make your own solar oven? Check out this video to learn how:
Final Thoughts
We hope this guide to RV stoves has helped you! What type of RV stove and oven do you want most? Let us know in the comments below!
Looking for more RV content? We've got you covered: