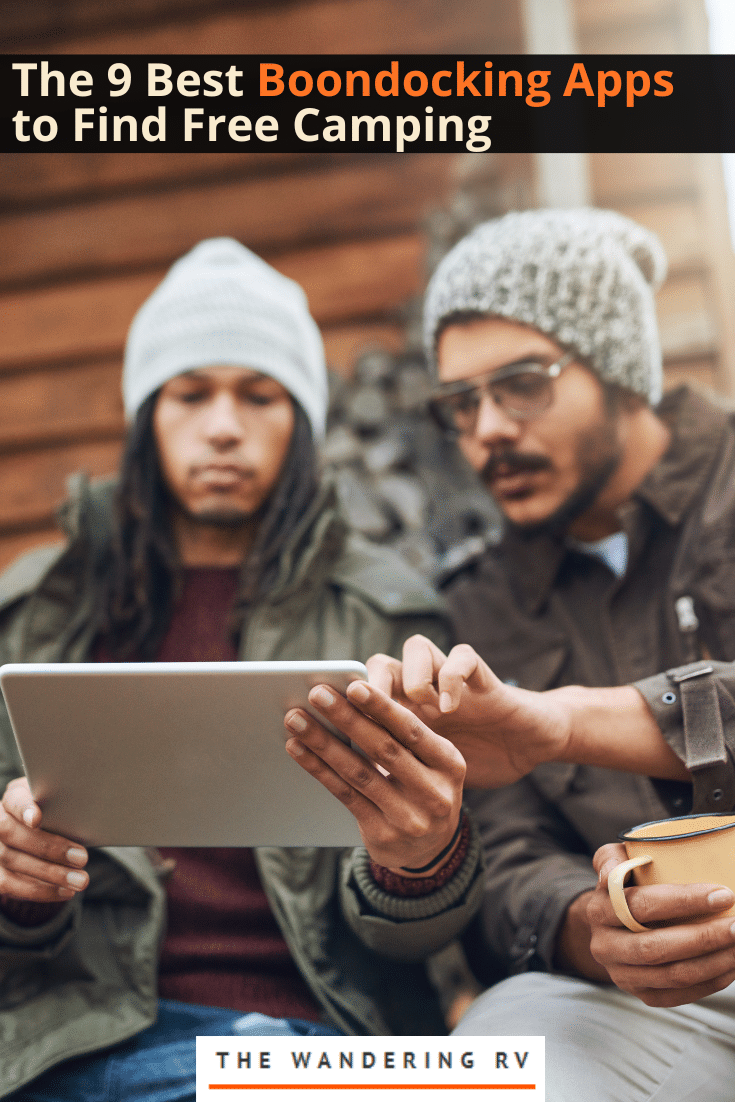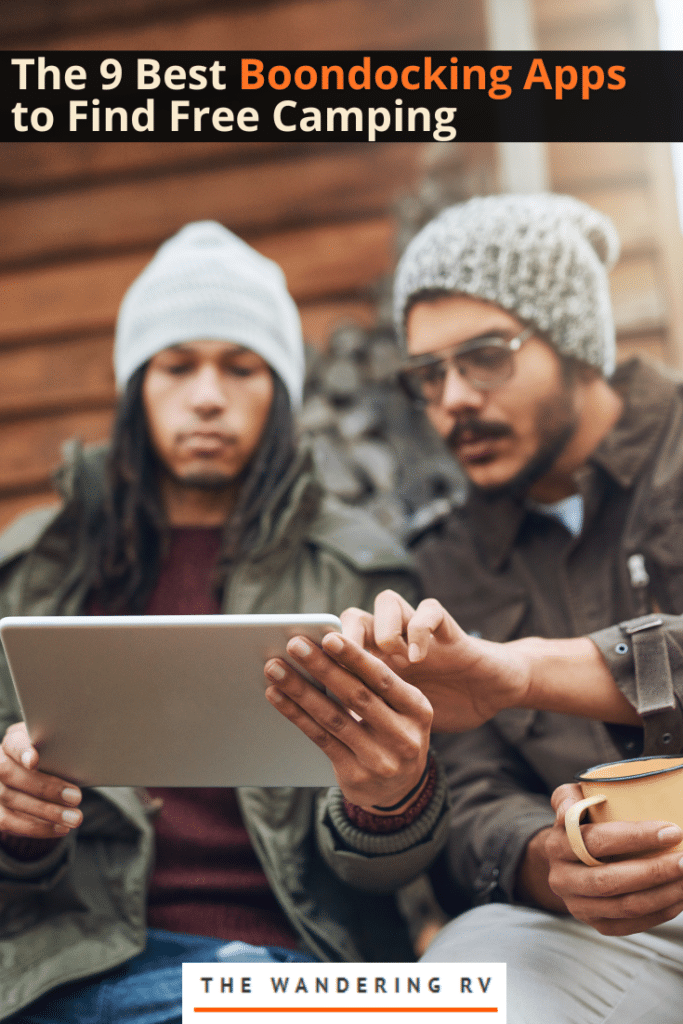 Let's face it: Finding beautiful free boondocking locations can be difficult. Most of these places are remote and far from civilization, after all.
Luckily, there are some amazing free camping apps you can use to find the most unique spots in the US—and beyond!
In today's guide, we're going to share the 9 best camping and boondocking apps available to you (whether you have an Android or an iOS device) so you can start camping for free.
Let's dive in!
Table of Contents
Our 9 Favorite Camping and Boondocking Apps
I've lived in an RV for over a year and am currently traveling the country in a converted campervan. I've also been overlanding in Mexico and throughout most of the US.
In that time, I've tried every app that exists to try to find free camping and boondocking sites. The following nine apps are the ones I use most frequently and find the most helpful.
Most of these apps have been updated by travelers like you and me, work with both iOS and Android, and have an interactive map you can use to locate boondocking sites and other helpful things—like water or propane fill-ups, showers, mechanics, and more.
Finding free boondocking sites has literally never been easier.
1. iOverlander: The Best Boondocking App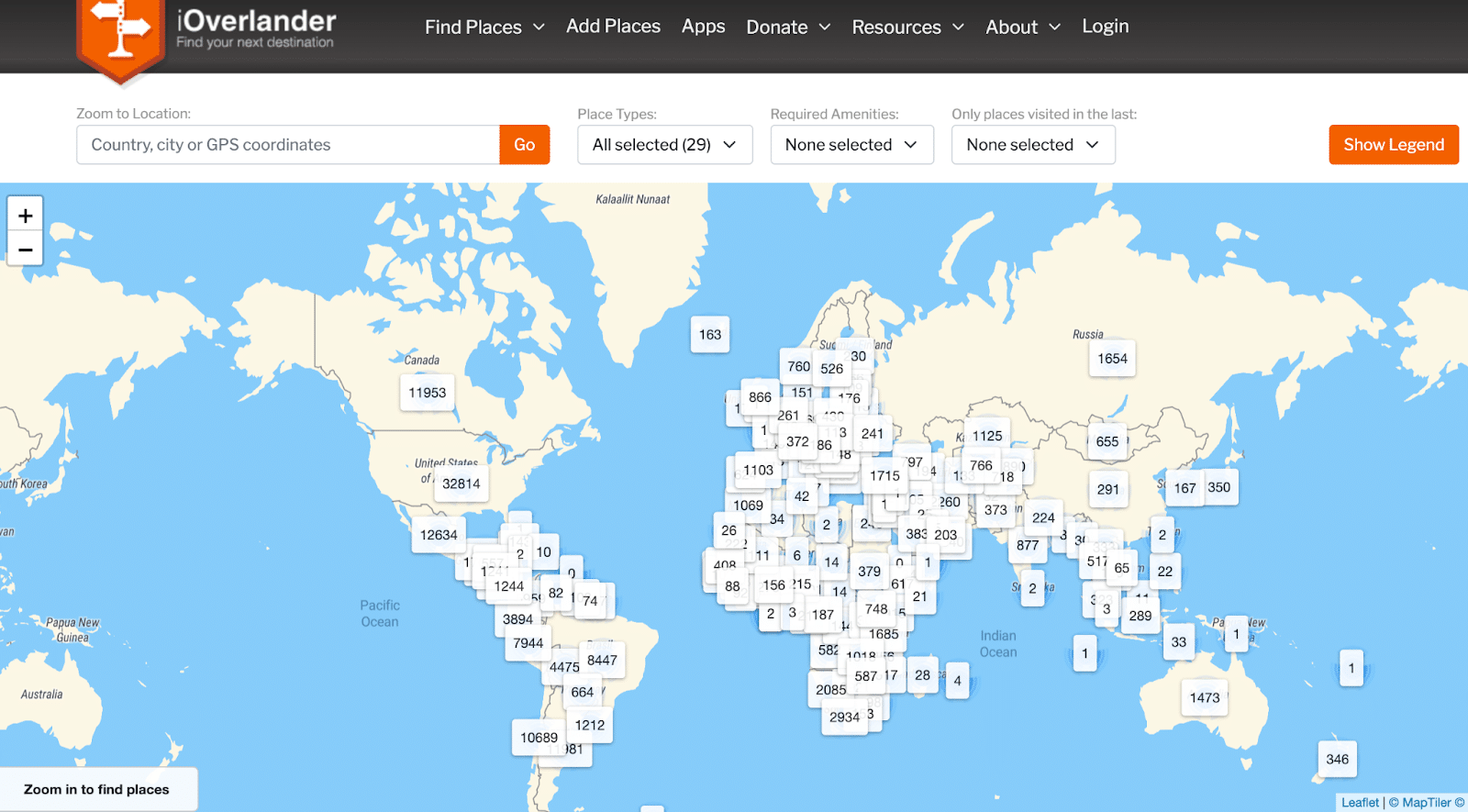 iOverlander is one of the best boondocking apps to use if you are an avid overlander or RVer.
With iOverlander, you can find some of the best campgrounds, hotels, and restaurants to help plan your trip and stay in safe locations.
This app shows you free campsites, wild camping areas, hotels, private RV parks, and so much more. Overall, iOverlander does an amazing job at covering everything you need for camping and traveling. Check out the interface for this boondocking app: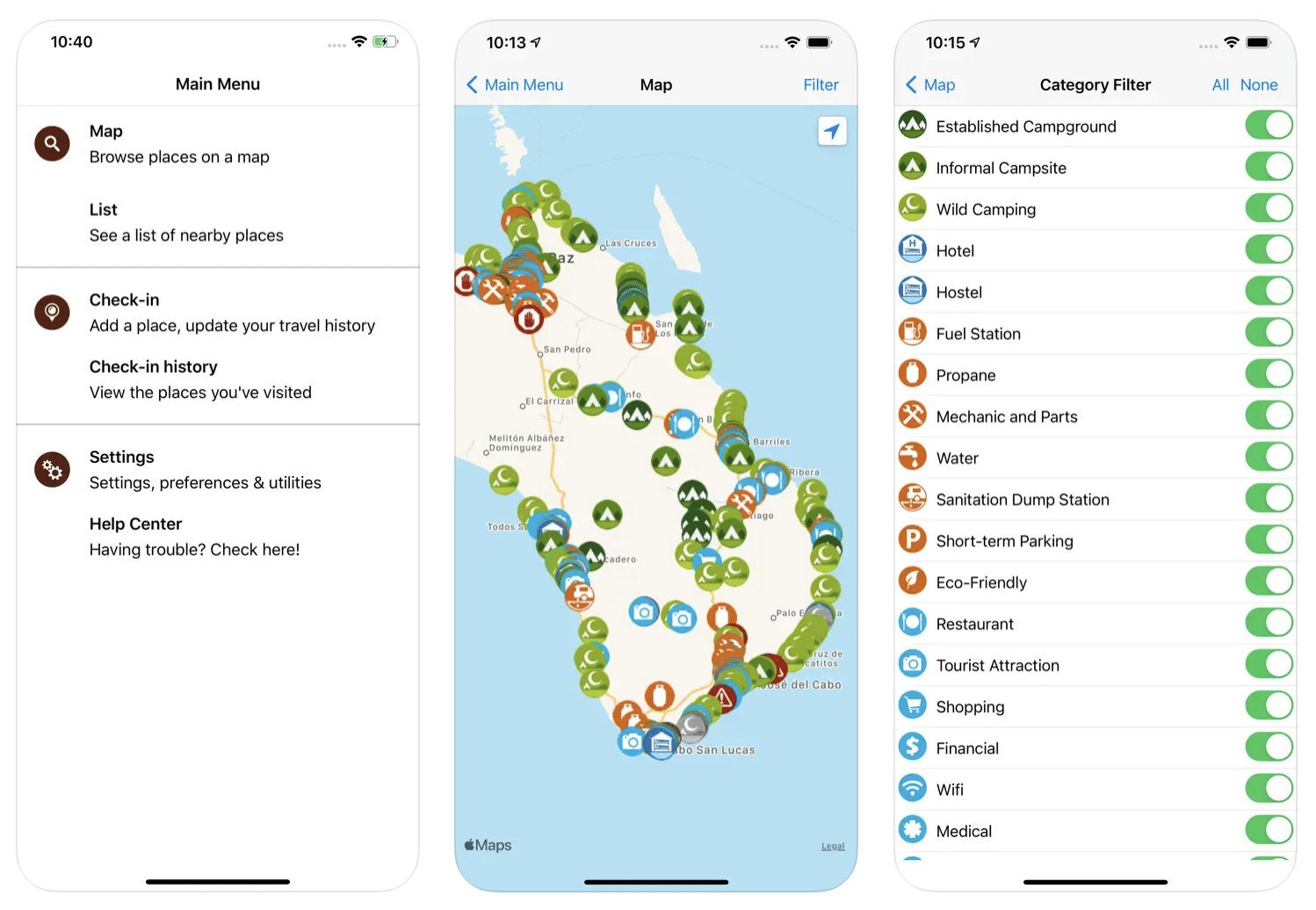 With iOverlander, you're able to find exactly what you're looking for with the "Filter" option (as seen above). If you want a true boondocking location, look for a "Wild Camping" site. You can also find hostels, hotels, fuel stations, and so much more!
Overall, I find it to be my most-used app when traveling. However, it doesn't cover EVERY site, so I use multiple apps, including the next few:
2. Freecampsites.net: The Best Boondocking Website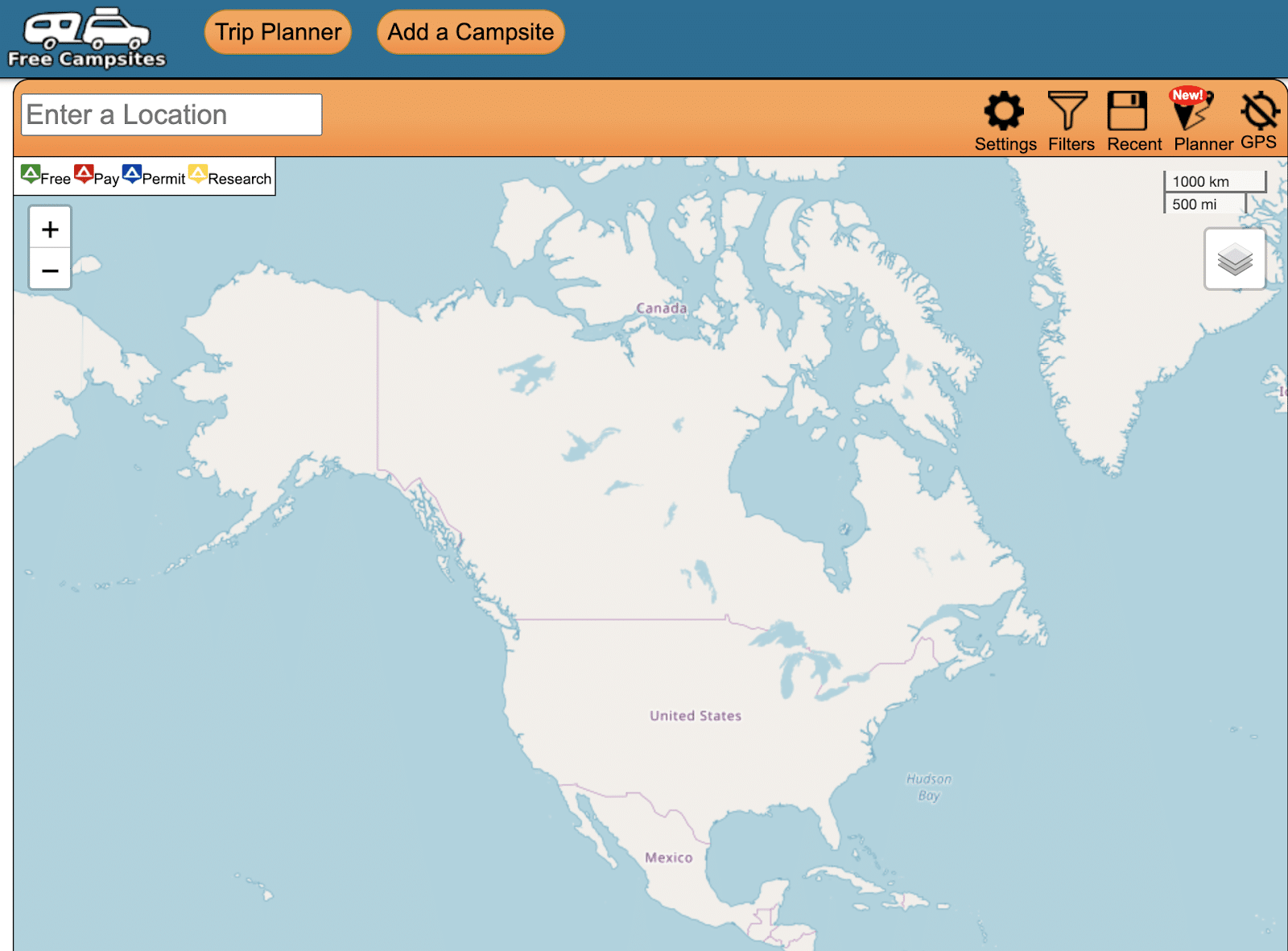 Freecampsites.net is a website that anyone can find and use on their phones for free.
It's very similar to iOverlander, with anyone able to add camping locations and other helpful things on the site.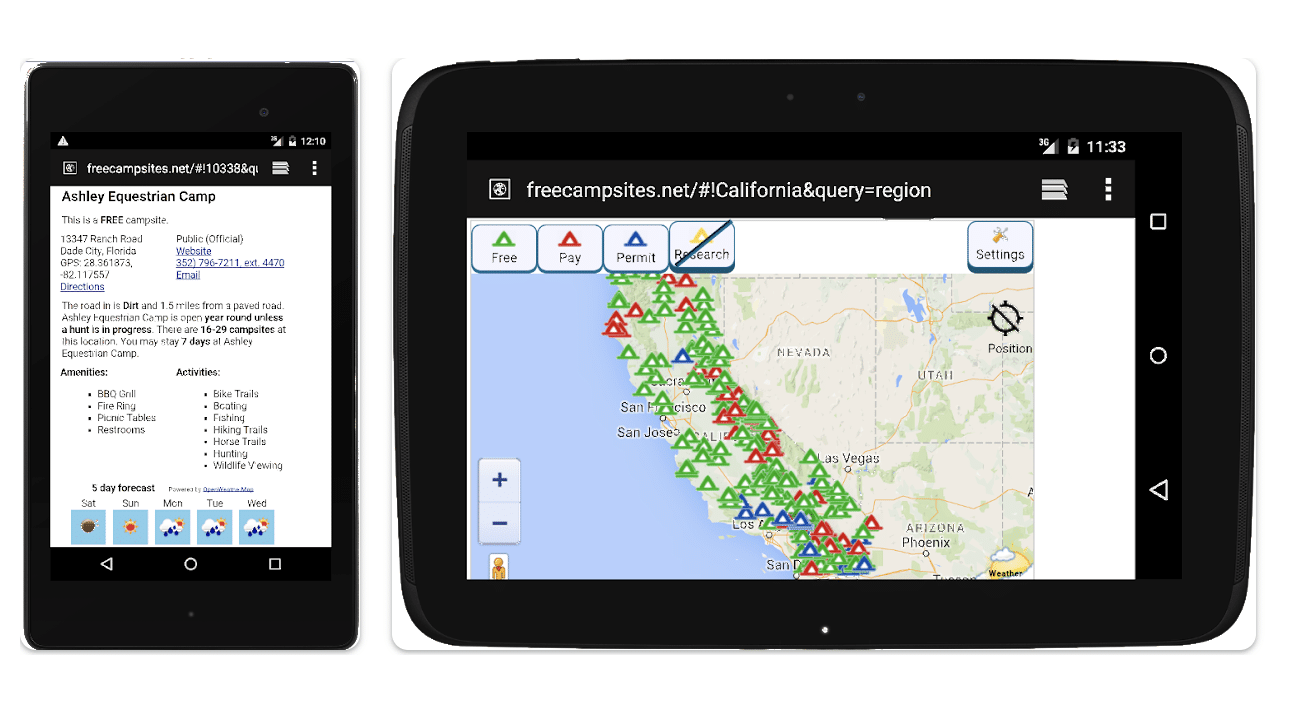 Once you find campsites (or a boondocking site) you're able to click on the location to find out more about the site you've chosen. With the Free Campsites apps and websites, you can see the activities and amenities available before booking (as well as user reviews).
3. The Dyrt: The Best Boondocking Subscription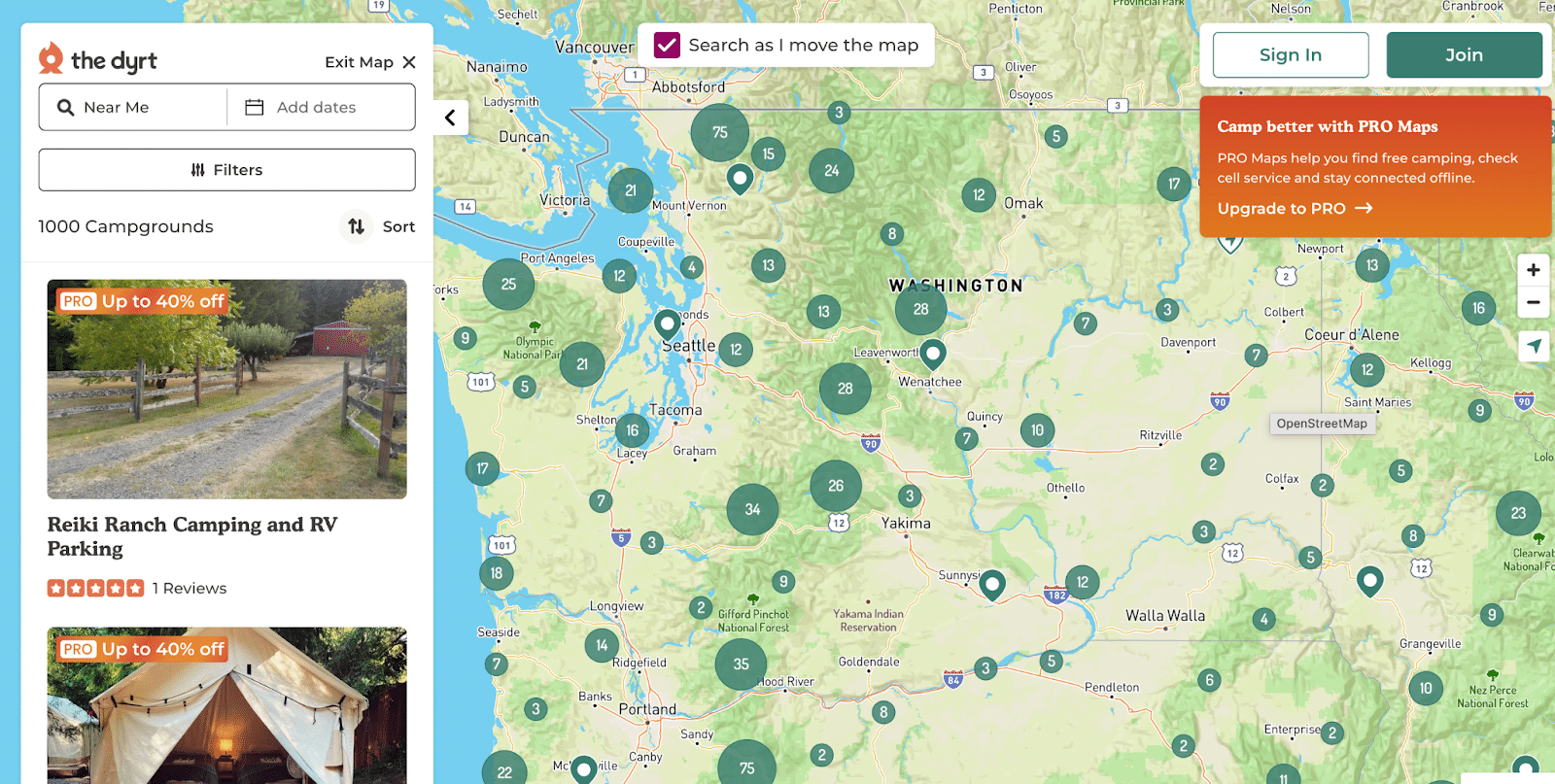 The Dyrt is an app offered for Apple and Android that is more for finding established campgrounds, but it does show some boondocking options.
I mostly use this app to find camping discounts and to be able to download maps for offline use. Some campsites offer up to 40% off for The Dyrt members. However, I sometimes find free campsites with it as well.
The number one feature for boondockers, though, is their public lands map. It's not included in the free version, but you can get a 30-day free trial of their Pro version with the code "TWRV"!
4. FreeRoam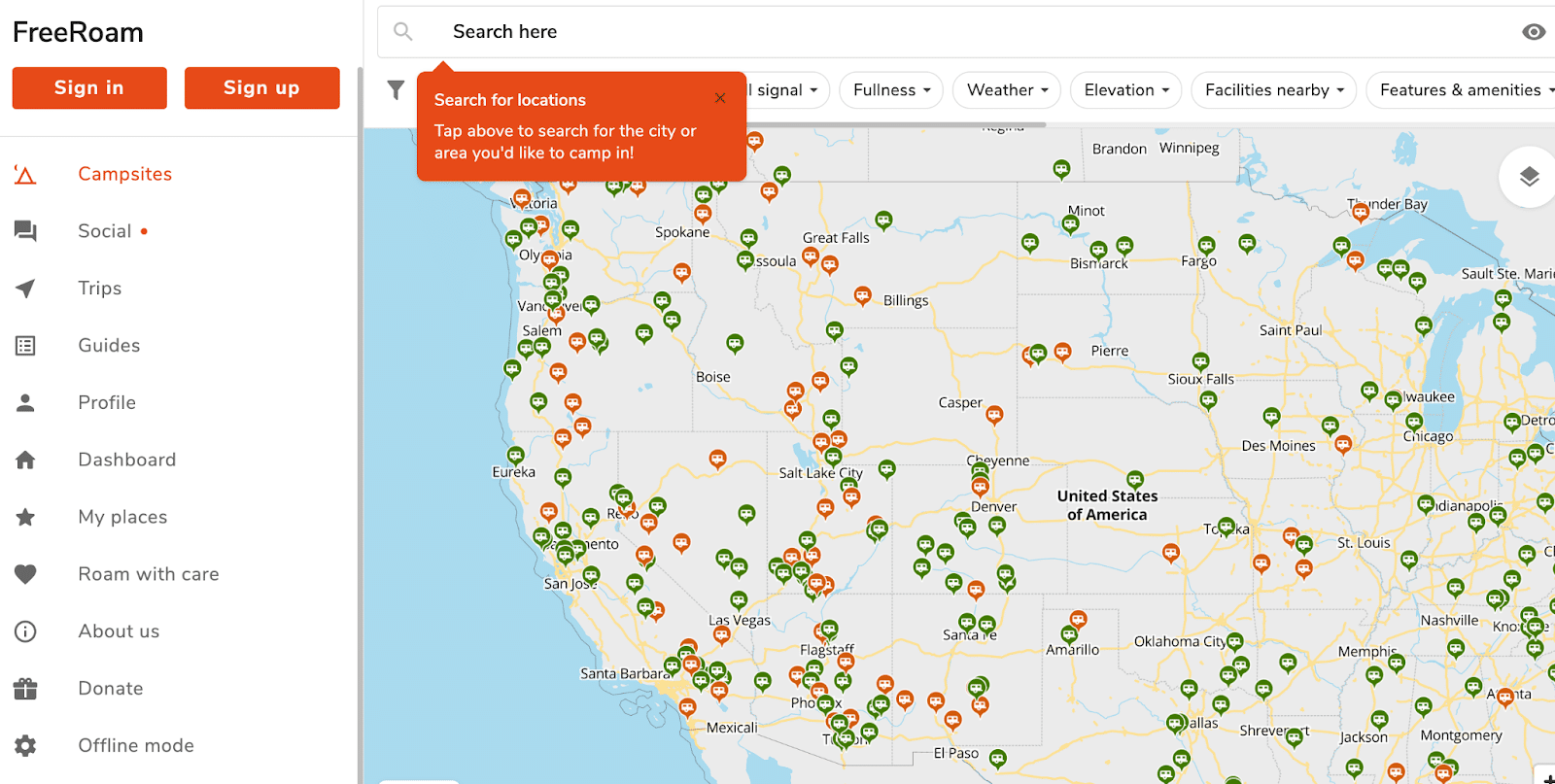 FreeRoam is a non-profit focused on helping you find great campgrounds and enjoy nature in a respectful, sustainable way. You're able to search for campgrounds using powerful filters, plan a trip, and find stops along your route with FreeRoam's trip planning feature.
I've found lots of free camping spots on Free Roam that aren't on the other apps I've mentioned so far. It also made me aware of the Discover Pass in Washington, which I didn't know about, and gave us lots of extra free campgrounds I couldn't otherwise go to!
They also have guides to boondocking and dispersed camping and product reviews for campers. With this free camping app, you're able to create and plan your trip all within the app (you can also follow trips and routes previously made by other users):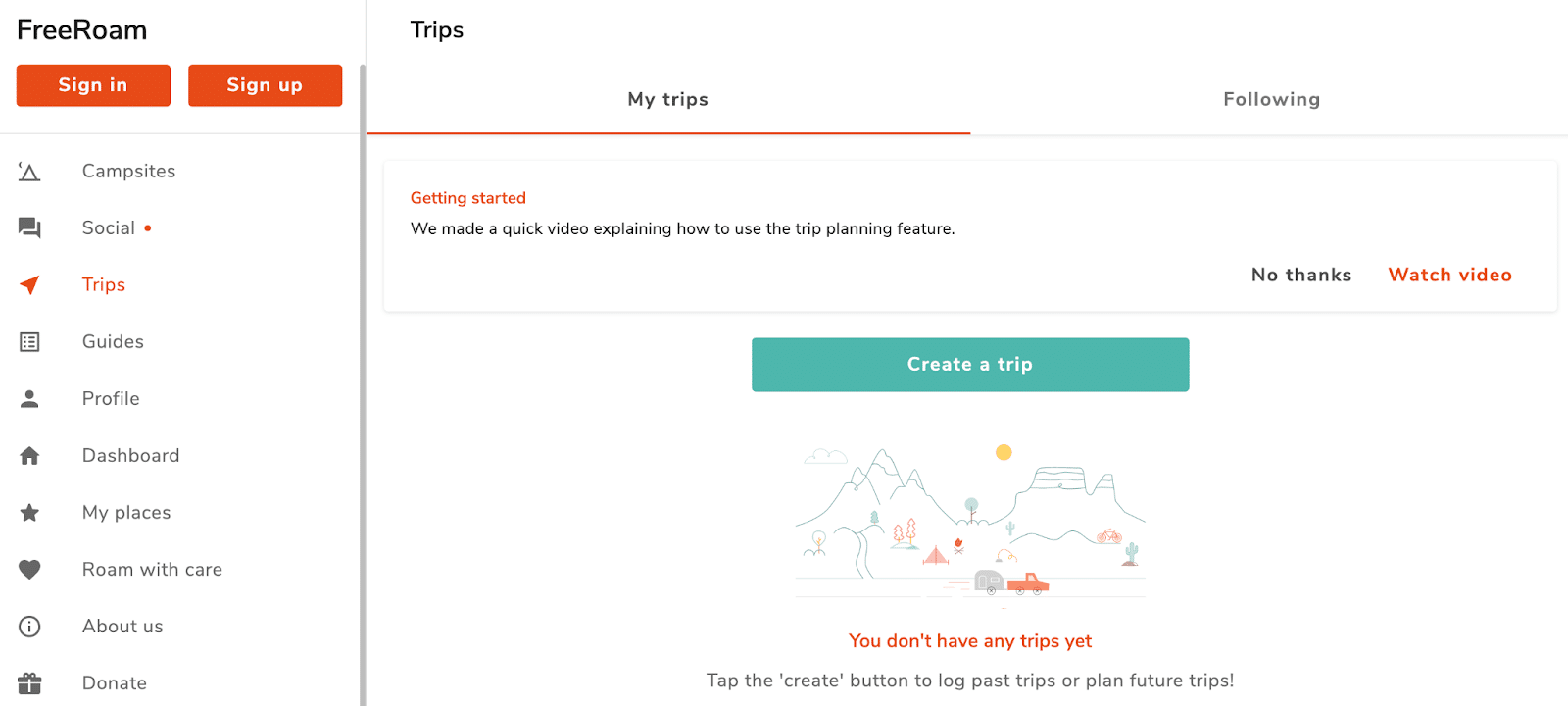 It also shows cell coverage, which can be really helpful if you still need an internet connection for work or just for fun.
Overall, if we had to pick out one of our favorite free camping apps, we'd go with FreeRoam all the time. Being able to connect with fellow travelers (and get news about upcoming events and meetings) is what traveling is all about!
5. RV Parky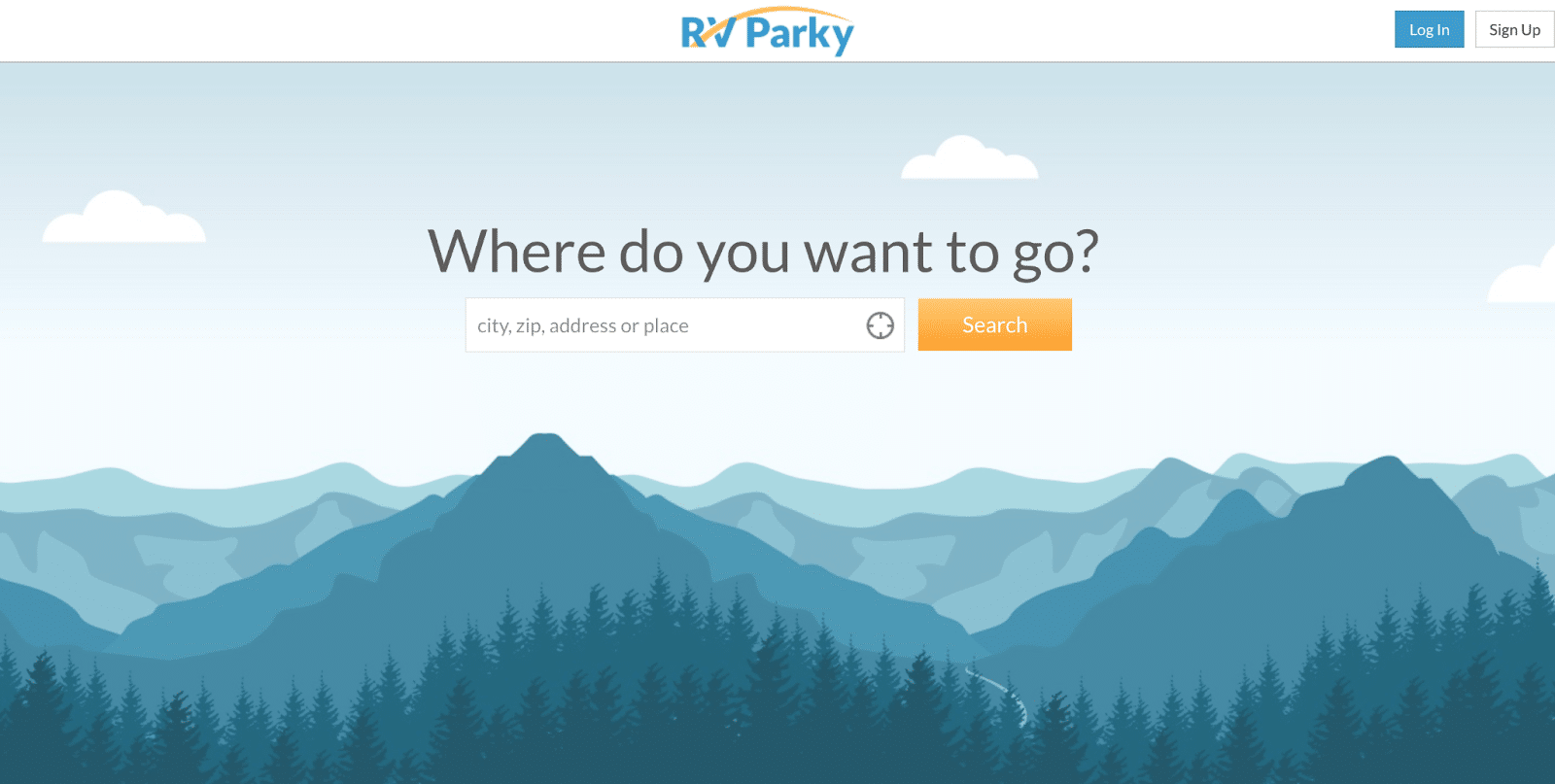 RV Parky is another fantastic website that was built and updated by a full-time RV traveler and with the help of people within the RV community.
This website will help its users find the campgrounds and free camping areas that will best fit their needs. Whether you are looking for an established campsite within a campground or a free camping area to set up your own camp, this app is perfect for you! Check out what you get with this boondocking app: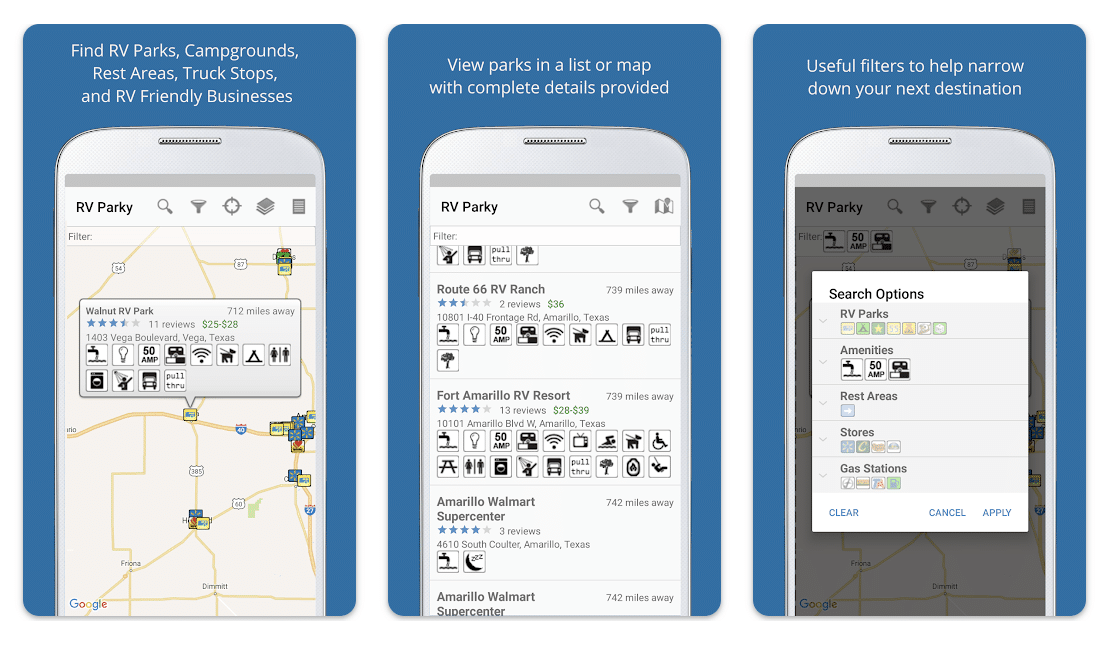 Whether you want to find RV resorts, truck stops, boondocking locations, or dump stations, RV Parky has you covered. You can also see what amenities each location has and use filters to help narrow down your next destination!
That said, I don't use this app a ton. I usually only open it (and the rest of the apps on this list) if I wasn't able to find a campsite with the other
6. Allstays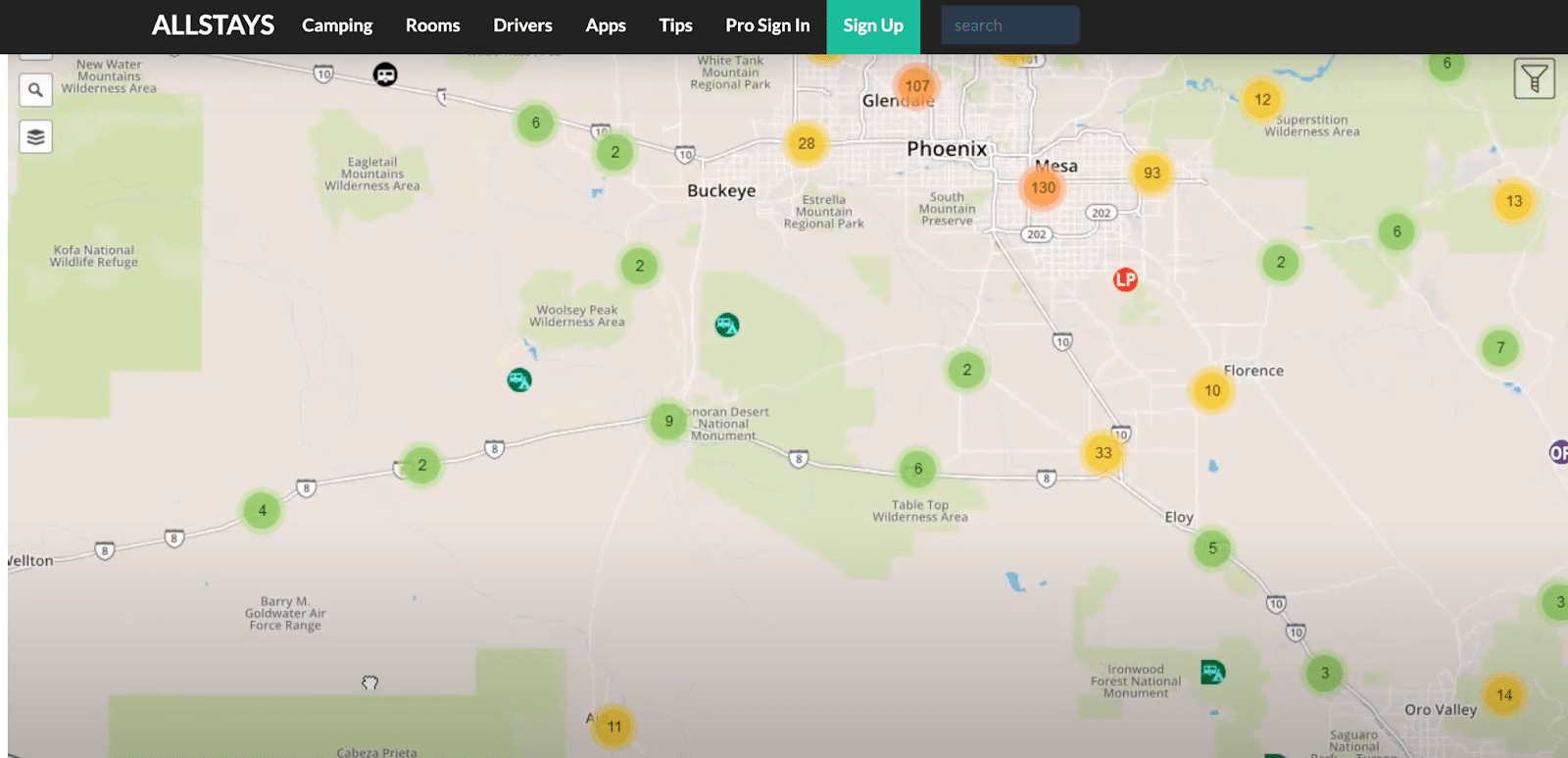 Allstays might not be a  free camping app, but they boast that they're one of the top-ranked camping apps on the market today.
Currently, Allstays has two apps:
Truck & Travel
Camp & RV
The truck & travel app allows you to stay up to date on truck routes while answering questions like "Where is the next service dealer or tank cleaning?" and "Who has bulk DEF?".
The camp & RV app shows more than 37,000 campgrounds in both the US and Canada that are:
Private
In National Parks
BLM Campgrounds
Army Corps
Military Famcamps
Campgrounds for those with a KOA, Good Sam, Escapees, Passport America, 1000 Trails, ROD, RPI, AOR, Coast to Coast, or Elk membership
Primitive campgrounds
Free overnight parking at locations like Walmart
There's even an Allstays Pro membership that gives you pure information, and thousands more locations, it's faster to use, includes no ads, offers more privacy, has full-screen maps, more filters, layers for traffic, biking, public lands, GPS files, over half a million search combinations, and so much more!
The best part? You can access this app offline – WiFi isn't needed! Take a look at the interface below: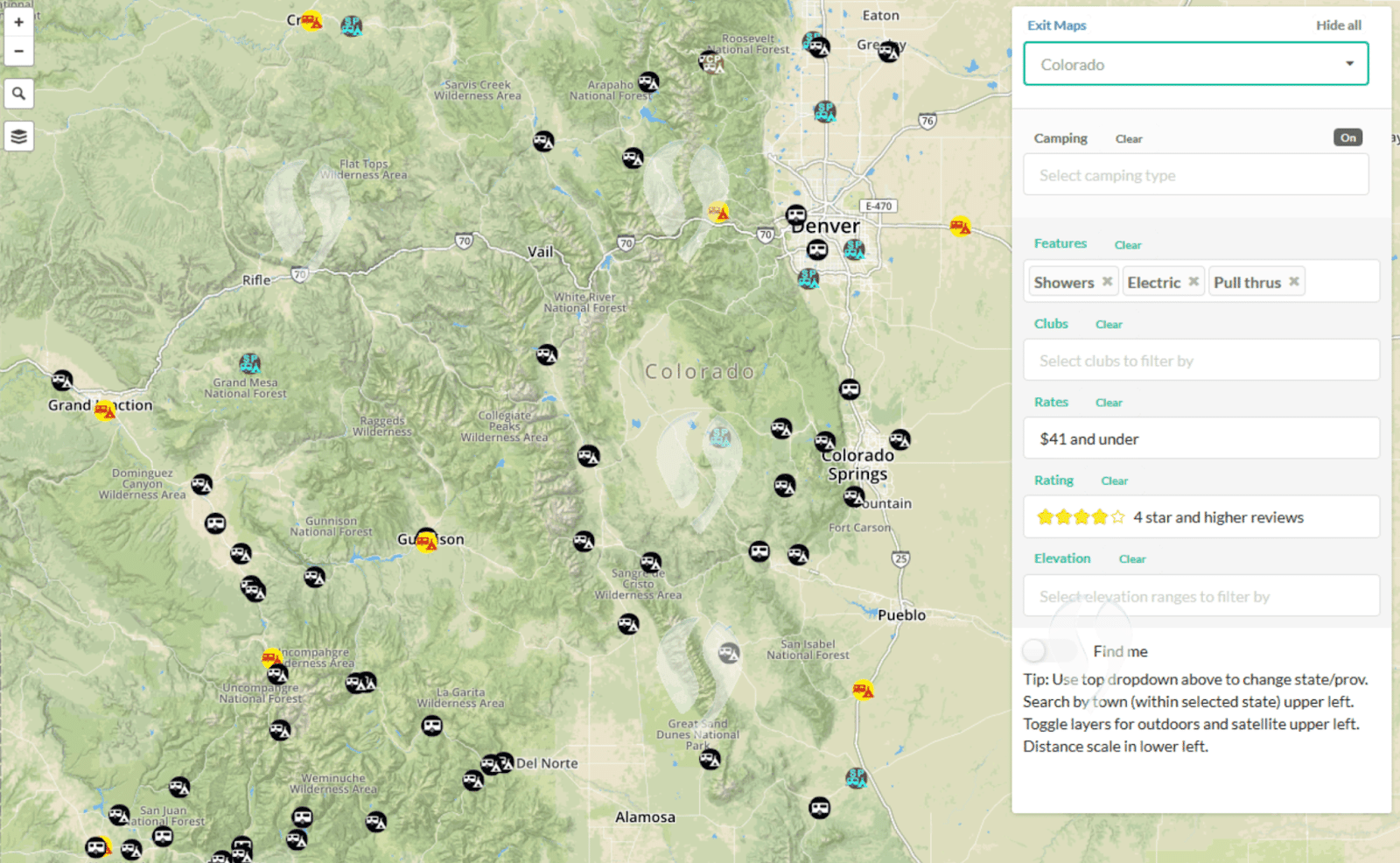 Choose which state you're going to, what type of camping you'd like to do, any features you'd like to have, and more! You can even find free camping while on this app – it's a great boondocking app!
7. Campendium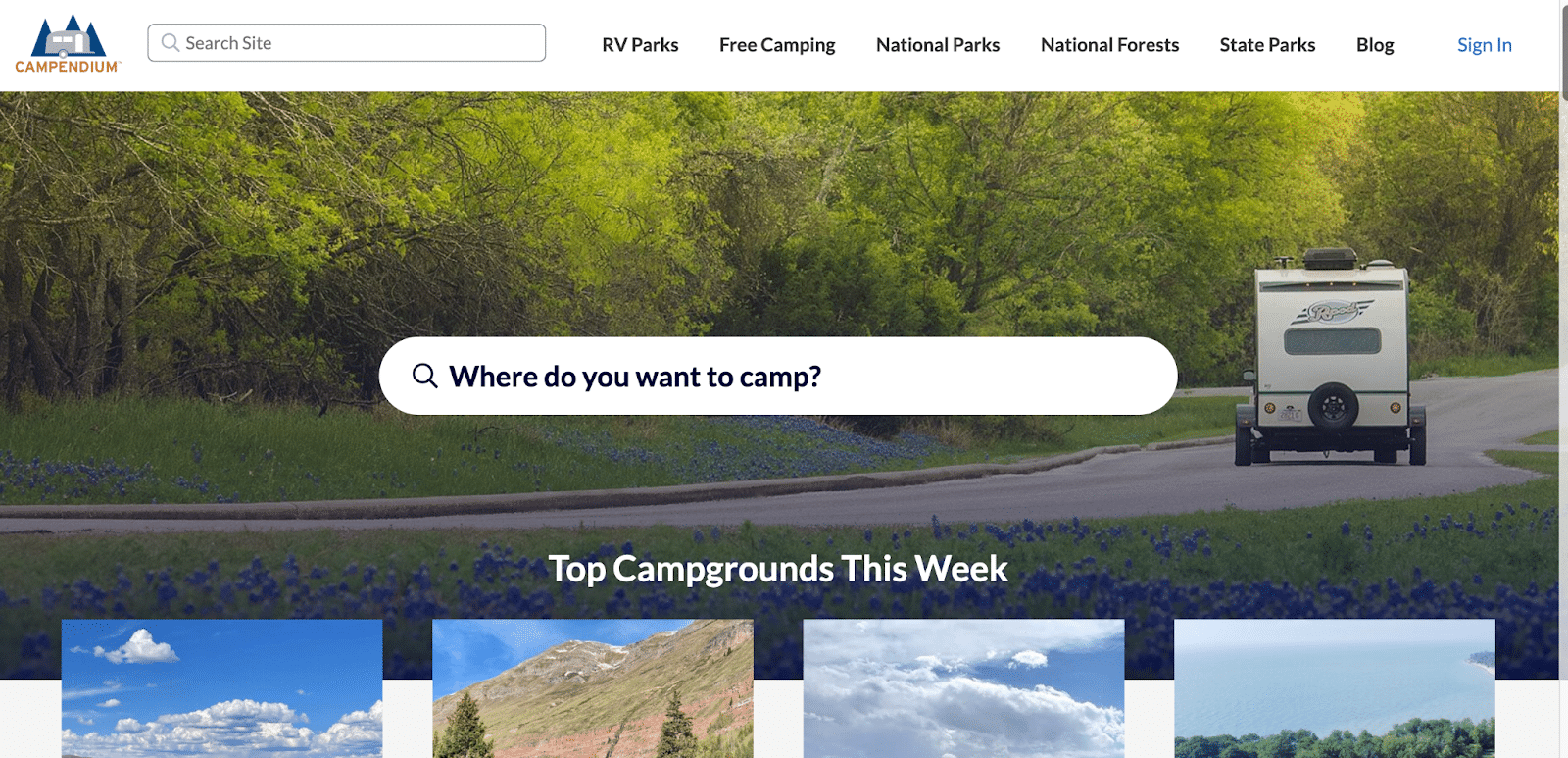 The Campendium app is another highly recommended camping app that will allow you to find not only campgrounds but also the best free camping opportunities.
Much like the other apps on this list, the Campendium app is ideal for those camping enthusiasts that love finding new places to set up camp. The app also makes it very easy to find free camping areas and free campsites that may already be set up! Take a look at what's available on this awesome boondocking app: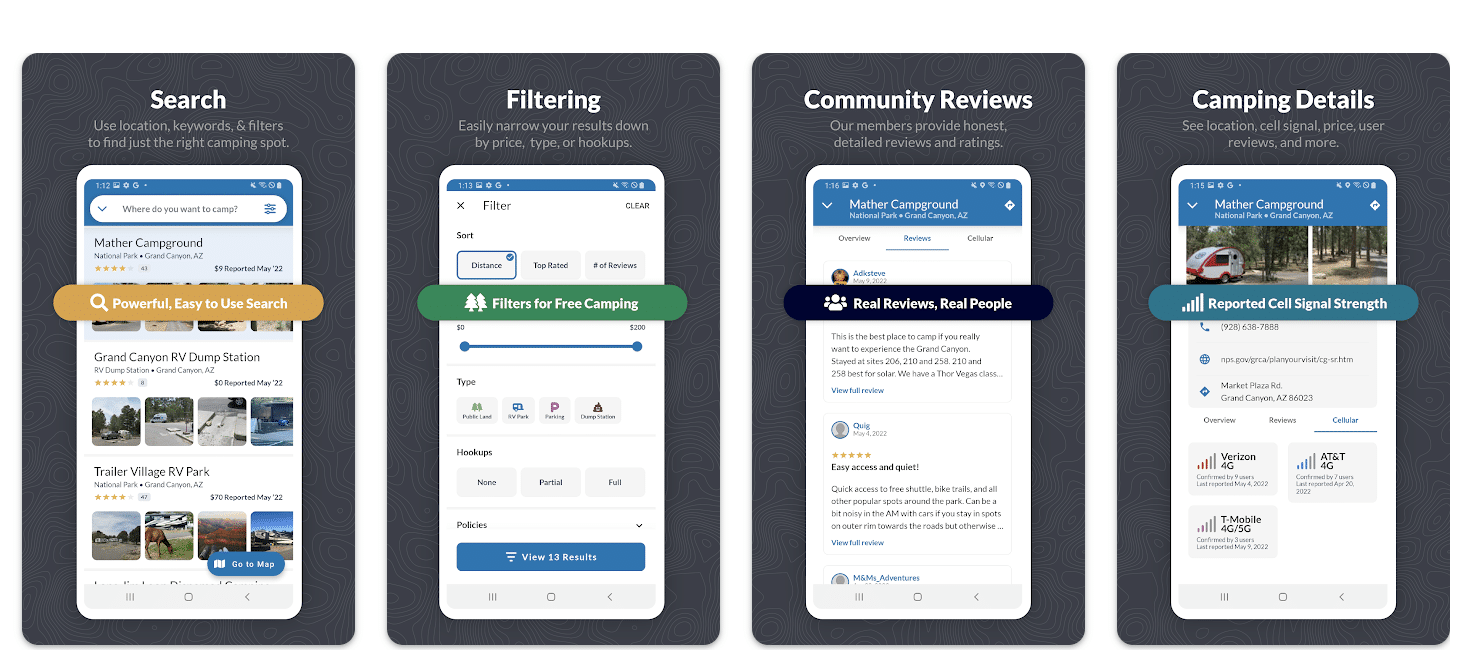 You're able to search, filter, and look through reviews that users have left in the past! It's one of the coolest boondocking apps on the market today.
8. US Public Lands
With the US federal government owning around 650 million acres of public land, it's safe to say there's plenty of opportunity to find the best boondocking locations!
The US Public Land app may not be a free app (as it costs $2.99), however, it's an awesome boondocking app that we highly recommend installing on your iOS or Android devices. Once you start using it, this camping app will download all of its map data right to your phone!
Put simply, you'll always be able to access the maps regardless of how little internet connection you may have. Take a look at the images below to get see what the interface looks like: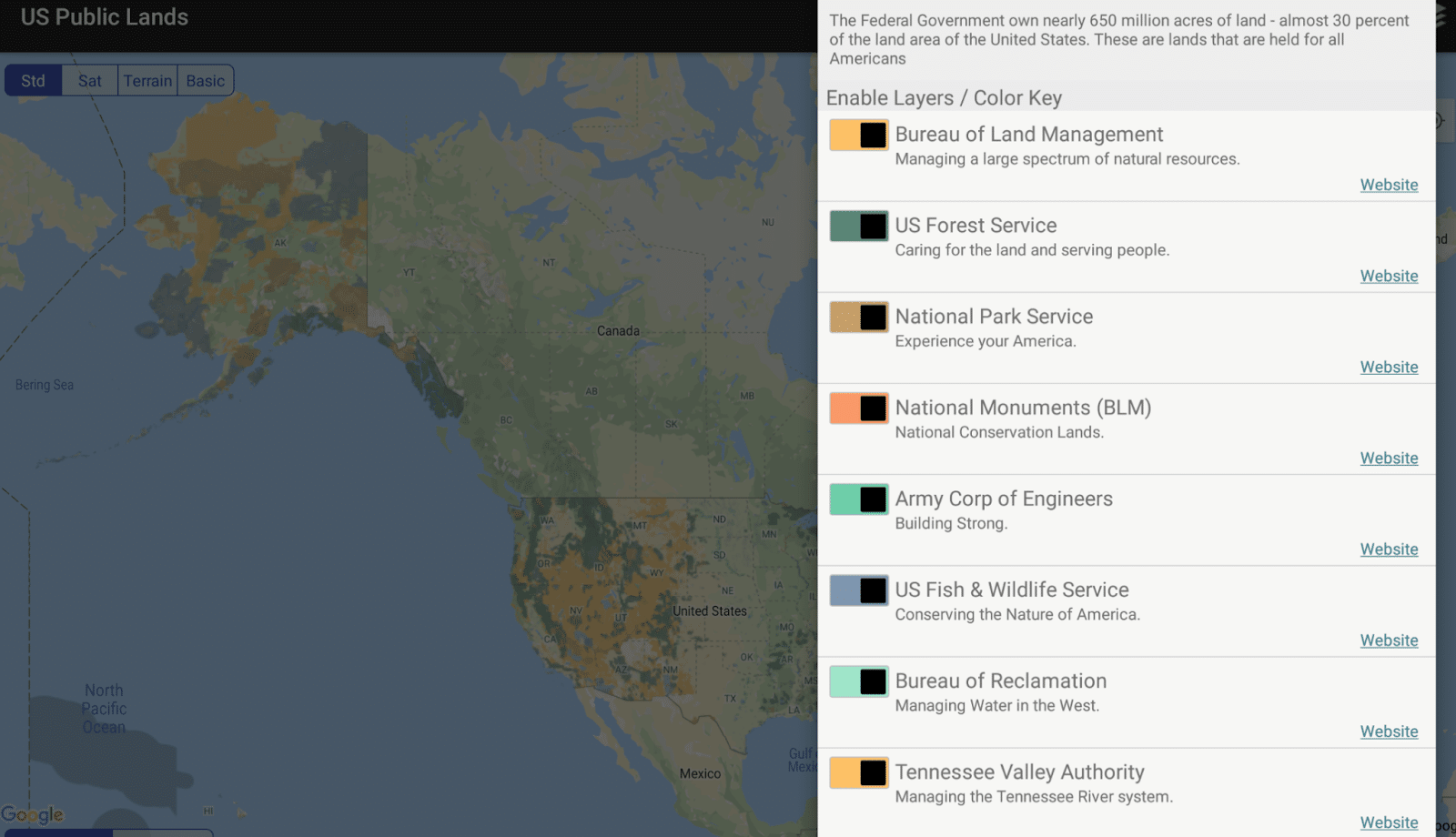 The color-coded layering allows you to see which agency is responsible for running the land (as shown in the image above). You can also change the way the terrain looks, here's what the satellite view looks like: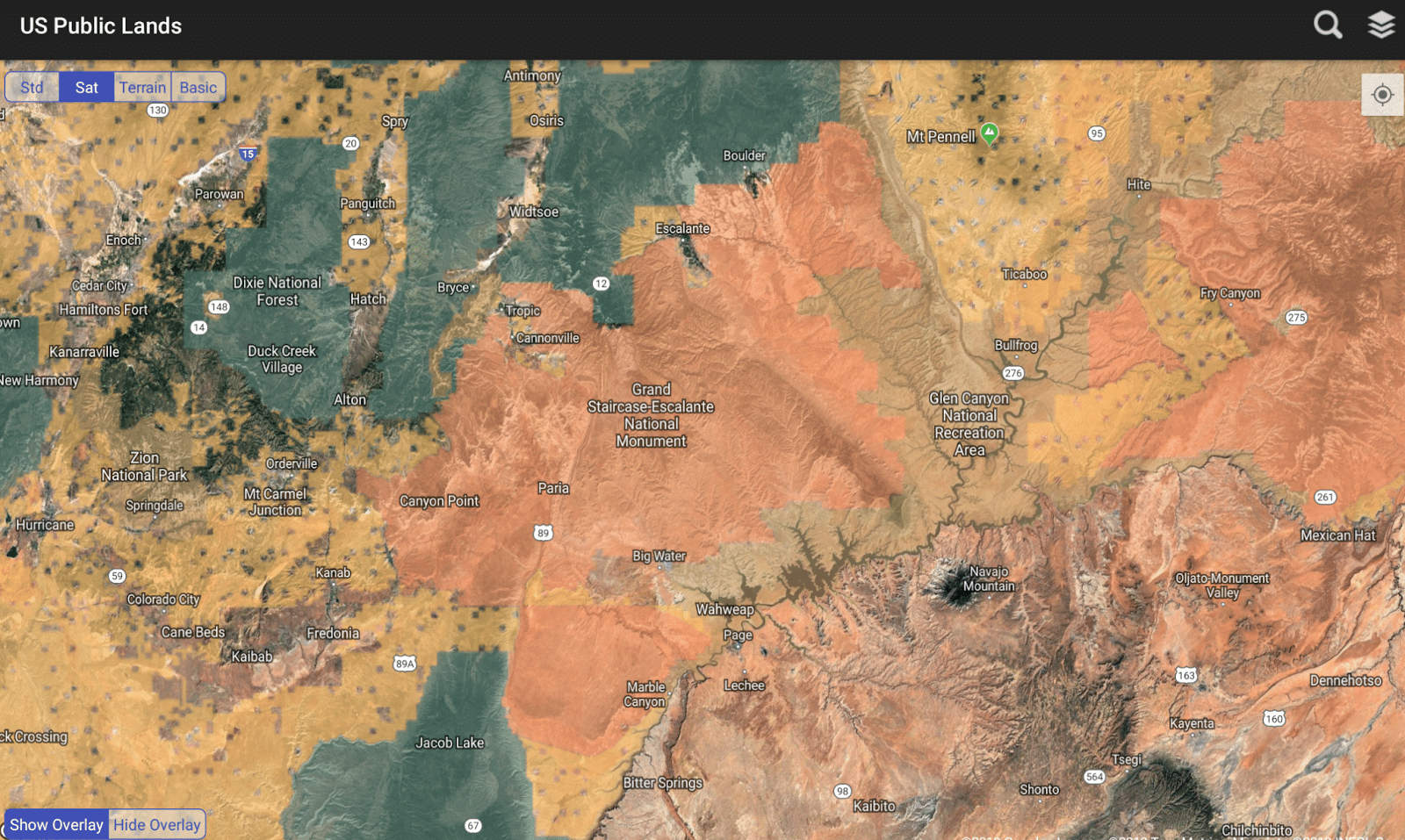 The one thing we're not happy about when it comes to this Android and iOS app is there's no dedicated trail or camping location info. What you see is what you get with this boondocking app!
9. Boondocking App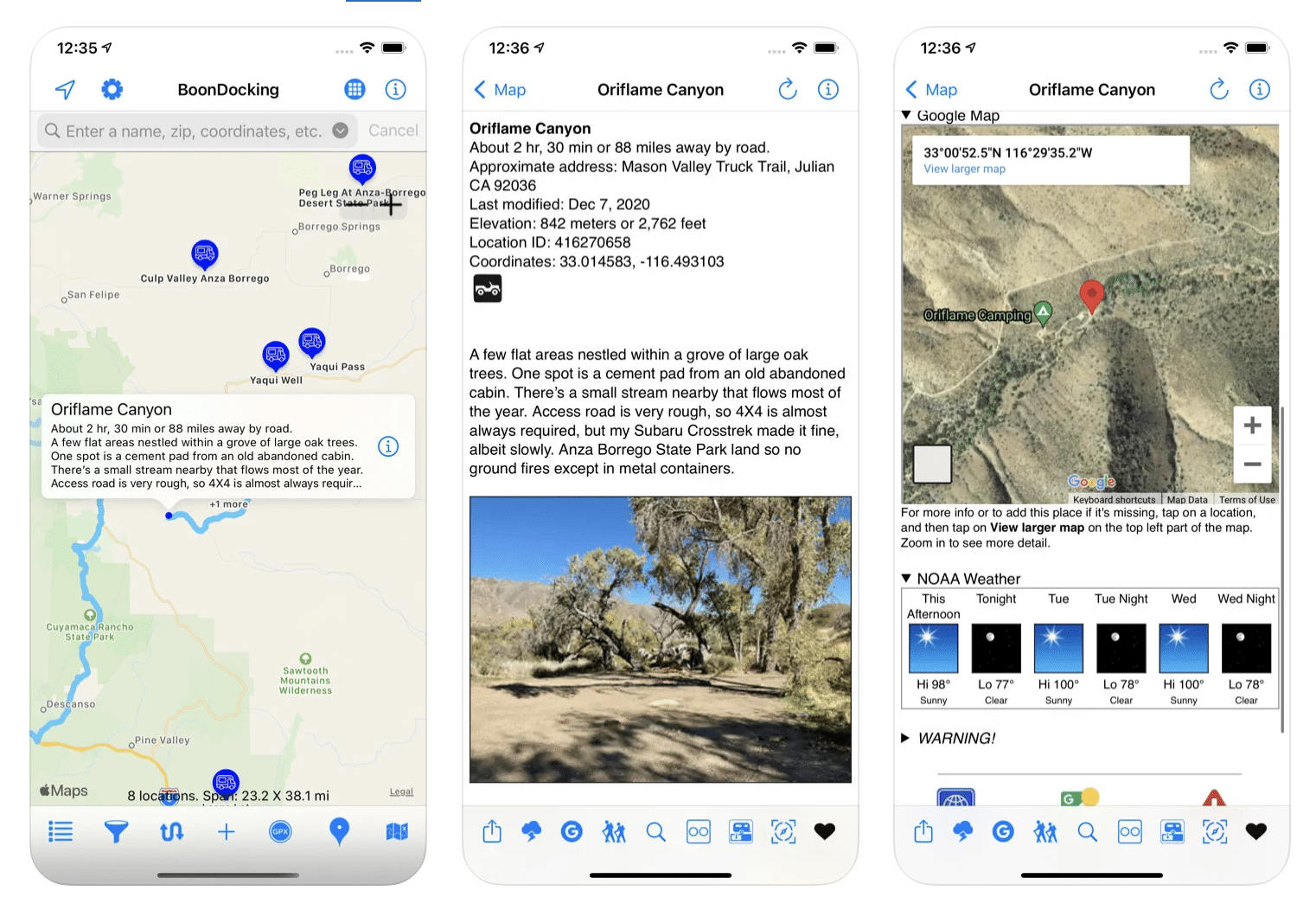 The Boondocking app costs $0.99 and is one of the easiest ways to find free camping (as well as interesting places to stay).
You're able to use this app offline and this app allows you to choose from multiple map types! The Boondocking app offers weather information, driving times, and tons of filters (including water access, elevation, and nearby amenities).
You're able to mark down your favorite locations, leave reviews for other boondockers, and so much more!
Other Tools to Find Boondocking Sites
While free camping apps are awesome tools to use to find great boondocking sites, there are other things you can do when looking for unique places to stay overnight.
Roadmaps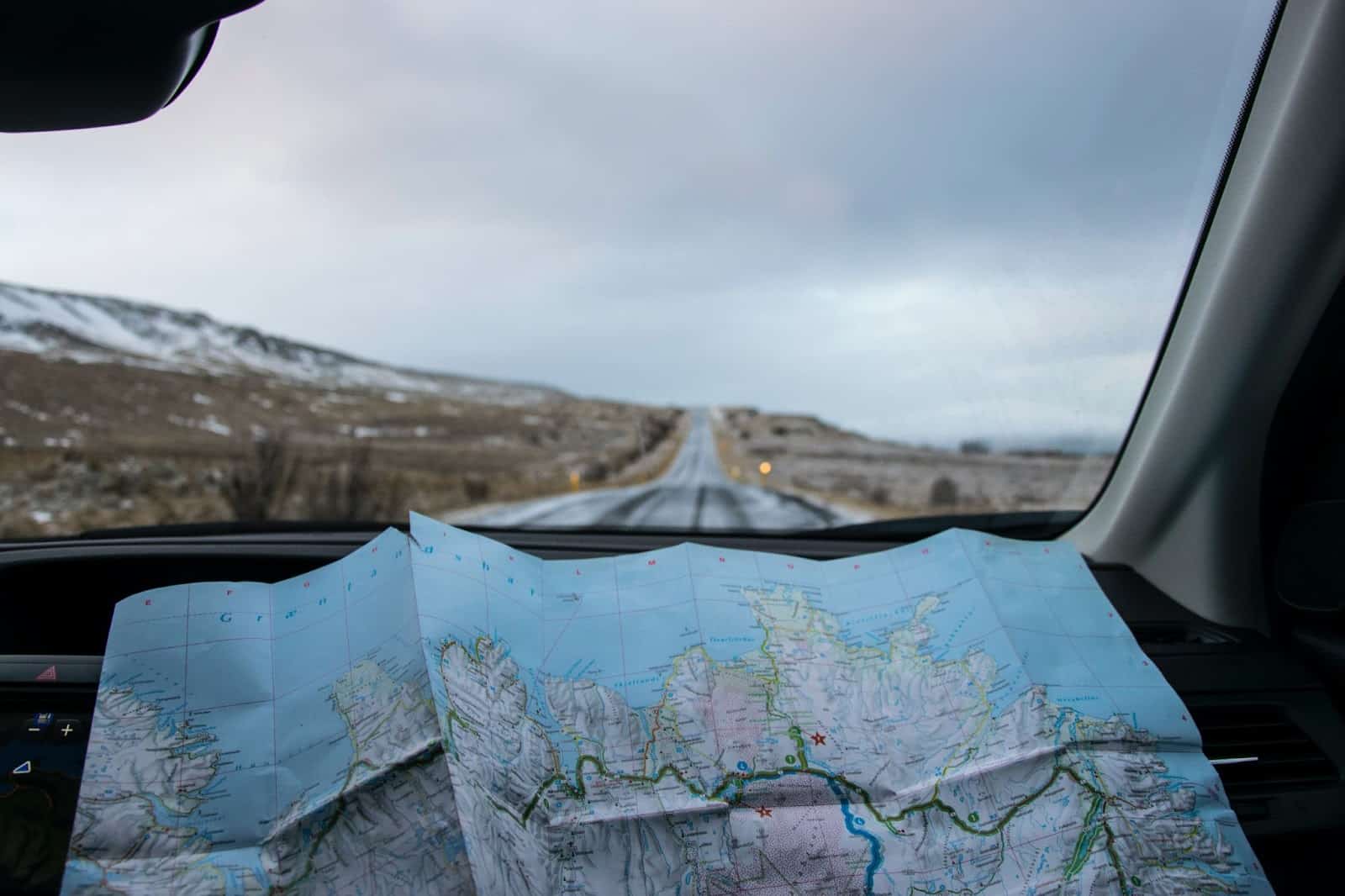 We don't know about you – but it's been a hot minute since we've had to rely on actual paper maps. It may sound like an odd concept to us tech-savvy people, but roadmaps are a great resource to use when camping.
In fact, we recommend picking up some paper road maps of the area you plan on camping in just in case your phone dies. You'll find some unique locations and you won't have to rely on your phone as much!
DeLorme Atlas & Gazetteer Maps
Extensively indexed, full-color topographic maps provide information on everything from cities and towns to historic sites, scenic drives, trailheads, boat ramps and even prime fishing spots
Available for all 50 states
Inset maps provided for major cities as well as all state lands
Recommended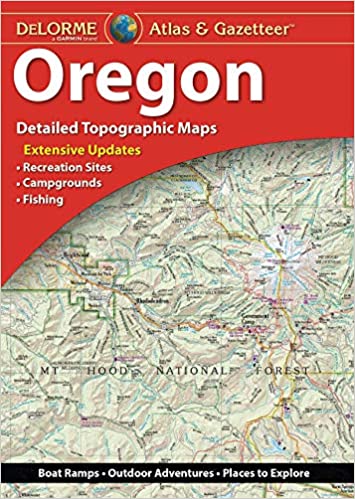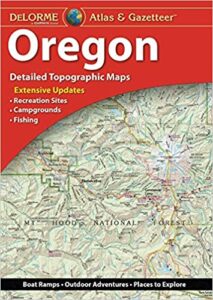 Google Satellite Views
Sometimes, you need to rely on Google Maps (or Apple Maps) to get a better idea of what the surrounding area looks like.
Using the satellite view on these maps is an excellent way to scope out your surroundings and you may find boondocking spots that aren't yet documented by doing this!
Ask a Ranger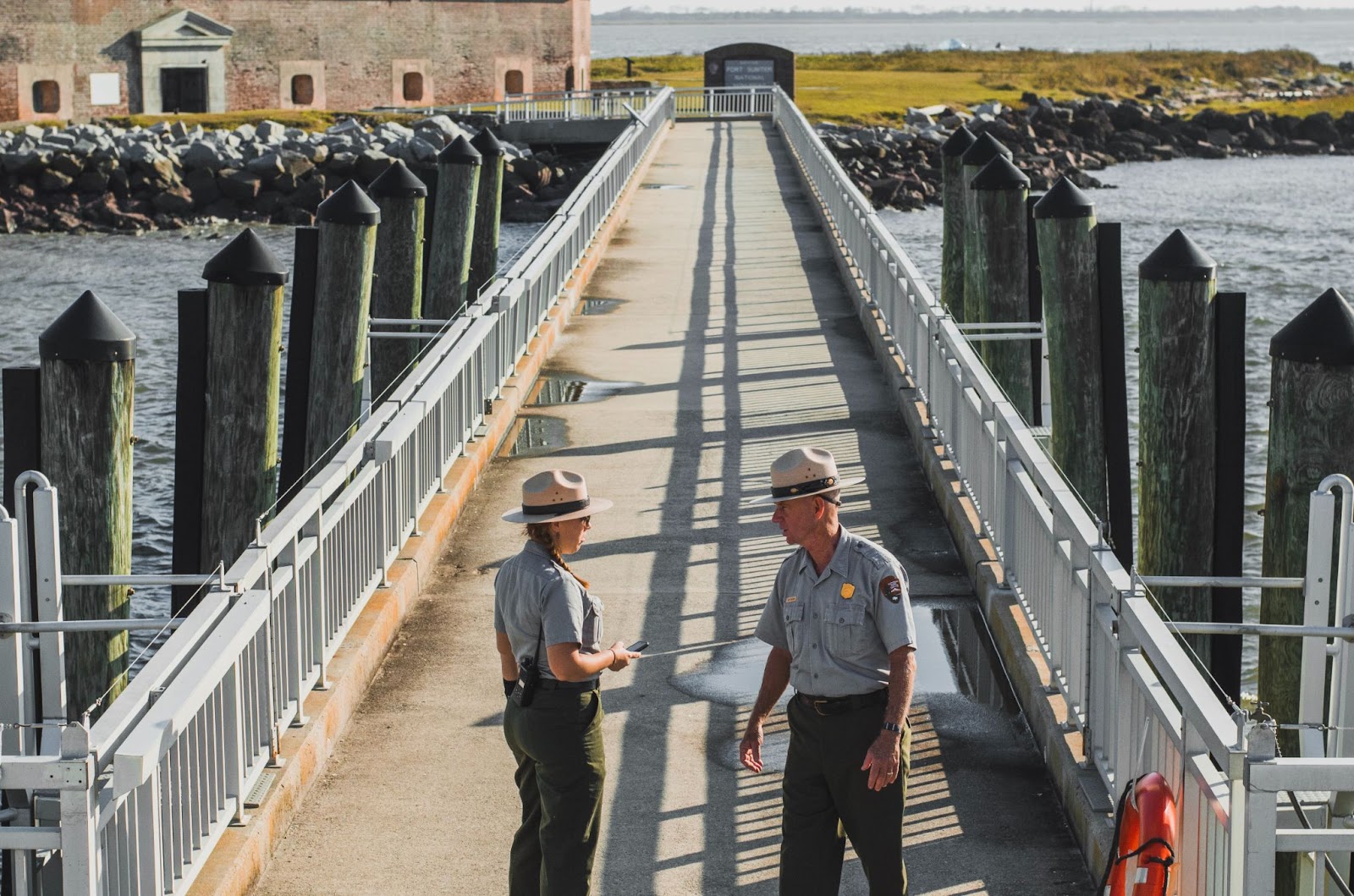 If you're able to, we highly recommend asking a ranger to help you find the best camping site near you.
Rangers know the area better than most and can offer detailed information about which areas allow free camping (as well as any road conditions, wildfire danger, and more).
Buy These Boondocking Guides
Purchasing Boondocking guides is a smart way to stay safe while traveling alone (or with a partner).
You'll find scenic boondocking locations (as well as a few free locations) that have been scouted out by fellow travelers like yourself. You'll also be able to see where free dump stations are (which is a plus if you're traveling in an RV for a while).
Join Boondockers Welcome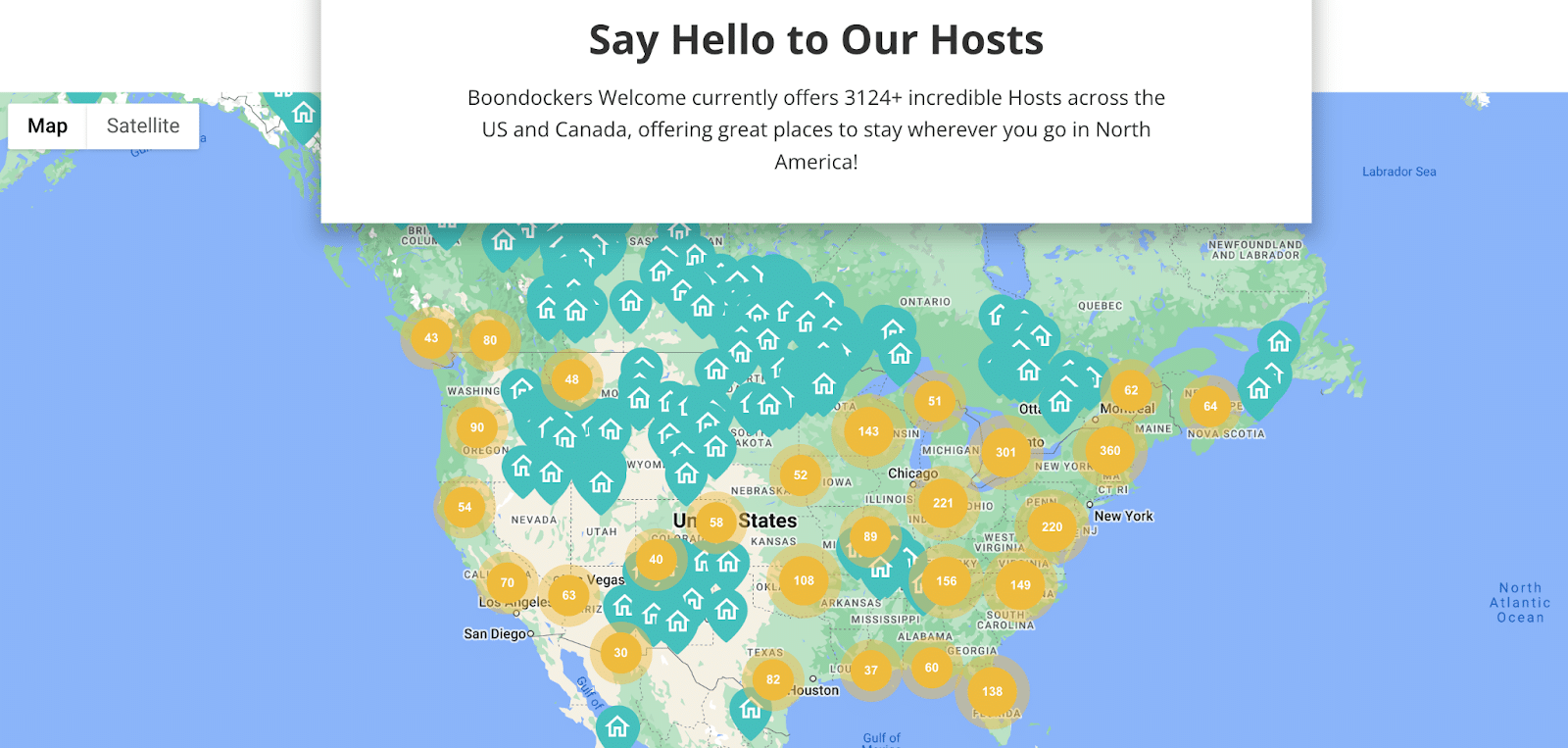 Boondockers Welcome is an awesome membership to be a part of.
While it costs $79 per year, this membership gives you unlimited access to stay at any one of the 3124+ Host locations they have available. If you think about it, that price is about the cost of a single night at a campground!
With hosts all around the US (as well as Canada and Mexico), you're sure to find an amazing place to visit!
Final Thoughts
We hope this guide helped you find the best free camping apps to use while traveling! Have you used any of these apps before? Which is your favorite? Let us know in the comments below.
Looking for more RV-related content? We've got you covered: