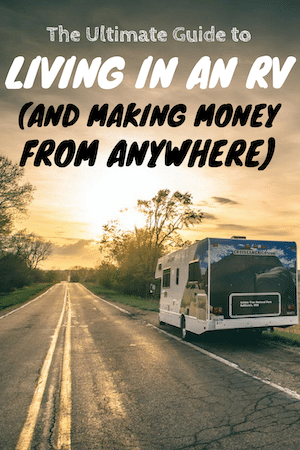 Good news:
You don't have to be rich to travel.
Or the smartest person in the room.
Or a type-A personality.
Or lucky.
In fact, you can actually save money by living in an RV and traveling the world.
But that's not all. Let me ask you something:
How would your life change if you woke up every day knowing…
YOU CAN LIVE ANYWHERE – Want a scenic background mountain view? How about a million dollar beach front? Living in an RV makes that possible.
YOU'RE SAVING MONEY – Full-time RVing isn't as expensive as most people think. In fact, living in an RV can help you save money & pay off debt.
YOU'RE LIVING TO THE FULLEST – On their death bed, most people's biggest regret is not chasing their dreams. Life on the road helps you avoid live regrets.
YOU'RE GROWING EVERY DAY – The best learning doesn't take place in a classroom. The RV lifestyle will stretch your comfort zone and make you strong.
Table of Contents
Not a pipedream. That's the RV lifestyle.
And that's what this guide is all about. You can satisfy your cravings to travel, overcome the common obstacles, and live life on your own terms. And you don't have to spend years studying online business or weeks trying to patch together information on the internet.
All that's required of you is a willingness to think about money and travel in a different way than you're probably used to.
In this guide to living in an RV, you'll learn:
How much it costs to live in an RV
The exact costs to living in an RV, from buying your rig to gas, food, campground fees, and more.
How to test the lifestyle before you commit
This is a huge life change. If you're nervous, this section will show you how to dip your toes in.
How to find, inspect, and purchase your first RV
Discover what kind of RV is right for your lifestyle, how to inspect it before you buy, and where to figure out a rig's value.
How everything in an RV works
An RV has a lot of moving parts – electric, plumbing, an engine, a generator, hot water, stove...This section will explain all that.
How to maintain your RV so it holds it's value
RVs and campervans can hold their value really well if you take good care of them. Here are all the maintenance tasks you'll need to do.
Where to stay and how to plan your routes
What's the best route from A to B? Where should I stay along the way? Can I camp for free? This section will answer all that and more.
How to make money on the road
The most important piece to the puzzle: A location-independent income. Here you'll learn howto start an online business or find a virtual job.
Extra RVing Tips & Tricks
This section is for everything else, like what accessories to buy, what insurance you need, how to get your mail, what to do about internet, etc.
Who are we?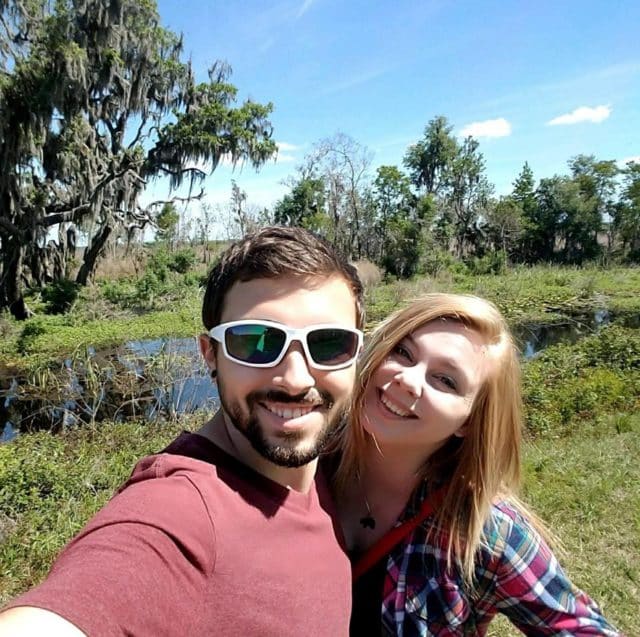 About Kayla & Bill
Hi, we're Kayla and Bill, two former full-time RVers hell-bent on living life on our own terms. We're mobile entrepreneurs.It's our mission to help people like you stop settling for mediocrity and finally take the steps to live a fulfilling, exciting, happy life.
Why we wrote this guide
We know what it's like to feel trapped. Trapped in a home, a job you hate, and in debt. We also know what it's like to be freed from those burdens. To be free to explore the world as you please and to buy yourself a nice shirt or a new tech gadget without stressing over every penny.
And trust us, the latter is better. Having spent years studying online business, and over a year on the road in an RV, we've accumulated a lot of experience. We can help you avoid the pitfalls we faced along the way and show you the strategies that just plain work. In business and in migrating to your dream home.
If there's anything we've learned while studying success, it's this:
If you have the spark and a desire to succeed it's your duty – no, your obligation – to help others ignite that spark for themselves.
Not everyone is blessed with the spark. But almost anyone can obtain it with some help from others who have it. We got the spark from our mentors and we hope to pass it on to you, so you can give it to someone else.
And thus comes this guide. In it, we will teach you everything you need to do, step by step, to achieve a life of financial freedom and location independence.
I hope you're as excited to read this as we are to share it. We've compiled some of the greatest resources across the internet into one, easy to navigate location.
I know this is a long guide and you probably won't be able to read it all in one day. So take a moment to sign up for the free PDF so you have it in your inbox, ready for you at any time, even offline.
Alright, let's dive in!
Everything You Need to Know to Live in an RV and Travel the World
PART 1: How much does it cost to live in an RV ?
That's the big question, isn't it? Cost. It all boils down to dollars.
But I'll let you in on a little secret… Living in an RV isn't expensive. In fact, you can probably do it on less money than you're spending right now.
Of course, it totally depends on your lifestyle. Some people need more luxury than others. Some people are willing to boondock/wild camp (camp without water and electric hookups) and others aren't.
Luckily, dozens of full-timers have already shared their costs. Everything from gas to food, insurance, phone bills, RV park rent, the RV itself, and more!
In fact, here are a few articles laying everything out:
But how much, on average, does it cost per month to live in an RV – all expenses included? We averaged all the answers, and here's what we found:
$2,231.76 Average Monthly Cost of the RV Lifestyle
I won't break everything down here, since those articles we linked to all do a great job. But, considering the average cost of rent and utilities alone are typically $1000 to $1500, you'll be saving quite a bit from RV living. (About $1000 per month according to Wand'rly Magazine.)
I know that sounds exciting. It did for us! But what if you're nervous about the whole thing? That's where part 2 comes in…
PART 2: How to test the RV lifestyle before you commit
Life in an RV isn't for everyone. You have to drain your poop tanks, deal with limited space, and get used to driving something big across the country. Not to mention the need to learn some electrical and plumbing skills (unless you're ready to pay for repairs).
Of course, it's not all bad – in fact, it's mostly good, in our opinion. But it has a few things you'll need to get used to.
For starters, we highly recommend you read our RVing for Beginners post. We go into finding the perfect RV for you, how to insure your RV, what a typical loan term looks like, and so much more.
Luckily, you can rent an RV to test the lifestyle before you commit! It's inexpensive and easy, too. You can do it for as little as $50 a night, depending on the rig you choose. You can find an RV to rent near you with Outdoorsy. 
What is life like living in an RV? The best way to know besides doing it yourself is to hear from others. Read and listen to their stories. Here are some posts you can read:
Now, assuming you know you're all in for this awesome life of travel, here's the next step…
PART 3: How to find, inspect, and purchase your first RV
The hunt for the perfect RV is on! This is something Kayla and I didn't do well our first time around. We jumped on the first opportunity that came our way, and only looked at one other RV before picking ours.
I don't recommend doing things that way. It worked for us because it got us on the road fast – which is the ultimate goal – but we wished we looked more.
Enough about us – which RV is right for you? Do you want a 5th wheel, travel trailer, class A, B, or C motorhome, or even a camper van?
To help you answer that question, we've found the 4 best guides on the web:
Our advice? Go to a few RV dealerships and just look at a bunch of rigs. Spend 20 minutes in each different model, doing things you would normally do on a day to day basis:
Lay in the bed. Pretend to cook dishes. Stand in the shower. Sit in the driver seat.
Speaking of which, if you can, definitely take one for a test spin. It's a lot of fun and gives you a feel for what you're getting in to! (If you need help, check out the RV Geeks driving school series on YouTube.)
And think about whether you want to tow your RV or tow a "toad" (tow car), or not have a second vehicle at all. Each has it's pros and cons, as laid out in the guides we shared.
One last tip: Slide outs make all the difference. Definitely look for one with at least one slide out, if not more. The extra space helps – especially if you're downsizing your home from a two-story apartment like we did.
Check out some of the best RVs here:
PART 4: How everything in an RV works
Rather than trying to explain how everything works, I'll just leave you with a bunch of awesome resources you can learn from instead:
PART 5: How to maintain your RV so it holds it's value
Maintenance is a crucial part of keeping your rig clean and running smooth…And keeping it's price tag up, should you ever want to sell it!
Aside from washing and waxing your rig, most things can be done in less than an hour and aren't bad if you keep up on them.
Here are the resources you need:
Annual RV Maintenance and Spring Cleaning (Series by RV Geeks)
Basically, it all comes down to keeping things clean, lubricated, and dry. Wax your exterior every three months to keep the paint strong (hire someone if you need to, it's pricey but worth saving 4 hours of your time), keep your slides lubricated, use baby powder on your seals, flush the water tanks often, and don't let anything inside get damp.
There's also the matter of keeping your roof sealed and re-caulking old caulking once a year – but you'll learn all about that in the resources above.
I highly recommend getting Maintain My RV. It's a tool that tells you automatically whenever something needs to be done in your RV; everything from washing and waxing to changing fluids, tired, re-sealing, and more!
Now – when you're ready, let's plan your first route!
PART 6: Where to stay and how to plan your routes
This is probably the second most exciting part of beginning your RVing journey! (The most exciting being actually buying the RV.)
Planning your first full-time RV trip can seem part overwhelming, part insanely exciting and emotional, and part logical. I know, because we've done it so many times!
We planned our trips by choosing the big staples of where we wanted to go – national parks, cool cities, places like Stephen King's house – then filling in the gaps.
To help you plan your RV route, check out these tools and resources:
If you don't already have a travel bucket list, I definitely recommend browsing Pinterest. We found some incredible places there. And if you're on the east coast, do yourself a favor and go to Acadia National Park. To this day I haven't seen a more beautiful place.
If you're serious about the RV lifestyle, I doubt you need any help thinking of places to visit. But in case you do, here are a bunch of places you can visit:
RV Destinations
Rentals By Type
Next up, let's discuss the most important piece of the puzzle…Money.
PART 7: How to make money on the road
Having a steady income is the single most challenging part of living in an RV. Because you're mobile, you can't just grab a job like everyone else.
Really, you have three options:
Get a remote job.
Start a business of your own.
Work camp.
Of the three, I highly recommend starting a business. It's never been easier or more affordable to start an online business than it is today. Seriously, you can and should start a business – it gives you the highest possible income and the most freedom of all the options.
You can learn a service like writing, SEO, or virtual assistance and offer that service on sites like Upwork, Fiverr, or People Per Hour.
You can start a drop shipping business selling goods from China.You can create a blog and start affiliate marketing.
Here are some resources to get you started. Pick the one that calls to you:
Don't forget that choosing one thing now doesn't condemn you to follow that thing forever. When I started my first business, I had zero clue what I was doing. In fact, I tried four different businesses before finding one that really worked for me and my skill set and personality.
I sold promotional products, started online stores, and created my own products (now I offer content marketing and SEO services). Every road to success is paved with failure. Persistence is the key here. Keep trying until you find something that works, then double down on it.
But, if running a business really isn't for you, then the next thing you can try is finding a remote job.
I also recommend checking out Tim Ferriss's book The 4 Hour Work Week. He gives tons of tips on how to turn your current job into a remote position or how to start a business.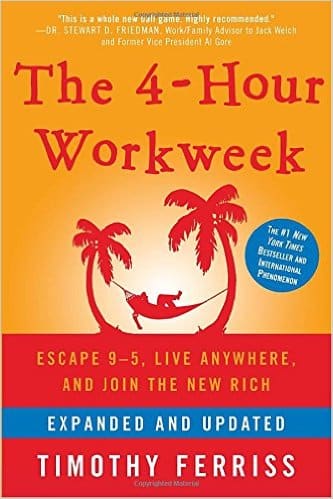 The third and final option is to work camp while you travel. Work camping simply means working for the campground owners in exchange for free lodging and potentially some extra pay.
Honestly, I don't recommend work camping. Most of the time it only pays for your site – which is usually minimum wage. Plus, some campground owners are cruel people who you definitely don't want to work for. But to each their own.
Finally, I recommend listening to every episode of Heath and Alyssa's podcast, The RV Entrepreneur. They interview full-time RVers making a living on the road, many of which work remotely or have their own business.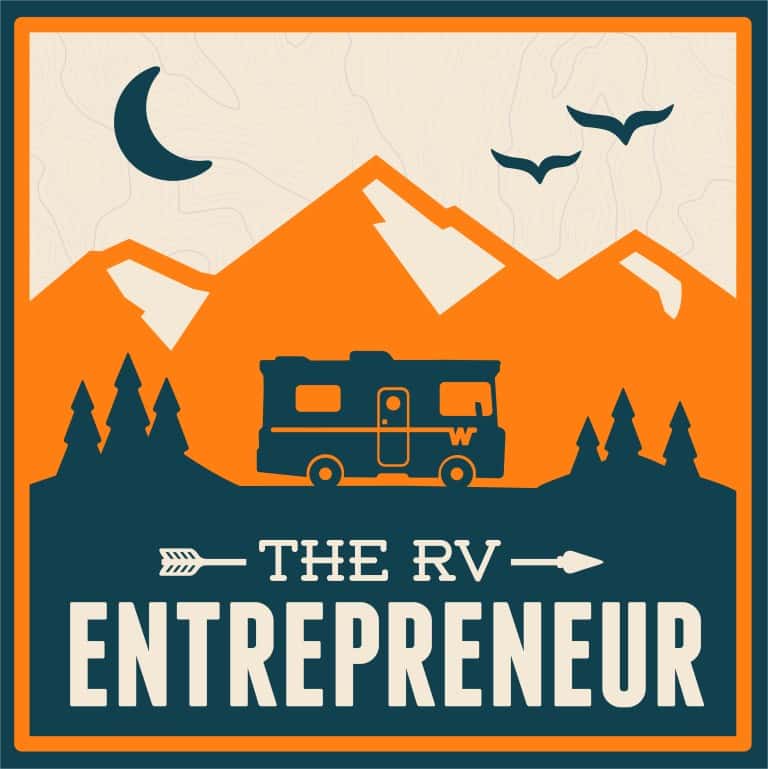 I hope this section helps you! If you have any questions or need help on this step, feel free to connect with us on Facebook or contact us and we'll help as best we can! (In case you're wondering, I'm a content marketing and SEO consultant.)
On to the extras!
PART 8: Extra RVing Tips & Tricks
There are still many unanswered questions…
How do full time RVers get mail? What kind of insurance do you need? How do you stay connected to the internet while on the road?
Don't worry, don't worry! We'll answer them all. This is an "ultimate guide", after all. (BTW if you still have questions after reading this, PLEASE leave a comment or contact us so we can add the answers to this guide!)
First up, let's tackle RVers health care:
Next up, we'll reveal how full time RVers get mail:
Now let's discuss my personal biggest priority…Mobile internet.There are a ton of RV internet solutions, ranging from RV WiFi antennas to an unlimited data mobile hot spot with a cellular booster.
Finally, here are some extra RV resources to keep you informed!
Now pat yourself on the back – you've made it through the ultimate guide to living in an RV and making money on the road!And remember…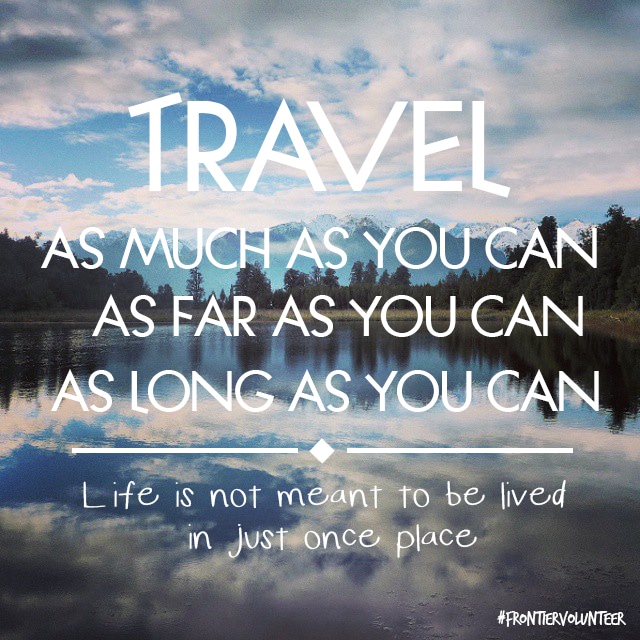 I truly hope you've found this guide to RV living helpful. Now you might be wondering… What's next?
Kayla and I wrote this guide to help you break free of everyday, "normal" thinking. To help you follow your dreams and live a life true to yourself. To see the world and not be shackled to an area, a job, or a house.
The next step is to sign up for our newsletter. If you thought this guide was amazing, just you wait – there's so much more to come.
Our goal is to help 10 people become full-time RVers. Just 10. If we can do that, we can do 100, or 1,000. Are you going to be one of the 10 people we help? Let us know. Prove you're serious. Follow us on Facebook, Twitter, and Pinterest.
And if you found this guide helpful, please share it using the share buttons to the left so we can help as many people as possible.
What are your biggest questions about living in an RV? Let us know in the comments below…