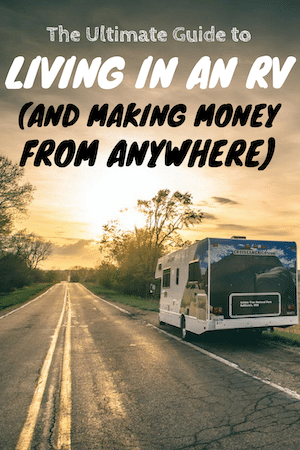 Welcome to the ultimate guide to living in an RV, where we'll help you navigate the twists and turns of life on the open road with flair and finesse. If you've ever dreamed of ditching the daily grind and trading it for the sweet freedom of rolling through picturesque landscapes, you're in for a treat! Buckle up and join us as we embark on this epic journey to transform your humble abode on wheels into a cozy, comfortable, and downright enviable mobile living space. Let the adventure begin!
How would your life change if you woke up every day knowing…
YOU CAN LIVE ANYWHERE – Want a scenic background mountain view? How about a million-dollar beachfront? Living in an RV makes that possible.
YOU'RE SAVING MONEY – Full-time RVing isn't as expensive as most people think. In fact, living in an RV can help you save money & pay off debt.
YOU'RE LIVING TO THE FULLEST – On their deathbed, most people's biggest regret is not chasing their dreams. Life on the road helps you avoid live regrets.
YOU'RE GROWING EVERY DAY – The best learning doesn't take place in a classroom. The RV lifestyle will stretch your comfort zone and make you strong.
In this guide to living in an RV, you'll learn:
How much it costs to live in an RV
The exact costs to living in an RV, from buying your rig to gas, food, campground fees, and more.
How to test the lifestyle before you commit
This is a huge life change. If you're nervous, this section will show you how to dip your toes in.
How to find, inspect, and purchase your first RV
Discover what kind of RV is right for your lifestyle, how to inspect it before you buy, and where to figure out a rig's value.
Insuring your RV
Once you've got an RV, the next thing you need is insurance.
How everything in an RV works
An RV has a lot of moving parts – electricity, plumbing, an engine, a generator, hot water, a stove...This section will help explain all of that.
How to maintain your RV so that it holds its value
RVs and campervans can hold their value really well if you take good care of them. Here are all the maintenance tasks you'll need to do.
Where to stay and how to plan your routes
What's the best route from A to B? Where should I stay along the way? Can I camp for free? This section will answer all that and more.
How to Find Water Fill-Ups, Dump Stations, Showers & Laundry
These are all crucial things for you to live your life, so it's important to know how to find them.
How to get Internet in your RV
WiFi is one of the biggest complaints of RVing. Because most RV residents work remotely, it's crucial to have consistent WiFi access, but it's not always easy to find.
RV Extra Tips
How to forward your mail, how to get healthcare, and more.
Everything You Need to Know to Live in an RV and Travel the World
How much does it cost to live in an RV?
That's the big question, isn't it? Cost. It all boils down to dollars.
But I'll let you in on a little secret… Living in an RV isn't expensive. In fact, you can probably do it for less money than you're spending right now.
Of course, it totally depends on your lifestyle. Some people need more luxury than others. Some people are willing to boondock/wild camp (camp without water and electric hookups) and others aren't.
Luckily, dozens of full-timers have already shared their costs. Everything from gas to food, insurance, phone bills, RV park rent, the RV itself, and more!
In fact, here are a few articles laying everything out:
But how much, on average, does it cost per month to live in an RV – all expenses included? We averaged all the answers, and here's what we found:
$2,231.76 Average Monthly Cost of the RV Lifestyle
I won't break everything down here, since those articles we linked to all do a great job. But, considering the average cost of rent and utilities alone are typically $1,000 to $1,500, you'll be saving quite a bit from RV living. (About $1,000 per month according to Wand'rly Magazine.)
I know that sounds exciting. It did for us! But what if you're nervous about the whole thing? That's where part 2 comes in…
How to test the RV lifestyle before you commit
Life in an RV isn't for everyone. You have to drain your poop tanks, deal with limited space, and get used to driving something big across the country. Not to mention the need to learn some electrical and plumbing skills (unless you're ready to pay for repairs).
Of course, it's not all bad – in fact, it's mostly good, in our opinion. But it has a few things you'll need to get used to.
For starters, we highly recommend you read our RVing for Beginners post. We go into finding the perfect RV for you, how to insure your RV, what a typical loan term looks like, and so much more.
Luckily, you can rent an RV to test the lifestyle before you commit! It's inexpensive and easy, too. You can do it for as little as $50 a night, depending on the rig you choose. You can find an RV to rent near you with Outdoorsy.
Want to Test The RV Lifestyle?
Before you make a massive lifestyle change, why not test it out to see if you like it? You can rent an RV from Outdoorsy for a few weeks to try it. And we got you $50 off! Click the button below to browse RVs.
What is life like living in an RV? The best way to know besides doing it yourself is to hear from others. Read and listen to their stories. Here are some posts you can read:
Now, assuming you know you're all in for this awesome life of travel, here's the next step…
How to find, inspect, and purchase your first RV
Which RV is right for you? Do you want a 5th wheel, travel trailer, class A, B, or C motorhome, or even a camper van?
To help you answer that question, we've found the 4 best guides on the web:
My advice? Go to a few RV dealerships and just look at a bunch of rigs. Spend 20 minutes in each different model, doing things you would normally do on a day-to-day basis:
Lay in bed. Pretend to cook dishes. Stand in the shower. Sit in the driver's seat.
Speaking of which, if you can, definitely take one for a test spin. It's a lot of fun and gives you a feel for what you're getting into! (If you need help, check out the RV Geeks driving school series on YouTube.)
And think about whether you want to tow your RV or tow a "toad" (tow car), or not have a second vehicle at all. Each has its pros and cons, as laid out in the guides we shared.
If you are looking at any kind of towable camper, take it for a test spin with your tow vehicle. You'll know almost immediately how it is to tow. If it's nerve-wracking in the 5-minute test drive, you won't want to take it on a cross-country tour!
One last tip: Slideouts make all the difference. Definitely look for one with at least one slide out, if not more. The extra space really helps.
Check out some of the best RVs here:
How to Insure Your RV
Once you've got your RV, the next thing you need is insurance. However, insuring an RV for full-time use is different from insuring one for vacation.
It's not near as bad as you'd think. A quick call to our friends at Roamly and they'll help you decide what is best for your situation.
If you want to learn more about RV insurance, here are some helpful guides:
How Everything in an RV Works
Rather than trying to explain how everything works, I'll just leave you with a bunch of awesome resources you can learn from instead:
How to maintain your RV so it holds its value
Maintenance is a crucial part of keeping your rig clean and running smoothly…And keeping its price tag up, should you ever want to sell it!
Aside from washing and waxing your rig, most things can be done in less than an hour and aren't bad if you keep up with them.
Here are the resources you need:
Annual RV Maintenance and Spring Cleaning (Series by RV Geeks)
Basically, it all comes down to keeping things clean, lubricated, and dry. Wax your exterior every three months to keep the paint strong (hire someone if you need to, it's pricey but worth saving 4 hours of your time), keep your slides lubricated, use baby powder on your seals, flush the water tanks often, and don't let anything inside get damp.
There's also the matter of keeping your roof sealed and re-caulking old caulking once a year – but you'll learn all about that in the resources above.
I highly recommend getting Maintain My RV. It's a tool that tells you automatically whenever something needs to be done in your RV; everything from washing and waxing to changing fluids, tired, re-sealing, and more!
Now – when you're ready, let's plan your first route!
Where to Stay and How to plan your routes
This is probably the second most exciting part of beginning your RVing journey! (The most exciting being actually buying the RV.)
Planning your first full-time RV trip can seem partly overwhelming, partly insanely exciting and emotional, and partly logical. I know, because we've done it so many times!
We planned our trips by choosing the big staples of where we wanted to go – national parks, cool cities, places like Stephen King's house – then filling in the gaps.
To help you plan your RV route, check out these tools and resources:
If you don't already have a travel bucket list, I definitely recommend browsing Pinterest. We found some incredible places there. And if you're on the east coast, do yourself a favor and go to Acadia National Park. To this day I haven't seen a more beautiful place.
Sure, you can go to popular RV destinations. But with your new tiny house on wheels, you can literally go anywhere you want!
RV parks and campgrounds are great, but you have lots of options for camping off-the-grid and in national parks or on the beach, or by a lake.
So how do you find these glorious camping locations? Well, here are some apps to help you find spots for overnight parking , free camping (boondocking), and off-grid camping:
Learn more about how to find free camping near you here.
If you're serious about the RV lifestyle, I doubt you need any help thinking of places to visit. But in case you do, here are a bunch of places you can visit:
RV Destinations
Rentals By Type
How to Find Water Fill-Ups, Dump Stations, Showers & Laundry
These are all crucial things for you to live your life, so it's important to know how to find them. Many of these amenities can be found with the All Stays Camp and RV app for $9.99, but there are also free apps and resources that I'll share below.
Potable Water
Finding clean, drinkable water is very important for RV or van life. Without water, you won't last very long, and constantly buying water bottles is both expensive and harmful to the environment.
Places you can find good potable water include:
Campgrounds
Most Travel Centers
Most Rest Stops
Most City, County, and State Parks
Cabela's
Wherever you fill up, make sure it is potable water! This means it's safe to drink and bathe with. I would also recommend always using a water filter (either a 3-stage water filter or a portable one like a backpacking or RV water filter, or better yet, both!).
If you have access to a small portable water container, you can also bring it inside many grocery stores like Walmart to fill it up for a set price at one of their designated water stations. This option is not free like other sources, but it is still a pretty affordable option.
Dump Stations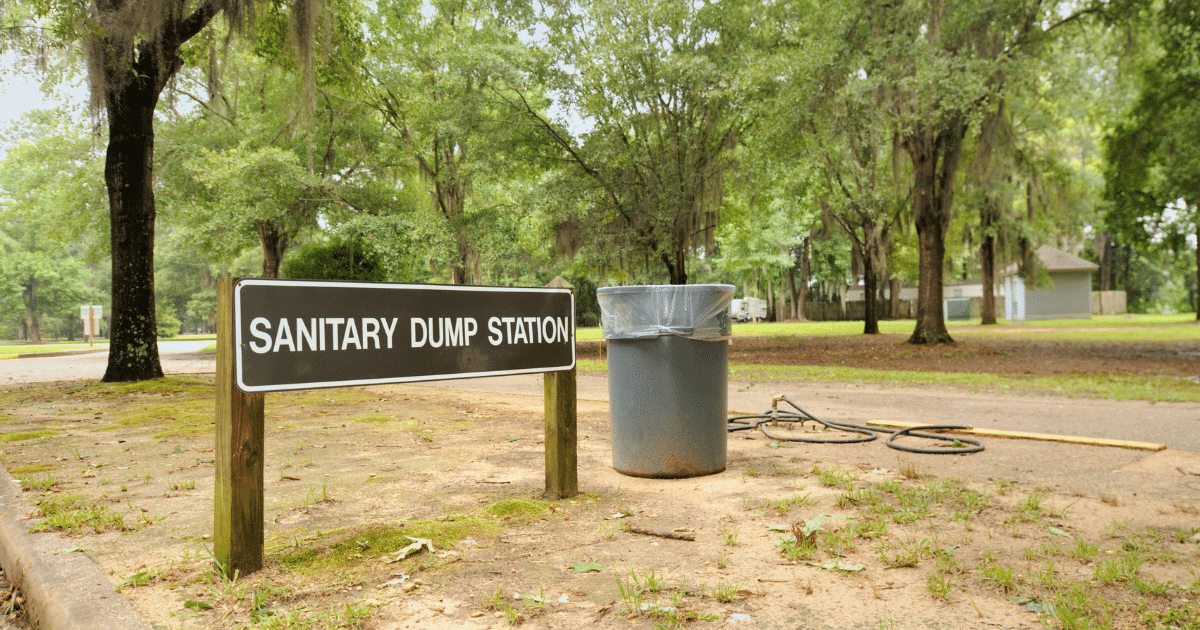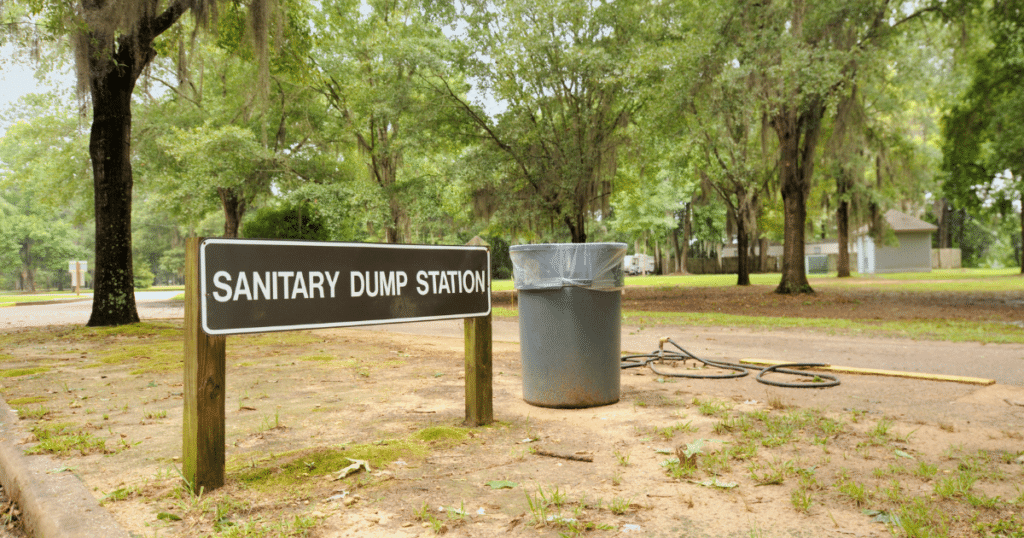 Dump stations are places where you can dump your grey water tanks and black water tanks or portable toilets if you have them. If not, no need to worry about it!
Dump stations are typically located at all the same places you can find potable water that I listed above. You can also use apps like iOverlander, Sanidumps, Campendium, and RV Dump Sites to find dump stations.
Showering & Hygiene
Unfortunately, van life does not allow you to take a long and hot shower every day. Even if you have an onboard bathroom with a shower, there may be times when you won't be able to heat the water or access enough water for a long shower.
Typically, those living in their RV average 3-4 showers per week, although you can most definitely shower daily if you are so inclined. Here are some places you can find and access public showers:
That said, here are the places you can find showers:
Gyms (like Planet Fitness)
Recreation centers (like public pools)
Public spaces (like beaches and public parks)
Campgrounds
Truck stops
Hot springs buildings
And here are some helpful tips to keep in mind when using public showers:
Always be sure you wear sandals. The floors of public showers can be rather dirty.
Consider wearing a bathing suit. This just makes it easier so you don't have to worry about clothes getting wet.
Invest in a shower bag that you can hang. Shower bags (or like this one) are great to bring your shampoo, conditioner, and soap and have a place to put it when there isn't a shelf (which happens a lot!).
In between showers, you can still stay clean with a sponge, some soap and your sink or a bucket. You can also use body wipes (I love these ____).
Laundry
Keeping your clothes clean on the road is, honestly, a bit of a pain. Public laundromats aren't always the cleanest places ever and they can be expensive. But it's manageable.
Google Maps is your friend to find laundromats. But I recommend only using them as a backup. Try keeping your clothes clean with a bucket, some Dr. Bronner's soap, and some clothing lines for drying (or rack). It's easier than you think, and a lot cheaper than a laundromat!
If you're really in a pinch and need a break from the difficulties of van life, another option is to rent an Airbnb or hotel with a washer and dryer! We all need a break once in a while.
How to get Internet in Your RV
In addition to getting a mobile hotspot on your phone plan, you can get a cell phone signal booster like WeBoost to ensure you get a signal in most places. Another option is a WiFi signal booster so you can get WiFi outside of public places like restaurants and coffee shops. I have used my Verizon 4G and 5G to work remotely for a few years now. I used to use a dedicated hotspot, but now just hotspot from my phone. It definitely limits the places I can stay and work but gives me the ability to browse the internet, write emails, and stream content. Video calls require a pretty strong cell signal though. Savvy RVers will have both T-Mobile and Verizon for the best chance of good coverage. I always scout the Verizon coverage map before narrowing down my camping spots. T-Mobile's coverage map is here.
Parking outside Starbucks or Panera Bread is a common practice for getting WiFi in your RV. Going inside and working in a cafe is also always an option!
Lastly, Starlink has released an RV version of their popular satellite internet. As of early 2023, you can purchase their small dish for $599, or $2,500 for in-motion hardware that allows you to have internet while driving. Their monthly charge is currently $150.
Also, see our updated article on How to Get Internet in Your RV!
RV Extra Info
There are still many unanswered questions…
How do full-time RVers get mail? What kind of health insurance do you need?
First up, let's tackle RVers health care:
Next up, we'll reveal how full-time RVers get mail:
Finally, here are some extra RV resources to keep you informed!
Now pat yourself on the back – you've made it through the ultimate guide to living in an RV and making money on the road! And remember…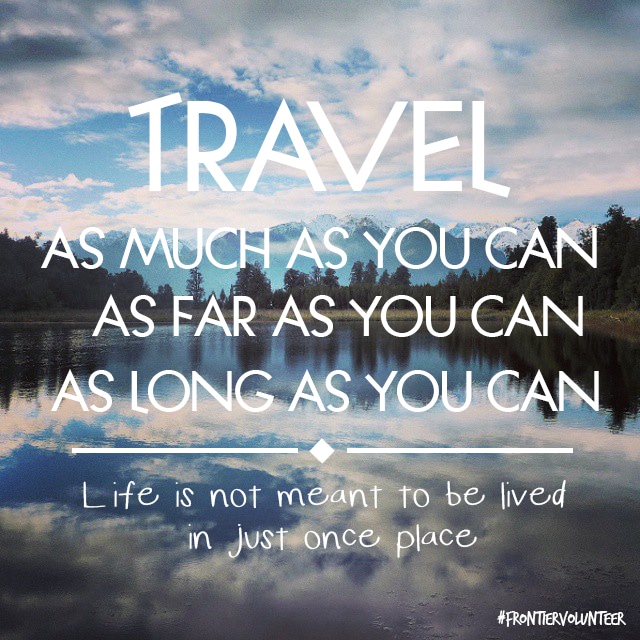 Want to Test The RV Lifestyle?
Before you make a massive lifestyle change, why not test it out to see if you like it? You can rent an RV from Outdoorsy for a few weeks to try it. And we got you $50 off! Click the button below to browse RVs.