Get $50 Off Your Next Portland RV Rental!
Rent with Outdoorsy to get $50 off (discount applied at checkout).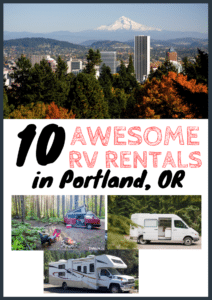 Looking for RV rentals in Portland, Oregon?
Look no more!
We found the 10 best RV rentals Portland has to offer – everything from cheap RV rentals to luxury motor home rentals, small off-road travel trailers to massive Class A's.
You're just moments away from being in an RV in Portland, OR?
(You can scroll through the whole post or choose an option below that catches your eye.)
Table of Contents
The 10 Best Oregon RV Rentals
Disclaimer: These RVs rent out fast! You usually need to rent them weeks (sometimes months) ahead of time.
If the RVs below aren't available for the time you want to rent them, click here to go to Outdoorsy and see what else is available for you in Oregon!
1. 1998 Sportsmobile Custom Design 19′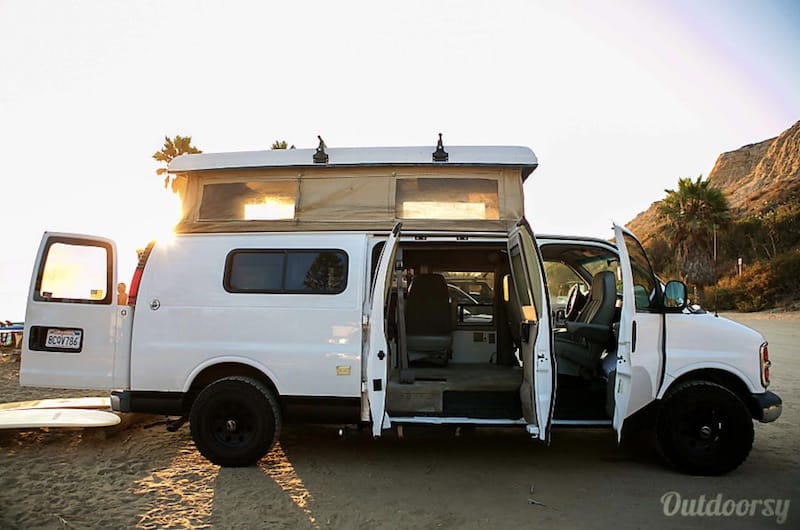 Price: $125/night Pet Friendly? No
Slides: 0 Sleeps: 4
This 1998 Sportsmobile Custom Design may be located in San Clemente, California, but it presents you with a great opportunity to explore the Pacific Coast!
Take a look at the inside: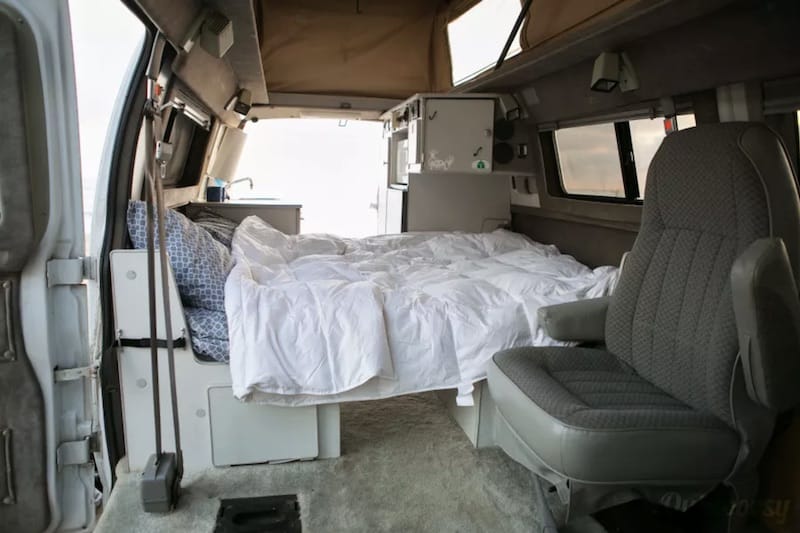 "Stickers," as the RV Owner likes to call this camper van rental, has everything you need for any length of trip. It has a dinette that folds down into a comfortable bed.
It also has plenty of storage in the galley kitchen that also has a sink, portable propane stove, microwave, and refrigerator!
2. 2006 Dodge Sprinter 18′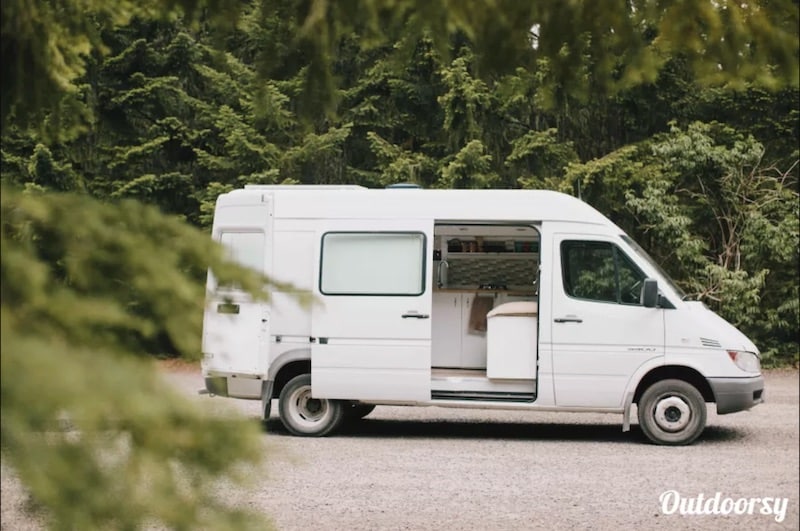 Price: $225/night Pet Friendly? No
Slides: 0 Sleeps: 2
This 2006 Dodge Sprinter is a great choice for a romantic couple's getaway.
Take this camper van through Oregon, Washington, Idaho, Montana, California, and Nevada for the ultimate road trip!
Here's a look at the inside: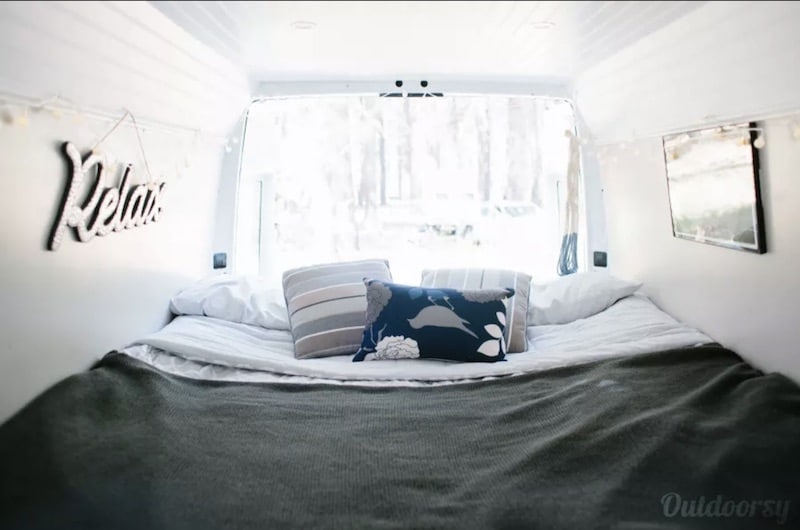 This camper van rental is for the sustainably minded! It is ready to go off the grid with solar panels and a 20-gallon easy-to-fill freshwater tank.
There is also a propane-heated outdoor shower (because hygiene is important), glass tile back-splashed gas range, dining space for six, and an almost king sized bed. Talk about perks!
3. 2016 Winnebago View 25′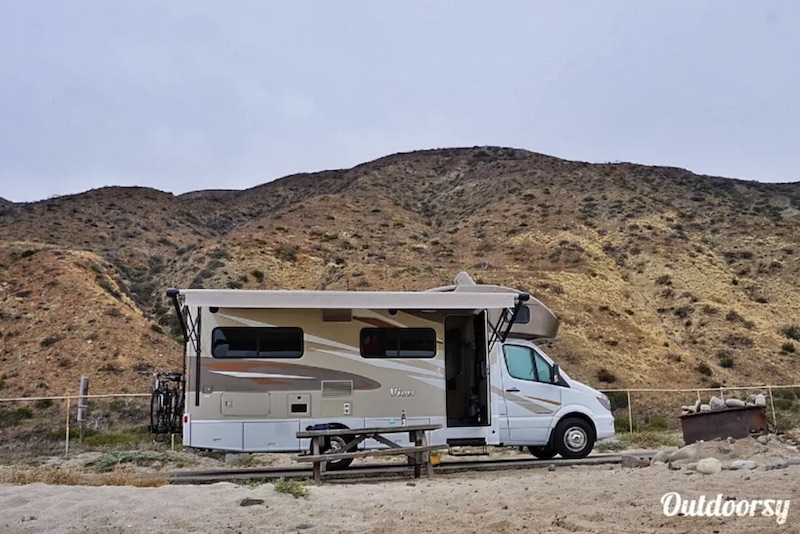 Price: $190/night Pet Friendly? No
Slides: 1 Sleeps: 5
This 2016 Winnebago View has an off-grid set up meaning it is ready to go anywhere and everywhere!
Check out the floor plan: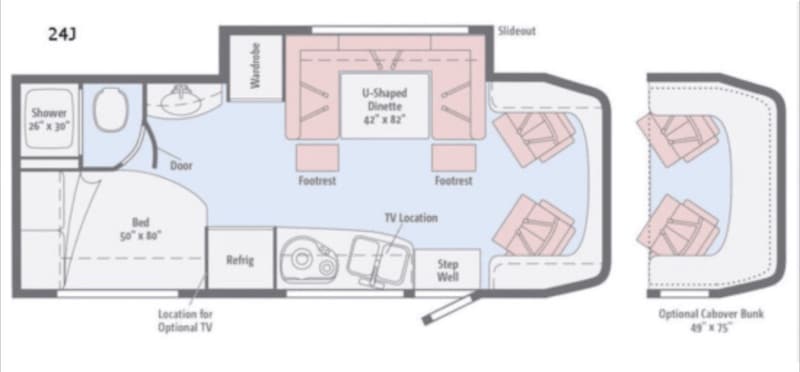 This motorhome rental is ready to just about everywhere, even Canada and Alaska! The RV Owner doesn't put limitations on visiting our northern neighbors as long as you have your passport.
This RV has sleeping room for up to five adults. There is a large bed in the back, a converting dinette, and cabover bunk. If you aren't local, they throw in blankets and pillows. As a standard they throw in all the kitchen goodies!
4. 2017 Airstream Flying Cloud 23′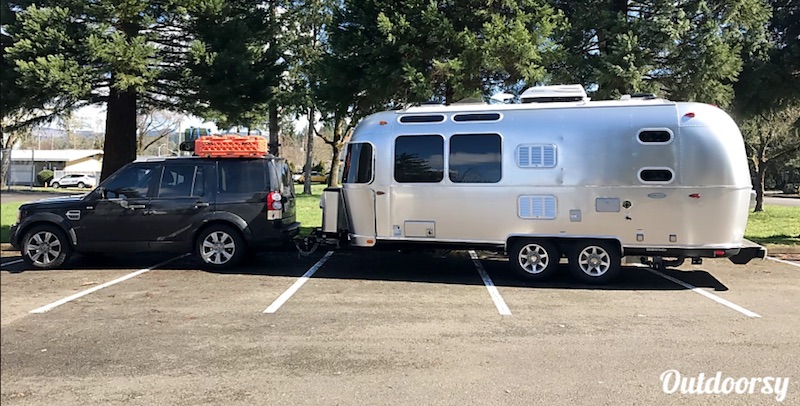 Price: $175/night Pet Friendly? Yes
Slides: 0 Sleeps: 5
Airstreams are known for their simple exteriors and luxurious interiors. This 2017 Airstream Flying Cloud definitely meets that expectation!
Check out the floor plan: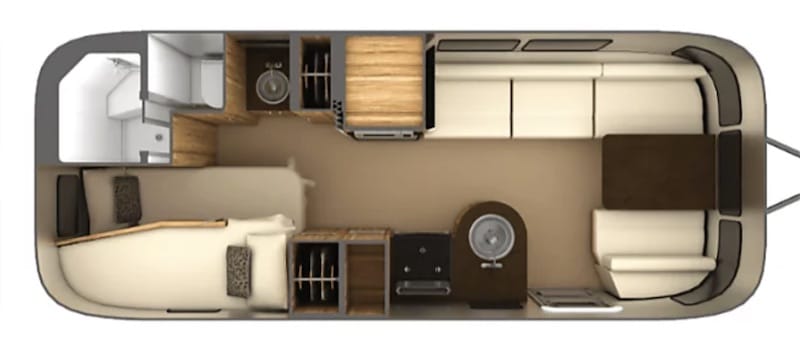 This travel trailer rental comes with a full bottom bunk, a twin bunk, and a converting dinette. That makes sleeping room for five!
It comes with a stand up shower, separate toilet room, and sink. There is a divider for privacy and two closet spaces. The kitchen area has all the necessities.
The RV Owner also offers a tow vehicle for an additional price!
5. 2018 Happier Camper HC1 13′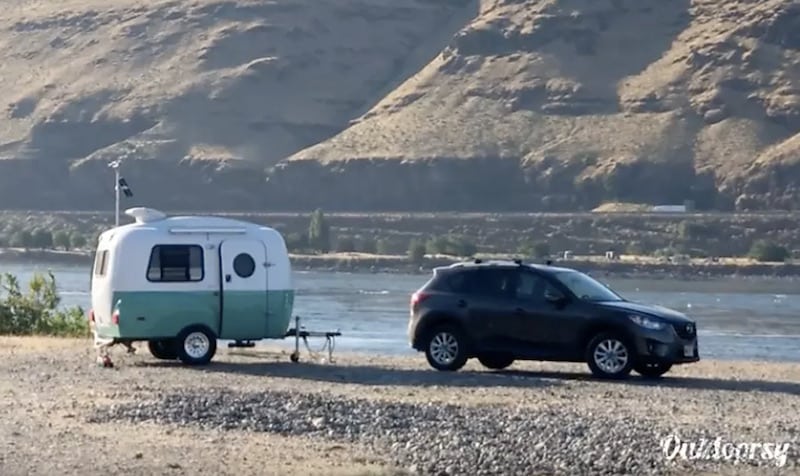 Price: $79/night Pet Friendly? Yes
Slides: 0 Sleeps: 2
This 2018 Happier Camper HC1 is a pretty versatile little travel trailer. Despite its size, you can configure the inside to fit your needs and every cube is removable for outdoor seating!
Here's a look inside: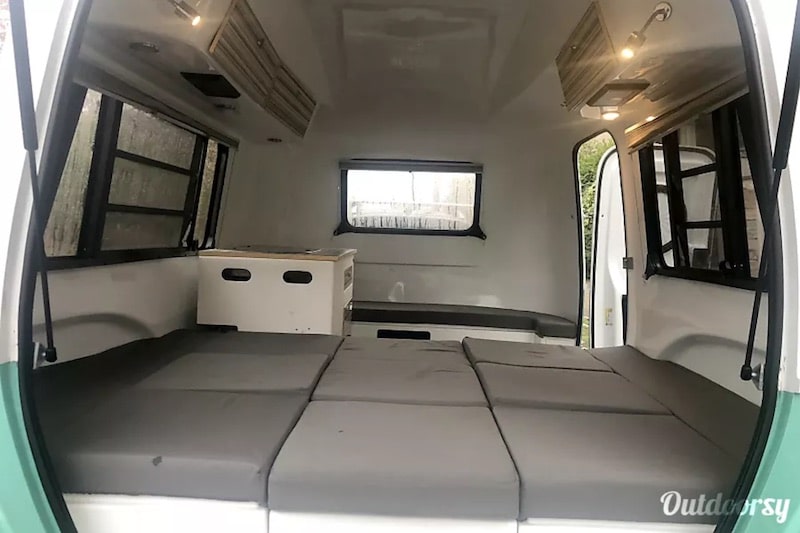 The retro design is enough to make everyone on the road jealous! It is ready for the beach, the mountains, and everywhere in between.
There is tons of natural light in this travel trailer rental with a stylized panoramic windows and a large rear hatch door.
The cubes can be moved around to create seating or a bed. The flexibility allows you to have a five foot long table, three seating benches, a queen bed, a sink, a fridge, and a dual burner range.
6. 2019 Aero Teardrops Steel 5 X 10 14′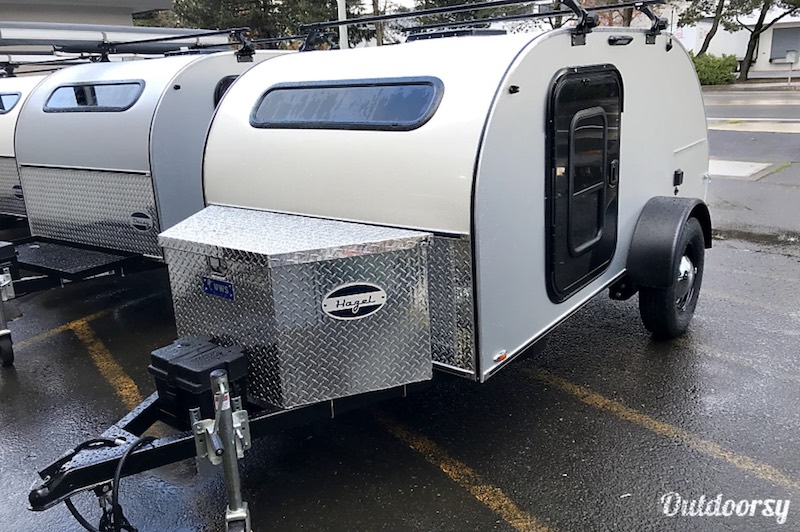 Price: $95/night Pet Friendly? Yes
Slides: 0 Sleeps: 2
This 2019 Aero Teardrops Steel 5×10 is pretty versatile and ready to go out on an adventure with you.
Here's a look inside: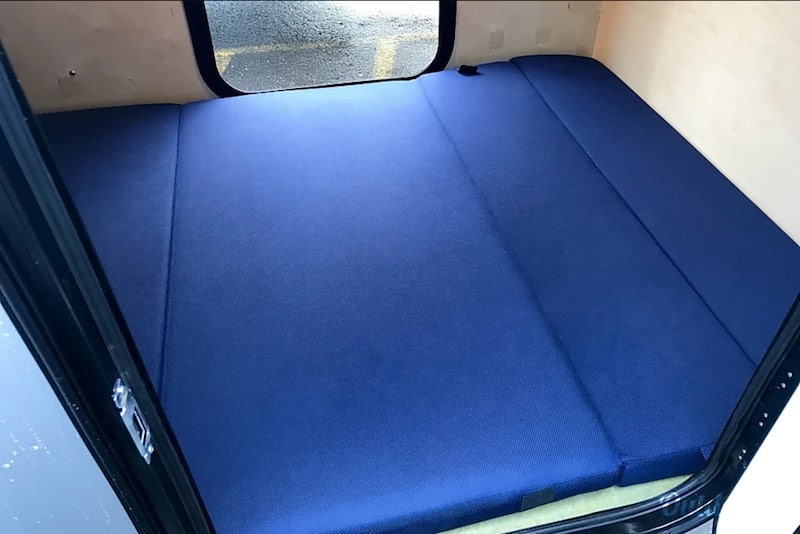 This teardrop trailer rental is pretty handy. It has an easy pop up table and couch for comfortable eating. That same dining area converts into a comfortable queen size bed.
A few other great interior features include a roof vent with three speed two way fan and a stargazer window above the bed. The doors dead bolt from the inside and have windows that can be opened.
There is also a galley kitchen complete with plenty of storage, kitchen essentials, two burner stove, and collapsible tubs for washing. There's even an overhead awning!
7. 2015 Tiffin Allegro Bus 40′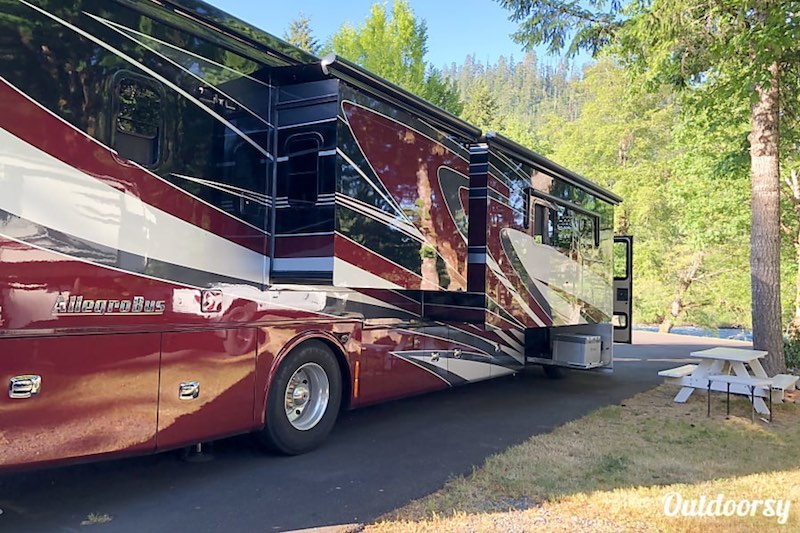 Price: $359/night Pet Friendly? No
Slides: 4 Sleeps: 6
This 2015 Tiffin Allegro Bus is luxurious and modern inside and out. It is the perfect getaway ride for a family, or even just a couple, looking for a break.
Here's a look at the inside: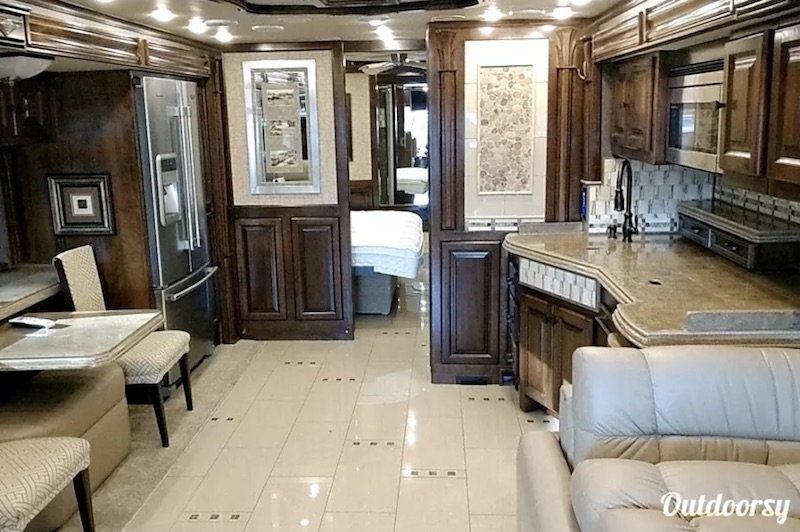 The thoughtful design and engineering of this motorhome rental allows the renter to enjoy their trip without worry.
It is ready to go on short notice with full amenities included like a coffee maker, InstantPot, and toaster to name a few. On top of all the goodies, there are enough beds to sleep four, room to sleep one or two on the galley floor, and room for one on the couch.
8. 2009 Motor Coach Chateau Four Winds 34′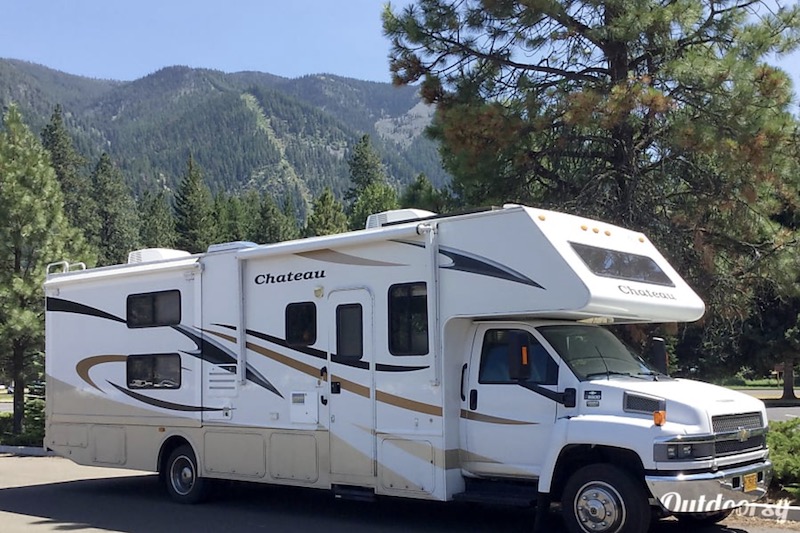 Price: $249/night Pet Friendly? No
Slides: 2 Sleeps: 8
Grab your spouse! Grab your kids! Grab grandma or the neighbors! You're going to need to snatch up quite a few people to fill up this 2009 Motor Coach Chateau Four Winds.
Here's a look at the floor plan: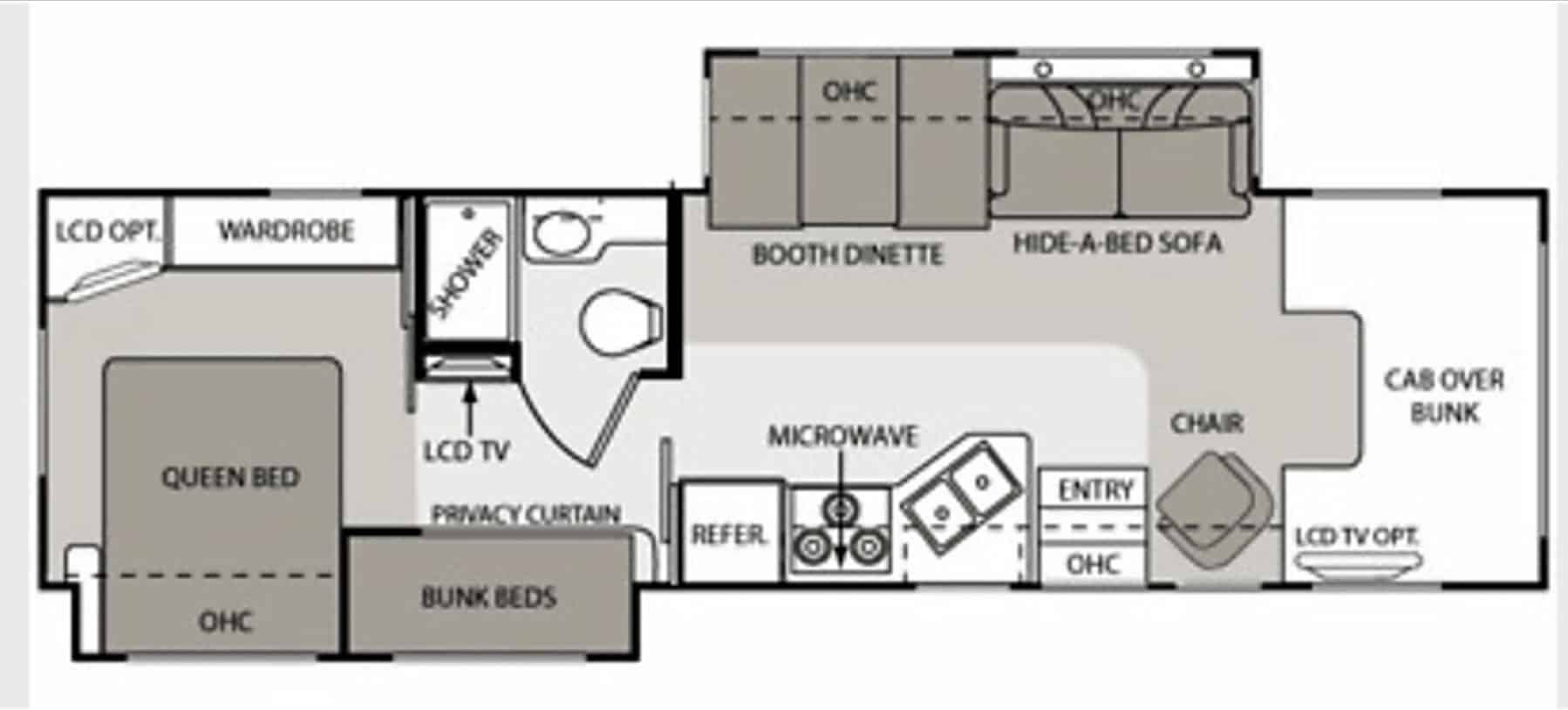 This Class C motorhome rental may look small on the outside, but the inside is definitely huge.
With a queen bed in the master bedroom, two bunks, a converting dinette, sofa bed, and cabover bunk, you can fit all of your nearest and dearest (or hitchhikers, if you prefer).
It comes with a full bathroom and a decent galley as well. Another huge perk is that it has three solar panels, which gives you the ability to dry camp!
The RV owner also stocks the RV with movies, games, and a gaming console across the bunks for your entertainment needs!
9. 1989 Volkswagen Vanagon 15′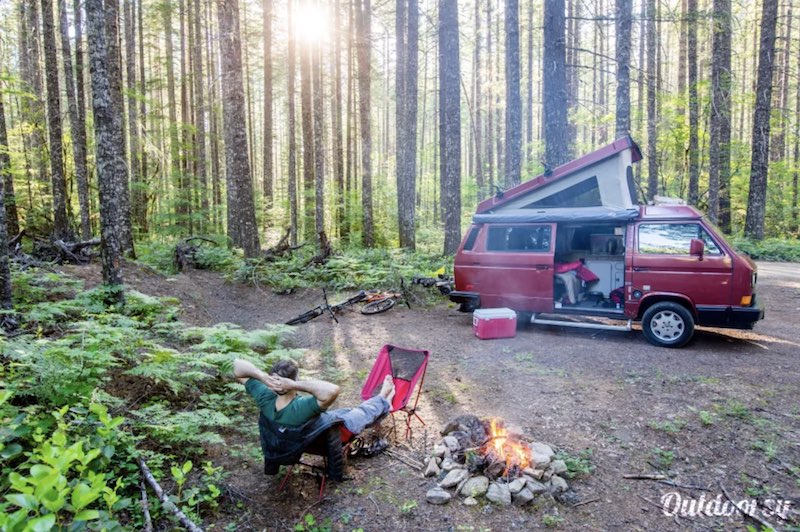 Price: $185/night Pet Friendly? Yes
Slides: 0 Sleeps: 4
Enjoy the Oregon wilderness in this 1989 Volkswagen Vanagon. The vintage look and feel of this camper van really won us over!
Here's a look at the inside: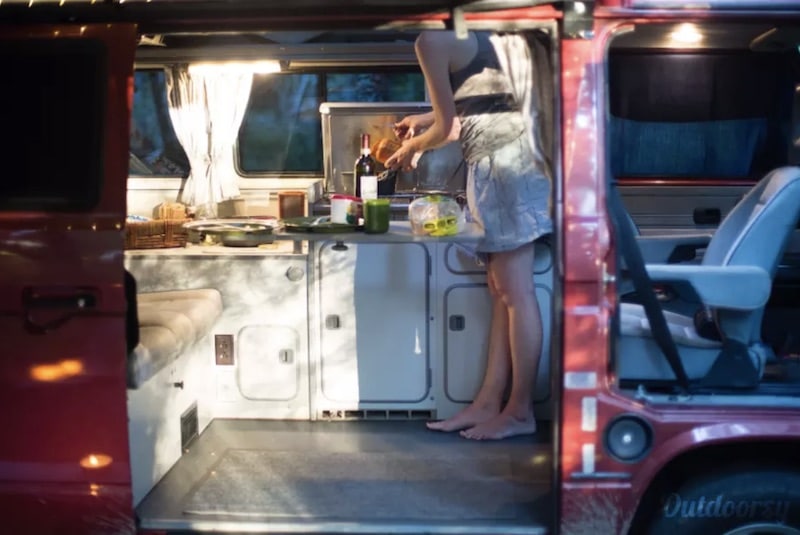 This camper van rental is great for cruising around the Pacific Northwest and enjoying all of the natural beauty. Just be aware, if you can't drive a manual then you may want to pass on this ride.
This awesome van has brand new speakers and a bluetooth enabled digital media receiver so you can scream/sing your favorite tunes. You can also use the sound system for hands-free calling on the road (because safety first).
There is an auxiliary battery to power the fridge and all of your electronic addictions without having to worry about draining the starting battery!
10. 2017 Coachmen Leprechaun 32′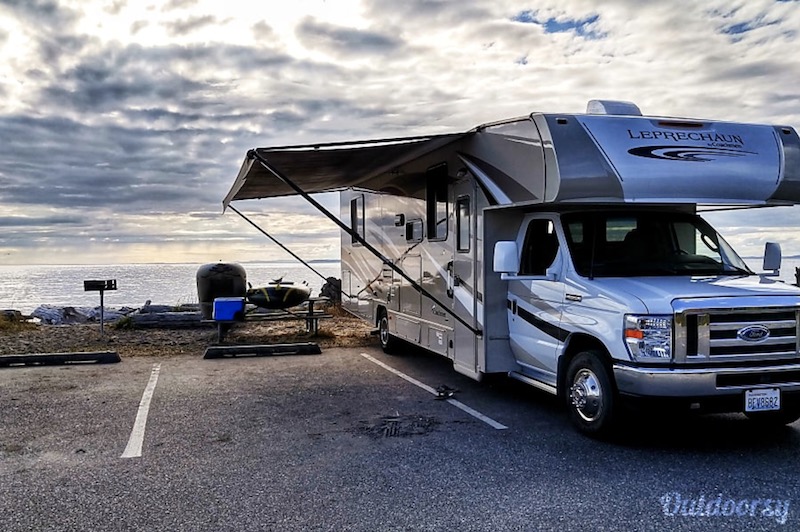 Price: $225/night Pet Friendly? No
Slides: 2 Sleeps: 8
Last, but certainly not least, we have this 2017 Coachmen Leprechaun.
Here's a look inside: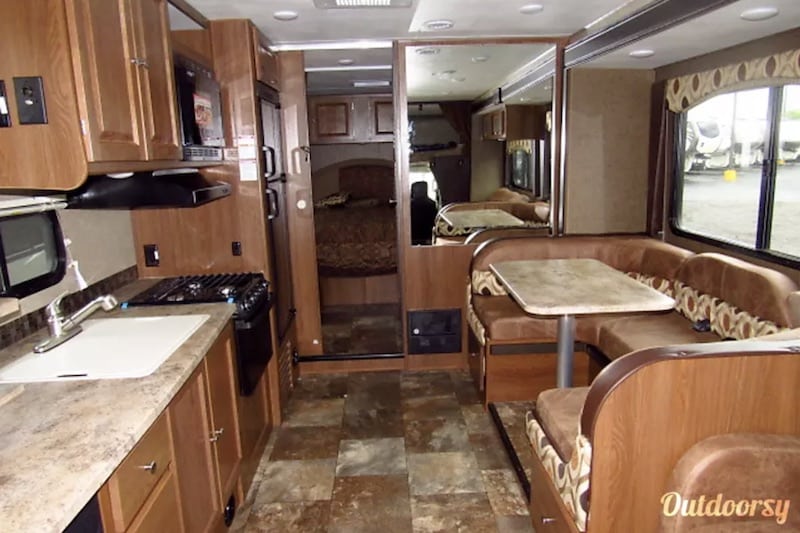 This motorhome rental is truly a hotel suite on wheels. In the master bedroom, you have a queen sized bed with room for you to walk all the way around. There is also a shower that is separate from the toilet and sink for convenience.
For your stowaways, there is a bunk above the cab, a sofa bed, and a converting dinette.
Some other awesome features include a 40-inch TV that pops up out of the kitchen counter, a three burner range, an over, a microwave, and a large fridge/freezer combo.
Things to Do in Portland, OR
That brings us to the end of our list of the best RV and camper van rentals in Portland, Oregon!
Remember, if you didn't like any of these we listed (or they weren't available for you), you can always check out all the Oregon RV rentals available on Outdoorsy. You can find everything from tent campers to luxury Class A's.
Now that your trip is booked, the next step is to plan your activities!
Wondering what to do in Portland, OR? Here are a few must-see tourist attractions:
Are none of these the tourist attraction of your dreams? Check out the top things to do in Portland on Trip Advisor.
And that's all we have for you! Want to share your Portland camper van or RV rental or some cool things to do in Oregon? Or have questions? Leave a comment below!
Pro Tip: Want better rental prices? Ask the rentees if they offer reduced winter rates! Not all of them will, but a winter trip in the south can save you some money. You can also check availability and add Outdoorsy Roadside Assistance to most of the rentals for added peace of mind.
Want to take RV road trips elsewhere? Check out these other RV destinations:
More RV Rental Destinations
Rentals By Type
Enjoy your RV rental vacation!!