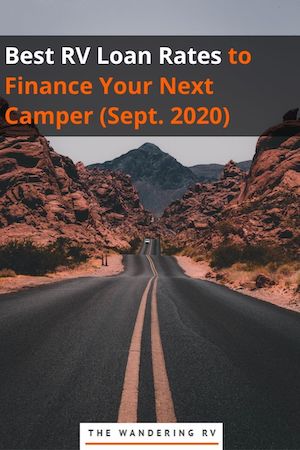 Widmer Enterprises, Inc. writes about products, strategies, and tips to help you make smart decisions with your money. We may receive a small commission from our partners, but our reporting and recommendations are always independent and objective.
Are you looking for the best RV loan rates possible?
In this guide, we share exactly how to find the best loans with the lowest interest rates.
No matter what kind of recreational vehicle you're looking for—new or used—you'll find a great rate today.
Let's dive in!
Table of Contents
Best RV Loan Rates Right Now
Here are the best RV loan rates right now.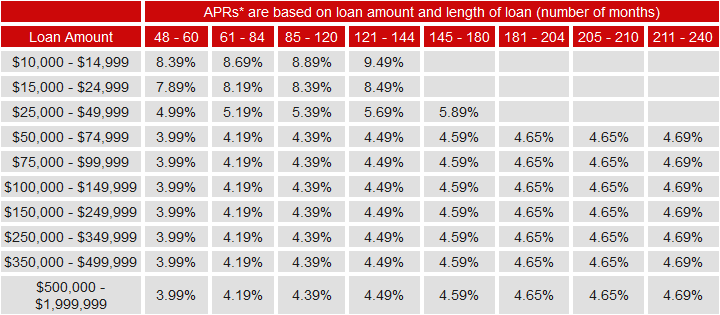 Loan rates are taken from Good Sam. RV must be 2009 model year or newer. Add .25 to above rates for 2009 – 2010 model years. Add 1.00% to above rates for truck campers, folding camping trailers and horse trailers with living quarters (listed in NADA guides). Reduce .25% from above rates for 100% Electric motor RVs. Each rate adjustor applies independently; multiple rate adjustors may apply for a single request..
* Annual Percentage Rate. Example of a refinance recreational use RV loan. A $65,399 loan (includes a $399 processing fee) for 5 years with a fixed interest rate of 3.747% would have an APR of 3.99% and 60 monthly payments of $1,96.97. This is only an example and the APR and processing fee may differ for your specific transaction. Loans with longer terms may have higher rates.
How to Get the Best Rates on an RV Loan
Getting good rates on an RV loan can be difficult, but there are some ways to improve your chances:
Make a higher down payment on the loan
Take a shorter loan term
Have a good credit score/improve your credit score
Buy a less expensive RV / negotiate a better deal
Calculate Your RV Loan Rate Now – ​Wondering what your loan rate and interest will be? ​Click here to use our RV loan calculator now.
Things to Know Before You Buy
You should consider the following when buying an RV:
How and when will you use your recreational vehicle?

How many people will be using your RV? (Knowing this will ensure you don't get a rig that's too big or small)

Will you buy new or used?

What is your budget?

What are your financing options?
Starting the process of buying a camper can be a journey considering everything you need to keep in mind. Your options may be limited if you want an older or used RV. Some banks may not help you finance for the older/used RVs, but if they do, expect to pay a higher interest rate.
If you plan on buying brand new, you need to know what kind of RV you want and the features you want it to have. Knowing what you want can help slim down your options to find that perfect camper. You may also want to calculate your annual percentage rate to know what you'll be paying.
You can also calculate RV loan rates before you buy to better understand your payments and options.
RV Loans vs. Auto Loans
With both RV loans and auto loans, buying a new vehicle/RV can usually get you a better annual percentage rate (APR). Older RVs, like older cars, are considered not as reliable as the newer ones.
Therefore, getting a loan for a new and improved RV may be easier to acquire. Like auto loans, you may need to use the vehicle as collateral, but some lenders offer unsecured RV loans. Keep in mind, unsecured RV loans may have a higher interest rate.
Typical RV loan terms are much longer than auto loans.
RV Loans vs. Mortgages
Buying a recreational vehicle is similar to buying a home, but the financing is completely different. Starting with mortgages, they have a more sizable loan amount with a couple of extra costs and a lower interest rate. RV loan rates are smaller and have interest rates a bit higher than mortgages.
However, sometimes you can find loopholes with RV loans. For example, if you can't qualify for an RV loan you may be able to get a personal loan to buy an RV. Monthly payments on personal loans and RV loans are usually lower and cheaper than most mortgages.
Keep in mind that you can also claim your RV as your primary residence if you plan on living in it, in which case your RV loan is technically considered a mortgage loan, and as such provides some tax benefits.
3 Best Lenders in 2021
Ready to get the best RV loan rates? Here are three of the best lenders (and what they're best for):
1. GreatRVLoan (For Bad or No Credit)

GreatRVLoan is a straight forward lender that has a wide variety of loan providers. Because of all of their options for bad or no credit RV loans you can expect to pay a higher price. Keep in mind, having bad or no credit, they give higher interest rates, but you can get up to a $75,000 loan on most recreational vehicles.
They also offer special programs for people with bad or no credit. People with credit scores as low as 550 have been approved for financing for their new camper through GreatRVLoan.
2. LightStream (For Unsecured Loans)
Have you considered RV financing, but don't want to lose everything by missing a few payments?
Lightstream is the best outlet for unsecured loans up to $100,000. You need good or exceptional credit for this company, but they can give you some of the lowest RV loan rates. They are the lending arm of SunTrust Bank and have many loan options for people that love to travel.
You can apply online for RV financing through Lightstream in less than 5 minutes.
3. Good Sam (For Newer RVs)

People who travel may know or have heard of the name Good Sam because they have been around for years. Good Sam is best for loans to get newer recreational vehicles. They require a credit score of 690 and only finance RVs that are 2008 or newer.
Going through Good Sam with great credit will save you money in the long run because they will give you a lower annual percentage rate than other lenders. You can also get a Good Sam membership which can save you money, give you professional tips and help you plan your next adventure.
Frequently Asked Questions
What is the average interest rate for an RV loan?

RV loan rates vary day by day. Depending on your loan term and loan amount, the average interest rate ranges from 4% to 10%.
Which brand of RV is best?

There isn't just one brand of RV that's best because you can buy campers that are all different shapes and sizes. To find the best brand you should know what type of camper you want to buy.

That said, there are some popular brands known for their build quality, such as Grand Design and Airstream.
How hard is it to get RV Financing?

RV financing isn't as hard to get as you may think. The deciding factors in getting the RV loan rates you want depend on your credit score, down payment, and total amount financed.

If your credit isn't the best, there are bad credit RV loan options available.
What is the best month to buy an RV?

During the fall and winter, the demand to go camping is lower than in the spring and summer. For this reason, purchasing a camper in the later months of the year will give you a better deal. During this time your loan rates will be significantly lower.