What does RV insurance cover? And, when is RV insurance required?
Below, we go over all of the various things that are and aren't covered by your RV insurance, so you know exactly what to expect when you make a claim.
Table of Contents
Basic RV Insurance Coverages
Regardless of which RV insurance policy and premiums you pick, or what kind of camper you have, all RV insurance covers the following:
Bodily injury liability: If you're responsible for a car accident, bodily injury liability coverage pays for the medical costs of the people who are injured excluding yourself. This coverage also helps cover payment for legal defense in the event you are sued for damages.
Property damage liability: Property damage liability insurance covers you for any financial liability that occurs should you get into an accident and cause damage to someone else's property.
Uninsured motorist: This is intended to replace someone who has no insurance and was at fault in an automobile accident.
Underinsured motorist: For situations where the other driver has insurance but not enough to cover the entire claim.
Comprehensive and Collision coverage: Comprehensive coverage is for events outside your control that are not caused by a collision (such as weather, vandalism, and theft). Collision coverage is for damage resulting from an accident with another vehicle or object.
Medical payments: This coverage extends to emergency transport, medical bills, follow-up doctor appointments, and funeral costs.
Optional RV Insurance Coverages
You can add the following additional options to your RV insurance coverage depending on your specific needs, but these are not included with base insurance plans:
Roadside assistance: This insurance covers services ranging anywhere from towing, battery-jumping, flat tires, lockout and locksmith services, fuel delivery, and extrication or winching services.
Replacement cost and scheduled personal effects: This insurance provides financial protection for all possessions you bring into your RV. This includes items like clothing, computers, cameras, shoes, eyeglasses and more.
Vacation liability: This insurance provides personal liability coverage only when the motor home is parked off public roads and while the unit is used for recreational purposes. It does not overlap with or apply to any loss payable under automobile liability coverage.
Full-Time RV Insurance Coverages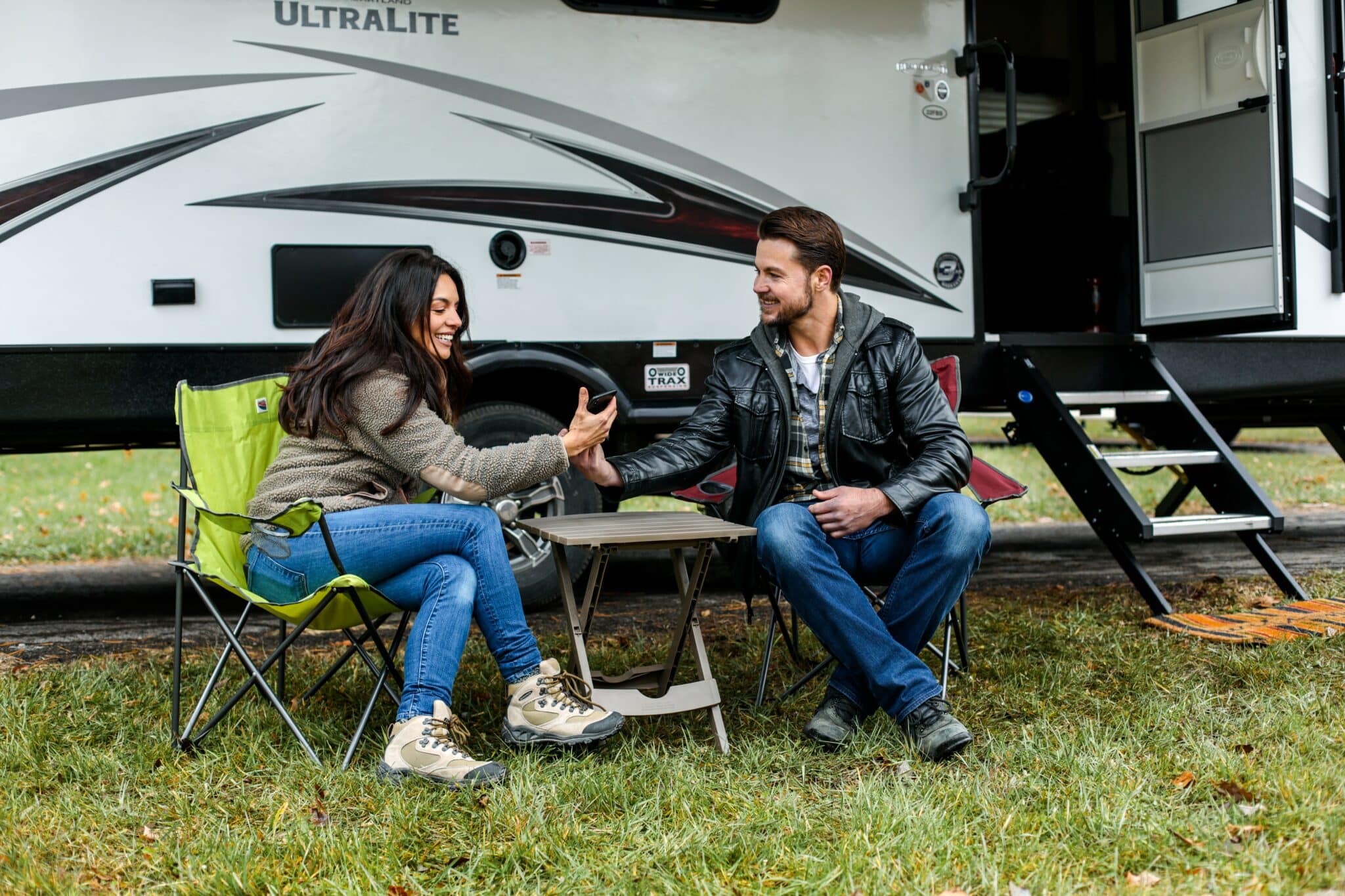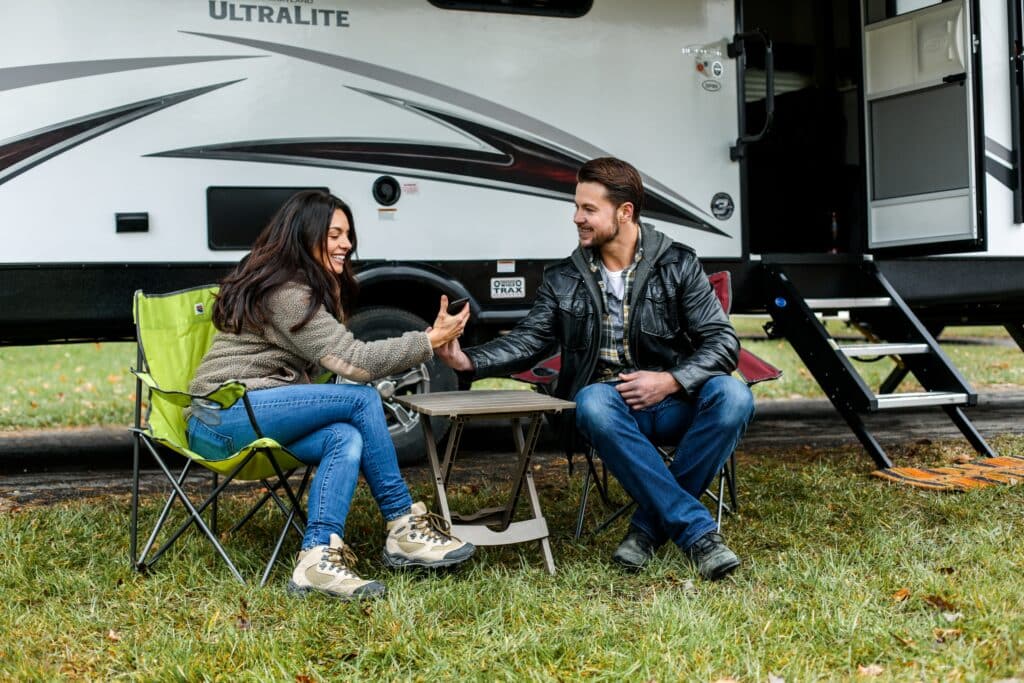 If you plan on being in your RV for 6 months out of the year (or for at least 150 nights per year), you need to have full-time RV insurance. With full-time RV insurance, you receive broader liability coverages that protect you for a longer period of time.
A few examples of this coverage include (but aren't limited to):
Medical Payments. Covers medical expenses for those injured in or near your RV.
Personal Liability. Pays for property damage and any/all injuries you're responsible for due to an accident while parked.
Loss Assessment. Pays for fees charged by an association that covers repairs to common areas or parts of the property where your RV is parked.
Click here to learn more about full-time RV insurance.
RV Coverage FAQs
Here are some common RV coverage questions & answers:
Will Insurance Cover a Leak in an RV?

If you have full coverage insurance and the leak was caused by a covered peril, then yes! Your RV insurance will cover a leak.

Three common coverages found within your policy that protect against water leaks are:

Comprehensive
Collision
Personal effects replacement.

Depending on the type of damage that occurred, any of these coverages could pay to fix the leak (as well as any part of your RV or belongings inside your RV that were affected).
Does RV Insurance Cover Pets?

No, RV insurance does NOT cover pets. However, you can get a separate pet insurance if you're bringing your dog or cat along with you!
How Much Damage Does it Take to Total a Trailer?

After receiving the repair estimate, an RV can either be repaired or deemed a total loss. If the repair estimate is at least 75% of the cost of the RV, it is considered a total loss.
What Do Insurance Companies Do With Totaled RVs?

Depending on how much damage there is, the insurance company will turn over a totaled RV to a salvage yard where it's auctioned for parts.

Some insurance companies will sell the RV back to you to have the RV fixed, but the total cost will depend on the condition of the vehicle, repairs, and additional salvage costs.
What Does "Actual Cash Value" Mean in RV Insurance?

Actual cash value coverage will pay out what your RV was worth at the time of loss. If you have actual cash coverage, your insurance company will offer a reimbursement of the current cash value of your RV, not what you paid for it back in the day.
How Does RV Insurance Work?

If you damage your RV or cause injuries to someone else (and/or their property), you can file a claim with your insurance provider. Depending on the incident that occurred, your insurer may pay for the losses or injuries up to your coverage amount.

Click here to read our full guide to how RV insurance coverages work.
Can I Get Seasonal RV Insurance?

If you store your RV for part of the year, such as during the winter, you may be able to save some money by getting seasonal RV insurance.

Seasonal RV insurance, also called RV storage insurance or RV lot insurance, drops collision coverage to save you money (since it won't be on the road).
Does My RV Insurance Policy Cover Other Drivers?

Your RV insurance will only cover drivers you list on your policy when you purchase it. You can contact your insurance company about adding additional drivers if you need to.
Does RV Insurance Cover Theft?

Yes, RV insurance covers theft! If your camper is stolen, you can just make a claim with your insurance company and follow their procedures.
Other RV Insurance Articles
If you are still researching RV insurance, here are some other guides we have to help you understand your coverage fully:
Get an RV Insurance Quote Now
Enter your zip code below to get the best RV insurance rates near you now: