Need a Travel Trailer Insurance Quote?
Good Sam is the #1 best rated RV insurance provider for 2022.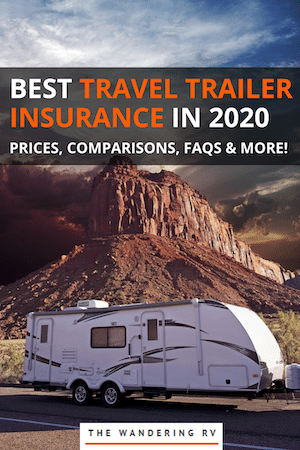 Travel trailers have become increasingly popular over the past several years. And for good reason!
Travel trailers, including teardrop trailers, caravans & fifth-wheels, are less expensive than their motorhome counterparts. They also don't need as much maintenance and suffer less from being stored for months at a time.
Best of all: They cost less to insure.With all the things that could go wrong in a home on wheels, having the right insurance on your camper trailer is priceless.
Today, we share everything you need to know to insure your travel trailer with the best RV insurance company and answer some common insurance questions.
Let's dive in!
Table of Contents
Note: Some of the links in this article are affiliate links. This doesn't cost you any more than normal. Read our disclaimer for more info.
Who Has The Best Travel Trailer Insurance?
Want to skip right to the best of the best? Here are the highest-rated travel trailer insurance companies of 2022 so far:
Want to learn a little more about these companies? Keep reading.
You've invested so much into your travel trailer already. You've got it stocked up and are ready to roll — but what happens if you're involved in a car accident? What if your trailer comes unhitched and hits something?
Will your auto insurance policy cover it? What if your camper is in your driveway and a tornado damages it? Will your home insurance policy cover it?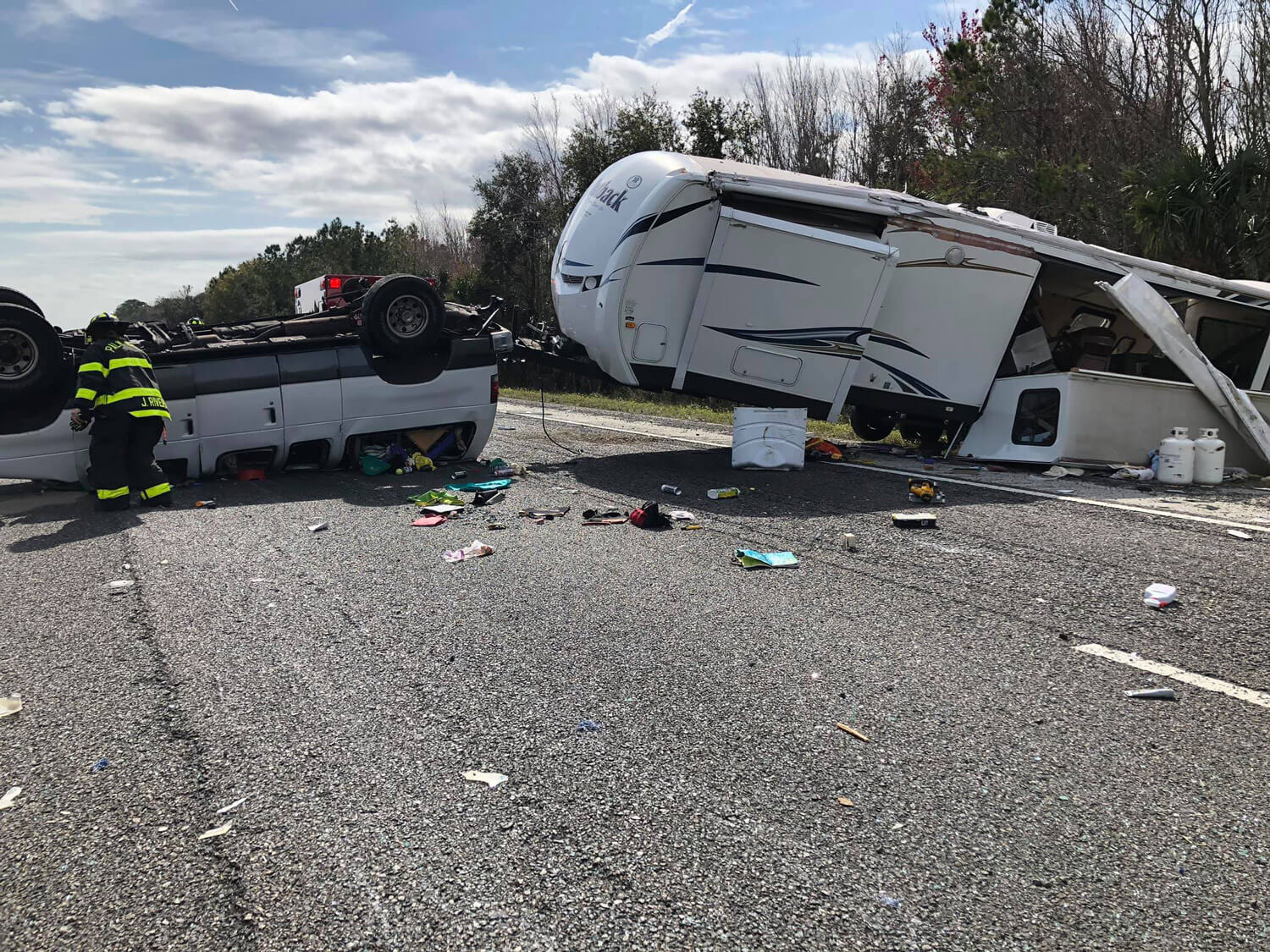 That's a lot of questions for camper trailer owners. Not to mention the many insurance companies to choose from. This guide will help you answer some of those questions and choose the best insurance company for you.
You must understand precisely what your home and auto policies cover in regards to your travel trailer.
In general, trailer coverage will vary by state, insurance company, and coverage — just like your car insurance. Some vehicle insurance policies will cover liability on your camper trailer, but not all do.
Most insurance companies will require you to list your trailer on your declarations page to cover it. Some home insurance policies may cover damaged or stolen personal belongings if you park the trailer at home, but some don't.
Your best bet is to get camper trailer or RV insurance to eliminate gray areas in your coverage. But which is the best insurance company?
Good Sam RV Insurance
Good Sam RV Insurance Agency is a network of insurance companies across the nation. The benefit for you with Good Sam is that you get multiple insurance quotes with one phone call, allowing you to choose the best trailer insurance for your situation.
They offer premium coverage and benefits such as:
A single deductible for car and trailer.
A single deductible for car and trailer.
Storage discounts.
Permanent attachment coverage for awnings and satellite dishes.
Optional full replacement coverage for RVs and trailers less than five years old.
Emergency expense allowance.
Personal belonging coverage up to $3,000.
You can even get additional discounts if you are part of the Good Sam Club.
>> Click here to get a free quote from Good Sam.
Roamly
Roamly is the first insurance company in the industry to provide personal RV insurance that explicitly allows customers to rent out their rig on peer-to-peer marketplaces like Outdoorsy.
Traditional insurance companies don't allow owners to rent out their RVs due to a commercial use exclusion clause. Roamly on the other hand not only allows owners to rent out their RV, but encourages it by offering owners utilization-based discounts.
With Roamly, owners can turn their idle assets into money-making machines without the fear of losing coverage or having claims denied due to renting. And the more they rent out their rig on Outdoorsy, the more discounts they'll get on their insurance premiums through Roamly's Rent and Save Discount.
>> Click here to get a free quote from Roamly.
RVinsurance.com
RVInsurance.com offers many of the same trailer insurance options:
Lowered premiums while in storage.
Loss replacement.
A single deductible if your camper and car are both damaged.
Full replacement cost coverages.
Storage options.
Emergency expense coverage.
Permanent attachments are covered.
Personal effects coverage.
What sets them apart is that they also offer a diminishing deductible for each year you don't have a claim. You also have vacation liability in case of injury or property damage while on vacation, as well as coverage for your pet.
>> Click here to get a free quote from RVinsurance.com.
Progressive
While you may think of Progressive as an auto insurance agency, they also offer RV and travel trailer policies. They cover everything from 40-ft trailers and fifth-wheels down to truck campers and offer many of the same coverage options as above. Additionally, they provide roadside assistance and pet coverages.
>> Click here to get a free quote from Progressive.
National General
National General offers the standard RV and towable camper trailer insurance options. An online portal provides easy access to your policy information and online payments. They also include motorcycle coverage and safe-rider discounts alongside their caravan insurance.
Two services that set them apart are free inspections after a claim repair and low mileage discounts on select coverage options.
Note that Good Sam uses National General's coverage, so you may see National General on your Good Sam insurance policy.
>> Click here to get a free quote from National General.
What Does Travel Trailer Insurance Cover?
Travel trailer insurance is more comprehensive than vehicle insurance policies. You must consider that insuring a trailer is like insuring a home and a vehicle in one. Let's take a look at what insurance for caravan and travel trailers covers.
Liability Coverage
Liability coverage for travel trailers is much like that for your car. If there is an accident and you are held liable, your insurance agency will cover some of those injury or damage costs. How much it covers depends on your insurance policy.
Collision Coverage
If you are involved in an accident while you travel, your collision coverage policy will pay to repair damage to your travel trailer. The amount, of course, depends on your policy and deductible.
Comprehensive Coverage
Comprehensive coverage is for damage that may occur outside of a traffic accident. It covers things like vandalism, fire, falling debris, animal damage, weather (hail, flood, high winds), and theft.
Your comprehensive coverage policy is where you will typically see total loss replacement. If your trailer is less than five years old, your insurance company will likely switch it for a new one of similar value if the damage is severe enough.
Other RV Insurance Coverage Options
Liability, collision, and comprehensive options are coverages on your travel trailer insurance that you may be familiar with from your car or home policies. But when you get insurance coverage for your caravan, you must consider additional policy options.
Emergency Expense Coverage: Many policies will pay for lodgings and other costs if you cannot access your travel trailer.
Personal Property Coverage: When you live in your camper, whether you use it full-time or just for vacations, you store many of your personal belongings in it. Content coverage will insure laptops, phones, appliances, jewelry, and similar items in case of theft or damage.
Pet Insurance: Many of us travel with our pets. After all, a family vacation without Fido or Fluffy just isn't the same. However, when we share our vacation with our animals, they share the risks of travel.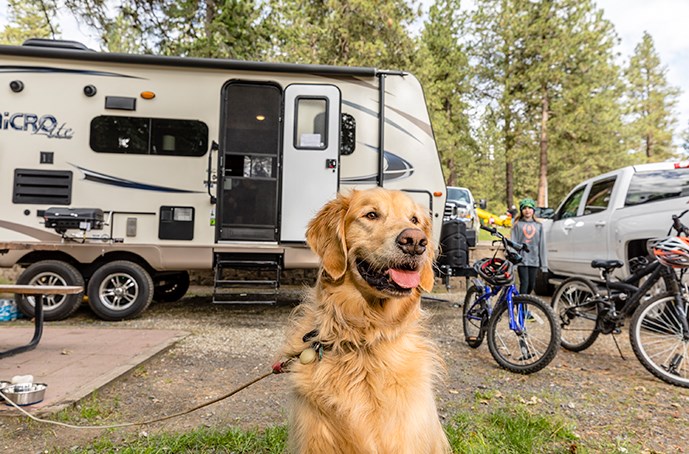 Pet insurance can help cover veterinary bills in case of injury to your pet, or pet care bills in case of harm to you. A pet policy may also help your animal get home if you can't care for them due to an accident.
How Much Does It Cost to Insure a Travel Trailer?
Travel trailer insurance costs vary, just like car or home insurance, based on several variables:
Your state
The type of travel trailer you have
Your travel trailer's value
The amount of your deductible
The amount of coverage you include in your policy
Insurance costs can start for as little as $200 per year.
The best thing you can do is educate yourself about the insurance options available to you. That way, the next time you pack up your travel trailer for a trip, your only worry will be where the road is going to take you.
Enter your zip code below to find the best rates on travel trailer insurance near you:
Do You Need Travel Trailer Insurance?
The short answer: Yes.
While not every state requires that your trailer is insured, most of them do. And chances are, you'll be visiting a state that requires your camper to be insured if you're road tripping in an RV.
Additionally, if you have a loan on your camping trailer, the bank will most likely require you to have insurance on your rig.
Ready to insure your travel trailer? Click your state on the map below to find the best deals on RV insurance where you live: