Save an Average of $321* A Year on RV Insurance
Looking for an RV Insurance Quote?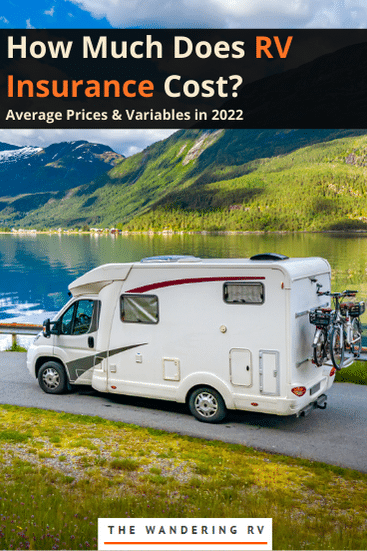 So you just bought a new RV and now you're wondering…
How much is RV insurance?
The cost of recreational vehicle insurance varies wildly based on where you live, what you're insuring, which company you choose, and more.
This guide shares everything you need to know about RV insurance costs in layman's terms.
Let's dive in!
Table of Contents
Note: Some of the links in this article are affiliate links. This doesn't cost you any more than normal. Read our disclaimer for more info.
Average Cost of RV Insurance Across 6 States
RV insurance costs change not only based on your policy and add-ons but on where you live as well. Pricing regulations vary by state when it comes to insurance. 
Some states are known for their cheap insurance policies, like Massachusetts and North Carolina. These two states have some of the lowest rates, with North Carolina hovering around $860 per year and Massachusetts around $1,128 per year. 
Michigan is by far the most expensive state for RV insurance, with an average of $4,490 in premiums per year. Most states fall between the two extremes, such as Texas at $1,425 per year.
In California, insurance premiums range from $800 on a Class C camper to over $4,000 for a large Class A motorhome. 
The average cost of RV insurance in Florida is around $3,000 per year, depending on the make and model.
Good Sam is the #1 best rated RV insurance provider for 2020.
This is just to give you a baseline idea. If you want true rates in your state, simply select where you live on the map below to get an insurance quote now:
Factors Affecting Your RV Insurance Costs
If you know what it's like to grapple with finding the right auto insurance, searching for the best RV insurance is a similar process. You probably won't be surprised to find out you have even more to consider. 
The Type of RV
When you're purchasing car insurance, the kind of car you have helps determine the cost of your coverage. The same goes for RV coverage. 
If you have a Class C camper, your premiums will be much lower than for a Class A motorhome. Likewise, travel trailer insurance is even cheaper. 
Class A RV Insurance Costs
According to the National Automobile Dealers Association (NADA), the average insurance premium for a gas-powered Class A motorhome is around $1,000-$1,300 annually, based on 140 days of use per year.
However, a Class A diesel pusher (the most expensive type of luxury RV) can cost $2,000 or more per year.
Class B RV Insurance Costs
A Class B RV (sometimes called a camper van) is the smallest of the three motorhome classes. This also covers conversion vans, although conversion vans need a special type of insurance coverage.
Depending on the age, value, and type of coverage, Class B RV insurance can vary anywhere from around $300 up to $1,000 annually.
Class C RV Insurance Costs
Annual premiums on Class C motorhomes are generally in the neighborhood of $600 to $1000 – again, depending on the age and value of the vehicle, state/province where it's being insured, age of the driver, and other factors.
Travel Trailer Insurance Costs
If you have a camper that you can tow, like a travel trailer or fifth wheel RV, insurance premiums tend to be lower.
This is because towable campers don't have engines, and thus are often much more affordable to replace if something goes wrong.
The average cost of travel trailer insurance is around $800 per year, but again, this varies widely based on the size, cost, age, etc.
The Age & Condition of Your RV
While many people think new RVs have higher premiums, that's not always the case. If your RV is in poor condition and the insurance agency thinks you're likely to file a claim on it, that can bump up your premiums, too. 
At the same time, if you have an older RV that you've taken care of over the years, you might pay less than someone with a newer model. You and your friend could have the same make and model RV and purchase a policy with the same insurance provider, but still pay different amounts based on the condition of the RV. 
Looking for a newer RV? Maybe a different manufacturer? Check out our guide on RV Manufacturers to see which rig would best suit you!
Your Experience Driving Your Motorhome
As with car insurance coverage, your driving experience factors into your policy premiums. If you have more driving experience with your type of motor home, the cost on insurance on an RV decreases. 
Few insurance companies jump at the chance to provide insurance for RV drivers with no experience. Since RVs are large and hard to maneuver, insurance providers want to know you can handle your RV safely before they insure you. 
Past Accidents & Traffic Violations
Accidents in your RV carry a higher risk of injury than in a car, especially for another party in a smaller vehicle.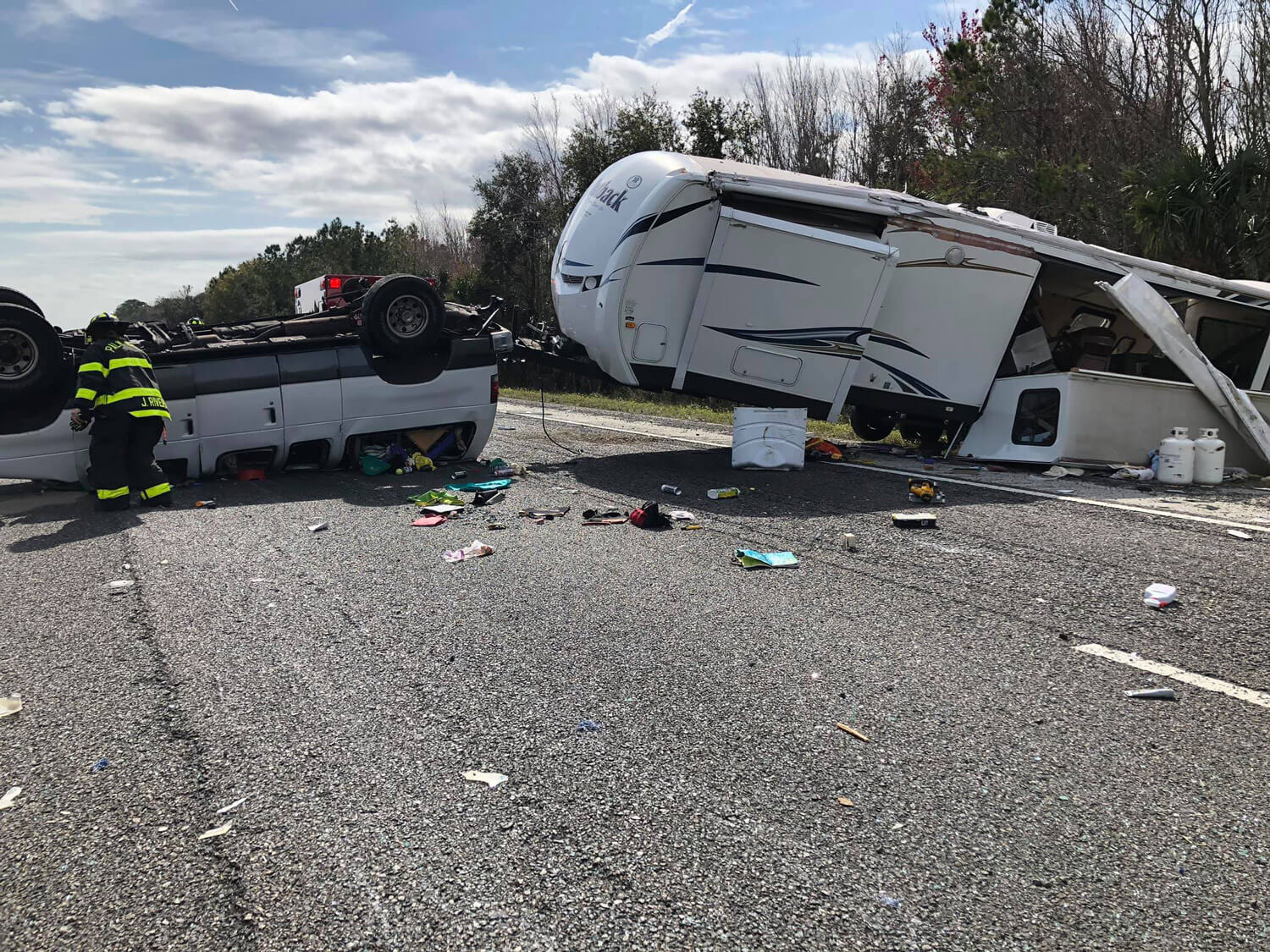 Your driving record shows your insurer how capable you are on the road. If you have a clean driving record, your insurance premiums will be lower because your insurance provider feels you're unlikely to file a claim. 
Your Zip Code
We've already shared that RV insurance costs vary by state, but did you know they also vary by zip code? 
Some areas have a higher cost of living than others—think the big city versus the suburbs. If you live in a city with a high cost of living, your insurance rates will be high, too.
How Much You Drive
The more you drive, the more likely you are to file a claim. It's similar to factors like your driving experience and past accidents. The more time your RV spends on the road, the more likely it is to have a problem. 
Time spent driving is part of why people who use their RVs full time have higher RV insurance rates. If you spend more time in your RV, you're more likely to need more than just your standard RV policy. 
Where You Travel
When you buy an RV insurance policy, consider where you'll be traveling. 
Your insurance policy might cover you if you drive in Canada. However, most insurance companies will not cover you in Mexico. Talk to your insurance provider about where you plan to travel, so you know what your policy covers. 
How Many Claims You File
If your provider sees that you've filed several claims in the past, especially with car insurance, they won't want to give you a low rate. 
The claims you've filed coincide with other factors like your driving record and your location. Filing claims with your insurance company essentially counts as two strikes against you. 
The Type of RV Coverage You Buy
The type of coverage you buy is perhaps your most significant variable when purchasing insurance on an RV, and the one that offers you the most choice. When you decide what kind of coverage you need, you have plenty of options, including:
Bodily injury and property damage liability insurance (usually mandatory)
Comprehensive and collision coverage
Personal effects
Roadside assistance
Vacation liability coverage
Custom equipment
Total loss replacement
Pet injury 
Which insurance you get comes down to what you need for your situation and budget. Some people don't feel they need to cover the potential replacement cost of their RV, while others need everything down to custom equipment. 
Keep in mind that if you're financing your RV with a loan you may need higher coverages that cost more. Paying cash can be a great cost reduction for RV insurance.
Click here to learn more about what RV insurance does and doesn't cover.
Which RV Insurance Company You Choose
Which RV insurance company you choose will affect your rate as well. Some insurance companies offer lower rates than others. Some offer discounts.
You want a reliable insurance agency, so do your research before you purchase a policy. Below are the highest-rated RV insurance providers for 2022:
Full-time RV Insurance Cost
Before you begin your search for the perfect RV insurance, know how you plan to use your RV. If you use it full-time, you need more coverage than you would as a part-time vacationer or weekend user.
Full-time RVers usually pay higher rates for insurance.
That's because, when you're living in your RV, it doubles as your home and your vehicle. Therefore, your policy combines homeowner's and auto insurance, increasing your rates.
Most insurance companies view full-time RV use as a higher risk than part-time driving, so they charge more to cover it.
Your RV insurance cost depends on many factors. Know how often you plan to use your RV, what extra packages you may need, and the details about your driving record. The more prepared you are when researching and inquiring about coverage, the easier the process will be.
Enter your zip code below to find the best rates on RV insurance near you now:
RV Insurance Cost FAQs
Here are some common questions we're often asked about camper insurance:
Other Helpful Insurance Articles
Still want to learn more about your RV's insurance? Here are some other helpful articles on our blog: