Introduction
Imagine a vehicle that blends the agility of a mountain goat with the comfort of a mini-luxury hotel on wheels, and you have the Winnebago Ekko. This Class B+ motorhome, a harmonious meld of nimbleness and capability, is your ticket to off-road adventures and cozy evenings under starlit skies. Let's dive into the world of the Winnebago Ekko, a masterpiece built on a Ford Transit chassis that's as ready for adventure as you are.


Table of Contents
Overview
The Winnebago Ekko 2024 is a standout in the Class B+ segment, offering a unique combination of off-grid capability, comfort, and convenience. Designed on the reliable Ford Transit chassis, it comes with a 3.5L EcoBoost V6 engine, ensuring robust performance and all-wheel drive to navigate varied terrains. Its compact size belies its spacious interior, offering a comfortable living space that doesn't compromise on functionality or style.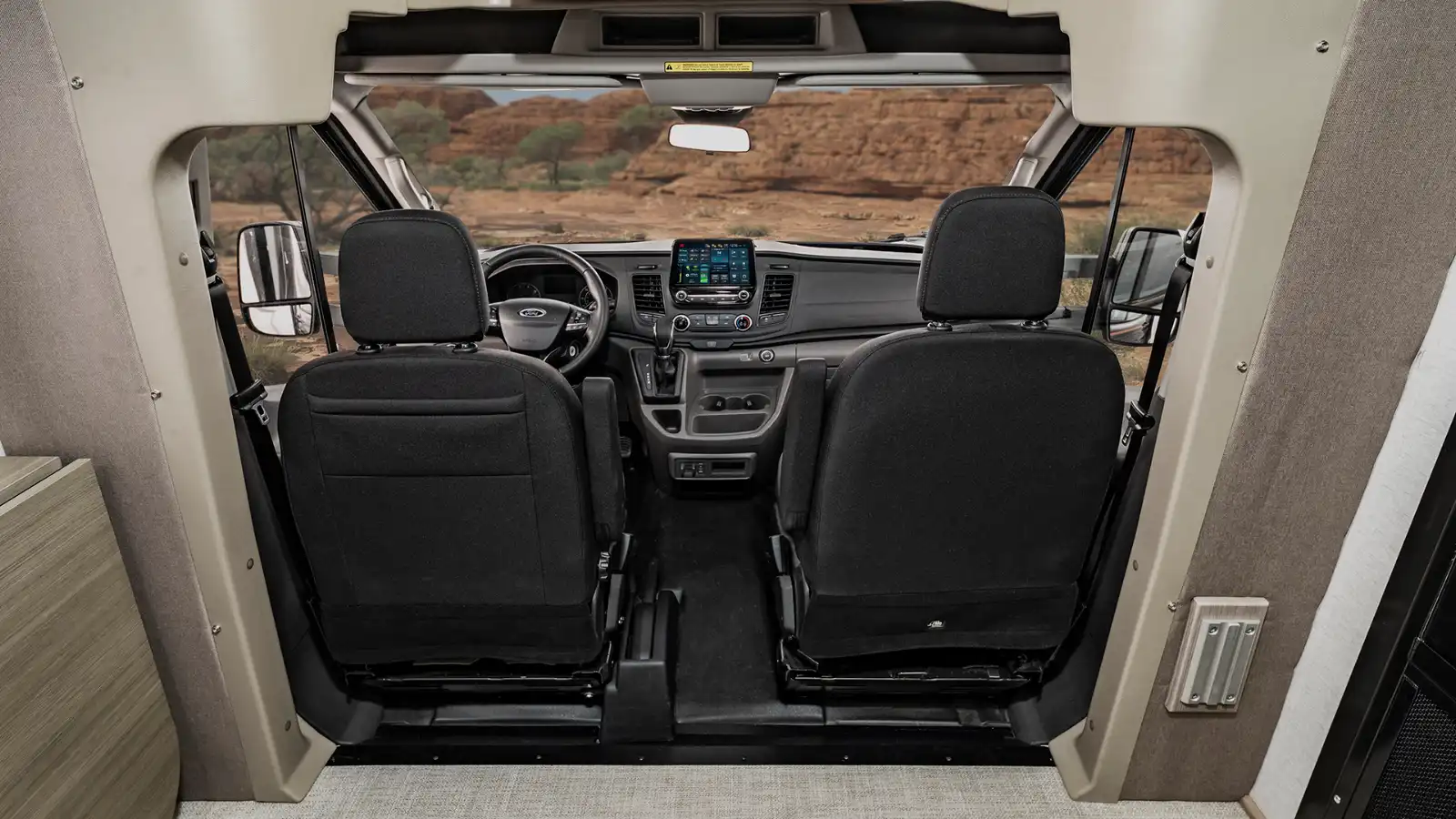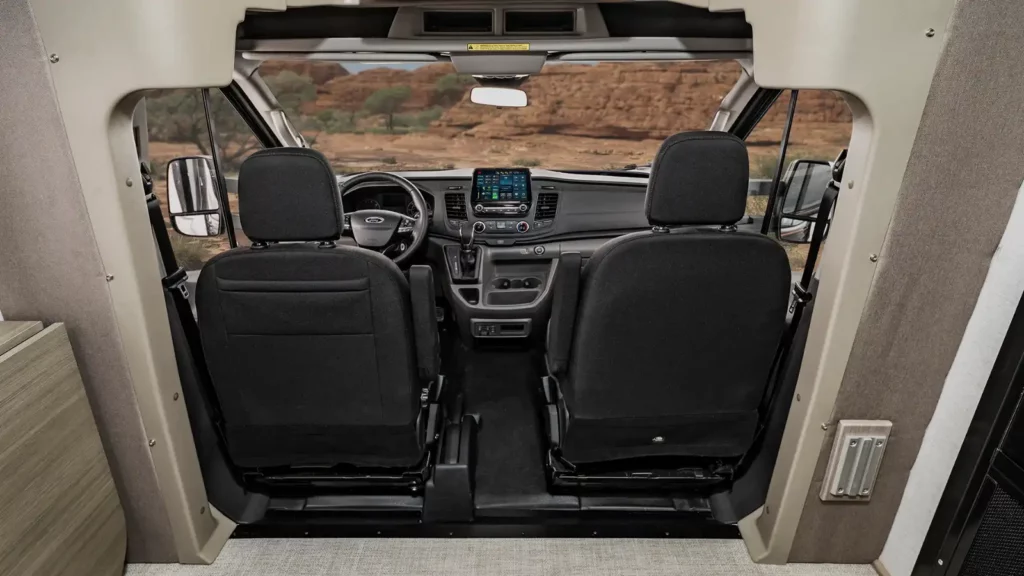 Key Features
All-Wheel Drive (AWD) Chassis: The Ford® AWD Transit Chassis provides stability and confidence on diverse road conditions.
Ford 3.5L Ecoboost V6: 310 horsepower and 400 lb-ft of torque and a 31 gallon tank.
Innovative Storage Solutions: The heated pass-through gear garage, with its L-track cargo tie-down system, offers ample storage for outdoor gear.
Solar Power and Energy System: Equipped with standard lithium-ion batteries and up to three solar panels, the Ekko is a boon for extended off-grid adventures.
Comfortable Living Space: The interior includes a swivel work table, a well-equipped galley, and flexible sleeping arrangements with the Flex Bed system.
Advanced Plumbing and HVAC Systems: Features like the Truma AquaGo® water heater and VarioHeat™ comfort system make it suitable for extended-season use.
New Enhancements in 2023
The 2023 Winnebago Ekko brought a suite of upgrades, setting the stage for the 2024 model:
Ford Transit Chassis Updates: Enhanced safety with adaptive cruise control, lane-keeping assist, and more.
Keyless Entry and Push-to-Start: Simplified access with Ford Intelligent Access and proximity lock/unlock.
Aesthetic Upgrades: Carbon black grille and headlight surrounds, and redesigned center console for better space utilization.
Technology and Safety Features: New Blind Spot Monitor System, front and rear obstacle sensing systems, and automatic temperature control.
Interior Comfort Improvements: Overhead cabinet swing lifts, carpeted overhead cabinets, and a relocated bedroom step light.
4-Season Camping Prowess
The Ekko is a fortress of comfort in any season. With all-wheel-drive capability, it boldly goes where others can't. It's equipped for 4-season camping, thanks to all-season insulation, dual-pane acrylic windows, and multiple insulated compartments, ensuring you stay cozy when the mercury dips.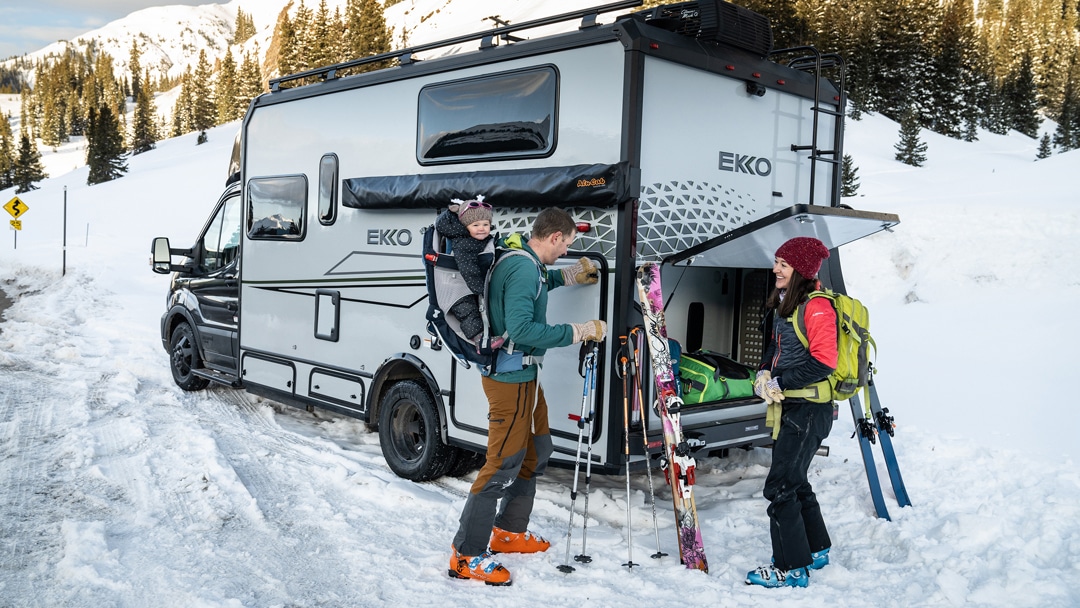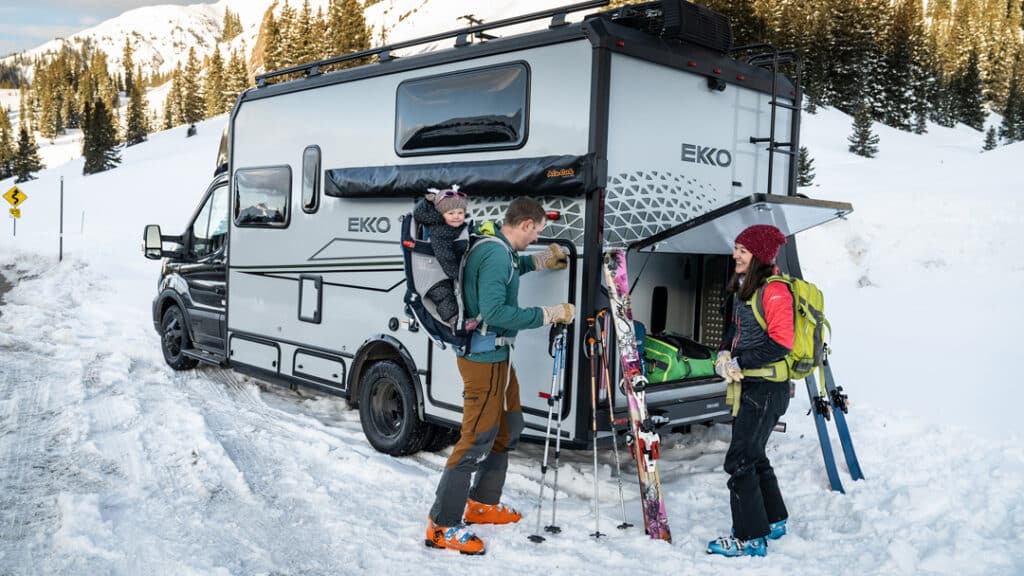 Winnebago Ekko Unique Features
Cab Conveniences: Multi-function touchscreen monitor, Apple CarPlay, Android Auto, and intuitive steering wheel controls.
Lounge Area: LED lighting, tinted windows, swivel seats, and RAM Tough-Track Mounts for device security.
Galley Area: Fully equipped with a microwave, LP cooktop, refrigerator, sink, and pantry. The optional tailgate package adds an exterior kitchen.
Bathroom Area: Innovative dry-wet bath with a swiveling cassette-style toilet and Oxygenics showerhead.
Sleeping Area: Flexible twin-to-queen bed system with WinnSleep comfort. An optional pop-top adds sleeping space, equipped with charging ports and a FROLI sleep system.
Storage Solutions: Ample space in a heated rear gear garage, overhead cabinets, and under-bed storage. It's large enough to store bicycles, inflatable kayaks and other outdoor gear
Off-Grid Ready: 455 watts of solar, a second alternator, and onboard 2,800 watt generator keep your batteries charged.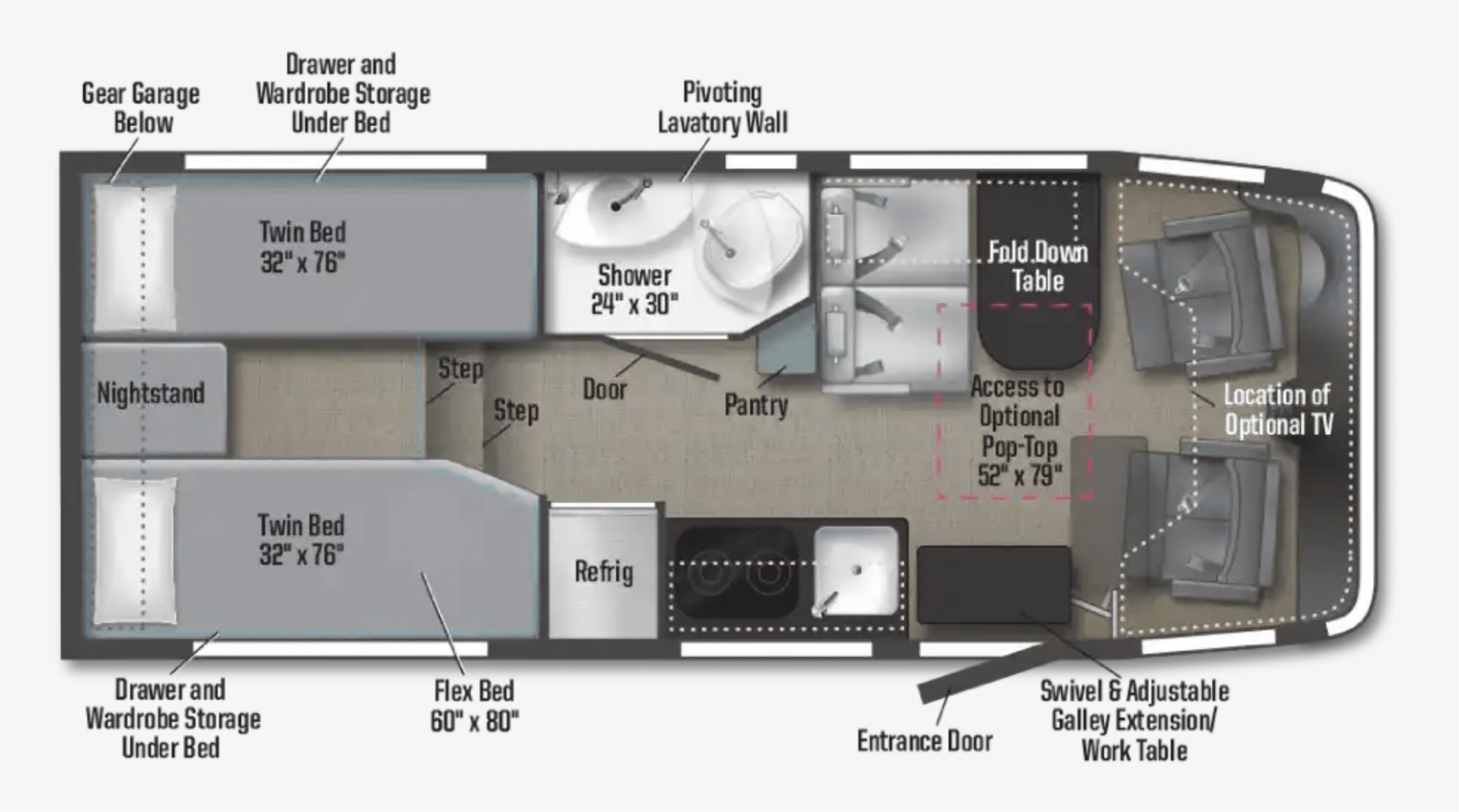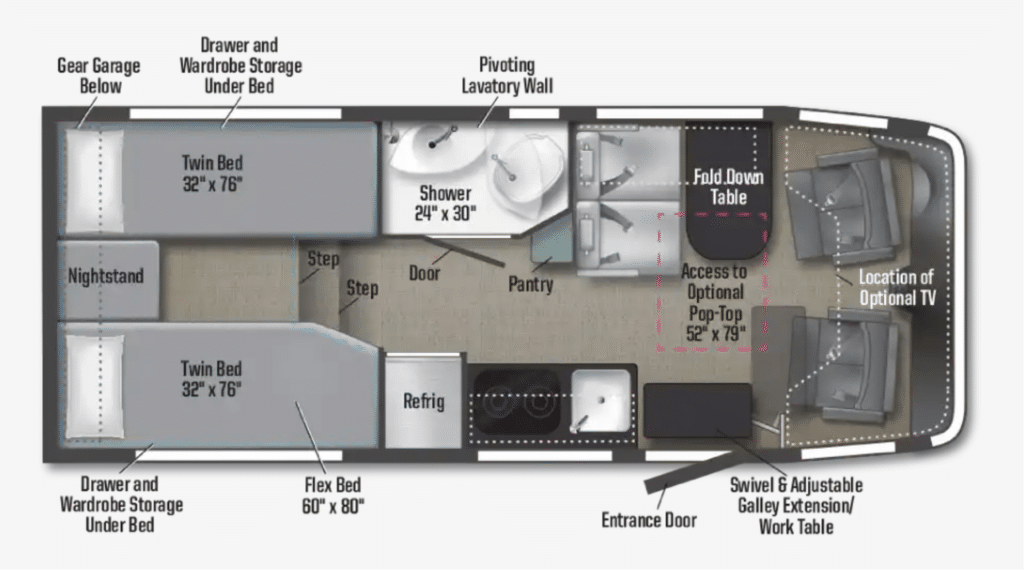 Pros and Cons
Pros:
Versatile and robust for off-road adventures.
Efficient use of space with innovative storage solutions.
Advanced solar power system for energy independence.
All-season capability with insulated plumbing and heating systems.
Outdoor "shower"
Impressive holding tank capacities

Fresh – 50 gal / Gray – 51 gal / Black – 5 gal
Cons:
Higher price point compared to some competitors. (Starting at $207,707!)
Limited interior space for larger families or groups.
Limited towing capacity compared to larger RVs. (5,000lbs)
Cassette Toilet vs Traditional RV toilet.
Only 12mpg in real-world testing leaves efficiency to be desired.
Ekko Real-World Experience:
Users applaud the Ekko for its blend of comfort and ruggedness. Its off-grid capabilities, coupled with a cozy interior, are highly praised. The 2023 enhancements, particularly in safety and convenience, have been well-received. However, considerations around price and space constraints for larger groups have been noted.
Some Options Worth Considering:
We REALLY like the optional Pop-top sleeping area. But, beware that adding this will not allow you to add the other desired optional outdoor kitchen or rooftop luggage area. Speaking of outdoor kitchens, this option gets you a 12V refrigerator/freezer, 2-burner LP cooktop, flip-up counter extension, quick-connect faucet, collapsible sink, and LP quick-connect hose.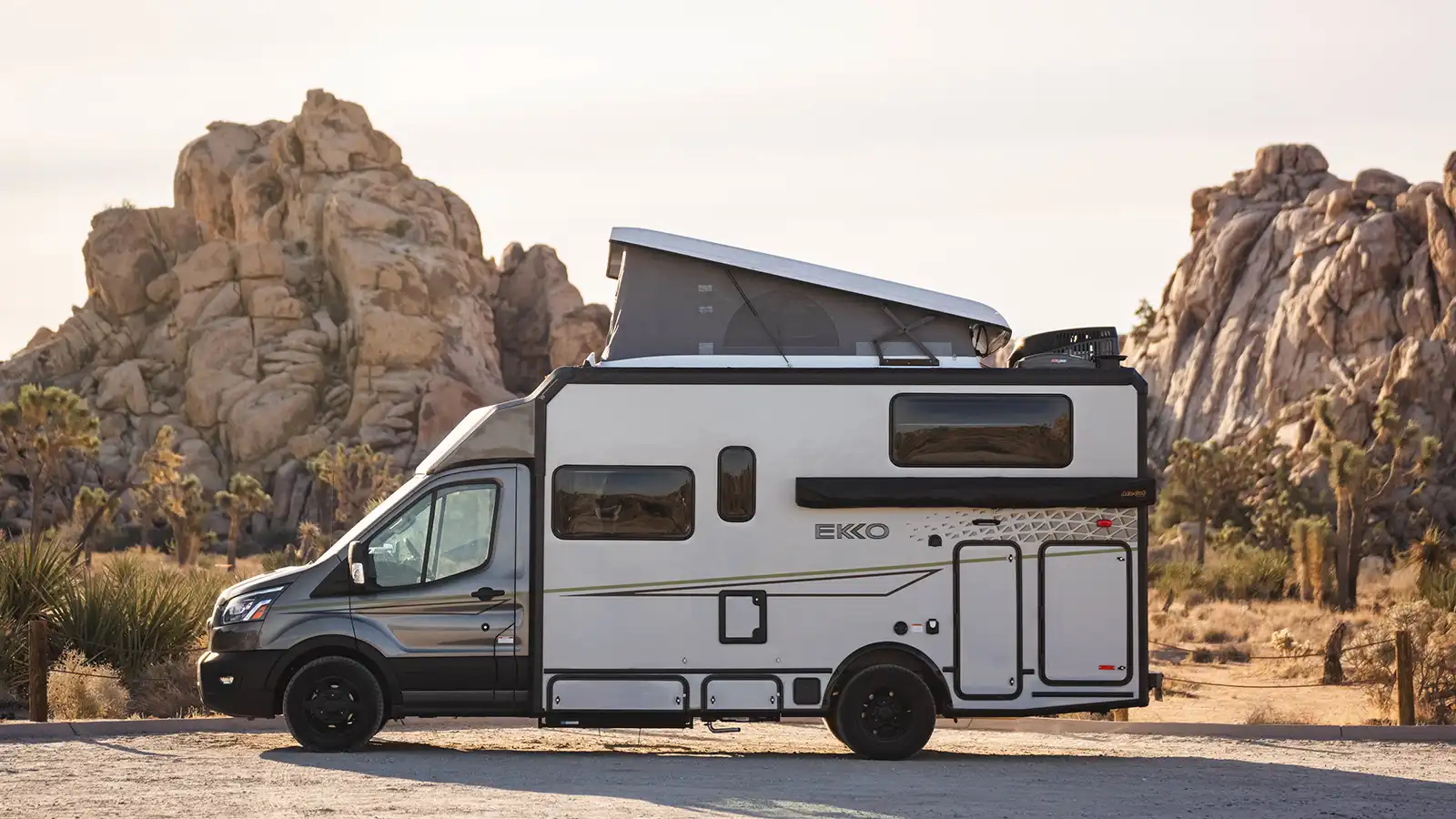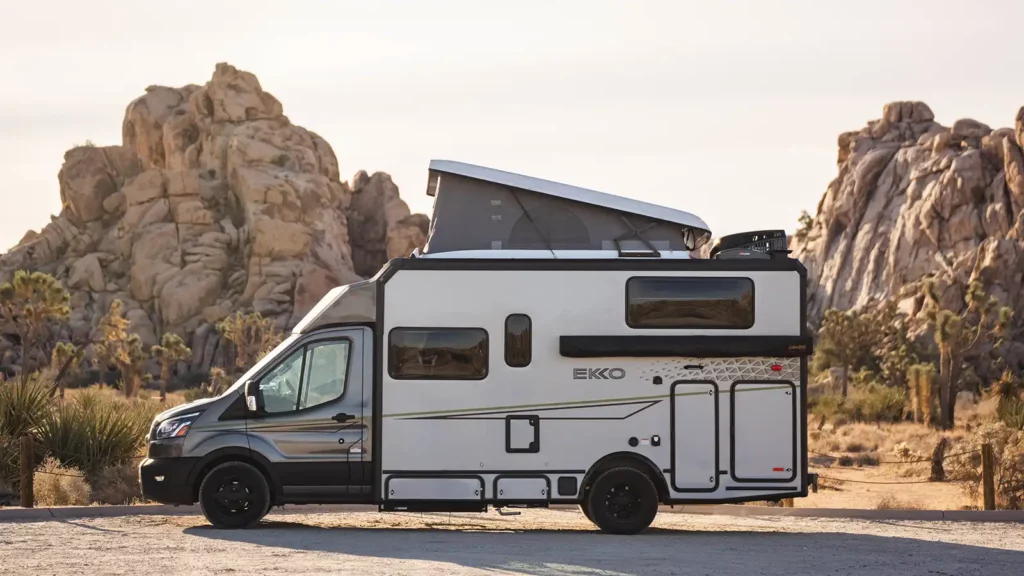 Rent Before You Buy
Considering an Ekko for your next adventure companion? Why not rent one first? Platforms like Outdoorsy offer a great way to experience the Ekko before making a purchase. This hands-on trial can help you decide if it's the right fit for your travel style and needs. Search your local area for any Ekkos on Outdoorsy here.
Comparable Class B+ Campers
Coachman Crosstrail: A budget-friendly option with versatile features.
Thor Gemini and Compass: Offering luxury touches in a compact frame.
Leisure Travel Vans Unity U24RL: Known for high-end finishes and comfortable living spaces.
Coach House Platinum Series: A premium choice with custom-built quality.
Gulf Stream BT Cruiser: Balances classic RV features with modern conveniences.
2024 Winnebago Ekko Conclusion
The 2024 Winnebago Ekko, with its latest enhancements, stands as a beacon of versatility in the Class B+ category. Ideal for adventurers seeking a balance of off-grid readiness and creature comforts, it's an epitome of mobile luxury and efficiency. While it commands a premium price and may feel snug for some, its capabilities and conveniences make it an irresistible choice for many. Consider a rental experience to fully appreciate its charm and make an informed decision for your adventures ahead. Happy travels in your sophisticated, adventurous home on wheels!