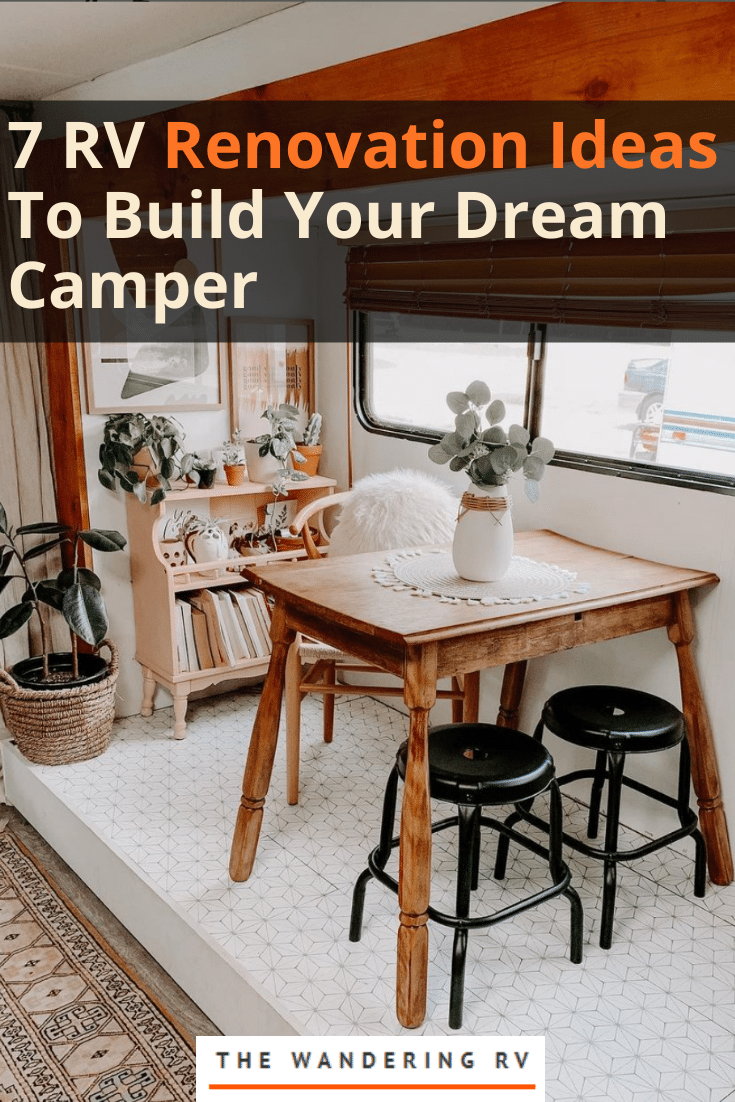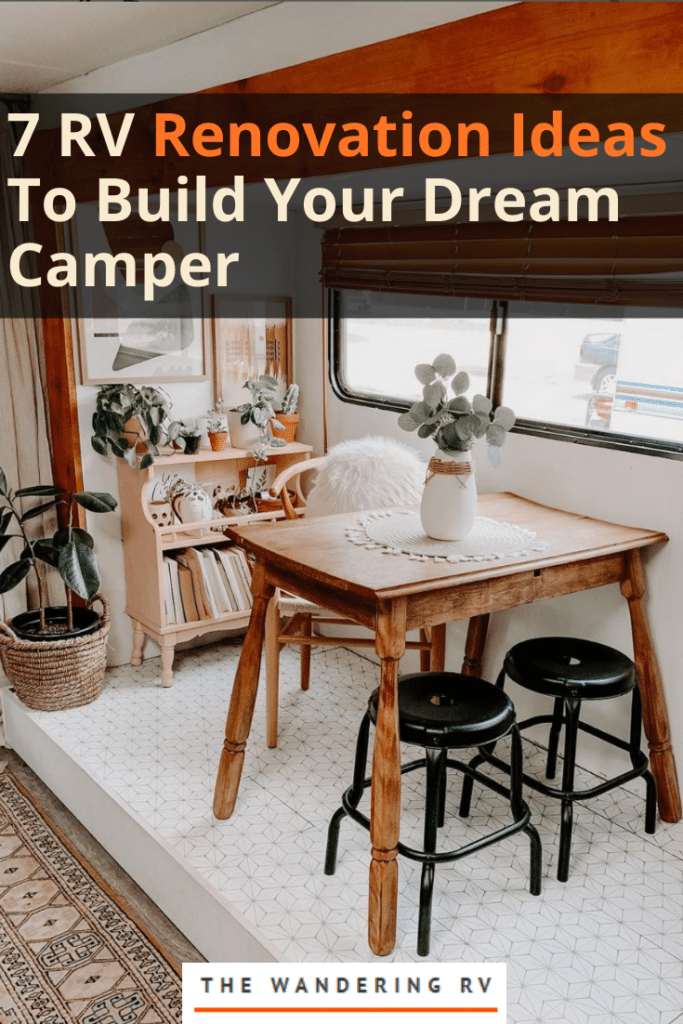 Thinking about renovating your RV? Remodeling your RV interior is a great way to make it feel homier, cozier, and (let's be real here) more Instagram-able!
Whether you're just looking for some cute decoration ideas or you want to do a full RV remodel, these 7 RV remodels done by regular every-day people like you and me are SO inspiring!
Let's take a look at these RV renovations.
Table of Contents
7 RV Remodel Ideas From Other Campers Like You
Need some inspiration on how to remodel your RV? Whether you've got a small motorhome or a giant fifth wheel, here are some amazing RV interior remodeling ideas for you to spruce up your space!
Check out these popular options (from farmhouse to modern campers, you're sure to find an abundance of inspiration).
1. DuelEx's RV to Tiny Home Renovation
If you're looking for an RV renovation that will completely blow your mind, this is the one. He turned this old RV into a modern camper that anyone would be lucky to call home!
We're huge fans of the remodeling he did in the bathroom (and he gave tips on how you could do this along the way).
2. Griff & Alyssa's Fifth Wheel Renovation
If you're a fan of farmhouses, this is the remodeling video for you! Not only does this couple look like fun, they show you affordable ways to spruce up your old RV.
3. It's Worth It: Renovation on a Budget
This family of 8 is nothing short of amazing. They completely gutted their RV to suit their family's needs, added a room for laundry, new cabinets for storage space, and so much more.
It's the simple things in life for this family – we're super impressed to see this modern RV remodel done!
4. The DIY Mommy's Vintage Glam RV Remodel
Some of the comments on this video talk about how this isn't your typical camper anymore – they call it a "glamper"! We agree – the remodeling done on this puts your current campers to shame!
If you're looking to spruce your space up, learn how to install more storage, or get tips on how to find the perfect decor, this is the video to watch.
5. Adaline's Home Boho Modern Farmhouse RV Renovation
It's hard to pick a favorite remodeling video for us (we love them all). However, the interior of this trailer is so bright (white paint can do a ton for boring spaces), feels like home, has plenty of storage space, and we love the decor.
This video shows it's possible to have a luxury home on wheels and the journey Adaline's been on will teach you that life is short – do what makes you happy!
6. Crystal & Brian's Camper Van Renovation
This RV renovation seriously impressed us! It goes to show that you don't need a huge travel trailer to make your renovation dreams come true – they've completely renovated their camper van into a space that makes them happy.
7. Mr. Build It's RV Renovation
When we first saw this, we were blown away! The RV interior is beautiful – new cabinets, more storage space, a brighter look, and more!
After watching this one, you'll want to install new things into your camper ASAP!
RV Bathroom Ideas
When was the last time an RV bathroom made you feel excited? Chances are, the answer is "Only when I really have to do my business!". We're so used to the interior of our RV bathrooms and sometimes, just don't know what we can do do to spruce the space up.
The following pictures will show that your camper bathroom doesn't have to be dull. There's plenty of space to work with, and you'll be thrilled with how your camper's interior looks with a few simple changes.
Need a few ideas? We've got you covered.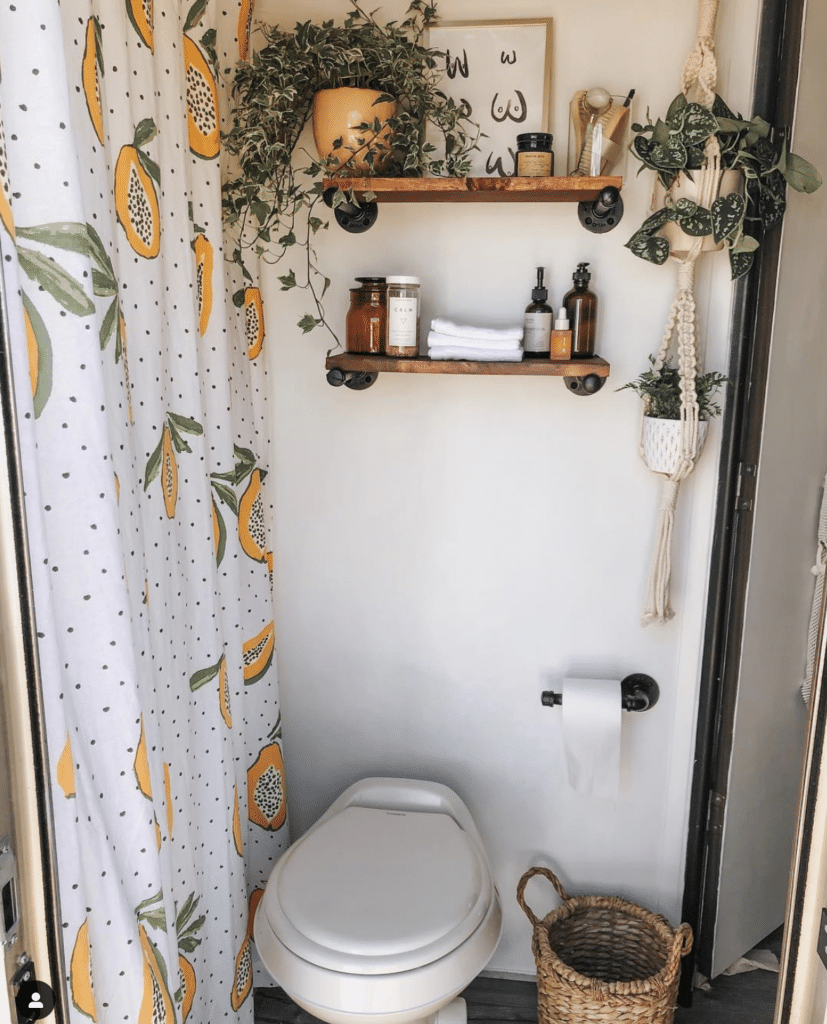 Take Jacqueline Sarah for example – she admits that she never thought she'd only have a 12 sq ft bathroom, but did what she could to make it the most luxurious camper bathroom you've ever seen. With photos, floating shelves, and hanging plants, what more could you want?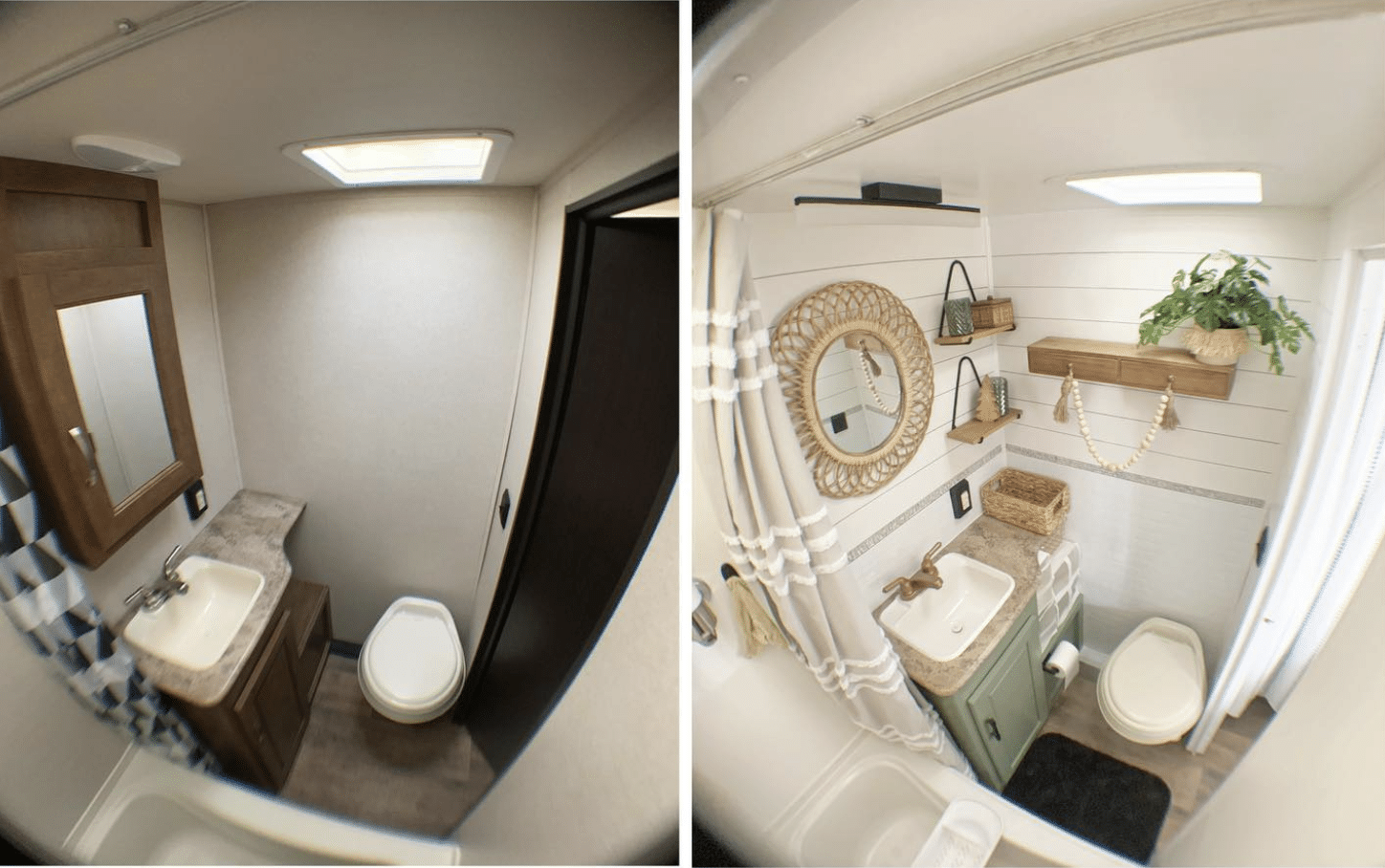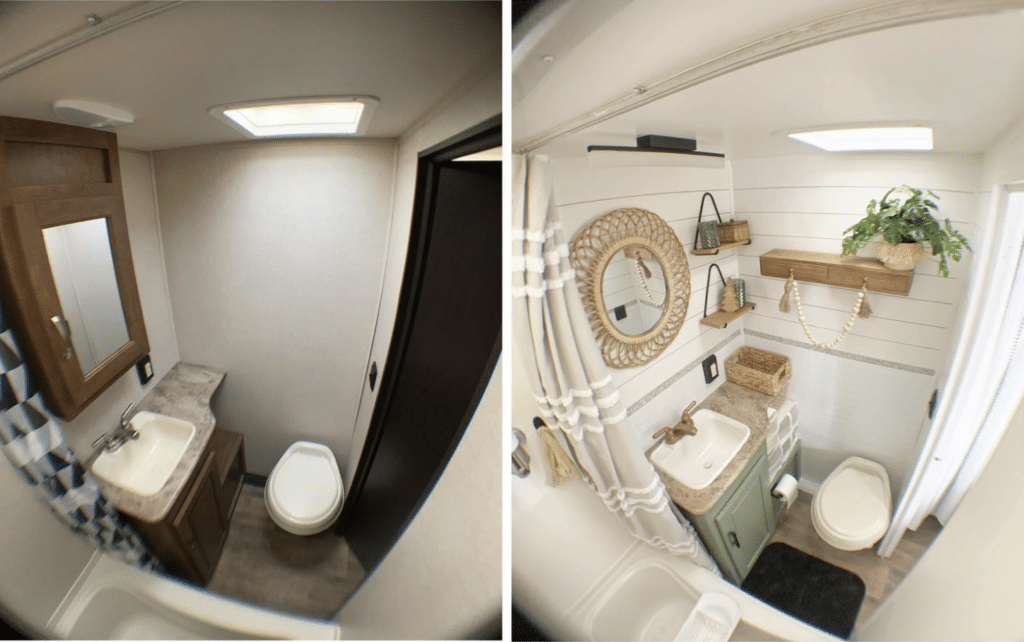 The soft boho vibes we get from Jory's camper bathroom makes us feel warm and fuzzy. It just looks like home (and when you feel that from looking at a picture of a renovated bathroom, it must be a good sign, right?).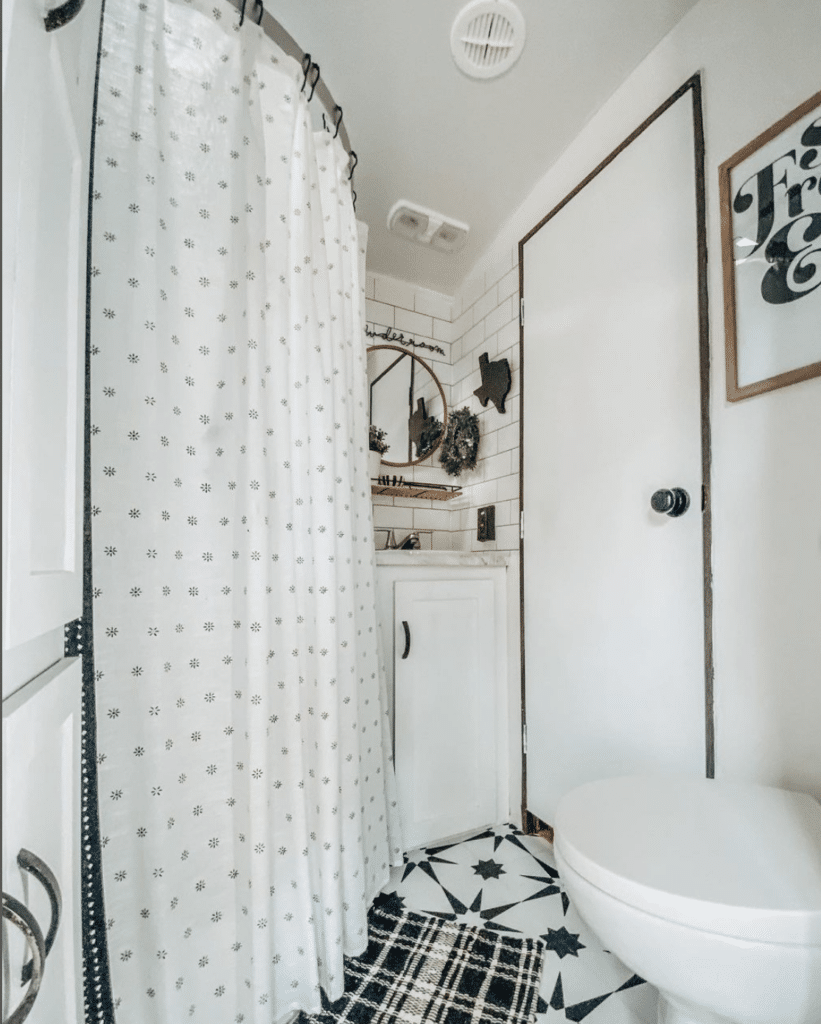 Bethany from Simple Cat Lady went all out with the interior of her camper bathroom. The floor, the decor, the backsplash… we could go on and on. We love how this interior looks (and it looks like she has a decent amount of storage space in her bathroom, too – cabinets under the sink and more to the left of the picture? A dream!).
5 Easy Ways to Spruce Up Your RV Interior
1. Add Simple Decor
Adding a few simple decorations can make your RV feel more like home.
Some things you could add to spruce up your RV interior are:
Plants
New furniture
Artwork
Rugs
Throw pillows
Solar panels
Light fixtures
You'd be surprised, these little additions make a huge difference in your cozy space.
Not to mention, RVs don't always come personalized to your liking. In order to get the whole place how you want it, you need to renovate!
2. Replace Furniture
Want to really spruce up your RV interior? This will take a tremendous amount of work – but replacing your RV furniture will do wonders when you go to remodel.
Think about it – when was the last time your RV kitchen cabinets were changed? How many scratch marks are on those cabinet doors?
Swapping out furniture may be time consuming, but it will breathe new life into your used RV! It can be as small as swapping out a light fixture or as big as replacing the countertops. You can also get brand new RV bedding for maximum comfort in the bedroom!
3. Add a Backsplash
If you're looking for quick and easy RV renovation ideas, adding a backsplash is it!
Backsplashes can be made out of different materials like tile, marble, or even wood. They give your RV kitchen or bathroom an instant facelift.
Plus, they're pretty easy to install – you could probably do it yourself in a few hours!
Looking for some inspiration on how to add some backsplash? Check out Sarah's YouTube video (she goes in depth and is incredibly helpful!).
4. Replace Your RV Flooring
One of the most important but often forgotten RV renovation ideas is replacing your flooring. Not only will it make your camper look new again, but it will also be much more comfortable to walk on.
There are many different types of RV floors you can choose from to replace your old RV floor.
For example, laminate or vinyl plank flooring are popular choices because they're durable and easy to clean up spills.
Carpet is another good choice if you want something a little bit softer on your feet – but it's not as practical for RVs that get a lot of use.
Check out this video Brian made – he's from RV with Tito and goes in depth about how to change up your RV floors! New flooring is sure to make a big difference in your motorhome!
5. Paint
One of the easiest and cheapest ways to renovate your RV is to paint it. Painting your RV walls can be a lot of fun and it's a great way to completely change the look of your camper.
There are many different painting techniques you can use on your RV, but we recommend using an enamel paint.
Enamel paint will give your RV walls a high gloss finish and it's very durable – perfect for RVs that are constantly on the move!
Before you start painting, it's important to make sure that your RV is clean and free of any dust or dirt.
You should also take some time to prep your RV walls by sanding them down with an orbital sander. This will allow you to get rid of any imperfections on the wall surface so that it's smooth and ready for painting!
To Sum It All Up
RV renovations aren't too hard to do. Whether you're looking to paint the walls to add a new color scheme, customize the bathroom, add new kitchen appliances, change out the cabinets in the RV kitchen, or spruce up the exterior of the RV, we're sure you'll find an affordable way to do it!
Have you ever done any RV renovations? If not, what changes do you think you want to make to your camper after reading this post? Let us know in the comments below!
Here are some other articles you might be interested in: