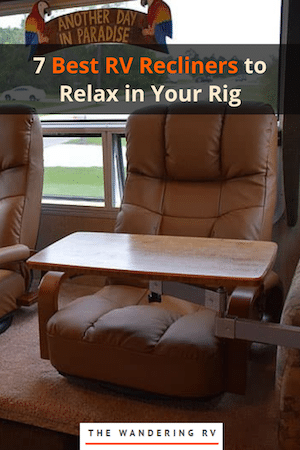 If you're anything like us, you spend a lot of time in your RV recliner!
Watching movies or the fire, staring at the bird out the window, or just relaxing with a nice cup of hot chocolate.
But there's a time you may need to replace your RV furniture… so we make this RV recliner buyer's guide to help you find the perfect replacement!
Here are the best RV recliners in 2021 (so far):
Table of Contents
Note: Some of the links in this article are affiliate links. This doesn't cost you any more than normal. Read our disclaimer for more info.
Top 3 Best RV Recliners of 2022
Best Overall
Thomas Payne Euro Recliner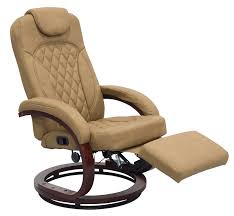 Summary
This European-styled RV recliner has a slim, classic look incorporating wood and faux leather for a timeless appeal.
Pros
Available in multiple colors for easy coordination with other Thomas Payne furniture
Capable of swiveling a full 360 degrees
Available in multiple sizes
Cons
Assembly is required
250 lb. weight limit
Best Value
Thomas Payne Heritage Swivel Glider Recliner in Cobble Creek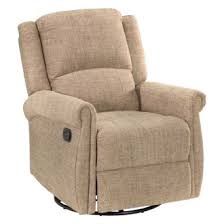 Summary
This RV recliner is ideal for those who prefer a more traditional design. The Cobble Creek tweed upholstery is durable, easy to clean, and fits with most existing decor.
Pros
With the ability to glide and recline, it's like getting two chairs in one
High-density foam and durable fabric combine for low maintenance comfort
Available in additional colors and materials
Cons
Requires 12-19" clearance for full functionality
Heavier than many RV chairs
Honorable Mention
La-Z-Boy Camper Double Recliner Couch Theater Seating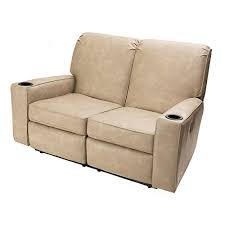 Summary
Those with a bit more room and more people to accommodate might prefer the La-Z-Boy double recliner. It's like getting two traditional style recliners and a slimline end table in one.
Pros
Coordinates with most interiors
Comfortably seats two
Low wall clearance requirement
Cons
Both sides must recline together
Console is immovable
RV Recliner Buying Considerations
There are a few similarities between finding traditional furniture for an apartment or home and picking new furniture for your RV. Knowing the space's size and layout and the best fabrics for the expected usage level is important for both. Yet, when finding a recliner chair for your RV, you have to consider factors that don't come into play when furnishing a stationary home.
There are four major areas you need to consider when narrowing your choices for RV furniture: fabric, size, weight, and available features. Let's take a look at each, why they are important when considering a recliner chair for an RV, and the different options available.
Fabrics
The first thing anyone will notice about your furniture is its appearance, and when it comes to that, your fabric choice is key. But beyond feel, color, and pattern, the fabric also impacts the maintenance and longevity of your RV furniture. You will encounter a few different materials when researching recliner chairs for RVs: natural leather, synthetic leathers, and fabric.
Natural leather is known for its durability and classic appeal, but it is also expensive and can require regular maintenance. Because leather is made from tanned animal hide, it retains some of the same qualities. It has the elasticity to resist tears and puncture damage but is prone to scratches. 
The ease with which leather can scratch is important to keep in mind if you are traveling with pets or small children. When accidents are almost certain to happen, easy cleaning and durability should be high on your list of priorities.
Due to its expense, maintenance needs, and comparatively hefty weight, natural leather can be difficult to find in standard RV chairs. If you decide to go with natural leather, you may need to invest in custom upholstery.
Synthetic leathers are lighter and generally less expensive than natural leather while still offering the same general look and feel. Synthetics don't have the same puncture and tear resistance, but they are far more scratch-resistant.
Not all synthetic leathers are of the same quality, though. Most synthetic leathers fall into one of three categories: bonded leather, polyvinyl chloride, or polyurethane. You will rarely see them listed under those terms, though, so unless specified, we suggest researching brand names for different faux leathers to see which category they fall under.
Faux leathers made with polyvinyl chloride (PVC) are the most durable overall. Yet, they are also expensive and stiff, meaning they take time to "break-in."
Polyurethane (PU) faux leather is slightly less durable than polyvinyl chloride but still quite durable overall. A lower average price and a look and feel closer to natural leather has made this newer option popular.
Bonded leathers are created with a backing made from leather scraps in a process similar to how wood pulp is made into paper. This material is later coated with polyvinyl chloride or polyurethane, creating a material with an initial appearance and feel almost identical to natural leather at a vastly lower price. 
Yet, bonded leather is prone to peeling and fading, making it far less durable than the other options.
If leather or synthetic leather furniture is not for you, there are excellent upholstery fabrics available for RV chairs. Fabric remains durable and easy to clean while offering a wider array of available colors, patterns, and textures than leather, natural or synthetic. However, it will absorb moisture.
Size
That an RV recliner chair needs to fit the space is obvious, but the amount of floor space taken up isn't the only sizing consideration you need to take into account. 
Reclining furniture requires a certain amount of clearance to recline fully. RVs also can have small doors, and some models have far less open space when "collapsed" for the road. These are things you must consider. 
Take care when measuring the space available, including what is available when fully collapsed for travel if you have an expandable RV. Don't forget to check your door clearance before searching.
Weight
Loading heavy furniture is never pleasant, but weight is an extra important factor when shopping for RV furniture. Everything that goes into your RV affects its weight, which impacts not only your gas mileage but your ability to navigate some roads and bridges.
All furniture needs structural elements, but reclining furniture also has the added weight of the reclining mechanism and the motor for powered models. Recliner chairs and other reclining furniture can weigh far more than their stationary counterparts. This is something that can cost you over time if you fail to factor it into your decision.
Features
RVs have to pack a lot of function into every square inch of floor space, so RV furniture capable of serving multiple functions makes for a smart purchase. 
Common features of multipurpose RV furniture include hidden storage, the ability to convert into another furniture type, integrated electronics or charging stations, or something as simple as a cup holder.
In-Depth RV Recliner Reviews
Other RV Buying Guides: