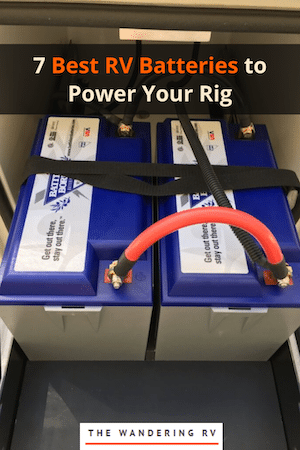 Although most RV campsites provide enough power to keep you and your family comfortable, you'll need an RV battery for emergencies, traveling between campgrounds, or boondocking.
There are several options for RV batteries, and we've put together this guide so that you can learn about the best RV batteries available now.
We also answer common questions so you know what to look for when choosing an RV battery.
Let's get started!
Table of Contents
Note: Some of the links in this article are affiliate links. This doesn't cost you any more than normal. Read our disclaimer for more info.
Best RV Batteries of 2022
Best RV Battery Brands
Optima
Optima has over four decades of experience in the power industry. The first low-maintenance lead sealed batteries were developed in the 1970s, and it has since become a household name for all those seeking high-quality vehicle batteries. 
Today, the company has an extensive collection of battery options, including AGM batteries and the popular Optima Deep Cycle Marine battery.
Odyssey
Odyssey is a part of the world-famous EnerSys Energy Products Inc., a leading provider of military, industrial, and automotive applications. EnerSys Energy Products Inc. manufactures all its Odyssey batteries to the highest standards at three global locations. 
RV House Battery Comparison
Battery Buying Tips
Always consider your power consumption needs before selecting an RV battery. You should think about what kind of appliances you have and how many you will be using at any given time.
If you have minimal equipment, opt for a lightweight 6 V battery. For those that need something with a bit more juice, a 12 V battery would be more appropriate. 
You'll need to get the right battery charger so you can recharge your battery when it runs out of power. Each make and model is compatible with specific chargers, so make sure you see what kind you'll need before buying. 
Choosing the right battery type is essential if you want a successful trip and enough electricity to keep you and your family comfortable. Lithium batteries are usually much lighter and compact but can be more on the expensive side. Deep cycle RV batteries provide a steady amount of power over a long period, but tend to be bulkier and more difficult to mount.
You can always purchase a battery monitor to see how much charge your battery has left and when it might be time to use your charger. Using your battery when it's low on power runs the risk of damaging it permanently. Make sure that you always charge your battery when you have the chance along the road.
FAQs
With numerous products available, becoming familiar with their features and functions can be overwhelming and confusing, especially if you are a new RV owner.
To offer you a bit of help, here are answers to some of the most frequently asked questions we here at The Wandering RV come across.
Choose an RV Battery
Finding the right RV battery can be a daunting task, and all the available options make the job a challenge. With that in mind, the best thing you can do is to consider your power needs and decide which batteries are compatible with your vehicle.
Try to find a battery within budget, but don't only go after the cheapest option. Low quality compromises many aspects of the battery's performance and may cause you frustration down the line. There are several affordable RV batteries available that are durable enough to provide you with enough power to stay comfortable on the road.
If you are looking for a new RV battery, you can't go wrong with any of the choices that appear on our list above. Select the one that will make your next adventure a smooth one, and enjoy the ride.
Other RV Buying Guides: