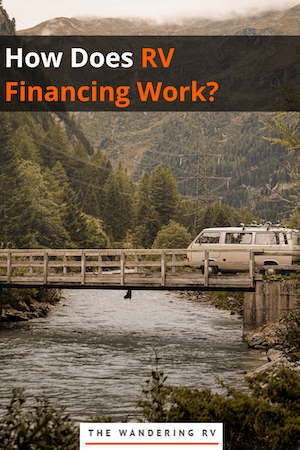 Widmer Enterprises, Inc. writes about products, strategies, and tips to help you make smart decisions with your money. We may receive a small commission from our partners, but our reporting and recommendations are always independent and objective.
How does RV financing work?
There are things you should know, including APR, leinholders, loan terms, and more.
But don't worry!
In this post, we go over how to finance an RV, what typical RV loan terms are, how much it costs to finance your RV, and more!
Let's dive in!
Table of Contents
How Does Financing an RV Work?
Financing an RV is pretty much the same as financing a car or house loan.
You'll get a loan from a credit union, bank, or online lender through an RV dealership. They then become your lienholder (also known as the party that owns your loan).
Typically what happens is you'll sign an agreement detailing the specifics of the loan (such as the loan term—which is the amount of time you have to pay back your loan), the annual percentage rate (APR), and how much your monthly payments will be (which varies depending on your loan amount).
It's important to note that most RV loans are secured loans, which means you use the RV itself as collateral. For as long as you owe money on your loan, the lienholder has a financial stake in your RV. If you're unable to pay back the loan, the lien holder can (and will) take possession of your RV.
We recommend looking at multiple banks, credit unions, and online lenders before settling on one to ensure you get the best deal (and to feel more secured).
Our prefered lender is LightStream.
What are typical RV loan terms?
Typically, RV loans range from 10-15 years.
However, some banks, credit unions, and other finance companies will extend the loan term up to 20 years (which can cost you about $50,000+ on qualified collateral).
Keep in mind that the loan term will vary based on how new (or used) your RV is. That being said, the value of an RV depreciates over time even if you take care of it (and upgrade certain things both internally and externally).
Typically, the RV drops 30% in value after buying it and driving it off the lot. A used RV won't lose as much value over time.
You can read more about typical RV loan terms here!
How much will an RV loan cost?
This really depends on the lender you go through and the longevity of the RV loan (as well as your credit score).
A short RV loan term ranging between two to three years can be anywhere between $5,000 and $25,000. However, most RV loans last for 10 to 20 years and end up costing up to almost $60,000.
Pro tip: We highly recommend working on your credit score before seeking out an RV loan—this will help you get a lower interest rate which will save you money in the long run (not to mention, lower monthly payments if you can pay more upfront).
You can use our RV loan calculator to determine exact costs.
Where to Get an RV Loan
Some of the best companies to get RV loans from are:
Good Sam (typically used for newer RVs)
GreatRVLoan (for those with little to no credit)
LightStream (for an unsecured loan)
You can also check out the best RV loan rates available now.