Don't feel like reading the whole review? Here's the TLDR:
We love Outdoorsy. We genuinely believe they are the best peer-to-peer RV rental company in the world. After using their service, meeting their team, talking to several RV owners who rent through them, and calling their customer support multiple times, we can honestly say you can't go wrong with them. They are trustworthy, and you should use them!
Your $50 discount will be displayed at checkout (hover over the ? next to taxes and fees to see it).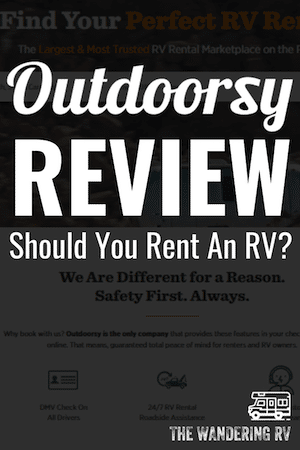 Outdoorsy is a place where RV owners can rent their RVs when they're not using them.
It's like the Airbnb of the RV world.
But are they trustworthy? Do they have hidden fees you should know about? How good is their "$1M Insurance"?
We answer all these questions and more in this Outdoorsy review. Read on to find out!
Note: I have used their service and completely trust them.
Note: Some of the links in this article are affiliate links. This doesn't cost you any more than normal. Read our disclaimer for more info.
Table of Contents
About The Company
Outdoorsy is a site for RVers, by RVers.
The inseparable co-founders and married couple, Jeff and Jen, are former full-time RVers who decided to leave their corporate jobs in Silicon Valley to live in an Airstream RV and travel the world.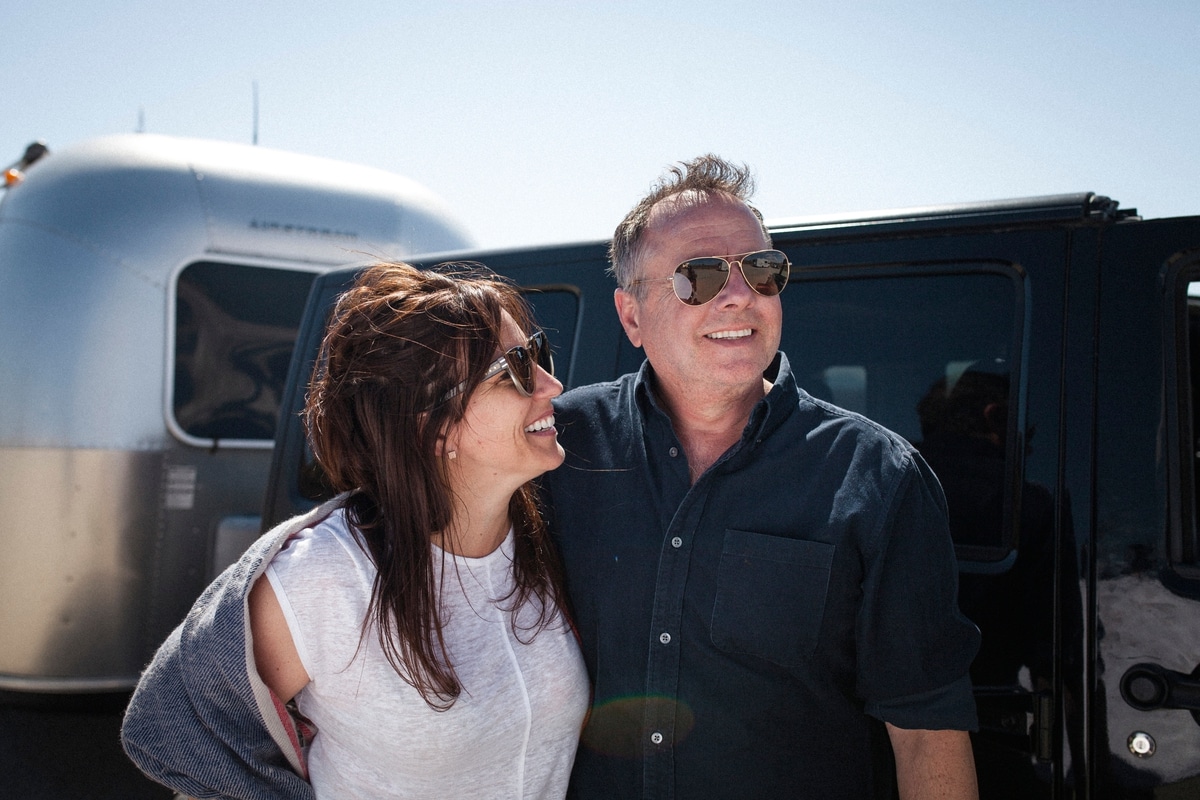 Want to rent an Airstream? Click here!
This led to their insatiable desire to connect others with outdoor travel. That's when Outdoorsy was born.
Outdoorsy grew from a small company of 2 with just a few RV owners to now tens of thousands of renters and over 100 employees.
Want to learn more? Click here to read the founder's full story or watch the 60-second video below to get an idea of what Outdoorsy is about.
How We Met Outdoorsy
You might be wondering… who are we and why should you listen to our review?
We're Bill and Kayla, two former full-time RVers with a passion for traveling. We've been writing about our RV adventures and how to live and travel in an RV for nearly three years.
So why listen to us?
Because we've actually used their service! We've gone through the entire rental process from start to finish.
Plus, in a comparison of the top three RV rental companies, Outdoorsy came out on top with the best customer service and customer reviews of them all.
The RV Rental Process
Let's look at each part of the rental process, from start to finish.
Browsing
Searching for RVs online is easy with Outdoorsy. Just enter the rental location and date range, then hit search.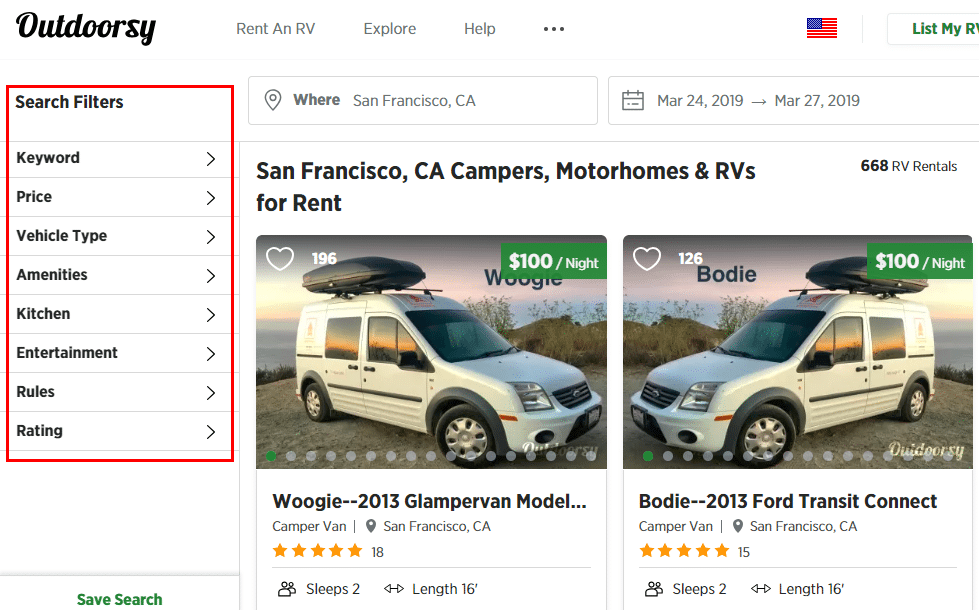 From here, you'll be able to see all the RVs in and around the area you chose. (Keep in mind that some may be in neighboring towns rather than the exact town or city you selected, depending on availability.)
You can refine your search based on types of RVs (like Class A rentals, Class C rentals, Class B rentals, camper van rentals, truck camper rentals, travel trailer rentals, fifth wheel rentals, etc.), amenities, price, the type of kitchen or entertainment setup, the rules like pet-friendliness, and customer ratings.
Personally, I like to apply 5-star ratings and the vehicle type I'm looking for to start, then dig in from there. Overall, we find the browsing process very easy.
Note: Click here if you're not sure which RV rental is right for you (we've got you covered).
Booking
Booking an RV rental with Outdoorsy is easy. Just find the RV you like, then click "instant book"! However, not all rigs are available for instant booking. Some make you go through an approval process by the RV owner first.
The owner approval typically happens within 24 hours (most of the rigs I tried booking happened within an hour or two), however of course some people are slower than others and some people have day jobs where they can't respond right away.
Either way, once you start the booking process, you go through a few pages to complete your booking. Outdoorsy holds the RV for your dates for 10 minutes, so you do have to complete it somewhat fast (10 minutes is plenty of time).
First, you'll be able to choose any add-ons you might want. These can range from extra linens to generators, grills, etc.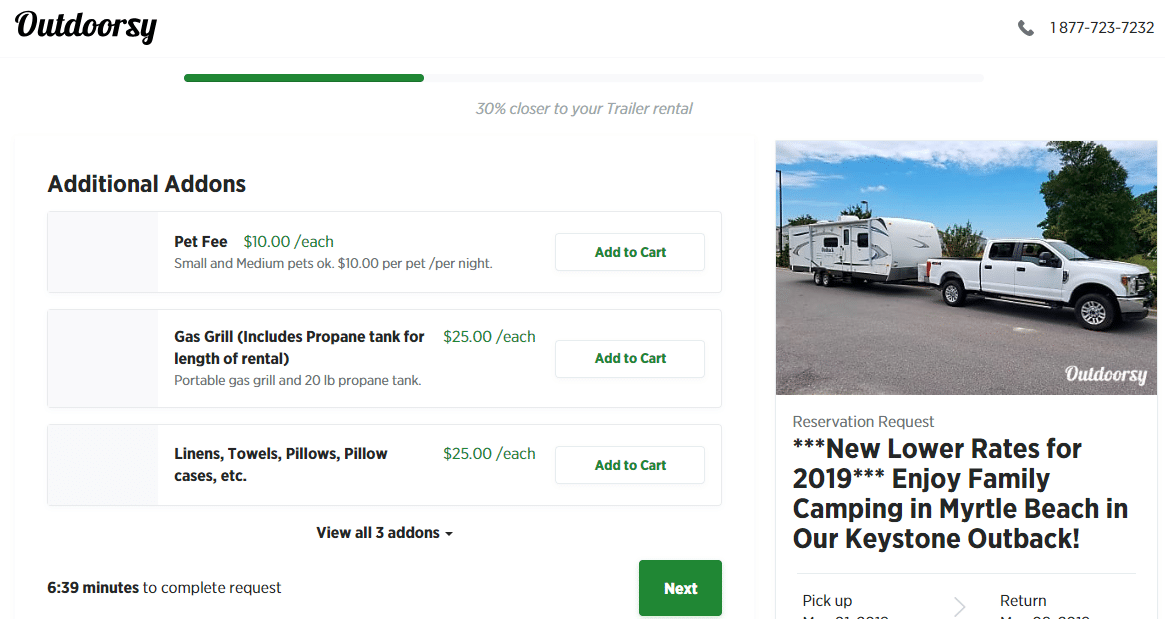 Then, you'll enter your payment details. You may also have to pay a deposit, depending on the rig. You WILL have to pay a (refundable) security deposit varying between $100-$500 depending on the owner, but not until 2 days before your rental period.
You can also enter the coupon code "thewanderingrv" to get $50 off!
They also have the option to pay over time through Affirm, which is nice if you need some credit. But there is interest.
Next, you'll need to select an insurance protection option. There are three options, depending on how insured you want to be. Click here for more info on insurance.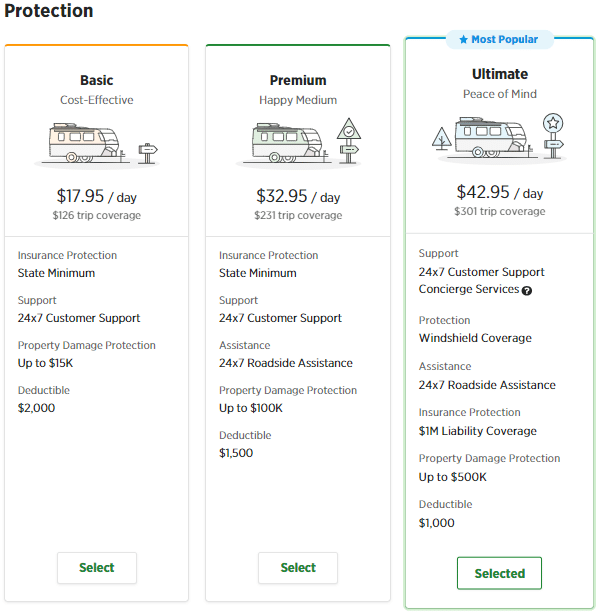 On the next page, you can purchase trip protection, which is basically cancellation protection. If you need to cancel your trip, trip protection guarantees you get a full refund, despite the RV owner's cancellation policy.
In addition to insurance, you can also purchase damage protection, which is like insurance for the inside of the RV. This covers you in case you break the stove, or the dog eats the couch, or your kid smashes a window with a football, or whatever!
Note: You can add trip insurance and damage protection after you book. So you have some time to think about it.
Once you hit "save and continue", you will book the trip! This is one thing that kind of annoyed me. It should say "Complete your booking" or something to signify that pressing that button completes your order. But that's a small gripe, not anything major.
Overall, I think the online booking process is very simple and easy.
Communicating with the owner
One of the great things about Outdoorsy is how easy it is to communicate with the RV owner you're renting from. You send them a message right through Outdoorsy (or Outdoorsy's mobile app, super convenient) and they can respond.
In fact, if you have the app on your phone, it's almost as fast as texting. And you can opt to have the messages texted to you, too, if you want!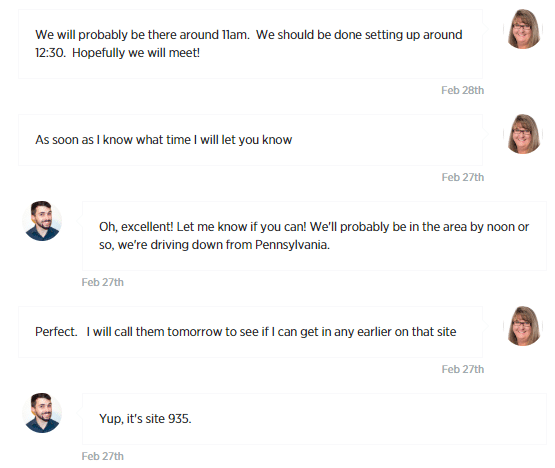 Our experience communicating with the renter was super easy. They were kind and courteous, answered all our questions, and even told us about some great things to do in the local area.
Overall, everything went great!
Note: We did have one issue with the RV during the stay. We called the owner, and they came out within 3 hours (non-urgent issue). They were an hour later than they originally told us, which was upsetting, but that's because they got held up at their job. This isn't Outdoorsy's fault, but it is something that may happen due to the nature of peer-to-peer rentals. Still, not a deal-breaker at all in our books!
Picking up the RV
We actually had the RV delivered to our campsite where they set everything up for us. We arrived 15 minutes earlier than we told them, but they were still already finished setting up by the time we got there!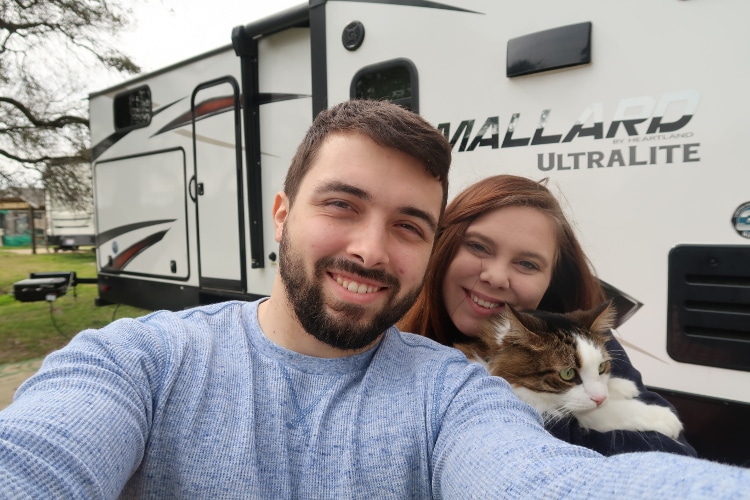 They ran us through the RV and showed us how everything worked. We chit-chatted for a while about their experience renting with Outdoorsy and how they like living in the local area.
(They told us they loved Outdoorsy better than any of the other sites they rent through, by the way!)
Overall, a great experience. No complaints!
Handing in the keys
On the last day of our trip, they were super flexible with when they wanted the RV back. They let us push back the pickup time by a whole four hours so we didn't have to wait to check into our hotel room!
When they did pick it up, everything went fine. We chatted about our thoughts on the trip, they asked us if there was anything they could have done to make our stay better, and we were on our way. Easy!
Getting the security deposit back
The security deposit you pay before the trip is held for seven days (one full week) after your rental period is over.
We didn't damage anything in the RV while we were there, so we got it back on time no problem. All was well!
Your $50 discount will be displayed at checkout (hover over the ? next to taxes and fees to see it).
A Look At The Benefits
Now you might be wondering—why should you rent from Outdoorsy versus RVshare or Cruise America or any other RV rental company? Let's look at the benefits.
Available Rentals (4.5/5)
Outdoorsy currently has over 50,000 RV owners renting their RVs on their platform. That means you can find rentals available almost anywhere, but especially in popular destinations.
We had no issue finding a rental available for the duration of our stay in Myrtle Beach. We also did some searches in our hometown, Scranton PA, just to see what was available in a smaller city – and there were still plenty of options.
However, in very remote locations, you may have a hard time finding an RV. But that's true for all rental companies, not just Outdoorsy.
Insurance Coverage (5/5)
Outdoorsy is known for its industry-leading insurance protection, with up to $1M (yes, M as in million) dollars covered with their top plans.
We didn't need to use their insurance on our trip (we didn't even drive the rig, it was dropped off right at our campground for us), but we dug around on some forums to get other people's real experiences.
Here's what we found:
Outdoorsy's insurance policy is, while a bit frustrating to withdraw, the real deal.
After a few hours of browsing forums and Google, I managed to find this article on Winnebago Life. The renter scrapped up against a rock, causing some deep scratches on the side of the owner's RV. They filed a claim and, with some minor annoyances, they got the full $1,700 fix covered (and a free RV wash).
Ideal? No, but certainly good as far as insurance experiences go.
As a renter, if you hit a rock like this (or worse), it basically means you lose your security deposit. But that's typical as far as renting goes!
Click here to read more about their insurance policy.
Free Roadside Assistance (4/5)
Outdoorsy also offers free roadside assistance* with Coach-Net on all their rentals.
*You only get free roadside assistance with the Premium and Ultimate insurance options, not the basic option.
However, you do have to make sure you sign up for it when you're booking! Not all RV owners go through Coach-Net with their rentals, so be wary of any that don't offer it.
Coach-Net covers the following:
24/7 Technical Support
RV Service Appointment Assistance
Premier RV Service Network
Mobile Mechanic
Emergency Road Service
Again, because we weren't driving we didn't use it at all. But we did some more digging, and we found the Coach-Net seems to be pretty reliable, with some mixed feelings on this forum.
Overall, though, they seem to be the best of the big three roadside assistance providers. And Outdoorsy can't really control what the roadside assistance company does, since they're not directly providing RA but rather using a third-party company.
Cancellations (4.5/5)
Outdoorsy RV owners choose their cancellation policy, and they can choose from one of three options:
Flexible
Moderate
Strict
You can get more info on what each of these means here. But basically, flexible is the best while strict is the worst (for renters).
Customer Service (5/5)
1-877-723-7232
contact@outdoorsy.com
We've called their service team three times before our trip to figure out certain details and clarify some things. They don't make you go through complicated menus or anything, it's great!
Each time we called, they were extremely friendly and helpful and went way out of their way to make sure they answered all our questions. They even asked their manager our question when they didn't know the answer. 
Overall, their customer service is fantastic! We think it's better than most.
Outdoorsy Pros & Cons
Now that we've covered the entire rental process and the benefits of Outdoorsy, let's recap with a straight pro-con list.
Pros
Best customer service of any rental company we've spoken with.
Huge selection of rental options across the US, UK, Australia, and Canada.
Cheaper than traditional RV rentals from RV dealerships or rental companies like El Monte RV or Cruise America.
Best insurance offering of any camper rental company.
You get to meet cool people, and most of them are authentic, and kind, and truly want you to have a great experience.
Cons
Because it's peer-to-peer, you don't get the consistency of traditional companies. You aren't guaranteed a certain standard of quality. (Although, from what we've seen, the traditional rental companies don't quite have that standard, either.)
If you start booking but don't finish, you'll get a bunch of messages from RV owners trying to get you to rent their RV. We found this kind of annoying.
We tried thinking of at least one more con and just couldn't. There's not a lot of bad with their company. They got excellent reviews compared to other RV rental companies and their team is just fantastic.
As far as RV rentals go, you can't go wrong with Outdoorsy!
Your $50 discount will be displayed at checkout (hover over the ? next to taxes and fees to see it).
Starting an RV Business
If you're an RV owner rather than a renter, you can rent your RV to other people through Outdoorsy and make a great side income!
We personally don't have experience doing this, but here are some links to get more information:
That's it for this Outdoorsy review! Have any questions, comments, or concerns? Drop a comment down below!