Are you ready to elevate your camping game to new heights? Tired of sleeping on the cold, hard ground or wrestling with tents? Then buckle up, adventurous souls! We're about to embark on a thrilling journey to discover the best truck campers. These magnificent marvels of mobile living will make your camping trips feel like a luxurious escape, without sacrificing your connection to nature. Say goodbye to the days of "roughing it" and hello to a world of comfort on four wheels! In this article, we'll introduce you to the crème de la crème of truck campers, perfect for those who crave the open road and refuse to compromise on quality or style. So, grab your favorite travel mug, and let's hit the road to explore the top truck campers!
Table of Contents
Factors to Consider When Choosing a Truck Camper
Compatibility with your truck
Compatibility with your truck is a crucial factor to consider when choosing a truck camper, as not all campers fit every truck model. Ensure that your truck can comfortably accommodate your camper of choice to avoid potential headaches down the road.  Some things to consider are truck bed size (long box, short box, brand specific, etc).  There are slide-in campers (fit in your bed), flat-bed campers (require you to have a flat-bed style pickup), and chassis campers (these will replace the bed of your truck and be permanent, like the EarthRoamer). 
Weight and payload capacity
Weight and payload capacity play a significant role in the overall performance and safety of your truck camper setup. Be mindful of your truck's limits and choose a camper that won't compromise your vehicle's handling or exceed its payload capacity.  Heavy-duty dually long box diesels are obviously going to be able to handle more than an old Mazda B-2000.  No matter the truck, be aware of modifications such as airbags to help your truck perform at its best!
Amenities and features
Amenities and features vary widely among truck campers, so consider your travel needs and preferences when making your decision. From basic sleeping quarters to fully-equipped kitchens and bathrooms, there's a camper out there to suit every adventurer's lifestyle.
Build quality and durability
Build quality and durability are essential aspects of any truck camper investment. Opt for a camper made from high-quality materials and solid construction to ensure that it withstands the test of time and the rigors of life on the road.  Most of the models below are geared towards getting off-road, which need to be especially heavy-duty!
Price and value for money
Price and value for money are important considerations when selecting the best truck camper for you. Weigh the benefits of each option against its cost, and choose a camper that offers the best balance of features, durability, and affordability to suit your budget and travel aspirations.  While the models we'll be looking at are new, you should also be considered lightly used to help ease the pain of a new truck camper! 
Top Truck Campers of 2023
Get ready to explore the great outdoors in style and comfort with our carefully curated list of the top truck campers of 2023 that cater to every budget and adventure-seeking spirit.
Best Overall Truck Camper
Lance 960
Introducing the Lance 960, our pick for the "Best Overall Truck Camper" of 2023. Lance Camper has crafted a masterpiece with their first new design in nearly six years, taking into account feedback from truck camper owners across the nation. The result is a stunning camper that combines the most sought-after features, impressive holding tank capacities, and exceptional functionality. The Lance 960 is perfect for single rear wheel (SRW) long-bed trucks, weighing in at a dry weight of 2,970 pounds and coming to a fully-loaded weight of around 4,000 pounds.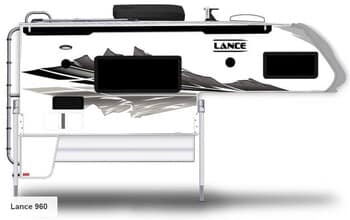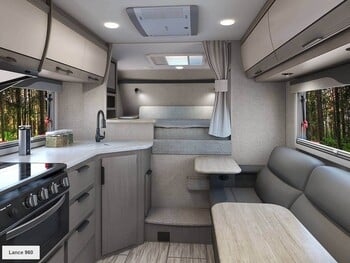 The 9-foot 11-inch floorplan of the Lance 960 boasts a beautiful interior with medium gray wood-stained cabinets, a spacious wet bath complete with a sink, a compact kitchen equipped with a three-way 5-cubic foot refrigerator, and a cozy north-south queen-size bed. Standard features include Lance's signature one-piece TPO nose cap, Plastoform thermoplastic windows, and modern, radiused overhead cabinets. Popular options range from a 100-watt solar power system and Battle Born lithium batteries to side and rear awnings, keyless entry with key FOB, and Lance's outstanding roof rack system. With tank capacities of 45 gallons fresh, 30 gallons grey, and 28 gallons black, this long-bed camper is ready to take you on your next adventure. The base model starts at $68,000.
Best Luxury Truck Camper
Host Mammoth 11.6
The Host Mammoth 11.6 is truly the epitome of luxury when it comes to truck campers, and it's not just because of its mammoth-sized name. This colossal camper is Host Industries' best-selling model, and for a good reason. With three slide-outs, an 11-foot 6-inch floorplan, and an impressive array of amenities, the Mammoth 11.6 is more like a rolling palace than a mere truck camper. Boasting a spacious dinette, a huge dry bath, a cozy fireplace, a comfy loveseat, and even a queen-sized bed with the option for a king, this camper doesn't skimp on comfort or style.
But the luxury doesn't stop there. The Host Mammoth 11.6 comes loaded with a wide range of standard features, including an 8-cubic foot refrigerator, a 6-gallon DSI water heater, a 25,000 BTU propane furnace, a 1,000-watt inverter, and a three-burner propane cooktop. Its holding tanks are some of the largest you'll find in a slide-in truck camper, with a capacity of 65 gallons for fresh water, 51 gallons for grey, and 31 gallons for black. With a dry weight of 4,700 pounds, you'll need a hefty truck with a payload capacity of at least 5,500 pounds to haul this behemoth. But for those who crave luxury, space, and the freedom to roam, the Host Mammoth 11.6 is worth every penny of its $65,000 base price.
Best Truck Camper for Off-Road
Four Wheel Camper Hawk
The Four Wheel Camper Hawk takes the title for "Best Truck Camper for Off-Road" in 2023, offering a rugged and durable solution for those who love exploring off the beaten path. Built with an all-aluminum frame that provides both strength and flexibility, the Hawk is designed to withstand the rigors of off-road adventures while ensuring a comfortable and secure living space. A significant improvement in the new models is the single-piece aluminum roof, which eliminates the need for jointed fiberglass panels and provides better protection against water leaks.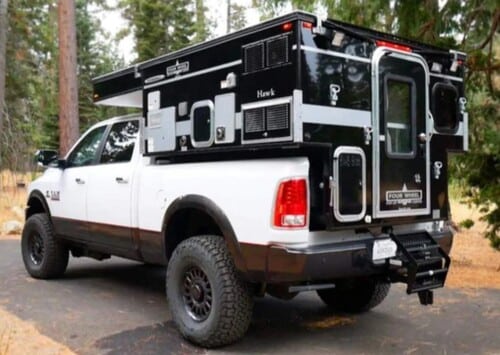 Weighing in at approximately 1,300 pounds, the Hawk is light enough not to hinder your off-road performance. Its most striking feature is the easy-to-use pop-top, which is equipped with a piston assist mechanism that allows for smooth and effortless operation. Inside, the camper is fitted with all the essentials and more, including a hot exterior shower, a compartment for two gas canisters, and a lockable storage compartment for electrical cables and shower accessories. The camper can hold 26 liters of water, with 6 liters allocated to the hot water tank and 20 liters for freshwater storage. The wastewater outlet is conveniently located and easy to use, while the 12V water pump ensures a constant supply of pressurized water.
Four Wheel Campers, based in Woodland, California, has been perfecting their craft since 1971, focusing exclusively on building pop-up campers for truck beds. The Hawk model comes pre-equipped with solar panels to keep the batteries charged while off-grid, and the split charge relay ensures that your batteries are charged as you drive. The camper is available in various configurations to suit your needs, making it the ultimate choice for off-road enthusiasts seeking a reliable, comfortable, and functional truck camper.
Best Truck Camper for Mid-Size Trucks
Bundutec Topi
The Bundutec Topi earns the title of "Best Truck Camper for Mid-Size Trucks" in 2023, providing a perfect blend of functionality, style, and durability for those who own trucks like the Toyota Tacoma, Ford Ranger, Chevy Colorado, and Nissan Frontier. Designed by Rory Willet, a veteran truck camper expert, the Topi boasts a solid wood frame covered in a sleek .040-inch aluminum exterior. The camper's gray color is both attractive and unconventional, while the contrasting black trim and accents add a touch of modernity to its design.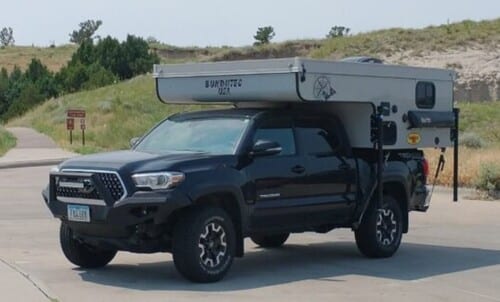 Weighing just 1,380 pounds, the Topi features a 6-foot 3-inch floorplan that includes a kitchen and wet-bath on the driver's side, a refrigerator and ample storage on the front wall, and a full-length dinette on the passenger side. The camper comes with a range of standard features, such as a 56×74-inch north-south mattress with under-bed storage, a 20-gallon fresh water tank, a NovaKool R3000 compressor refrigerator, a stainless steel sink, and window and door screens designed to keep out even the tiniest of insects. Bundutec offers numerous additional options, with highlights including a Zamp 160 watt solar power system, a 2,000 watt inverter, the BunduAwn "batwing" wrap-around awning, and the innovative Truma Combi water heater furnace that saves on weight, space, and noise.
BundutecUSA, from the great state of Iowa, has tailored the Topi to cater to the needs of the mid-size truck market, fitting it with features such as USB ports and 12V outlets for convenient device charging. With a base price of only $19,963, the Topi offers incredible value for money, considering the extensive list of features and customizations available. Built to last and designed to make the most of limited space, the Bundutec Topi is an ideal choice for those seeking a reliable and comfortable truck camper for their mid-size trucks.
Best Truck Camper for ½ Ton Pickups
Supertramp Flagship LT
Introducing the Supertramp Flagship LT, our top pick for "The Best Truck Camper for 1/2 Pickups" in 2023. This incredible camper is designed to fit any full-size pickup with a 6.5-foot bed, making it the perfect companion for those who crave modern comforts in their adventures without compromising on payload capacity. With a dry weight of only 1,250 pounds, the Flagship LT provides a cozy living space, thanks to the Monocoque fiberglass composite shell and a 360-degree windowed pop-up made from three-layer insulated fabric. Colorado-based Supertramp Campers has truly outdone itself with this versatile, well-designed camper that offers both impressive functionality and sleek aesthetics.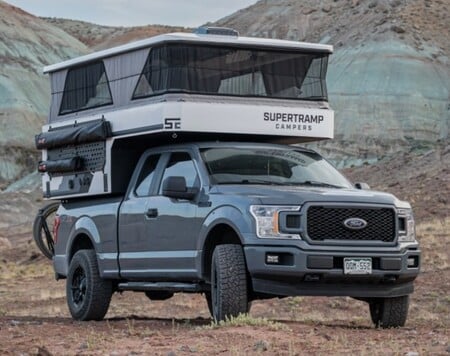 The Flagship LT's interior is nothing short of spectacular, boasting a standard queen bed with 36 inches of headroom, an L-shaped couch, and a generous 34 cubic feet of storage space. The attention to detail is evident in every aspect of the camper, from the zipper pulls to the choice of cushion color options (Glacial Valley cool tones or Desert Mesa warmth). The base price of $59,975 includes a Truma Combi heater, two Maxxair fans, a 65-liter Isotherm fridge, a 100Ah Battleborn lithium battery, 300 watts of solar, an outdoor shower, and a portable cassette toilet. Optional add-ons like additional lithium batteries, solar panels, a 1500W AC inverter, and more are also available. Experience the freedom of the open road with the ultimate in comfort and convenience with the Supertramp Flagship LT.
How to Choose the Right Truck Camper for Your Needs
Assessing your travel and camping requirements
Take a step back and evaluate your travel preferences, camping style, and the type of terrain you'll typically encounter to determine the right truck camper for your adventures.
Considering your budget
Balance the features and amenities you desire with the financial investment you're willing to make, ensuring you select a truck camper that meets your needs without breaking the bank.
Test-driving and experiencing different truck campers
Before making a final decision, test-drive various models and spend some time inside different truck campers to get a real feel for the space, comfort, and functionality they offer. To truly immerse yourself in the experience, consider renting a truck camper from Outdoorsy for a weekend or two, giving you an opportunity to test it out in real-life camping scenarios before committing to a purchase.
Conclusion
In conclusion, finding the perfect truck camper is like searching for your soulmate in the world of travel and adventure. It's a journey filled with excitement, surprises, and occasionally, unexpected twists. So buckle up, grab your sense of humor, and remember, the right truck camper is out there waiting to whisk you away on an unforgettable escapade. Just like true love, when you find the perfect match, you'll know it's meant to be!