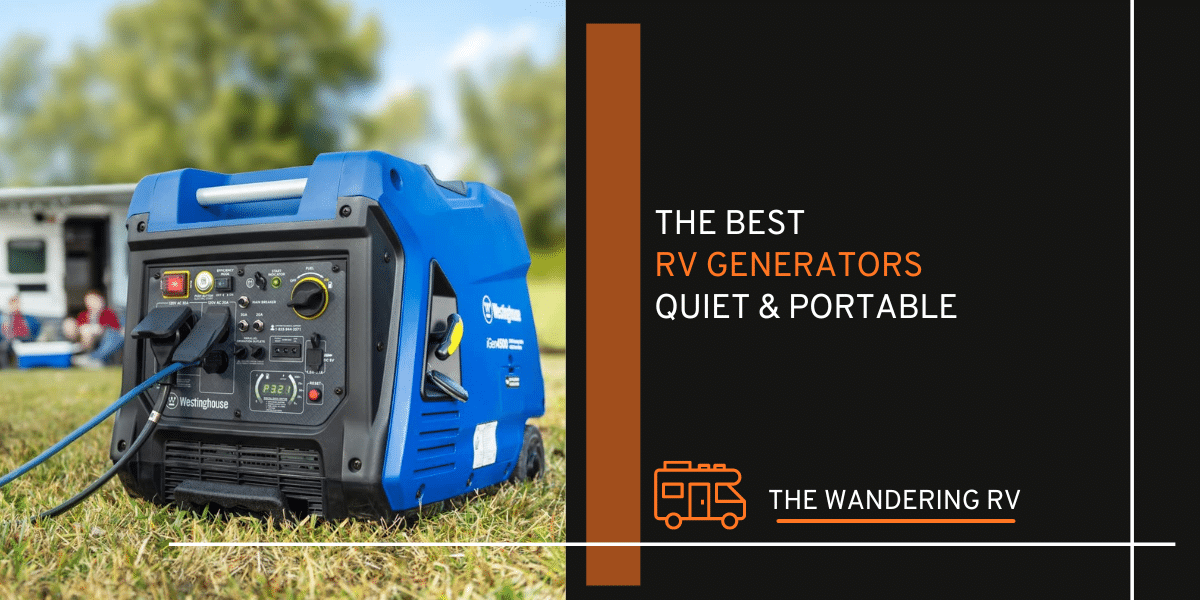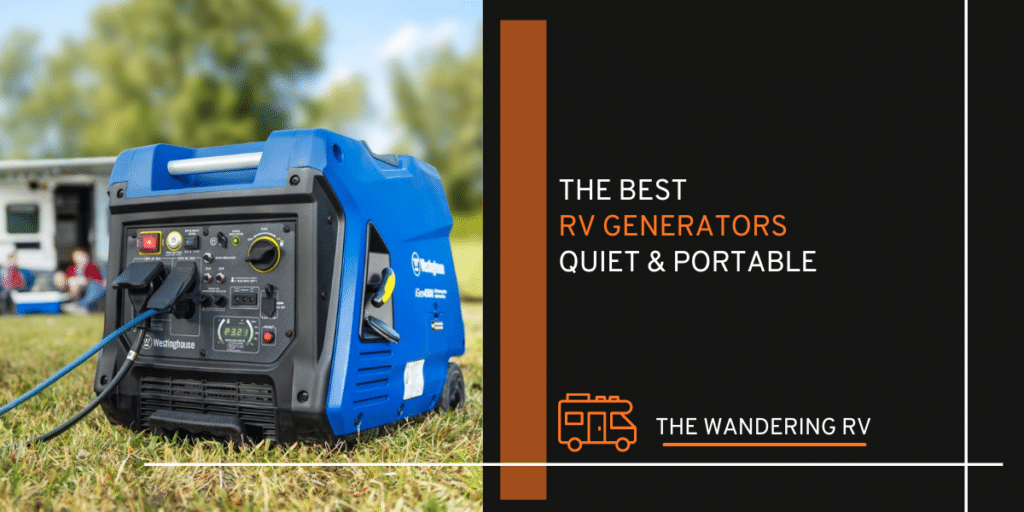 In the market for a new RV generator?
Welcome to the ultimate showdown of the best RV generators in 2023 (so far)! We've scoured the land to bring you the cream of the crop – the generators that will keep your RV running smoothly, your margarita blender blending, and your air conditioner blasting even in the hottest of summers.
We know that having a powerful generator is important, but we also know that you don't want to wake up the entire campground with a thunderous roar. That's why we've focused on finding generators that are as quiet as a mouse in slippers. No need to worry about disturbing your neighbors when you're powering up your morning coffee.
Of course, we also know that you don't want to break the bank when you're looking for a generator. That's why we've kept an eye on the price tag, making sure that our top picks won't leave you feeling like you need to take out a second mortgage.
So, whether you're a seasoned RV veteran or a newbie just starting out, sit back, relax, and get ready to meet your new best friend – the generator that will keep your RV running like a well-oiled machine, without waking up the entire campground in the process.
Let's get started!
Table of Contents
Note: Some of the links in this article are affiliate links. This doesn't cost you any more. Read our disclaimer for more info.
Best RV Generators 2023 Comparison Chart
Just want a quick comparison of the best RV generators for every budget? Here's a comparison chart of all seven generators (with links to find them):
Name

Rating

Warranty

Watts

Fuel Type

Weight
Hours on a full tank with a 1/2 load
Noise (dBA)

Price

Where to Buy

Cummins Onan

4.5 / 5

1 Year/ 1,000 Hours

Varies – Usually 5.5kw

Gas

varies (heavy)
Pulls from an external tank
74 db

$$$$

Local Dealer

Honda EU 3000i

4.5 / 5

2 Year/ 2,000 Hours

3000 watts

Gas

131 lbs
10 hours
3.4 Gal Tank
58 db

$$$

Amazon

Champion 4500 Dual Fuel

4.5 / 5

3 YearLimited

4,500 watts

Gas or

Propane

103 lbs
8.5 hours
2.3 Gal Tank
61 db

$$

Amazon

Wen 56455i Super Quiet

4 / 5

2 Year Limited

4,500 Watts

Gas

99 lbs
8.5 hours
2.2 Gal
57 db

$$

Amazon

Honda EU2200i

5 / 5

3 Year Limited

2,200 Watts

Gas

47 lbs
4.5 hours
.9 Gal Tank

48 db

$$

Amazon

WEN 56235i Super Quiet 2350-Watt
4.5/5
2 Year Limited
2350 Watts
Gas
39 lbs
5.7 hours
1 Gal Tank
51 db
$
Amazon

Westinghouse 4500 Watt

5/ 5

3 Year Limited

4,500 Watts

Gas

105 lbs
9 Hours
3.4 Gal Tank
52 db

$$

Amazon
Harbor Freight 3500 Watt

4.5 / 5

2 Year

3,500 Watts

Gas

110 lbs
6 Hours
2.3 Gal Tank
56 db

$$

Amazon
8 Best RV-Ready Generators
In this section, we'll break down why these are the best options on the market and take a deeper look at each one.
Things to Consider When Buying an RV Generator
The first thing to consider when buying an RV generator is how much you need it to power. Are you aiming to run a 15,000 BTU air conditioner and stereo system, or are you comfortable with a coffee maker and a few fans?
Conventional vs. Inverter Generator

A conventional generator runs on a simple engine at a regular speed. Because some modern electronics are sensitive to surges, this might not be the best option. This also makes them extremely loud and inefficient. You'll be the least popular person at the campground with one of these! They typically look like this: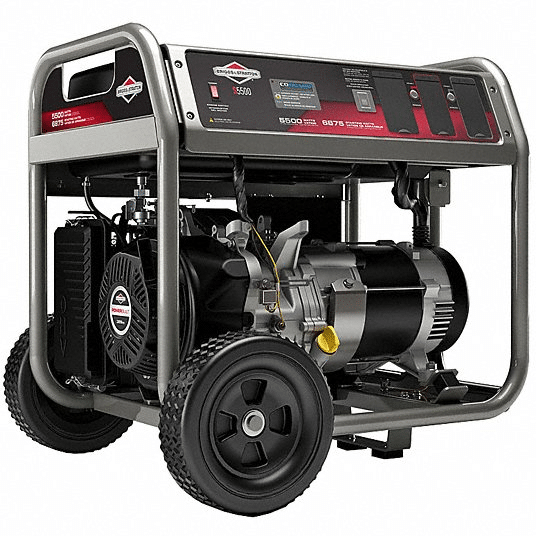 Sudden changes in current can cause severe damage to modern electronics, causing them to short out. In fact, most generators these days are inverters, and none of the generators we reviewed are conventional.
Inverter generators operate with a microprocessor that regulates and monitors the current which changes the throttle on the engine to produce power specifically for the load carried. This is both fuel-efficient and creates a more even current that is easier on your high-end devices such as cell phones and tablets.
Here's a great video showcasing the differences.
Want to learn more? Check out our guide to RV electrical systems.
Power Output
The biggest consideration you'll have is likely the power output. For instance, if you want to make sure that your 15,000-BTU air conditioner works consistently, you will need to guarantee that your generator can produce enough power to handle it.
Some devices such as microwaves and air conditioners create high demands on any generator. If you have these devices and want to run them regularly, make sure your generator has a high enough wattage output to handle it.
So, how big of a generator do you need to power your 15k BTU A/C? I have done it with my older 2,400-watt Predator, but it was not very happy about it! Air conditioners have a lot of surge power when first turning on, so it requires a lot of power in the first few seconds. It will only require about 1,500 watts to run, but 3,000 to 3,500 or surge watts. Therefore, I'd recommend anything about 3,500 to safely power it. And much more if you want to run other appliances at the same time. One thing that will help a lot is adding a hard start capacitor kit. They are super cheap and pretty easy to install. This reduces the amount of startup wattage your A/C will require.
Portable vs. Permanent
Most of the generators reviewed here are portable, as those are the most common RV generators available. Portable generators are great for taking camping, tailgating, or using in your home.
If you'd rather have the convenience of a permanent generator that is as easy to use as hitting a button, those are also available.
Permanent generators are installed directly on your RV unit and frequently tie into an onboard fuel source or backup RV battery. They're usually installed by professionals and cost quite a bit more, but they do have the advantage of being a lot easier to use.
Noise
Noise is one of the most important considerations for a generator if you think you will be spending a lot of time camping in public or national parks. Most parks have regulations on the amount of noise they are willing to tolerate from generators. Besides, you'd probably rather not have a roaring, coughing monster destroying your peace.
All the generators here take generator sound into account and are rated as being quiet enough for any park. The general guideline for generators is that they need to be at a certain decibel level within a set distance. If you think your generator is far too noisy, there may be technical issues with it, and you should have a professional inspect it.
Fuel Consumption
You want to get the most out of the fuel you put into your generator. Of course, this also depends on the load you are placing on it. Keep in mind that higher loads will always deplete your fuel faster than lighter loads. The more you run, the quicker your fuel will run out.
What Type of Fuel Is Best for Recreational Vehicle Generators?
Diesel – Diesel generators are usually noisier and smellier than other types of fuel, but it has the advantage of burning much cleaner. This efficiency means you'll get more use out of a single tank than with regular gasoline. However, diesel generators are rare.
Gas – Gas is one of the most common kinds of fuel for RV-ready generators. It's common, though not always cheap. Many generators even offer a dual fuel option that allows you to run off gas and propane. It is important to use fuel without any ethanol in it, especially if you won't be using it for periods of time. Ethanol will absorb water from the air and contaminate your fuel.
Propane – Propane is becoming much more common as a fuel in RV generators. As it becomes more popular, its availability is increasing. Propane has the advantage of running off of your already installed LP tanks, instead of lugging around fuel cans. Propane is harder to refill and is generally more expensive per gallon. Propane also burns cleaner, which allows the generator to last longer and requires less maintenance.
How to Connect a Portable Generator to Your RV
RVs and travel trailers are usually geared towards setting up with a portable generator. It's a simple process.
Drive the grounding rod into the ground where you want to place your portable unit.
Connect the grounding rod to the unit with the copper wire provided.
Start your generator and let it warm up for a couple of minutes.
Use the RV or Travel Trailer's generator cable to connect to the generator.
When in doubt, get a professional to help you! Most hardware stores and RV stores will be able to show you how to use your new tool.
Tips to Care for Your New Generator
Store it properly. Generator engines can get damaged when subject to moisture and weather. Make sure your generator is stored in a dry place. Before putting it away for the winter, wipe down the exterior, ensure the tank is full, add a fuel stabilizer, run it for a while to work the stabilized fuel through the system, and change the oil/oil filter. Alternatively, you can drain the fuel and lines. If possible, shut off the fuel and run the generator until it dies. This will drain the carb of any fuel and will increase its chances of starting next time!
Get it serviced regularly. Things can happen while your unit is idle: fuel lines can become clogged, and general engine wear can show up. Your service guide for the model you choose will give more information on regular servicing. We recommend following the service guidelines below.
Run your generator at least once a month. Regular use is the best way to guarantee proper function. It also helps you to discover any issues before they become a problem. Ideally, this should be done even if your generator is in storage and you don't plan to use it anytime soon.
Never use old fuel. It's crucial that you always use fresh fuel in your engine. Old fuel can create a build-up in the engine that can decrease performance. For best results, always keep your unit filled with fresh fuel. Fuel cycling is another reason running your unit monthly is advised. As I mentioned before, try not to use any fuel with ethanol in it.
Lubricate it regularly. Oil is one of the most vital elements of any gas-powered generator. Much like your car engine, you need to make sure that your generator is adequately lubricated at all times. A well-lubricated generator also has lower noise levels! Refer to your manual for the optimal oil type and perform oil and filter changes at least every six months. Since they hold less than a quart of oil, I spring for full synthetic for peace of mind. I also always replace the oil dipstick with a magnetic one to help keep it healthy. Since these don't have an oil filter, this helps a lot.
Keep the batteries clean. Just like your car engine, you should make sure that the battery lines are always kept clean. Monitor the battery lines and make sure that the posts are kept free of build-up. It can help to disconnect them while your unit is not in use. Keeping them plugged into a battery tender is a great way to keep them fresh as well.
That's It! Over to You.
Overall, our recommendation is to either get a permanent Cummins Onan RV generator (which is made specifically for RVs) or to grab the Westinghouse 4500 or WEN 56235i generator if you prefer something portable.
​Read Next: