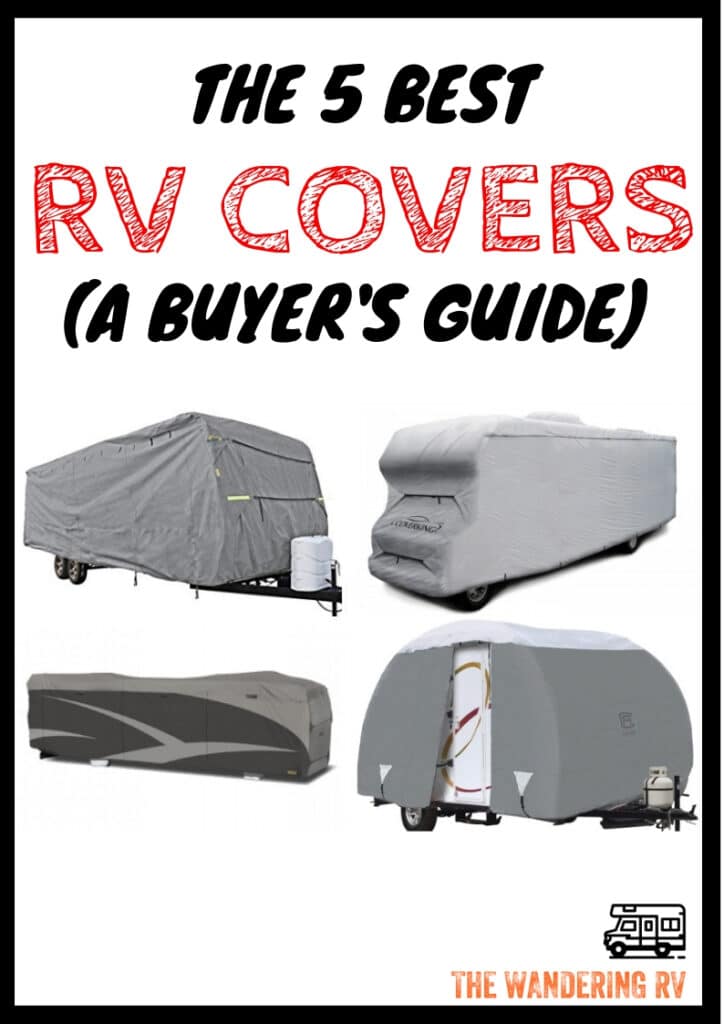 Are you in search of the ultimate shield to protect your beloved RV from the elements? Look no further, as we've got you covered (pun intended)! In this comprehensive buyer's guide, we'll reveal the top 5 RV covers for 2023, meticulously selected based on quality, price, and customer reviews. But wait, there's more! We'll also help you decide whether you need a new RV cover and guide you through the installation process. So, let's embark on this protective journey and find the perfect armor for your home on wheels!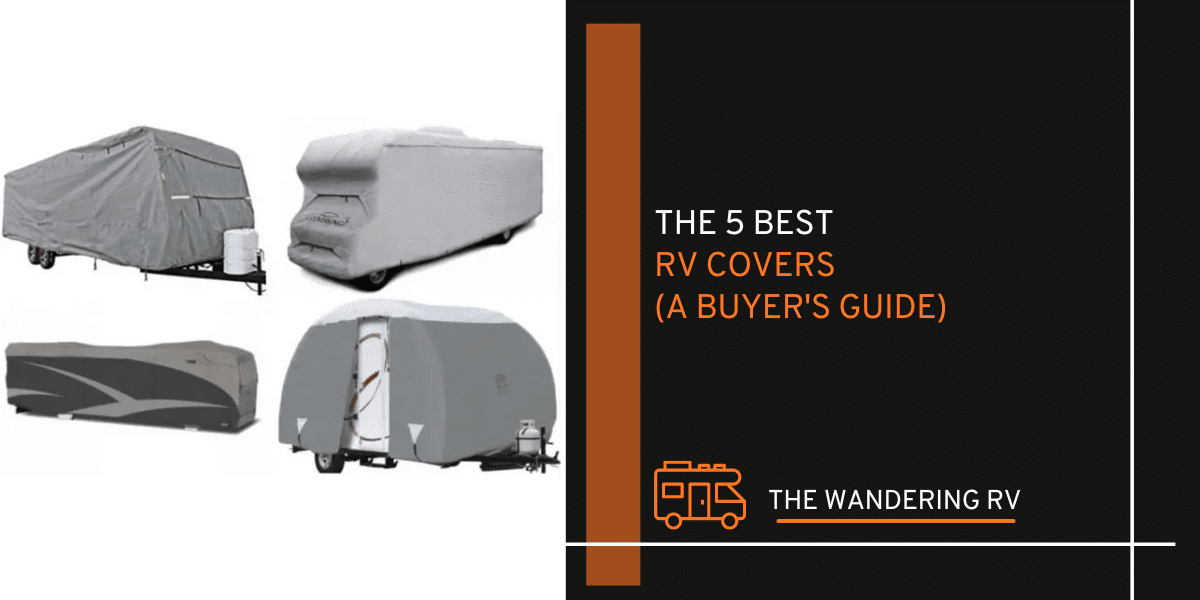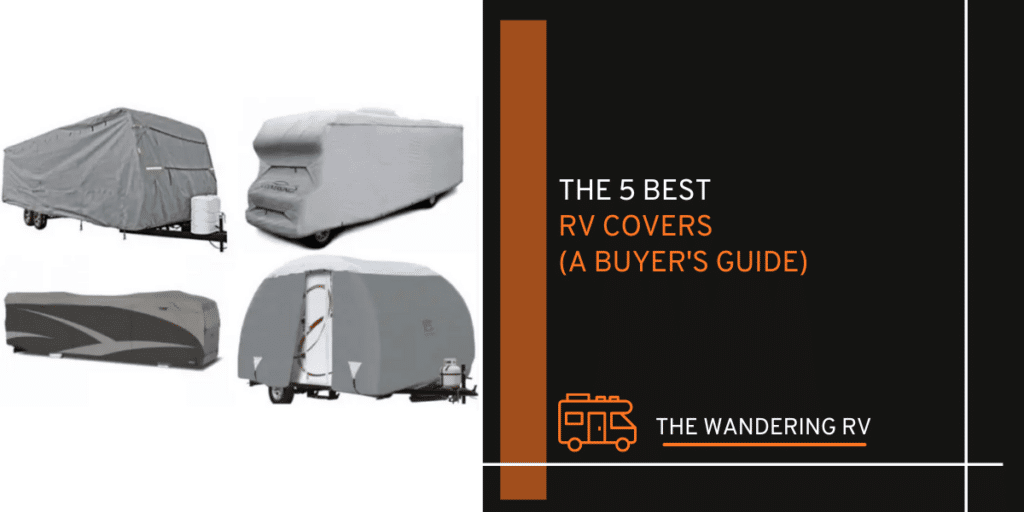 Note: Some of the links in this article are affiliate links. This doesn't cost you any more than normal. Read our disclaimer for more info.
Table of Contents
Just want the best of the best and don't feel like reading? Here's Our #1 Recommended RV Cover:
Quictent Travel Trailer Cover
More fixing straps than competitors, attaching to a strong PVC strap to avoid tearing
Multiple zippered panels for easy access
Heavy duty full 6-ply non-woven fabric with thickened corners
Recommended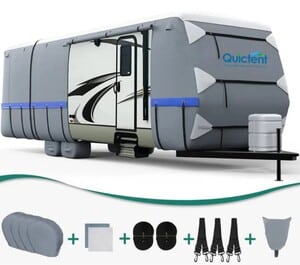 RV Covers – How Do I Find the Best One?
RV covers are one of those classic accessories every RV owner knows about… but buying the wrong RV cover could lead to frustration and wasted money.
That's where we come in!
Things to Think About Before You Buy A Cover
There are a few things you want to consider when selecting your cover. Below, we list the four factors to take into consideration in your search.
In addition to camper covers that fully encase your RV, there are a few other types to look out for. On the market, there are covers for RV wheel protection, windshield covers, roof cover, vent covers, and other kinds of protective RV accessories.
Type: All RVs (and covers!) are not created equal. A cover meant to fit a class A will most certainly not fit a travel trailer or fifth wheel. Then you have toy hauler RVs, truck camper covers, and even regular truck covers.
Take into consideration what kind of RV you have during your search and focus on the cover fit. Also, keep in mind what functions you want your cover to perform.
Do you live somewhere where it rains all the time and needs moisture protection? Do you live in the middle of the desert where strong UV rays can quickly deteriorate your RV? These are all things to think about.
Size: Aim for an RV cover that is going to fit snug as a bug in a rug! That means finding a cover meant for the exact length, height, and width of your RV.
Material: There are so many different materials out there. Each one serves a purpose. There isn't an overall best, but look for the material that best suits your needs and the type of protection you are looking for.
Polypropylene is a popular choice and is known to be highly resistant to acid damage, cracking, and water (not waterproof), while still being breathable (a lot of really good RV outdoor rugs are made with polypropylene, too).
Polyester offers excellent protection against UV rays.
Solution-dyed acrylic is made using UV-resistant dyes that offer superior sun protection and waterproof coating for all-weather protection.
Polyethylene is a strong material that's both water and tear-resistant.
Additional features: Also think about features like air vents, water repellent, or zippered panels when looking at camper and motorhome covers. Some even use marine-grade materials!
Air vents are great to have because they provide breathability which reduces moisture and the growth of mold and mildew. Zippered panels allow you easy access to your RV even when completely covered.
Keep in mind that these are the things we look out for before we purchase something new for our RV. It's always a good idea to get a second opinion, though!
Pros and Cons of Covering Your RV
You may still be on the fence about whether you should get a cover.
That's okay! Some people don't want to fuss with something a little extra. Here I will list the benefits of covering your RV versus the downfalls.
Pros
Reduced maintenance
Protecting your RV from UV damage, inside and out
Less exposed
Save the paint
Water protection
Prevents dirt build-up
Cons
Adds an extra chore
You might fall to your doom or break stuff
Another thing to store
Short lifespan
Top 5 RV Covers For 2023
Here are the best camper covers of 2021 according to customer reviews, price, quality, and durability!
Quictent Travel Trailer Cover
More fixing straps than competitors, attaching to a strong PVC strap to avoid tearing
Multiple zippered panels for easy access
Heavy duty full 6-ply non-woven fabric with thickened corners
Recommended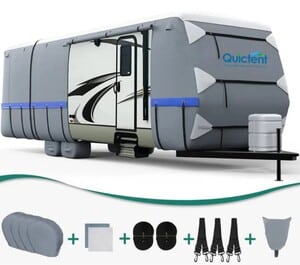 This cover comes in multiple sizes:
| | |
| --- | --- |
| 18-20ft | 240″L X 105″W X 108″H |
| 20-22ft | 264″L X 105″W X 108″H |
| 22-24ft | 288″L X 105″W X 108″H |
| 24-27ft | 324″L X 105″W X 108″H |
| 27-30ft | 360″L X 105″W X 108″H |
| 30-33ft | 396″L X 105″W X 108″H |
It's made with a heavy-duty, extra thick 6ply non-woven fabric on the top panel and 4-ply on the sides. It offers multiple zippered panels for easy access and adjustable tension straps to the front and rear. It also provides air vents to reduce moisture.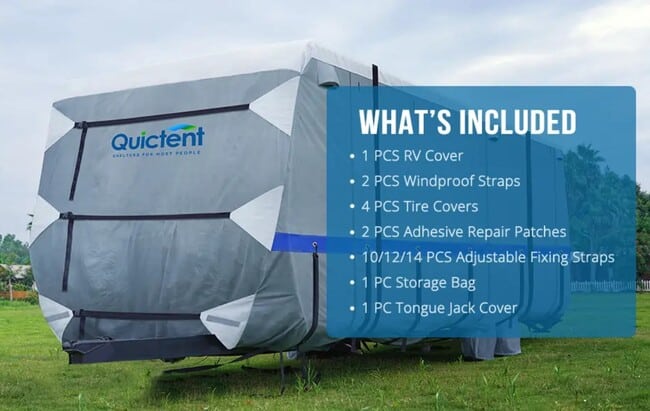 ---
VINPATIO Oxford Fabric Travel Trailer RV Cover, Toy Hauler Cover Fits 30′-33′ RV Heavy Duty 300D Ripstop Anti-UV Waterproof Windproof Camper Cover with Tongue Jack Cover, Extra Windproof Ropes
✔【Oxford Fabric vs Non-Woven Fabric】Unlike ordinary non-woven fabric RV covers, Vinpatio brand chooses the superior quality heavy-duty 300D Oxford fabric as the material. In comparison, our 300D Oxford fabric offers a maximum tension of 320 pounds, surpassing the 70 pounds of 7-layer non-woven fabric. With our Oxford fabric RV cover, you'll experience superior tension and tear resistance.Our Oxford fabric RV cover has a lifespan at least 2-4 times longer than non-woven fabric covers.
✔【Excellent Waterproof Performance】Our RV cover features a 100% waterproof PU coating with a rating of 2000mm, providing exceptional waterproof protection. In contrast, non-woven fabric covers offer a lower waterproof rating of only 500mm. Whether it's heavy rain or snowstorms, our Oxford fabric RV cover ensures complete waterproofing, keeping your RV dry and safe.2 reflective strips in front and rear for safety avoid collision during night.
✔【Enhanced UV Protection】Our 300D Oxford fabric RV cover is equipped with an additional UV-resistant coating, effectively reducing aging and degradation caused by sunlight. Compared to non-woven fabric covers, our Oxford fabric cover provides superior UV protection, extending the lifespan of your RV exterior.4 rollable zippered doors- 3 on right side 1 on rear side allow you access to the RV doors and engine areas anytime, easy to view and check internal situation.
✔【Windproof and Complete Accessory Kit】Our Oxford fabric RV cover comes with a range of practical accessories. It includes windproof straps to securely fasten the cover around the RV body, preventing it from being blown away or torn. Additionally, we provide 6 drain gutter covers with sponges to prevent any scratches during installation. We recommend covering or padding any sharp edges with a towel, cloth, or foam pad to prevent damage to the cover.
✔【Excellent After-Sales Service】5-Year Limited Warranty, Purchase with confidence and enjoy our 5-year warranty, offering peace of mind. Feel free to contact us if you have any inquiries. We are committed to providing exceptional customer service.
This cover comes with 10 sizes from 14ft to 38ft.
For any unforeseen accidents, they throw in one adhesive repair patch and a three year warranty. This cover is like the Iron Man of covers – tear proof and wind proof, offering extreme weather protection! Perfect for travel trailers.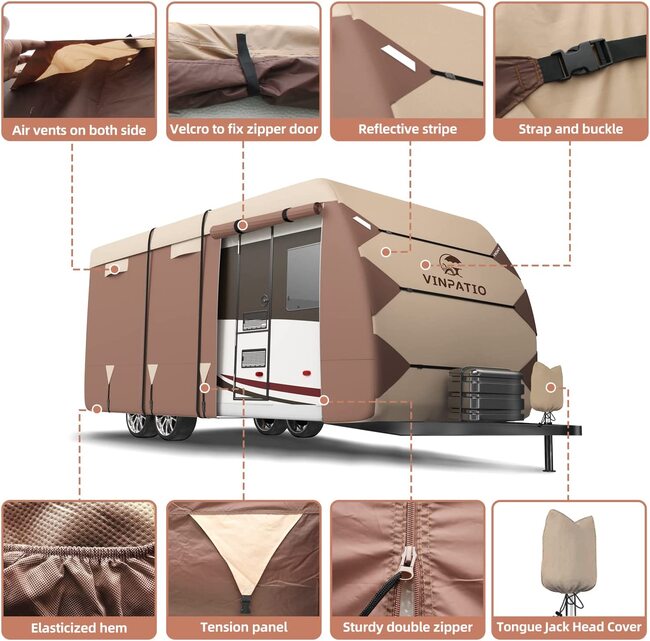 ---
Sale
Leader Accessories 27′-30′ Travel Trailer RV Cover Windproof Extra Thick Upgraded 5 Layers Camper Cover with Adhesive Repair Patches
Fits RV 27′-30′, Size: 366″L*102″W*104″H, it's unti-UV and water-resistant. To ensure proper fitment, please take an accurate measurement of your RV. Attention: This normal RV cover is not include Assist Steel poles
[Durable Material]: Upgraded the top panel fabric to extra thick 5-ply non-woven fabric mixed with Anti-UV Composite and waterproof membrane, upgraded 110g non-woven fabric side protect against rain,snow and scratches. Reduces premature aging of RV and helps maintain resale value.
[Windproof Upgrade]: 2PCS extra long straps and front cross-strap panel to resist the wind better. Inner many waterproof Straps and Buckles at bottom are more anti-aging than the outsides. Adjustable front and rear tension panels and elasticized hem corners provide a custom fit. Air vent system reduces wind stress, breathable material allows maximum evaporation of water under the cover.
[Easy Installation]: – Weighted buckle toss-bag under for easy installation; 3 zippered panels allow access to the RV doors and engine areas anytime, easy to view and check internal situation; 4 reflective strips in front and rear for safety avoid collision during night. Full cut to allow room for ladders, air conditioners etc.
24-Months warranty .Within the Warranty Period, We always offer excellent after-sale service for this item. Easy to assemble.
Leader Accessories makes this designer series cover in nine sizes ranging from 14′ to 38′ and three color options.
It's made of thick, triple-ply material on the top panel and single-ply sides to best protect your rig. It has adjustable tension panels and elastic, reinforced corners for a custom fit, air vents, and multiple zippered panels. The best part, is there is a 2-year warranty!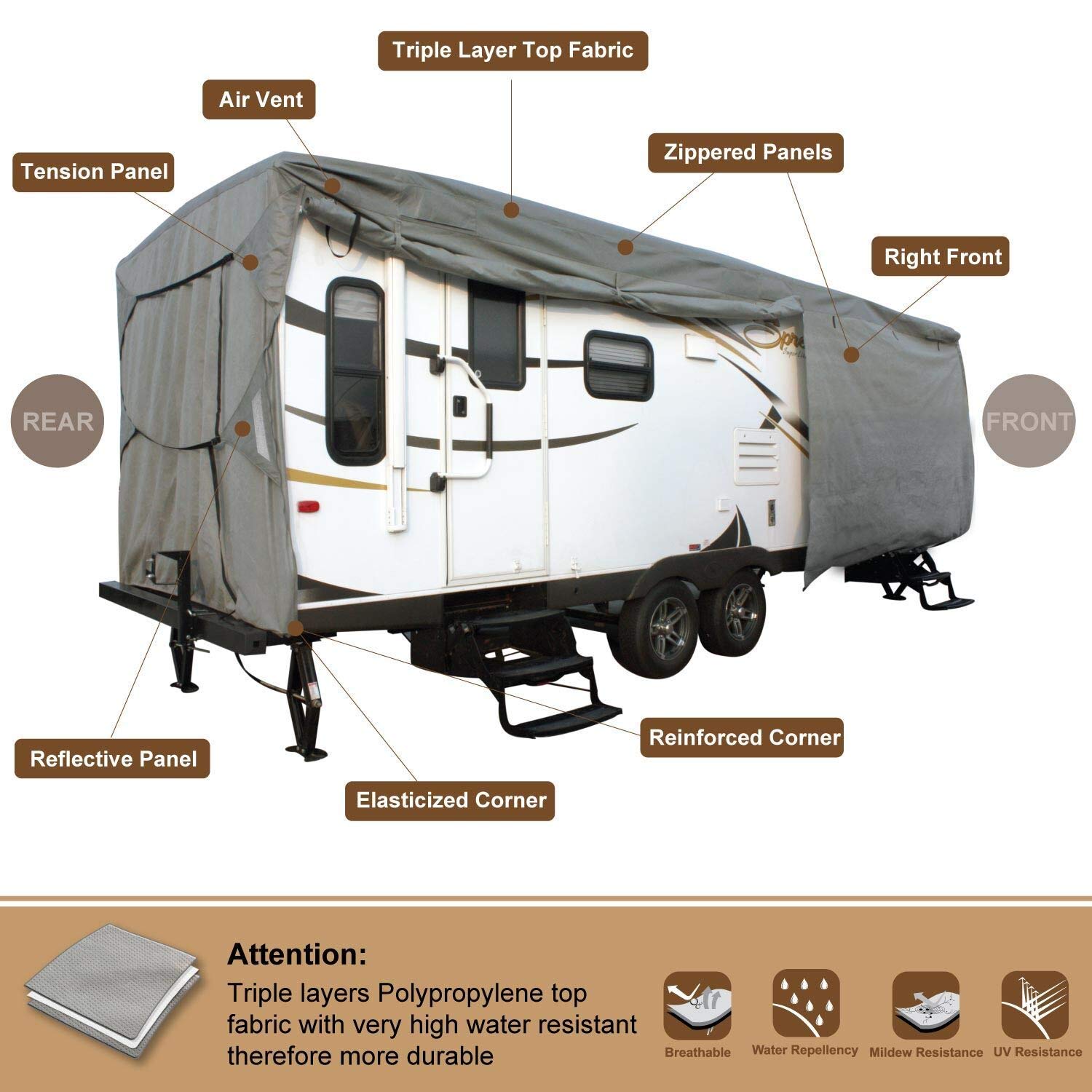 ---
SavvyCraft Upgraded Class C RV Cover, Breathable Waterproof Tear-Resistant Class C Motorhome Cover Fits 26ft-29ft Long Class C RV
[Upgraded Heavy Duty Class C RV Cover]: Made with durable Polyester with PU coating for better tear-resistance than multi-layer non-woven fabric; Tightly woven polyester effectively repels water and snow from the cover, greatly prevent aging and degradation
[Indoor & Outdoor All Weather Protection]: UV treated fabric protects your RV from UV damage, rain, snow, dirt, nicks and scratches, increases the lifespan of your RV's exterior from cracking and fading due to decreased wear and tear from inclement weather and UV damage
[Windproof]: Elastic hem corners, adjustable straps on the front and rear panels provide the cover a tight and snug fit; Double stitch seams prevent tearing and help to extend cover life span
[Accessibility & Ventilation]: Rollable zippered panels allow convenient access to access to the RV door and multi areas anytime; Air vents on both sides reduce wind stress and vent inside moisture
[Easy Installation]: Light weight yet durable material makes installation and removal quick and easy; Newly designed tie down straps and sewn-in quick-connect buckles make installation simple and quick
The SavvyCraft Class C cover rivals the Classic Accessories OverDrive PolyPro3 Deluxe cover with similar features and material.
This thick and durable cover is made with layer Polypropylene, making this cover water and tear resistant.
It has zippered panels that allow access to RV doors and engine areas. There is even an integrated air vent system to reduce wind stress and to vent inside moisture.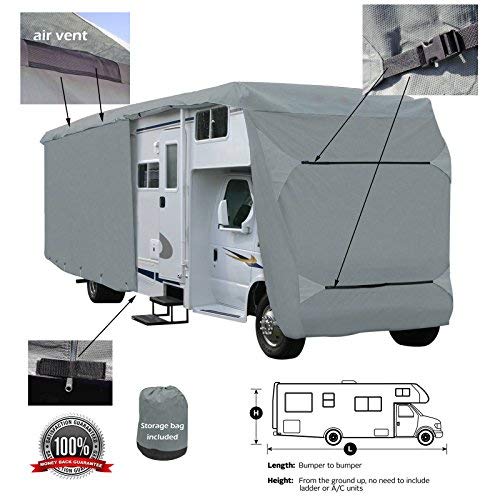 ---
ADCO 52206 Designer Series SFS Aqua Shed Class A RV Cover – 34'1″ – 37′
Length 34 feet 1 inch 37 feet (37 feet x 106 inches x 120 inches)
Protect your Class a Motorhome with ADCO's Designer Series SFS AquaShed RV Cover
Designed for moderate climates with high moisture
Features triple layer SFS AquaShed top panel and triple layer designer polypropylene sides with a contemporary aesthetic unique to ADCO
This designer series cover comes in several sizes ranging from 25′ to 43′.
It's designed for moderate climates with high moisture and features a triple layer SFS AquaShed top panel with triple layer polypropylene sides. The makers of this cover promise a precise fit and outstanding weather protection!
ADCO has a great selection of covers. If you don't have a class A, make travel trailer, fifth wheel, and toy hauler covers in various sizes as well.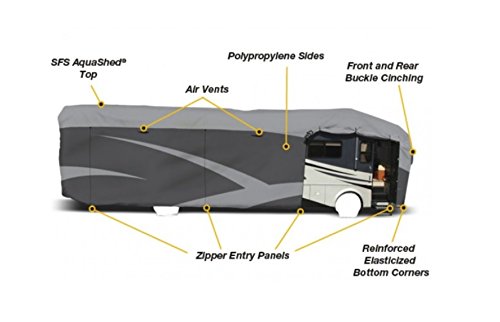 How Do You Put On A Camper Cover?
Putting your cover on can seem like a daunting task but once you get the hang of it, it will be like second nature. Follow these steps for a relatively painless process:
Make sure your RV is clean.
Place the cover on the roof of your RV and roll from the front end to the back end, spreading the cover from side to side as you go.
From the ground, pull the cover over the sides of the RV starting at the front and making your way to the back.
Make sure to cover any sharp edges or stress points before securing the elastic hems to avoid tearing.
Secure the hems under the front and rear of your rig.
Once all that is done, use your tie-down straps to secure the cover and prevent it from blowing off of your ride.
If you are a visual person like me, you can watch this video below to help you on your cover installation journey!
Conclusion
And there you have it – our complete buyer's guide to the best RV covers in 2023! With this knowledge, you can confidently select the ideal cover to shield your precious RV from the elements, ensuring its longevity and preserving its beauty. Now, all that's left to do is choose the perfect cover, install it with ease, and hit the road knowing your RV is well-protected for your next adventure!
In our opinion, if you want the best of the best, go with the QuictentTravel Trailer Cover. It has the ideal combination of efficiency and affordability.