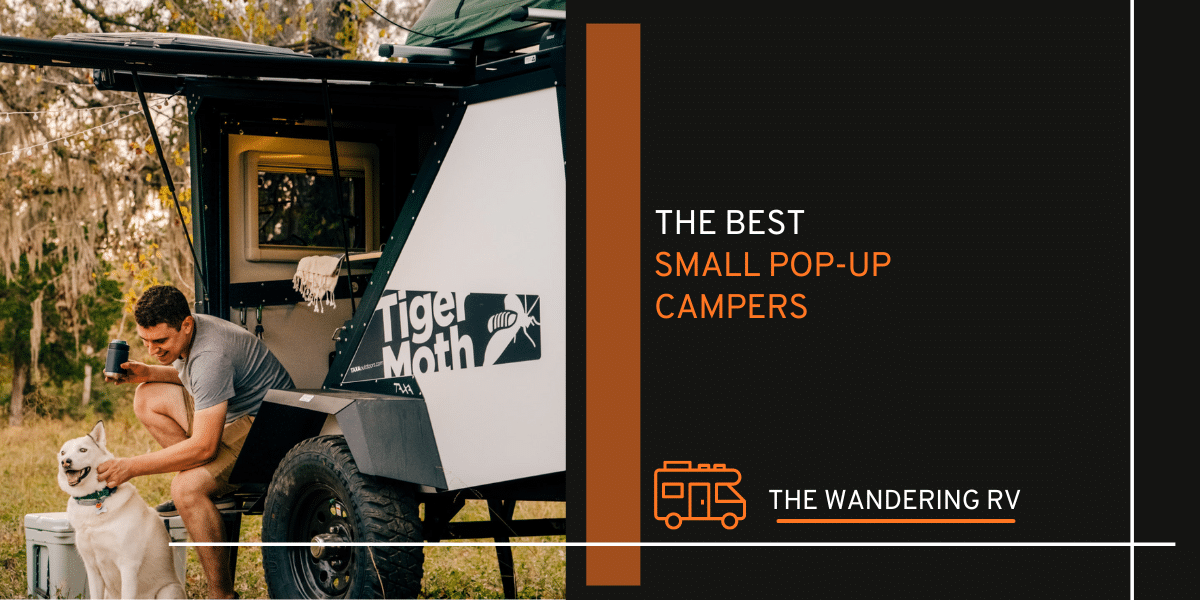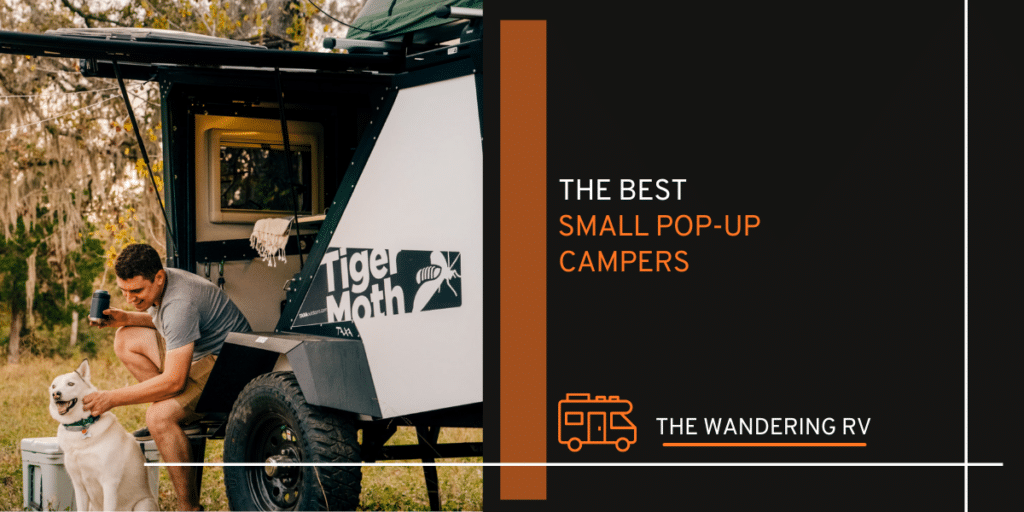 Ready for a pint-sized adventure? Small pop-up campers are the perfect companions for those who crave the outdoors but prefer a little less hassle. With their lightweight design, easy storage, affordability, and compatibility with almost any vehicle, it's no wonder these tiny campers are stealing the spotlight! So, buckle up and join us as we unveil the best small pop-up campers on the market, complete with pricing and video tours.
Let's pop into action!
Table of Contents
11 Best Small Pop-Up Campers to Tow With (almost) Any Tow Vehicle
The biggest reason most people buy a pop-up camper is that small pop-up campers weigh less than 2,500 lbs, which means they can be towed by nearly any tow vehicle.
Even most small cars have a towing capacity of 1,500 lbs, which means they can pull many of the camper trailers on this list!
Note: This is the camper's "dry weight". Dry weight is the weight of the camper trailer when it's dry, meaning it doesn't have water, propane, or any items inside. Be sure to consider the campers when it's full for your vehicle's towing capacity.
In order of heaviest to lightest, here are the best small pop-up campers:
1. Sylvansport Go Trailer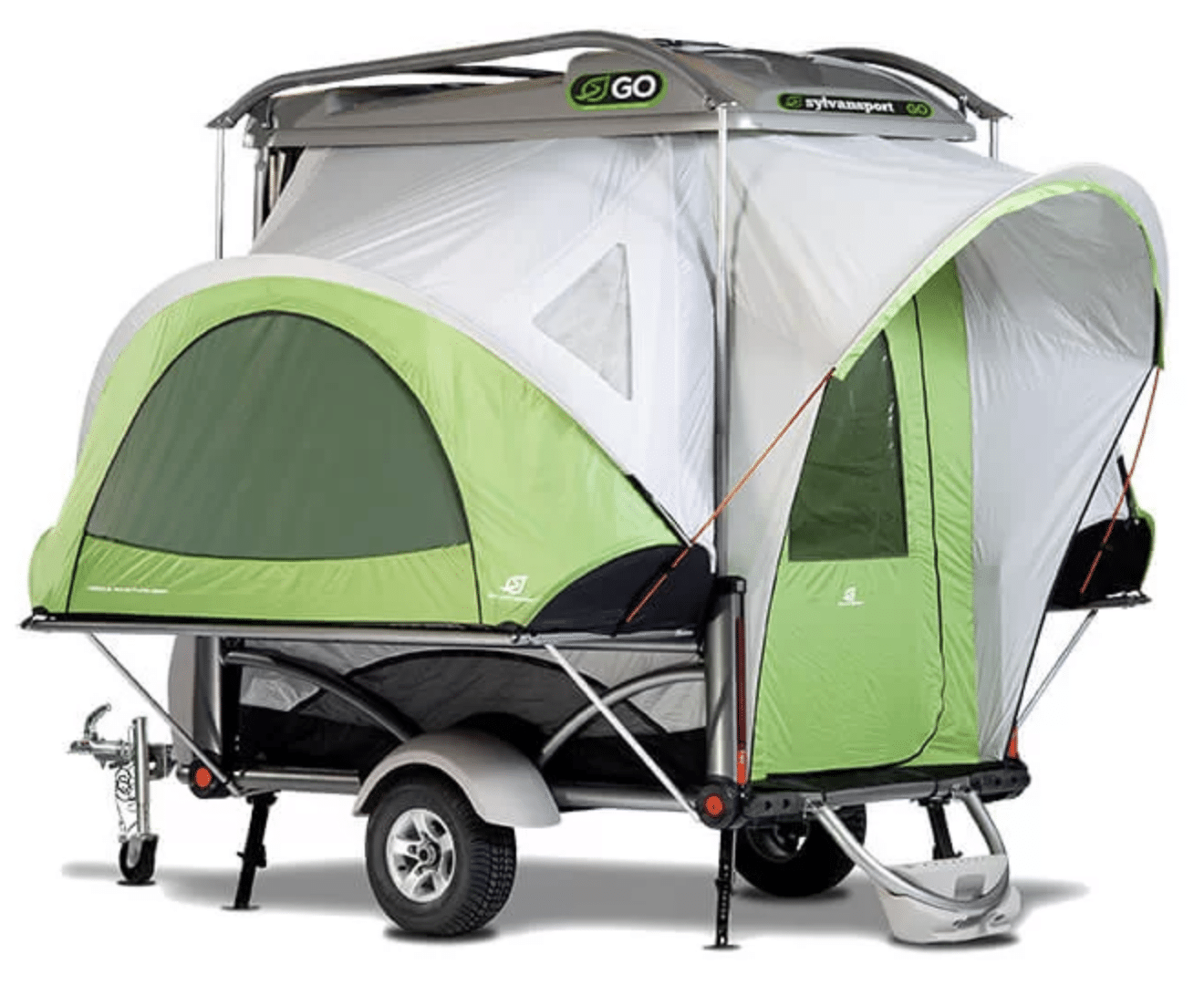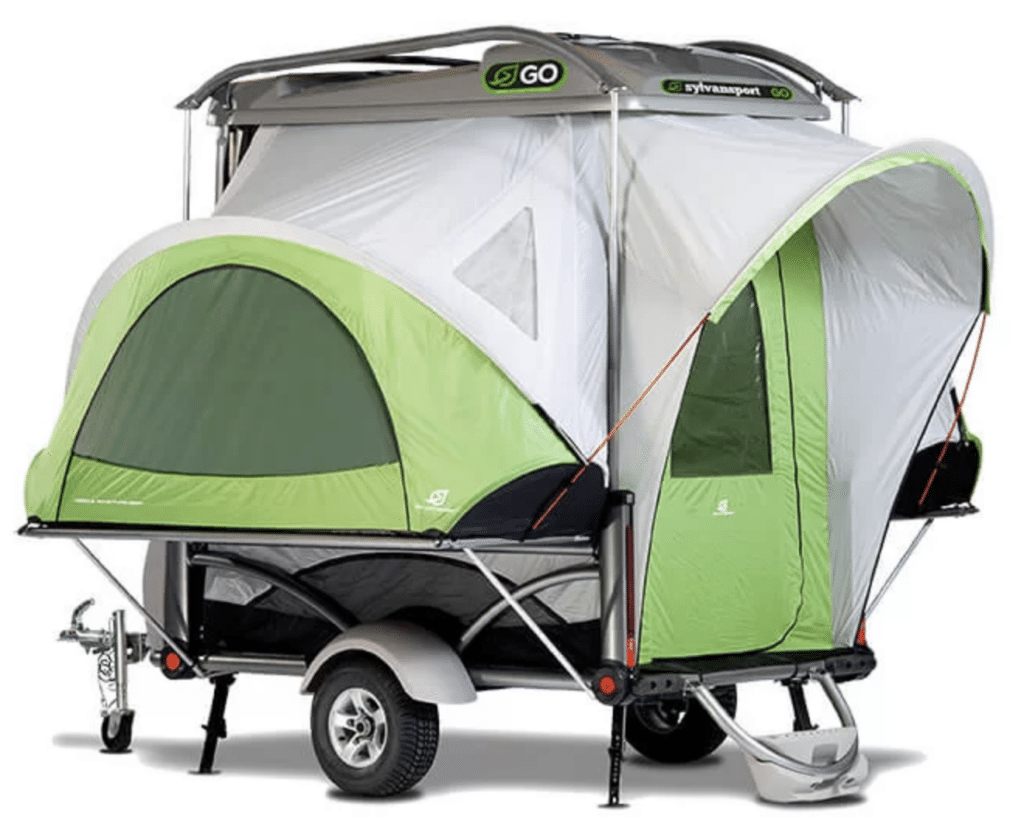 Price: $14,495.00
Dry Weight: 840 lbs
Length: 11.91′
Height: 4.41′
Sleeps: 1 – 4 People
Carrying capacity: 810lbs
Cargo dimensions: 4' x 4' x 7'
The SylvanSport Go is known to be the "Swiss-army knife" of camping trailers. You can carry boats, boards, bikes, boxes, and more. Not to mention, it's a very lightweight pop up camper (the lightest on our list, actually).
National Geographic Adventure actually declared this small pop up camper to be the "Coolest camper ever"! If you're looking for something to introduce you to the RV lifestyle, this pop up camper is a great choice.
2. Forest River Rockwood A122S Hard Side Pop-Up Camper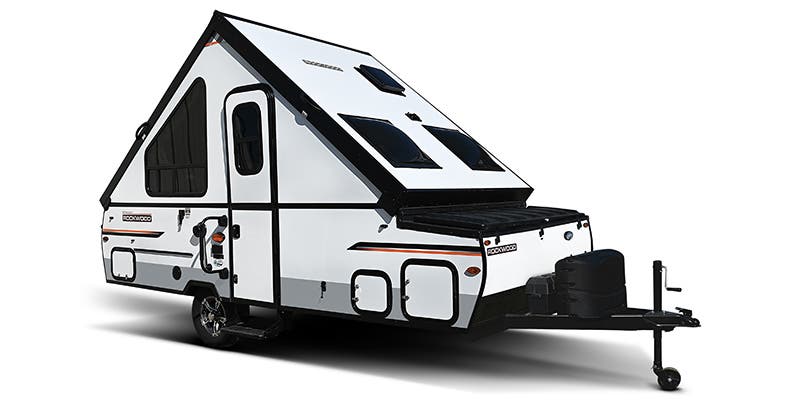 Price: $25,147
Dry Weight: 2,120 lbs
Length: 18'8″
Height: 5'1″ Closed
Sleeps: 4 People
The Forest River Rockwood A122S Hard Side Pop-Up camper is a fantastic small A-frame camper. It's small and light enough to be easily towed but has hard sides for durability and ease of use. It is available with roof racks to mount your bikes, kayaks, or other toys and has a huge storage bin up front for all of your other camping supplies.
If you're looking for a small A-frame camper with tons of storage, this is the camper for you.
3. TrailManor 2518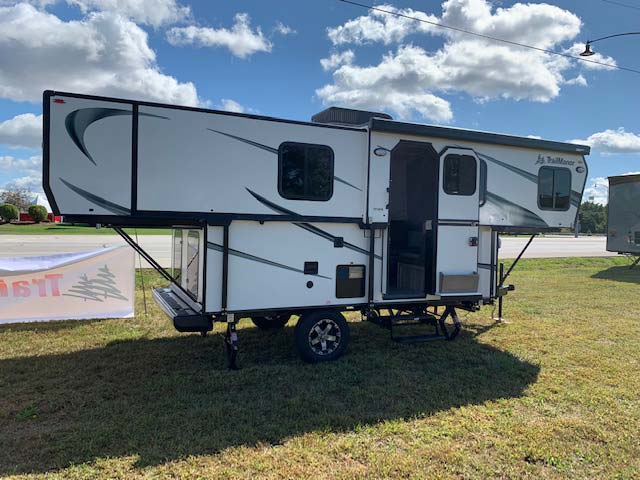 Price: $42,745
Dry Weight: 2,580 lbs
Length: 18′ Closed | 21'6″ Open
Height: 6'10" Closed | 9'10" Open
Sleeps: 6 People
The TrailManor 2518 may push the boundaries of "small", but it's just too cool to not list here. It not only pops up, but it also extends outwards for the ultimate transformation.
It features a 20-gallon fresh water tank, a 35-gallon gray water tank, electric brakes, a hot water heater, an outdoor shower, and optional AC and solar hookups. It is one of the few small pop-ups that have a dry bath too!
4. Aliner Scout Lite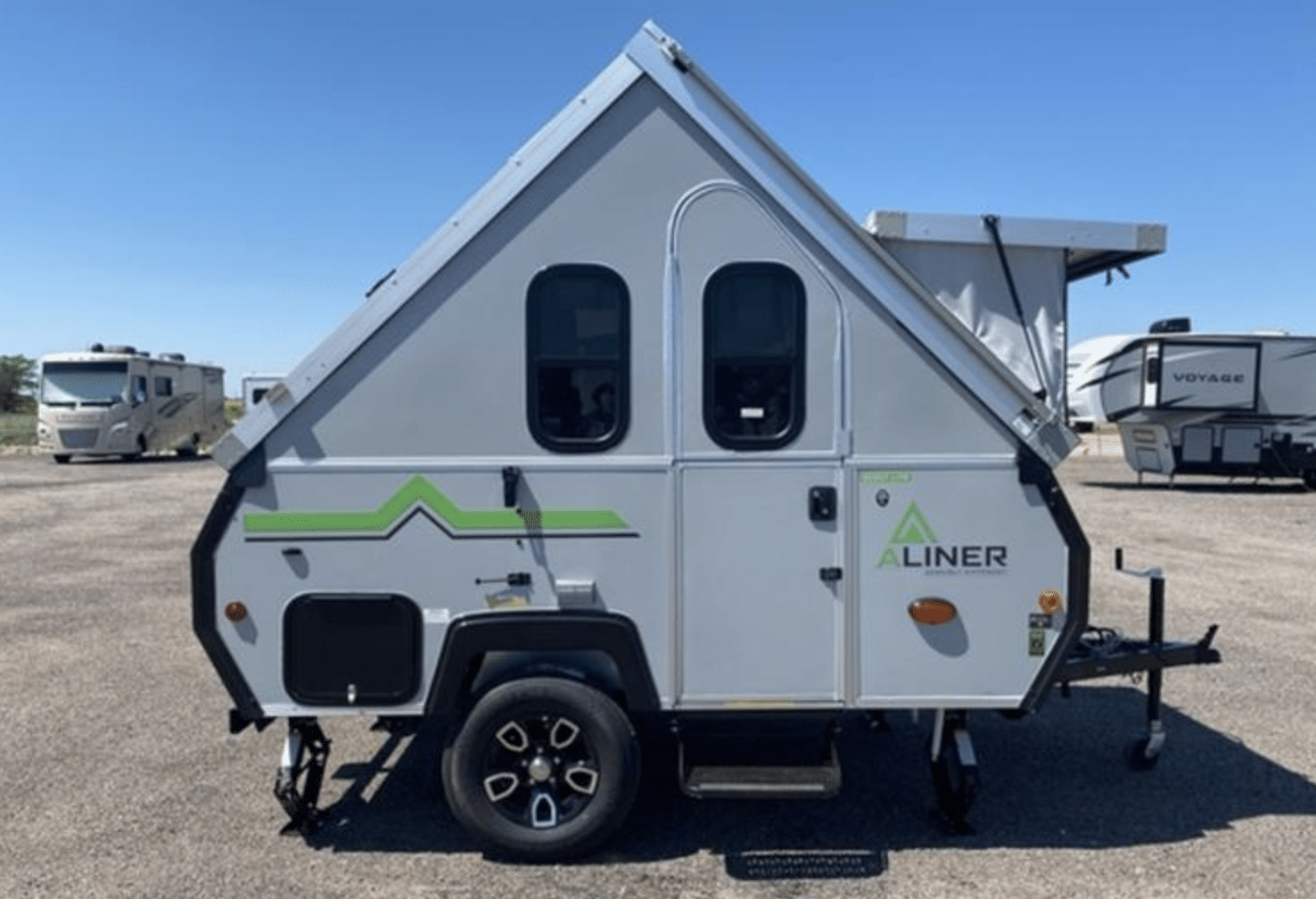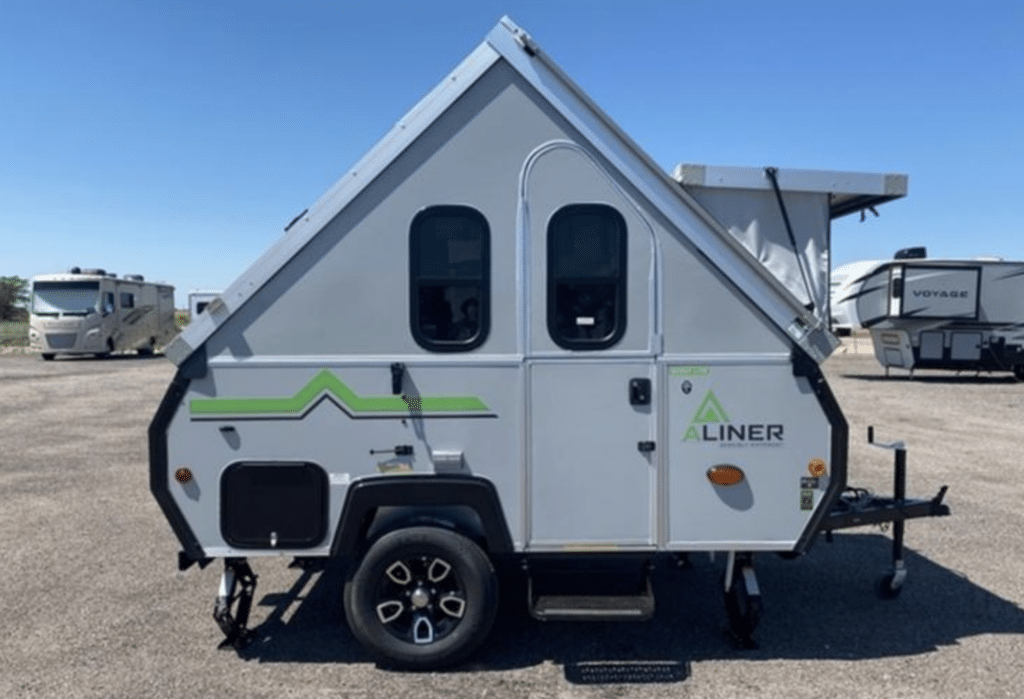 Price: $15,449
Dry Weight: 1,180 lbs
Length: 13′
Height: 4.75′
Sleeps: 1 – 4 People
The Aliner Scout-Lite was designed by Ralph Tait in the early 1970's. It quickly became one of the small pop-up campers that everyone wanted!
This popup camper comes with an 11gal freshwater tank, a compact refrigerator, and 2 burner stove (giving you the freedom and comfort to camp anywhere)!
5. Taxa Outdoors Tiger Moth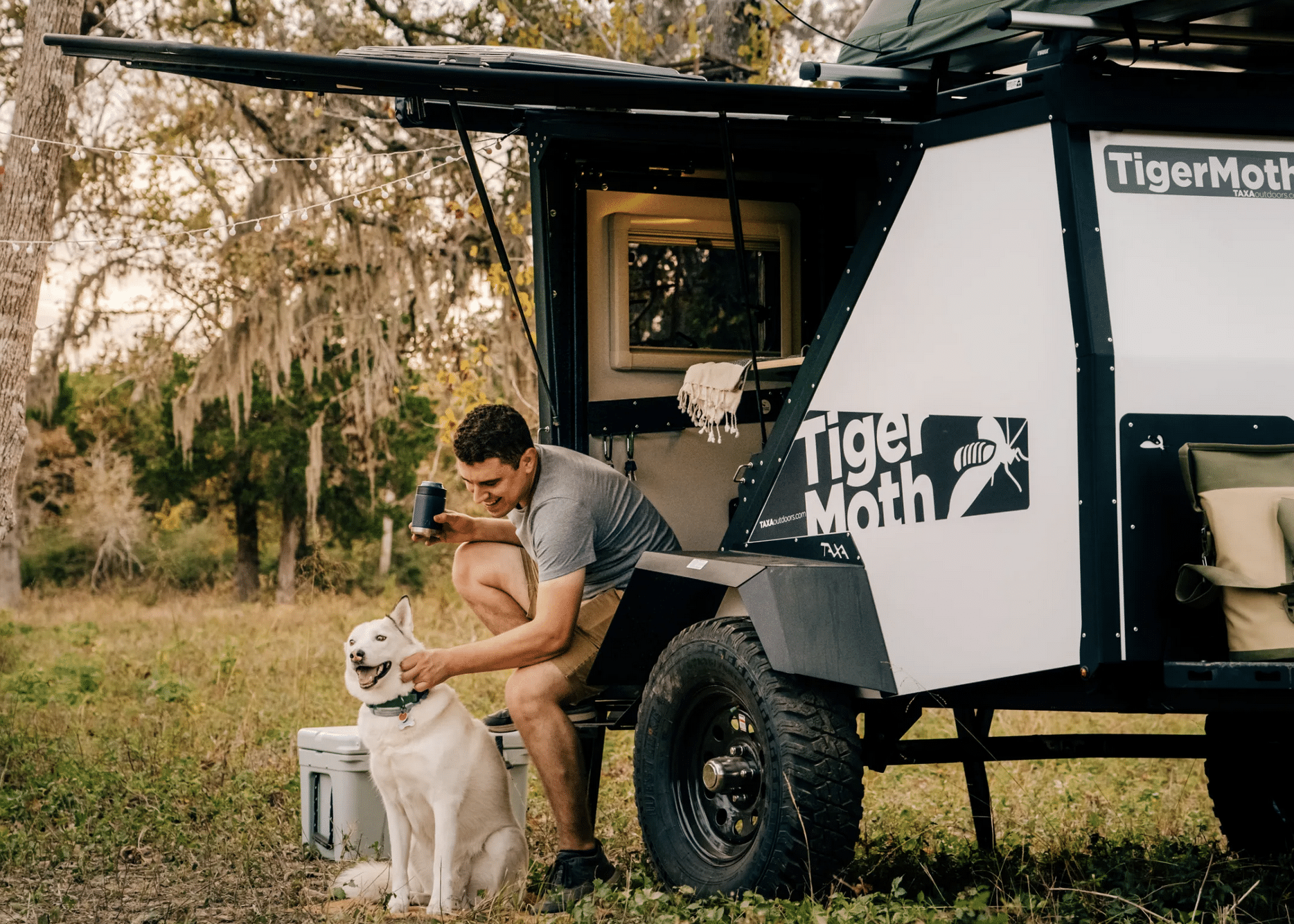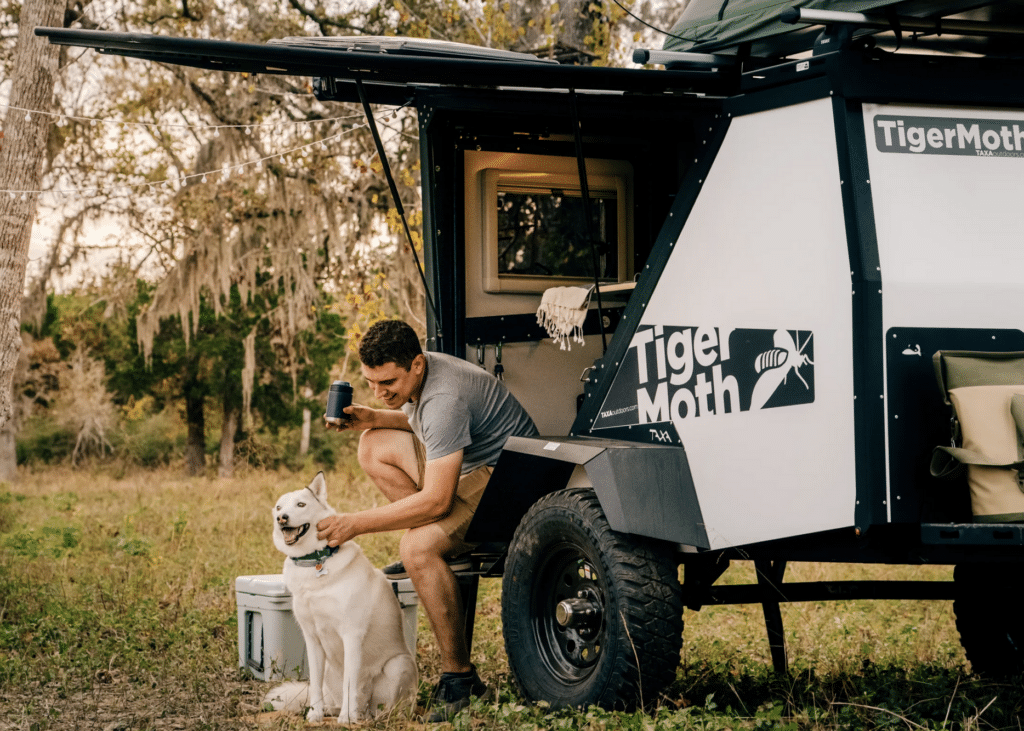 Price: $25,190+
Dry Weight: 1,310 lbs
Length: 12′ 10″
Height: 4′ 7″ to 3′ 9″
Sleeps: 1 – 2 People
The Taxa Outdoors Tiger Moth might be one of our favorite small pop-up campers on our list today. From the sleek design to the amenities it offers, we're sure this popup camper will suit your needs!
For example, the full-sized bed transforms into a lounge area with a removable cafe table. There's also a front cargo step and roof cargo deck for all of your storage needs!
6. Coachmen Clipper Express 9.0TD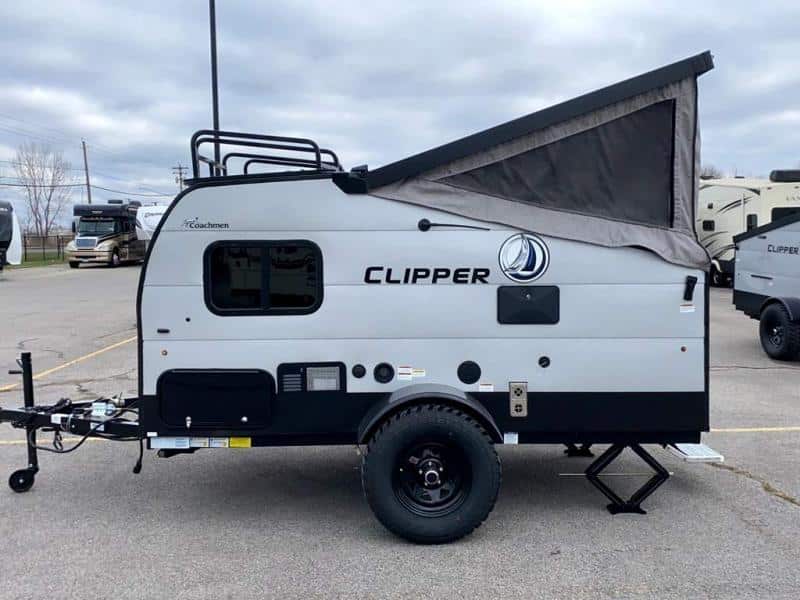 Price: $14,182
Dry Weight: 1,587 lbs
Length: 13′
Height: 6.5′
Sleeps: 2 People
The Coachmen Viking Express 9.0TD is easy to set up, easy to store, and a great small pop-up camper for couples to enjoy.
Like traditional pop-up campers, this small pop-up is fit with a 54×74″ bed, a mini fridge, sink, laminated counters, storage space, an outside shower, and more!
7. Forest River Rockwood 1970ESP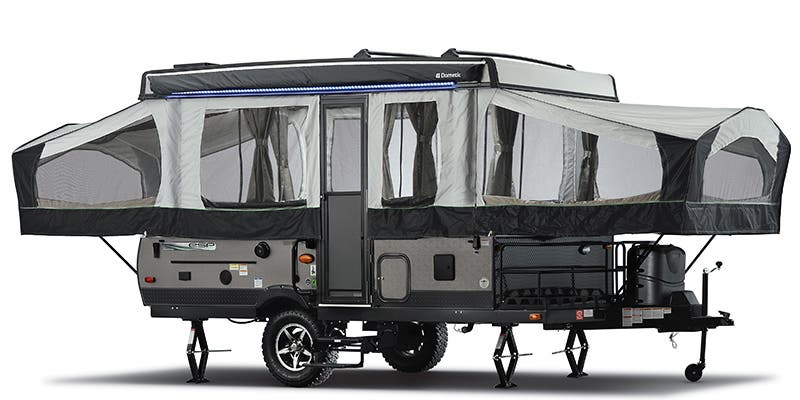 Price: $23,005
Dry Weight: 2,095 lbs
Length: 20′ Open | 15′ Closed
Height: 5'11"
Sleeps: 4 People
If you're looking for an awesome pop-up camper for you and your family, look no further than the Forest River Rockwood 1970ESP!
Despite its compact size and easy towability, this floorplan offers surprisingly ample seating for a cozy gathering. The extreme sports package also comes with 15″ tires, providing extra ground clearance for your adventurous escapades. Plus, with the cool Bluetooth stereo and outdoor speakers, you can groove to your favorite tunes or catch up on the news, no matter where you decide to unwind.
Related Reading: Complete List of the Best RV Manufacturers
8. Forest River Rockwood 1640LTD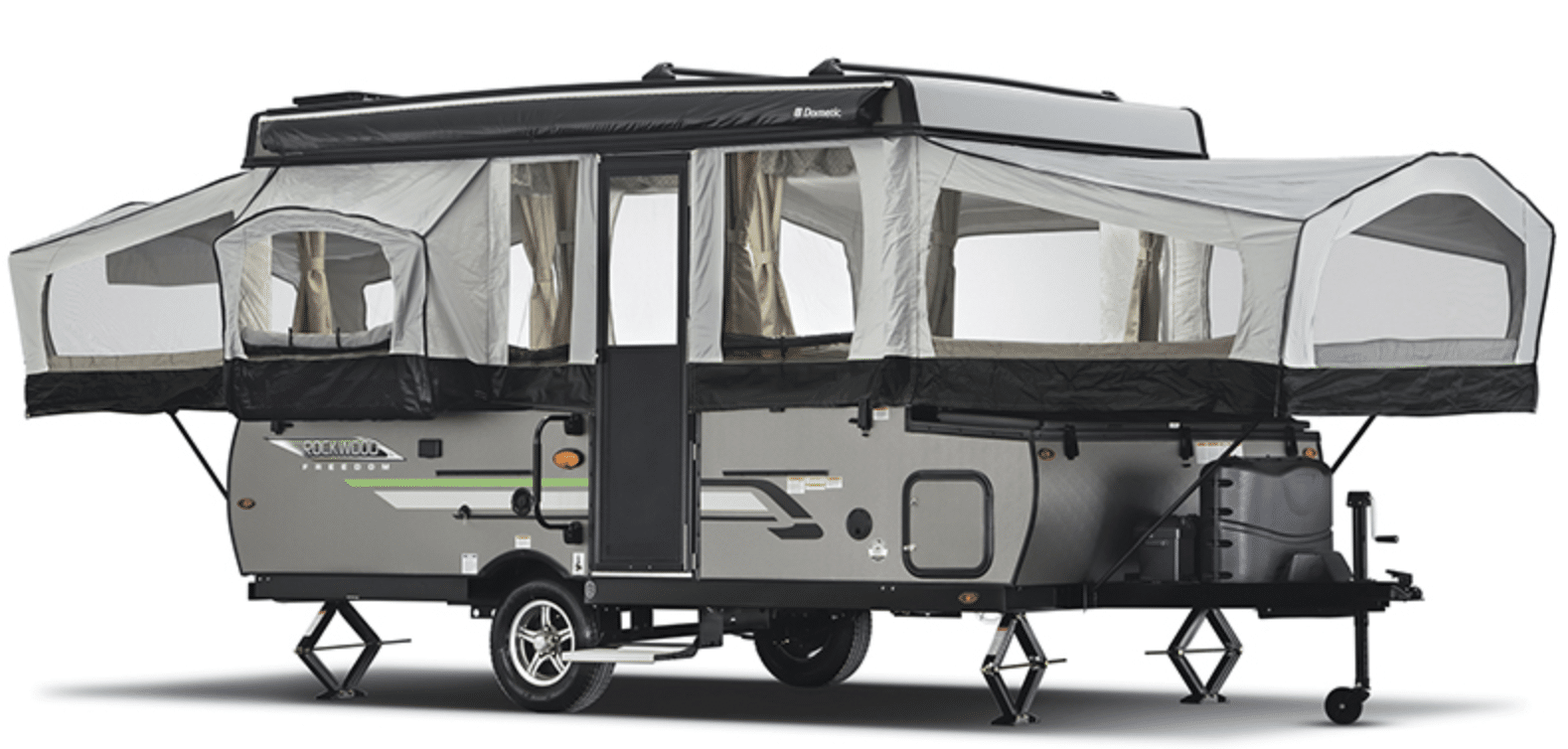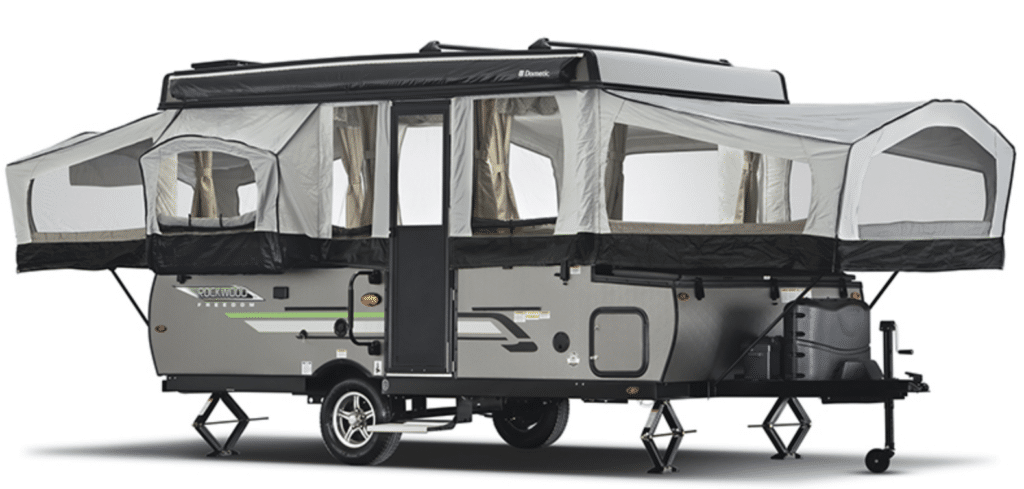 Price: $10,000
Dry Weight: 1,465 lbs
Length: 17′ 2″ Open | 12′ 4″ Closed
Height: 5′ 4″
Sleeps: 1 – 6 People
The Forest River Rockwood 1640LTD is a small pop-up camper that has two tent beds, a 7′ awning, a booth dinette, carry-out range, and more!
It also includes a fiberglass vacuum bonded radius roof with no center seam, a powder coated tubular steel frame, powder coated rafter poles and bed bows, full perimeter aluminum bed frames, and more!
9. Coachmen Clipper LS 806XLS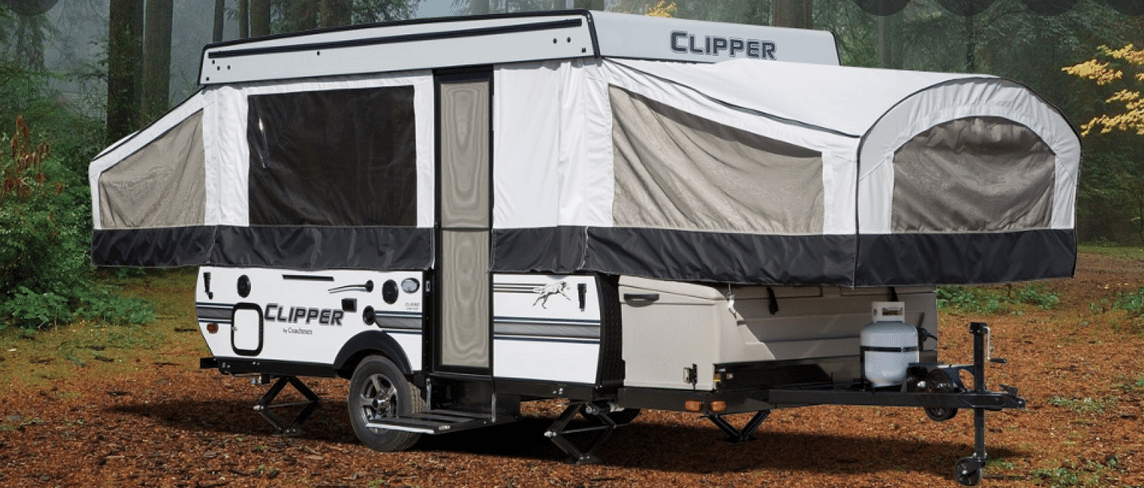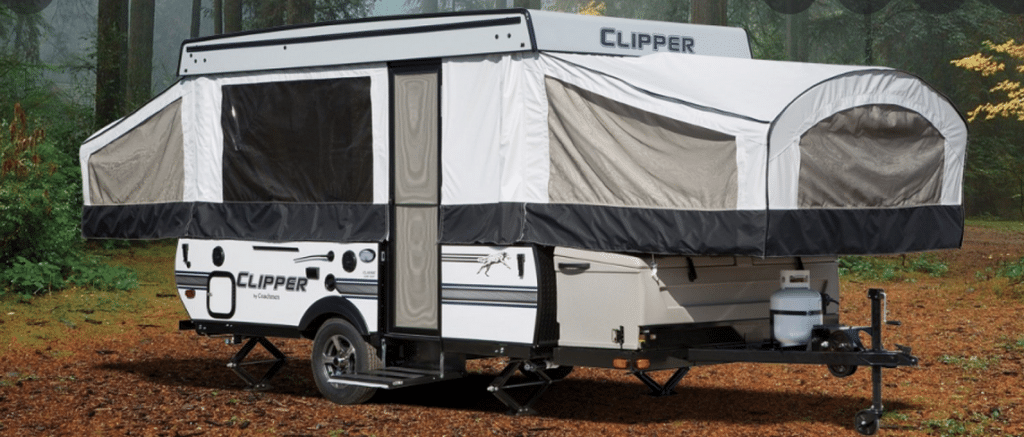 Price: $21,227
Dry Weight: 1,642 lbs
Length: 18′ Open | 13′ Closed
Height: 6′ 10″
Sleeps: 5 People
The Coachmen Clipper LS 806XLS, like most campers on this list, is a great pop-up camper to take off the beaten path.
There's so much to love about the Coachmen Clipper, including two-bedroom "slide outs", a 2-burner stove, a 20k BTU furnace, a 12v fridge/freezer, a decent-sized dining space, and plenty of storage space. The Coachmen Clipper is a small popup camper packed with features that would make any family happy!
10. Coachmen Clipper 12.0TD XL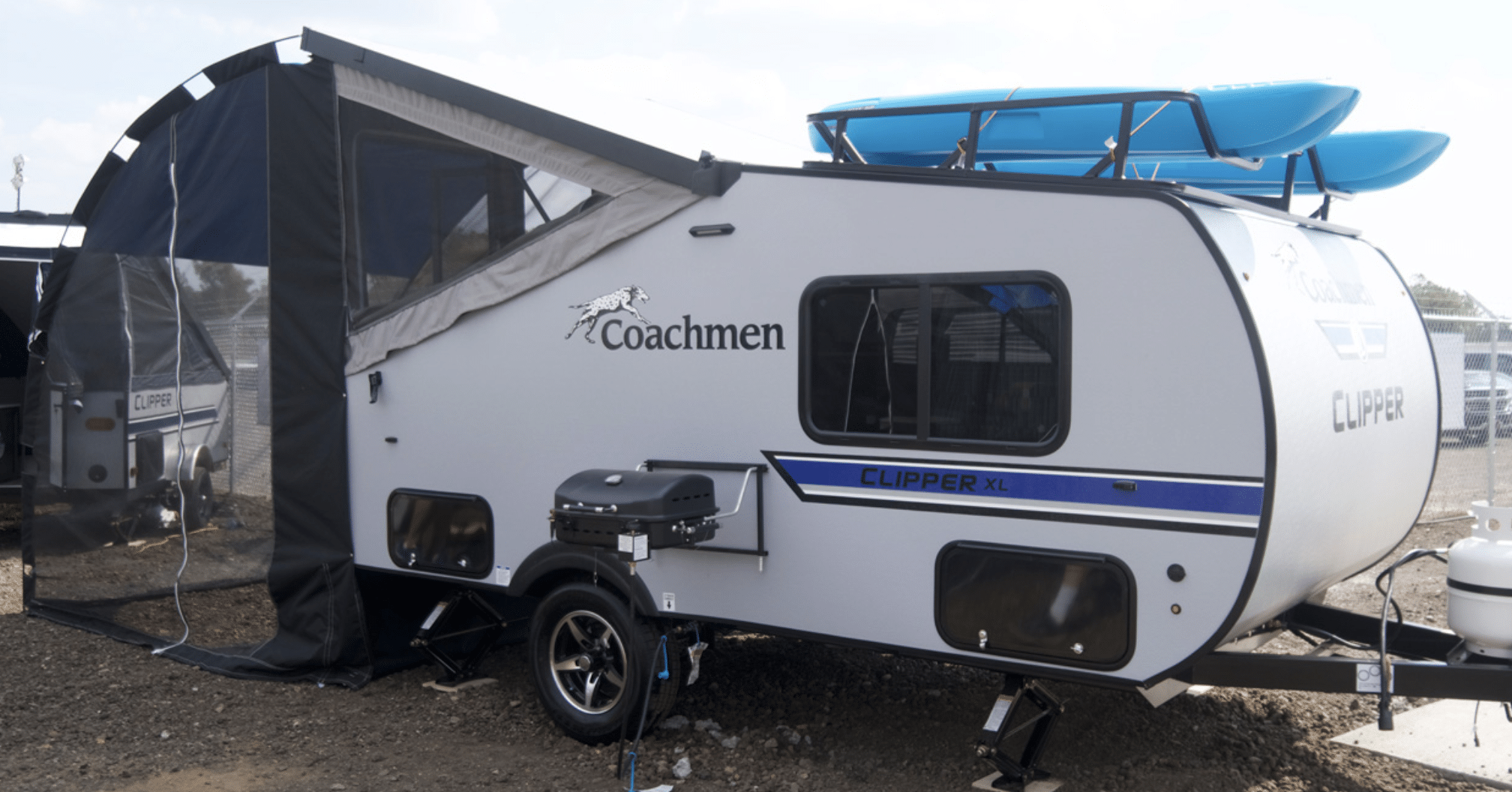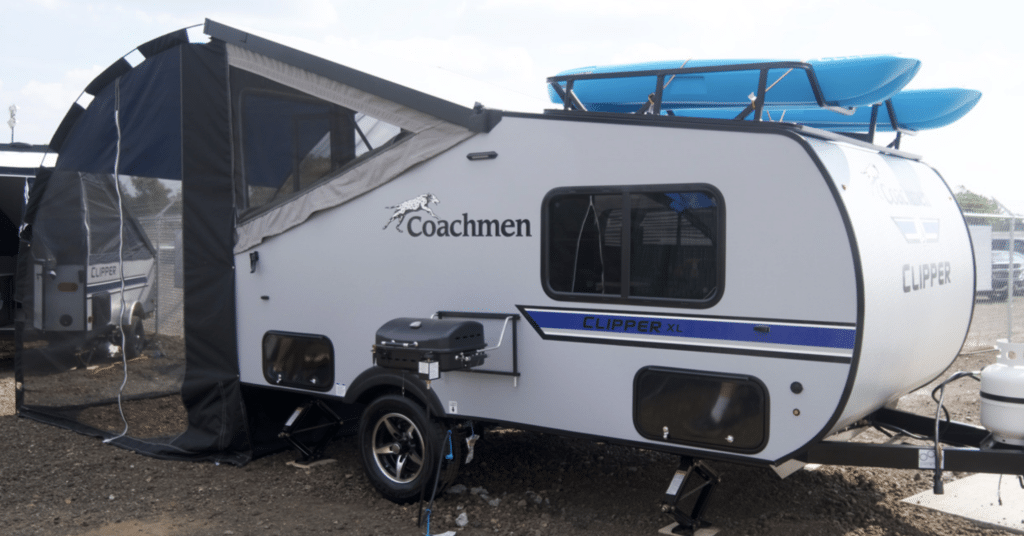 Price: $24,695
Dry Weight: 2,147 lbs
Length: 13′ 11″ Open | 16′ 8″ Closed
Height: 7′ 5″
Sleeps: 1 – 3 People
Looking for a pop-up camper trailer that comes with an air conditioner, mini fridge, and a decent-sized floor plan? The Coachmen Clipper 12.0TD XL might be the best option for you!
There's also a flip-lid storage box, sofa bed, and enough room for solar panels on the roof (if you wanted to install them).
11. Opus Op Lite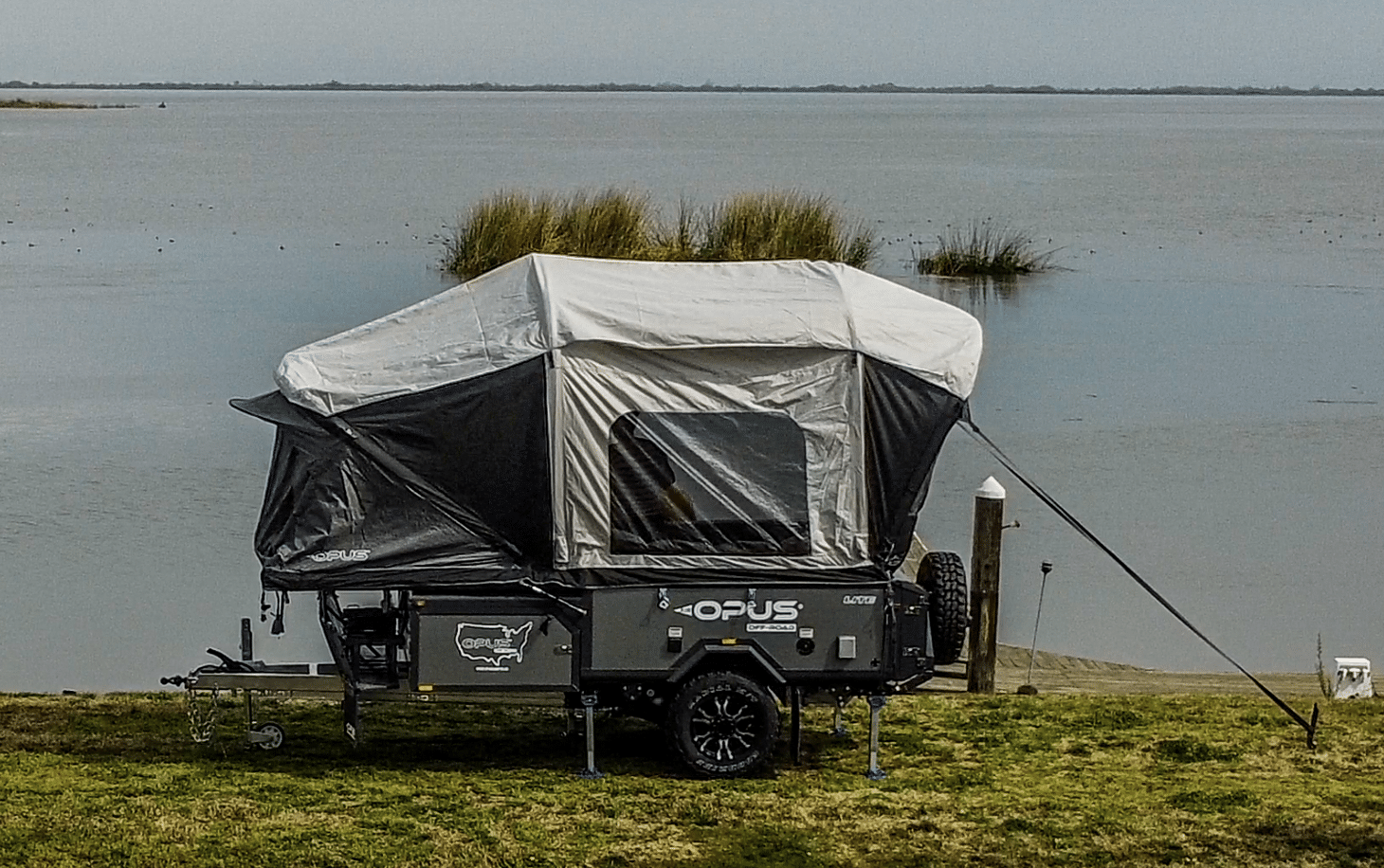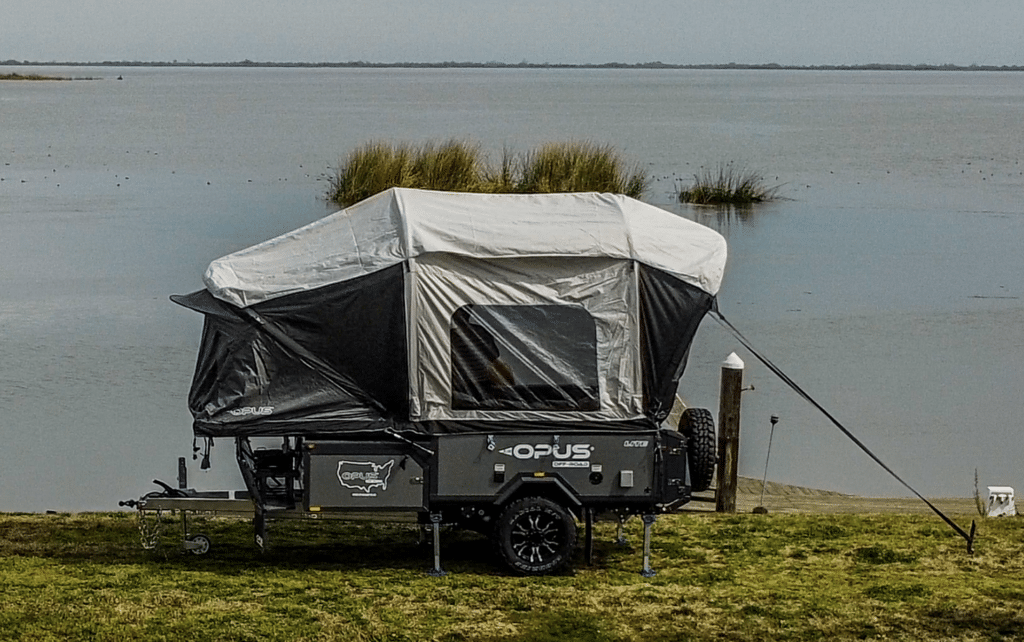 Price: $25,999
Dry Weight: 2,380 lbs
Length: 17′ 2″
Height: 10′ Open | 4.5′ Closed
Sleeps: 1 – 3 People
The Opus Op Lite pop-up camper is the perfect fully functioning off-grid camper for your next camping trip. It's rugged, versatile, and engineered for tight low profile towing (making it perfect for a small SUV or Jeep)!
Crack open a beer and watch the Opus Op Lite inflate in 90 seconds or less! The interior lighting in this pop-up is seriously impressive, too. With windows and LED ceiling and floor lights, you'll never be left in the dark!
Frequently Asked Questions
Here are a few common questions we're asked about small pop-up campers:
What is the smallest size pop-up camper?

The smallest pop-up camper on the market today is the Sylvansport Go Trailer. It has a dry weight of 840 pounds and an overall length of just 11′ 10″.
How much do pop up campers cost?

Small pop up campers cost anywhere from $10,000 – $25,000+ for a newer model. They're some of the cheapest options in the RV industry.
What is the smallest Jayco pop up?

The Jayco Hummingbird 10RK is the smallest in the company's line of travel trailers. This small pop up camper is 13′ in length and just a smidge over 7′ tall.
What is in a pop-up camper?

It varies! In some pop up campers, you have bathrooms, dinette tables that can convert into a bed, large fold out beds, a small kitchen area (with a sink and two burner propane stove), and some even come with a toilet and shower!
Is it worth buying a pop-up camper?

Yes – of course! They're the perfect addition to a road trip, are light weight, fit up to four people (or more), and some have off road capability!

It takes just a few minutes to set up small pop up campers, and in some cases, you could go as far to say that a popup camper is considered luxury camping!
What is the smallest camper with a toilet?

The Scamp 13′ Deluxe is the smallest trailer with a wet bath nestled inside! It's the perfect small camper to bring on road trips if you plan on boondocking and don't want to use the bathroom in the great outdoors!
How much do pop up campers weigh?

The average weight of a pop-up camper is ~2,000 pounds. You can find pop-up campers that weigh less, though! For example, the Forest River Rockwood Freedom 1640LTD we mentioned in our list weighs 1,465 lbs.
Related Articles: