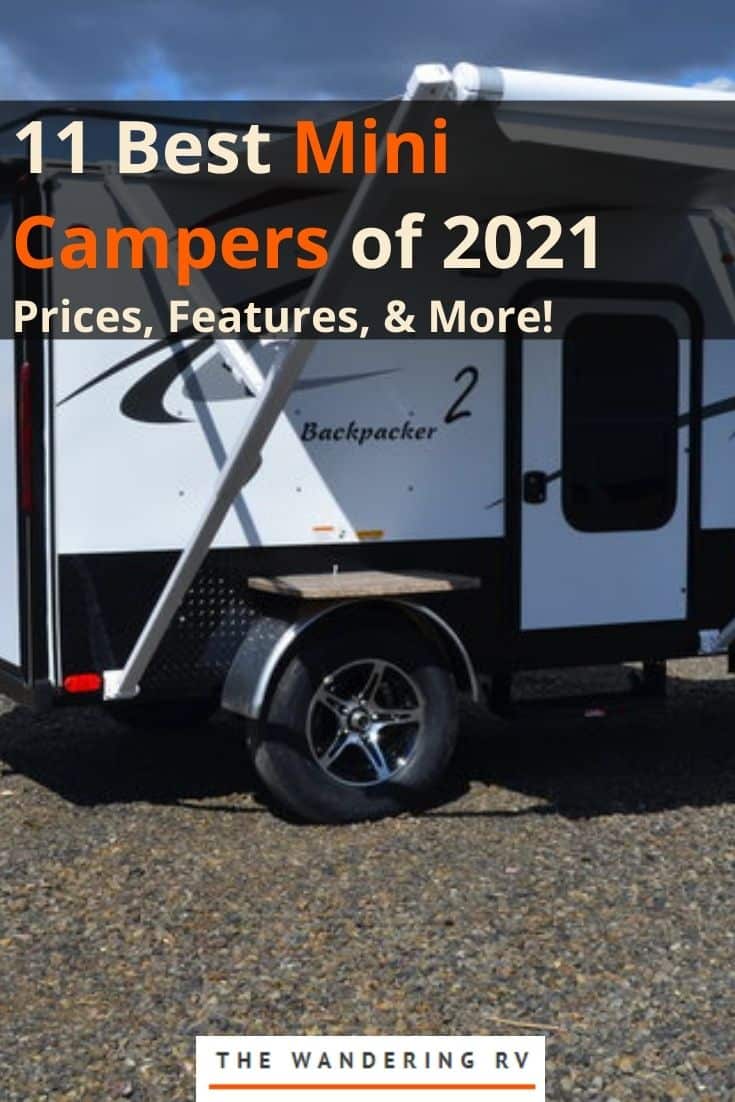 Mini campers and small camping trailers are growing in popularity each year, and we can see why!
Tiny campers give their owners all the joy of camping without the hassle of owning a large RV. When heading out on a camping trip with a mini camper you'll see just how easy to tow and use these small travel trailers are!
Let's take a look at the 11 best small camper trailers on the market right now:
Table of Contents
The Dyrt Camping App
Find free camping with a public lands map
Up to 40% off select campgrounds
First 30 days free with code "TWRV"
Recommended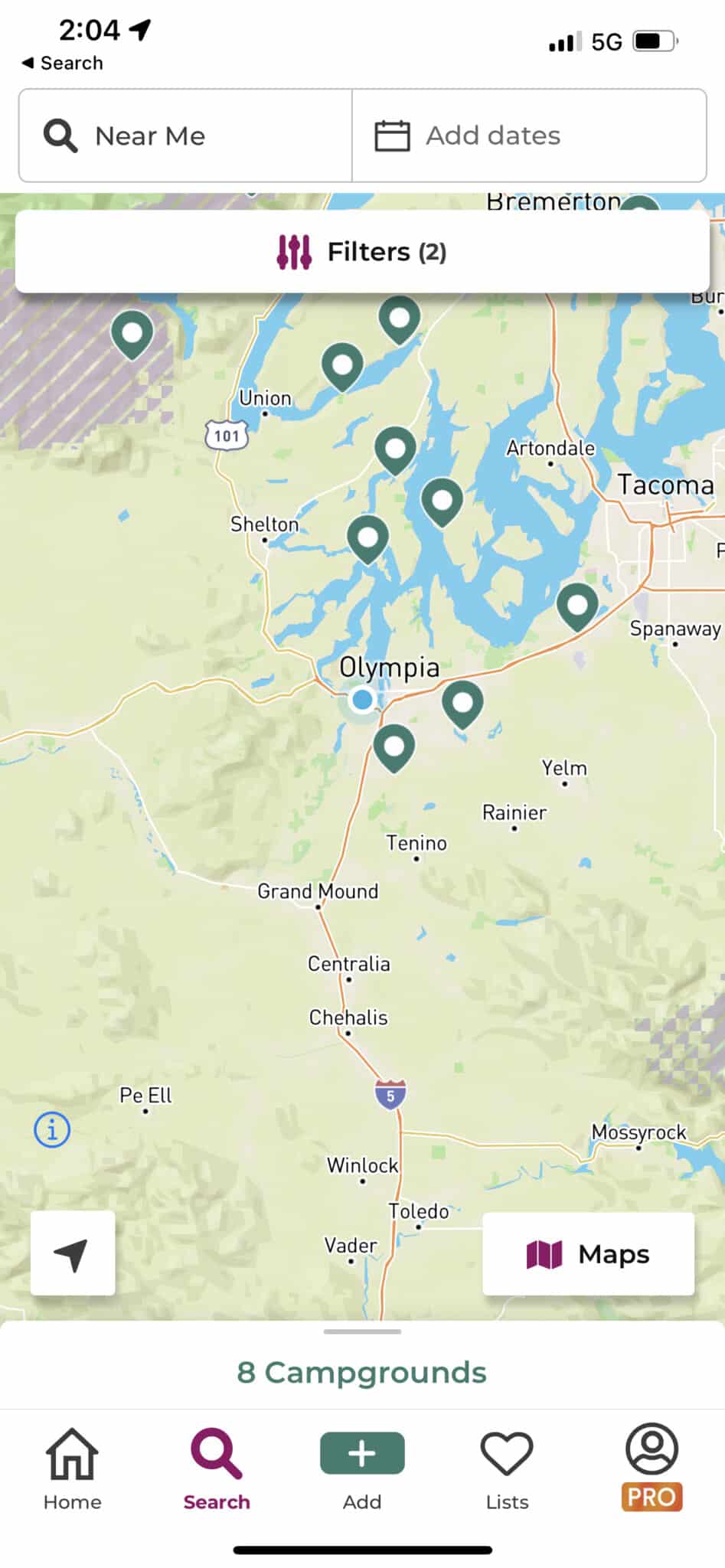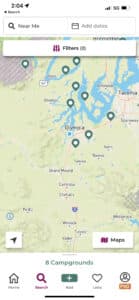 1. Kodiak Campers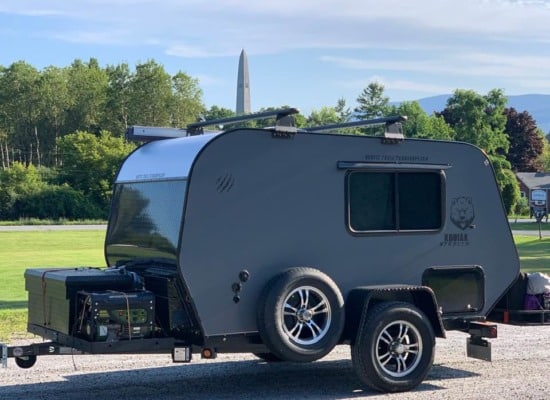 Standard Features:
Heavy-duty 3,500 lb. rated axle with 15″ tires
15″ Tires and Black Steel Rims with full-size spare
Electric Trailer Brakes
Foam board insulated roof + radiant barrier for increased R-value
Stand on 350 lb capacity flat fenders
Standard 2″ rear receiver for bikes and cargo
Standard MaxxAir vent/fan
Deadbolt lock door with screen + window & sunshade
Dual USB charging ports in the rear
Front interior power strip with USB ports
15 Amp shore power connection
Specifications:
Dry Weight: 1,525 lbs
Exterior Height: 80.5″
Interior Height:5 feet
Interior Width: 5 feet
Interior Length: 10 feet
Price: Starts at $9,950
Kodiak Stealth Available Options:
15″ All Terrain Tires mounted on black steel rims, upgraded lock n roll style coupler, and raptor lined fenders
5,000 BTU Air conditioning unit
Battery kit with outside port
Full-roof rack
ARB awning
Front rack
Front rack box
Outside outlet
Outside table
24″ Tall Vinyl Wrap
15″ Aluminum Rims
Upgraded Deluxe MaxxAir Fan
Kodiak campers are very well known in the mini camper market.
The Kodak Stealth is the most popular small camping trailers of the bunch simply because of its durability and perfectly laid out floor plan. It gives its users all the storage space they would need on their next camping adventure.
The Kodak stealth model is Kodak's best-selling small trailer. It's the only rustic trail small travel trailer, which is loved by many.
For those of you that enjoy staying cool, you can also upgrade to the 5,000 BTU Air conditioner. These Kodak small campers have everything you need to enjoy your camping adventures and make you a happier camper!
2. Backpacker 2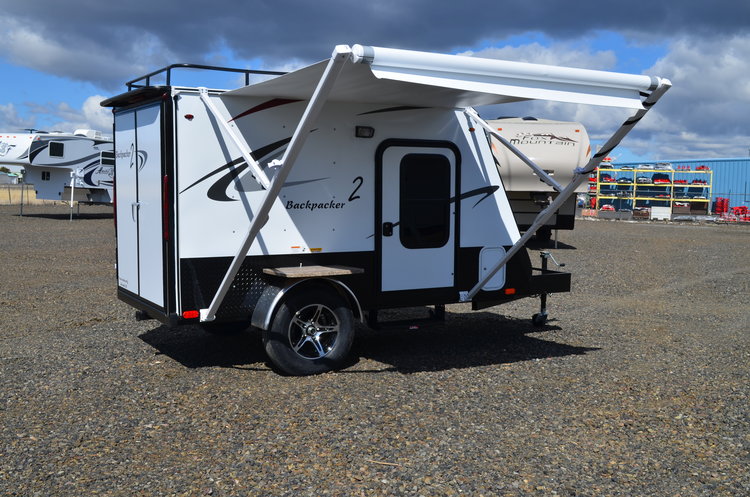 Key Specifications:
Trailer Weight: 1240 lbs.
Bumper to Hitch Length: 14' 6"
Hitch Weight: approx. 160 lbs.
Overall Height: 79"
Interior Height: 60"
Sleeping Area: 6'8″ L x 52″ W
Price Range: $8,000 – $9,000
Standard Features
2900 lb. Axles

2900 lb. Axles
ST205/75R14 Radial Tires
Aluminum Fenders
White Rims
Aluminum Skin
Metal Roof
Insulated Walls & Ceiling
12-volt Battery Ready
¾" Plywood Flooring
LED Tail Lights
Porch Light
Detachable Table
Complete Underbelly
Double-Barn Door in Rear
GFI Outlet & 12-volt Outlet
Large Countertop
Stainless Steel Sink with Hand Pump
Drawers (2 each)
Overhead Cabinet
14" x 14" Roof Vent with Fan
Cherry Wood Cabinets
110-volt GFI Outlet (2 each)
12-volt Outlet
12-volt Lights (2 each)
Large Entry Door with Window &
Screen Door (includes V-blind)
Large Escape Window
Their Backpacker 2 is the perfect lightweight mini camper which makes it easier to tow with smaller trucks or even SUVs. Its length of less than 15′ makes it easy to control when being towed behind your vehicle.
This camper comes with a decent-sized sleeping area and large living space. The Backpacker 2 also provides many options for storing your accessories.
If you're after small camping trailers that will provide you all the storage space you need for all your camping needs and have you camping in luxury, look no further than the Backpacker 2.
3. Flagstaff E-Pro E12RK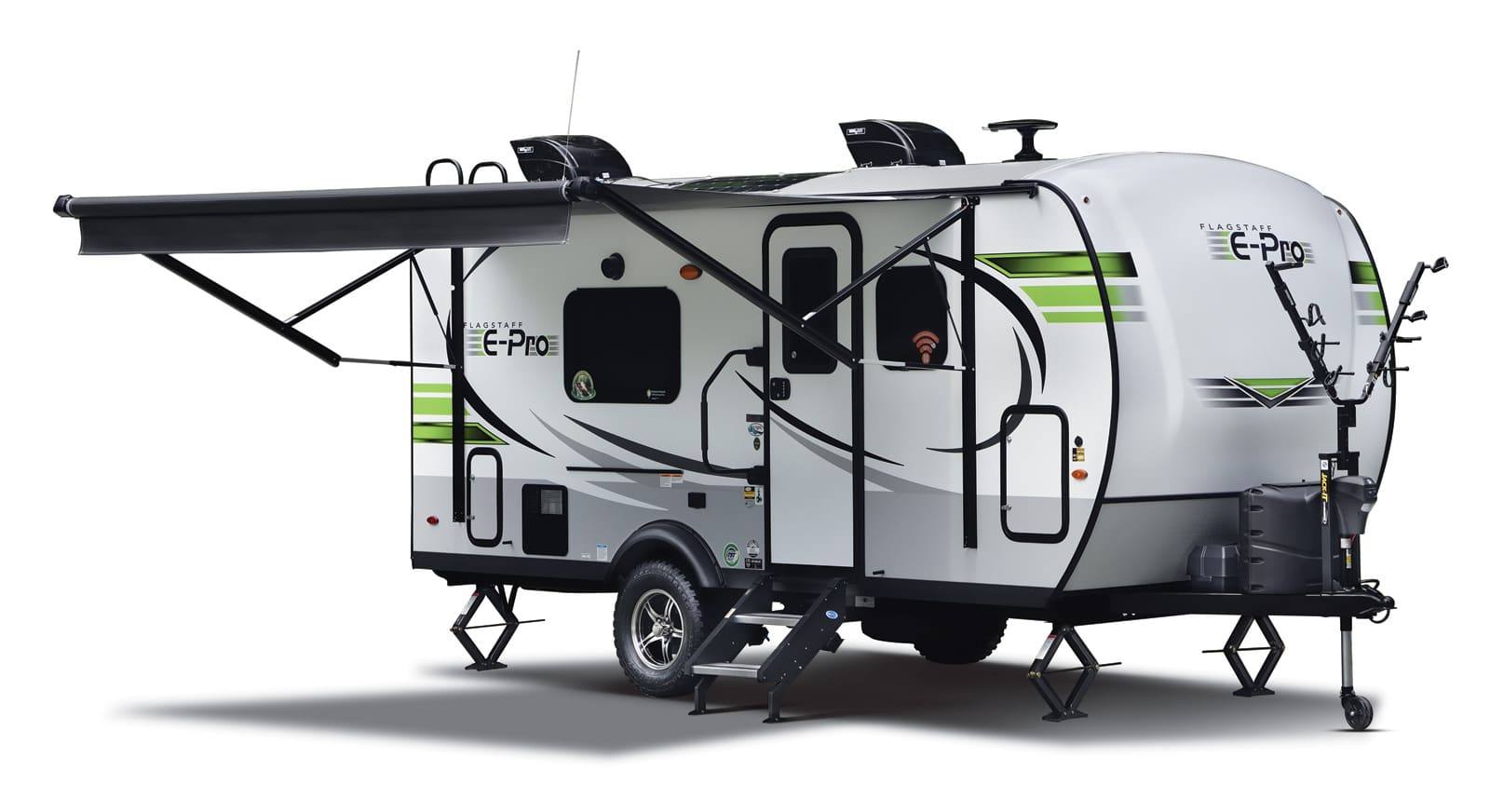 Key Specifications:
Hitch Weight: 162 lb.
UVW: 1252 lb.
CCC: 710 lb.
Exterior Length: 11′ 3″
Exterior Height: 7′ 9″
Exterior Width: 80″
Fresh Water: 20 gal.
Gray Water: 6 gal.
Price Range: $8,000 – $9,000
Other Offered Options:
Chill Chaser Heat Strip For Air conditioning
Manual Awning
CSA (Canadian Standards)
Pro Rac Mounting Bars
Pro Rac Kayak, Bike, Tie Downs, Etc.
Accessories
Tongue Mount Bike Rack
Maxxair® Ventilation Fan and Vent Cover
Standard Features:
Standard Features Include:
Aluminum Cage Dinette Base
6 Sided Aluminum Cage Construction
Vacuum Laminated Roof and Walls
5/8″ tongue and groove plywood flooring
2 Frame Mounted Stabilizer Jacks
Torsion Axle, Rubber-Ryde Suspension
Tire Pressure Monitoring System
Magnetic Baggage Door Catches
12V Refrigerator
Spare Tire W/ Carrier
13,500 Roof A/C
15" Mud Rover Radial Tires and a lift Kit (Step extension on the 12RK and 12SRK)
Foot Flush Toilets
The Forest River Flagstaff E-Pro provides you with all of the options you need. This include a gas griddle, outside sink, microwave, TV, and refrigerator – it's a truly great tiny camper!
For any camping enthusiast that enjoys sitting outside and watching TV, this mini camper is perfect for you! The E-Pro has a gross vehicle weight rating of 1,300 lbs, which makes it easily towable for any truck or mid-sized SUV with a towing package.
This takes away the worrying of purchasing a vehicle that can tow a larger RV. This mini camper is a great option for anyone looking to purchase their first-ever camper.
4. Sun-Ray 109 Mini Camper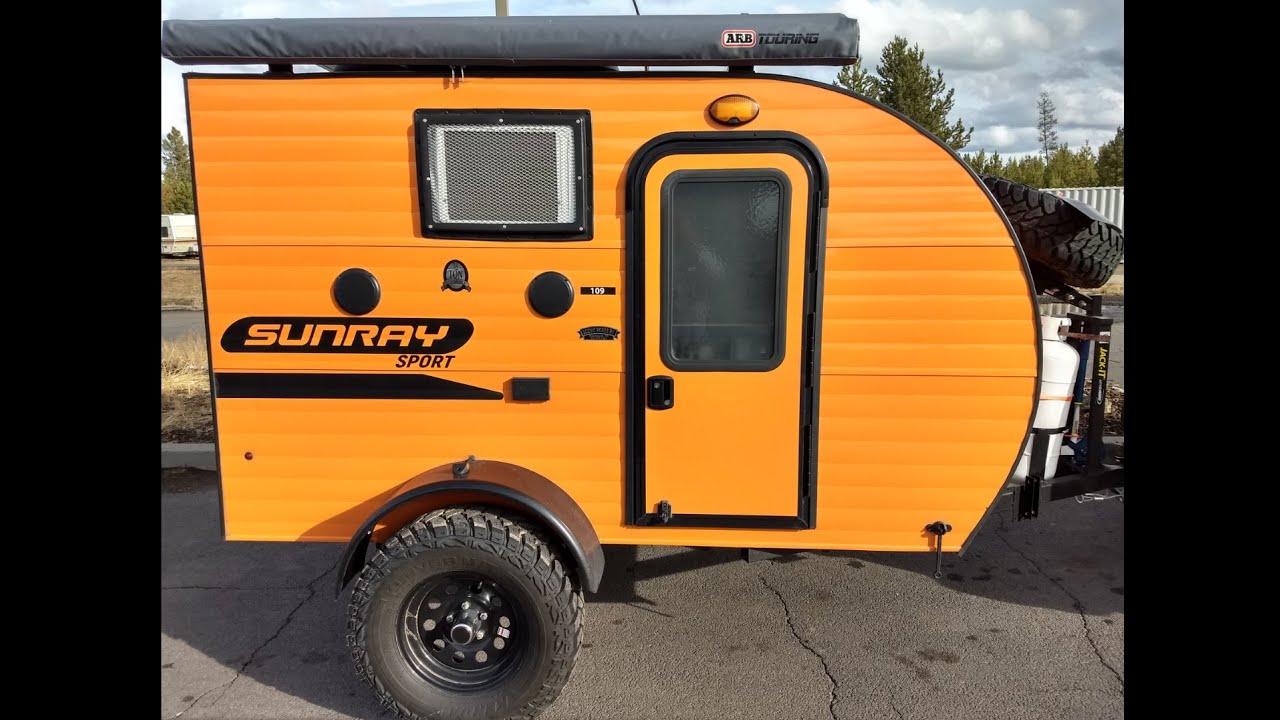 Key Specifications:
Dry Weight: 1,280 lbs
Hitch Weight: 120 lbs
GVWR: 2,000 lbs
Length: 12′
Interior Height: 53″
Width: 7′
Fresh Water Capacity: 16 gallons
Price Range: $9,000 – $10,000
Standard Features:
Bed size 54 X 74
Dinette bed 54 X 74
Awning length 8'2″
Complete kitchenette
Cabinets
The Sun-Ray Classic is an affordable option for those who want the RV lifestyle but from a camper trailer instead of a large-scale RV.
It's perfect for camping enthusiasts looking to get out into the wilderness and experience tiny living. This mini RV teardrop trailer is for people who enjoy the basic amenities when they're out camping.

It has one bed and a sofa for two for those days you want to enjoy time inside the trailer. The exterior cabinets are perfect for storing all of your camping and cooking gear.
This teardrop trailer also comes with a complete kitchenette, so you can enjoy fresh-cooked meals while camping. The interior space (as well as the sleeping space) in this small camper is amazing.
5. TrailStomper Micro Trailer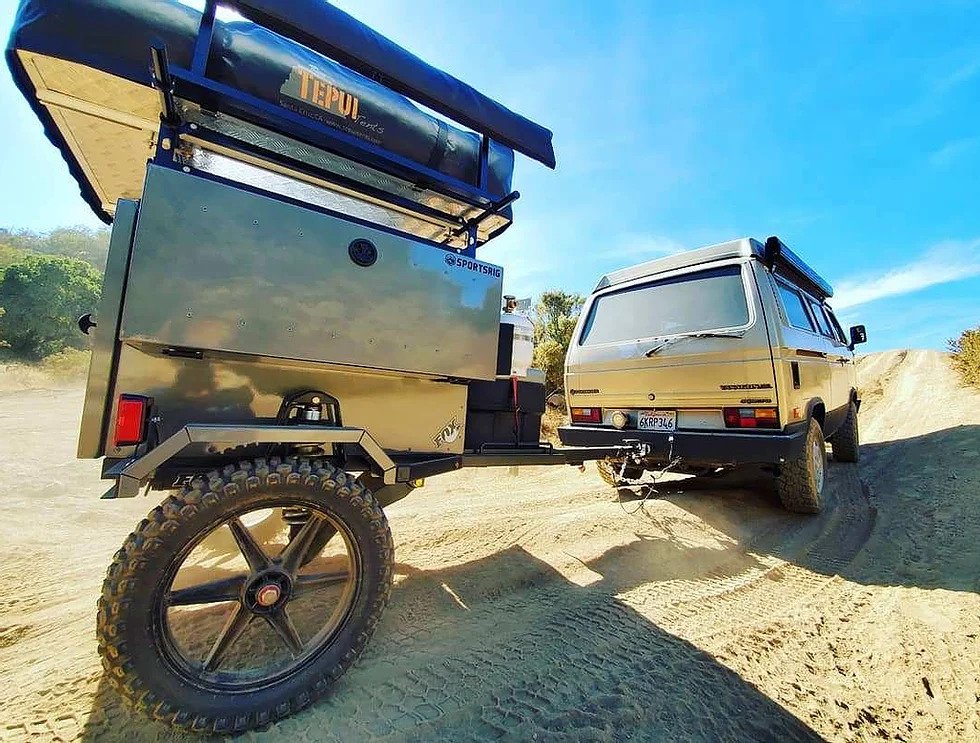 Key Specifications:
Length (Front to back) – 40″
Width – 43″
Height – 26″
LOAD TOLERANCE: Trailer loads up to 600lbs.
Base Price: starts at $4, 995
Standard Features:
Rooftop tent mounting
Slide out tray
Front Cargo Rack
Side Boxes and Top Racks
17″ spare tire
Aux Battery/ lights
Custom Fab
Sportsrig Microtrailers TrailStomper is a very affordable camping trailer that comes with the option of adding a rooftop tent mount. This gives you the ability to get up and go whenever you feel like it while staying in the comfort of your tent and Trailstomper trailer.
This small trailer has a carrying capacity of up to 600 lbs. It's also lightweight and compact, which means it can be towed by almost any vehicle with a towing package.
The adjustable suspension allows you to make adjustments based on your load so that you can have a more pleasant driving experience and take it off-road.
6. Timberleaf KESTREL Camper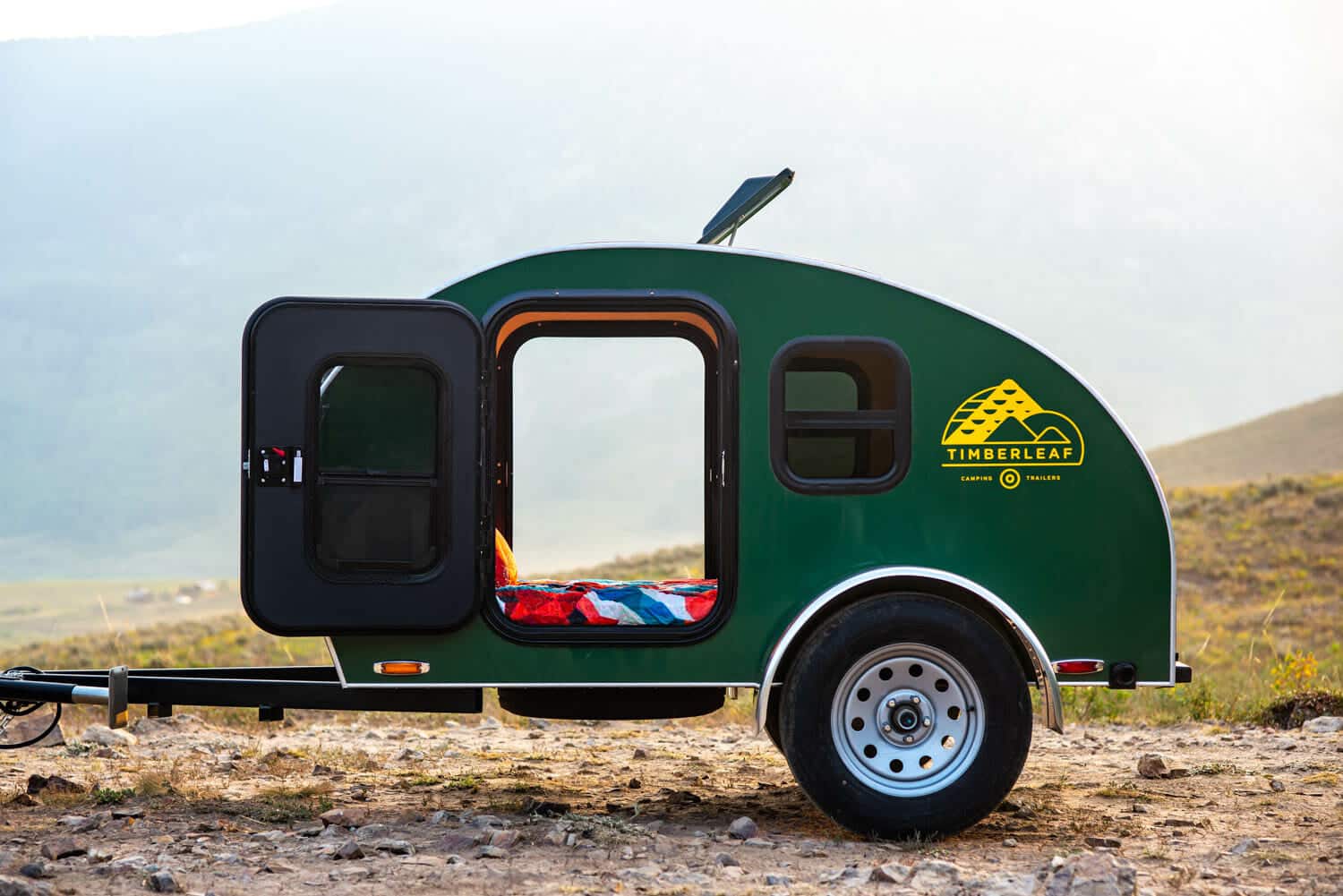 Key Specifications:
Base Weight: 860 pounds
Base Price: $7,800
Available Packages:
Standard Package: 2,000lb torsion axle, 205/75r15 trailer tires, 15″ aluminum wheels, round smooth aluminum fenders, standard 2″ ball coupler
All-Road Package: Timbren Axle-Less suspension, 3500lb independent suspension, electric drum brakes, 30×9.5r15 all-terrain tires, 15″ polished aluminum wheels, aluminum Jeep-style diamond plate fenders, Max-Coupler articulating hitch
Off-Road Package: Timbren Axle-Less suspension, 3500lb independent suspension, 4″ lift electric drum brakes, 31×10.5×15 BFGoodrich KO2 tires, 15″ polished aluminum wheels, custom jeep-style HD fenders w/ integrated corner steps, front corner rock sliders made of 1.5″x.120″ HREW Max-Coupler articulating hitch
Standard Features:
R-7 Insulated ceiling
.040 clear anodized aluminum roof
.040 custom painted aluminum sides
Passive roof vent
Three AA-powered LED cabin lights
LED running lights & tail lights
Baltic Birch plywood on all exposed surfaces
Cabin cabinets and headboard with sliding doors
Two 14-inch x 16-inch venting with screens
Two 26-inch x 36-inch doors with vented
Full Size – 6-inch foam
All wood finished in 100% zero-VOC Polyurethane
205/75r15 spare tire
2,000lb torsion axle
205/75r15 trailer tires
15″ aluminum wheels
Round smooth aluminum fenders
Standard 2″ ball coupler
The Timberleaf Kestrel is an ultra-lightweight camper that will let you experience an amazing time on your next adventure. It comes with 2 windows, 2 doors, a roof vent, and a 6-inch mattress.
These camper trailers are perfect for anyone looking to experience adventure with only the basics. It does not come standard with electricity or power, making it a much cheaper alternative to the other options on this list.
Although this travel trailer is very basic, it's still very well-designed and well-built. It's a serious contender for anyone who doesn't need the added frills for camping trips!
7. Aspen Classic Mini Camper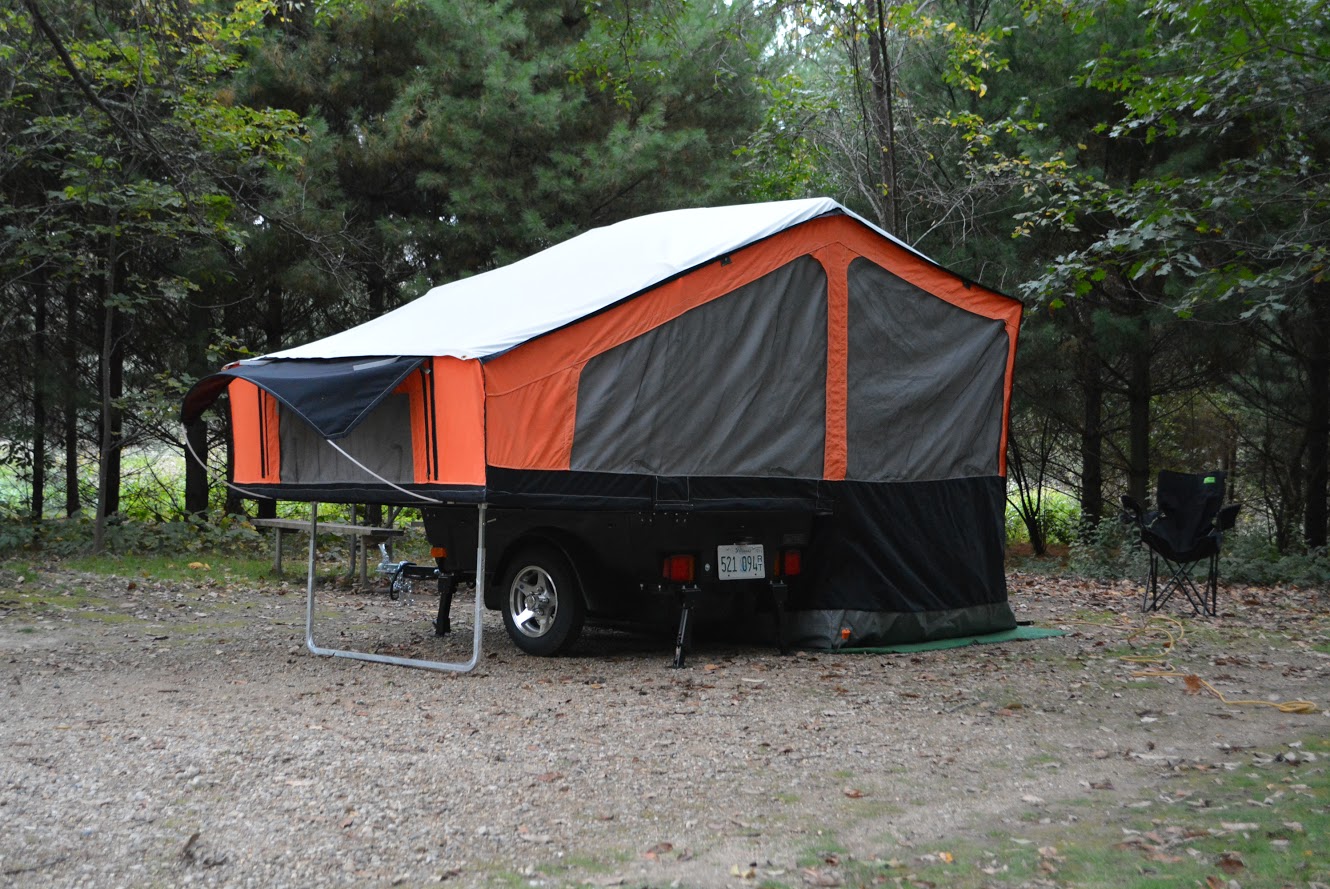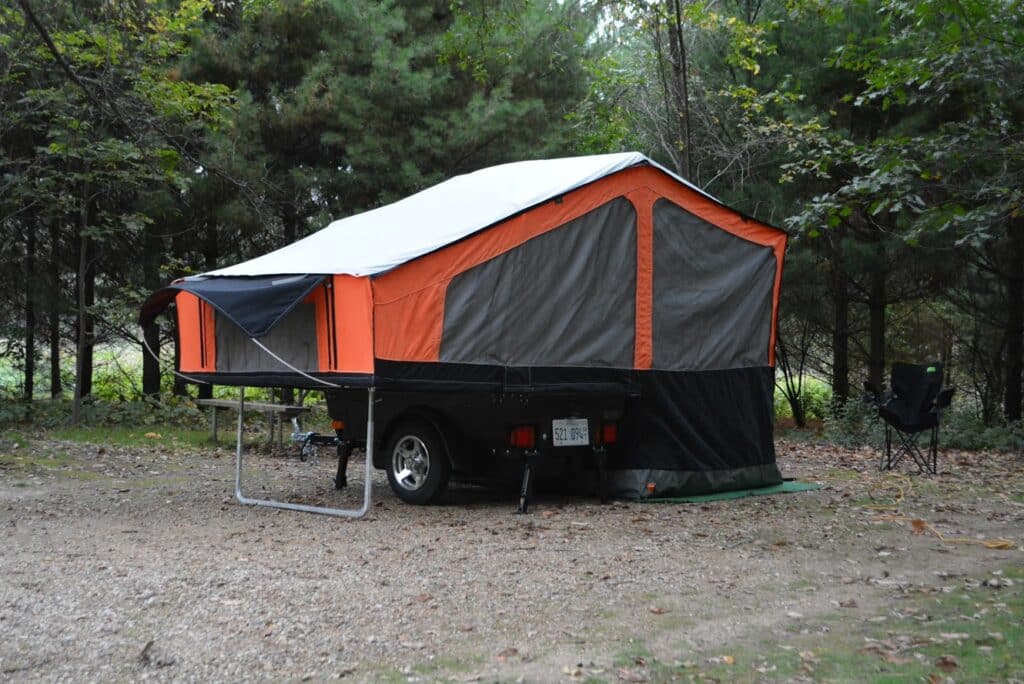 Key Specifications:
Closed dimensions: 47" W x 72" L x 38" H
Open dimensions: 150" L x 72" W x 86" H
Bed Size: 72" W x 84" L (King)
Room Size: 72" W x 66" L
Weight (empty): 350 lbs.
Storage Capacity: 25 cubic feet
Tongue weight: 24 lbs. (empty)
Price Range: $3,000 – $5,000
Optional Accessories:
Air conditioning duct kit
Bed caddy
Clear view window panel
Continental kit
Cooler rack and cover
Coupler handle
Den room
Extended tongue
Framing kit
Kayak rack
Lightbar
Party deck
Privacy skirt
Reflector bar
Screen room
Sun-rain canopy
Swivel coupler
Tongue stand
Standard Features:
Single-piece, re-enforced fiberglass body available in white, black or gray with a basement level for added storage.
Storage compartment accessible both while traveling or inside the tent
Full perimeter 2″ deep box-tube sealed welded & black powdered-coated frame.
A tri-angulated tongue is utilized for maximum stability
Dexter Torflex suspension with electric brakes option
Four adjustable jack stands at the perimeter of the frame
1 7/8″ standard ball hitch.
A swivel hitch available as an upgrade
4.80 x 12″ bias-ply tires with white wheels are standard. Chrome and aluminum rims are available upgrades as well radial tires.
Durable travel cover with 2.5 cubic ft. zippered pocket
LED trailer lighting for safe, long-lasting performance
6-pin trailer plug standard. Other plug styles are available
Interior telescoping galvanized steel tent bows
Spring rear loaded bed bow for easy set-up.
Aluma-Core Bed Panels with insulation for maximum strength & weight (rated for 600 lbs.)
Single piece seamless white roof
An eight-inch high pan-rolled floor that positions seam above ground level.
Tents are seam sealed & water tested
Zippered storm flap that can double as a canopy fly (poles sold separately)
Zippered pocket for cooler/tongue access from inside the tent
A/C duct flap for the optional addition of your own AC unit
Dual zippered rear bedroom window for full access through the rear of the tent.
Rear with a flexible rod to allow for additional privacy and watershed.
Foam with cleanable covers.
1-year warranty on parts
10-year warranty on the axle
The Aspen Classic features reasonable space and storage for all your camping gear. It's a lightweight trailer that can be towed by literally any truck, SUV, or even a small car with a tow package.
It's easy to set up once you have reached your camping location, which is something important to remember when looking for a small camper. This travel trailer even comes with racks that can be used to transport kayaks or storage boxes.
Although very simple, this inexpensive lightweight trailer is definitely one to consider.
8. SylvanSport GO Camper Trailer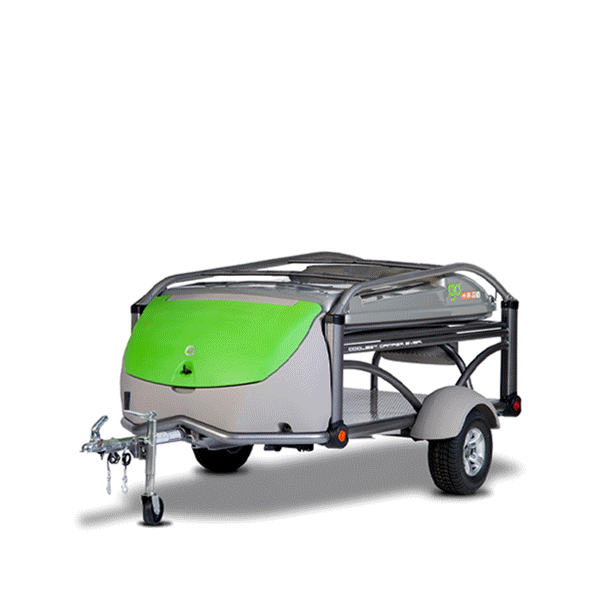 Key Specifications:
Standing height 6' 5"
80" long by 116" wide
Interior height expands from 17" to 48"
Deck size 48″ wide x 84″ deep
Loading height: 53″
Max carrying capacity: 960 lbs
Starting Price: $9,995
Optional Accessories:
tent awning
spare tire
hitch lock
deck cushion
drill adaptor
rug set
hanging organizer
storage net
camper cover
2 air mattresses
2 trekking poles
screen room
breezeway connector
solar kit
camp kitchen
2 single sleeping bags
Standard Features:
Equipment rack
crank handle
8 frame pins
tent pod
3 tent poles
2 bed panels
4 sleeping pads
4 bed support poles
2 table panels
gear deck
tailgate step
tailgate bungee
storage box
2 storage box keys
stabilizer jack rod
4 ratchet strap
This SylvanSport camper provides a quality designed shelter for 2 to 4 people. The towing of this trailer has become easier and more enjoyable because of its maneuverability and torsion trailer axle.
It's also built and designed to be durable. It features heavy-duty tent materials and a powder-coated aluminum body. This travel trailer is known to last forever.
SylvanSport also offers a number of different upgrade options for anyone looking to spend a little extra money to enhance their camper trailer.
9. The Anza Trailer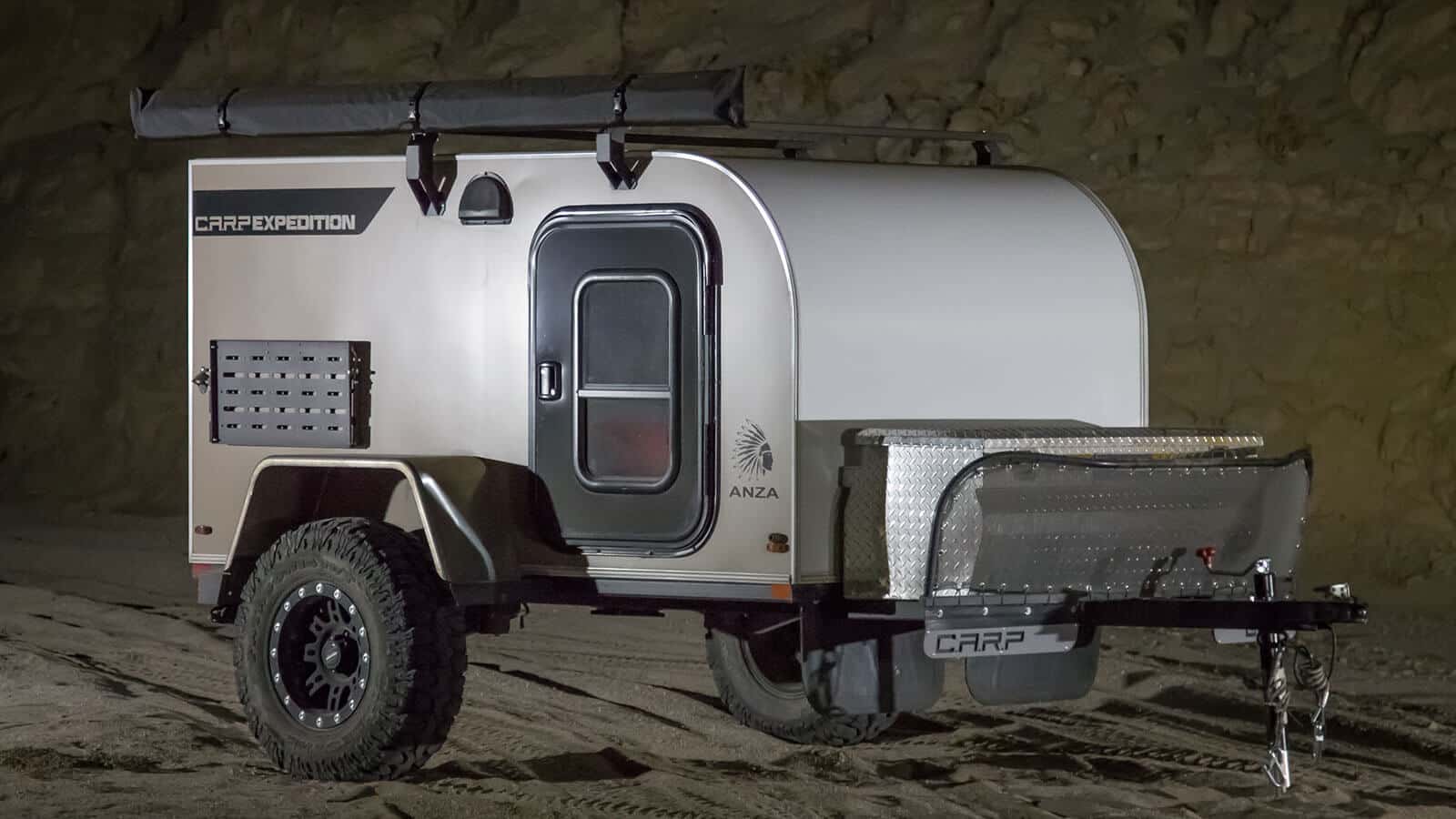 Key Specifications:
5 ft. x 8 ft. off-road trailer unit
31" wheels and tires
Price: Starts at $10,500
Optional Accessories:
Awning Sunseeker
Curt Basket Roof Rack
Curt Basket Roof Rack and extension
Kayak Rack, mounted (Needs simple roof rack)
Cubbyhole Storage
Window (24" x 14") Slider with screen, each
Rear Door (23" x 37")
Large Rear Door (45" x 40")
Tongue Box
Diamond Plate Rock Guard (Not needed with full sized tongue box)
Side Table
Spare Tire (Bigfoot) (Unmounted)
Foxwing Awning (Mounted)
MaxSonic Stereo System with 2 speakers/ 4 speakers
Mounted Propane Tank
Bunks: Carpeted Shelf, aluminum cleats on wall, 2 ft. deep x width of trailer, each
Rear Cabinet
Waterport Pressurized Water Tank/Spray Unit
ClimateRite Heating and Air conditioning unit (CR 2500)
31" Wheel/Tire Upgrade
Black Wheel/Tire Upgrade
Standard Features:
Stand on the fenders and batwing step
All LED lighting includes 2 interior magnetic LED puck lights
Dual 5000 lb. rear stabilizer jacks, and a 2000 lb. tongue jack. 2" receiver on the rear for a bike rack, cargo rack, etc. Not to exceed 75 lbs
¾" plywood walls with exterior sheet metal skin (choice of colors) and 2 x 4 ribs in the insulated roof
A welded chassis using 2 x 2 square tubing 120 walls
A welded tongue using 3 x 3 square tubing
Integrated step for accessing the stand-on fenders
Two doors with adjustable screened windows
A wall vent
Carpeted walls and floor
6-plug power strip on the rear interior
The Anza Trailer may have a price starting at $10,500, this travel trailer is definitely one you should consider. It's designed and built for off-road adventures.
This added off-road capability is part of the reason for the high price. The standard features of this teardrop camper trailer include dual 5000 lb. rear stabilizer jacks and a 2000 lb. tongue jack with 2" receiver on the rear for things such as a storage rack, bike rack, etc.
The Anza Trailer also comes stacked with a ClimateRite heating and air conditioning unit to help you stay comfortable inside the trailer. You'll be a happier camper with this small camper!
10. 2021 Coachman Viking Express Mini Camping Trailer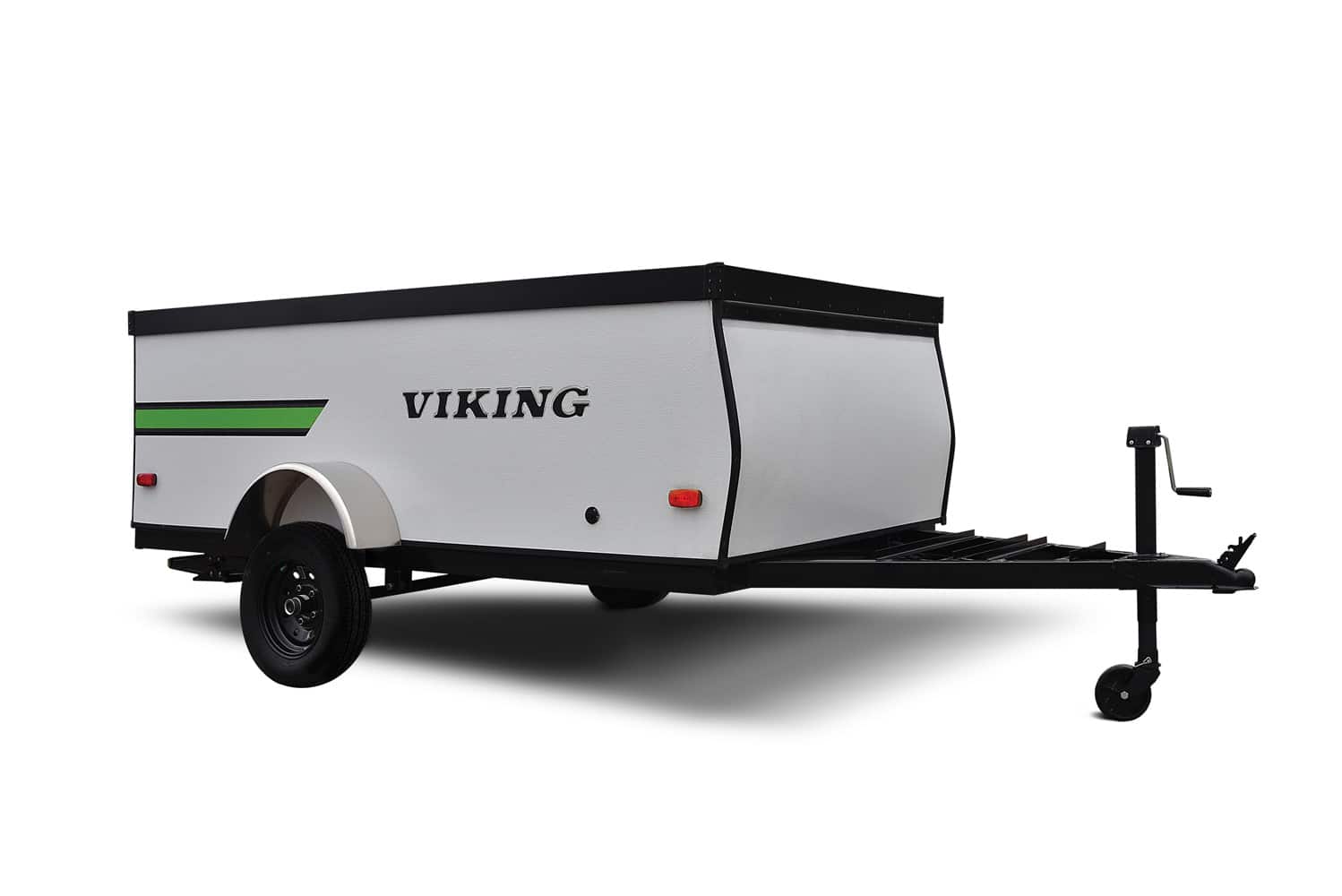 Key Specifications:
Hitch Weight: 77 lb.
GVWR: 1,277 lb.
UVW: 761 lb.
CCC: 516 lb.
Box Size: 8.75′
Exterior Open Length: 8′ 2″
Exterior Closed Height: 4′ 3″
Exterior Closed Length: 12′ 10″
Exterior Width: 79″
Price Range: $6,000 – $10,000
Optional Accessories:
Spare Tire & Carrier
Flex Rod Tech Add A Room
"Jack It" Bike Rack
"Toylok" Cargo Security System
5000 BTU Air Conditioner
Standard Features:
E -Coated Tubular Steel Frame
12″ Tires
Heavy-Duty Tongue Jack w/Wheel
Wide Trac Ultra Lube Spring Axle
Electric Brakes
Radial Tires
(4) Heavy Duty Scissor Style Jacks
Laminated Aluminum Skin Walls
LED Exterior Lights
Aqua-Shield Tenting Material
100% Adhesion Residential Grade
Linoleum
Dark Ash Cabinetry
Residential Laminated Countertops
12V LED Interior Lights
The Viking Express mini camping trailer is a very affordable option when looking for small campers.
It's a true mini trailer, being one of the smaller travel trailers on our list. Despite it's extremely small size, it packs a surprising amount of features.
The Viking Express comes with ash cabinetry and laminated countertops. This travel trailer also comes with 12V LED interior and exterior lights and electric brakes.
When it comes to quality, the Viking Express mini camper is top of the line. From interior design and well structure floor plans to all the options you can choose to install, this mini camper will never leave you disappointed or wanting more (in fact, you'll be a much happier camper with the Viking Express)!
11. Intech RV Flyer Chase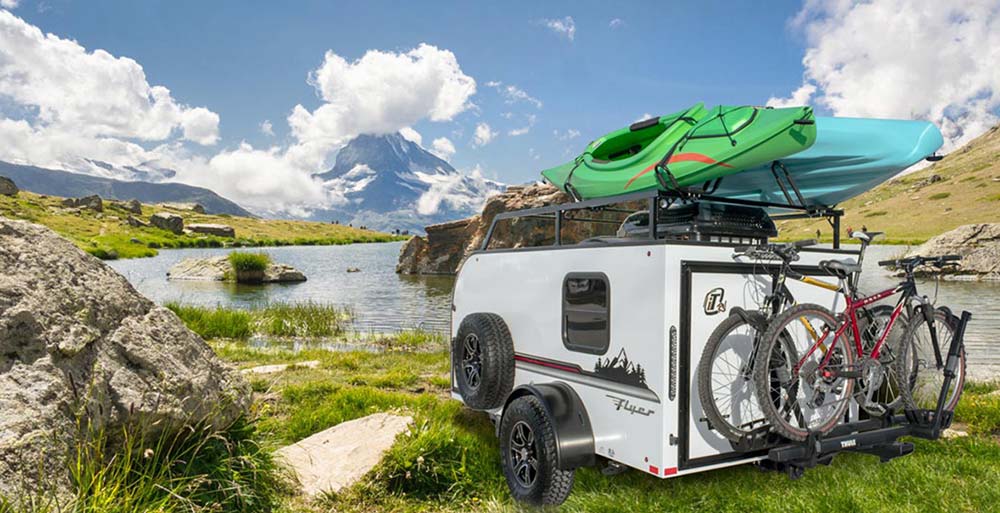 Key Specifications:
Dry Weight 950-1280 lb.
Tongue Weight . 190-215 lb.
GVWR 2200 lb.
Net Capacity 950-1250 lb.
Ball height 17″
Base Price: $10,995
Standard Features:
Frame All-aluminum cage frame
Coupler 2″ Ball
Receiver 2″ 100 lb.
Load center 30 Amp
Solar Zamp solar
Roof aluminum
Tires ST205/75R15 Tires w/Aluminum
Wheels – plus Spare Tire
Bed Size 59″ x 78″
Ventilation Maxx Air vent fan
Insulation R7 bubble foil
Storage front cabinet + 3 nets
Flooring infinity woven
Entertainment bluetooth stereo
2speakers + TV prep
Lighting 2 LED dome lights
Outlets (1) 12V Outlet w/(2) USB Ports & (2) 120V Outlets
The Intech RV Flyer Chase starts at a price of $10,995, which is slightly over the price of most of these other mini campers. Although it costs slightly more, this mini camper holds up to its standards and is extremely well designed.
The optional rear tent add-on allows for even more sleeping room when out on your adventures. It also comes with roof racks that can be used for multiple different storage options.
When it comes to small travel trailers, it's hard to beat the Intech RV Flyer Chase, and this mini camper is one you need to consider.
Benefits of a Mini Camper Trailer
Mini campers are the perfect way to camp if you are someone who enjoys the basics.
These mini trailers come equipped with all the storage, sleeping, and kitchen options you might need for basic camping. Mini campers are also much smaller in size compared to other RVs, which makes them easy to tow and travel with.
When it comes to maintenance, these lightweight trailers are very easy to clean and maintain. Small campers can easily be your cozy home away from home anytime you want to hit the road and go on a camping adventure without being bogged down by a massive fifth wheel or heavy trailer.
Tips for Buying a Small Camping Trailer
When it comes to purchasing a small camper trailer, there are a few important factors to consider. Some of these include the price, size, and amenities that you would like your mini camper to have.
If you're looking to spend under $10,000, then all of these small campers would be a great option to consider.
It's also important to consider the number of people you would normally have on a trip. Most of these campers have the perfect amount of space for two adults. Some mini campers do come with packages that can sleep 3-4 people, so which one you buy depends on your needs.
One other important thing to consider when purchasing a small camper is the amenities you would like to have. Most of these mini campers come with a kitchenette and bathroom, but not all do.
If having a bathroom is important to you, check out these small campers with bathrooms for more options!
There are ways to get around the missing amenities. For example, you can bring propane grills with you on your trips if you don't have a full kitchenette included in your mini camper.
And most campgrounds also have bathrooms, so a bathroom isn't always a necessity depending on where you're going to stay.
Other Small Camper Options
If you didn't find what you were looking for on this list, here are some other lists of small campers to check out:
Frequently Asked Questions
Here are some common questions we get about mini campers:
Other Types of RVs: