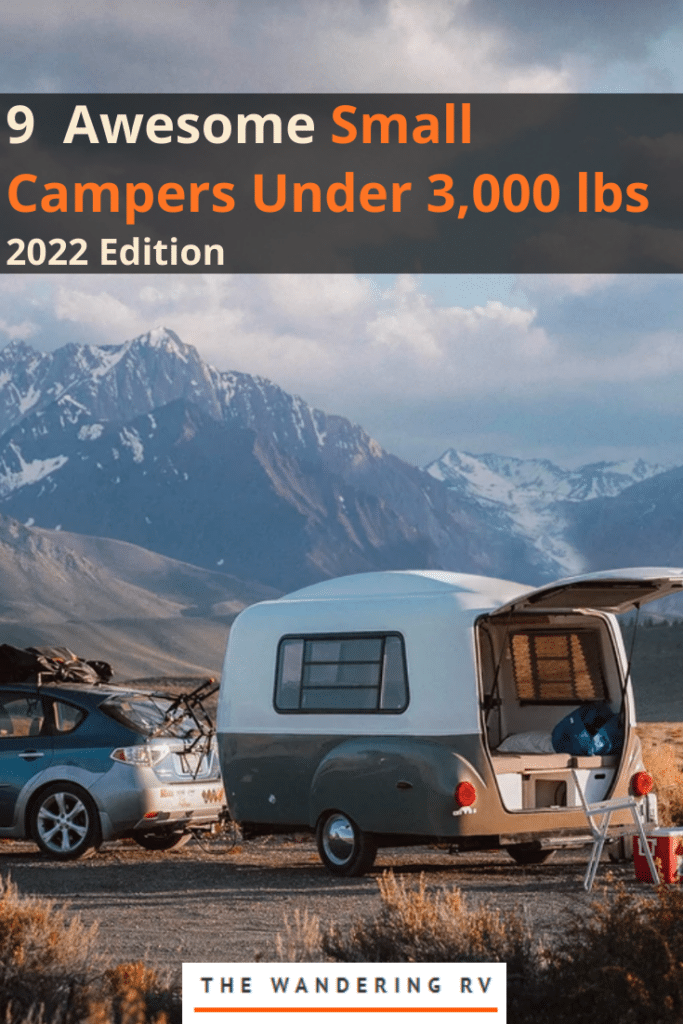 Are you looking for a small camper that can be towed by almost anything?
We found the best small travel trailers under 3,000 lbs so you can go anywhere and tow them with even the smallest of tow vehicles!
From itty bitty micro campers to teardrop trailers, to even a tiny camper you can tow with a bicycle, we share something for everyone.
Let's dive in!
Table of Contents
The 9 Best Small Camper Trailers Under 3,000 lbs
In order of lightest to heaviest, here are the best lightweight travel trailers available right now:
1. The Hatchling Small Camper
Price: $6,250
Weight: 840 pounds
Length: 12′ 2″
Height: 77″
Sleeps: 1 – 2 People
If you're looking for a lightweight, small camper, look no further than the Hatching Small Camper. This camper has a convertible dinette table that turns into a bed and sleeps 1 – 2 people.
As written on the website, "Simplicity is the ultimate sophistication." The Hatchling is similar to a teardrop camper with a very minimalistic twist. It's lightweight enough to be towed by most vehicles and because these trailers aren't mass produced (they're made to order), there's more flexibility to design both the interior and exterior!
The Hatchling is definitely the smallest trailer on our list, but when you're camping alone (or with one other person), you don't need too much extra space!
2. The Meerkat Tiny Camper
Price: $17,820 – $24,118
Weight: 900 pounds
Length: 13'
Height: 6' 1"
Sleeps: 1 – 2 People
The Meerkat tiny camper is a fully customizable lightweight travel trailer. Standard features include a table that seats four people, a closet, porta potty (with both a fresh and black water tank), lots of storage, and a camp stove (induction stoves are available if you'd rather that over the butane stove)! Not to mention, it has a pop top for more interior height. 
Take a look at all of the add ons you could have:


Obviously, the more you add onto this trailer, the more you'll have to pay. If you ask us, the high quality materials you could add into this camper is well worth the monthly payment!
Note: While there is no air conditioning unit in this camper (and no option available to add it into your camper), you could purchase a Zero Breeze AC unit for those hot summer nights in the great outdoors!
3. Happier Campers
Price: $34,450
Weight: 1,200-1800 pounds
Length: 13'
Height: 6'1"
Sleeps: 1 – 5 People
With a name like the Happier Camper, how could you not be happy just by looking at this? This tiny travel trailer delivers ground-breaking flexibility in an ultra-light package and comes equipped with features like:
Huge rear hatch
Wide entry door
Classic wheel fenders
Honeycomb fiberglass door
Large panoramic windows
… and more!
The Happier Camper has modular components made from durable materials that can be easily rearranged, stacked, and used outdoors! You're able to use any standard tow vehicle for this small camper, has enough sleeping space for a family of 5, and is able to fit into a single parking space.
It's easy to see why the Happier Camper is one of our favorite small campers on this list – we'd recommend it to anyone!
4. Highcamp Teardrop Trailer
Price: $21,500
Weight: 1,450 pounds
Length: 12'
Height: 5'
Sleeps: 1 – 2 People
The Highcamp Teardrop Trailer is a small camper that would be perfect for your next camping trip! The classic look comes from the anodized aluminum exterior (and the exterior of the camper can be equipped with a roof rack and awning). It's also treated to protect against gravel (which makes this travel trailer stand out to us even more)!
Some of the interior features include:
A queen bed
LED lighting
Charging outlets
Coat hooks
… and more!
With these features, birch cabinets, and plenty of storage, we're happy to have included the Highcamp Teardrop Trailer in our small campers list!
5. The Cricket Camper by Taxa Outdoors
Price: $32,439
Weight: 1,500 pounds
Length: 15′
Height: 4'2″ to 6'10"
Sleeps: 1 – 4 People
Meet the Cricket Camper by Taxa Outdoors… as they like to say, this small camper has "Everything you need, nothing you don't".
This travel trailer has sleeping space for up to 4 people (recommended is two adults and two children), and has a NASA-inspired design that features integrated plumbing and electrical systems to prepare you for excitement wherever your journey leads.
It's an easily towable travel trailer, has an optional 5,000 BTU AC unit, a two burner stove (with a covered sink area), and plenty of storage. Not to mention, the interior space is amazing!
In our opinion, it's one of the best small campers on this list! Taxa Outdoors really outdid themselves with this model!
6.Classic Teardrop Tiny Trailer by Timberleaf Trailers
Price: $23,400
Weight: 1,500 pounds
Length: 12'
Height: 3'
Sleeps: 1 – 2 People
The Classic Teardrop Trailer by Timberleaf is offered in 3 different suspension packages:
Standard – hosts standard trailer tires on a torsion axle and retro-inspired round fenders.
All-Road – features a 30×9.5r15 tires on aluminum mod-style wheels, diamond plate Jeep-style fenders, and Timbren Axle-less suspension with electric brakes.
Off-Road – features Timbren Axleless suspension with a 4-inch lift, 33-inch BFG All-Terrain tires, electric brakes, rock armor, and Max Coupler articulating hitch.
Not only that, but the Classic Teardrop has one of the biggest skylights you'll find in teardrop travel trailers. The cabin is fully insulated with 1" thick foam in between birch plywood, which makes camping in the cooler months a breeze!
This is one of our favorite small travel trailers on this list, we highly recommend it!
7. Scamp 16′ Camper
Price: $11,600 to $19,200
Weight: 1,750-2,000 pounds
Length: 16'
Height: 7′ 10"
Sleeps: 1 – 4 People
The Scamp 16' is great for small families and offers a bit more room than some other campers on this list. The quality of this camper is amazing and the interior isn't something to scoff at.
With a nice lounge area, plenty of storage space, and a decent size floor plan, the Scamp 16' will make any small family happy.
Note: Scamp Trailers also make smaller campers! The size ranges anywhere from 13' – 19'.
8. Basecamp Small Travel Trailer by Airstream
Price: $43,900
Weight: 2,585 pounds
Length: 16' 2"
Height: 6' 4.5"
Sleeps: 1 – 2 People
The Basecamp Small Travel Trailer is one of the coolest small campers we have on this list. It's built for adventure and it's a small camping trailer that's tough enough to go anywhere. The Airstream Basecamp has a bathroom, kitchen, and lounge area that turns into a bed.
There are two models you could choose from. The first is the Basecamp 16: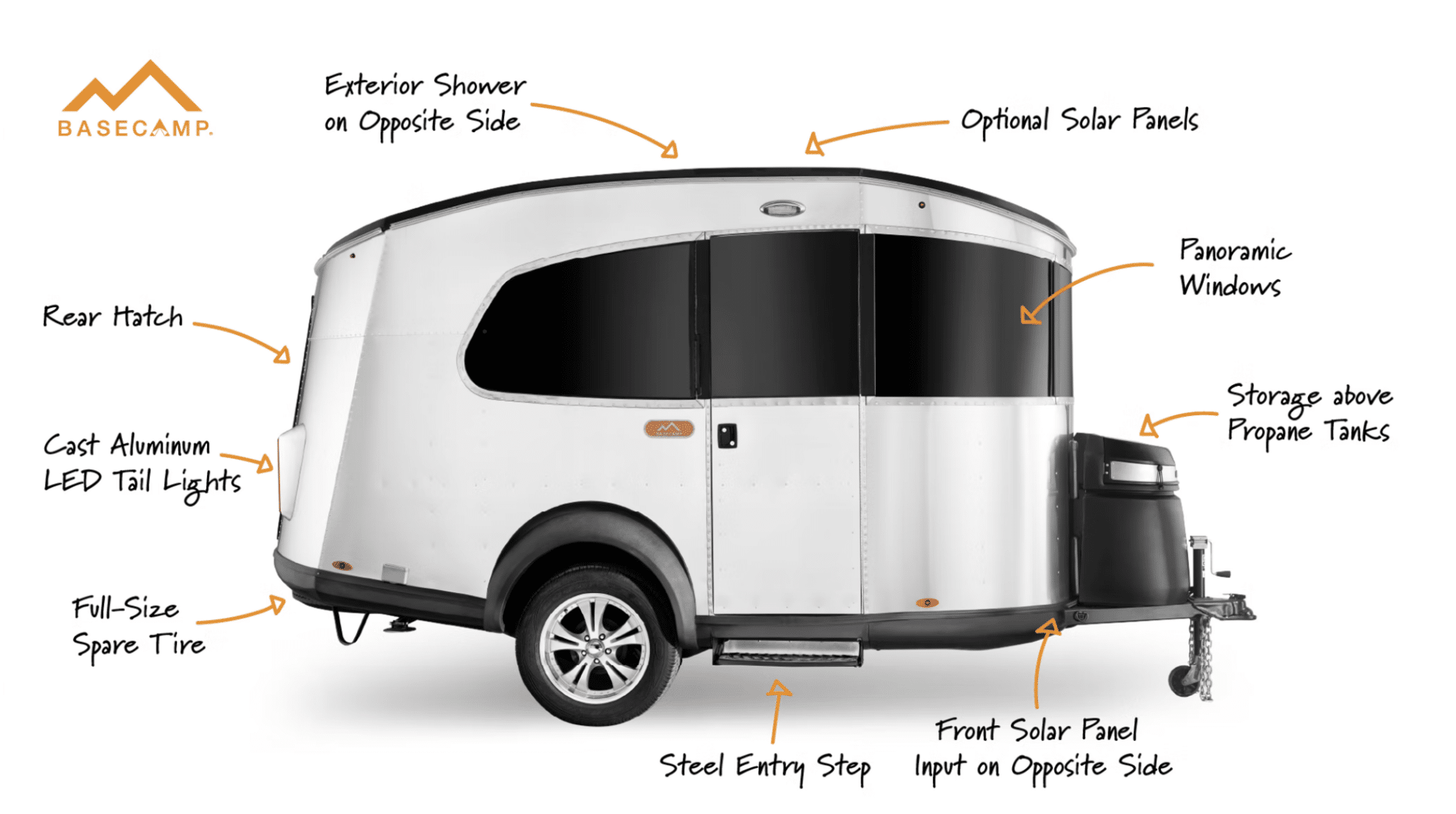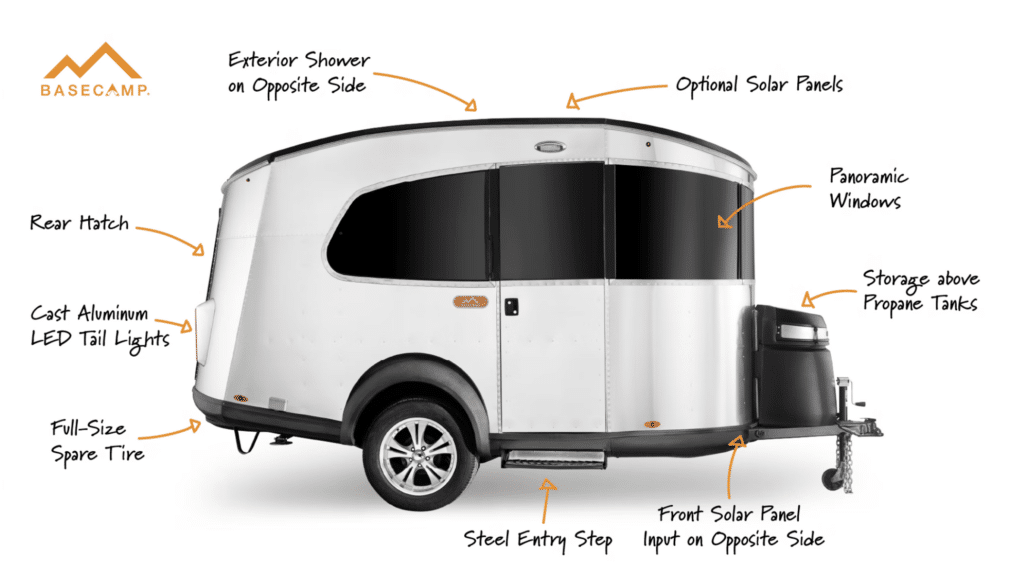 … followed by the Basecamp 16X: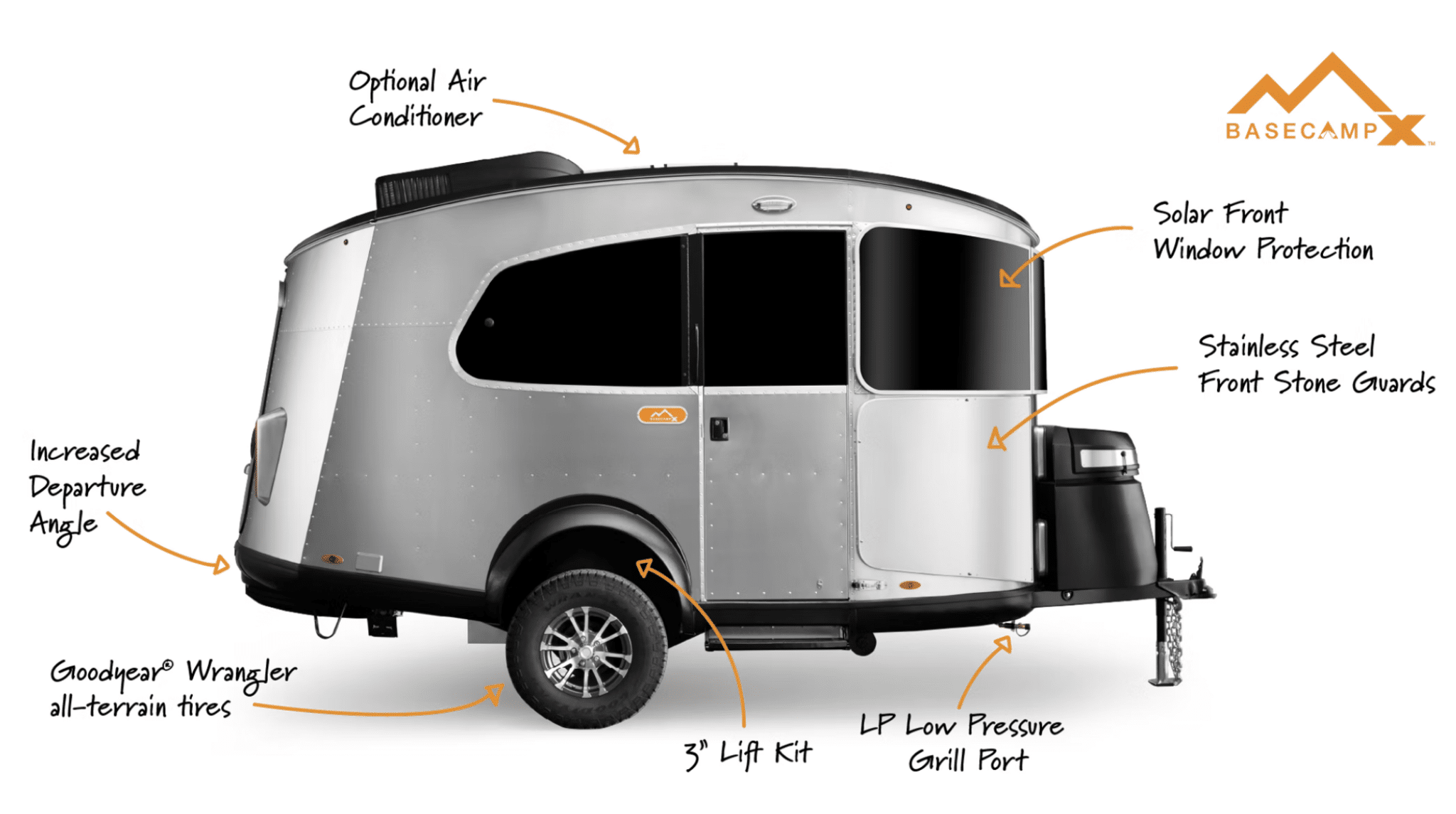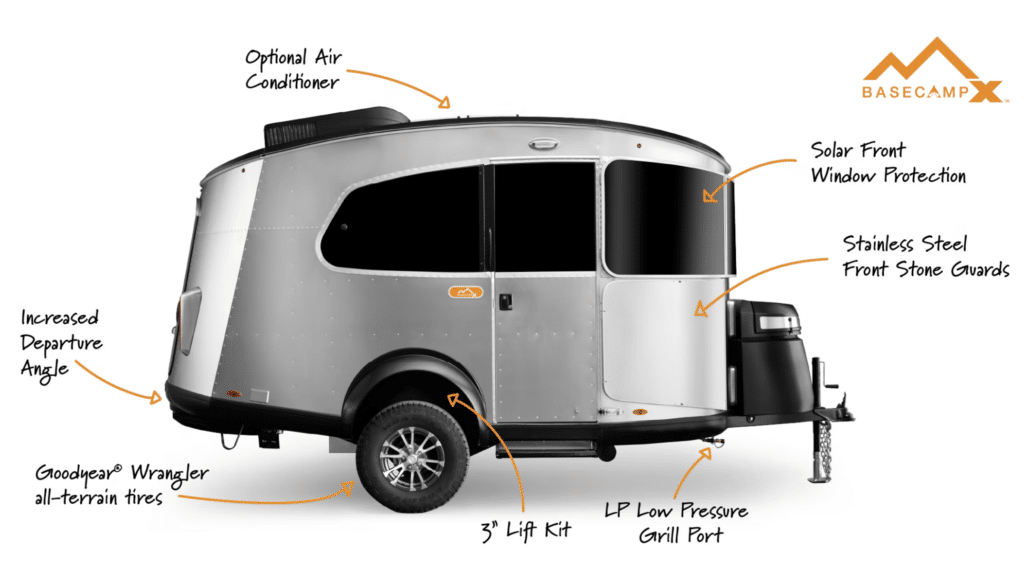 The Airstream Basecamp is easily towable with an SUV and the aggressive departure angle (and large wheels) help you tackle more roads with confidence. The side skirts and wheel flares help prevent damage from gravel and debris, too!
This is arguably one of the coolest small campers we've seen – what about you?
9. Airstream Bambi
Price: $56,500
Weight: 3,000 pounds
Length: 16′ to 22′
Height: 6′ 4″
Sleeps: 1 – 4 People
With all of the small campers we've talked about so far, you've probably got a few ideas as to which camper you're interested in getting next. We're near the end here, and we might have saved the best for last. We'd love to introduce you to the Airstream Bambi.
With enough sleeping space for four people, an air conditioner (and heat strip), a built-in refrigerator, stove and microwave, and so many more features, it's hard to pass this small travel trailer up. There's a spacious rear bathroom and an exterior shower, too.
We're huge fans of the floor plan and want to take this trailer on our next camping trip!
Bonus: Wide Path Bicycle Camper
Price: $4,800
Weight: 176 pounds
Length: 4.9' – 9.35'
Height: 4.6'
Sleeps: 1 – 2 People
Looking for something even smaller? This Wide Path Bicycle camper might be perfect for you! Imagine being able to tow your home on wheels with a bicycle. You certainly can't do that with any of the larger models we've talked about on this list!
The floor plan for this model is pretty small, you essentially get a dinette table that turns into a bed and that's it. While there's no dry bath in this small travel trailer, it's perfect for a quick camping trip!
Frequently Asked Questions
Now that you've seen our favorite small campers, here are answers some common questions we're asked about buying a small camper:
What's the smallest camper you can buy?

The smallest camper available is the Scamp 13'. We went over the Scamp 16' above – but if you're looking for the absolute smallest campers available, the 13' is one you'd want. Small campers can get pretty cramped though – we wouldn't recommend getting a 13' camper unless it's for solo camping trips.

If you're looking for something even smaller and lightweight, there is a bicycle camper you could get! It's 80 lbs and has a total length of 9′ 4″! Check out more ultra light campers here!
What is the smallest camper with a toilet?

Again, the answer is the Scamp 13'! It comes nestled with a wet bath. If you're looking for small campers with a shower as well as a toilet, the Airstream Interstate 19' is your best bet.
How much does a little camper cost?

Depends on the model you get! The campers on our list have ranged from $4,000 – $45,000 or more. The floor plan and interior features contribute to the price and with most small campers, you're able to add more to the trailer! Pricing information will of course be provided by the dealership!
Can a car pull a small camper?

Absolutely! As long as the combined weight of the trailer doesn't exceed the GVWR (Gross Vehicle Weight Rating) that your car is able to tow. A good rule of thumb is to stay under 80% of your max towing capacity.
What is the best small campervan?

If you're more interested in a camper van than a pull-behind camper trailer, we did a full guide to the best Class B RVs and camper vans here. Check it out for more info!
Still looking for the perfect RV? Here are a few other lists to check out: