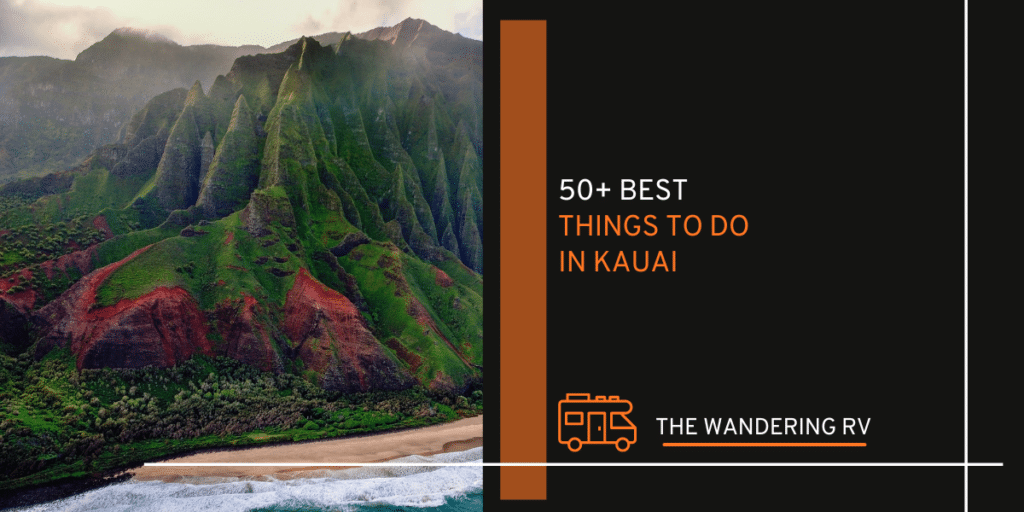 Aloha, adventurers! Are you ready to embark on a journey to the breathtaking island of Kauai? Nicknamed the "Garden Isle," Kauai is a lush paradise brimming with enchanting landscapes and endless activities. But let's face it, planning the perfect Hawaiian getaway can be overwhelming, and we all want to make the most of our hard-earned vacation time (and money!). Fear not, fellow travelers!
We've crafted this ultimate guide to the best things to do in Kauai, so you can kick back on the beach with a Mai Tai in hand, knowing you've got the inside scoop on the island's top experiences.
Table of Contents
9 Best Things to Do in Kauai
Just looking for the best of the best? We mention all the most popular things to do in Kauai later. This section is just for the can't-miss spots and activities!
Here are the top things to do in Kauai, based on personal experience and popular vote (in no particular order):
1. Luau Kalamaku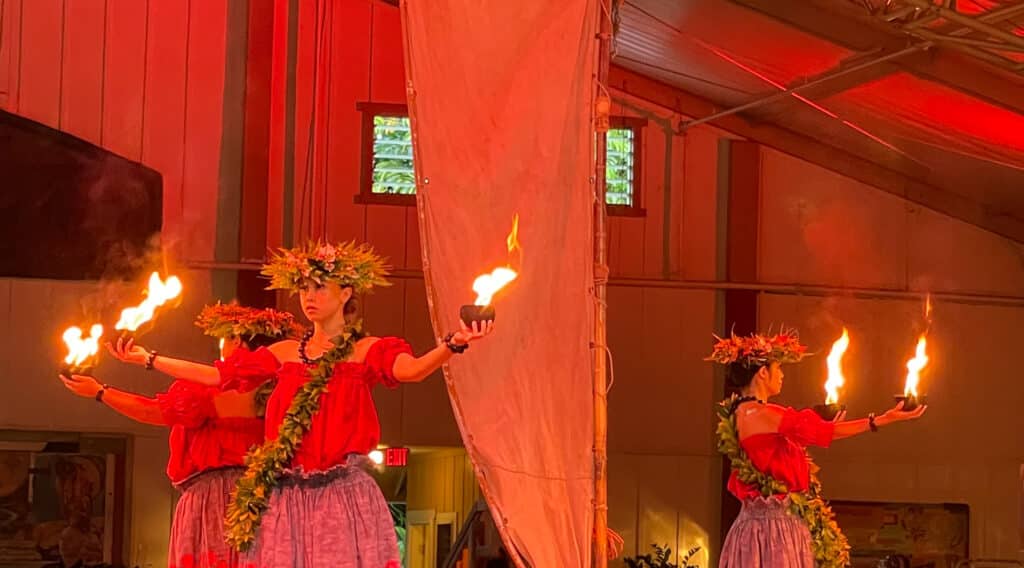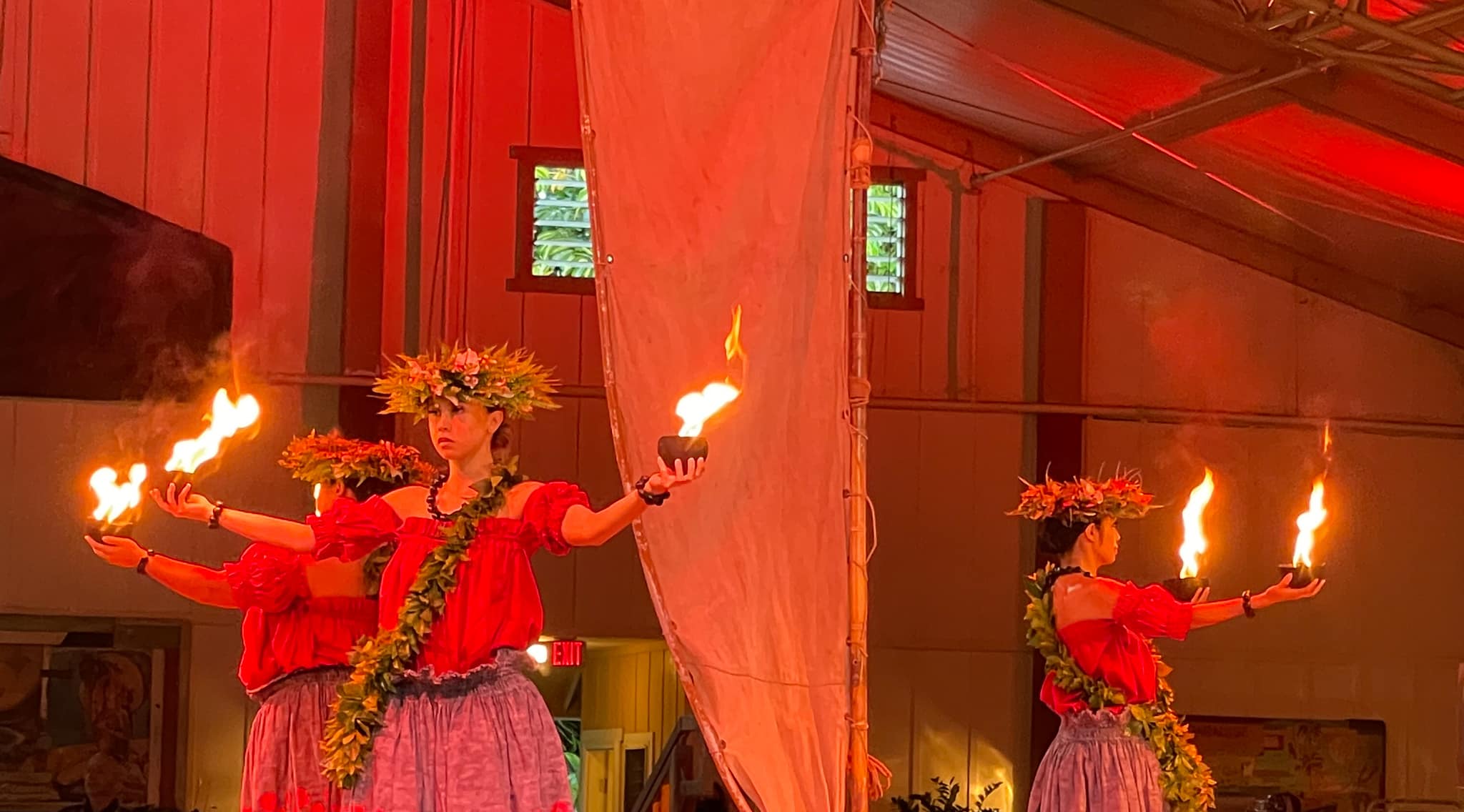 Possibly our favorite experience of the whole island, Luau Kalamaku provided unlimited drinks and delicious food, as well as amazing entertainment. They had hula and fire dancers, Hawaiian singing, and live music that all portrayed some of Kauai's history.
2. Hanalei Bay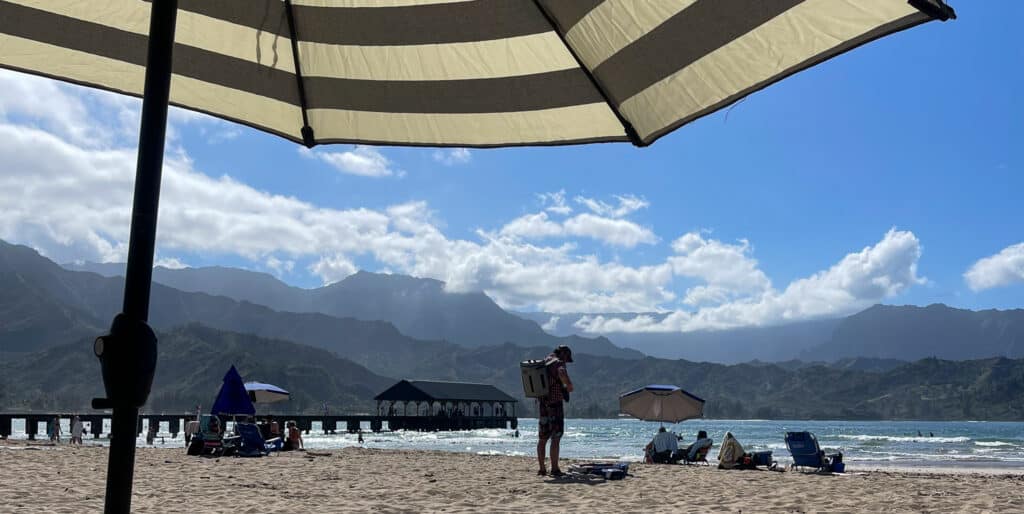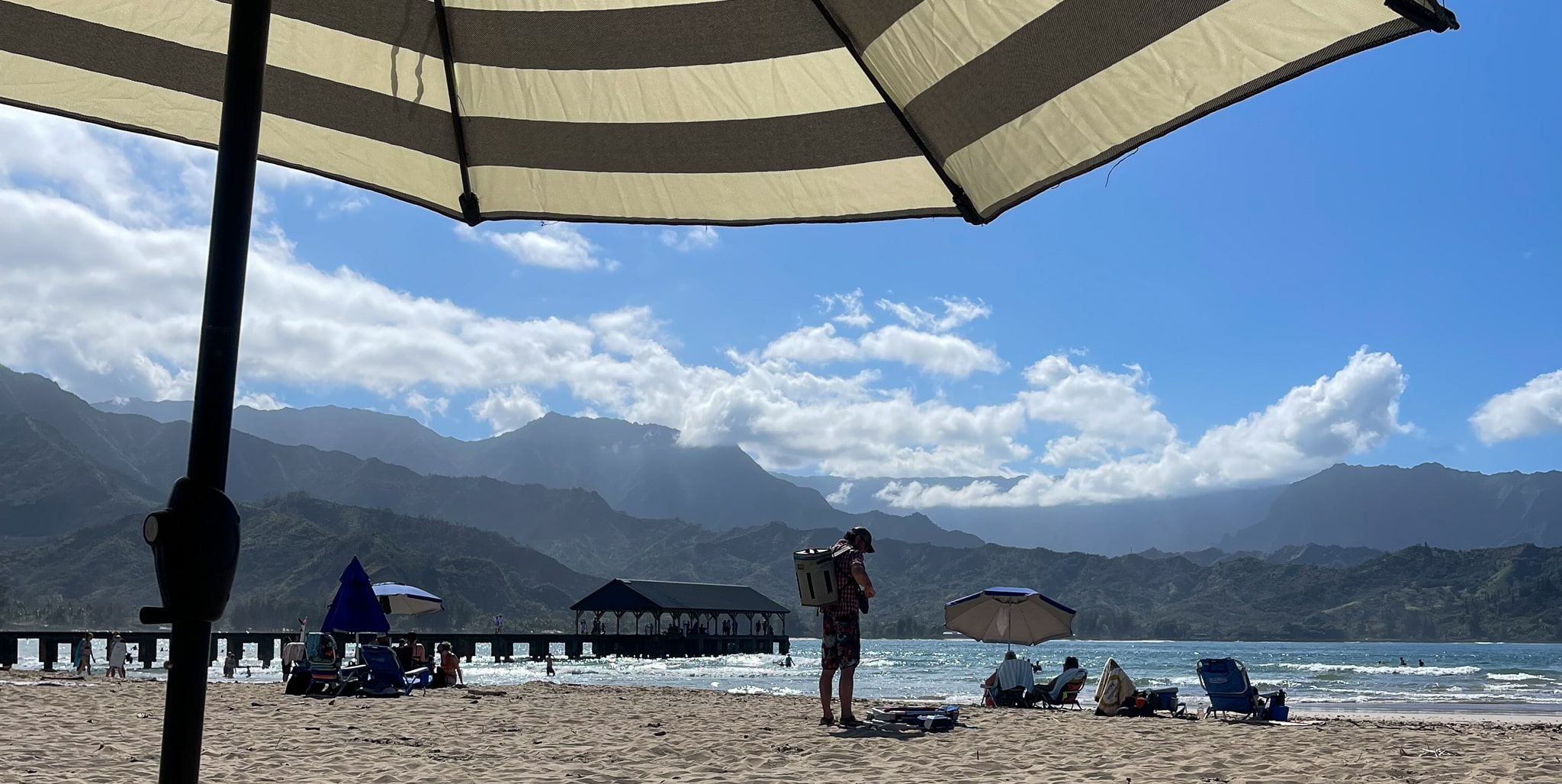 An important piece of Kaua'i history, the famous Hanalei Pier has recently been repaired and rebuilt as a project of the Rotary Club of Hanalei Bay. It's a beautiful spot with lush mountain backdrops behind sprawling crystal shoreline.
Due to it's small waves, it makes excellent surf to practice for beginner surf boarders and boogie boarders!
3. Kalalau Trail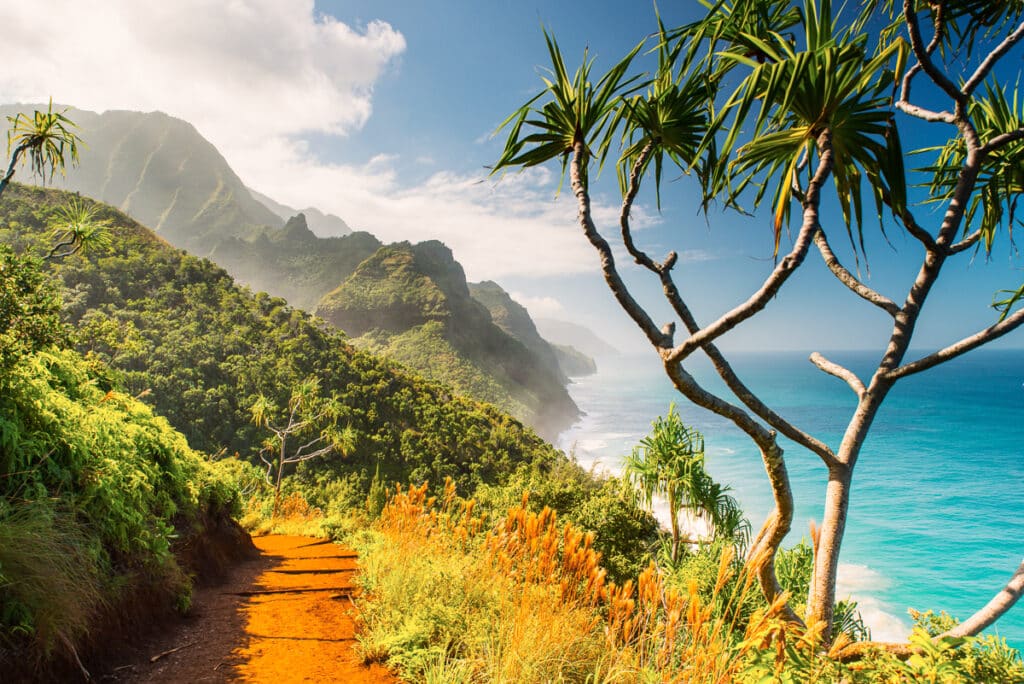 Touted as one of the most scenic hiking trails in the world, Kalalau trail is a breathtaking 11-mile hike going up and around sea cliff trails. With panoramic views of the ocean and lush junglescapes, it's easy to see why it's so popular.
Keep in mind, however, that you need a pass to hike the full trail. The passes go on sale 30 days out and sell out within minutes, so be prepared to click "buy" at midnight one month before you plan on visiting Kauai!
4. Anini Beach Park
Anini Beach Park is a great place for snorkeling, fishing, relaxing, and walking the beach! There's not much else to say about it; it's a gorgeous beach to hang out at.
Anini Beach Park is also one of the only two county campgrounds open for camping on the island right now; just make sure you get a camping permit before you go!
5. Wailua Falls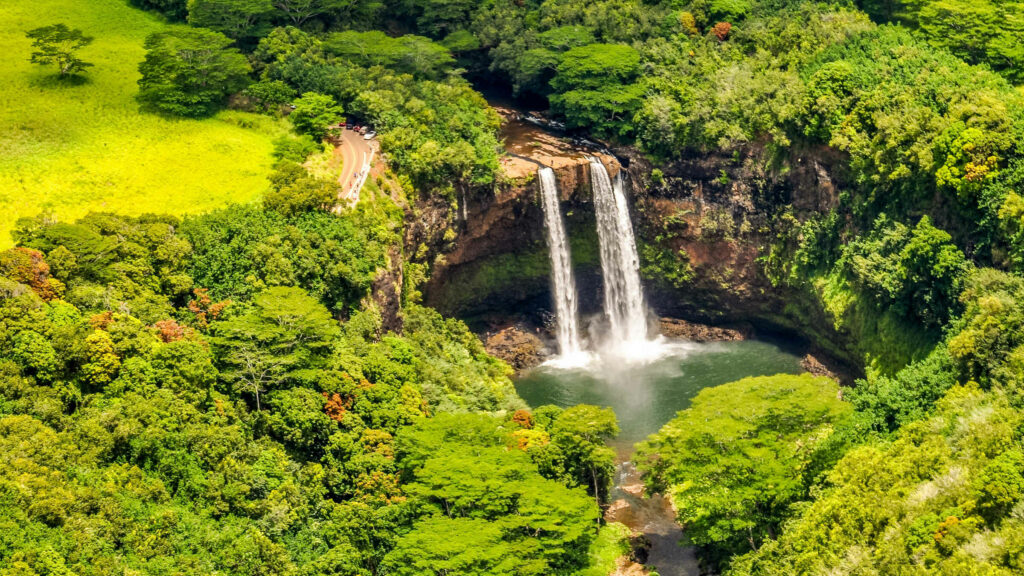 Wailua Falls is an iconic stop for Kauai visitors. It's most recognized in the opening credits of the long-running television show "Fantasy Island." Better yet, to see it all you have to do is drive up to it and park!
6. Kalalau Lookout
Kalalau Lookout was the backdrop for many popular Hollywood films, including "King Kong" (the original), "Mighty Joe Young," "Jurassic Park," and "Six Days Seven Nights." It offers one of the greatest views in all of the Hawaiian islands, and it shouldn't be missed!
7. Waimea Canyon Lookout


Known as the "Grand Canyon of the Pacific", Waimea Canyon is a naturally formed canyon with incredible views of mountains, lush jungle, and shoreline in the distance. Waimea Canyon itself also has many beautiful hikes, such as Cliff Trail, Canyon Trail, and Black Pipe Trail.
8. Na Pali Coast Boat Tour
If you don't mind shelling out a few hundred dollars a person, the Napali Coast boat tours are a once-in-a-lifetime experience. You get to see dramatic sea cliffs from the ocean, with whales, dolphins, sea turtles, and other wildlife swimming around you. Our friends did a boat tour last time we were out there, and they snorkeled with sea turtles and heard whales mating when they went underwated!
As for companies, we recommend Na Pali Catamaran or Holo Holo Charters.
9. Airplane and Helicopter Tour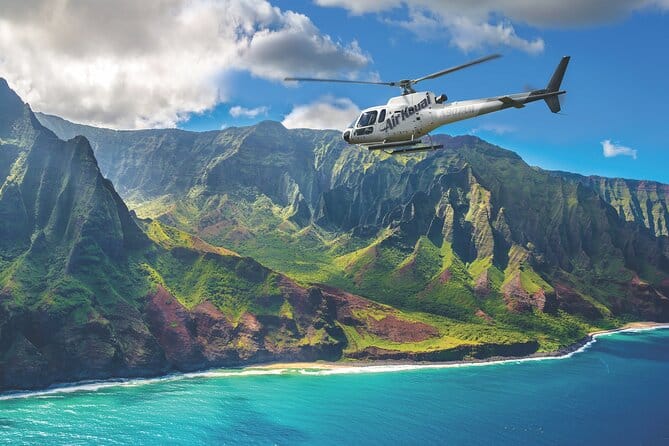 Most of the island of Kauai is not accessible by land vehicles. In fact, much of the island can't even be hiked to! The only way to see some of the remote parts of the island is by helicopter or airplane. If you've got the money, we highly recommend trying this out!
Companies we recommend include Blue Hawaiin Helicopters, Jack Harter, or Wings Over Kauai.
Things to Do by Shore
In this next section, we break down the things to do in Kauai based on which shore the activities are on. Because it can take two hours or more to get from one end of the island to the other, knowing which activities are on which shore can help you plan out things to do together ahead of time. Less driving and more time spent enjoying paradise!
Kauai's North Shore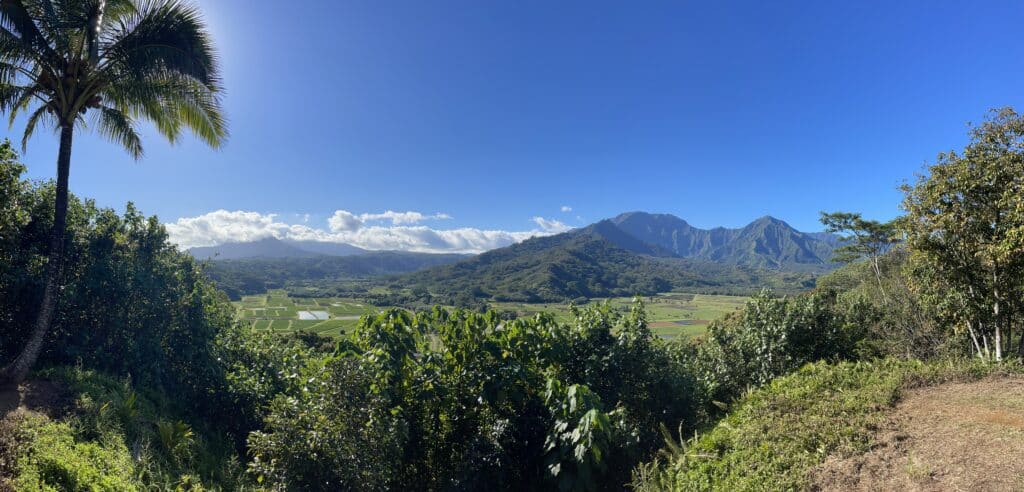 Kauai's North Shore is home to the famous Na Pali Coast, Hanalei Bay, and many other activities for the outdoorsy and adventurous. It's also a bit cooler, with average temperatures in the low 70's. But it does get more rain than the other shores.
Things to do & see on the North Shore include:
Kee Beach
Ke'e Beach (pronounced Keh-AY) is located at the end of the road. and the farthest you can drive on the north shore. It's protected by a reef, which makes it a great place for swimming and snorkeling!  And during the summer months, the water can be as calm and clear as a swimming pool. Pretty cool stuff if you ask me!
Kilauea Lighthouse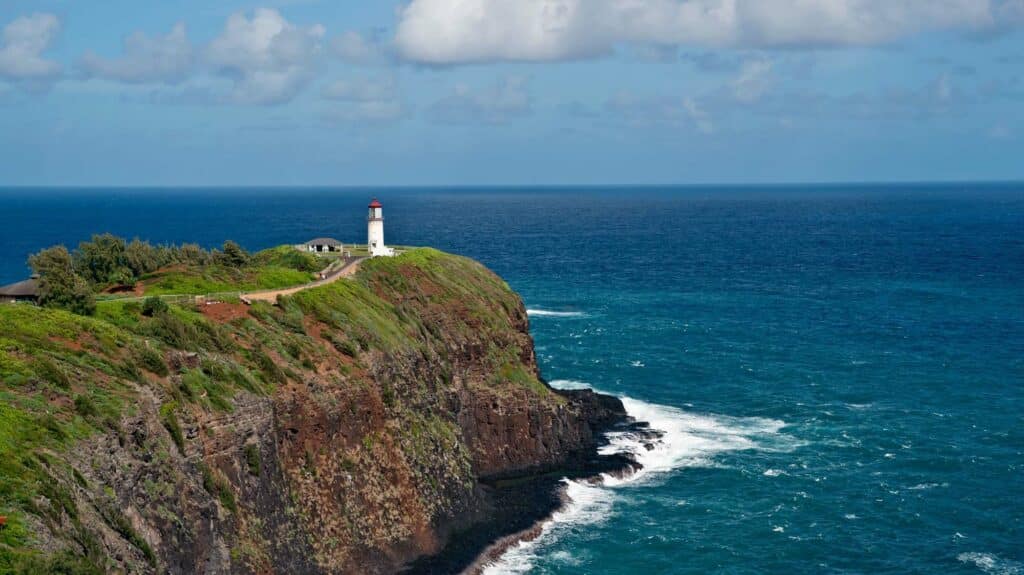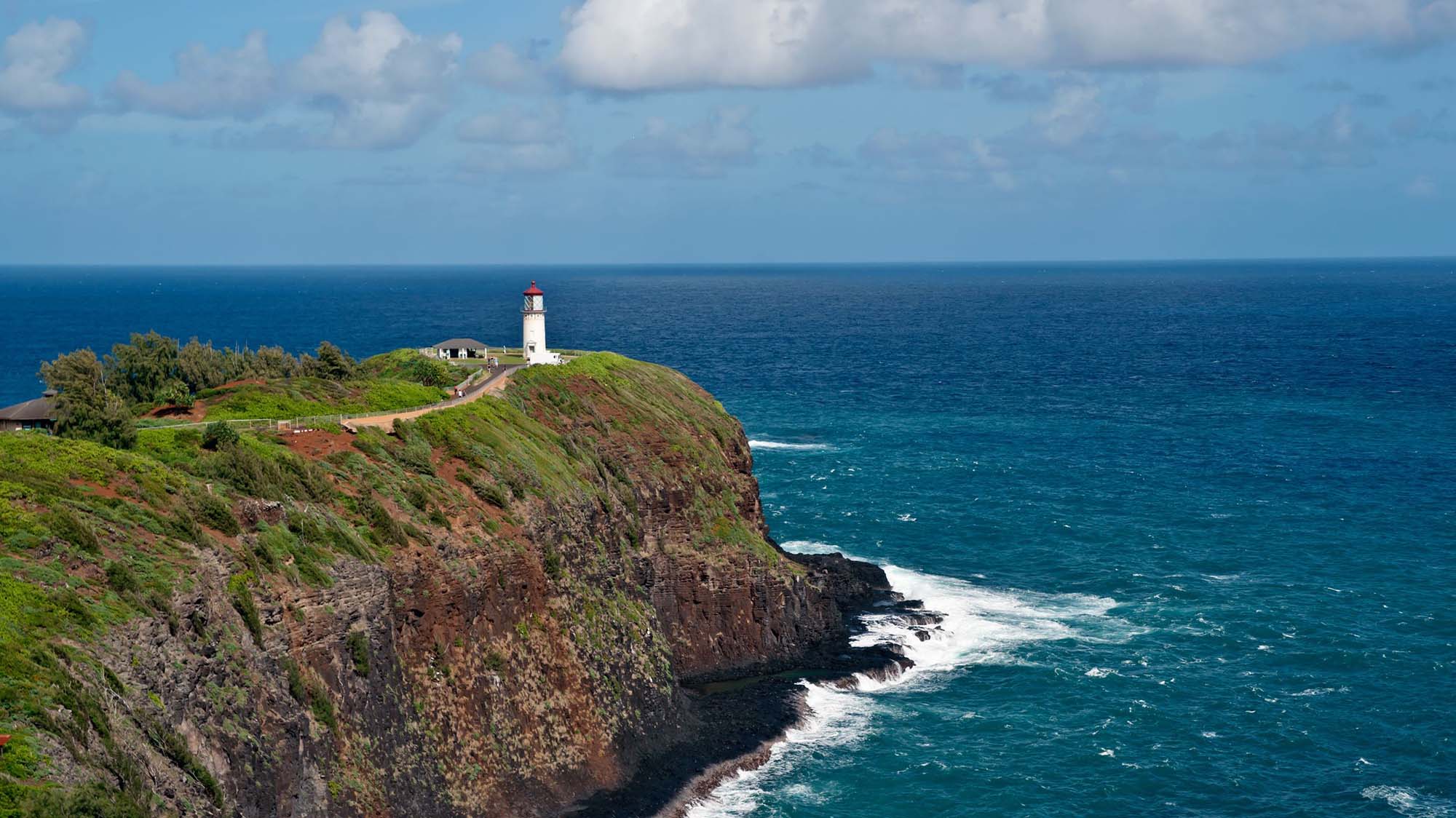 Known today as the Daniel K. Inouye Kīlauea Point Lighthouse, this impressive 52 foot structure is situated on a rocky peninsula 180 feet above the Pacific Ocean.  Built in the historic era of lighthouses in the U.S., it was commissioned as the Kīlauea Point Light Station on May 1, 1913.  One hundred years later on May 1, 2013, it was dedicated to U.S.
Note that you'll need a reservation to visit the lighthouse. The reservation is $10 per person plus a $1 booking fee.
Makua 'Tunnels' Beach
Tunnels Beach (Makua) is the ultimate snorkeling and scuba divering beach. This crescent shaped bay is fringed by palms and Ironwood trees. The golden sand beach has a backdrop of lush jungle and mountains making this a picture perfect beach.
It gets its name from the many underwater lava tunnels, which make for incredible underwater exploration! There are sea caves to explore and wildlife to see.
Limahuli Garden & Preserve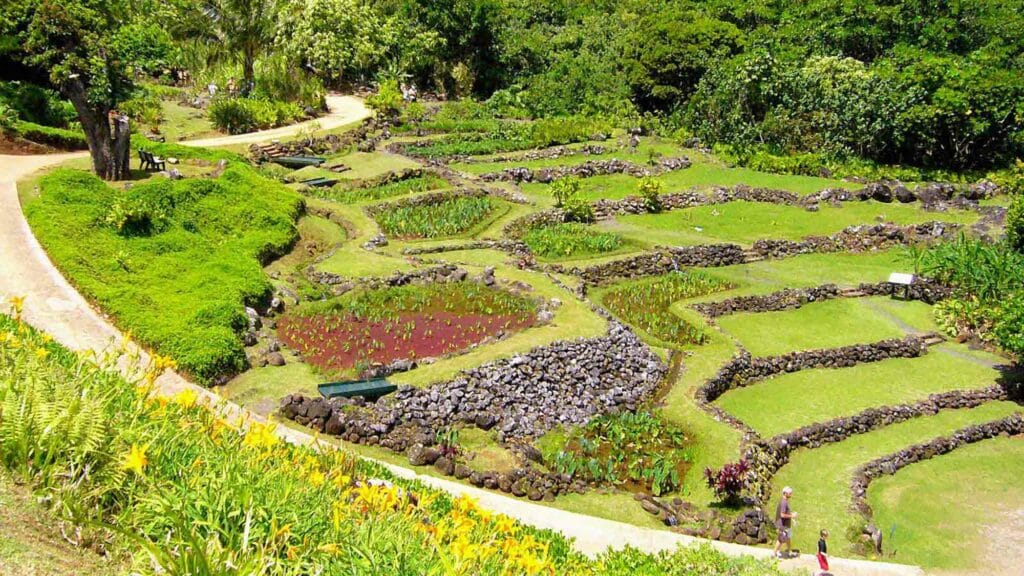 The Limahuli Garden & Preserve is located on the north shore of the island of Kaua'i in one of the most biodiverse valleys in the Hawaiian Islands. Home to dozens of endangered plants and birds found nowhere else on earth, I can't recommend this place highly enough!
Tickets for the 1.5-hour tour are $25 for adults 18+ and free for everyone under 18. They're open from 8:30am and gates close at 3:15pm Tuesday through Saturday, and you should check in 15 minutes prior to your reservation time. The garden closes at 4:30pm.
Hanalei Beach Park & Bay
Hanalei Bay is iconic and definitely a must-see! It's home to the Hanalei Pier, located at the mouth of the Hanalei River. If you have kids, this is also the calmest of the island's beaches for them to play in the surf. It's a common spot for newbies to practice surfing as well!
Other North Shore Beaches
Other North Shore Sights
Kauai's South Shore
Kauai's South Shore is the most touristy and populated on the island. It's warm, dry, and arid, which makes for great beach days and lounging by the pool!
Things to do & see on the south shore include:
Shipwreck Beach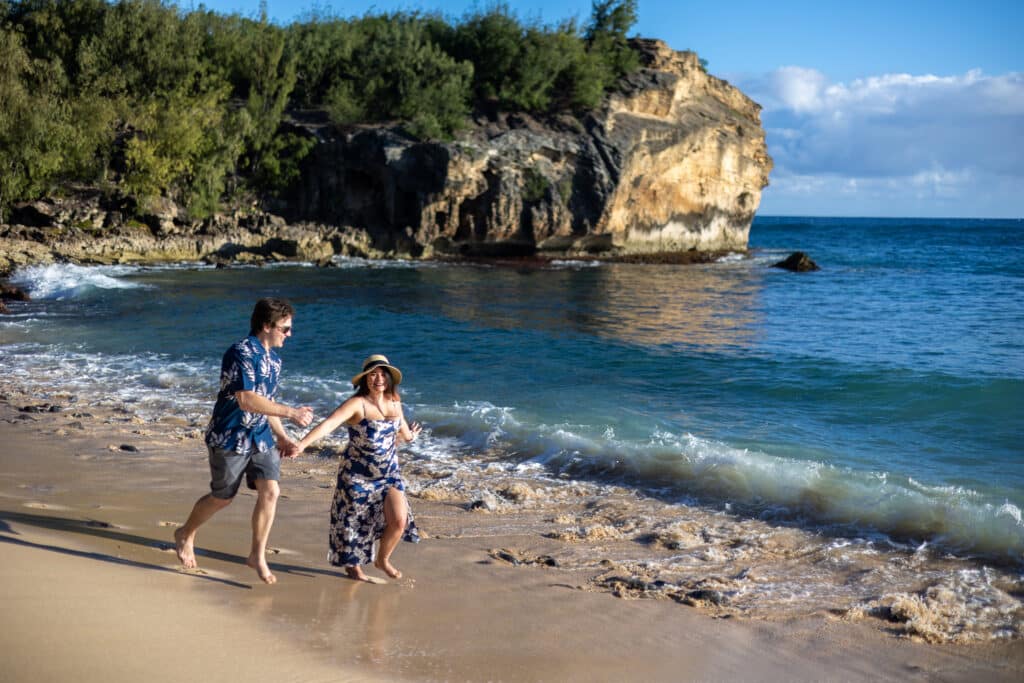 Shipwreck Beach is a local favorite for surfing and body surfing. Located in front of the Grand Hyatt Hotel, parking is just beyond the hotel's main entrance. Be careful, though; depending on the tide the surf here gets large and difficult. Only highly capable swimmers should get in the water here!
This is also where you can find the start of the  Mahaulepu Heritage Trail,  a great hike to explore the otherwise inaccessible coastline. Great spot for walking the beach and sunsets.
Spouting Horn
Spouting Horn is one of the most photographed spots on Kauai. The Poipu surf channels into a natural lava tube here and releases a huge spout of water that can reach as high as 50 feet into the air. You'll also hear a hiss and a roar that's the basis of a few Hawaiian legends!
Makawehi Lithified Cliffs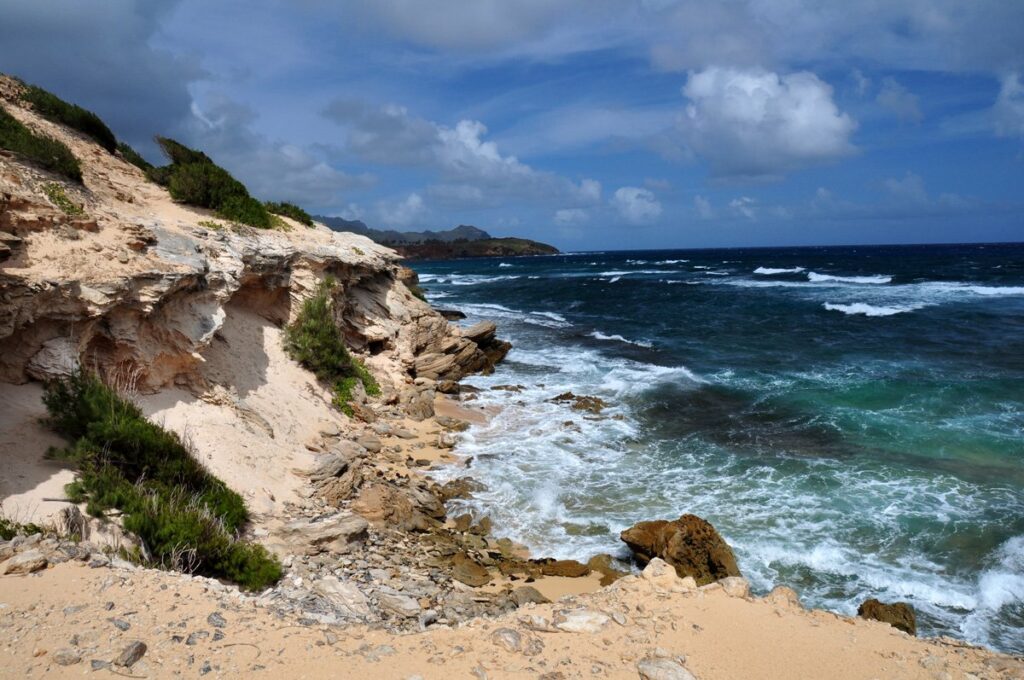 Located right by Shipwreck Beach are the ancient limestone sea cliffs known as Makawehi Lithified Cliffs. They've been blasted by a combination of wind, salt, and water over millions of years. The cliffs form as weathered fragments are removed by erosion and transported by gravity, running water, glaciers, waves, and wind.
These weathered rock fragments then eventually come to rest as layers of loose, unconsolidated material called sediment. This material may subsequently be subjected to compaction and cementation, causing it to be lithified into solid rock. A beautiful sight to see!
National Tropical Botanical Garden
The National Tropical Botanical Garden is dedicated to preserving tropical plant diversity and stemming the tide of extinction – through plant exploration, propagation, habitat restoration, scientific research, and education. NTBG's Gardens and preserves are safe havens for at-risk species that otherwise might disappear forever.
Poipu Beach Park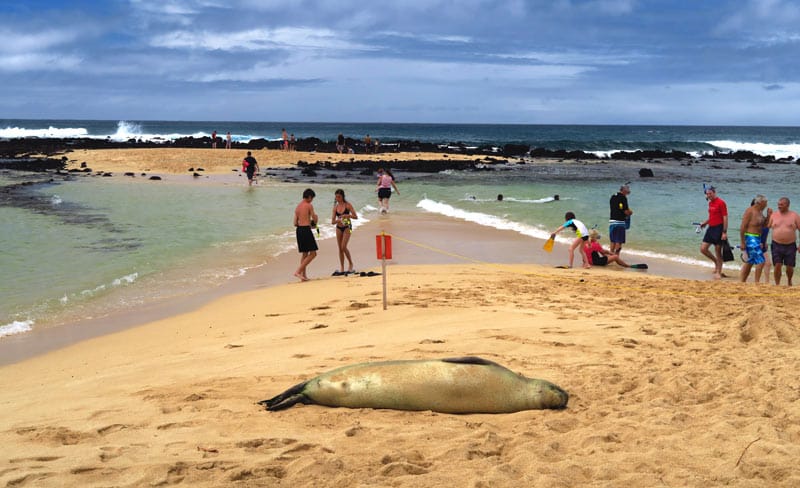 A very popular beach, and for good reason! Poipu Beach has some beautiful reefs that make for great snorkeling during calm water. Additionally, you'll often see turtles and monk seals resting on this beach. At night, we saw nearly 20 turtles resting on the shores here!
Other South Kauai Sights
Kauai's East Shore
Known as the Royal Coconut Coast, Kauai's East Coast is home to miles of coconut palms, the Wailua River, and some of the island's best easy hikes.
Things to do & see on the east coast include:
Fern Grotto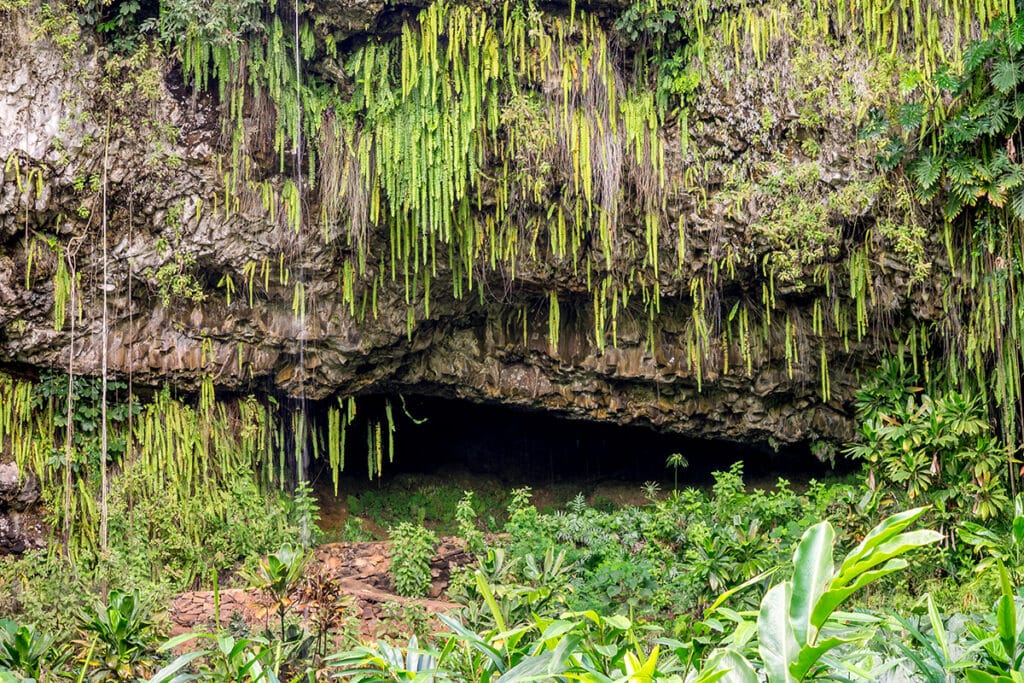 Only reachable by boat trip due to local laws preventing kayakers and paddle boarders from navigating this section of the river, the Fern Grotto is a natural spectacle to behold.
It's a beautiful fern-capped cave and a popular wedding destination!
Lydgate Beach
Thanks to the rock-protected ponds, Lydgate Beach Park is an excellent spot for beginner snorkelers! It has a variety of tropical fish, a lifeguard on duty, and extremely calm waters.
Nounou East Trail – 'Sleeping Giant'
Sleeping Giant (Nounou Mountain) East Trail is a 3.4 mile heavily trafficked out and back trail located near Kapaʻa that features beautiful wild flowers and is rated as moderate. The trail is primarily used for hiking and is accessible year-round. Dogs are also able to use this trail, so bring the pups if you have 'em!
Opaeka'a Falls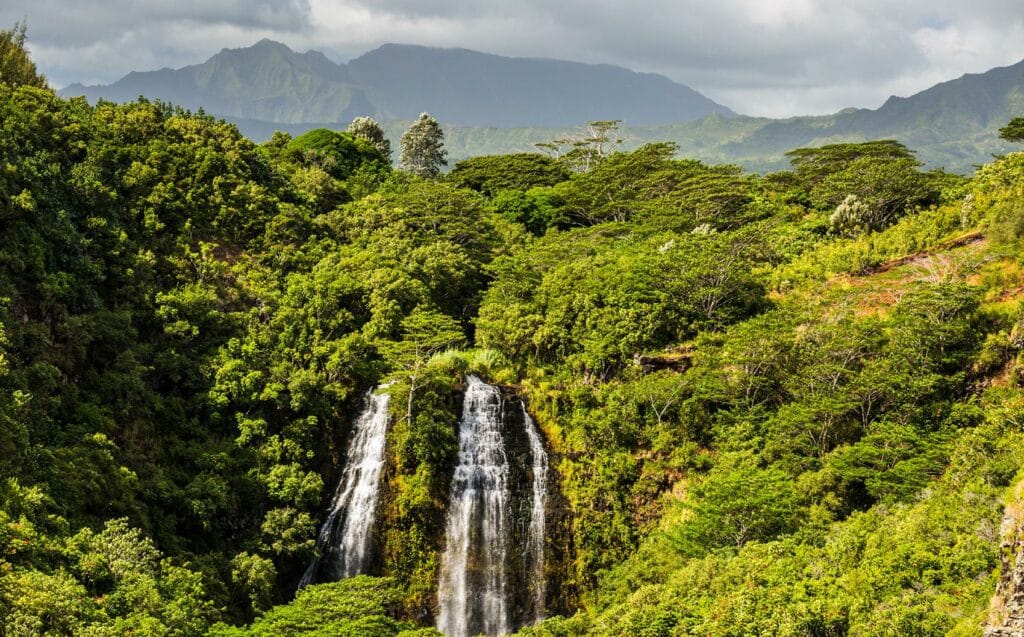 Cascading down into a hidden pool, Opaeka'a Falls is a 151-foot-tall, 40-foot-wide waterfall is one of the island's most accessible major waterfalls. Located on the East Side about two miles up Kuamoo Road (Route 580) from Hwy. 56, signs clearly point to the roadside lookout on the right.
It has incredible views, ample parking, and restrooms. There's no reason not to stop here while you're visiting Kauai!
Anahola Beach
We spent nearly 10 days camping at Anahola Beach Park. It's a beautiful spot, with a mix of reef and sandy beaches. It's great for snorkeling, clam fishing, and boogie boarding. In fact, while we were there, they held a boogie-boarding competition here! It's a great spot to come and relax for the day.
Other East Shore Beaches
Other East Kauai Sights
Kauai's West Shore
Finally, the west side of Kauai is home to Koke'e and Waimea State Parks and the red dirt they use to dye and sell shirts! It's the least populated shore because much of the terrain is nearly impossible to build on.
Things to do & see on the west shore include:
Polihale State Park & Beach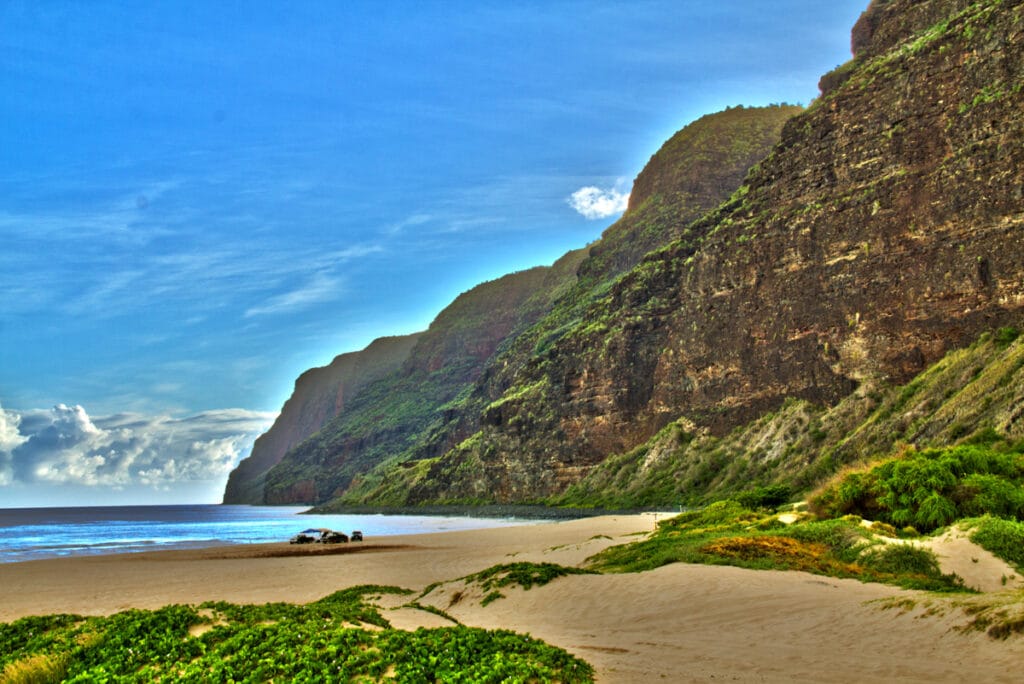 With scenic views of the stunning Napali Coast and the beautiful red dirt cliffs of the west side of Kauai, Polihale State Park is an awesome spot to stop while visiting this shore. Keep in mind that as of the date of this article (February 25th, 2022), it's only open for day use, not for camping.
Honopu Ridge Trail
Honopu Ridge is a 4.4 mile heavily trafficked out and back trail located near Waimea, Hawaii, Hawaii that features beautiful wild flowers and is rated as difficult. The trail is primarily used for hiking and is accessible year-round. Dogs are also able to use this trail but must be kept on leash.
Nualolo Trail
Nu'alolo Trail is a 7.5 mile heavily trafficked out and back trail located near Wainiha that features a waterfall  and is rated as difficult. But if you're really into hiking, this trail shouldn't be missed!
Kalalau Lookout
Kalalau Lookout (and the Kalalau trail) offers a view into the heart of the Kalalau Valley- one of the most-photographed and well-recognized valleys in all of the Hawaiian islands. If you come to Kauai Hawaii, you shouldn't miss this incredible view!
Waimea Canyon
Waimea Canyon State Park overlooks one of the State's scenic treasures – the deep, colorful gorge of Waimea Canyon. Known as the "Grand Canyon of the Pacific", the scenic drive up to this lookout is worth the drive alone. Explore Waimea Canyon's many hiking trails and lookout stops while you're at it!
West Shore Hikes
Other West Kauai Sights
Best Restaurants in Kauai
Looking for a bite to eat? Kauai is known for its spam musubi (basically sushi rolls with spam in the middle), poke bowls, shave ice, and many other excellent local dishes.
But, there are also a lot of crappy tourist trap restaurants that are overpriced and, frankly, not very good. In fact, some of our favorite meals were often at the cheapest and most hidden places!
That said, here are some of the best restaurants on Kauai. We can't cover them all, however, so if you're looking for a more in-depth review of every restaurant, check out Tripadvisor.
Luau Kalamaku
Possibly our favorite dining experience on the entire island, Luau Kalamaku provided unlimited drinks and delicious food, as well as amazing entertainment. They had hula and fire dancers, Hawaiian singing, and live music that all portrayed some of Kauai's history.
Kauai Island Brewing Company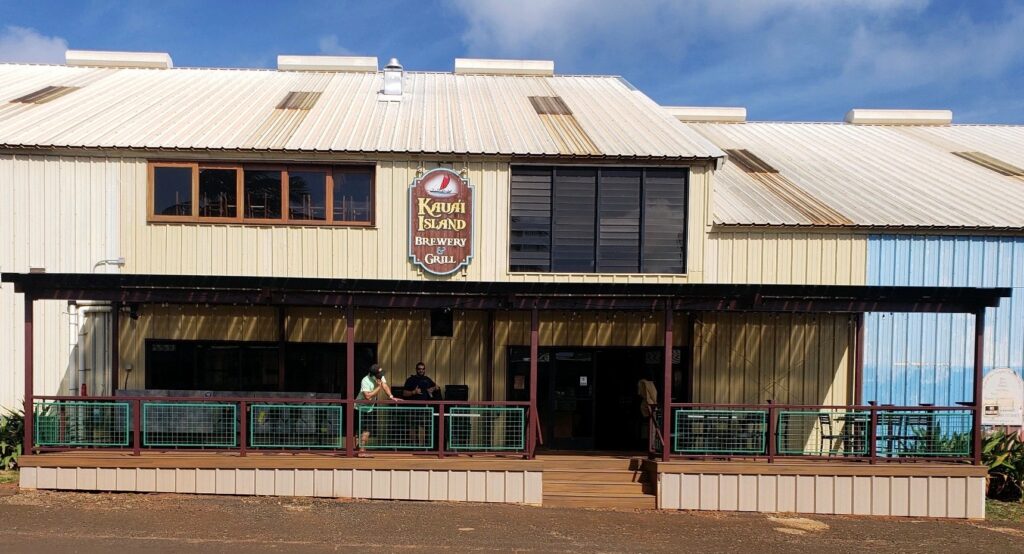 If you're a fan of a good brew and some good bar food, the Kauai Island Brewing Company shouldn't be missed! They have some great brews, like the Wai'ale'ale Golden Ale or Napali Pale Ale. We also loved their fish tacos.
Kauai Chocolate Company
OK, technically not a restaurant, but if you're a chocolate fiend like me you HAVE to stop by the Kauai Chocolate Company! The give free samples of their Macademia Nut dark chocolates (mouthwateringly good) and, better yet, they're right across from the brewing company!
Beer and dinner, followed by chocolate. What's not to love? Make sure you try their ice cream while you're there, too – you won't be disappointed.
Anything at the Coconut Marketplace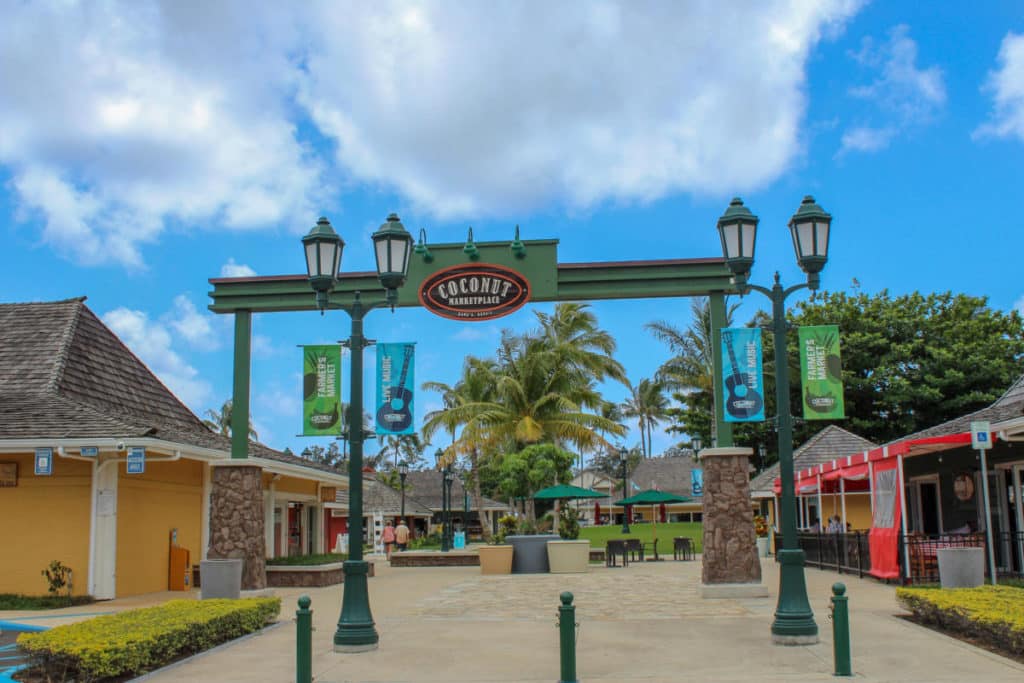 The Coconut Marketplace is a food area on the coconut coast (east side). They have everything from Thai to coffee to tacos and more. We ate at nearly every place there and were never disappointed. Plus, the Thai place is really affordable!
Just don't make the mistake we did and get some shaved ice early in your trip! Jojo's shave ice has incredible shave ice with macadamia nut ice cream that was mindblowing. We didn't try it till our last day on the island, and we regret not going sooner and getting it more!
Puka Dog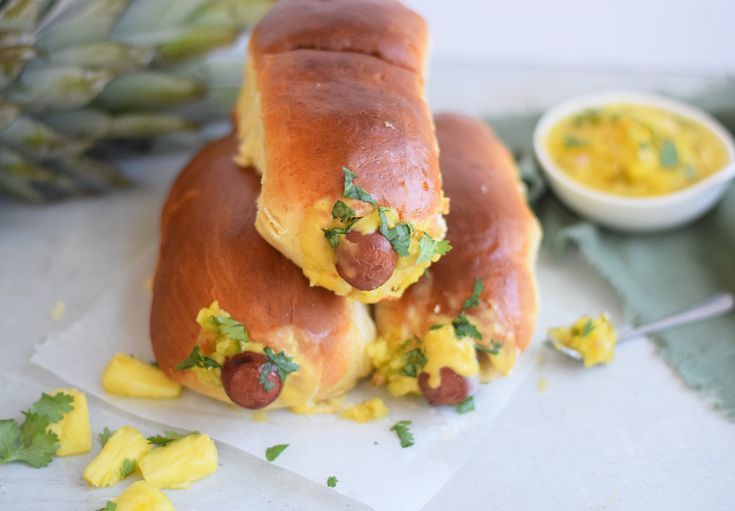 Puka Dog is one of the top 10 hot dog stands in America, according to Anthony Bourdain. We're inclined to agree with him. These Hawaiian-style hot dogs were unique, delicious, and came at a great price. A must-eat after snorkeling at Poipu Beach!
All the Fruit Stands
Kauai has many fruit stands, and every single one we went to were delicious. Most of them, like Moloaa Sunrise, serve fresh fruit, cooked breakfasts, coffee, smoothies, and more. Many of them are also very affordable compared to the other restaurants on the island. Can't beat fresh, locally-grown organic fruit smoothies and acai bowls!
Keoki's Paradise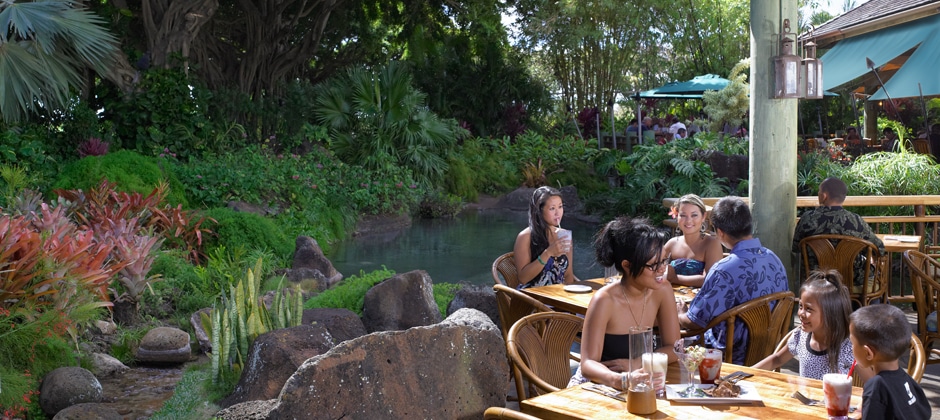 With excellent staff and delicious food, Keoki's Paradise is a Hawaiian Restaurant right next to many resorts along Kiahuna and Poipu beach. It seems like everyone who tries this place ends up going twice during their vacation, so it's a pretty popular spot!
Porky's Kauai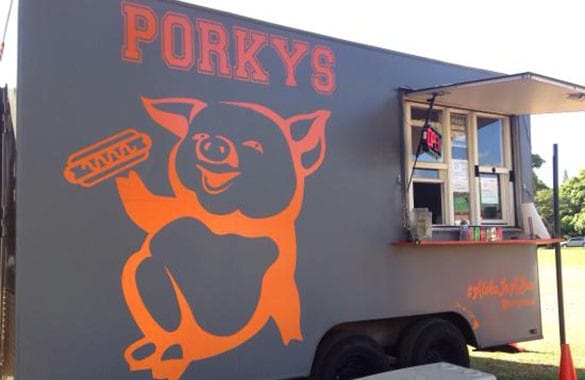 If you're looking for something a little cheaper, but still incredibly delicious, look no farther than Porky's Kauai. It's got some amazing Hawaiian local cuisine. Just don't go during rush hour – the place is small and fills up fast. Service may lack a bit when they're extremely busy.
Table At Poipu
Table at Poipu is a pop-up restaurant concept with Chef John Paul Gordon sharing his favorite culinary dishes. They've won multiple awards from Kaua'i's "Taste of Hawaii." If you want fine dining on the garden isle, this is it!
Bar Acuda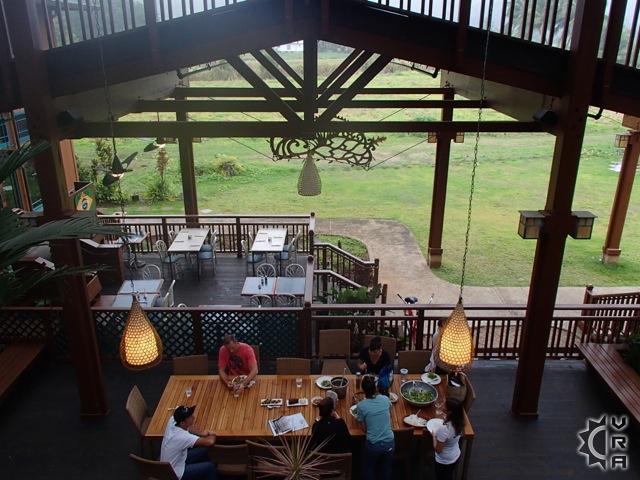 Bar Acuda offers tapas, cocktails and fine wine in a relaxed atmosphere on the North shore of Kauai. They offer lots of locally sourced foods, like their cucumber salad and even North Shore honeycomb! We absolutely loved our stop here.
Guided and Self-Guided Tours
There are a lot of ways to tour the garden island. And with a name like garden isle, how could you not want to take a tour?! Whether you prefer land, sea, or air, there's a tour for you.
ATVs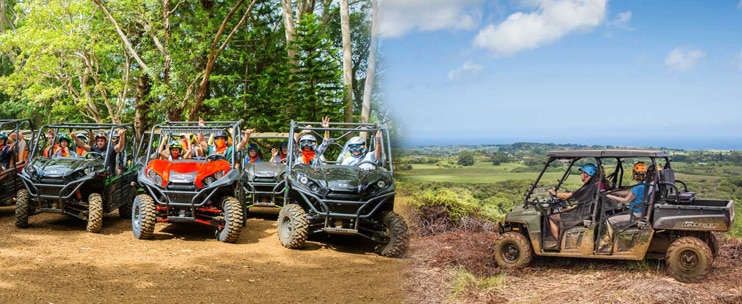 ATVs and off-road vehicles are an incredible way to see the island. You can go on guided 4-wheel drive tours on private lands featuring Grove Farm Plantation, Waimea Canyon, Kilohana Crater and more! These ATV tours are the only way to see some places on the island.
If you're thinking about an ATV tour, we recommend the following companies:
Horseback

Prefer a slower, more laidback tour? Many companies offer horseback tours throughout the island, again allowing you to see private land not visitable by any other method.
We recommend these horseback tour companies:
Airplane & Helicopter Tour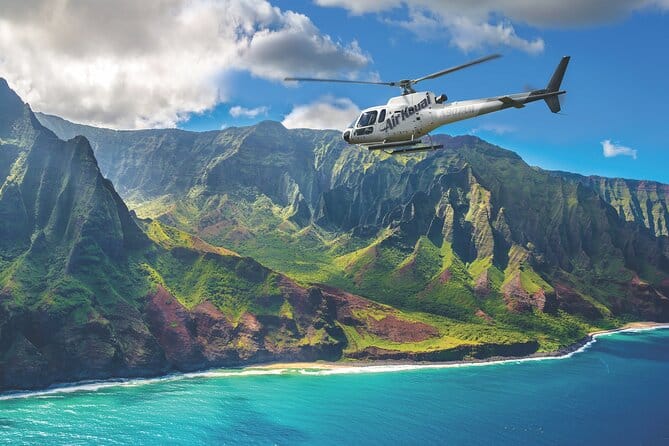 One of my personal favorite ways to see the island is from the skies! A Kauai helicopter tour really shows you some spectacular sights of the island, and makes you feel like you're straight in Jurassic Park. Plus, there are plenty of options to choose from.
These are the most highly-recommended air tours:
Boat Tour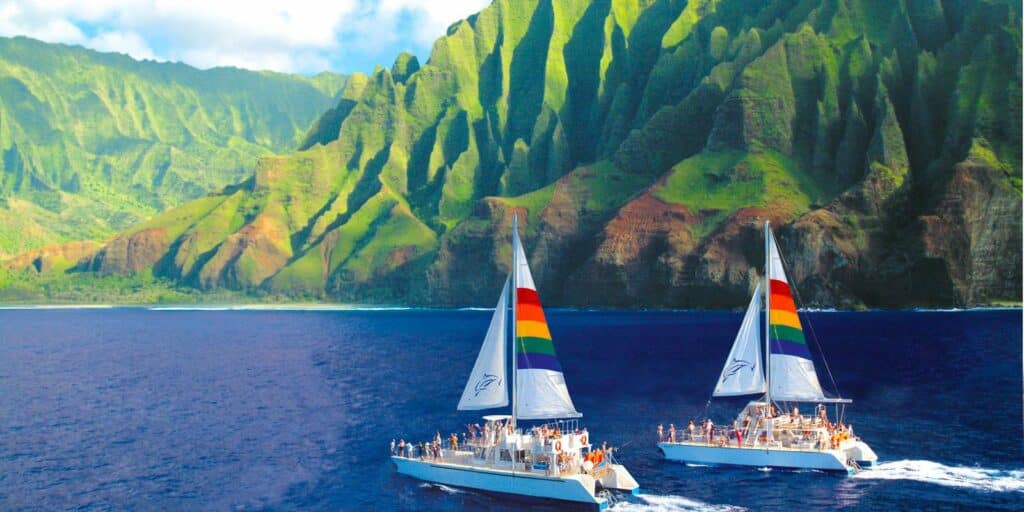 Kauai boat tours on the Wailua River and out by the Na Pali Coast are incredible. The coast tours show you views of the sea cliffs from the ocean, which is something you'll never forget.
These are the most popular boat tours on Kauai:
Kayak Tour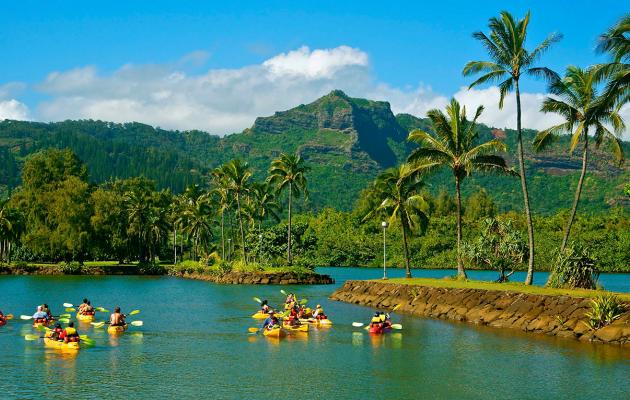 Finally, kayak and stand-up paddleboard (SUP) tours are also an option. You can get a tour of the Wailua River to get to the secret waterfall, as well as kayak tours of the Na Pali Coast.
Here are the best kayak tour companies:
Ziplining
Ziplinning is another fun way to see the island! You can zipline at Kauai Backcountry Adventures for around $136 per person.
Water Sports
Why go to an island in the middle of the ocean if you're not into the water? No matter how adventurous you want to get, Kauai and its gorgeous beaches deliver.
Kayaking & Stand-Up Paddle Boarding (SUP)
Renting a Kayak from Kayak Kauai and kayaking the Wailua River to the Secret Waterfall hike was one of my favorite activities during our entire trip.
But it's not just river kayaking available – you can also rent kayaks to go out on the ocean and explore the Napali Coast! It's one of the most beautiful island views you'll ever see.
Some options for kayak and SUP rentals include:
Surfing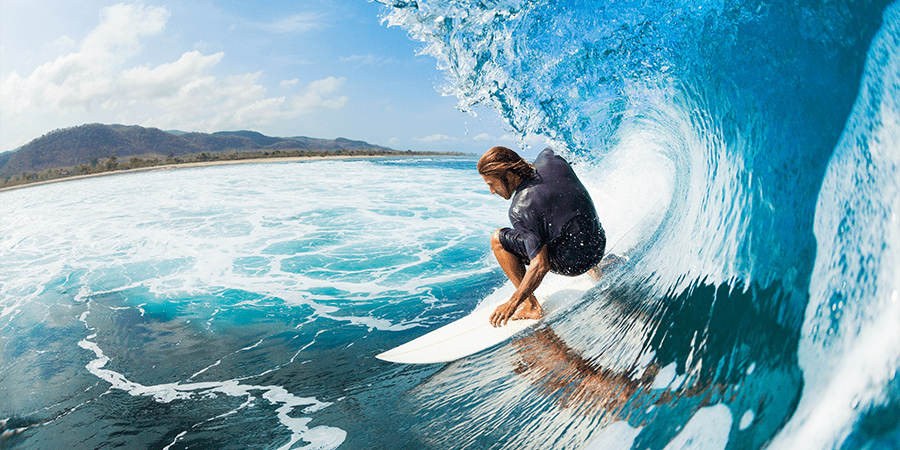 You can't visit Hawaii and not at least TRY to go surfing! We took surfing lessons from the Poipu Beach Surf School and it was a blast. The instructor was extremely friendly and knowledgeable, and we got plenty of time to learn and practice.
Some other surfing lessons include:
Tubing
If you'd prefer to relax in a tube instead of paddling on a board or kayak, river tubing might be the best option for you! Kauai Backcountry Adventures offers tube rentals.
Snorkeling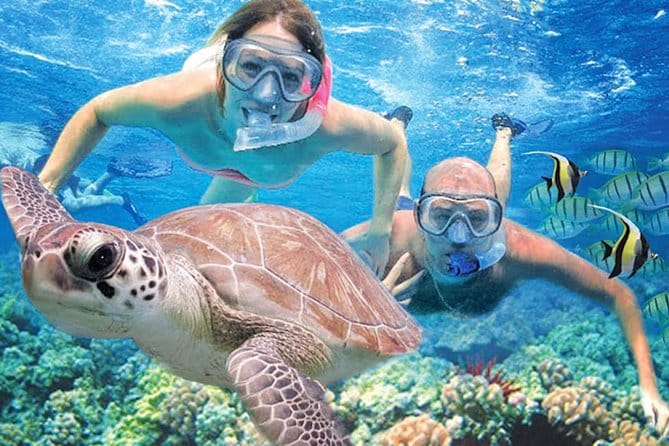 Snorkeling is cheap and abundant in Kauai. We bought a pair of snorkels from Walmart for $14 a piece and got SO much use out of them. Our snorkels and the boogie board we bought got tons of use for very little money.
You can also rent snorkel gear from Snorkel Bob's or Kauai Snorkel Rentals for cheap.
Scuba Diving
If snorkeling isn't your style, maybe scuba diving would be more fun! You can find scuba diving options here. Keep in mind that you need certification and proper training to be able to go scuba diving, so consider getting that ahead of time!
Snuba Diving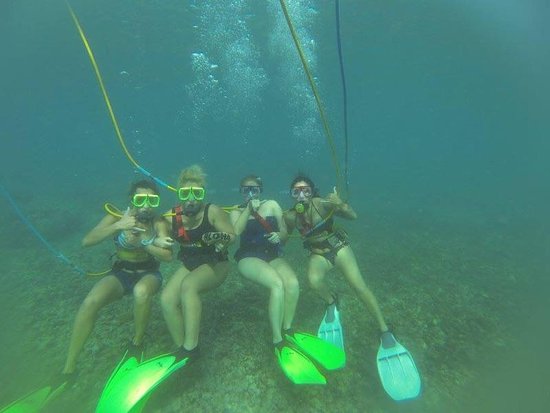 Want to know what it's like to go scuba diving but don't want to get the certification? Enter: SNUBA diving! This is a version of scuba diving where you're connected to oxygen tanks on the boat rather than having one on your back. This limits where you can go, but allows you to experience underwater life with less preparation.
Head to the Snuba Tours of Kauai for this experience.
Whale Watching
Finally, we have whale watching! From December to May, you are likely to catch a glimpse of majestic koalas, or humpback whales, off Kauai's shorelines. And if you go under the water, such as on a boat tour or while scuba diving, you can even hear their mating calls!
Many of the boat tours previously mentioned also offer stops and binoculars for watching. Just call and confirm ahead of time!
9 Best Free Things to Do in Kauai
Looking to save some money during your trip? We were, too, so we found ALL the best free things to do in Kauai. And here they are!
1. Taste Coffee at the Kauai Coffee Company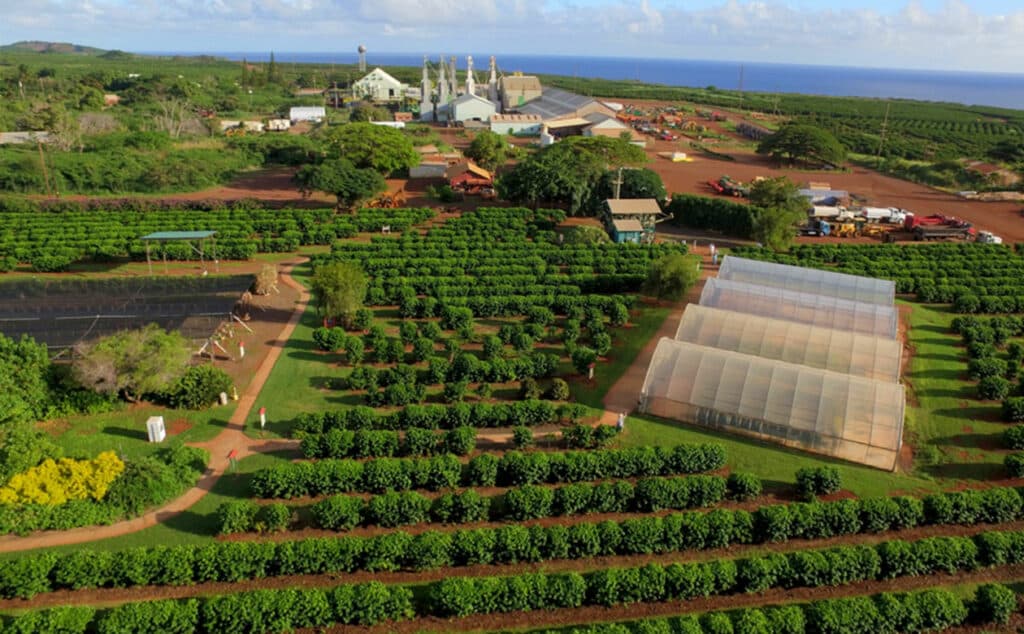 If you're a coffee lover like I am, you'll love the free coffee tour at the Kauai Coffee Company. You get to walk around the biggest coffee farm in the entire United States, with over 4 million coffee trees grown on 3,100 acres!
Before or after your tour, you can even taste all of their different kinds of coffee for free!
2. Drive & Explore Waimea Canyon
We've already talked about Waimea Canyon a few times in this article, so I won't get too in-depth here. But honestly, the drive up to the canyon is the most scenic drive I've ever been on in my life, and there are tons of lookouts to park along the way – all for free! I certainly would not miss this during your visit to Kauai.
3. Hike the Trails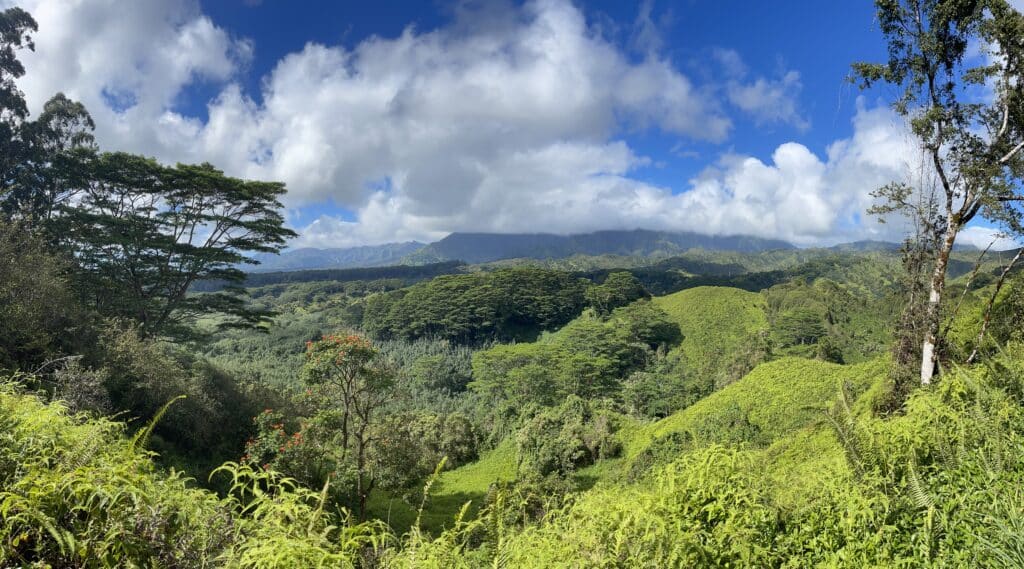 No Kauai adventure is complete without hitting the hiking trails. From the Pu'u o Kila lookout to the beautiful hikes in Koke'e State Park, there's a lot to see.
Here are a few of my favorite trails:
Kuilau Ridge Trail
Kalalau Trail
Nualolo Trail
Honopu Ridge Trail
Pihea & Alakai Swamp Trail
4. Walk the Maha'ulepu Heritage Trail
The Maha'ulepu Heritage Trail is a nice 3.7 mile paved trail overlooking ocean cliffs and beaches. It's an easy walk with incredible views. It was one of my favorite walks on all of Kauai!
5. See Waterfalls at Wailua River State Park
Wailua Falls is an incredible 173 foot waterfall located on the South Fork Wailua River near Lihue. You can drive right up to it, so even the least adventurous shouldn't miss this!
6. Visit Spouting Horn
Spouting Horn is a blowhole located on the southern coast of Kauai in the Koloa district, where a natural lava tunnel forms a blowhole that the sea water pushes into and spouts out of. It's definitely a fun little spot to have lunch and snap some photos!
7. Walk or Drive the Koloa Heritage Trail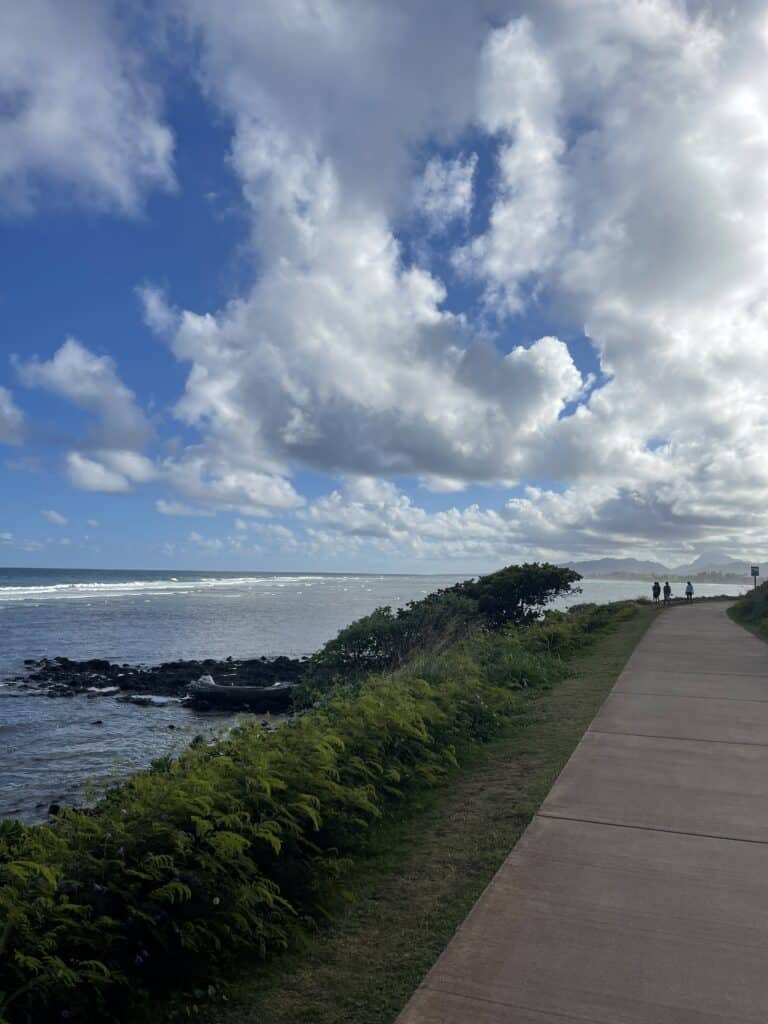 The Koloa Heritage Trail, located near Poipu Beach, is a 10 mile walk, bike ride or drive which includes 14 stops and monuments describing the significance of the location. You can learn about local history of the Hawaiian island, all while seeing beautiful beach views.
8. See Free Live Hawaiian Music at Poipu Shopping Village
Every Monday and Thursday at 5 PM, the Poipu Shopping Village hosts hula dancers and Hawaiian music free for all! Especially if you don't make it to a Luau, you absolutely have to see the dancers! No Kauai vacation is complete without it.
9. Visit Kauai's Hindu Monastery
Kauai's Hindu Monastery has a beautiful architecture and surrounding jungle. While you have to make a reservation to see the main temple, you can visit the temple grounds at any time and see it all from the outside. Reservations are free!
The monastery is right next to the Rudraksha Sacred Forest, home to ancient Rudraksha trees. It's a very spiritual (and beautiful) place to visit.
Lastly, obviously, Kauai beaches are free and a great way to spend your time on the island!
Final Thoughts on Kauai
I hope you found this things to do in Kauai guide helpful! Be sure to bookmark this page for when you visit Kauai. We'll keep it up-to-date with the best Kauai travel tips to make your vacation in paradise the best it can be.
Interested in learning more about Hawaiian culture and Kauai? Check out these other articles: