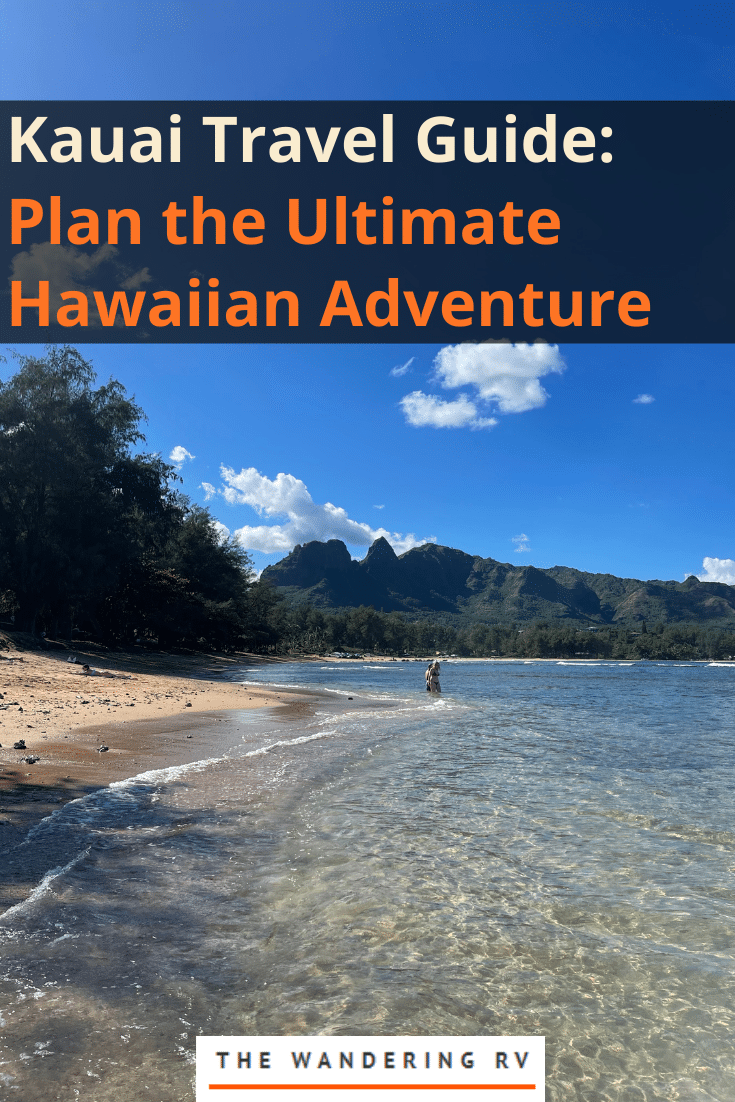 Are you planning a trip to Kauai and need a little help figuring out what to do and where to stay? Or, are you worried about how much a trip to Hawaii costs?
Don't worry! We just got back from the "garden island" of Kauai (technically spelled "Kaua'i"), and we did extensive research to put together this Kauai travel guide.
In this article, you'll learn everything you need to know about this island, including where to stay, things to do, and tips we learned from the locals. Let's dive in!
Table of Contents
A Note on COVID Travel Restrictions
Before we get into the Kauai travel guide, you should know a few things about COVID-19 travel restrictions.
Rather than trying to walk you through that process here, I'll refer you to this guide to traveling to Hawaii during COVID, which is updated daily.
A Note on Caring For The Land & People
The Hawaiian chain is one of the most beautiful places on our planet. Its rich cultural history, gorgeous landscapes, and sandy beaches all make for natural beauty you can't find anywhere else in the world.
Because of that, it's our responsibility to care for the islands and the people who inhabit them. Please treat the land and the people with respect. This means, obviously, don't litter. But it also means using reef-safe sunscreen, staying away from the local wildlife (turtles and monk seals) so they can rest, and respecting the locals and their wishes.
Here's an interesting video on what Hawaiians think about tourists, and how to be as respectful as possible of the land and its inhabitants:
Our #1 Tip for Visiting Kauai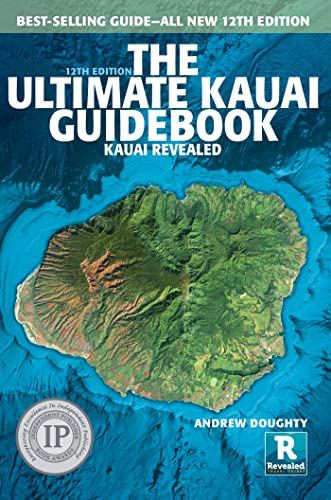 The single best thing we did for planning our trip to Kauai was buying the Ultimate Kauai Guidebook.
This book was written by Andrew Doughty, who lives on the garden isle and has been researching and writing about all the Hawaiian islands for years!
This book tells you about nearly all the things to do in Kauai, including hidden spots only the locals know about, tips on the best tour companies to book, places to eat, and so much more. And it's all hands-on experience from their personal visits to each of these places.
If you do get the book (which I highly recommend), I suggest you also get the associated app. It has GPS coordinates for all the hikes that you can't get on Google Maps, advanced filters for activities, and updated and accurate pricing for all of the businesses.
Note: We do make a (very small) commission of about $0.50 if you buy the book. That's not why we recommend it. It really is a great Kauai travel guide to help you plan your trip!
Fun Facts About Kauai
Kauai is home to one of the wettest places on Earth, Waialeale. This mountain area in the center of the island averages 450 inches of rain every year! Between all the rainfall and the fertile volcanic soil, Kauai is home to more than 1,360 native plant species. That's why it's referred to as the garden island.
This tropical paradise was created by two volcanoes: Kilauea and Mauna Loa. Of all the Hawaiian islands, Kauai is the oldest island created in the Hawaiian island chain, formed an estimated 5 million years ago. It's also the island where Jurassic Park (and many other movies) were filmed!
There's a lot more to know about this island for you history buffs! If you want to learn more about the history of Hawaii, check out this awesome video:
Map of Kauai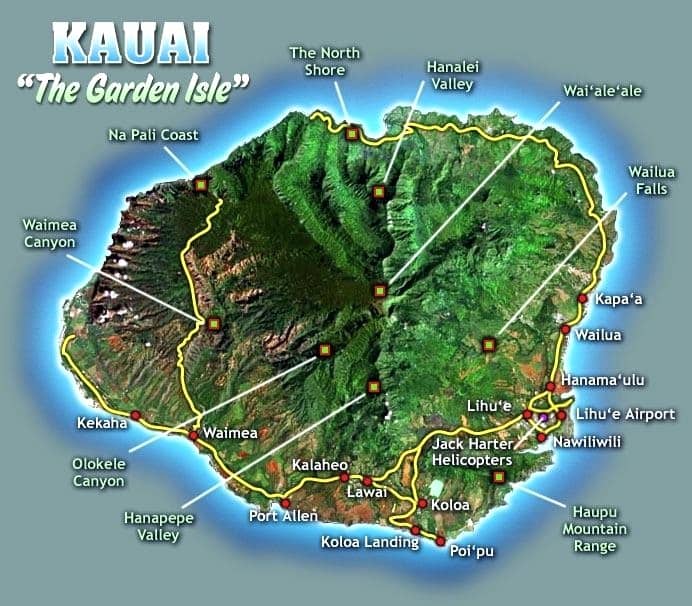 What to Bring to Kauai
What you bring depends on what you're doing and where you're staying. However, here's a good general list of items that you'll probably want to have on the garden isle:
Flip flops / sandals
Cheap sneakers or hiking shoes you don't mind getting muddy
Bug spray
Beach towel(s)
Hawaiin shirt(s)
Shorts
Swim wear
Rain coat
UV swim shirts
Hats (the sun gets INTENSE!)
Travel-size toiletries (tooth paste, shampoo, etc.)
Snorkeling equipment (you can also buy or rent it for cheap on the island)
Waterproof phone case or dry bags
Hiking backpack
Water bottle
Kauai Travel Tips
Here are a few general tips for making the most of your stay:
Save money by avoiding tourist restaurants. Our favorite restaurants weren't the traditional sit-down-and-eat places. We loved the smaller, slightly more hidden food trucks and stands. The cheapest places we ate were typically also the most delicious!
Be prepared to change plans due to rain. Kauai weather can start pouring out of nowhere on the Hawaiian islands. But, it also doesn't usually last very long. Most plans can be changed due to bad weather, and you can usually just wait a few minutes if you need to!
Rent a car. Kauai does not have a lot in the way of public transportation. There is a bus system, but it's limited, and services Uber and Lyft are also few and far between. It took us nearly 45 minutes to find a ride from the Lihue airport to our campervan rental. After talking to the driver, we found out it's because only tourists use the services, so they don't get enough business for it to pay well enough to attract enough drivers. You can get a rental car for a great price from Outdoorsy. More on that later!
Be sure to hit the farmer's markets and shop at Costco. Grocery stores (and pretty much everything else) on Kauai are expensive! One of the best tips we got to save money was to buy from Costco and the local farmer's markets around the island.
Relax and slow down! Unlike the other islands, Kauai is extremely laid back and focused on leisure and outdoor activities. While there is some nightlife and plenty of activities to do, Kauai is best enjoyed slowly and leisurely. You're in paradise – soak it up!
Where to Stay in Kauai
Whether you decide to stay in hotels, AirBNBs, or even a campervan or tent, choosing your lodging is the first step in planning a trip to Kauai.
We've broken down where to stay in Kauai based on the rental type below.
Best Hotels in Kauai
Some of the best hotels in Kauai are:
Grand Hyatt Kauai Resort and Spa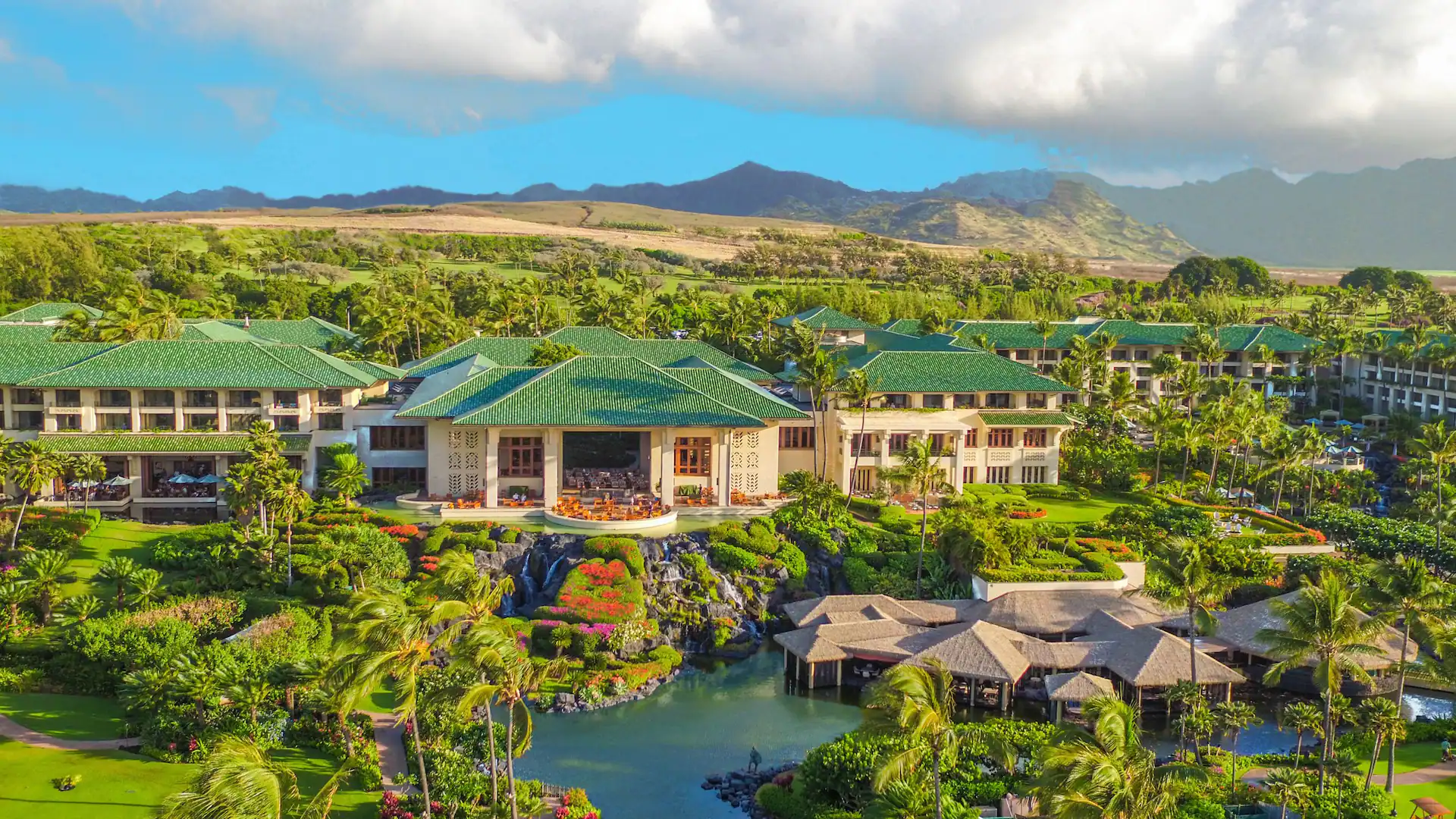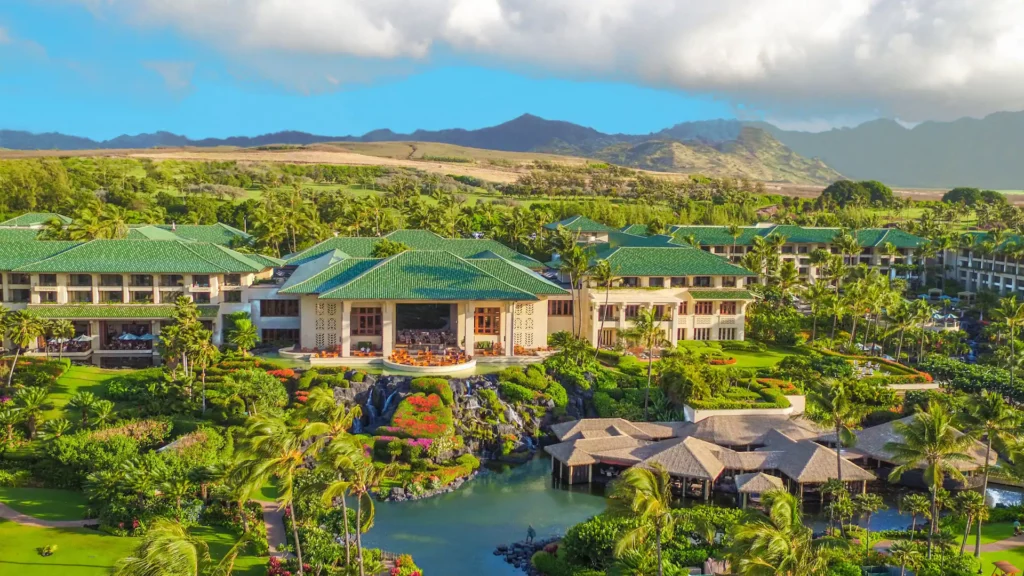 Private patios & balconies
Expensive
Ko'a Kea Hotel & Resort at Poipu Beach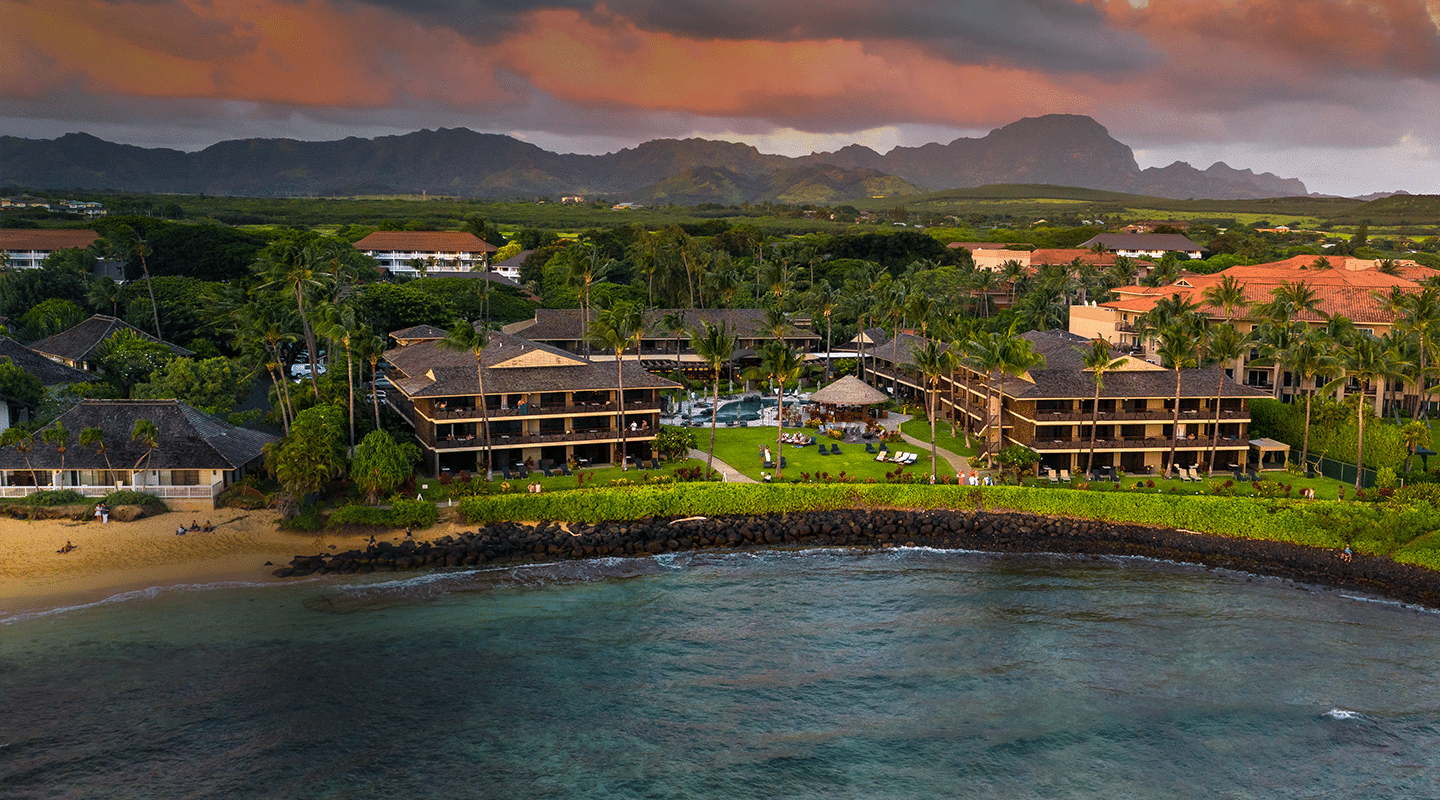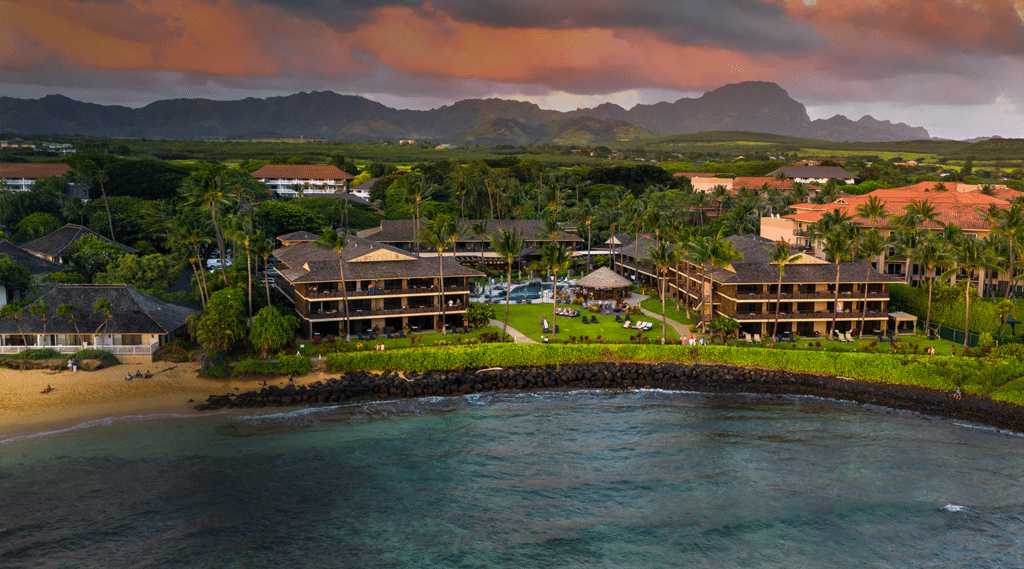 Private patios & balconies
Daily resort fees and expensive rooms
Koloa Landing Resort at Poipu, Autograph Collection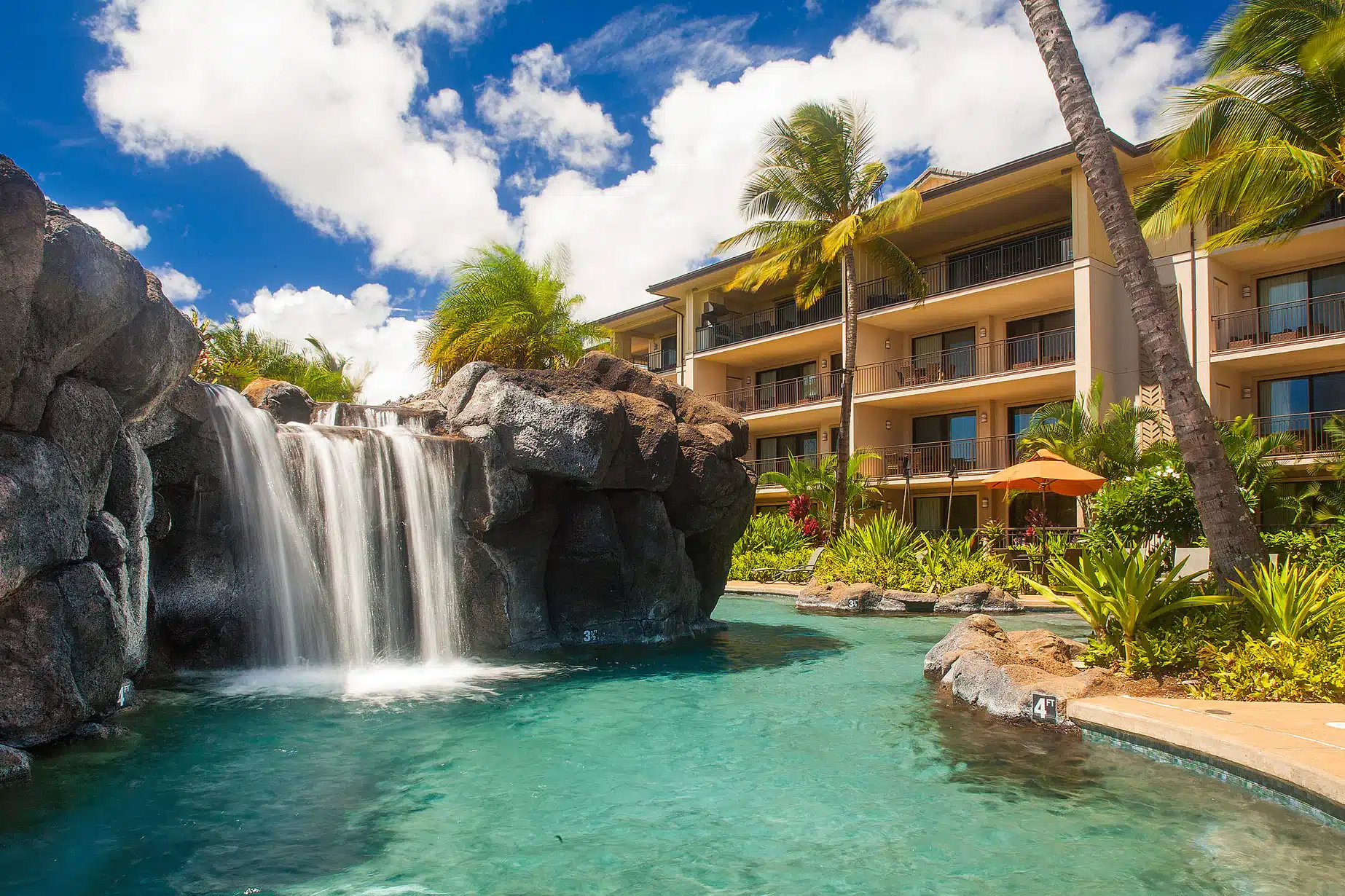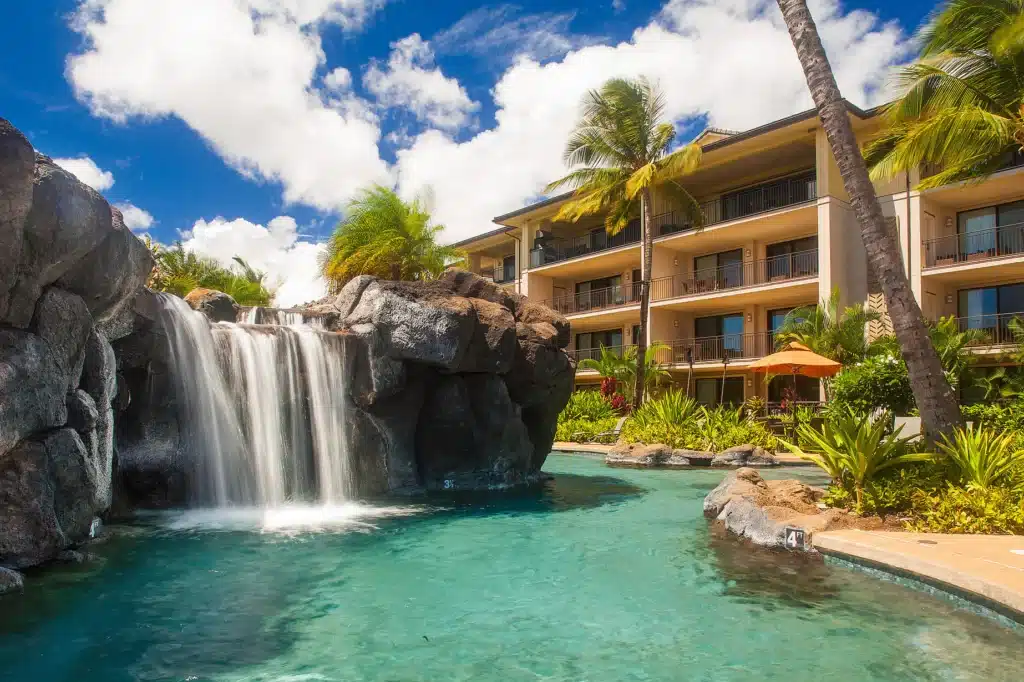 Big rooms and a massive new pool
Hotel service received mixed reviews
If you're looking for deeper comparisons of the hotels and resorts in Kauai, check out this page.
Best AirBNBs and VRBOs in Kauai
AirBNB and VRBO are vacation rental companies that allow homeowners to rent their homes out to anyone on their platform. They are vetted and you can often find beautiful homes to stay at a fraction of the cost of a traditional hotel or resort.
Here are a few awesome vacation rentals available in Kauai:
Oceanfront, Beautifully Tranquil, See Whales in Winter & Dolphins Year-Round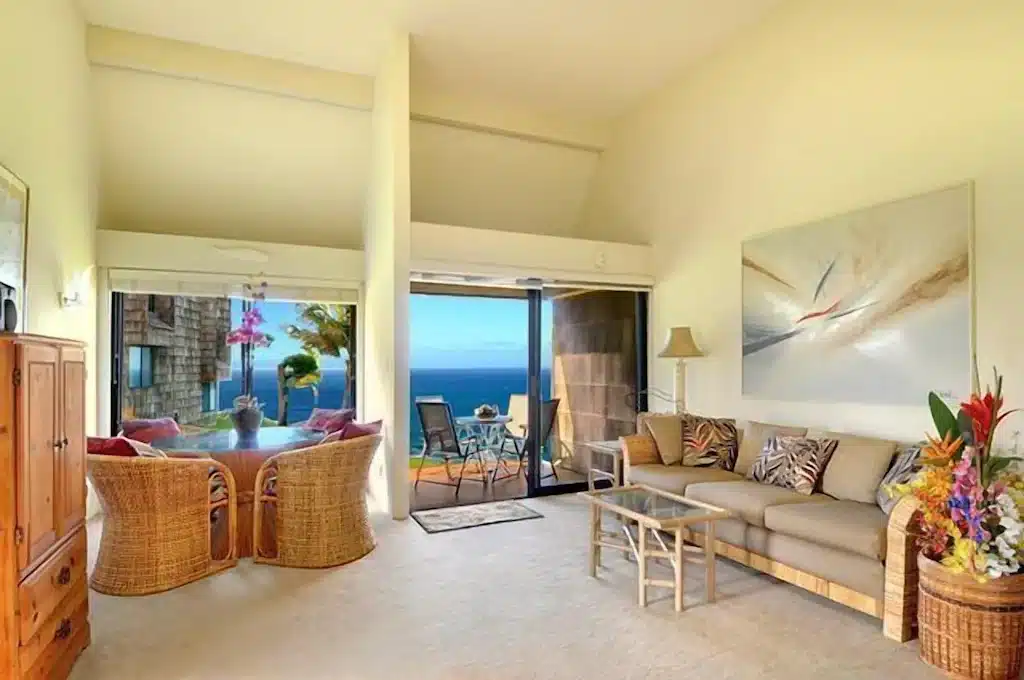 $252/night average
Oceanfront
2 Bedrooms / 2 Bathrooms
Sunset Kahili 304, Spectacular Ocean Views In Sunny Poipu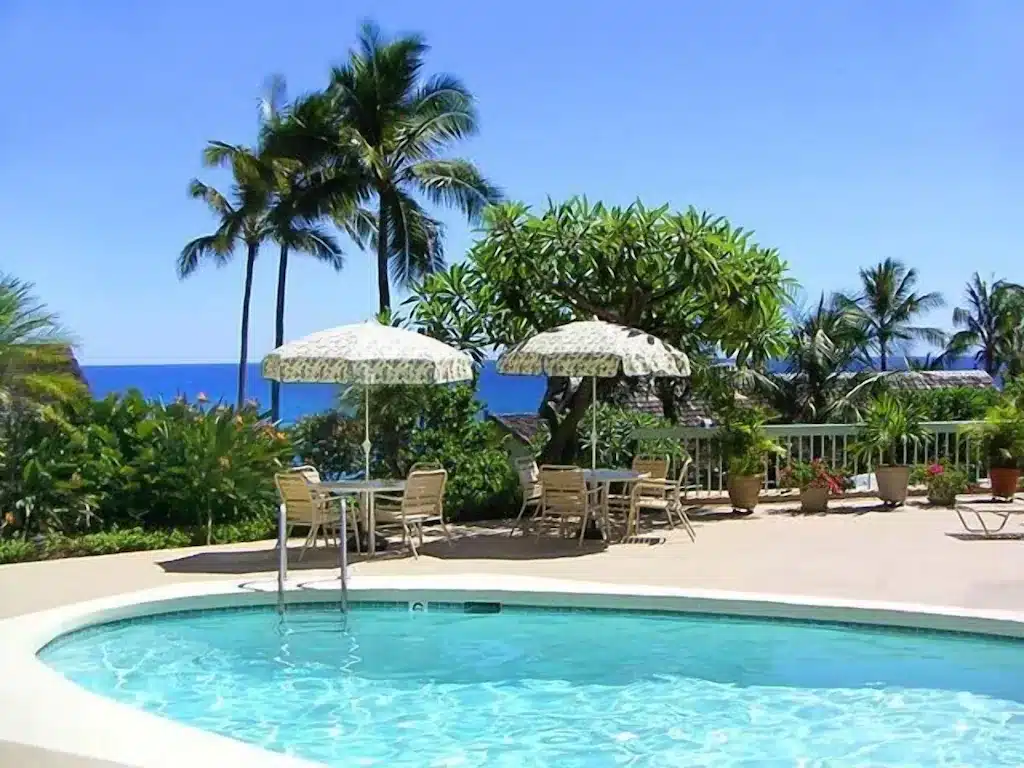 $195/night average
Beautiful ocean-view pool
1 Bedroom / 1 Bathroom
Spectacular Oceanfront 3 BR Home – Privacy & Space with Incredible Views!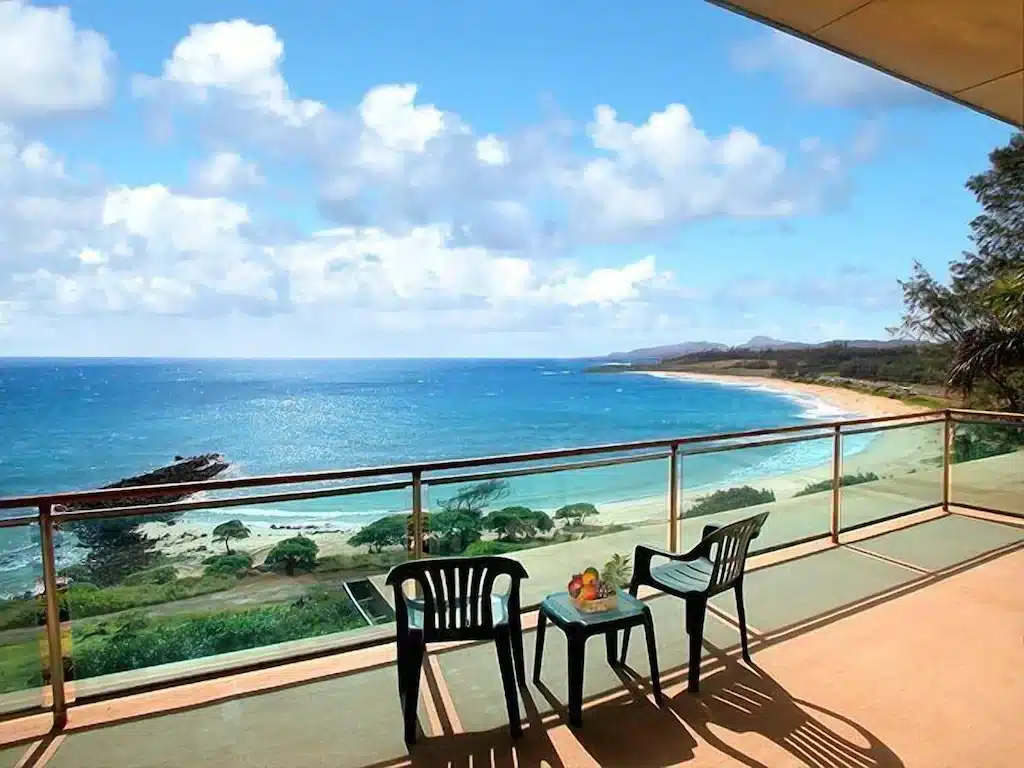 $800/night average
Panoramic ocean views
3 Bedrooms / 3 Bathrooms
If these three options aren't your favorite, you can view more options here.
Kauai Camper Van & Rooftop Tent Rentals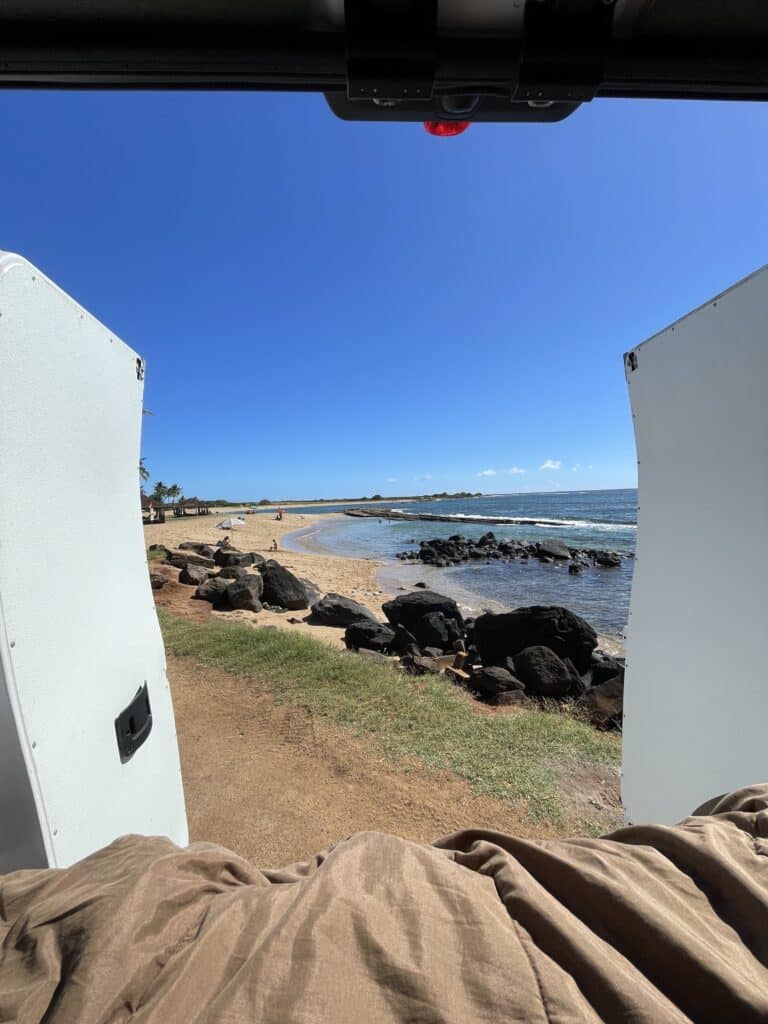 Kauai has many camper rental companies on the island. In fact, we personally rented a campervan from Outdoorsy for our stay.
However, we find the availability of these rigs odd, because it is apparently illegal to camp in a campervan or rooftop tent. Due to the homelessness problem on the island, the local government made it illegal to sleep in your vehicle anywhere on the island. This includes sleeping in a camper or a rooftop tent! This means no stealth camping while in Hawaii!
It's ridiculous, but it's true. In fact, we were told what we were doing was illegal on three separate instances, including one where we were woken up at 3 AM by park rangers banging on the vehicle and shining lights inside. We did not know this was illegal before we went, but we certainly do now!
If you're interested in saving money on your trip to Kauai, camping IS a great option. But do it in a tent, not a camper!
Kauai Camping Gear Rentals
Camping is an awesome way to see the garden isle! Not only do you get to save a ton of money on lodging, you also get to experience staying right on the many pristine beaches and sleeping to the sound of rolling waves.
You can rent a car from Outdoorsy with camping gear included. This is perfect to also save money on a rental car while you're visiting.
Some options we've found with camping gear included are:
Of all these options, I highly recommend going with an off-road vehicle like the Toyota Tacoma. Having a high-clearance 4×4 will allow you to visit parts of the island you can't get to in any other kind of vehicle, with access to some of the best hikes the island has to offer!
Our preferred way to visit Kauai is a mix of camping and staying in the resorts. Camping for a few days to save money and see the northern shore, then staying at a resort to grab a hot shower and a comfy bed.
Sound interesting? Check out our guide to camping on Kauai for more info! (Coming Soon)
Best Things to Do & See in Kauai
We wrote a comprehensive guide to the best things to do in Kauai already (coming soon). If you want more in-depth recommendations, check out that article.
That said, here are a few of our absolute favorite things we did while visiting this Hawaiian island:
1. Waimea Canyon "Grand Canyon of the Pacific"


Considered the "Grand Canyon of the pacific", Waimea Canyon is a must-see when you visit Kauai. You can get there by driving, so it's easy to get to and doesn't require any intense hikes like some other great views on the island. Even just the drive to this grand canyon is stunning and shouldn't be missed!
Money Saver Tip: It costs $10 to park plus $5 per person to visit the State Park and viewing platform. This price also gets you access to Koke'e state park. However, you can get some amazing views of the canyon from the side of the road without paying for this pass if you don't plan on visiting Koke'e as well! We personally didn't feel like the pass was worth it for the view.
2. Hanalei Bay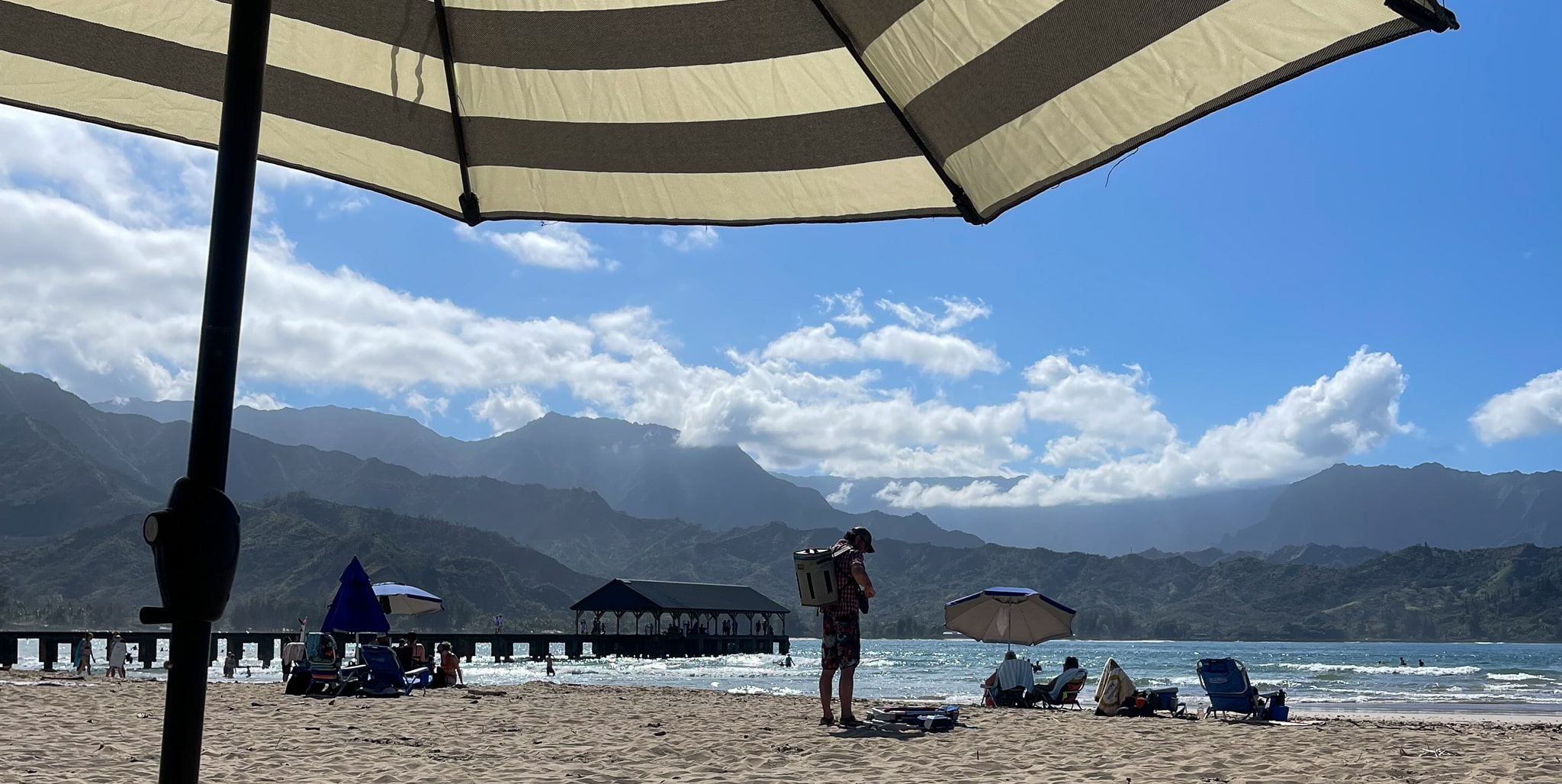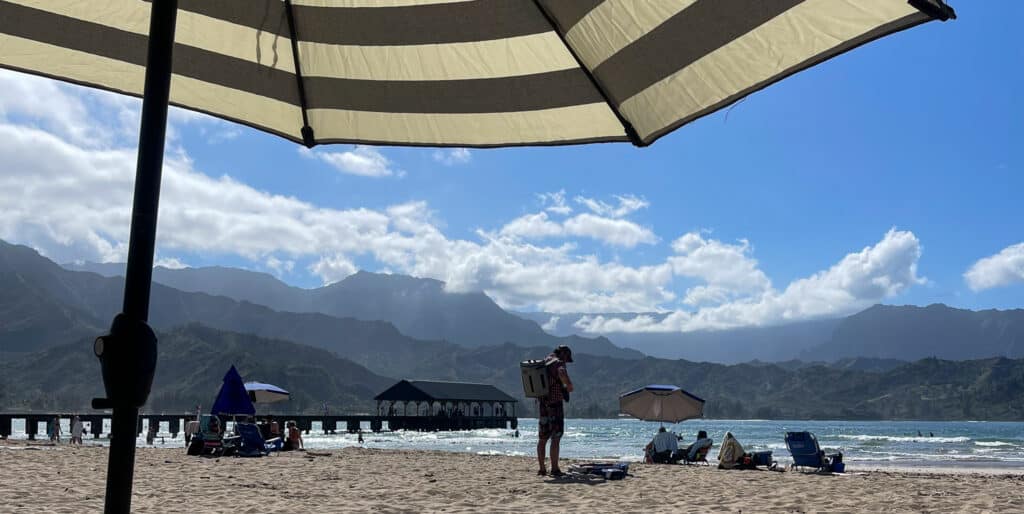 Hanalei Bay, on the north shore of Kauai, is iconic and definitely a must-see! It's home to the Hanalei Pier, located at the mouth of the Hanalei River. If you have kids, this is also the calmest of the island's beaches for them to play in the surf. It's a common spot for newbies to practice surfing as well!
3. Sail the Na Pali Coast (See Whales, Dolphins, Sea Turtles)
There are many boat tours that will take you along the famous Na Pali coast. If you take one of these boat tours, you'll likely be able to snorkel and hear the whales talking to each other under the water! You can often see them in the distance, as well as occassional dolphins and other wildlife. The sea cliffs you see on the tours are the same ones you see in the opening scenes of Jurassic park!
4. Hit the Hiking Trails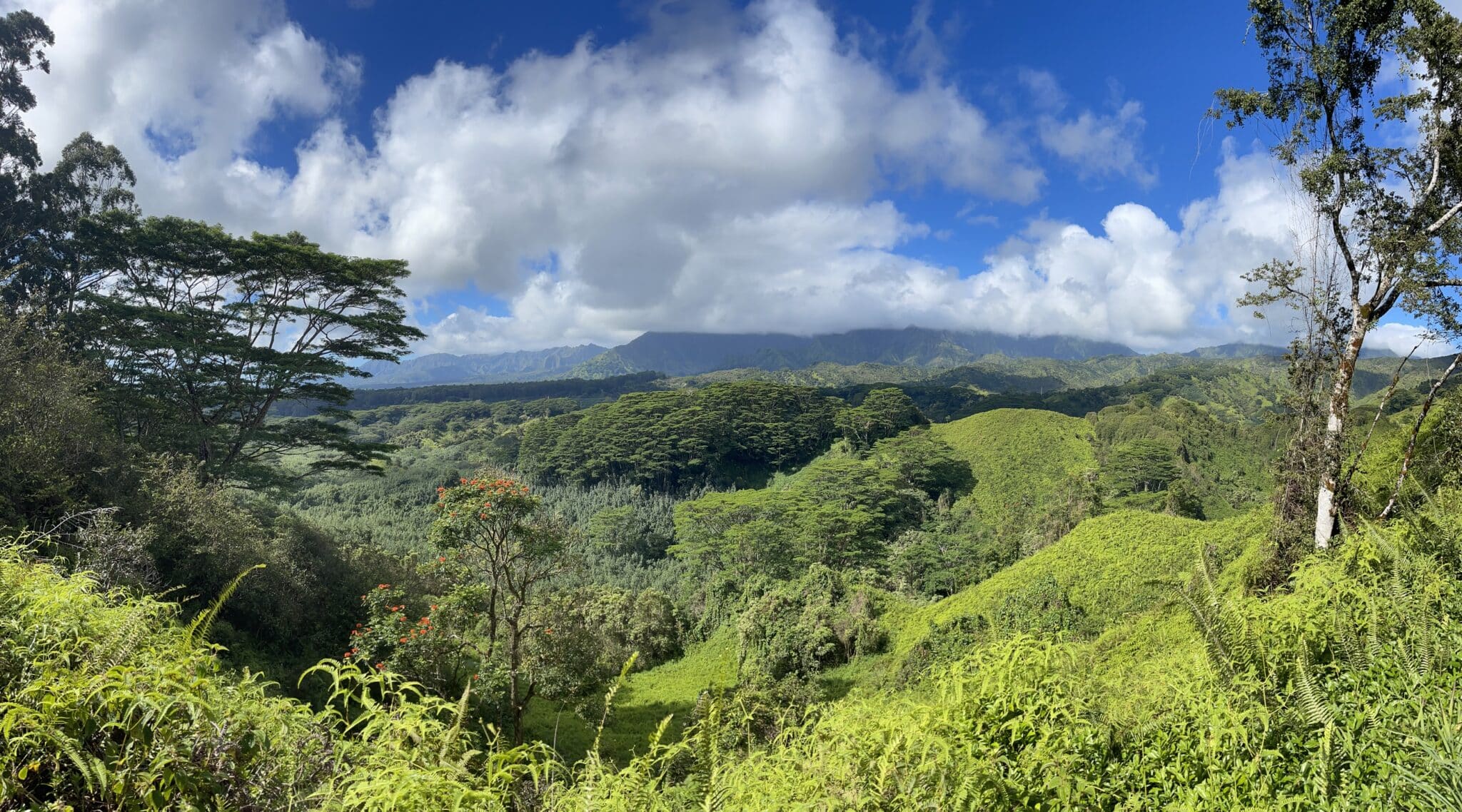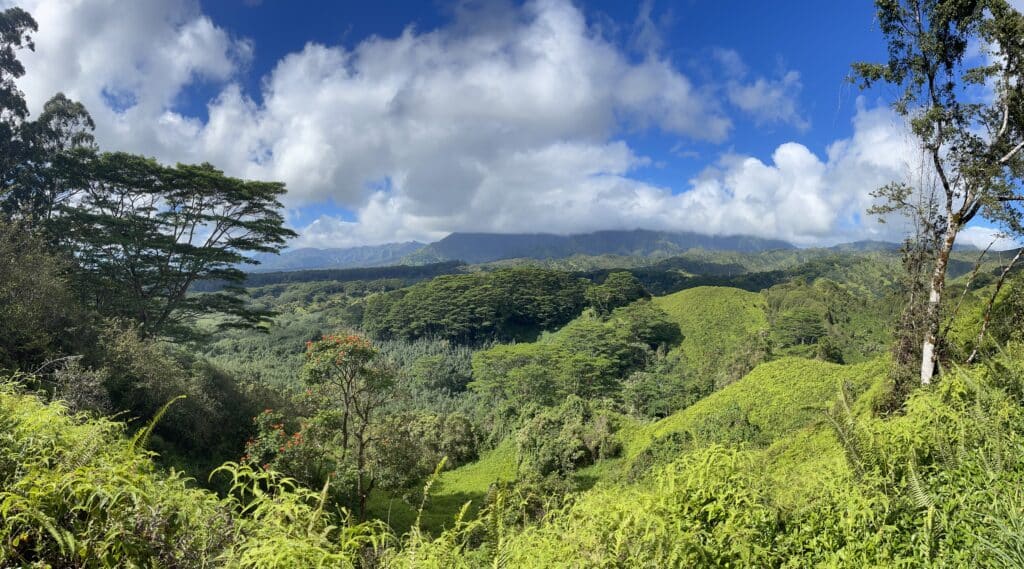 Kauai is home to many breathtaking hikes, such as the Secret Waterfall hike you must kayak the Waileaua River to get to or the hike to the Secret Beach. If you enjoy hiking trails, I highly recommend hitting some of the following:
Secret Waterfall
Ho'opi'i Waterfalls
Jurassic Park Gate Trail
Waimea Canyon Lookout
Kalalau Trail on the Napali Coast
You can find more hiking trails on Kauai with the All Trails app. It will show you where the trailhead starts, reviews and pictures of the hikes, and information about how long or difficult the hikes are. It's definitely a great app to have!
5. Free Rum Tasting & Coffee Tour
Despite Hawaii being expensive, Kauai does manage to have two very cool free activities: A coffee tour of the Kauai Coffee Company and a rum tasting at the Koloa Rum Co!
Kauai Coffee Company is the largest coffee grower in the entire US, with over 4 million coffee trees grown on 3,100 acres! They have a free self-guided tour (which includes free samples of all their coffees) as well as a paid tour that costs $25 per person and includes a guide who explains the entire story of the grounds and how their coffee is made. Note that you have to book the paid tour ahead of time, but the free tour can be done at any time without booking.
Here's a video overview of the coffee company:
Koloa Rum Co has tastings every day except Sunday from 10:15 AM to 4 PM. You must reserve your seat at the tasting in-person, and the rums tasted change every day and are displayed on their website. It is typical to tip the bartender as you get a full explanation of all the rums, where they came from, and what's in them. And it's entertaining, too!
That's all for this section, but if you want other ideas of things to do, check out our complete guide.
A Guide to Kauai's Shores
Kauai, being an island, has four shores. While the south shore is the most touristy, all of the shores offer their own beautiful beaches, incredible views, and fun things to see and do.
In this section, I'll give you a taste of what each of the shores has to offer so you can plan your trip in accordance with what you want to see!
North Shore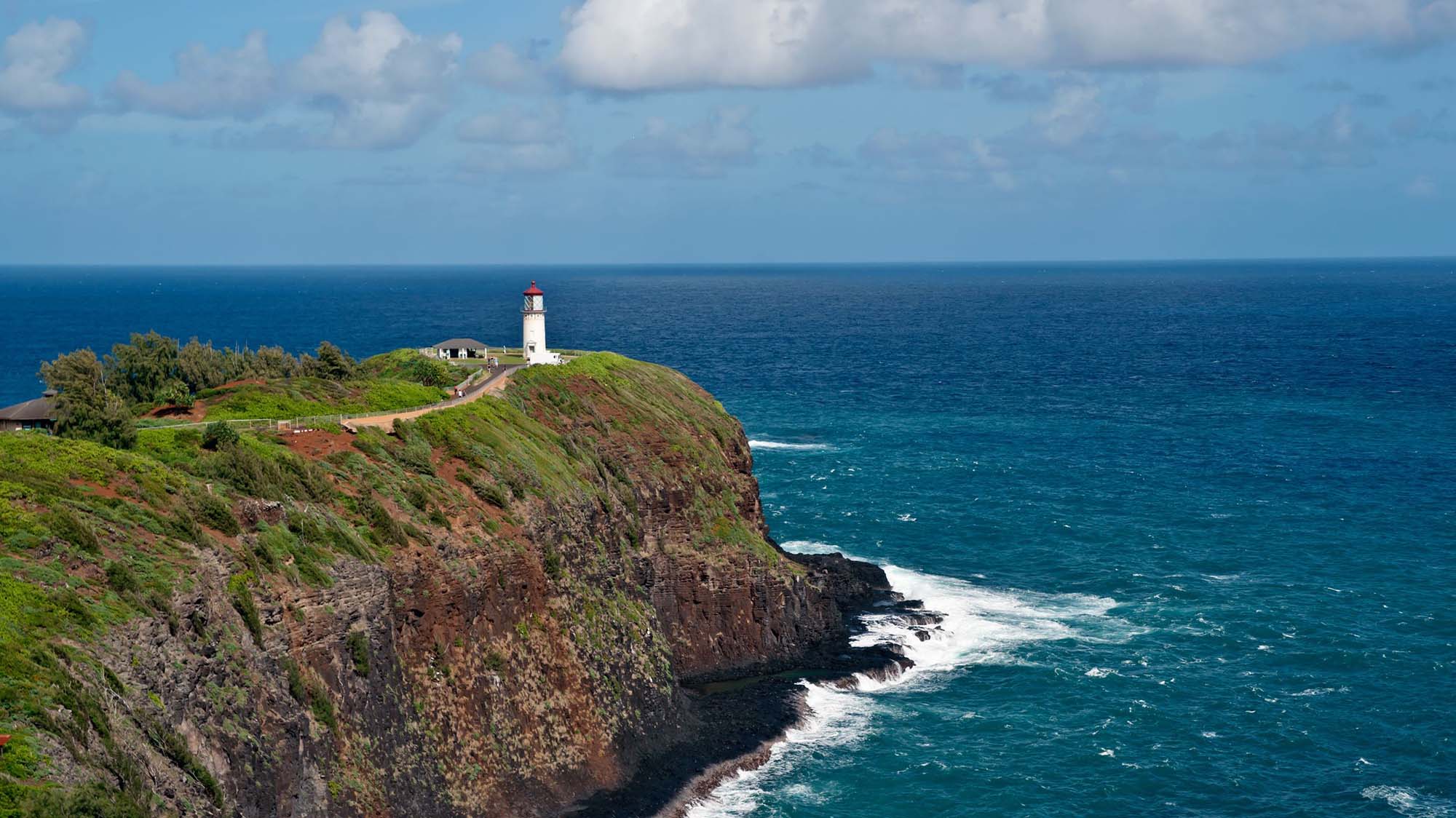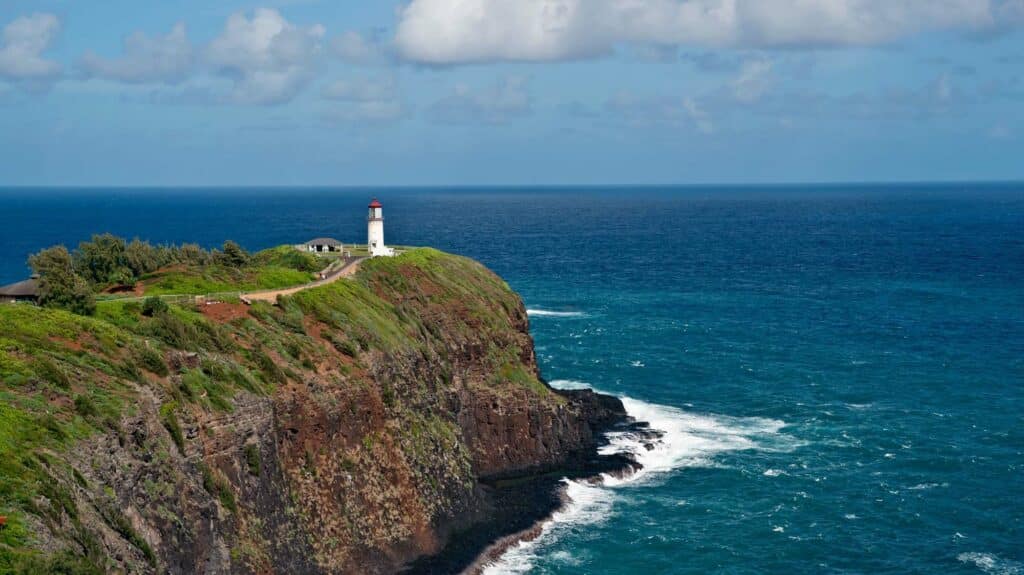 Kauai's north shore is home to many beautiful sea cliffs, hikes, and caves. If you're an outdoor lover, this is the shore for you. Some of the highlights of the north shore include:
The Napali Coast and the world-famous Kalalau Trail: An 11-mile hike that's broken into four different sections. Adventure seekers from all over the world come to see this trail, as it's considered one of the most scenic hikes on the planet. To do this hike, you'll need to camp overnight and you'll need to get a permit 30 days in advance (and they sell out within minutes of going on sale, so be prepared!).
Kilauea Lighthouse: The lighthouse, at the northern-most tip of the island, was built in 1913 with the largest hand-blown clamshell lens in the world. It was later replaced with a beacon in the 1970's. You must make a reservation to see it, which costs $10. There are also more expensive tours you can take that will give you more information about the lighthouse and it's history.
Makua 'Tunnels' Beach: Tunnels beach offers some of the best snorkeling anywhere in Hawaii during the calm summer months. And the backdrop of the gorgeous mountains behind the beach is absolutely stunning.
East Shore (Royal Coconut Coast)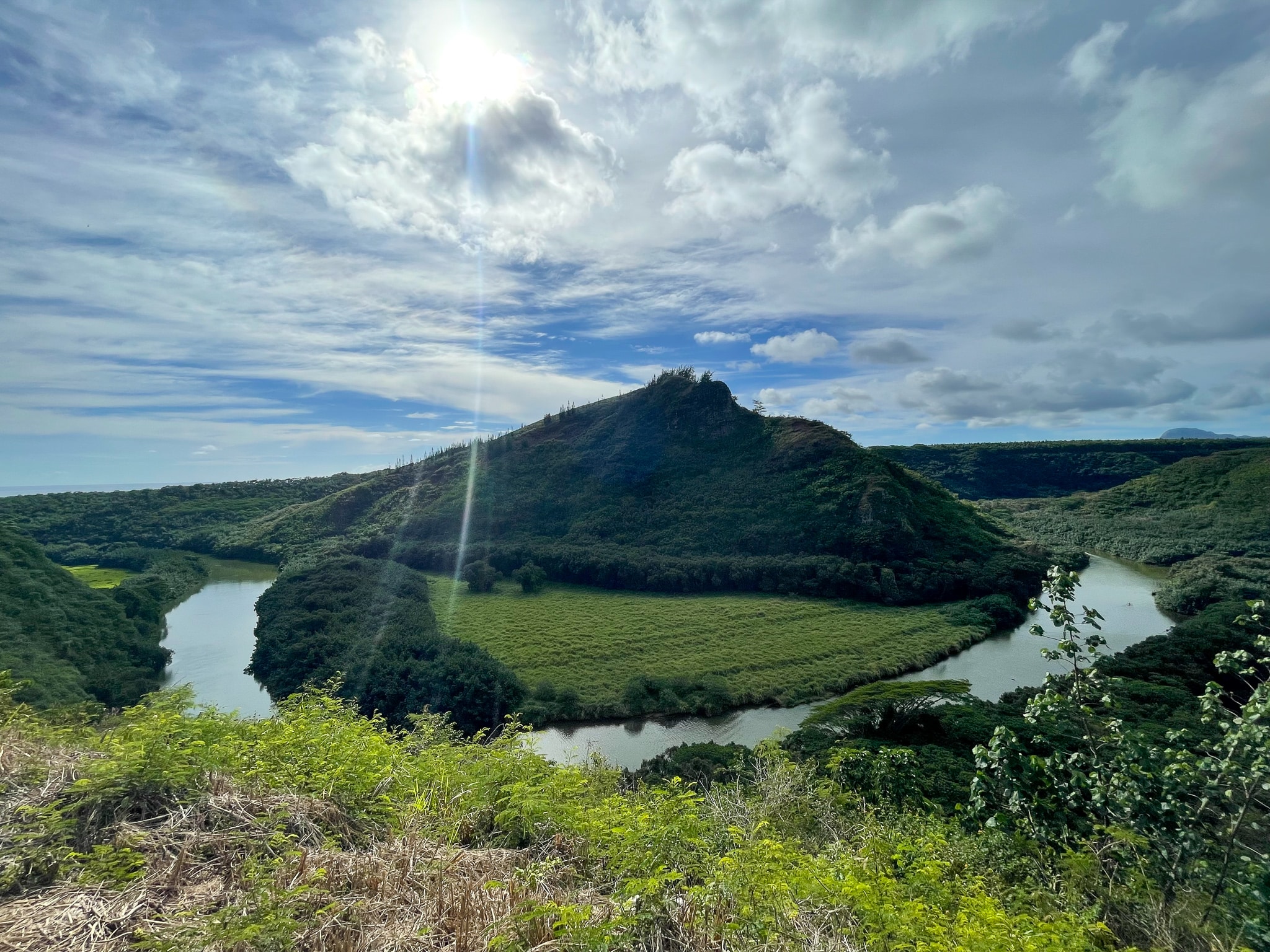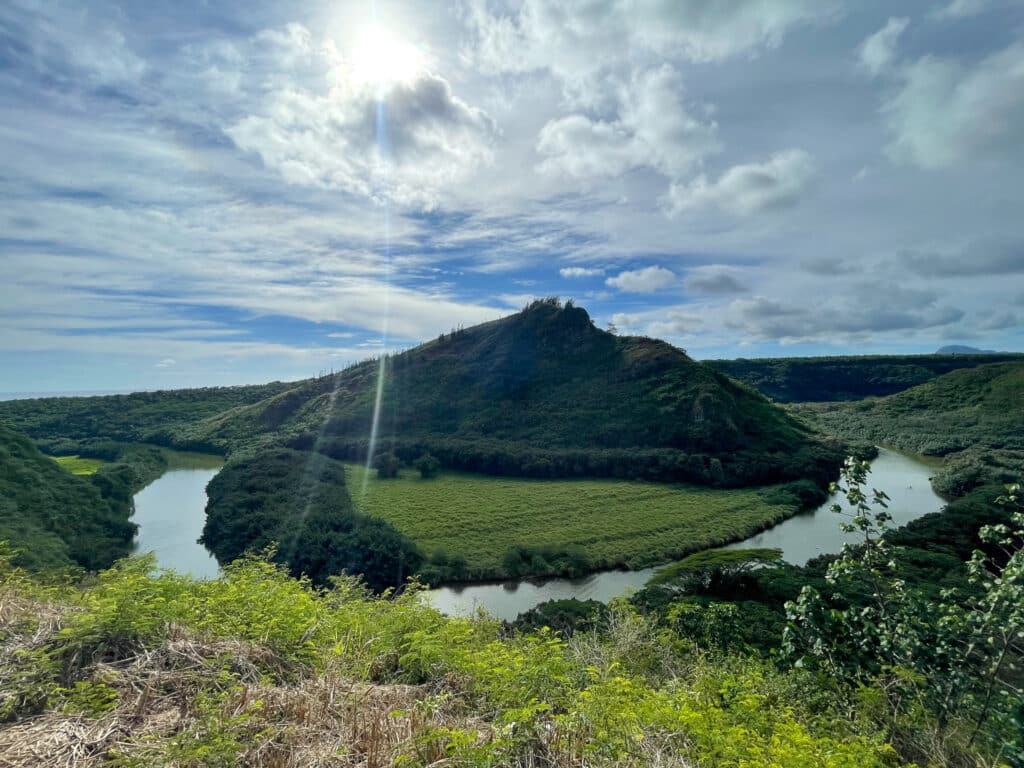 Kauai's east coast is referred to as the Royal Coconut Coast because of the groves of coconut palms that grow in its resort areas. The most populated district on the island, about 16,000 of the island's 71,000 residents reside in the Wailua/Kapaa area. Some of the most notable attractions on this side of the island include:
Wailua River: A popular river for boat tours and kayaking, this beautiful river leads to the Secret Falls trail. We rented a kayak and took it down the river, and it was one of our favorite activities of the whole trip!
Fern Grotto: You can take a boat ride to a natural lava-rock grotto, lush with hanging ferns and tropical foliage, filled with the mists of a waterfall. Iconic for sure!
Kapaa Town: A wonderful small town with lots of great places to eat, sights to see, and excellent beaches.
South Shore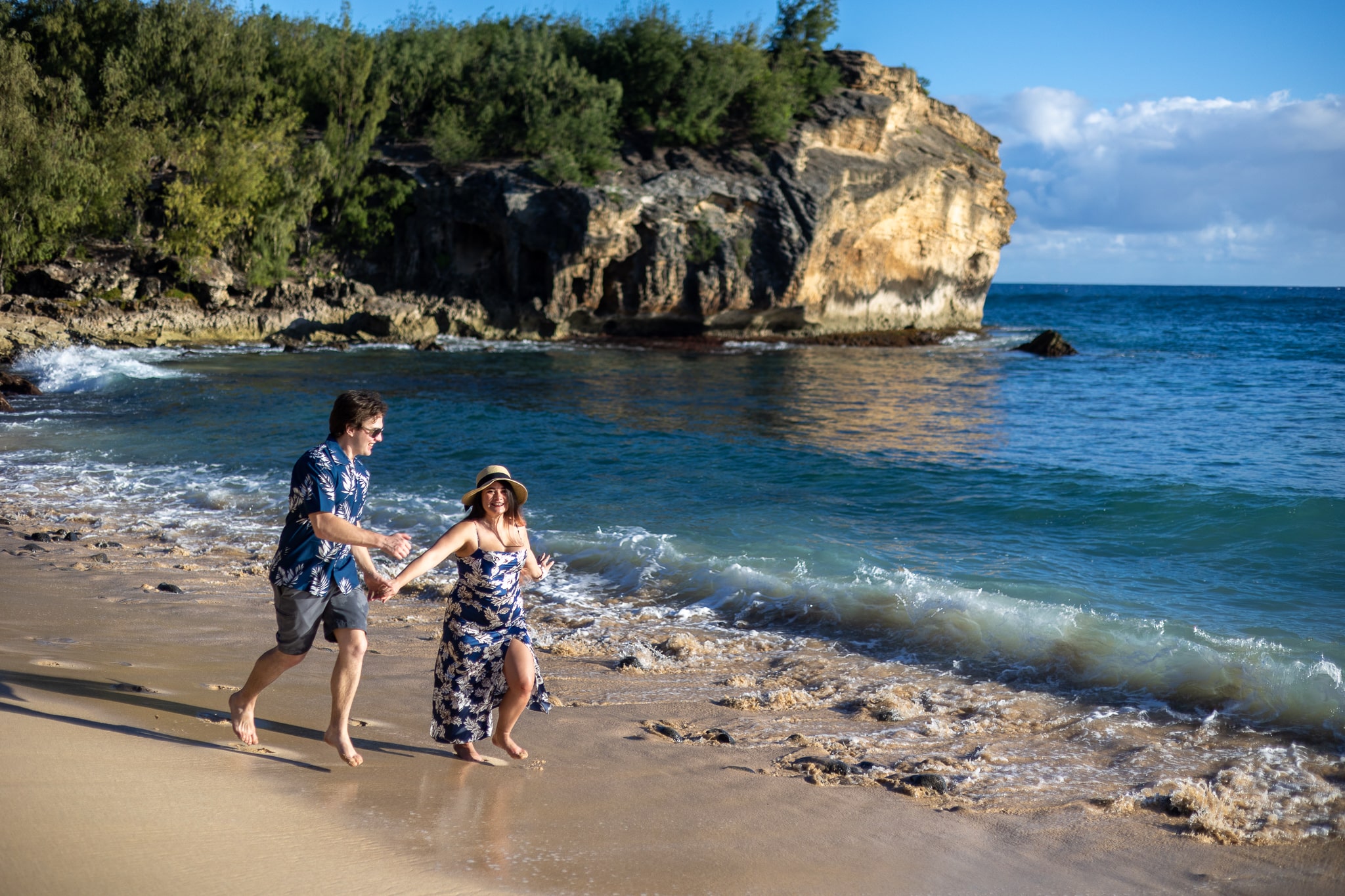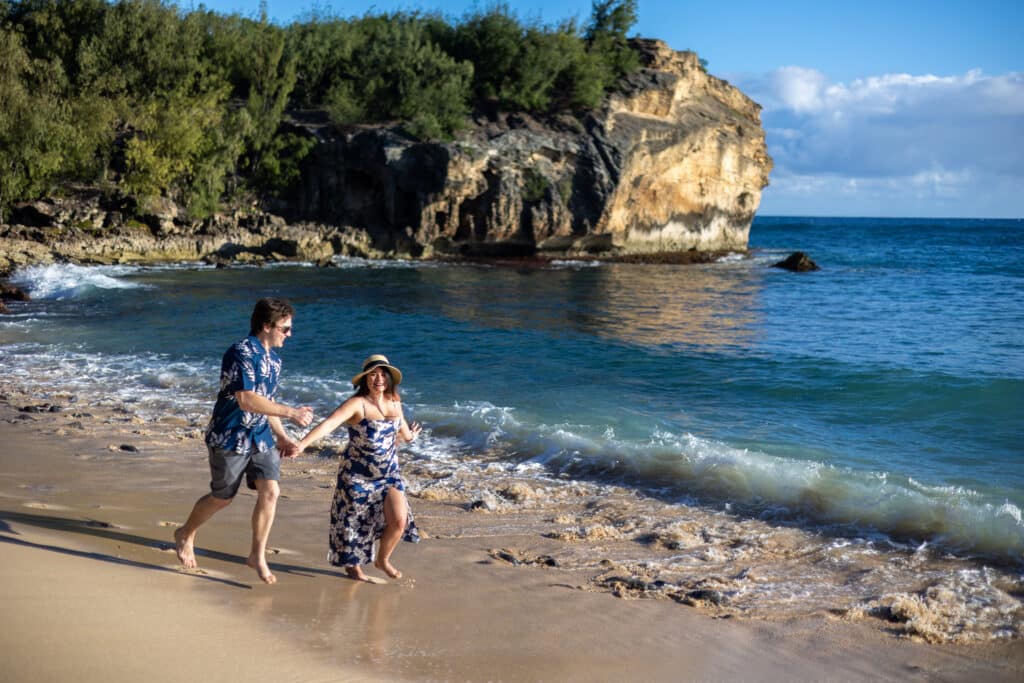 The south shore is the most touristy, with tons of resorts and extremely popular beaches. On this side of the island, you'll find these iconic places:
Poi'pu Beach: A very popular beach, and for good reason! It has some beautiful reefs that make for great snorkeling during calm water. Additionally, you'll often see turtles and monk seals resting on this beach. At night, we saw nearly 20 turtles resting on the shores here!
Ship Wreck Beach: We saw our friends get married at this iconic beach. It has a cliff you can walk up to and look out over the ocean. A great spot for sight seeing or a romantic evening with a sunset picnic.
Spouting Horn: This is a blowhole that's a popular spot for photos on the island. The ocean water gets forced through a natural lava tube and creates a blast of water that mists into the air.
West Shore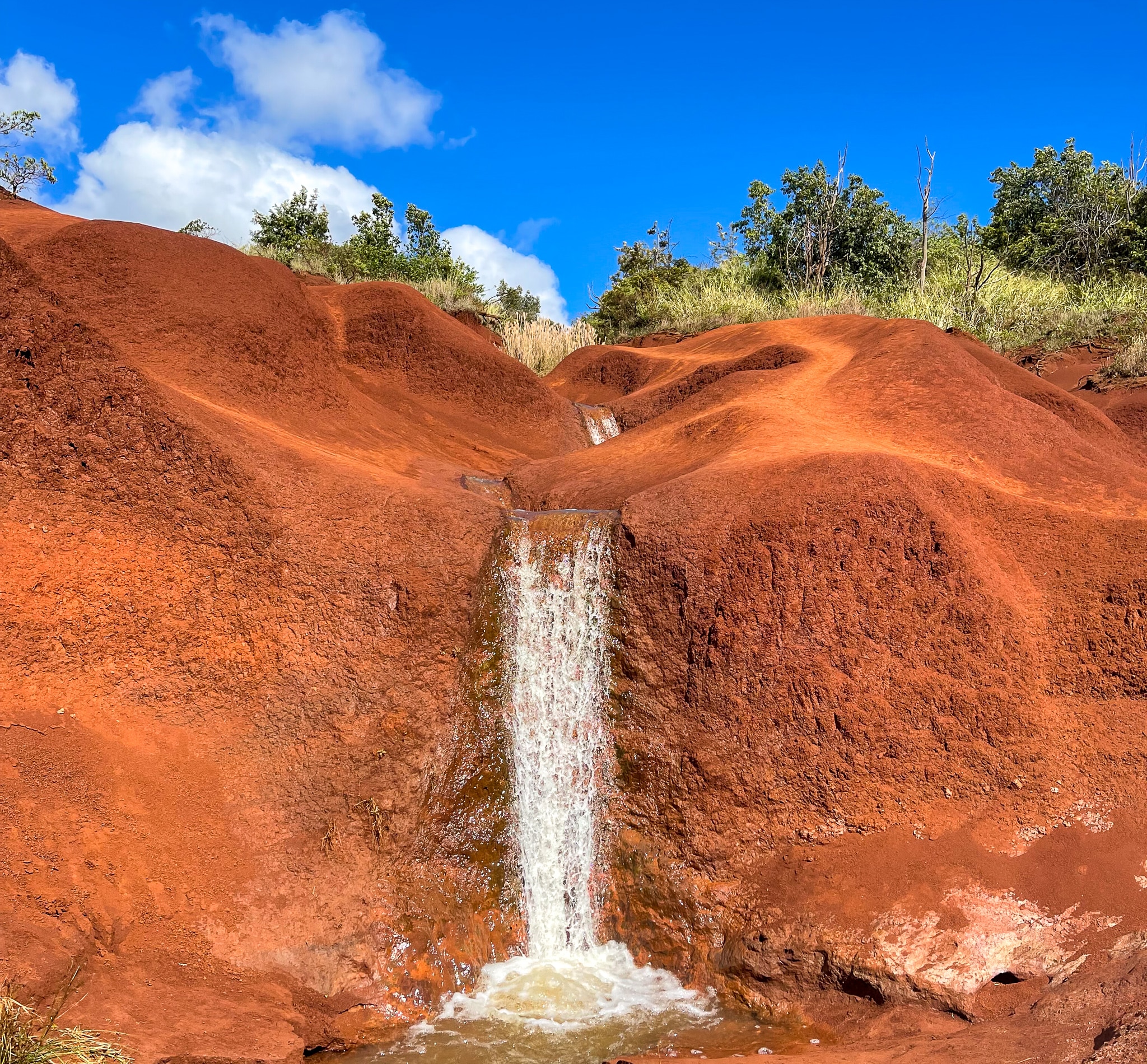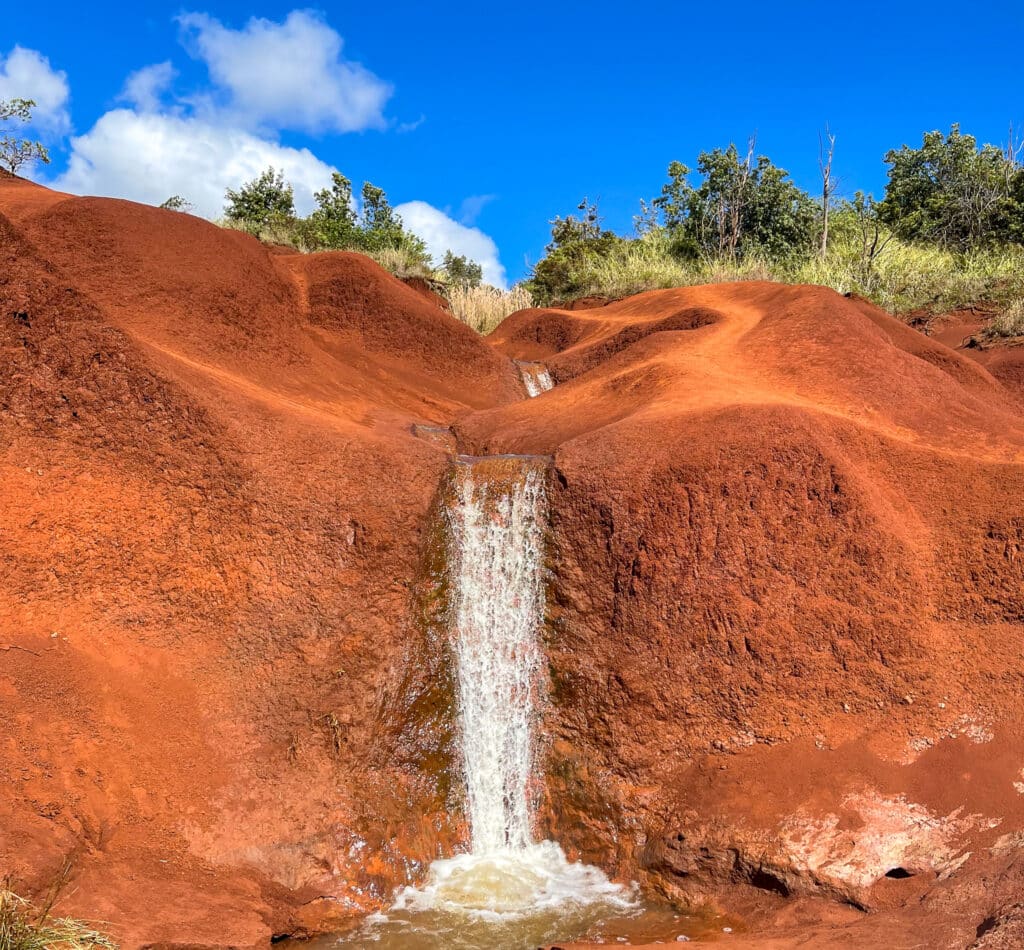 Finally, West Kauai is home to red dirt, gorgeous state parks, and some excellent restaurants. Here are some of our favorite activities on the west side:
Waimea Canyon: We already talked about this, but the "Grand Canyon of the Pacific" is found on west Kauai. Plenty to see here, with incredible hikes and one of the most scenic drives I've ever been on in my life leading up to it. A must-see!
Hanapepe Town: This small beach town is home to tons of local galleries, a swinging bridge, and Salt Pond Beach, among other things. It's a cool little stop, especially on your way to the canyon!
Kokee State Park: Past the Waimea Canyon, you'll find Kokee State Park, full of even more excellent hikes and breathtaking views.
Of course, there are more things to do on the garden isle, but I couldn't include them all here. Check out our guide to things to do in Kauai for more info on that! (Coming Soon)
Best Restaurants in Kauai
Again, we cover all the best restaurants in Kauai in our things to do in Kauai travel guide. However, here were our absolute favorites that we highly recommend you experience while you're here!
1. Luau Kalamaku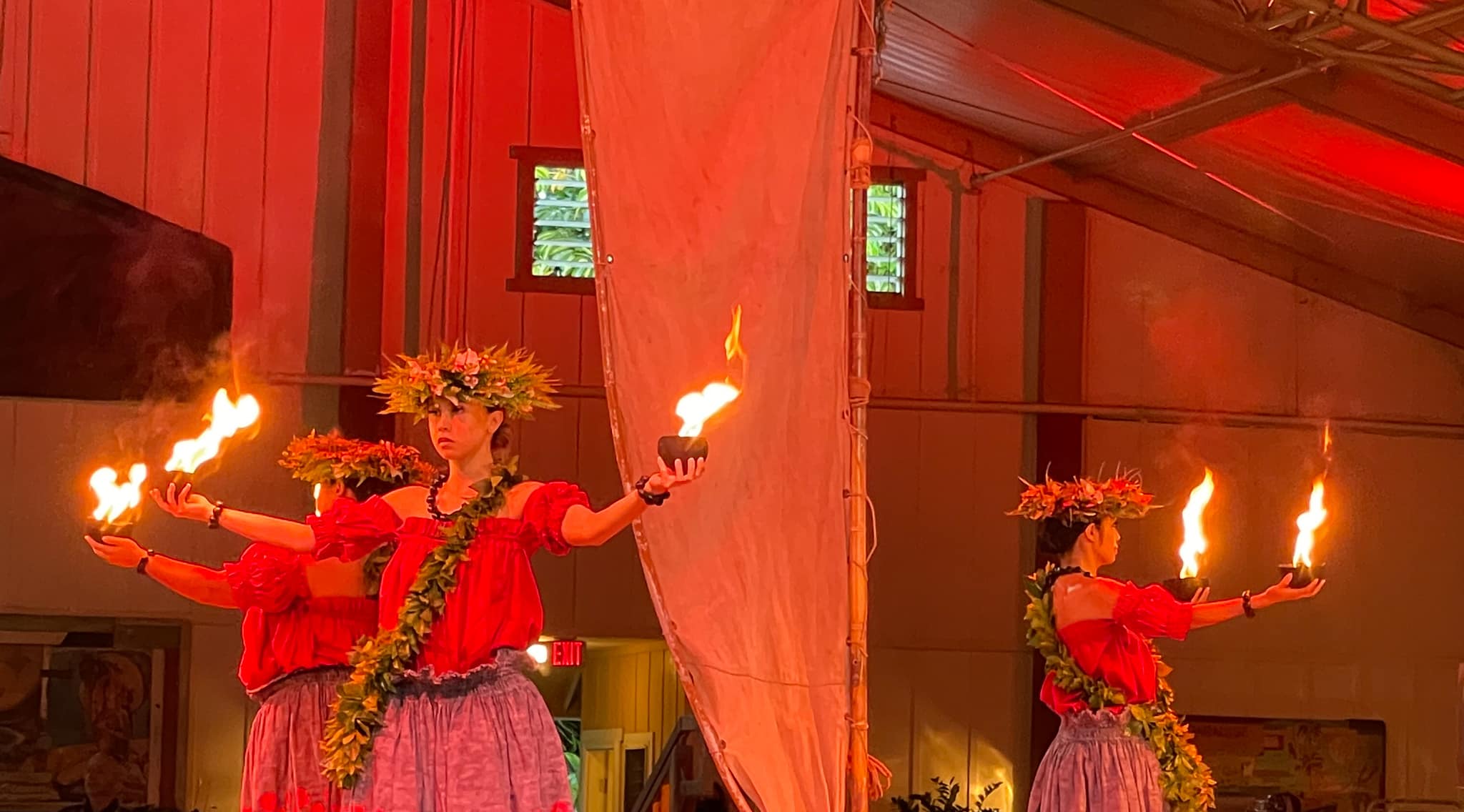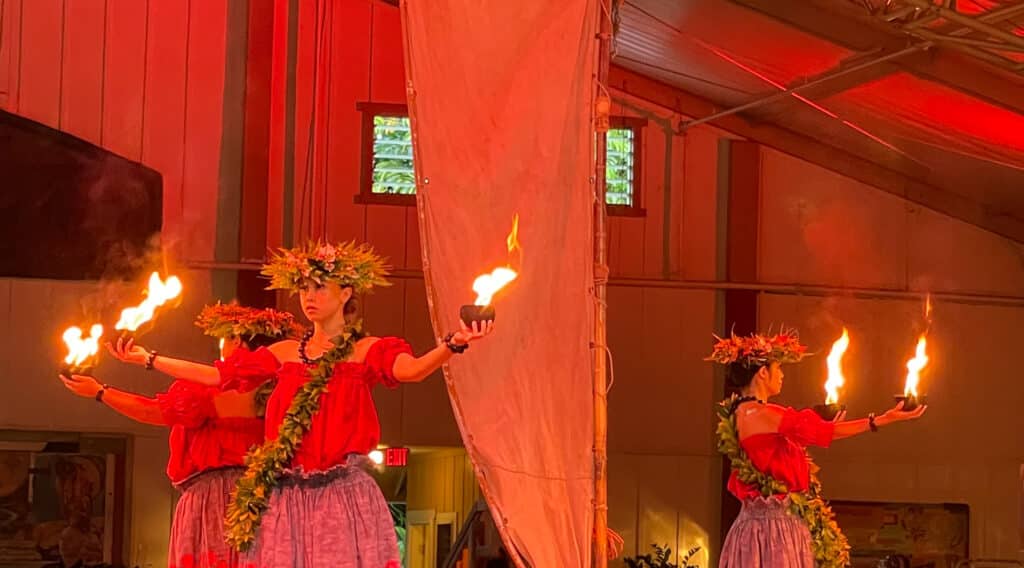 Possibly our favorite experience of the whole island, Luau Kalamaku provided unlimited drinks and delicious food, as well as amazing entertainment. They had hula and fire dancers, Hawaiian singing, and live music that all portrayed some of Kauai's history.
2. Kauai Island Brewing Company
If you're a fan of a good brew and some good bar food, the Kauai Island Brewing Company shouldn't be missed! They have some great brews, like the Wai'ale'ale Golden Ale or Napali Pale Ale. We also loved their fish tacos.
3. Kauai Chocolate Company
OK, technically not a restaurant, but if you're a chocolate fiend like me you HAVE to stop by the Kauai Chocolate Company! They give free samples of their Macadamia Nut dark chocolates (mouthwateringly good) and, better yet, they're right across from the brewing company!
Beer and dinner, followed by chocolate. What's not to love? Make sure you try their ice cream while you're there, too – you won't be disappointed.
4. Anything at the Coconut Marketplace
The Coconut Marketplace is a food area on the coconut coast (east side). They have everything from Thai to coffee to tacos and more. We ate at nearly every place there and were never disappointed. Plus, the Thai place is really affordable!
Just don't make the mistake we did and get some shaved ice early in your trip! Jojo shaved ice has incredible shaved ice with macadamia nut ice cream that was mindblowing. We didn't try it till our last day on the island, and we regret not going sooner and getting it more!
5. Puka Dog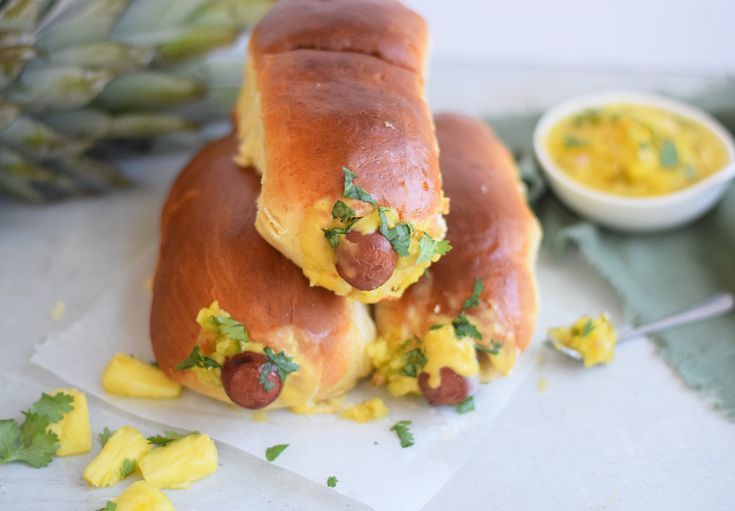 Puka Dog is one of the top 10 hot dog stands in America, according to Anthony Bourdain. We're inclined to agree with him. These Hawaiian-style hot dogs were unique, delicious, and came at a great price. A must-eat after snorkeling at Poipu Beach!
All the Fruit Stands
Kauai has many fruit stands, and every single one we went to were delicious. Most of them, like Moloaa Sunrise, serve fresh fruit, cooked breakfasts, coffee, smoothies, and more. Many of them are also very affordable compared to the other restaurants on the island. Can't beat fresh, locally-grown organic fruit smoothies and acai bowls!
Final Thoughts on Kauai
I hope you found this Kauai travel guide useful! The garden isle is one of my favorite places I've ever visited due to its incredible natural wonders, beautiful sights, and perfect weather.
Just please take good care of the land when you're there and, again, respect the locals. They were there first, and they are having a rough time right now with all the inflation happening on the island (and, frankly, across the world).
Read Next: