Don't feel like reading the whole review? Here's the TLDR:
RVezy is an excellent platform. They are trustworthy with great customer service; probably the best in the industry. However, because they're new to the RV rental game in the United States, they don't have a large selection and most of the rigs they do have are a bit pricier than the other platforms.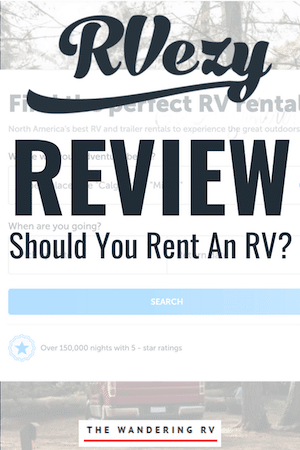 RVezy is a platform for RV owners to rent their RVs directly to renters. It's like the AirBNB of the RV world.
While they don't have the best selection of RVs yet because they're new to the US, they have excellent customer service.
But should you use this RV rental service? And, if you do, what type of RV should you rent? This review will answer that question… and more!
Let's dive in.
Table of Contents
Note: Some of the links in this article are affiliate links. This doesn't cost you any more than normal. Read our disclaimer for more info.
About The Company
RVezy was founded by Mike McNaught and Will Thompson in 2016 after realizing their own private RV rentals were leading to a significant amount of extra income.
They help RV owners rent their RV to RVezy renters in what's called peer-to-peer RV renting. Private owners of RVs can then make money from their camper on RVezy.
​Here's a preview of the RVezy original pitch on Dragon's Den in 2017 (the Canadian version of Shark Tank):
RVezy is providing outdoor enthusiasts with a safe and affordable way to rent an RV while enabling RV owners to earn additional income by renting out their RVs with complete peace of mind. Pretty cool!
Psst! Click here to learn how you can make money renting your RV!
The RVezy Rental Process
Let's look at each part of the RVezy rental process, from start to finish.
Browsing RVezy
Searching for RVs online is easy with RVezy (thus the name!). Just enter the rental location and date range on the RVezy home page, then hit search.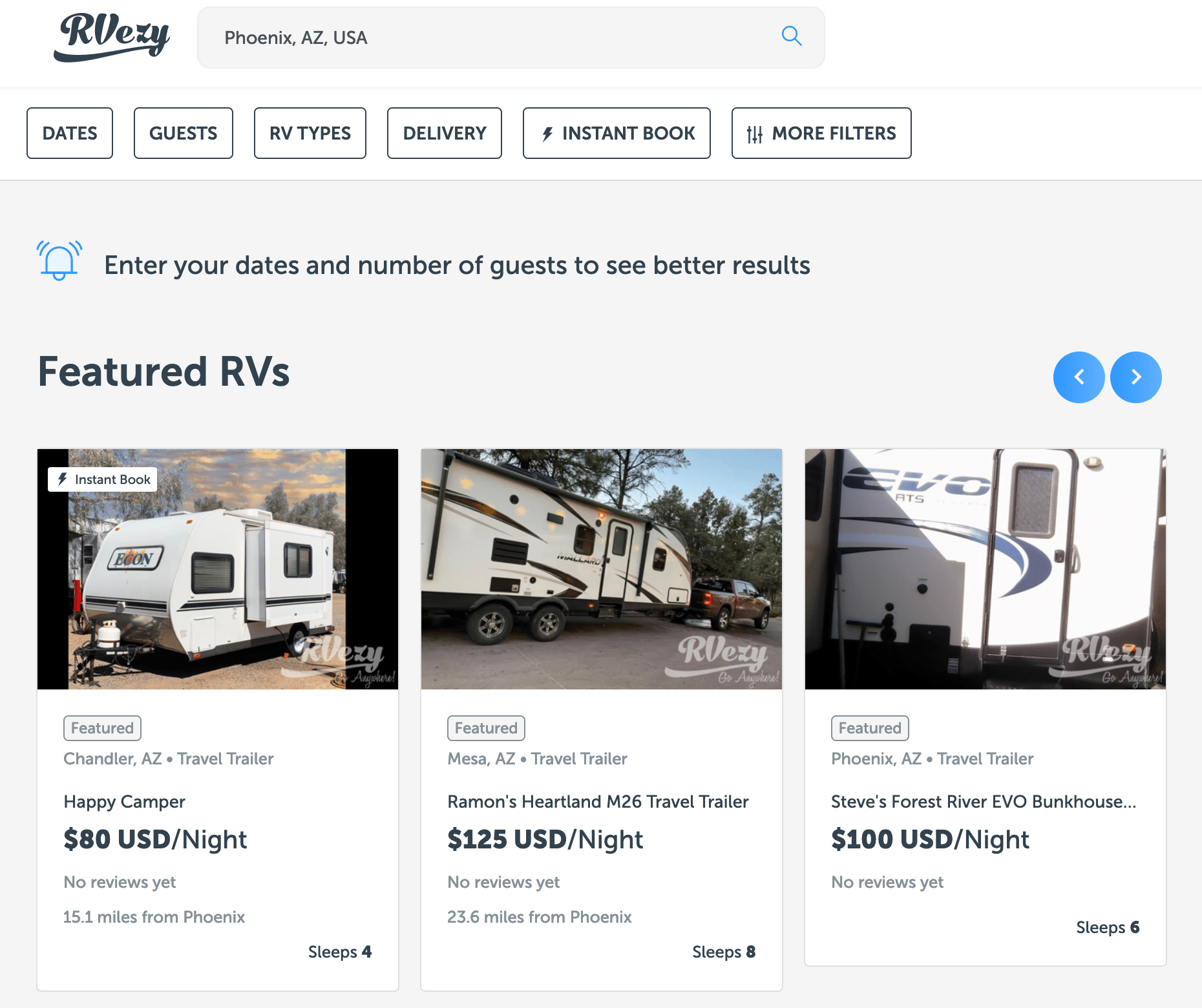 You can also download the RVezy app for iOS or Android and browse that way.
From here, you'll be able to see all the RVs in and around the area you chose on RVezy. (Keep in mind that some may be in neighboring towns rather than the exact town or city you selected, depending on availability.)
You can refine your search based on the type of camper (like Class A rentals, Class C rentals, Class B rentals, camper van rentals, truck camper rentals, travel trailer rentals, fifth wheel rentals, etc.) as well as amenities, price, length, and more.
You can even find little RV cottages on RVezy! (An RV cottage is a camper that's built a lot like a home, that's not meant for multiple long-distance road trips but rather staying mostly in one spot.)
I wish they had a search filter based on reviews, but because they are so new their platform doesn't yet have many reviews in the US so it wouldn't be helpful.
Booking
Booking an RV rental with RVezy is usually easy but can be a bit more complex. While some RV rentals have instant booking, others require you to reach out to the RV owners directly, and in my experience, only 2 of the 4 we reached out to responded timely.
Once they approve, it typically takes 24 hours to finalize, however of course some people are slower than others and some people have day jobs where they can't respond right away.
Either way, once you start the booking process, you go through a few pages to complete your booking. You just have to fill out some basic information like where you're taking the RV and how familiar you are using one.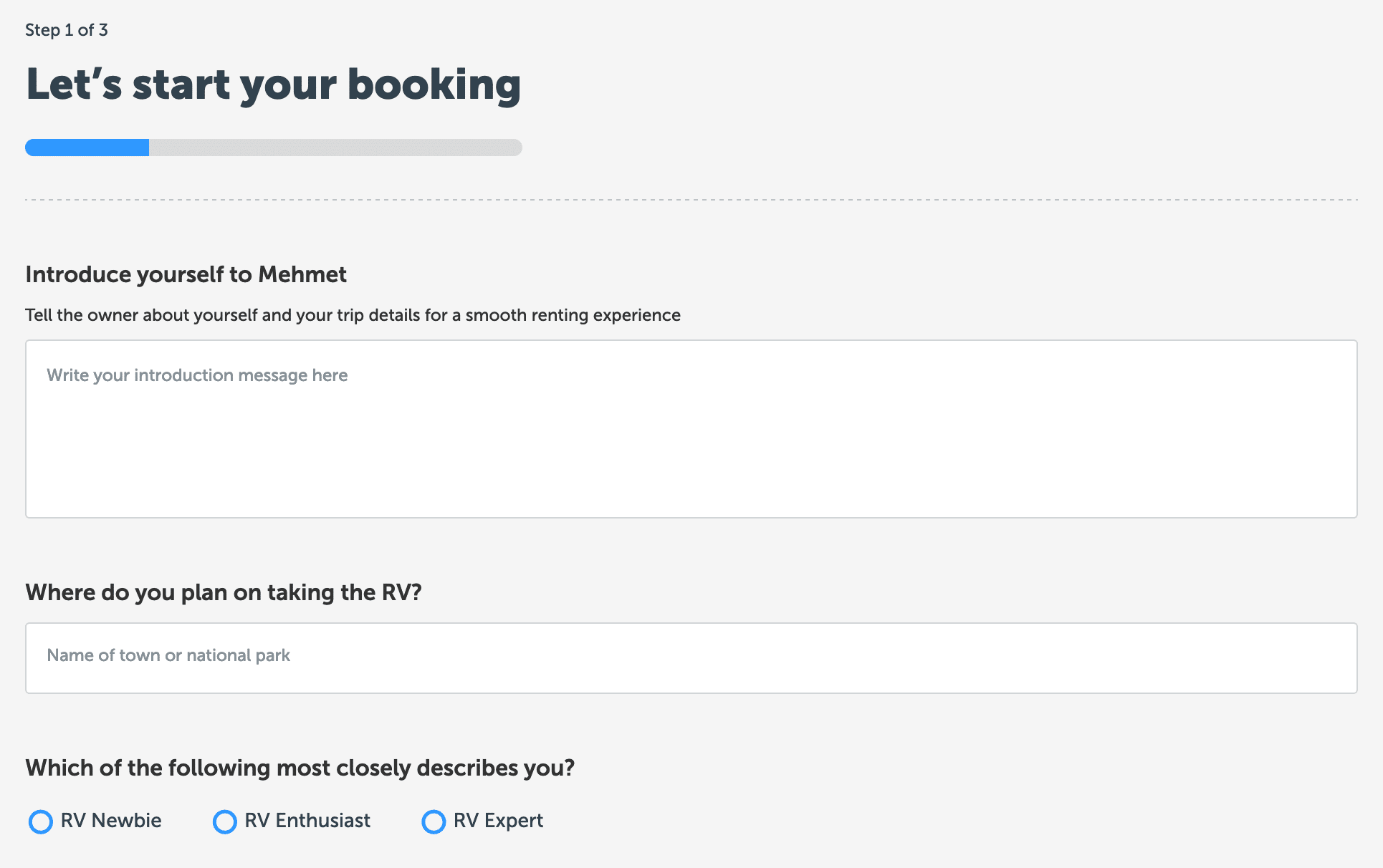 Then, you'll enter your payment details. You will have to pay a (refundable) security deposit of around $1,000 depending on the owner.
Next, you'll need to decide if you want roadside protection and if you want any extras, such as delivery to the site.
Once you hit "Book Now", you will book the trip! But you still need to wait for the owner to accept and respond to you.
Overall, I think the online booking process is very simple and easy.
Communicating with the owner
Communicating with the RV owner was super easy. Our guy set up a pick-up time, cleaned the rig for us before we picked it up, and had a simple checklist he went through when we got there.
He ran us through the RV and showed us how everything worked. We chit-chatted for a while about their experience renting with RVezy and how they like living in the local area.
(They told us they loved RVezy, by the way!)
Overall, a great experience. No complaints!
Getting the security deposit back
​Refunds are processed immediately after the booking is closed out. Customers can expect to see the refund on their CC 1-3 business days after the booking is closed. Owners typically close the booking within 24h after the RV has been returned.
So basically, ​you should have your money back within 2-4 business days after you return the RV. However, the majority of the wait is simply based on standard CC refund policies, not RVezy.
We didn't damage anything in the RV while we were there, so we got it back on time with no problem. All was well!
A Look At The Benefits
Now you might be wondering—why should you rent from RVezy versus RVshare or Outdoorsy or any other RV rental company? Let's look at the benefits.
Available Rentals (3/5)
This is the one place RVezy was lacking. They don't have a wide selection available yet, especially in more rural areas. But we found one just fine!
Insurance Coverage (5/5)
RVezy offers up to $1 million dollar insurance through AON. It covers liability, full collision, and comprehensive, fire, theft, and physical damage.
Free Roadside Assistance (4/5)
RVezy offers roadside assistance for $18/day (maximum $198).
It covers towing services, tire replacement, septic blockage removal, battery assistance, food spoilage protection from fridge failure, on-site mechanics, locksmith, fuel/fluid delivery, and meal/taxi/hotel reimbursement.
Basically, if anything goes wrong, you are covered.
For more info on RVezy's Roadside Assistance plan: Click Here.
Cancellations (3.5/5)
​If you cancel your booking 30 days or more before the start of your trip, you will receive a full refund minus the service fees and tax.
If the booking is between 8-30 days of the booked dates, then you will receive 50% of the total booking, also minus the service fees and tax.
If the booking is canceled within 7 days, you will forfeit the entire booking cost minus the service fees and tax.
While a very rare occurrence, if an owner cancels, the booking the renter will always be fully reimbursed the full amount.​
Overall, their cancellation policy is a bit more strict than other RV rental companies such as Outdoorsy.
Customer Service (5/5)
RVezy's claim to fame is definitely its customer service. Of all the RV rental companies out there, we've seen RVezy have the absolute best.
If you need anything, whether it's help finding a rental or solving a dispute, give them a call – you won't be disappointed!
RVezy Pros & Cons
Now that we've covered the entire rental process and the benefits of RVezy, let's recap with a straight pro-con list.
Pros
Best customer service of any rental company we've used.
Cheaper than traditional RV rentals from RV dealerships or rental companies like El Monte RV or Cruise America.
Fantastic $1M insurance offering.
You get to meet cool people, and most of them are authentic, and kind, and truly want you to have a great experience.
Cons
Because it's peer-to-peer, you don't get the consistency of traditional companies. You aren't guaranteed a certain standard of quality. (Although, from what we've seen, the traditional rental companies don't quite have that standard, either.)
Because they're new to the US, their selections are limited.
Overall, RVezy is a reliable and trustworthy RV rental website and you can't go wrong using them, as long as you can find an available rig in your price range.
Starting an RV Business
If you're an RV owner rather than a renter, you can rent your RV to other people through RVezy and make a great side income!
Here are some helpful links to get more information:
That's it for this RVezy review! Have any questions, comments, or concerns? Drop a comment down below!
Read Next:
– RVshare Review — How Good Is This RV Rental Service?
– Outdoorsy Review — Is Their RV Rental Service Worth It?
– Outdoorsy vs RVshare — Which Is The Best Rental Site?