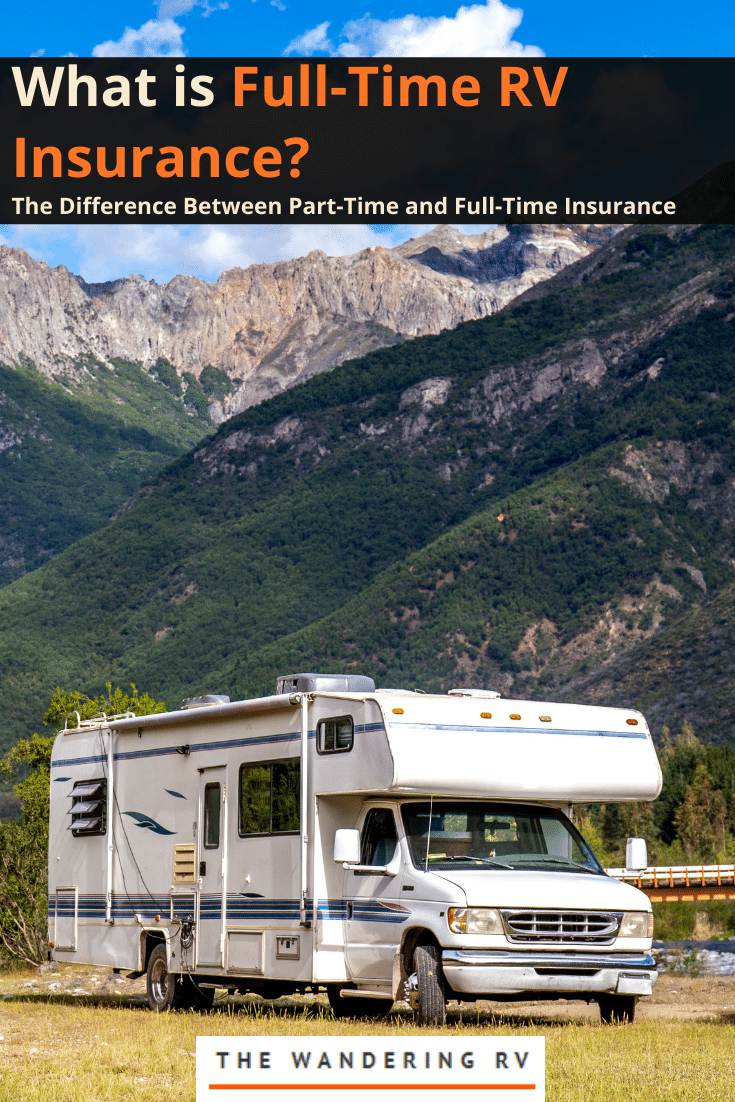 If you live in your RV for more than 6 months out of the year, regular RV insurance won't cut it.
Instead, you need a special full-time RV insurance that will keep you covered for the entire year and won't drop you if the insurance company finds out you're living in your camper.
But what are the differences between full time RV insurance and regular RV insurance?
How much more expensive is it?
Are there specific things you should know?
Don't worry! We've spent years living in RVs, and we've done a ton of research on RV insurance.
We cover all these questions and more in this beginner's guide. Let's dive in!
Table of Contents
What is "Full-Time RV Insurance"?
Full time RV insurance is a more comprehensive RV insurance policy and that's specifically designed for people who plan on spending more than 150 nights per year in their RV.
Think of full-time RV insurance as a mix between homeowners and an auto insurance policy. Not only will it protect the RV, it will also protect the people (and belongings) inside of it, as well as many other external factors.
Simply put, with full-time RV insurance you receive broader liability coverages that protect you for a longer period of time.
A few examples of this coverage include (but aren't limited to):
Medical Payments. Covers medical expenses for those injured in or near your RV.
Personal Liability. Pays for property damage and any/all injuries you're responsible for due to an accident while parked.
Loss Assessment. Pays for fees charged by an association that covers repairs to common areas or parts of the property where your RV is parked.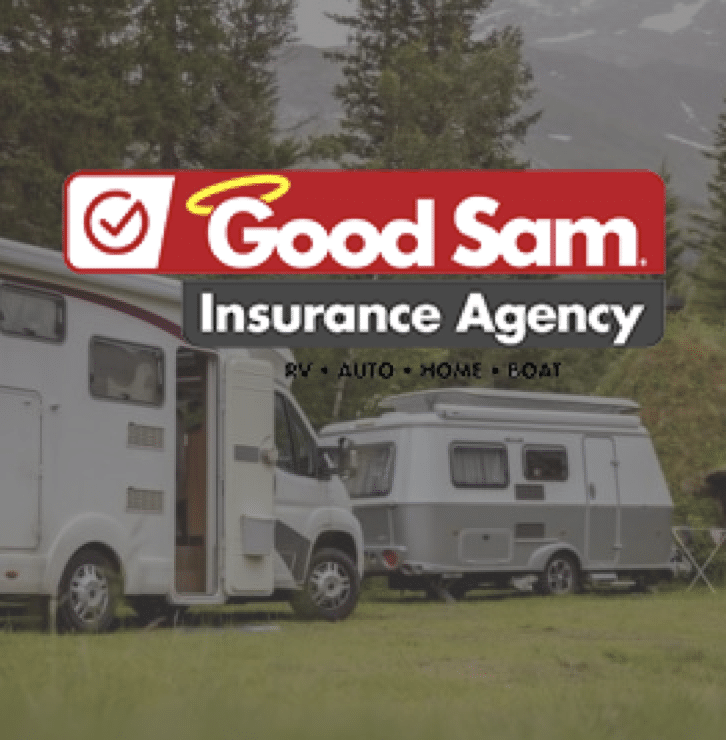 Looking for an RV Insurance Quote?
---
Good Sam Insurance Agency
offers plenty of quality coverage and service options when it comes to protecting your RV.
The Difference Between Part-Time and Full-Time RV Insurance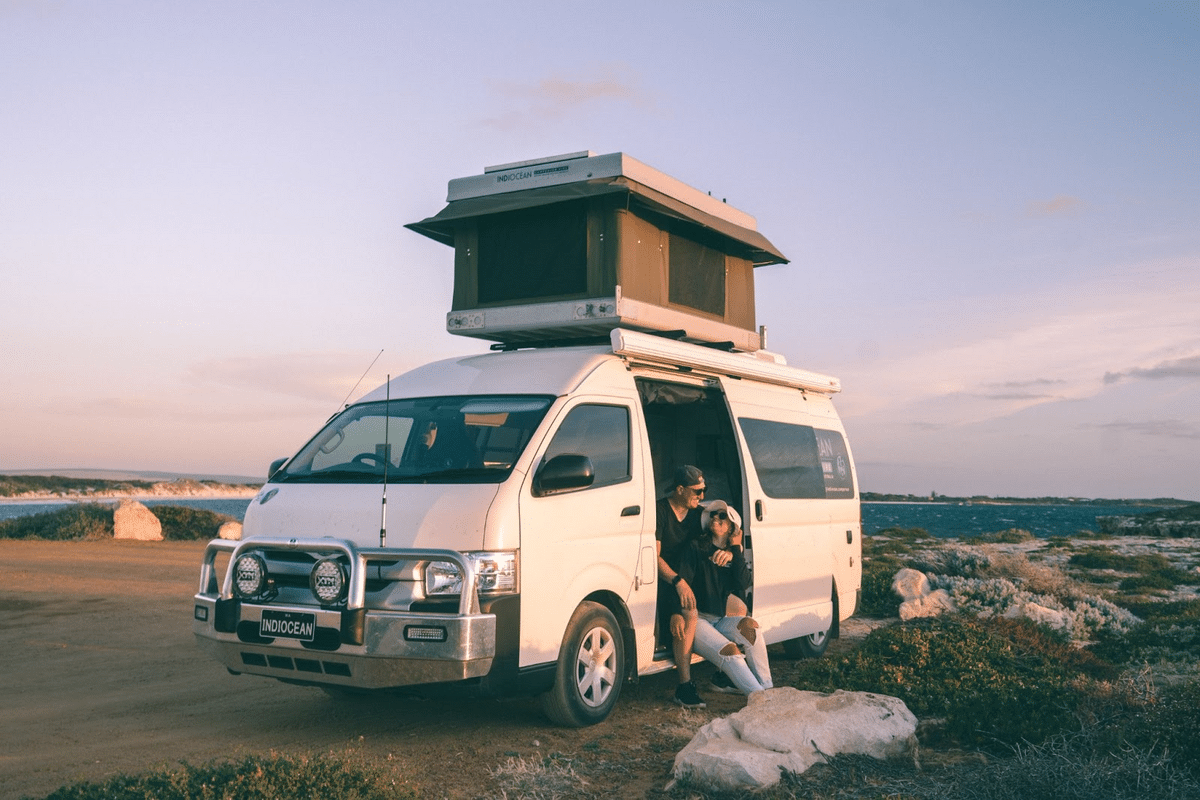 With part-time RV insurance, you'll most likely have:
Liability protection
Physical damage coverage
Personal effects coverage
When you make the leap to become a full-time RVer, you'll need a bit more coverage (you'll want your RV insurance policy to somewhat replicate your homeowners insurance policy).
But, even before you make that decision, you have to have full time coverage if you live in your RV for at least six months out of the year, or 150 nights.
In addition to the protection we just listed, you can also opt for:
Towing/roadside assistance
Uninsured/underinsured property and injury coverage
Medical payments coverage
Emergency expense coverage
Vacation liability coverage
Remember, you can purchase RV insurance with full-timers coverage any time after purchasing an RV! If you opt for part-time RV insurance at first, you're able to upgrade in the future.
Read our "What does RV insurance cover?" guide for more info on coverages.
At What Point Are You Considered a "Full-Time" RVer?
You're considered a full-time RVer when you spend more than 150 days (or 6 months) of the year in your RV. If you do, it's legally required that you have full-time insurance.
What Do You Put As Your Address on a Full-Time Policy?
Every insurance policy needs a physical address on it. Obviously, an RV is mobile and won't have its own physical address. Thus…
You need to establish a permanent address even when you live in an RV full time.
This means you'll have to establish your domicile before you hit the road. A domicile is the state that a person treats as their permanent home, or lives in and has a "substantial connection" with. This is sometimes referred to as a "garaging address".
There are three popular states that full-time RVers use when setting up their domicile:
Texas
South Dakota
Florida
While you don't have to choose one of the above states, many full-time RVers do because of the state laws there. A few things you'll want to keep in mind when establishing a domicile are:
Taxes (Income, sales, vehicle, etc.)
Vehicle inspection and registration laws
Homeschooling laws (if you have kids on the road!)
Driver's license renewals
Jury duty
Where you plan to travel
What Else to Include
When picking your domicile, it's important that you also create a story to go with it in case you get pulled over in a state far away from home.
For example, let's say you're in your mid-to-late 50's and pick Florida to be where your domicile is. Your story could be that you're near the retirement age and, like so many others, you decided to move to Florida!
There's nothing illegal about establishing your domicile and living out of your RV full-time, but if you don't establish a domicile before you go and your address on your license is wrong, a cop could fine you.
While you could use a family member or friend's house as your domicile, there are a few complications that could occur. What if they lose your mail? Or if they decide to move? What if they get annoyed with how much mail forwarding they have to do?
We highly recommend you set up your own legal domicile to not have to worry about things like this when on the road.
You can use a company called Escapees to establish your domicile (and they can even set you up in one of the three states we mentioned above).
Escapees will establish a domicile for you, give you a permanent mailing address, and forward your mail to you while on the road (they even go as far to filter out junk mail). Rest assured, they've been around for more than 40 years – they know what they're doing!
Once you have your new permanent address, you'll have to go through the process of changing your address on everything, such as:
Drivers license
Vehicle registration
Bank accounts
Bills
Auto insurance
Etc.
You may also want to read about claiming your RV as a primary residence on your taxes.
3 Best Full-Time RV Insurance Companies
With all of the RV insurance companies out there, you might be wondering which one offers the best full-time RV insurance coverage.
We've picked out what we believe are the top three RV insurance companies right now
Without further ado, let's dive in!
RENTALS
DETAILS

TOP CHOICE

96% overall customer satisfaction rating
Customers report average savings of $321 per year
Total-loss replacement for motorhomes and travel trailers

VIEW RATES →

Only RV insurance that allows you to rent your RV and still maintain your campers insurance
Unlike many other insurance companies, Roamly's customer support team is in-house and US-based
Offers better coverage at lower rates by leaving out the coverages you don't need

VIEW RATES →

Customers report average savings of $321 per year
Covers everything from class A motorhomes to pop-up campers
Quote and buy online

VIEW RATES →

Top rated C=choice: A+ BBB rating
Turn Off for liability & collision during storage – Save 53%
Cover your personal belongings or attachments

VIEW RATES →

Progressive Insurance – Trusted by Over 18,000,000
Competitive rates, tons of discounts (safe driver, pay-in-full, multi-car, multi-policy, quoting online & more)
Name your price Tool®

VIEW RATES →
Roamly
Roamly is a new insurance company with a lot to prove.
They're currently the only insurance company that allows you to insure a DIY camper van conversion, as well as the only company that allows you to maintain your insurance even while renting your RV.
When it comes to standard coverage, here's what Roamly offers:
Liability protection (you can choose from property damage liability and/or bodily injury liability)
Comprehensive coverage
Collision coverage
Medical payments coverage
Uninsured/underinsured motorist coverage
Roadside assistance
They also have specific full-time RV coverage, such as:
Loss assessment for HOA fees
Emergency expense coverage
Adjacent structures coverage
Debris removal
All in all, Roamly is a great place to get RV insurance from. If you want to learn more about their company, read our full Roamly review here.
Good Sam
Good Sam is widely considered the best insurance company for recreational vehicles.
When it comes to standard coverage, Good Sam RV Insurance offers more than any other RV insurance provider:
Personal and Property Damage Liability
Collision
Comprehensive
Bodily Injury Liability
Uninsured and Underinsured Motorist Protection
Personal Injury Protection
They also have specific Full-time RV coverage, such as:
Full replacement cost coverage
Storage option
Emergency expense coverage
Personal effects coverage
Emergency medical and travel assist
Roadside assistance
Coverage in Mexico
There are a few things they don't offer though, such as pet injury coverage.
Wondering what makes people say that Good Sam is one of the best RV insurance companies out there? Here's a list of the RVs they cover:
Class A, B, or C motorhome
Conventional and Fifth-wheel trailer
Pop-up trailer
Horse trailer
Utility or Travel trailer
Toy haulers
Check out our Good Sam Insurance review here.
Progressive
Progressive may not offer the best service, but they do offer some of the best discounts. If you run all your policies through Progressive, you can stack multiple discounts, making them one of the cheapest insurance companies on the market!
Because Progressive focuses mainly on auto coverage, they tailor their basic coverage to vehicles.
Their basic coverage includes liability insurance, including bodily injury and property damage. That's the minimum you can get with their insurance package, without any add-ons or special features.
If you're looking for something more, you'll need their full coverage options, which include:
Comprehensive
Collision
Uninsured/underinsured bodily injury
Uninsured/underinsured motorist property damage
Medical payments
When you look at what Progressive offers in terms of RV-specific coverage, it's pretty much the same as their vehicle insurance packages. You get comprehensive, collision, and liability to help if your RV gets damaged in an accident or natural disaster, but Progressive's RV options go even further.
Their extra coverage options allow you to protect not only your RV's exterior, but its passengers and your belongings on the inside, too. Some of their additional coverage options include:
Roadside assistance
Total loss replacement
Personal effects
Vacation liability
Pet injury coverage
Check out our Progressive RV insurance review here.
5 Things You Should Know About Full-Time Insurance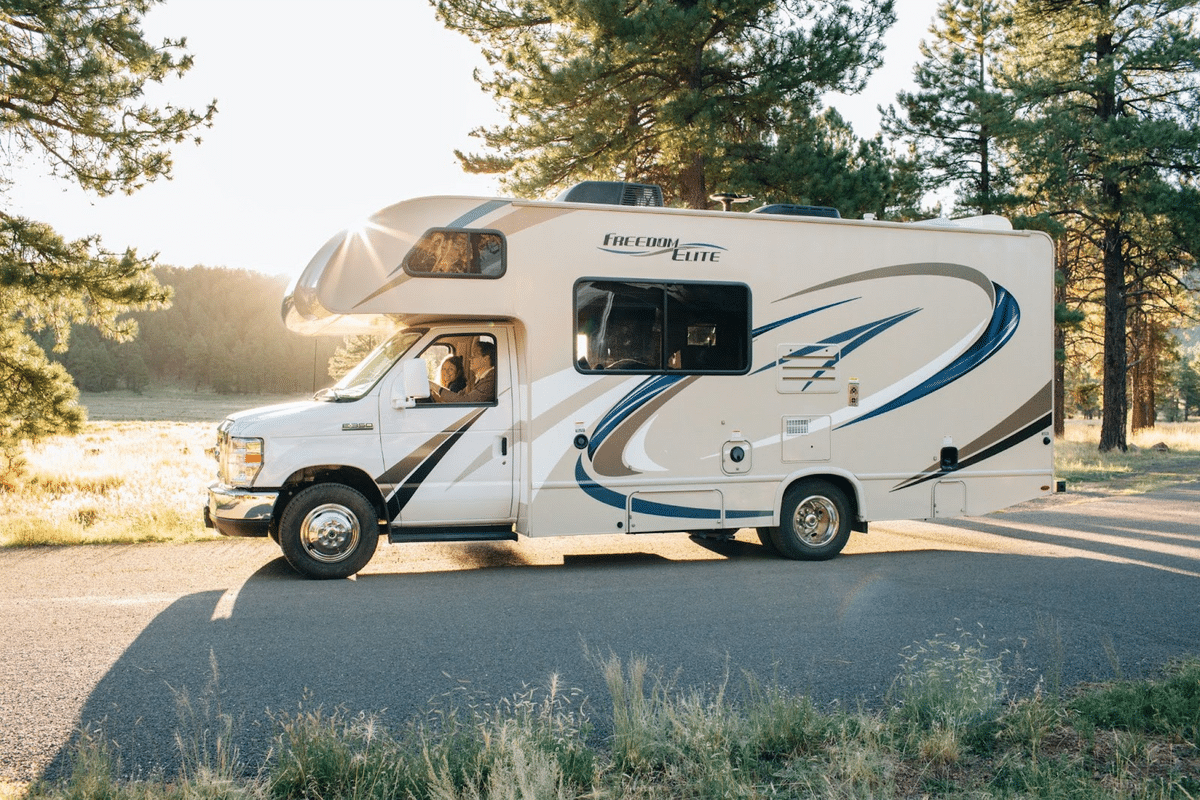 Before you get full-time RV insurance, there are a few things you should know. These can help you get the best rates and avoid getting the wrong coverage.
1. The Difference Between Actual Cash Value, Replacement Value, & Agreed Value
To sum it up…
Actual cash value coverage will only pay out what your RV was worth at the time of loss.
Replacement value coverage helps offset any depreciation with respect to having an insurance loss.
Agreed value is when you and your insurance provider come to an agreement on the value of your RV (should it be a total loss).
… but to get more in-depth, here's what you should know.
Actual Cash Value
Let's say you purchased a brand new RV back in 2006 for $65,000. In 2013, you get into a pretty terrible accident that left your RV in a state of total loss. If you have actual cash coverage, your insurance company will offer a reimbursement of the current cash value of your RV, not what you paid for it back in 2006.
While this amount might not allow you to buy a brand new RV to replace what you had, it does give you something.
Replacement Value
Let's say you're the original owner of a brand new RV. If within the first five model years you have a total loss on your rig, the insurance carrier will purchase a new or similar RV for you that will be similar to the make and model of the RV you just lost.
In some cases, you're able to get a brand new RV. How? As you probably already know, brand new RVs depreciate pretty quickly! Replacement value coverage helps offset that depreciation.
Fun Fact: On average, RVs depreciate by 20% in the first year, 5% each subsequent year and, by the 5th year, an average RV would have depreciated by 40%!
Agreed Value
If you have an older RV (or a vintage RV that was remodeled or renovated), you'll most likely have to work with "agreed value". This means that you and your insurance provider will come to an agreement on what the value of your RV is (and what it will be if it should ever be a total loss).
Typically, you'll need to get a third-party valuation (such as a bill of sale from the dealership/seller or have a professional appraisal done) to prove that the RV is worth said value.
2. How Self-Built RVs Complicate Things
While insurance carriers allow professional conversions and remodels, many of them do not allow you to insure a camper you built yourself.
(Roamly is the only insurance company we know of that will still insure self-built RVs.)
Pretty much all insurance companies have also ceased writing policies for converted school buses (called "skoolies").
The primary reason for this is that they're large, heavy, powerful vehicles that can cause a ton of damage and aren't structurally built to become recreational vehicles.
3. The Difference Between Tow and Toad Vehicles
Not sure what the difference is between "tow" and "toad" vehicles? We've got you covered:
Tow vehicles are what you use to pull things like travel trailers.
Toad vehicles refer to a vehicle behind you being towed by your RV.
Now that we've got the definitions out of the way, here are the stark differences between the two:
Toad Vehicles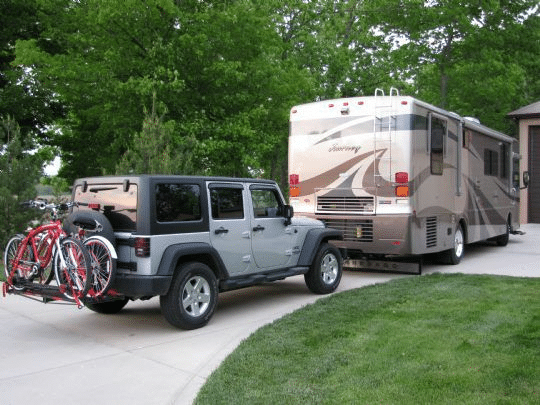 Let's say you get into an accident while towing your car behind your motorhome. If you're at fault for said accident involving both your motorhome and the toad, the motorhome's liability policy will cover the damage caused by both vehicles.
It might not, however, extend to the damage sustained by your car. This is why we highly recommend you have independent policies for both your motorhome and your car.
Tow Vehicles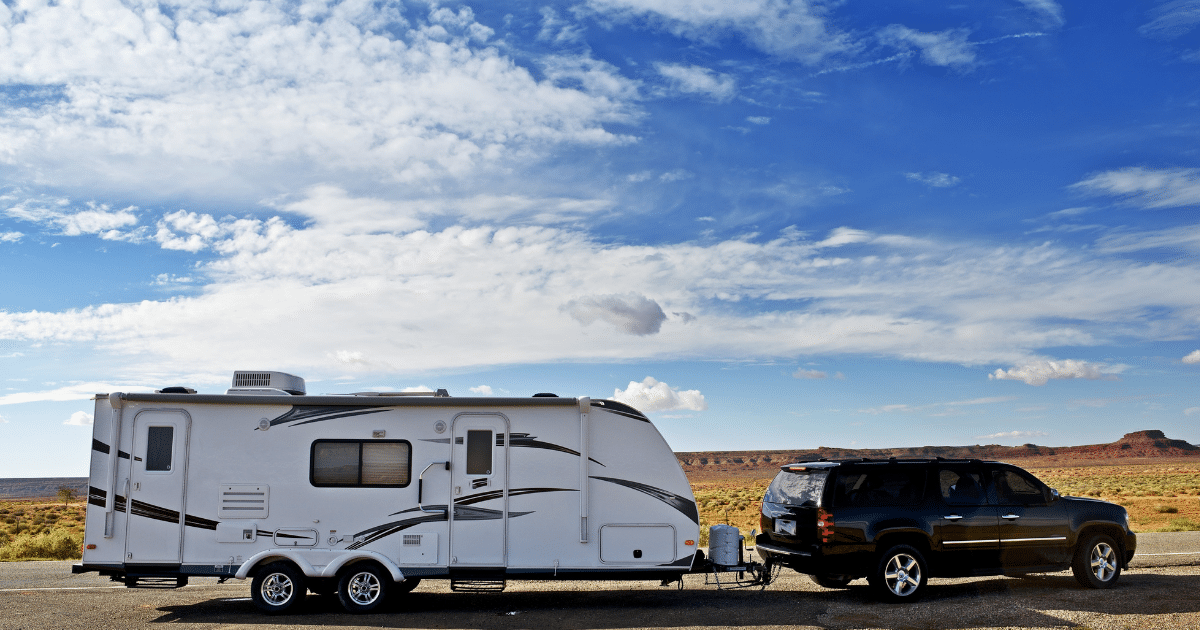 So, what if an accident happens with your tow vehicle and travel trailer? Well, the same concept applies. If you're in an accident while towing your RV with your truck, the truck's liability policy will cover damage caused by both (or either).
The difference is when you disconnect the two, your truck's insurance no longer covers your RV. Let's say that your awning breaks and hurts someone who's visiting or you're on BLM land and a tree trunk falls onto your RV and causes damage.
Your RV's insurance policy will have to address those concerns, as your tow vehicle's policy will not. To put it into perspective, think of your travel trailer insurance policy as being similar to a homeowner's insurance policy.
4. What Happens if Your RV is Totaled
We cannot recommend this enough…
You need loss of use / emergency expense coverage!
Whether you're going to claim your RV as your primary residence and be a full-timer or you plan on taking a few month long vacations, accidents happen!
You might find yourself in a sticky situation and need somewhere to stay for a few nights while your insurance provider and claims adjuster figure out what can be done with your damaged RV.
If you're a part-time RVer and the damage is significant, you'll most likely return home. If, however, you're a full-time RVer, loss of use / emergency expense coverage helps you pay for temporary housing and other expenses while you wait for your RV to be fixed (or until you find out you'll have to get a replacement RV).
Upon getting this coverage, you'll know how many days/nights of lodging are covered, whether a rental car is included, along with any other covered expenses.
Without this insurance coverage, you'll most likely have to pay out of pocket if your RV is totaled.
5. Why You Need Personal Contents Coverage
Personal contents coverage (also known as personal belongings coverage or personal effects coverage) covers all of your personal belongings (such as jewelry, electronics, outdoor gear, etc). Having this coverage when you RV full-time is crucial!
We recommend that every RV owner documents all personal items they have within their RV with receipts or photographs. This way, in the event of a claim, your insurance agent can share this information with the claims adjuster to expedite the process and make sure that you get fair compensation for all of your items.
Typically, most RV policies will add up to $99,000 in personal contents coverage.
Enter your zip code below to get the best full-time RV insurance near you now.
How to Get the Cheapest Full-Time RV Insurance
One of the best ways to get RV insurance at a cheaper price is by getting discounts on your policy.
Some of these discounts include:
Multi-policy discount (bundle your RV and home insurance)
Multi-vehicle discount (bundle your RV and auto insurance)
Paid-in-full discount (reduces your RV insurance premium when you purchase your annual recreational vehicle coverage with one payment)
Responsible driver discount (have no violations or accidents within the last three years to be applicable)
Continuous insurance discount (get a discount for already being insured at a company)
>> Click here to get an affordable full-time RV insurance quote now!