Have you ever heard of a Skoolie?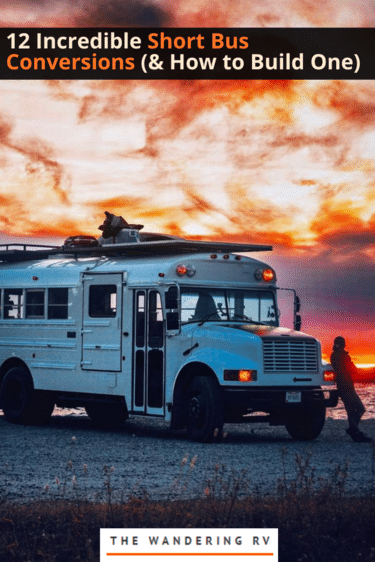 A Skoolie conversion (also known as a school bus conversion) is when you take a used school bus and renovate it into a home on wheels!
School bus conversions are great, but sometimes you just don't need (or want) all of that extra space. Which is why today, we're going to talk about short bus conversions!
Specifically, we'll talk about what they are, how you could build one, and share 12 people living in their short bus conversion. Let's dive in!
Table of Contents
What Is a Short Bus Conversion?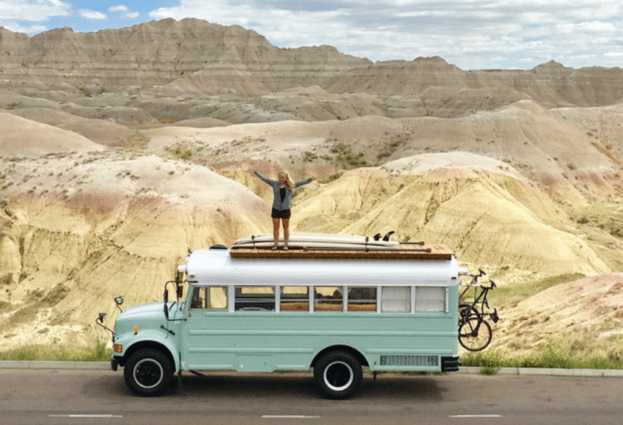 A short bus conversion is when you take an old school bus and turn it into a recreation vehicle (RV), typically with the purpose of being lived in or taken on vacations.
Think of a short bus RV conversion as upcycling at its best (if you're unsure of what upcycling means, it's essentially the art of taking something that can no longer be used as intended for its original purpose and transforming it to give it a second life and/or new function).
What to Know Before Buying a Bus?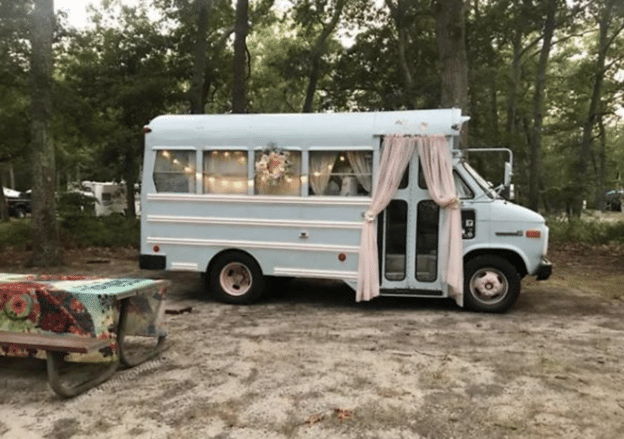 Before purchasing a short bus to convert, it's important to know that…
Many RV parks & RV resorts don't allow Skoolies to stay on their property due to safety concerns, the 10-year rule, and their image (a lot of people view a skoolie conversion to be trashy and no RV park wants to associate with that).
They can be pretty uncomfortable at times because of their stiff suspension system (not to mention, if your short bus conversion isn't properly insulated and/or you lack the proper heat and air furnaces, you risk the heat in the summer months and the frigid air in the winter months.
A short bus isn't built for highway travel (it's not recommended to drive over 50 mph on the highway in a short bus conversion).
Most insurance companies are wary about insuring a Skoolie conversion because typically, the owners of these school buses do the conversion work themselves.
Still want to live out your short bus conversion dreams? Let's get into it!
How Do You Convert a Short Bus?
There are quite a few things that go into a short bus conversion (some things that you might not have even thought about).
Let's briefly dive into each thing:
Gut & Prep Interior
First things first, you have to gut the interior of your short bus. Here's a quick video on how to do that:
Now that you've got a clean slate, it's time to design your interior! Here's what you want to measure:
Floor dimensions (don't forget to measure the wheel well protrusions)
Walls
Windows
Ceiling
Driver's compartment
Entrance stairwell
Emergency exit doors
Emergency exit ceiling hatches
We recommend you write down all measurements and then use a 3D modeling program (like Adobe Substance or SketchUp) to start playing around with the layout.
Plumbing
We really cannot recommend a professional RV manufacturer or someone with more knowledge on how to convert a short bus enough for these things. If you'd like to attempt this step yourself, here's a video you can follow:
Electrical
Again, we'd highly recommend a professional RV manufacturer or someone who has more knowledge when it comes to your electric, but if you want to do it yourself, here's a video:
Insulation
When it comes to insulating the walls, you've got a few choices:
Spray Foam Insulation
Polyisocyanurate Foam Board
Extruded Polystyrene
Denim Insulation
Sheep Wool Insulation
Classic Fiberglass Insulation
Ceramic Fiber Insulation
Thinsulate
Here's an awesome video that teaches you how to properly insulate your short bus conversion:
Furniture
Here comes the fun part – filling your short bus conversion with the RV furniture of your dreams!
There are plenty of things you could get, such as a short queen RV mattress, an awesome recliner, a refrigerator, and so much more!
Figure out what you need (and how much space you have in your short bus) and spruce up your living space!
Storage
Storage space is hard to come by in most RVs, van conversions, and bus conversions. When dealing with custom builds like yours, however, you're able to fix this common issue!
Here's a guide jam packed with over 100 space saving ideas that you can implement while converting your short bus!
12 Amazing Short Bus Conversions for Inspiration
Want to have your own school bus conversion but aren't sure where to start? Take a look at these inspirational short bus conversions!
1. Tiphaine and Matt's Short Bus Conversion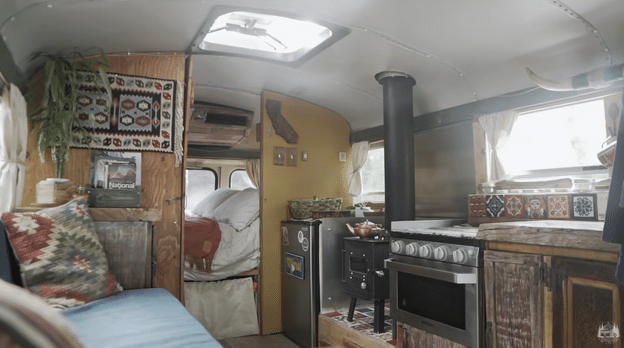 Tiphaine and Matt (also known as Gypsy_Frenchie on Instagram) took an old 2002 used school bus and transformed it into their tiny house on wheels. We can only imagine how long the renovation process took for them to turn this average school bus into an incredible living space!
This school bus conversion is equipped with a composting toilet, a wood burning stove, mini fridge, and a double bed in the back.
Check out their short school bus conversion here:
2. Heather and Nick's Short Bus Conversion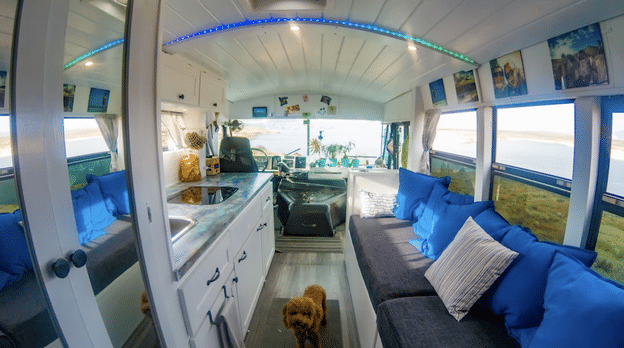 Heather and Nick (along with their mini doodle Miles) converted this 1998 Thomas Vista 3600 school bus into the short bus conversion of our dreams.
This short bus RV conversion has literally everything you could want while traveling the country including a toilet, a trunk, a rooftop deck, and so much more.
Check out this school bus conversion for yourself here:
3. Matt and Christa's Short Bus Conversion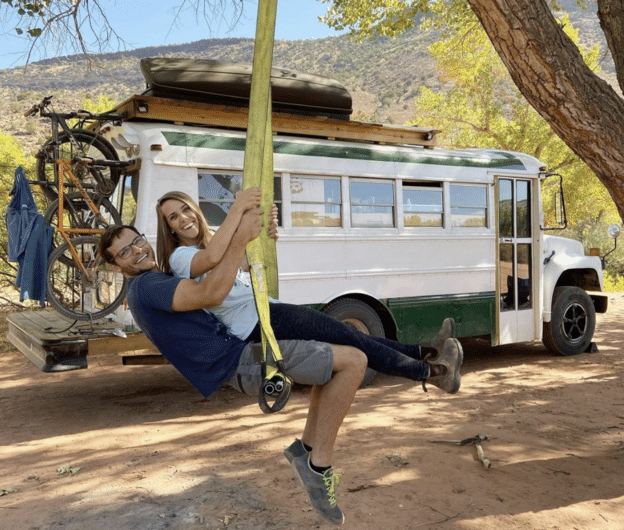 This short bus conversion is amazing! Matt and Christa designed a huge kitchen in their short bus conversion packed with tons of counter space, a fridge, and a stove. Their couch also has a slide-out bed for guests!
They have under the bed storage when you lift the mattress and, even better, they have a Porta Potty and shower in their short bus. What more could you want?
4. Lex & Lola's Short Bus Conversion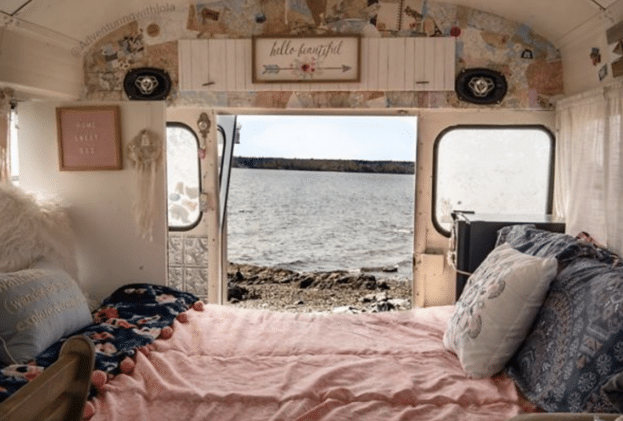 After watching her mom build her Skoolie, Lex decided that she wanted her own home on wheels. She's always been a fan of traveling and now, she's able to go where she wants when she wants (along with her adorable dog Lola, of course).
We love how her bus conversion turned out and are happy to say that she is loving the Skoolie life!
5. Hedgers Abroad Short Bus Conversion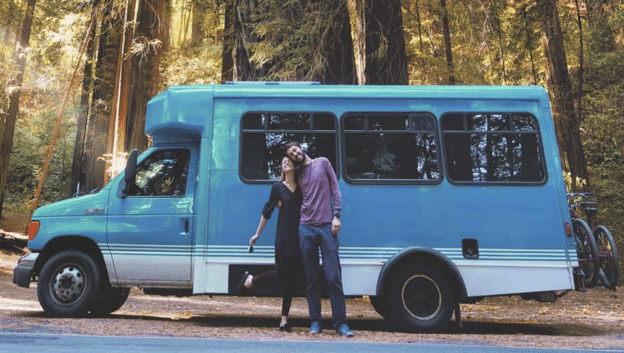 Stephanie and Ryan purchased a 2006 Ford E350 Super Duty and converted it into the Skoolie of their dreams with the help of their families. Their short bus used to be an airport shuttle bus and the renovation process only took five weeks!
With a decent-sized kitchen, a drop-down table bed (as well as a couch bed), and a Porta-Potty camping toilet, they've got everything they need while on the road.
You're able to tour their Skoolie conversion here:
6. The Angry Pickle Short Bus Conversion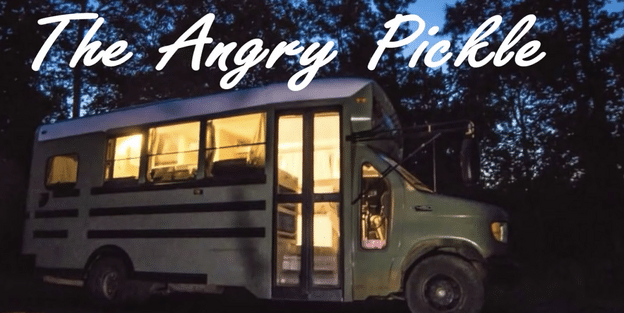 First and foremost, we absolutely love the name of this short bus conversion. The Angry Pickle belongs to Jon and Amy and they love full time living in their short bus!
They chose to install solar panels on top of their roof (did you know how many solar panels are out there?), have plenty of counter space in their kitchen, and even have a composting toilet in the back.
Check out The Angry Pickle for yourselves here:
7. Alyssa's Short Bus Conversion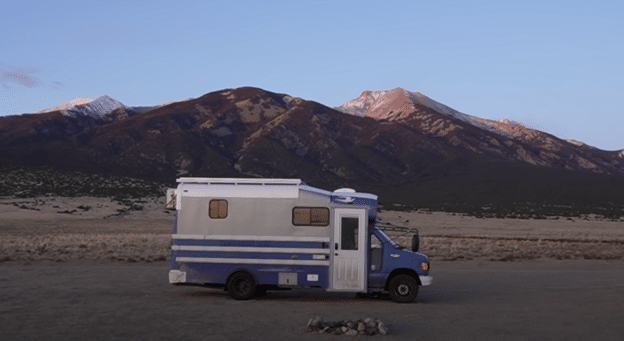 Solo female traveler Alyssa and her dog, Rio, have been living on the road since 2019 and their short bus RV is nothing short of amazing.
The interior space turned out beautiful, she has solar panels on the roof, and Alyssa and Rio have never been happier. You'd be surprised to know that Rio has so much room in this short bus, too!
Take a look at how this tiny home was built here:
8. Ilaria's Short Bus Conversion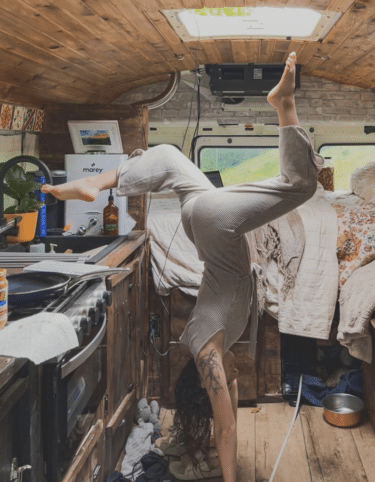 Ilaria is a 20 year old solo female traveler living in her short bus and is proud to be a part of the Skoolie community. She travels alongside her dog, Luna, and while many thought that the smaller space would bother them, she says that there's plenty of room in her short bus!
You can follow her journey on TikTok or check out her short bus conversion here:
9. Cottage Themed Short Bus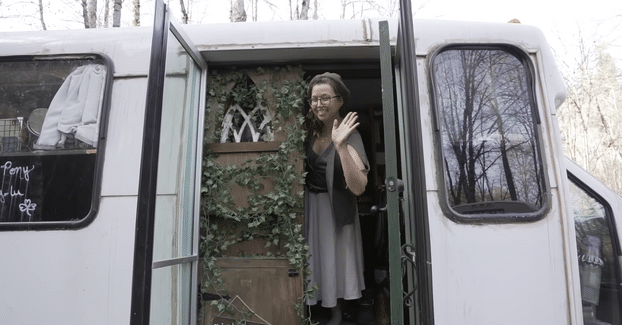 Mary Lu (and her cat) are currently living out of their cottage themed short bus and absolutely love their tiny home!
This short Skoolie started as a blank canvas, but with a little bit of creativity, Mary Lu was able to turn this into the Skoolie of her dreams. With a tiny wood stove, two flexible solar panels on the roof, and plenty of storage space, this is one of the coolest tiny homes we've seen!
You can follow their TikTok adventures or check out their short bus here:
10. GMC Short Bus Conversion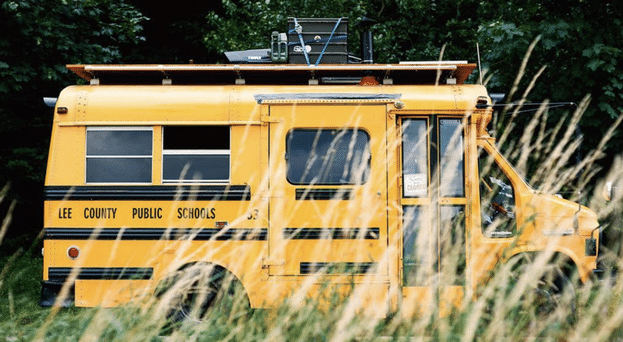 German filmmaker and tattoo artist, Kai, transformed this GMC short bus into one of the coolest tiny homes we've ever seen!
Inside his tiny home he has a stove, decent sized cooking area, a composting toilet, roof rack and plenty of storage! Take a peek at his short bus (and be sure to follow his adventures on Instagram!):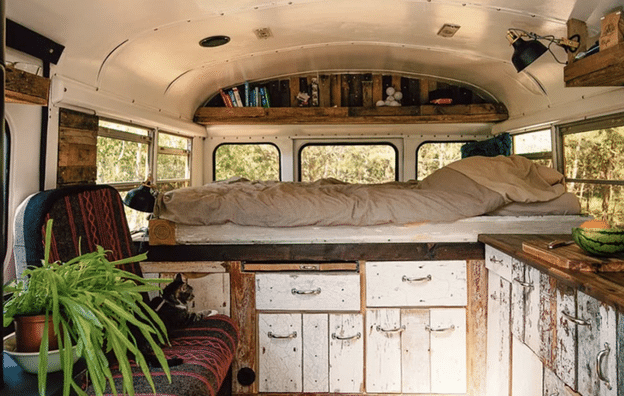 11. Isaac and Julia's "Skooliana" Short Bus Conversion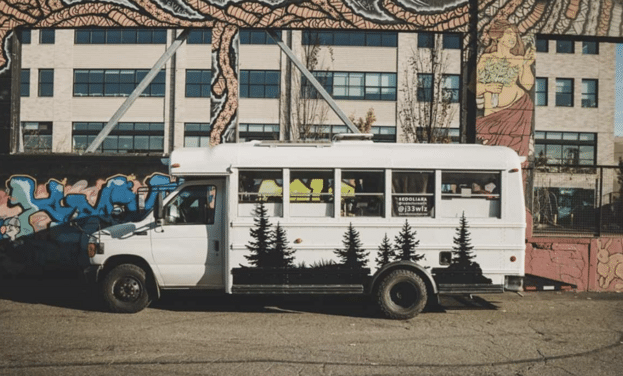 With little to no expertise in building out school buses, Isaac and Julia transformed this 2003 Ford E450 into the short bus of their dreams.
Inside their short bus, they have a couch, kitchen, and a platform bed. Unlike some other short bus conversions we've shown, they don't have a composting toilet or shower in their conversion. However, if they need the bathroom, they drive to a Walmart and if they want to shower, they go to the gym!
Check out the Skooliana here:
12. Sturdy Barb Short Bus Camper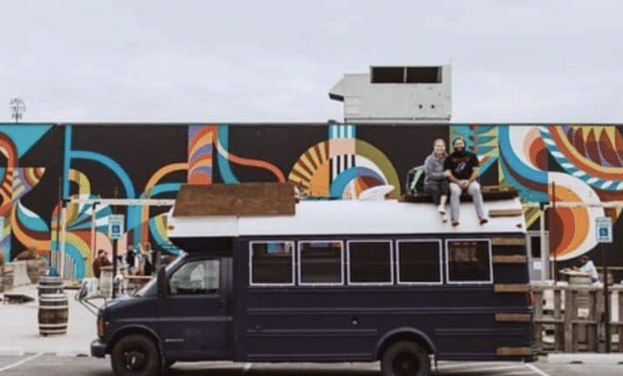 Alexa, Kyle, and their cat Trippy have been nomadics since 2019. They currently travel around North America in their short bus, a 2001 Chevrolet Express 3500!
They have a roof deck to sit on as well as two huge solar panels that can take them off-grid anytime they want (boondocking has never been easier)!
Instead of a bed, they have two couches that face each other and transform into a bed (which saves more space for their bathroom and composting toilet).
Frequently Asked Questions
Have some questions when it comes to short bus conversions? We've got you covered!
What Is the Best Short Bus to Convert?

One of the best school buses for conversion is a short bus like the Thomas MinoTour Ford E-450.

It offers more maneuverability, easier driving (as well as parking), and better gas mileage than its larger counterparts.
How Much Does a Short Bus Conversion Cost?

Typically, your average short bus conversions will cost anywhere from $20,000-$30,000. This is for the appliances, equipment, tools, and raw materials.

This doesn't, however, include the price of the bus nor does it cover the price you may pay when hiring professionals to do the electricity, plumbing, or other skilled labor you're unable to do.

On average, a used school bus can cost anywhere from $4,000-$30,000+. It depends on the condition the bus is in when you purchase it.

Other prices to consider:

Annual maintenance on short buses can cost around $2,000 per year
If your engine or transmission goes on a Skoolie, you're looking at a price of about $5,000
An oil change for your Skoolie can cost anywhere from $100-$150
Tires for your Skoolie cost anywhere from $2,000-$3,000
Do You Need a CDL to Drive a School Bus?

Typically, no. In most cases, once you've registered your short bus conversion for personal use (AKA as a recreational vehicle), you do not need a CDL to drive it.

That said, however, you may need an air brake certification or special license based on the weight of your Skoolie (depending on your state).
Do Short Bus Conversions Make Good RV Campers?

Short buses make for excellent RV campers! They're not as expensive as RVs and you're able to renovate them to how you see fit.

Keep in mind that short buses can be hard to insure (as we've talked about before).
How Do You Find a Short Bus to Convert?

There are a few places you could look for one, namely:

Craigslist
Online auction sites
Skoolie social media groups
School district fleet yards
From a used school bus dealer
Ready to swap RV life for bus life? We don't blame you at all! We hope this guide helps you come up with ideas and, if you get a short bus to convert, let us know in the comments below!
Looking for more RV content? We've got you covered: