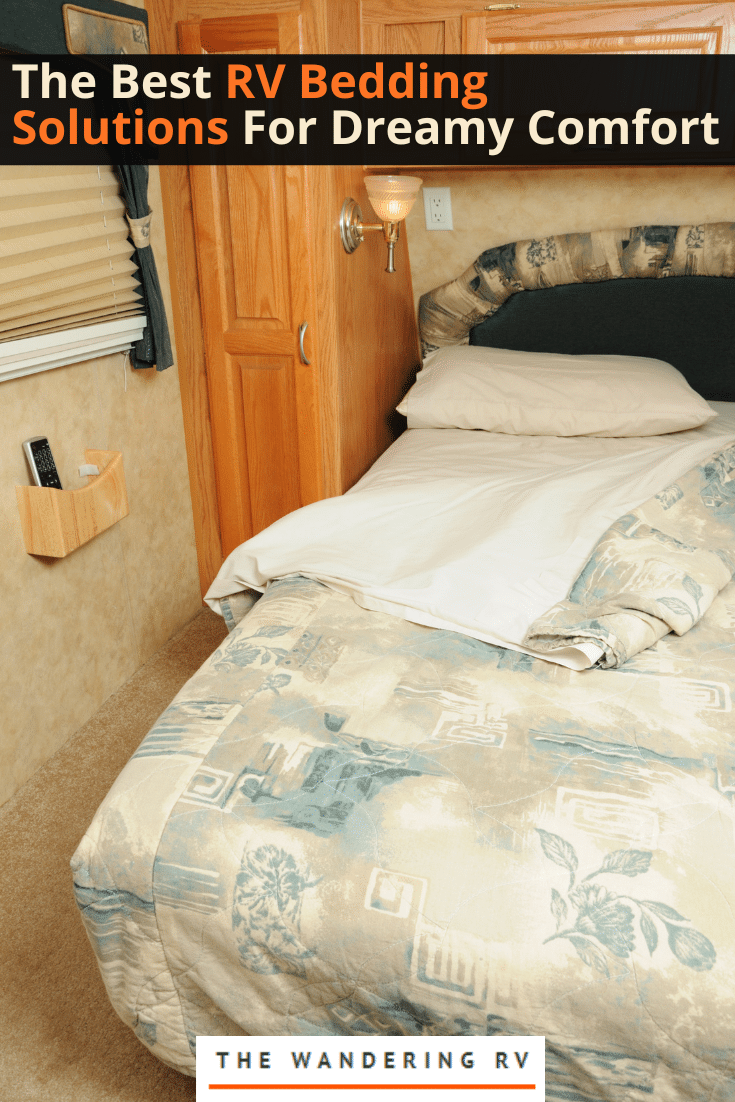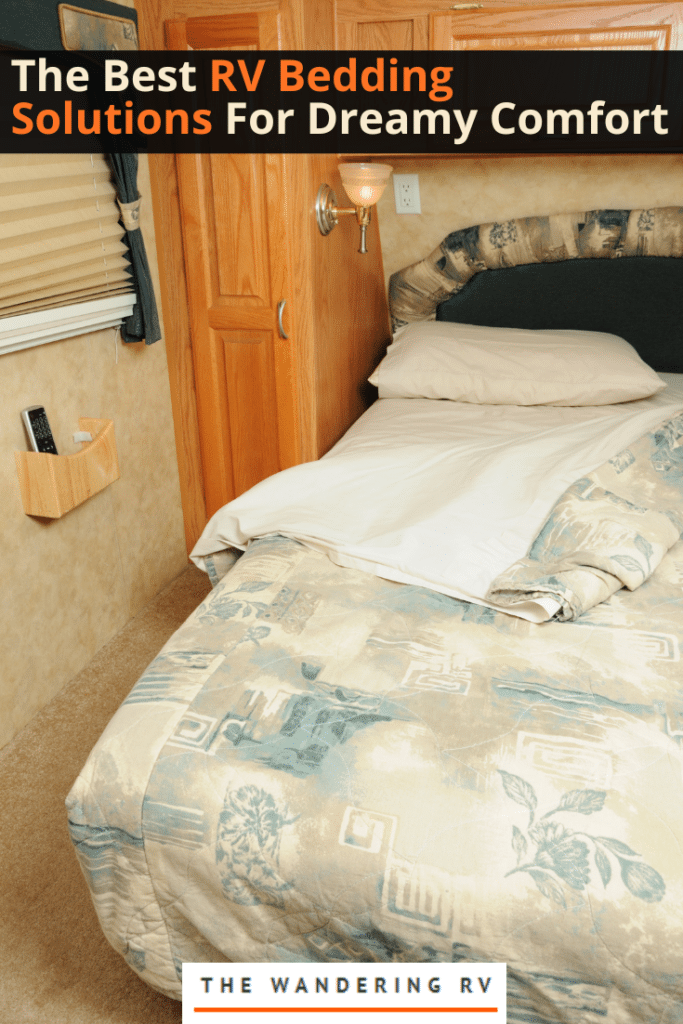 There are three key things you need to get a good night's sleep in an RV.
A good RV mattress, some air flow, and the best RV bedding on the market! Lucky for you, that's what today's guide focuses on.
We'll show you how to figure out the size of your RV bed, different types of RV bedding, and share with you the best options on the market today.
Let's dive in!
Table of Contents
How to Figure Out What Size RV Bedding to Get
Before you can pick out the best RV bedding for you, you need to know the dimensions of your RV mattress.
If you're unsure what they are (and don't know how to figure it out), take a look at this image: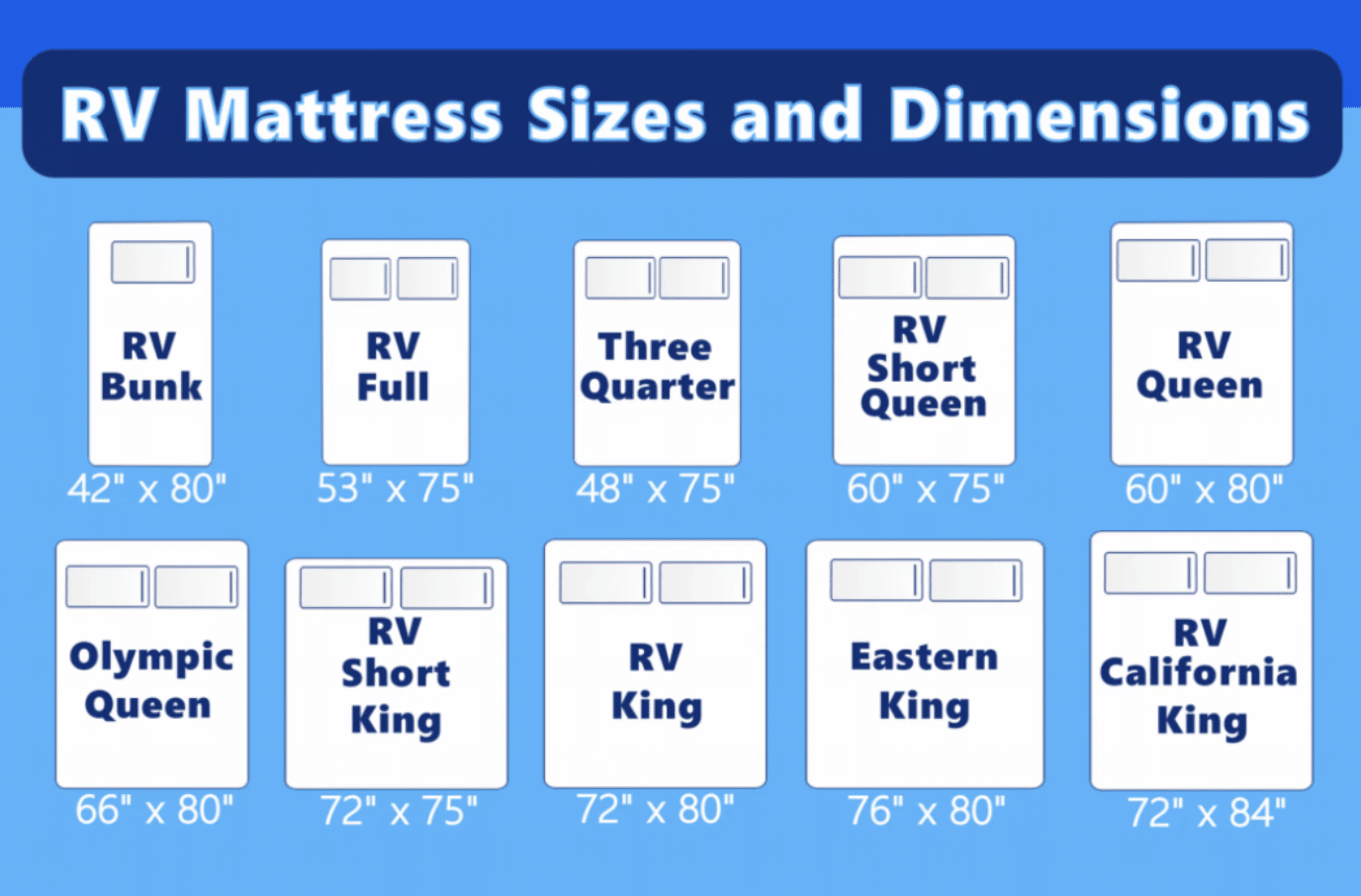 Typically, most RVs come with a short queen RV mattress (it's the standard size in RVs). However, you might have something different!
Now that you've determined the size of your RV mattress, it's time to purchase some RV bedding!
Note: If you're looking for a new RV mattress, we highly recommend purchasing one from Mattress Insider. We've reviewed (and used) their RV mattresses in the past and are beyond pleased with them.
Mattress Insider Custom RV Mattress
Mattress Insider is the best (and most trusted) RV mattress providers in the world

They can make the perfect mattress to fit your needs
Their offerings for RVs include Sedona Sleep 8(a budget option), Elation (best value), and luxury (premium, luxury RV mattress)
Recommended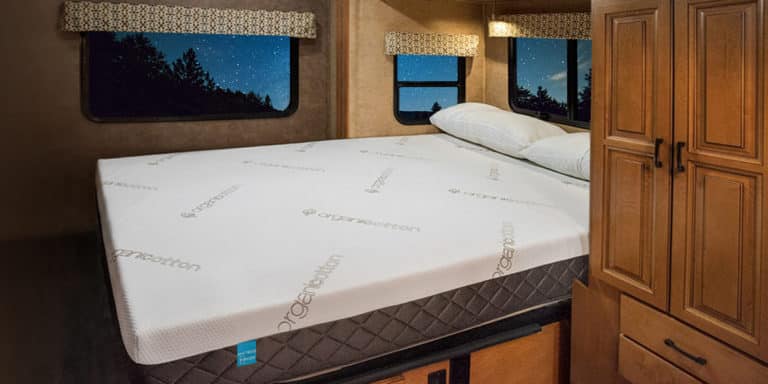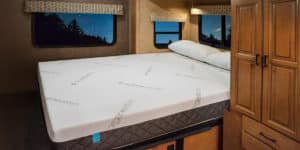 Different Types of RV Bedding
A typical camper bedding set is made from microfiber, cotton, polyester, or quilted bedspreads filled with polyester.
Before you purchase a new bed set for your RV mattresses, you'll want to make sure you're getting everything you need (such as a mattress protector, pillow shams, a flat sheet, a fitted sheet, and a blanket).
Let's briefly talk about each of these components (and what makes them special).
RV Sheets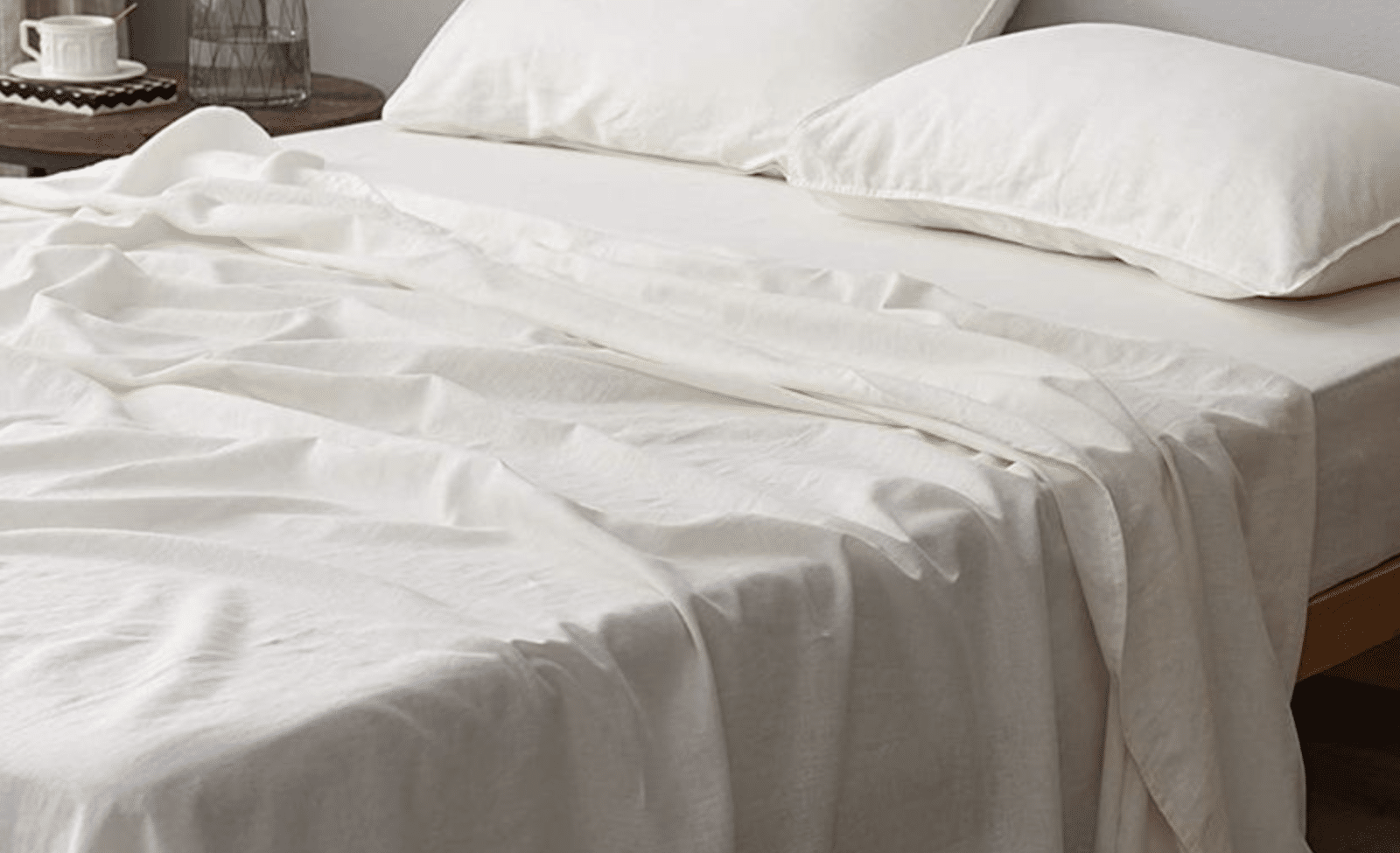 Picking out the perfect RV sheets isn't hard, however it's more important than you might think! For example, did you know that the fit, temperature, and a fair bit of the comfort you'll get sleeping comes from sheets?
For example, if your RV bed sheets are too small (or too large), you'd have to purchase sheet suspenders to help keep them in place. You could order custom sized sheets, though they could be quite pricey depending on the size you may need. If you don't purchase a fitted sheet and only get a top sheet, sheet suspenders are a must have.
Depending on where you plan on staying, you may want to keep more than one set of bed sheets on hand. In colder climates, flannel sheets would be best. In warmer climates, we'd recommend cotton sheets or even fitted sheets that have cooling effects.
Finally, comfort is huge. If you're looking for a more comfortable, luxurious sleeping experience, we'd recommend a silk, bamboo, or linen fitted sheet (and don't forget the top sheet)!
Blankets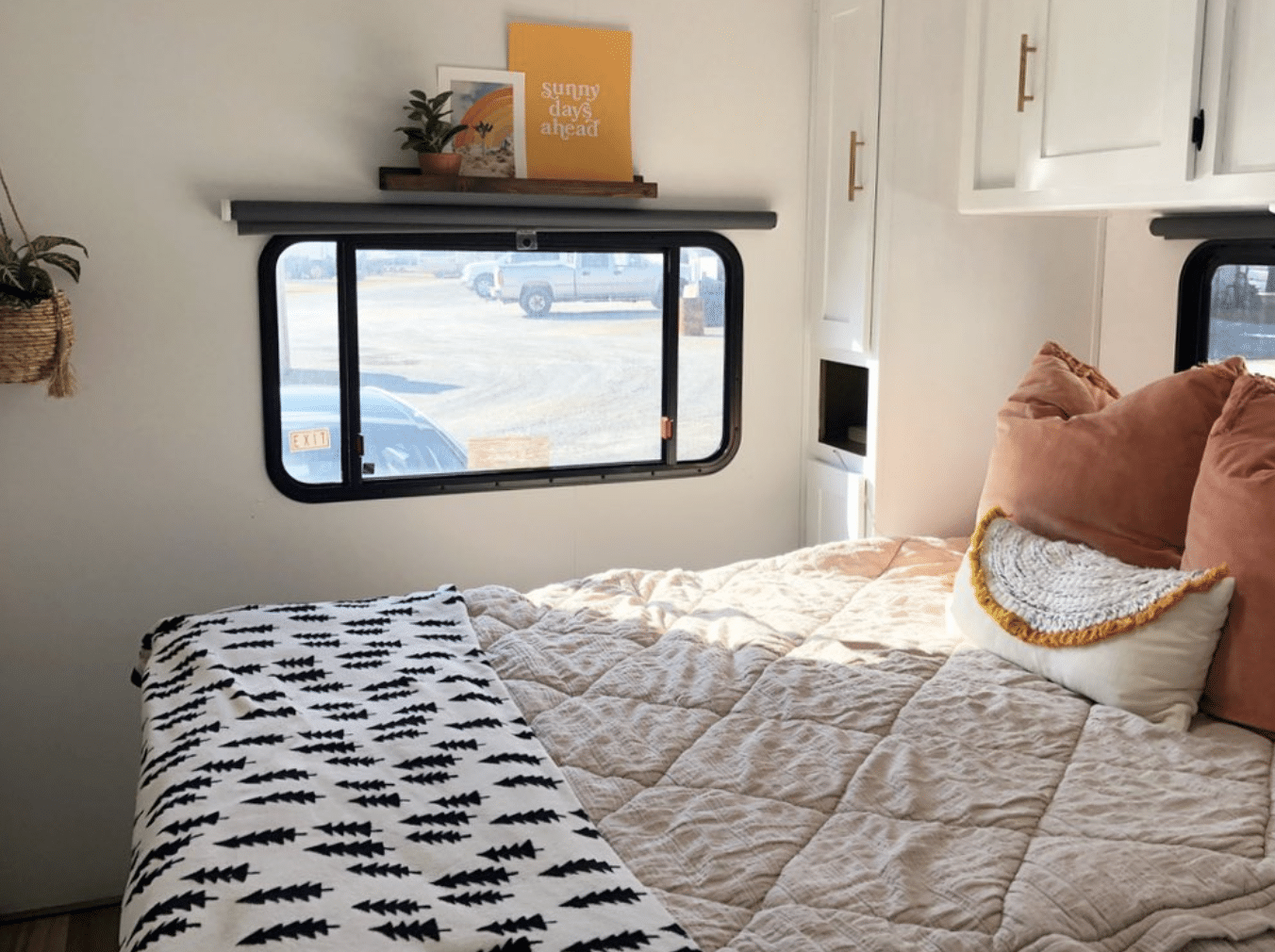 Blankets are a huge part of RV bedding! How they look, feel, and fit on your RV bed is typically why we purchase them after all. We'd argue that the durability, weight, material, size, and cleaning instructions attached to blankets should be thought of just as much as a fitted sheet. Between a comforter and a duvet, there's plenty to think about before purchasing a blanket for your RV mattress.
It can be pretty tough to justify purchasing a comforter when living in an RV, simply because if you have a king or queen RV mattress, it can be nearly impossible to fit your comforter into compact washers typically found in RVs. Though, if you don't mind going to a laundromat, a comforter may be a good choice for you. After all, they're fluffy and very comfortable!
A duvet cover on the other hand is a lightweight blanket inside of a cover. They're able to be easily washed, as well. When you have to wash the bedding, remove and wash the duvet cover, and leave the insert.
Duvet inserts can also be swapped out depending on the time of year. During the cooler months, opt for a lighter insert. During the warmer months, a heavier insert.
RV Mattress Pads & Mattress Toppers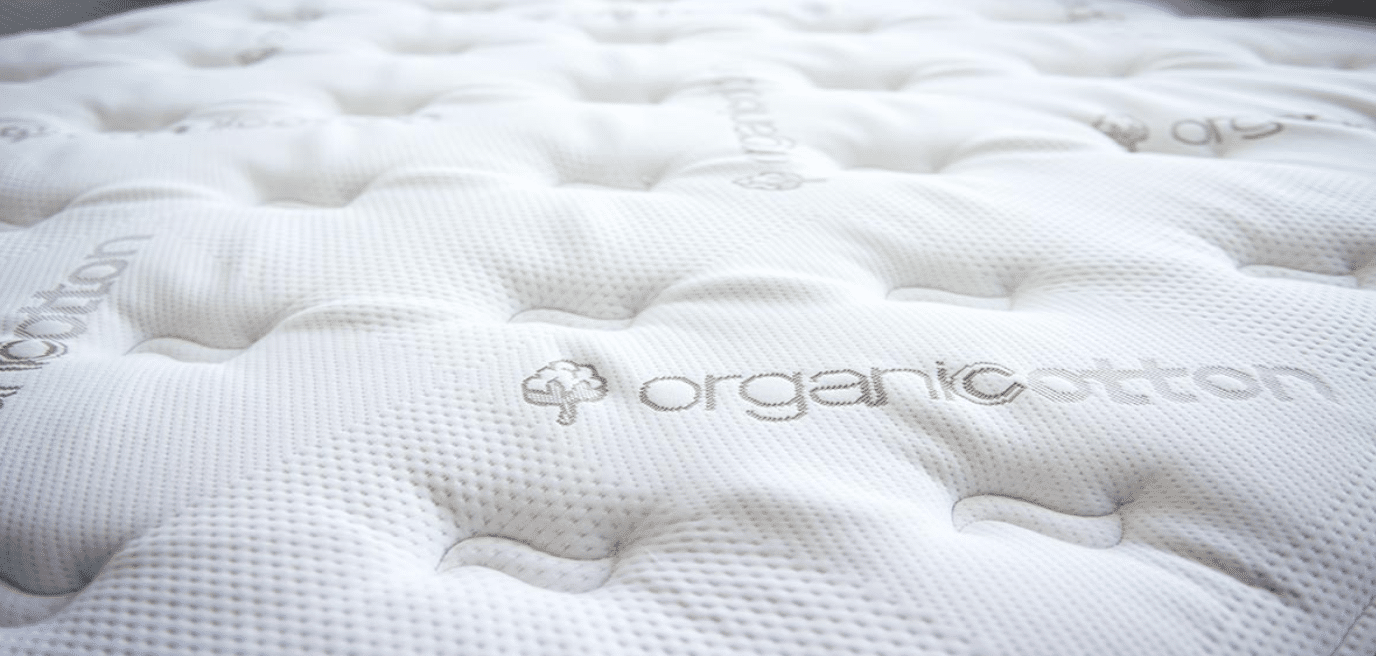 Sometimes, it's hard to get a good night's sleep on an RV mattress alone. Purchasing a mattress topper or a mattress pad can help you out. Materials range from memory foam, bamboo, gel, and more.
Note: Depending on the mattress size, you may not be able to fit a mattress pad or topper. Be sure to measure your RV mattress and the space around it before purchasing a mattress topper!
Decorative Pillows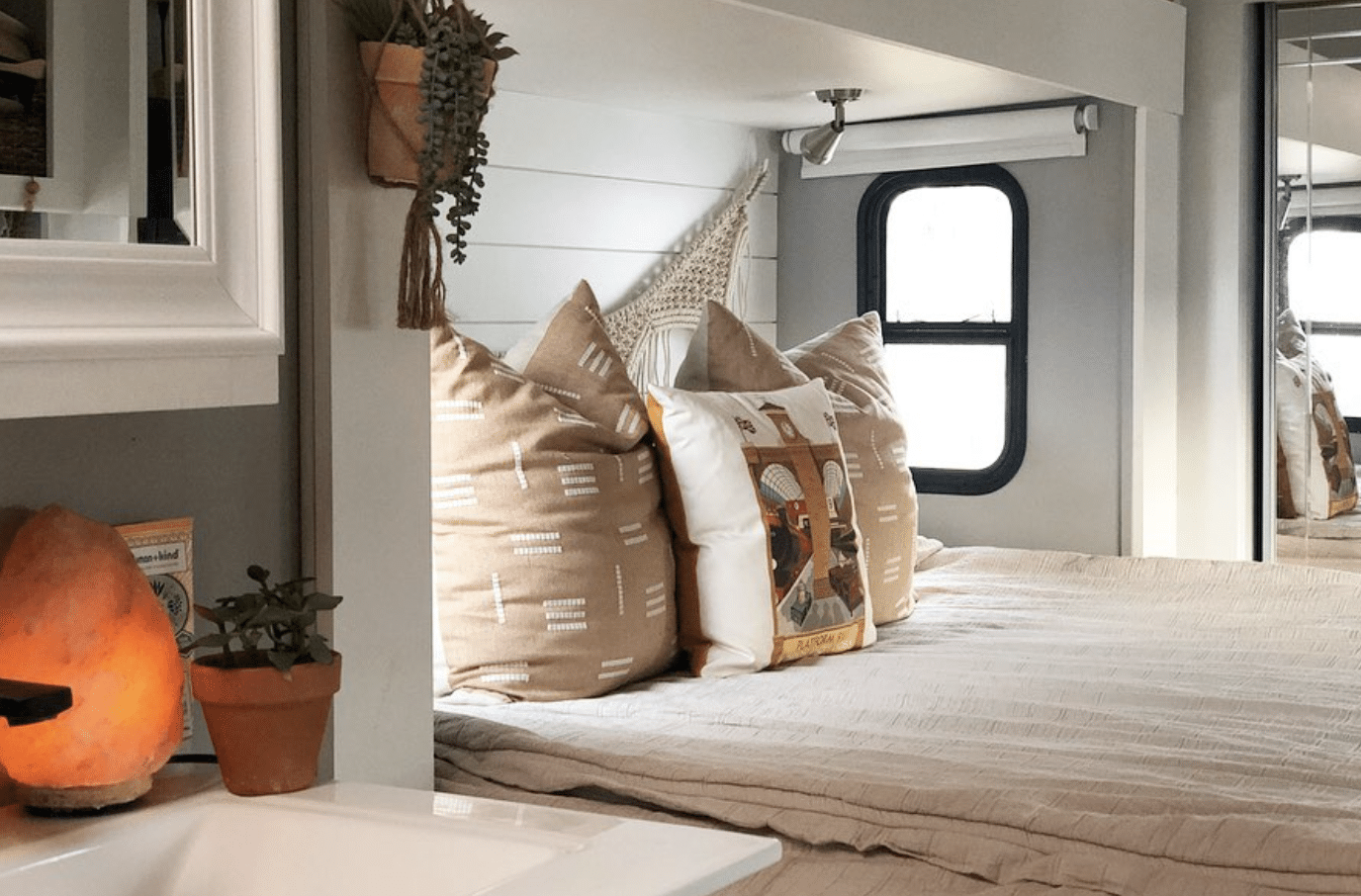 If you choose a plain RV bedding scheme, you could always add some decorative pillows to the mix! Anything with fun patterns, designs, and accent colors will make your RV bed pop!
Whether you purchase a stand-alone decorative pillow or you purchase decorative pillow shams, your RV bed will look cozier (and much more inviting).
The 5 Best RV Bedding Solutions
Without further ado, let's dive into the best RV bedding solutions on the market today!
1. Camper Comforter Set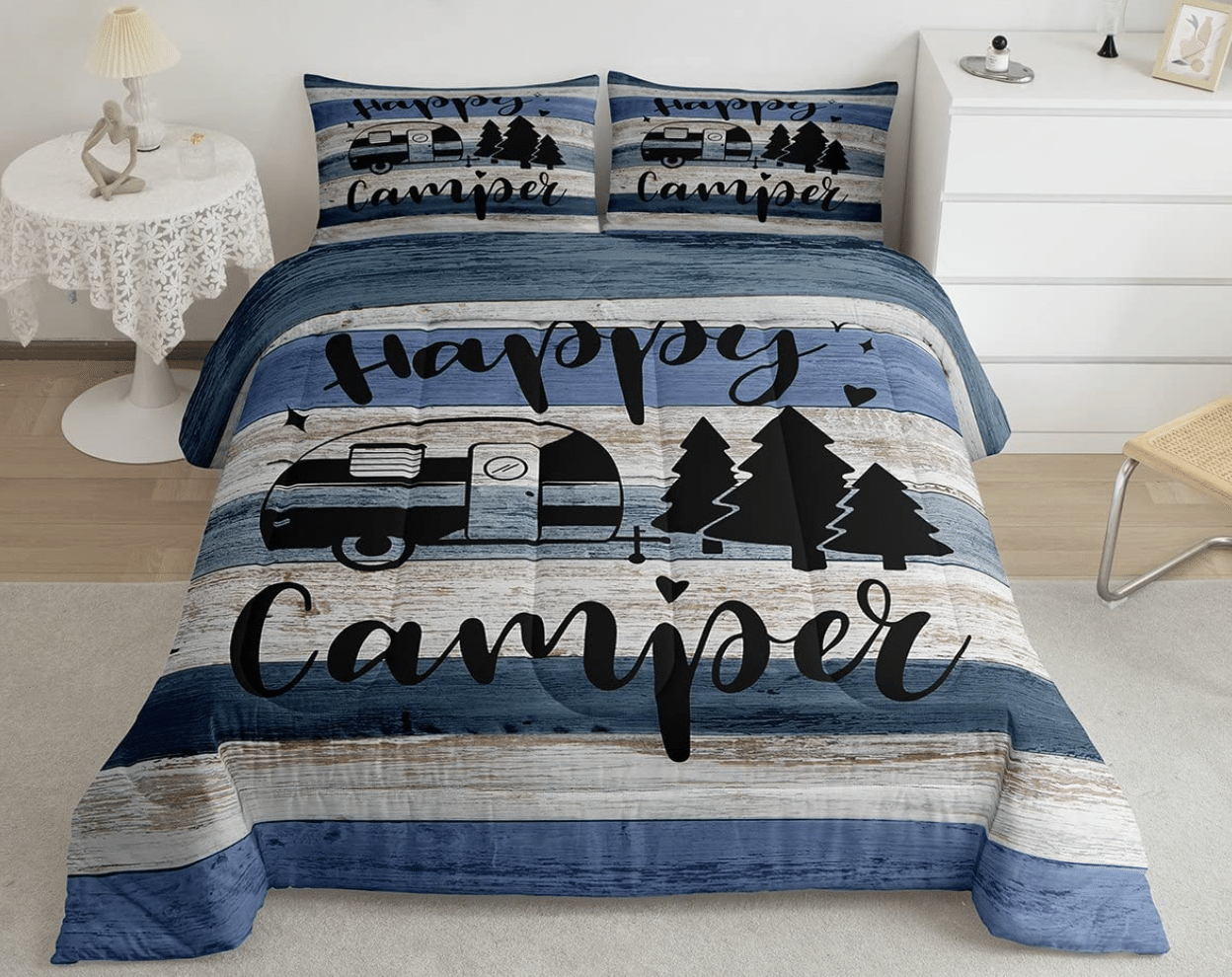 This comforter set is great for RVers with pets, as it's incredibly easy to clean (not to mention the manufacturers guarantee that you won't see any pet fur on it after washing it).
Made with 100% microfiber and said to be more durable than cotton, this comforter set will keep you warm and cozy all night long. It's fade, shrink, stain, and wrinkle resistant, too. This set comes with:
One comforter
Two pillowcases
There are plenty of designs to choose from, too!
Camper Comforter Set
The comforter is vacuum packed, it may be some wrinkles when come out of the bag
100% microfiber fabric with premium polyester inner filling
Soft, breathable, durable, and lightweight
Recommended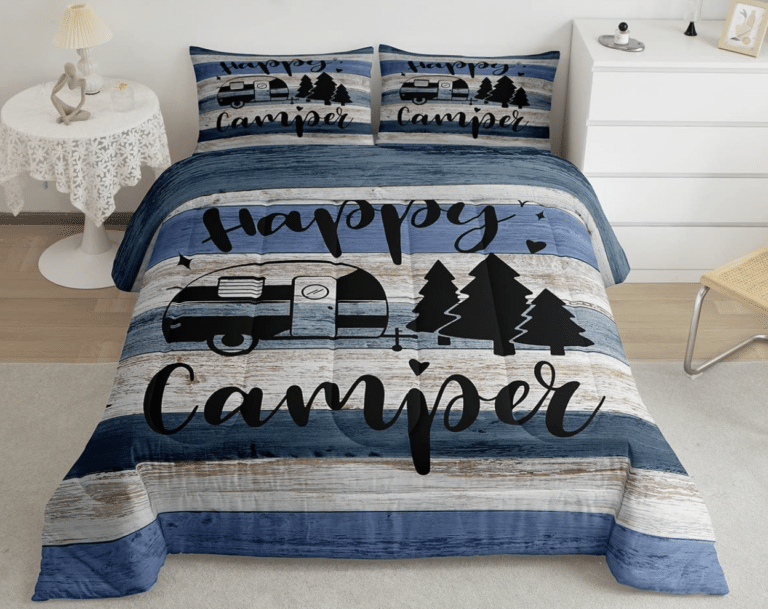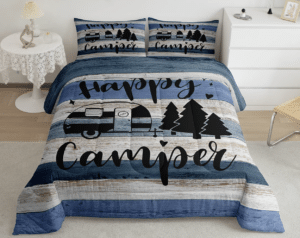 2. Three Piece Queen Quilt Bedding Set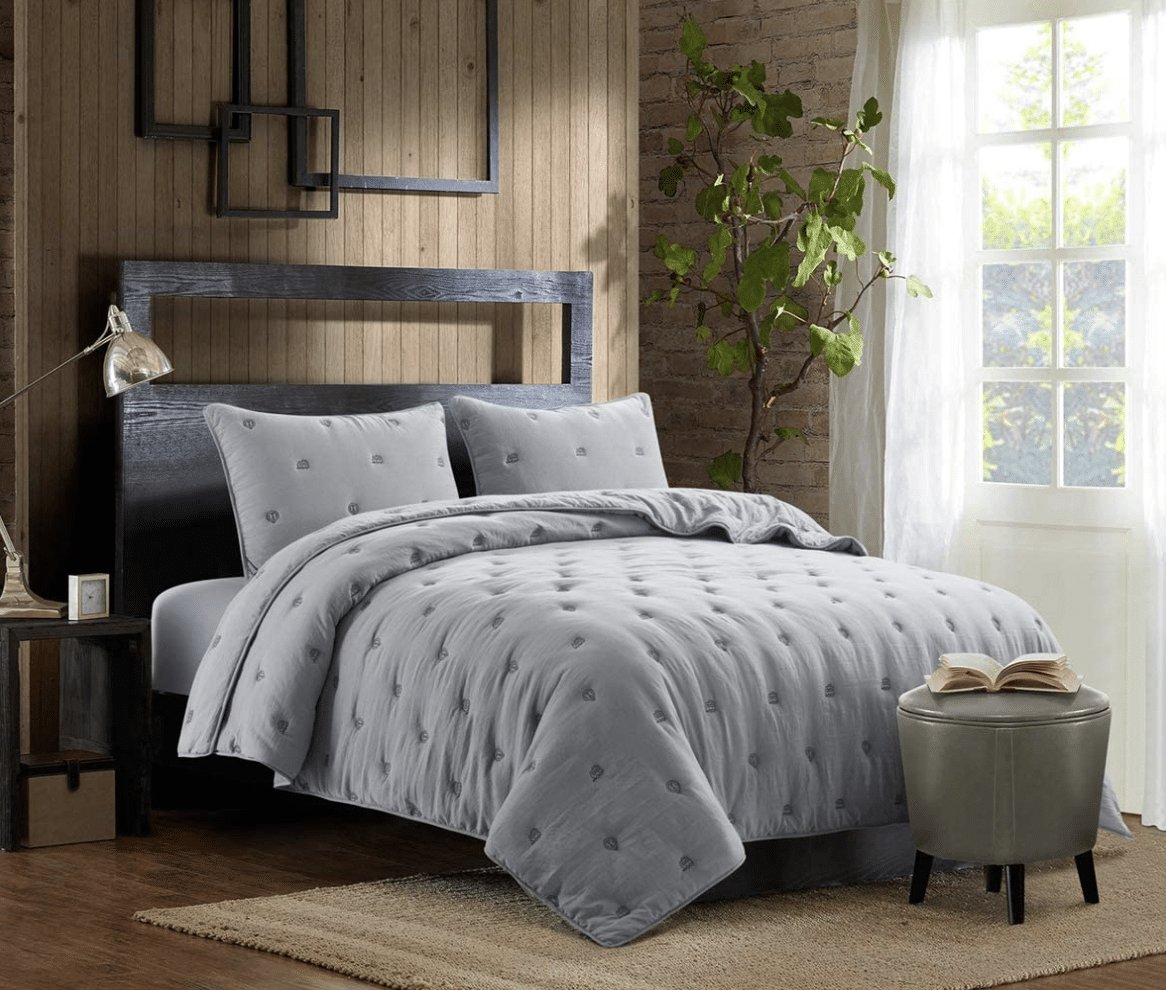 This three piece quilt set is lightweight, making it perfect for use all year round. It's machine washable with cold water on a gentle cycle and you can tumble dry this set on a low setting (or dry clean).
With this set, you get:
One lightweight quilt
Two pillow shams
Each item is vacuum sealed upon arrival, too! If you're after bedding sets with both a blanket and sheets, this is the one for you.
Three Piece Queen Quilt Bedding Set
Perfect during spring, summer, and fall for hot sleepers
Quilt Set comes with 100% Guaranteed Satisfaction
Machine washable with cold water on a gentle cycle. Tumble dry on low setting or dry clean
Recommended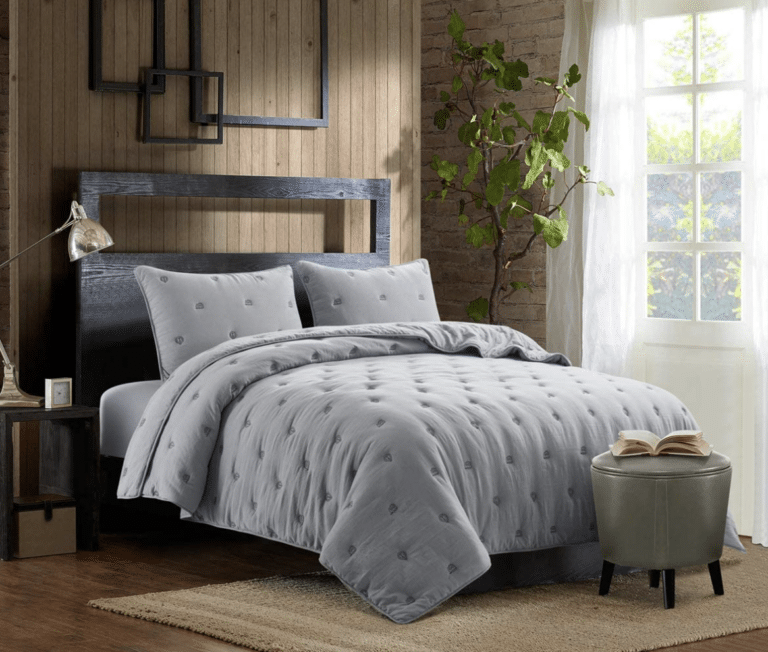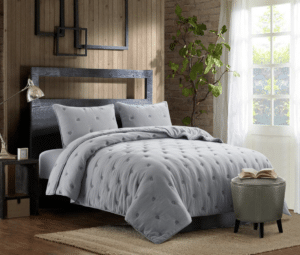 3. Camco Three Piece Sheet Set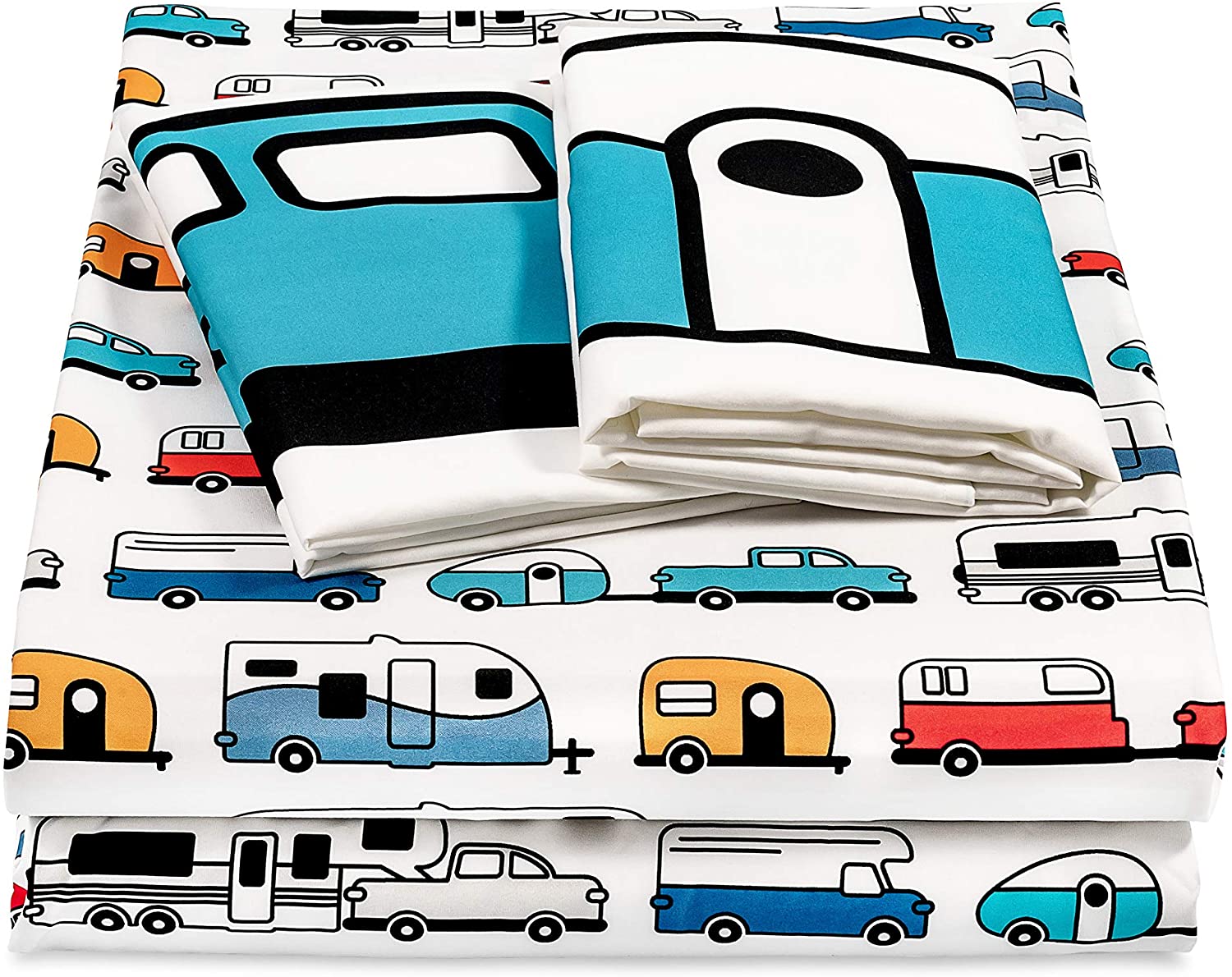 These Camco sheets unfortunately don't fit all RV mattress sizes, as they're specifically made for short queen RV mattresses. However, the standard size mattress in an RV is a short queen (just double check before you make your purchase)!
This sheet set includes:
One fitted sheet
One flat sheet
Two pillow cases
All items in this set are made of 100% polyester and are machine washable, too!
Camco Three Piece Sheet Set
Made of 100% polyester
Great for RV enthusiasts
Made for short queen RV beds
Recommended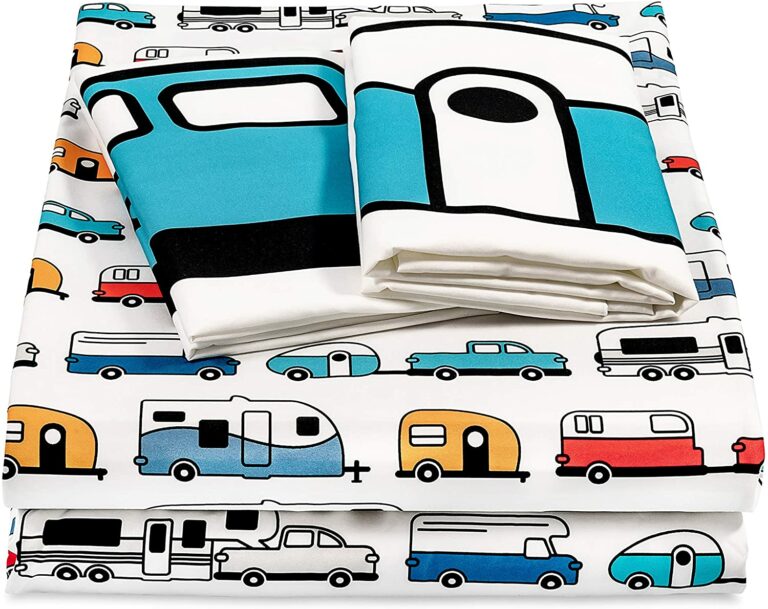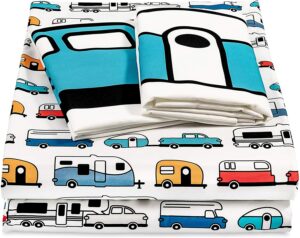 4. Posh Home RV Sheet Set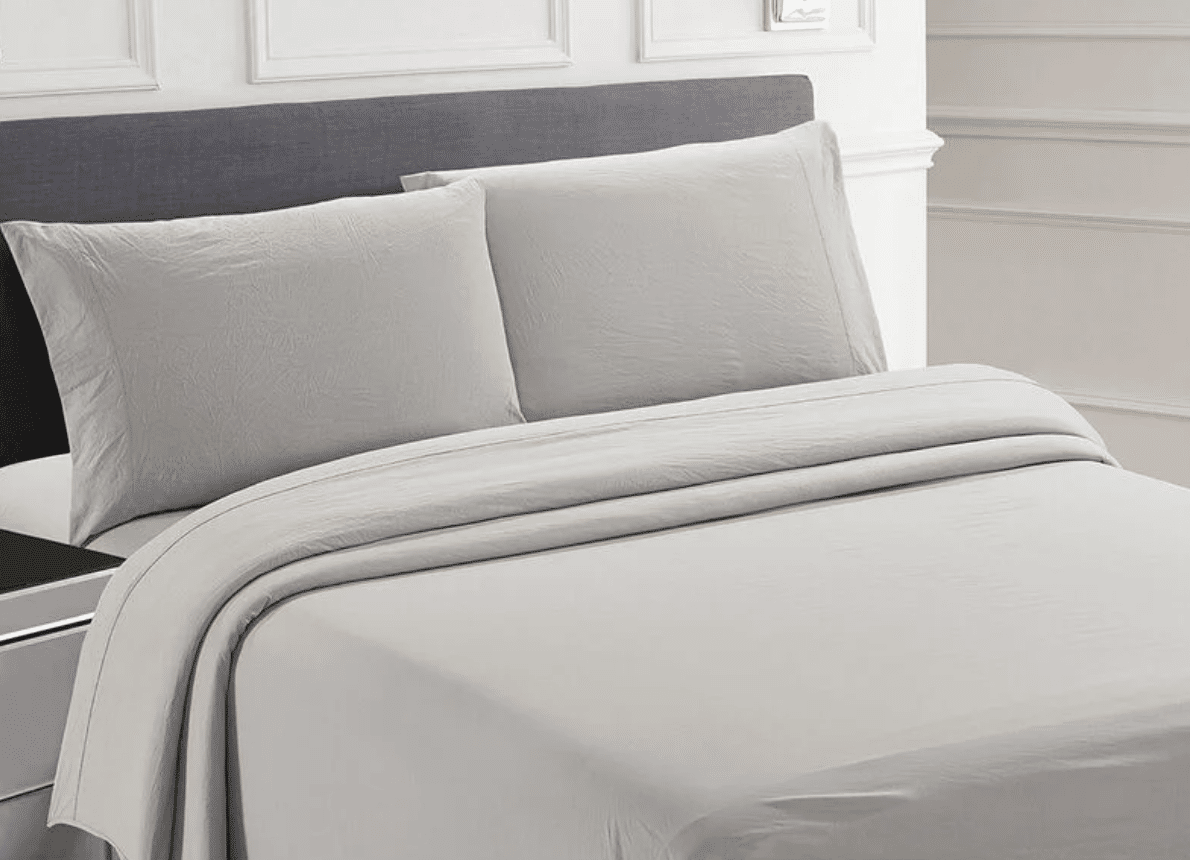 Did you know that Camping World sells RV sheets? These Posh Home RV sheets are made from 100% microfiber and they're known to be the softest sheets on the market.
They're breathable, ultra soft, and are designed to keep you cool and comfortable all night long. We'd go as far to say that this is the best bedding you could get for your RV! Here's what you get in this set:
One flat sheet
One fitted sheet
Two pillowcases
These sheets fit various RV mattress sizes (such as king, queen, short queen, and bunk). We highly recommend you pick up a set for yourself!
Posh Home RV Sheet Set
100% double-brushed microfiber
Ultra soft and breathable for maximum comfort
Temperature regulating with a luxurious feel
Recommended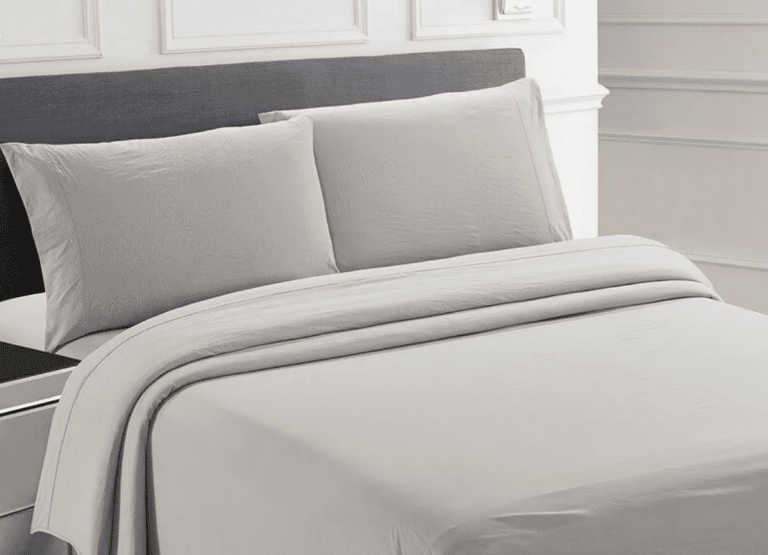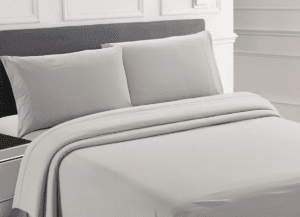 5. RV Superbag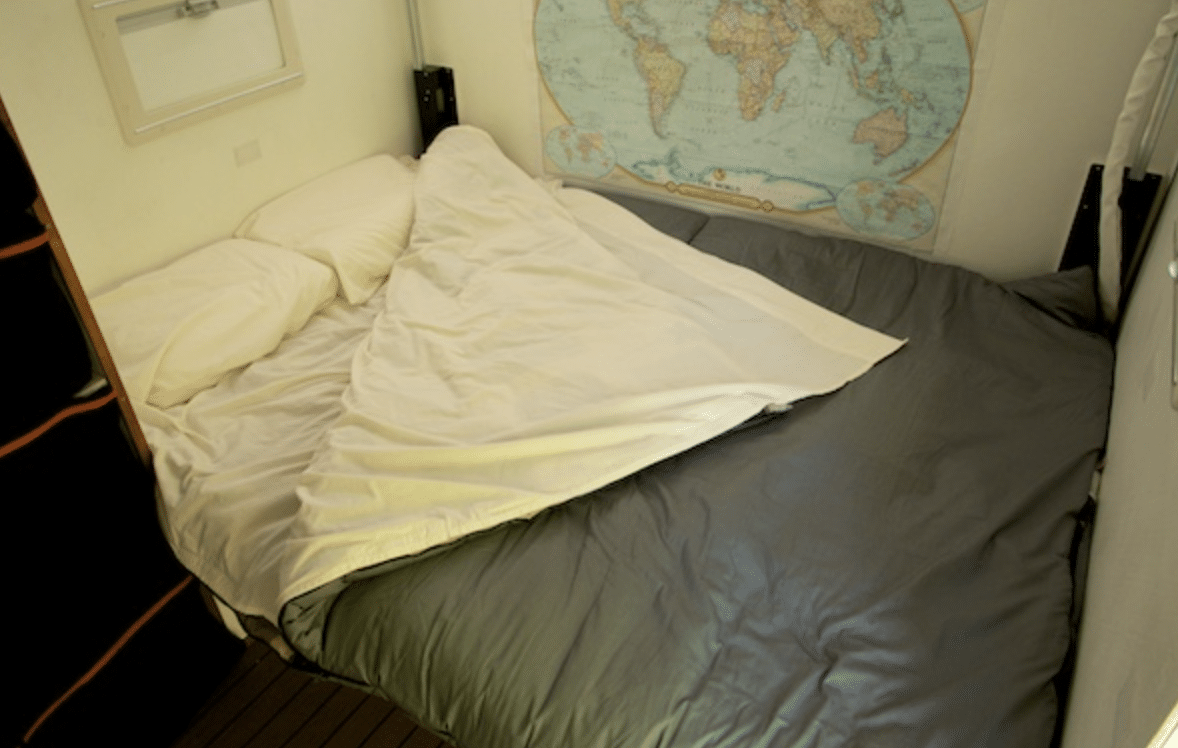 Have you ever wished you could have your sleeping bag attached to your mattress? With this RV bedding, you can!
Think of the RV Superbag as a sleeping bag for your mattress. With a comforter that goes around your mattress, a zipper on the side to secure it, and removable sheets on the inside of this sleeping bag like bedding – what more could you want?
The RV Superbag comforters are made with 100% non-allergenic polyester insulation, and have two comfortable sleeping "modes". One side features half ounce insulation (for summer months) and the other side features one ounce insulation (for winter months). Simply unzip and flip when you get too hot or too cold!
You also get to choose between three thread counts:
200 thread count poly cotton sheets
300 thread count 100% cotton sheets
725 thread count 100% cotton sheets
If you're not a fan of sleeping bags, you don't need to zip the RV Superbag around your mattress. Simply place the comforter you'd like to use on top of the mattress (though we can't guarantee it'll stay in place as well as it could).
RV Superbag
Constructed with 100% non-allergenic polyester insulation
One side features half ounce insulation for summer months, while the other side features one ounce insulation for winter months
Zips onto your RV mattress like a sleeping bag
Recommended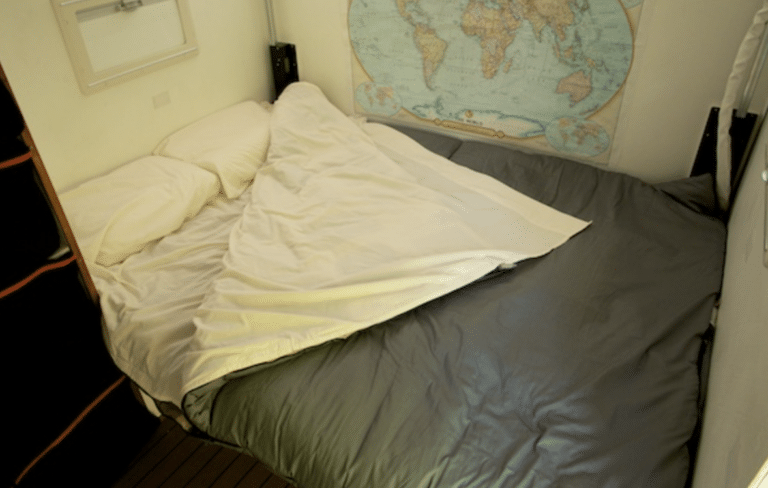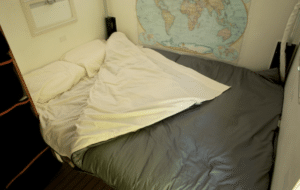 Frequently Asked Questions
Have a question that's not listed below? Leave a comment below and we'll answer it!
Can you use regular bedding in an RV?

You can, but most RV beds require specialized RV bedding (as they don't come with your standard sized mattress). Most RV mattresses come in one standard size so the fitted sheet you use at home typically won't fit well (and don't get us started on flat sheets – they're a nightmare when it comes to trying to fit them on your RV bed).
What size sheets fit a camper bed?

The sizes for a fitted sheet (and flat sheet) are:

Short queen – 60" x 75"
Standard queen – 60"x 80"
RV king – between 72" x 75" and 72" x 80"
How can I make my RV sleep more comfortable?

There are tons of things that could affect your sleeping experience when in an RV.

If you often get night sweats, you might want to get a gel memory foam mattress topper. If you're looking to provide pressure relief by contouring your body, a latex foam pad would be best!

You could also get new RV bedding. Purchase RV mattress pads, a new fitted sheet, add a brand new blanket, or get a memory foam mattress topper. In truth, you might just need a new RV mattress (such as a mattress from Mattress Insider).
What is the difference between RV sheets and regular sheets?

The number one difference is size.

Most RVs don't have standard residential mattresses. Because of this, RV manufacturers have created both fitted and flat sheets that fit the RV mattress!
We hope this guide to RV bedding helped you! What do you currently use on your RV beds? Do you have a favorite mattress pad or comforter? Let us know in the comments below!
Looking for more RV content? We've got you covered: