Say goodbye to sleepless nights and hello to sweet dreams on the road! If you're fed up with your RV's uncomfortable mattress, it's time for a change. In this article, we'll focus on the short queen RV mattress – discussing its unique features, the various types available, and what to consider when buying one. But wait, there's more! We'll also present the top 5 short queen RV mattress options for 2023 to help you make the best choice for your comfort. Ready for a restful adventure? Let's dive in!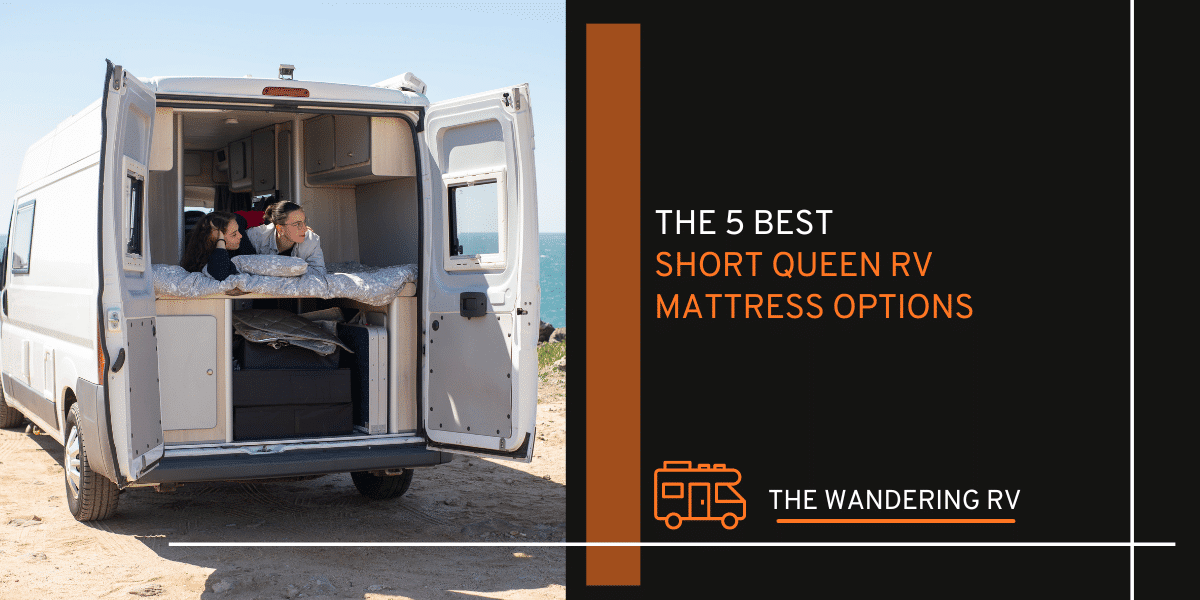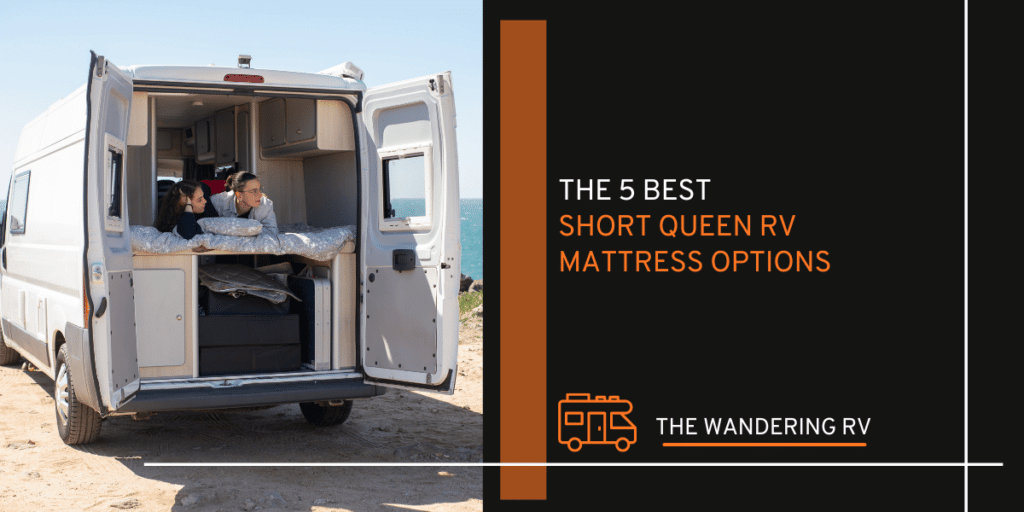 Table of Contents
What is a Short Queen Mattress?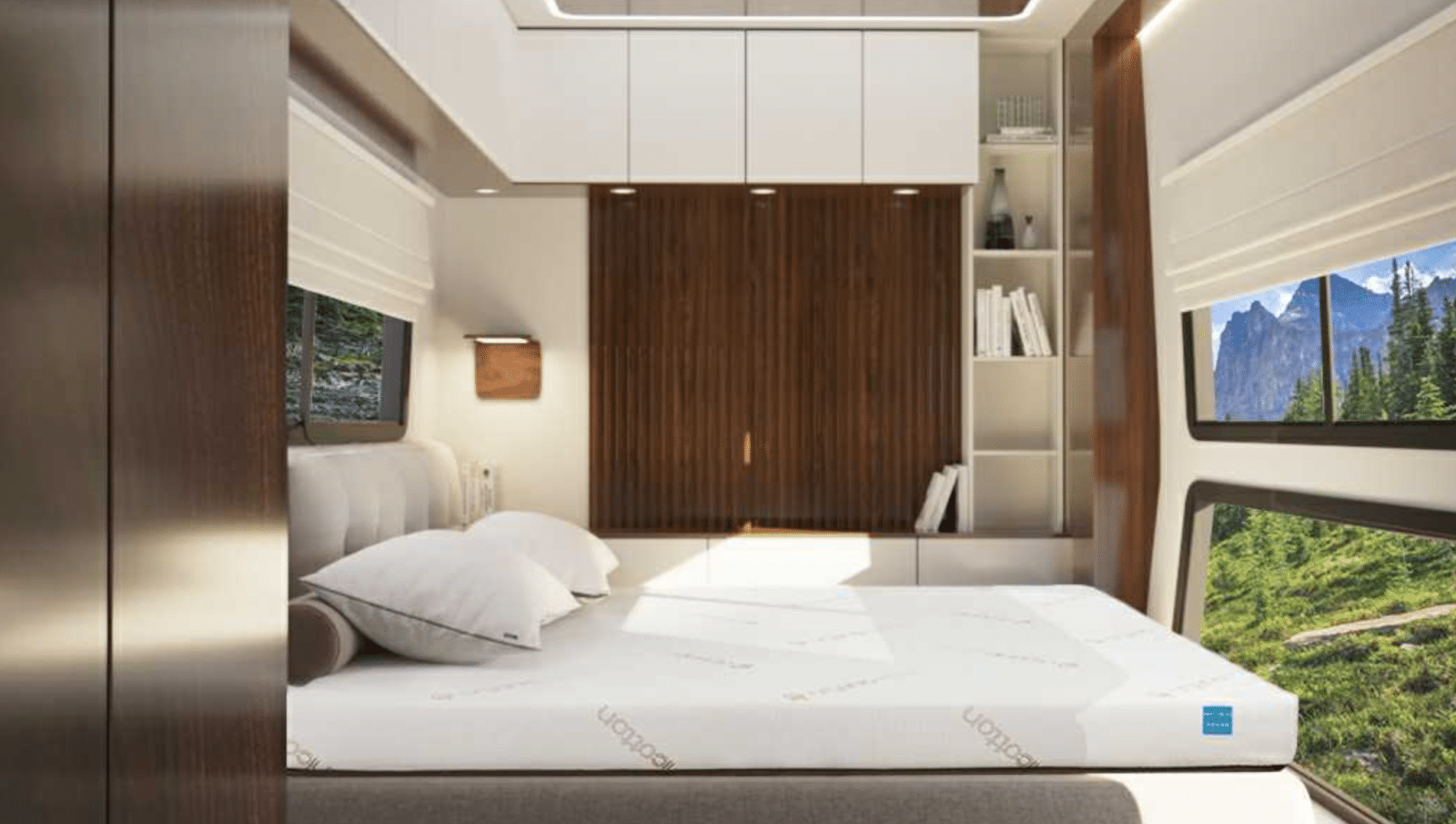 A short queen RV mattress measures at 60" wide (which is the same as a standard mattress). However, a short queen mattress is 6" shorter than your standard mattress would be, measuring in at 74" long.
A short RV queen mattress is designed to give two people enough room to sleep comfortably while maximizing the interior space of the RV. Most people are able to fit in a short queen mattress comfortably, but if you're over 6', you may be slightly uncomfortable (as 74" long is around 6.1').
If the length of the mattress is something you're worried about, most manufacturers are able to build a custom short queen RV mattress that will meet your needs. This is also great for those who have a unique sleeping arrangement in their RV!
Some RVs require angled RV beds ranging in different sizes to fit against walls or other features. Regardless of what your needs are, a manufacturer will work hard to get you the best RV mattress (and make sure you get the best RV bedding for your new mattress)!
Types of Mattresses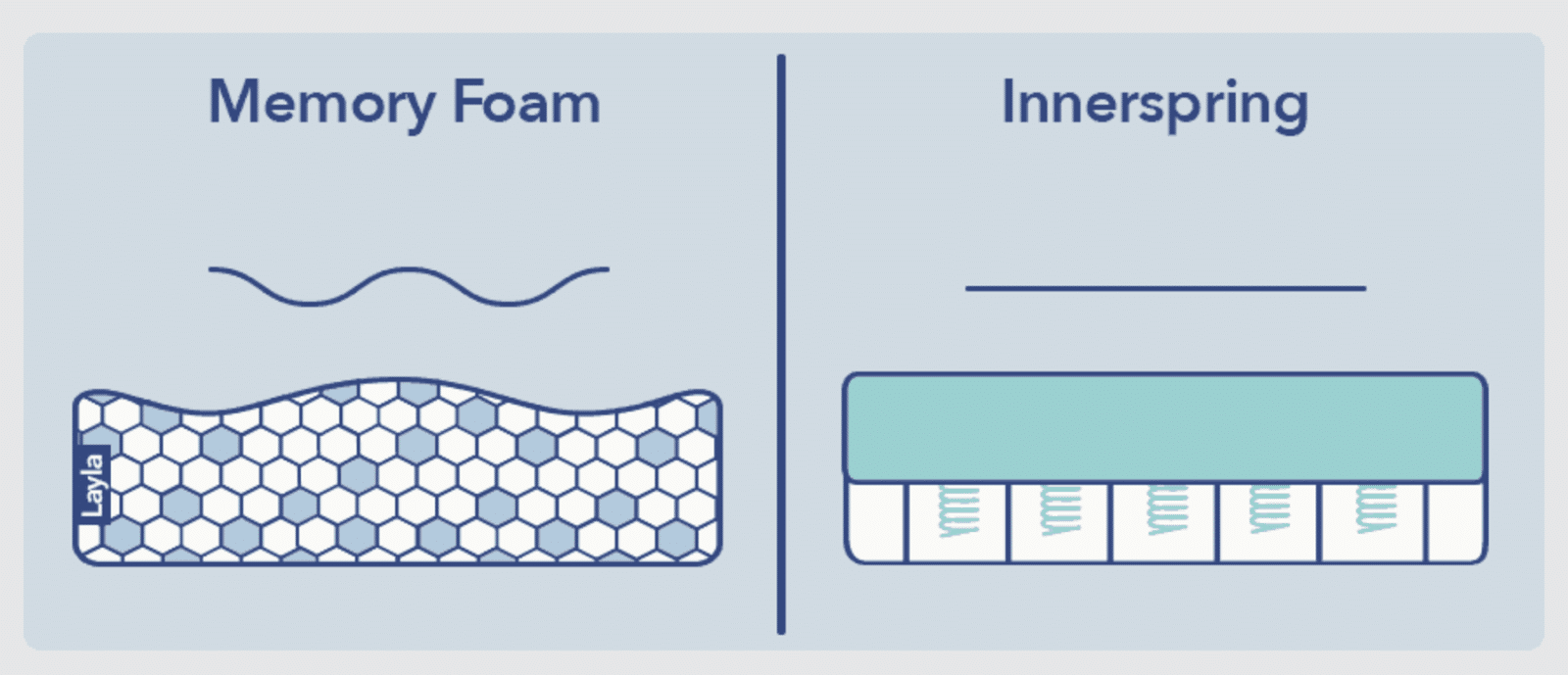 Depending on your personal preferences, there are a few options you can consider when looking for a new RV mattress!
You have memory foam mattresses (which also include gel memory foam and latex mattresses) as well as innerspring mattresses.
Let's talk about each of these so you can find a quality RV mattress today!
Memory Foam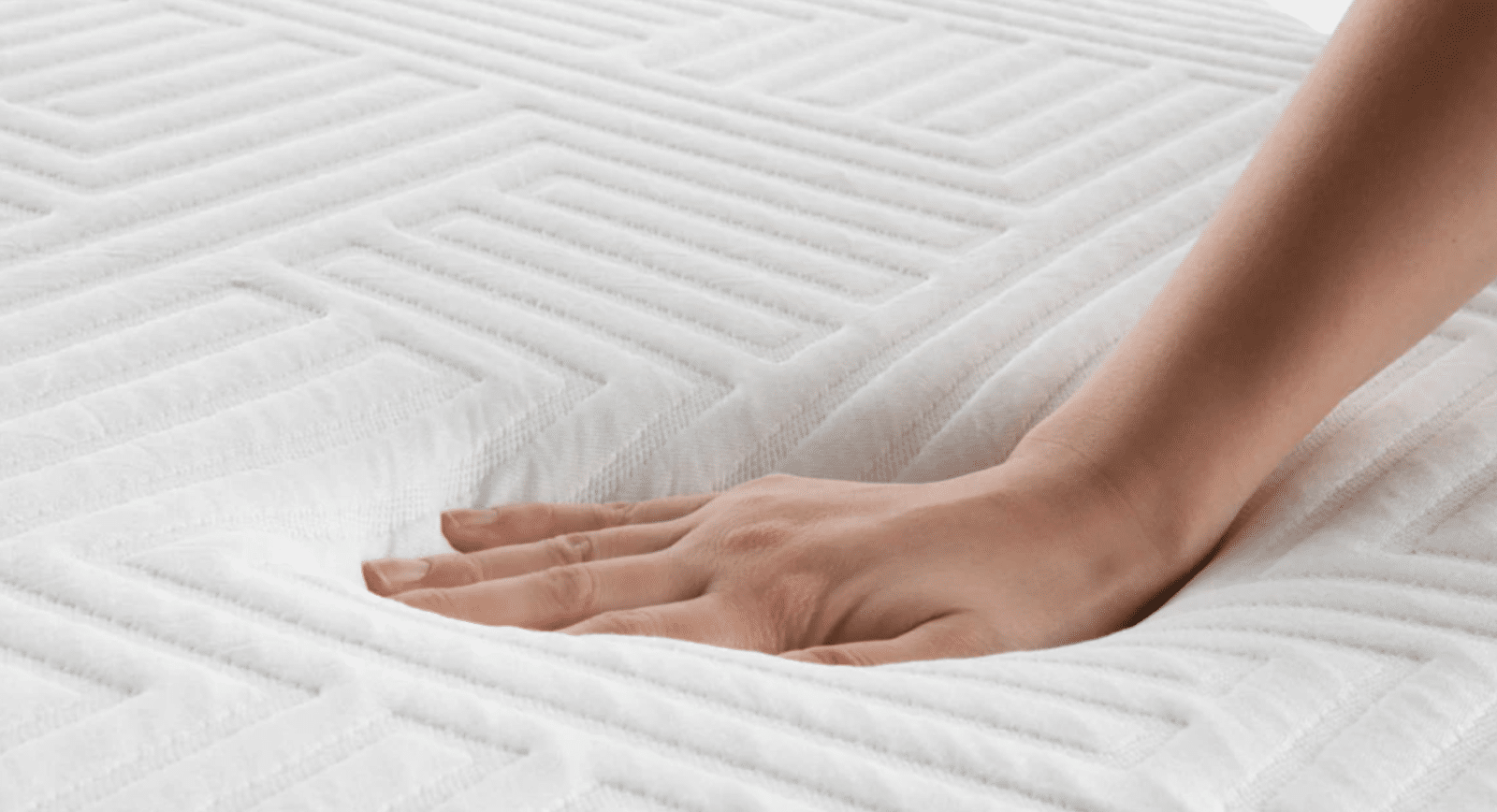 Tons of people think that memory foam is the best option when it comes to getting a good night's sleep. For some, a memory foam mattress is the perfect mattress! The cooling effect not only helps your body regulate temperature, it relaxes pain you may feel around your joints!
Memory foam mattresses are made from high-density foam and were originally designed by NASA engineers for astronauts traveling in space. Since coming to the market, it's been an incredibly popular option.
There are several layers of foam that contour to your body. Some mattresses are made entirely with memory foam layers, while others only use memory foam as a top layer. You could also get a gel memory foam mattress.
The big difference between regular memory foam mattresses and gel memory foam mattresses is that one contains a cooling gel able to draw heat away from your body. If you often get night sweats, you may prefer gel memory foam mattresses (as shown in the image below).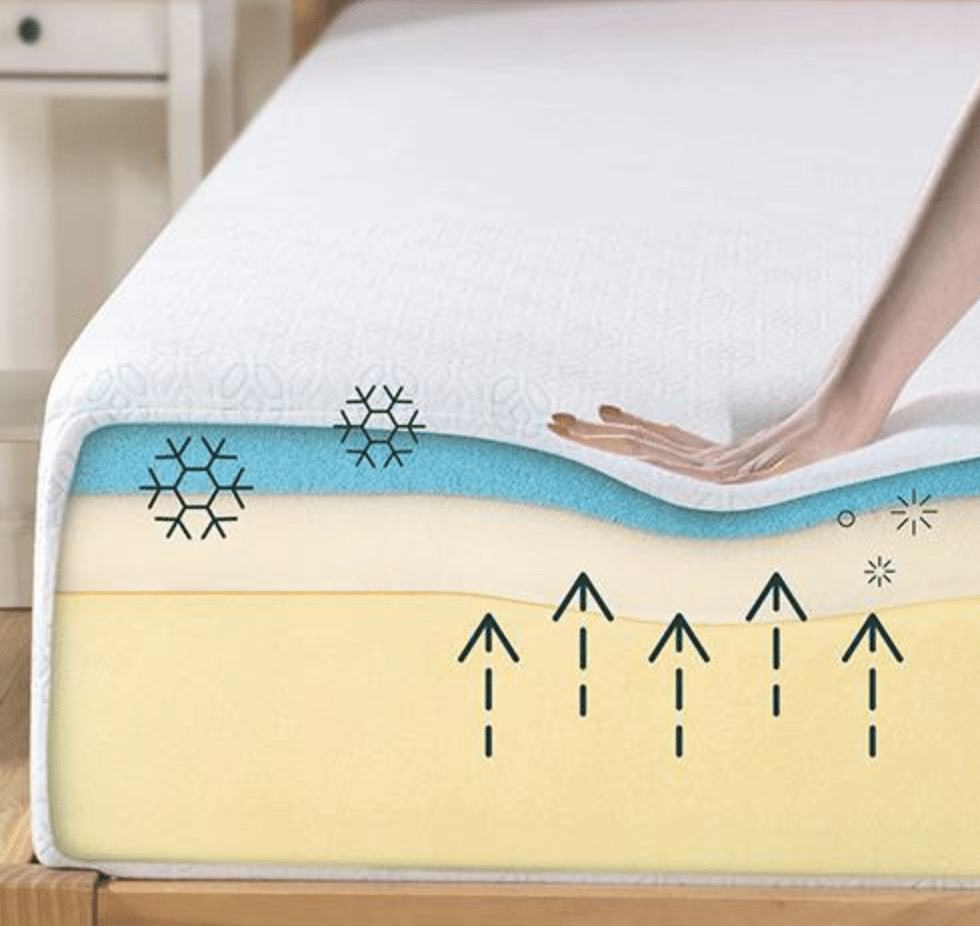 Another great choice worth considering is a latex mattress. Latex mattresses are made from latex foam and provide pressure relief by contouring your body (shown in the image below)!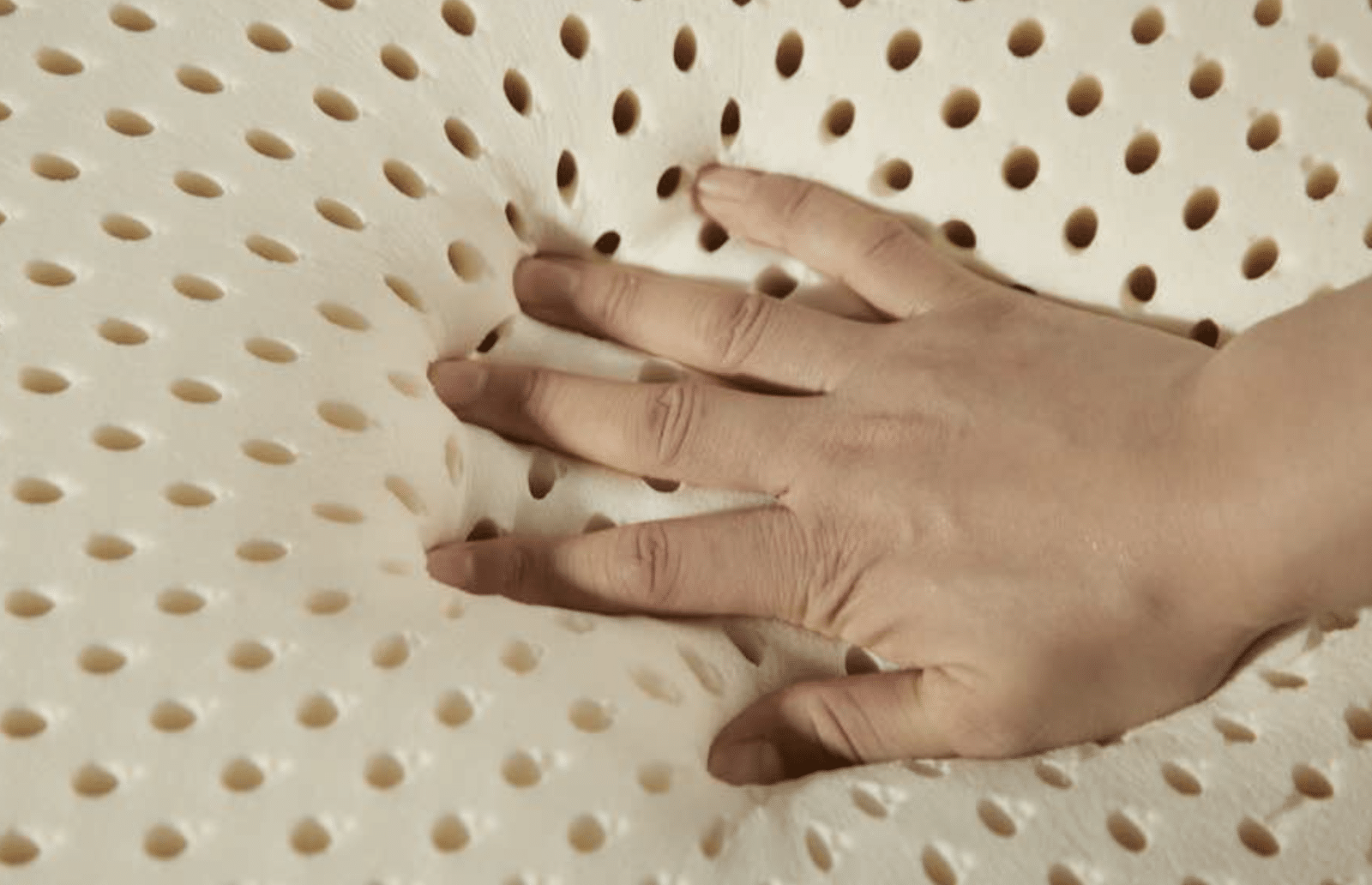 So what are the pros and cons? We're glad you asked:
Pros
Memory foam mattresses are quiet – With no squeaks or creaks, you'll be able to sleep peacefully (even if you have a restless partner). There's no transfer of movement with a memory foam mattress, meaning you'll have a night of uninterrupted sleep!
Very little maintenance – ​​You'll never need to turn or flip these RV mattresses and there's no sagging. Most of these RV mattresses come with a very generous warranty of anything between 10 and 25 years.
Comfort factor – These RV mattresses conform to your body and reduce pressure on your spine, which means you get the best rest possible regardless of your sleeping position. That's right – back and stomach sleepers alike can benefit from a memory foam mattress!
Made from excellent materials – Memory foam mattresses are hypoallergenic as well as dust mite-resistant. They're great for people who have respiratory problems or those with allergies!
Cons
Memory foam mattresses can be quite heavy – While a typical RV mattress can weigh between 50 and 75 pounds, a memory foam mattress can weigh up to 90 pounds or more. However, you don't need to turn these mattresses, so once it's in your RV, this wouldn't pose a problem.
Complaints on an odor – If you notice an odd odor from foam mattresses, it's because it hasn't been aired out properly. However, this is a huge complaint that many people have when it comes to memory foam mattresses.
They're expensive – While we understand that everyone has a budget they need to stick to, we want to remind you that the more expensive your RV mattress is, the longer it will last. Memory foam mattresses are better for your body and last a lot longer than the typical RV mattresses you'll get upon purchasing an RV.
Innerspring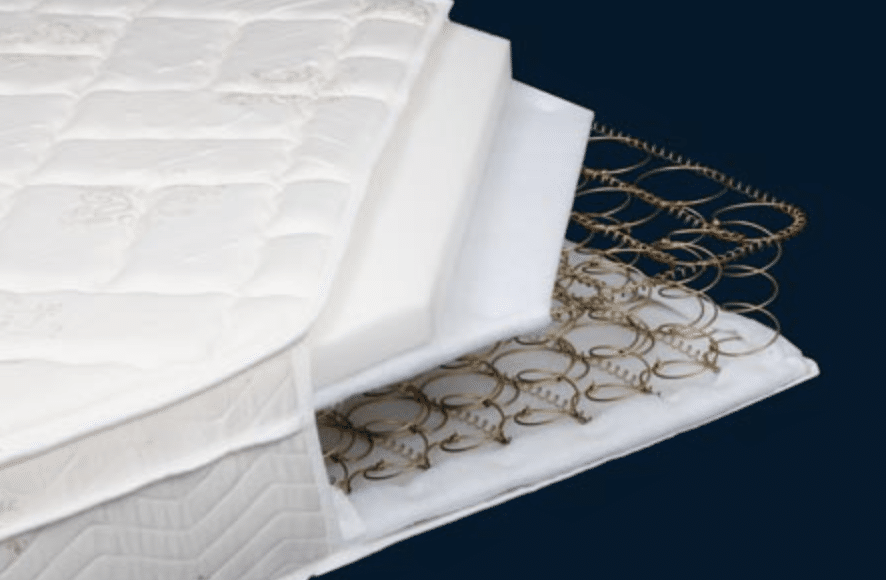 Innerspring mattresses use a metal and steel coil support system. This is a more traditional mattress that features "pocketed coils" that help the mattress be a bit more comfortable than it was a few years ago. If you're not interested in a memory foam mattress, an innerspring mattress may be the best choice for you!
Like the memory foam mattresses, these RV mattresses have pros and cons to be aware of:
Pros
Traditional style & feel – Compared to a hybrid mattress, this RV mattress has a quilted, smoother-feeling top. If you want a smoother RV mattress, innerspring mattresses are perfect for you!
No memory foam – Memory foam can feel a bit more abrasive than standard mattress support materials (and cheap memory foam can retain body heat which is incredibly uncomfortable for hot sleepers).
Spring base for easier motion – The pocket coil spring base offers support across the entire wireframe while the spring system provides support for your body.
Available at multiple price points – Thanks to its classic design, the innerspring mattress isn't as expensive as some other types of RV mattresses. Keep in mind that this RV mattress is cheap and won't last as long as a higher-priced mattress will.
Cons
No Memory Foam Support – If you like the cooling features that a memory foam mattress brings to the table, an innerspring mattress might not be best for you.
Springs Can Fail – Innerspring mattresses are prone to having springs break if too much pressure is applied or from gradual wear over time. If you have kids that like to jump on mattresses, we wouldn't recommend purchasing this type!
Lower Quality Material – Because innerspring mattresses use lesser quality materials to cut costs and maximize profit, it won't have the same longevity as a memory foam or hybrid mattress.
Now that we've talked about the different types of RV mattresses, let's get into the best RV mattresses on the market today!
The 5 Best Short Queen RV Mattresses
Without further ado, it's time to talk about which short queen RV mattress is best for you!
1. Sedona Deluxe RV Mattress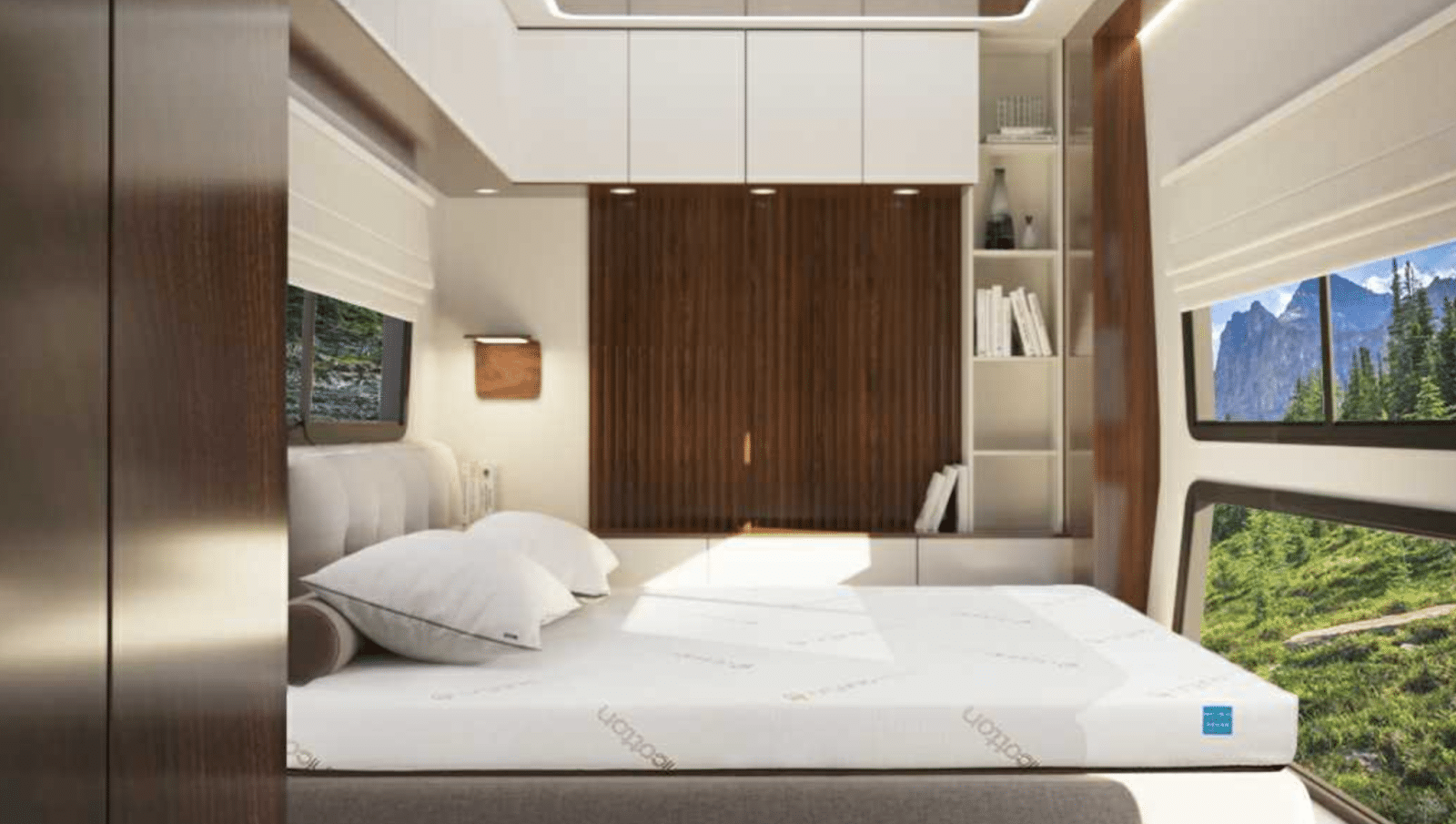 Time Trial: 121-night zero-risk in-home trial
Warranty: 10 years
The Sedona Deluxe RV Mattress has all the features you're looking for in a short queen RV mattress without the large price tag. It has an upgraded organic cotton cover and comes with a CertiPUR certification and it still remains one of the most affordable (and high-quality) RV mattresses on the market!
Made with a dense foam formula, it provides you with a firm and supportive surface to fall asleep on. It's perfect for back and side sleepers or for those who prefer a firmer mattress. Overall, if you're looking for a good quality mattress at a low price, the Sedona Deluxe is a great choice!
Sedona Deluxe RV Mattress
Ultimate support and pressure relief – no more bottoming out and feeling the plywood base!
Non-Toxic – safe for you and your family
Customizable – any size or shape you need
Recommended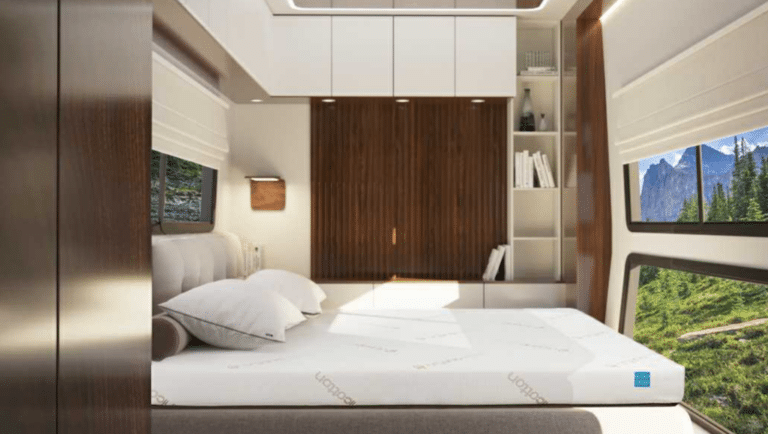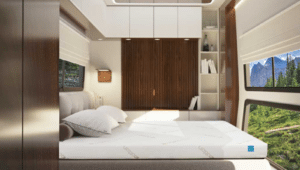 2. Brooklyn Signature Hybrid Mattress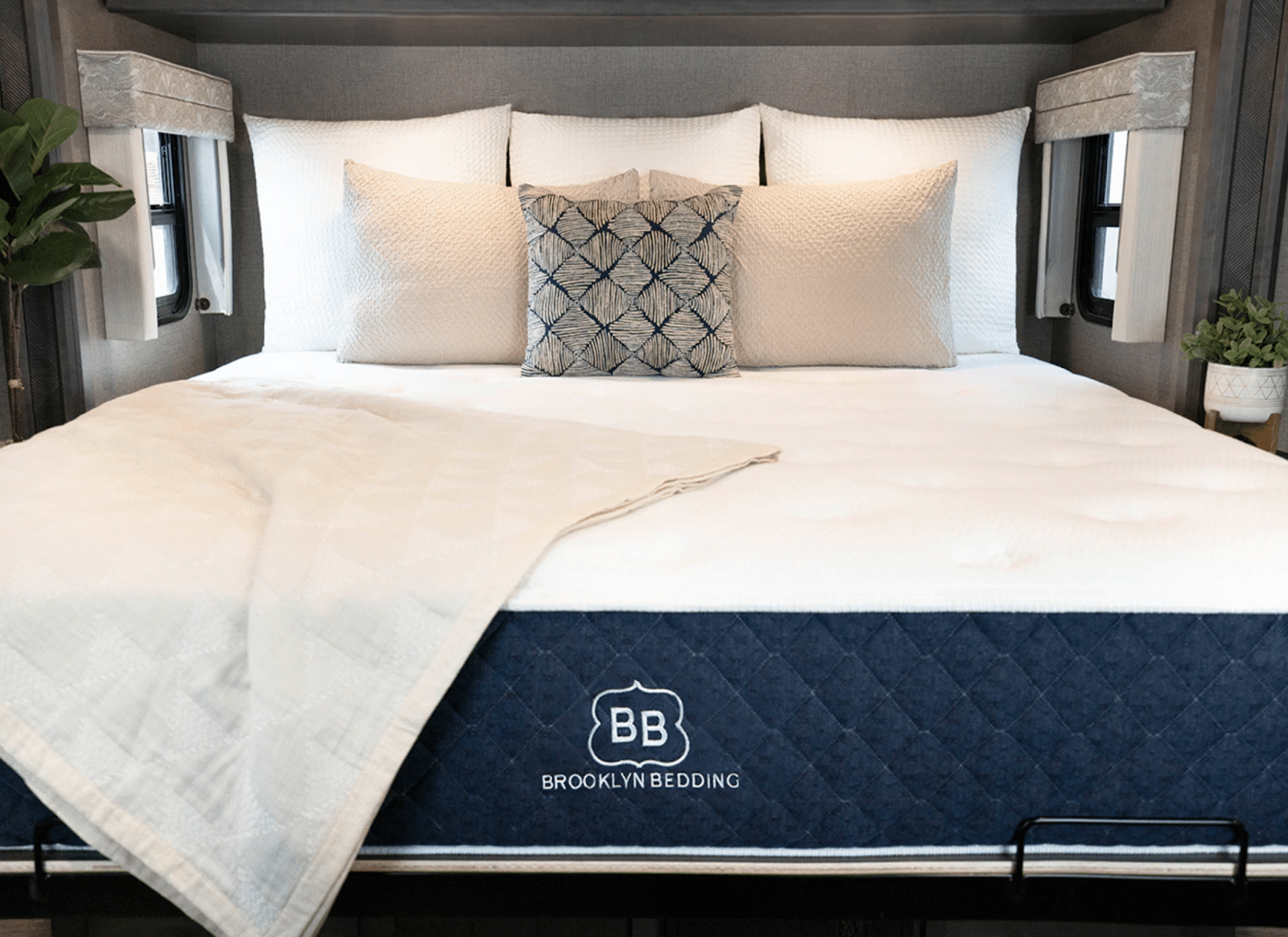 Price: $936.75
Time Trial: 120-night zero risk in home trial
Warranty: 10 years
The Brooklyn Signature Hybrid Mattress is one of the best hybrid mattresses you could ask for. This hypoallergenic mattress combines individually encased Ascension coils with patented hyper-responsive foam for increased comfort and deeper compression support. It also has high-caliber Ascension perimeter coils for greater edge support!
The variable depths allows for a more customized sleep experience, including a traditional firm level option. While most Brooklyn Bedding mattresses should be rotated every 6 to 8 months, they should never be flipped (or inverted).
Brooklyn Signature Hybrid Mattress
A premium quilted top helps resist body impressions and provides optimal cooling while you sleep
Variable foams in the comfort and transition layers allow you to choose just the right firmness for your sleep experience
Delivered in a box, allowing for easy transportation from your door to your bedroom
Recommended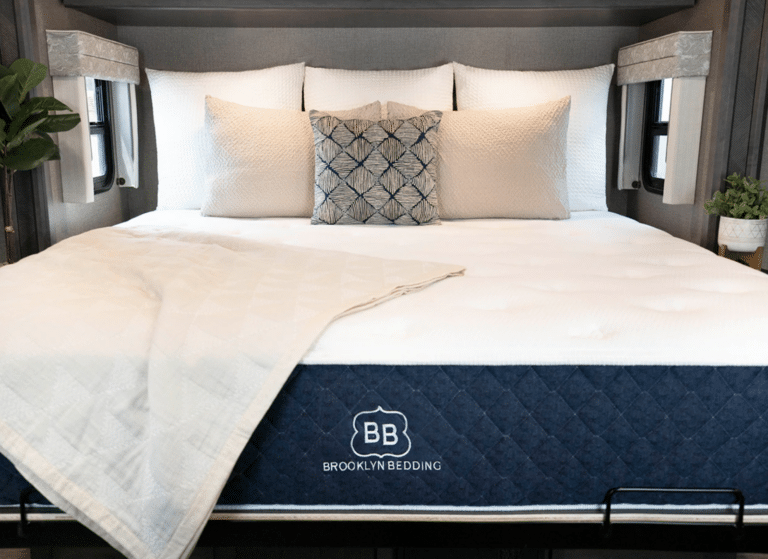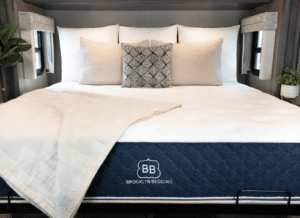 3. The Plank Mattress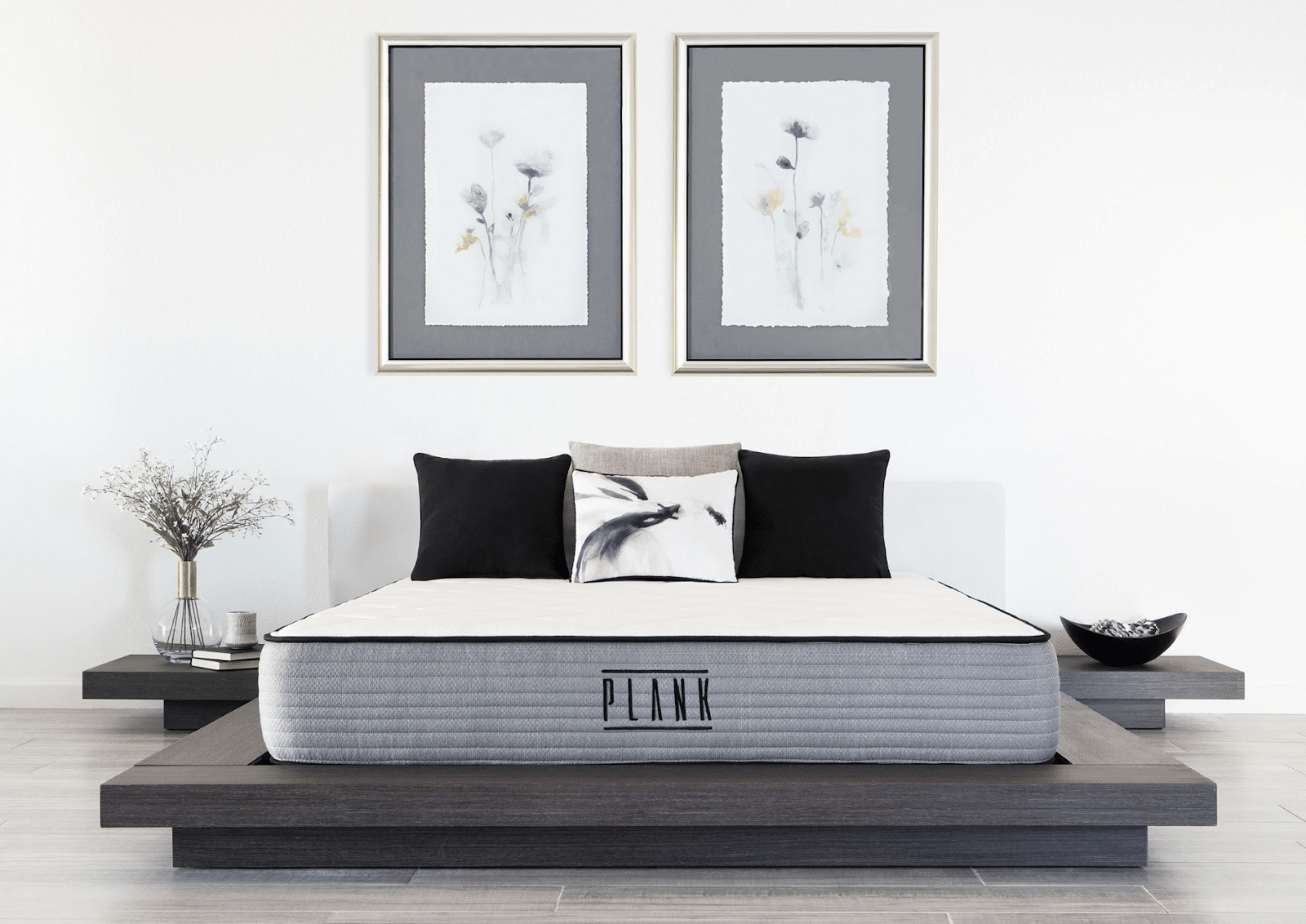 Price: Between $1,049.25
Time Trial: 120-night zero risk in home trial
Warranty: 10 years
The Plank Mattress by Brooklyn Bedding is a pretty expensive short queen RV mattress, but don't let that keep you away from this – many RVers claim that it's the best RV mattress they've ever had!
If you're someone who loves a firm mattress but is never satisfied by how "firm" they are, this short queen mattress is for you. The Plank mattress delivers two unique firmness levels in one flippable mattress (and it offers optional cooling panels for all of you hot sleepers).
On one side of this mattress, you get an ultra-firm sleep experience. On the other side, you get a more "traditional" firm. Having these options allows you to customize your sleep experience to the max! This short queen mattress creates a neutral spine position that helps your posture, too!
The Plank Mattress
An optional cooling panel can be sewn onto the surfaces of both the firm and extra firm sides to moderate temperature and deliver ultimate cooling on contact
The flatter sleep surface is engineered to create a neutral spine position that's better for your back and posture overall
The flippable design of the Plank allows you to choose your ideal firmness level
Recommended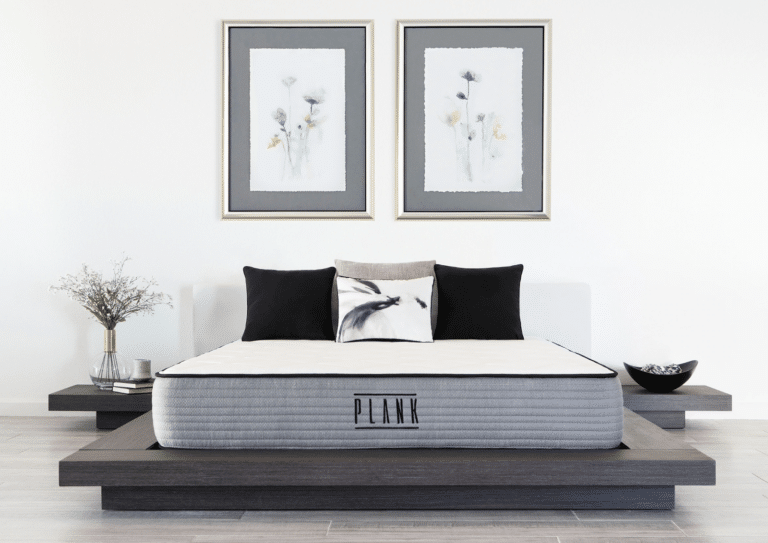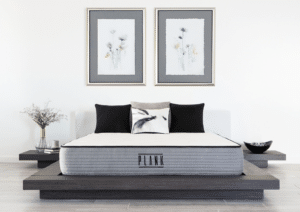 4. Elation Gel Foam Mattress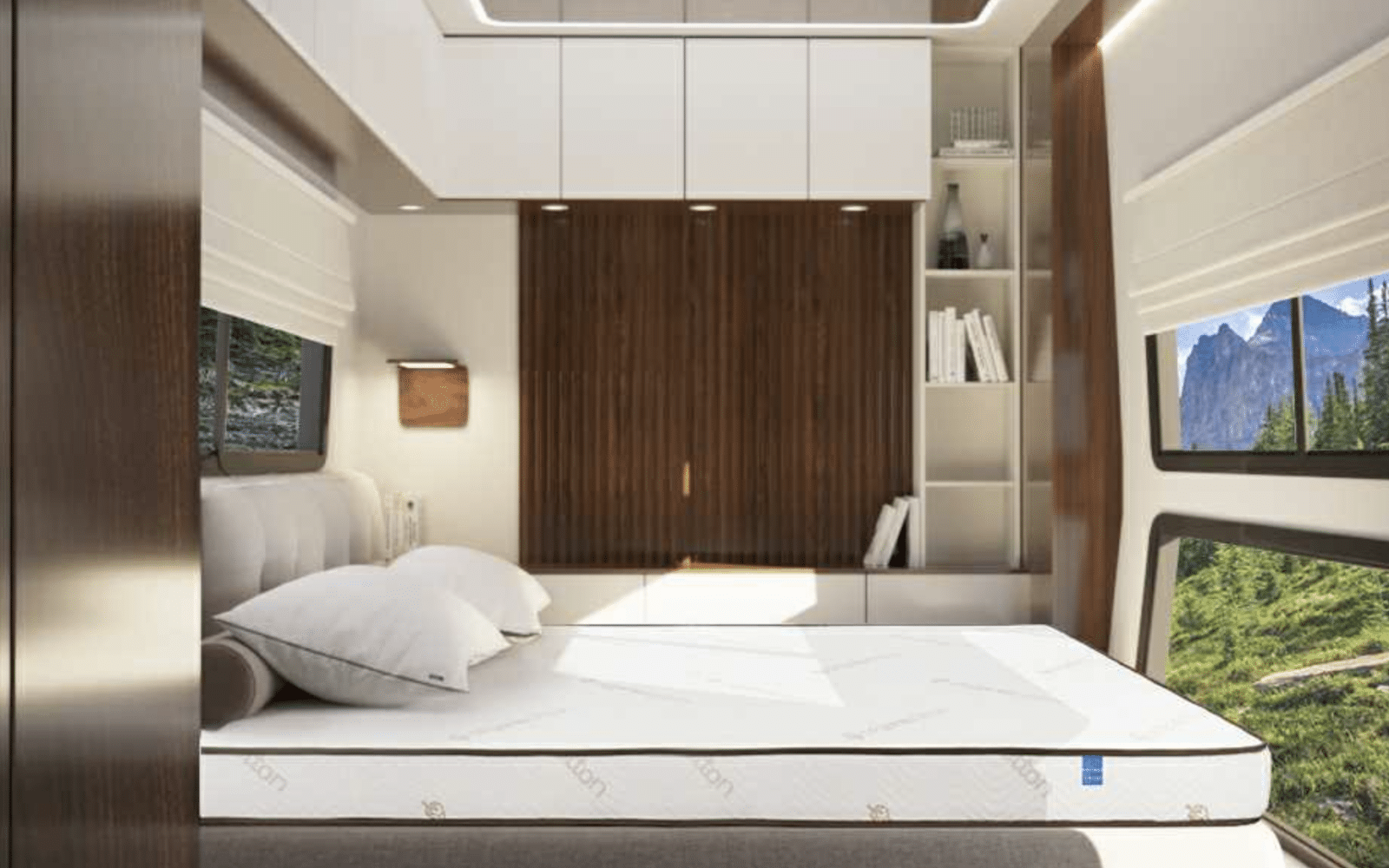 Price: Between $450
Time Trial: 121-night zero risk in home trial
Warranty: 15 years
This short queen mattress is inexpensive and comes with a 15 year warranty (as compared to the previous ones which only came with a 10 year warranty). The Elation Gel Foam Mattress is made with soft, organic cotton as well as a cooling gel memory foam (and not to mention, a supportive base)!
Between the cotton and the cool-gel foam, you'll find yourself cradled in contour foam layers that provide a cushion firm feel that's able to contour around the shape of your body while relieving pressure points. If you struggle sleeping at night due to tossing and turning (or you sweat while you sleep), this is the right mattress for you.
Elation Gel Foam Mattress
Made with cooling gel memory foam so you don't sleep hot
Unbelievably comfortable and supportive- eliminates pressure points that cause you to toss and turn
Non-Toxic – safe for you and your family
Recommended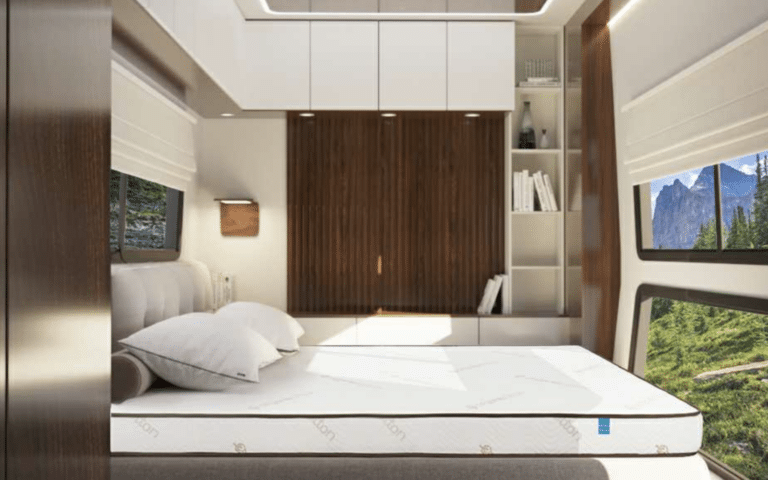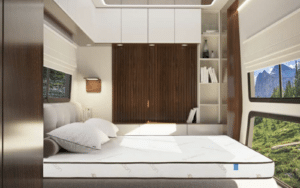 5. Park Meadow Pocketed Coil Mattress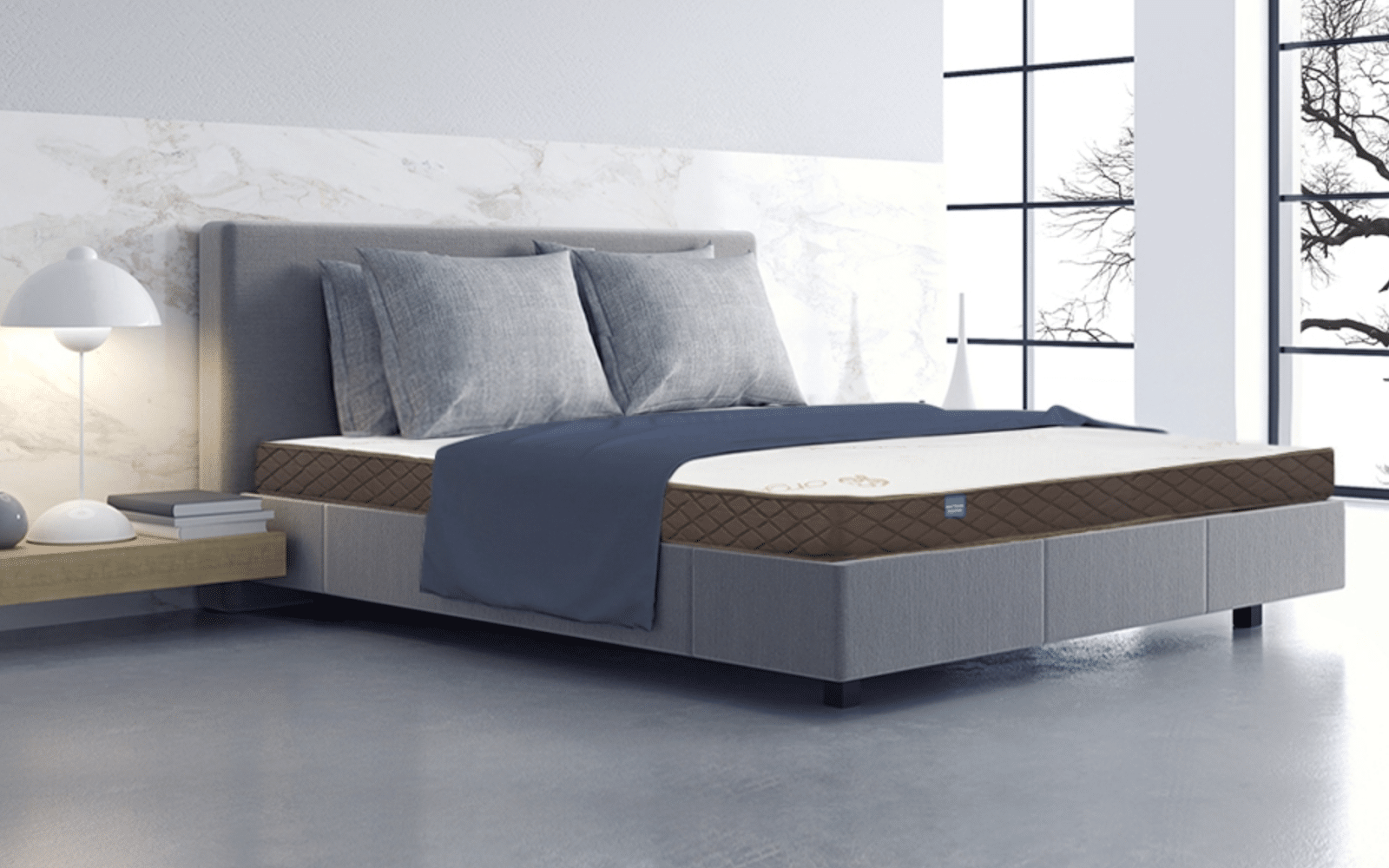 Price: Between $669
Time Trial: 121-night zero risk in home trial
Warranty: 20 years
This short queen mattress comes with a 20 year warranty (10 Year Full & 10 Year Prorated). The Park Meadow Pocked Coil Mattress comes with 721 coils compared to 258 coils you'll find in other models.
These 15 gauge heavy duty tempered coils provide a firm supportive feel. That means, no sinking in and no rolling toward the center. It supports two adults weighing up to 300 lbs each, but firmness can be adjusted to your needs (for an additional cost).
Park Meadow Pocketed Coil Mattress
Breathable, open-cell foam
2" of eco-friendly, open cell, and temperature neutral plant-based foam
Luxury quilted cover with elegant suede border!
Recommended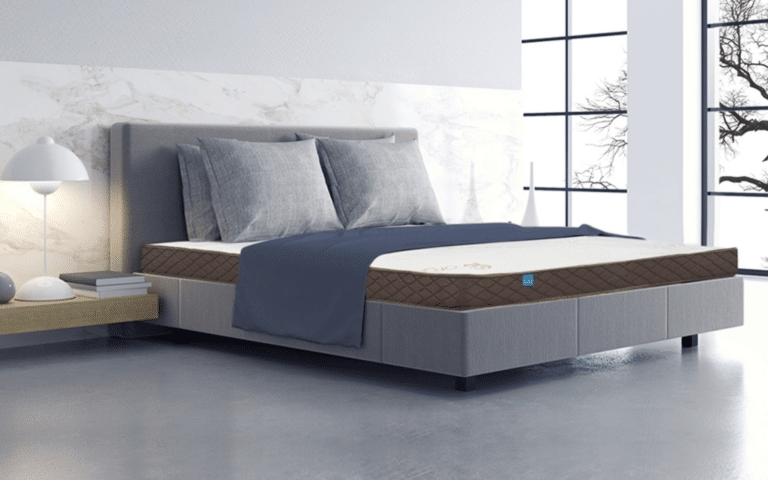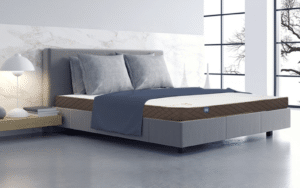 What to Look For When Buying an RV Mattress
When looking into purchasing a short queen mattress, there are three key things to look out for:
Materials
Size
Warranty or Trial
Let's briefly talk about each of these things (and figure out why they're so important)!
Materials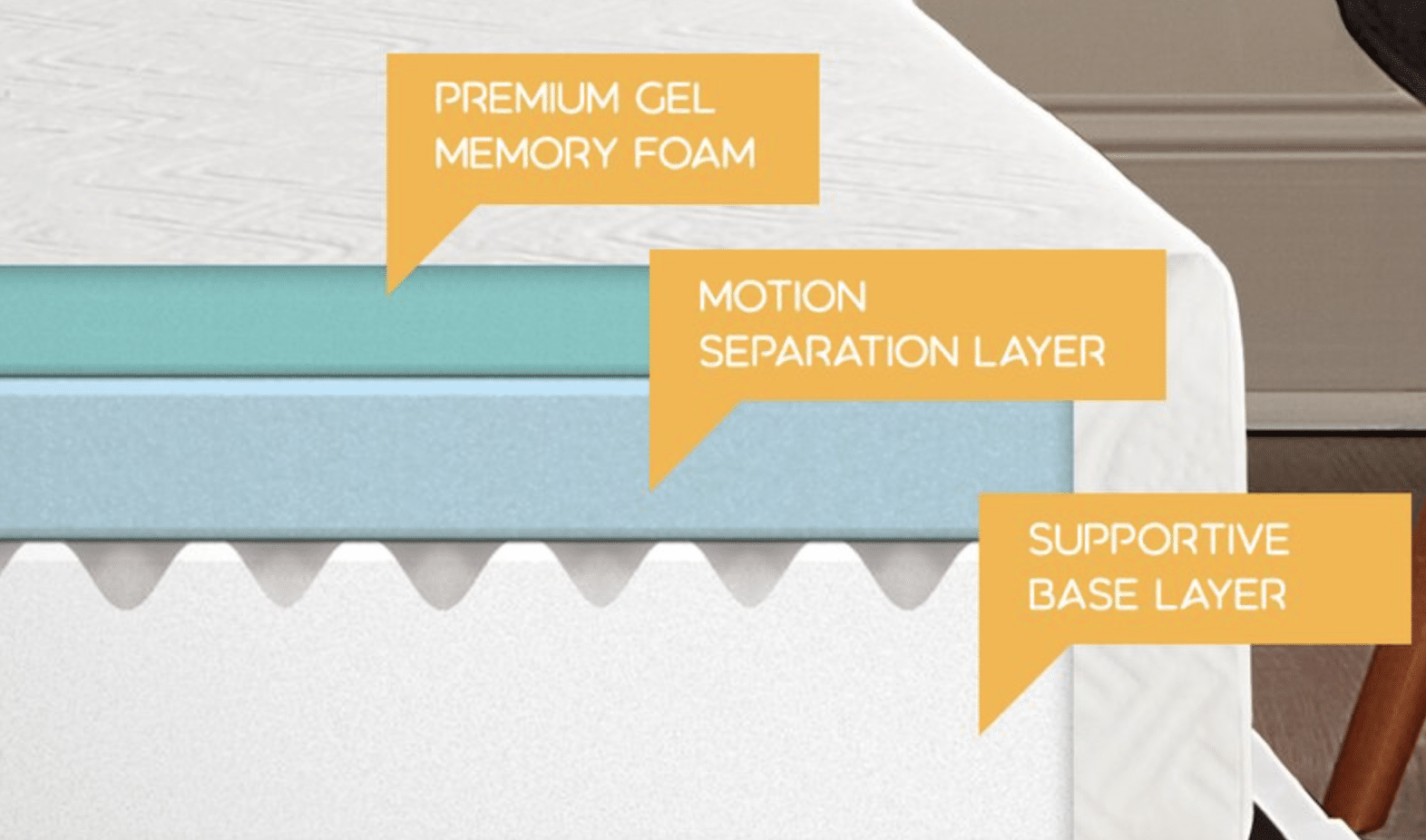 What your RV mattress is made of is incredibly important! While most RV mattresses are made from high-density foam, polyester, or springs, that might be uncomfortable to you.
There are gel-infused mattresses that provide cooling relief for those who get warm during the night, contoured foam layers, and more!
We highly recommend you look for a thick, high-quality mattress that will not only support your body shape, but helps you sleep like a baby at night. Just make sure that you get one that fits your RV!
Size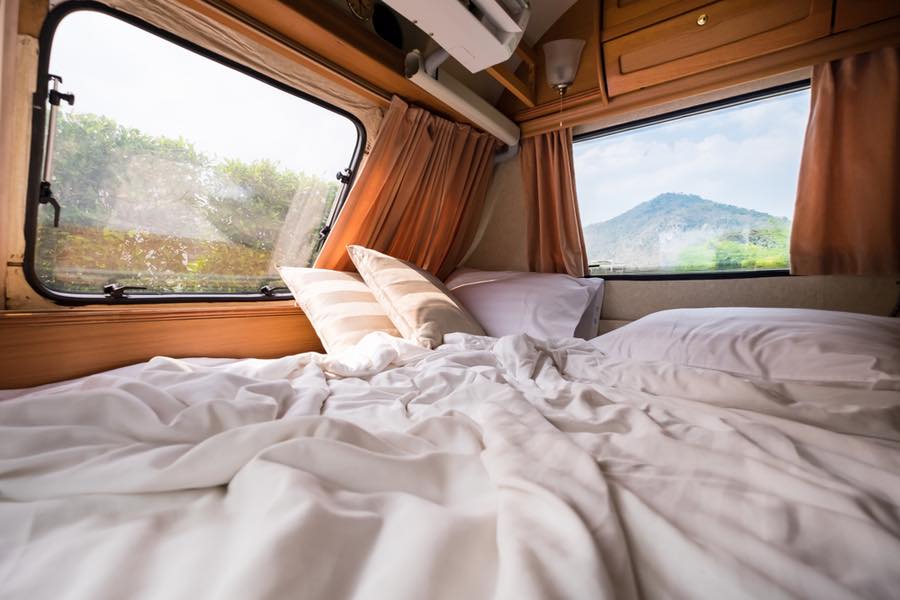 There's nothing worse than purchasing a new RV mattress only to realize that it doesn't properly fit into your RVs bed frame. You'll want to pay close attention to those odd-sized areas and spaces around your mattress to determine if you'll need to purchase a specific shape (or low profile mattress).
Also, take your blankets into account. Depending on the type of blankets you use, they may add a bit of thickness to your RV mattress which you may need to add into the sizing process.
If you're completely lost, you could always contact your manufacturer to get the correct size!
Warranty or Trial
Plenty of manufacturers will warranty their mattresses for at least 10 years. However, it's not uncommon to get a longer warranty! As mentioned above, the Elation Foam Gel Mattress comes with a 15-year warranty and the Park Meadow comes with a 20-year warranty! Before you buy, make sure you ask about a warranty!
There are also companies that offer a 120-night sleep trial for you to figure out if the RV mattress works not only for you, but fits your rig perfectly! If you don't need the mattress right away and can give it a trial run, we highly recommend doing so! You'll be able to see if the mattress still feels good after using it for a while.
Final Thoughts
Investing in a high-quality short queen RV mattress is a game-changer for your comfort and sleep quality on the road. We hope our guide to the top 5 options for 2023 has made it easier for you to choose the perfect mattress for your needs. Remember to consider factors like firmness, material, and budget when making your decision. Sweet dreams and happy travels!
Looking for more RV related content? We've got you covered: